The Best Cities to Live and Work Remotely
Nov 16, 2016 | Share

Brand Guides
The ultimate telecommuting tool has arrived
Do you dream of going to work in your pajamas? Drinking coffee on your back patio and listening to birds chirp while you answer emails doesn't have to be a fantasy. Advances in technology make remote work increasingly attractive to employers, and trends like work share spaces and a booming freelance industry all indicate that work is increasingly shifting home.
Fast Company estimates that by 2020
, nearly 50 percent of jobs could transition to remote work and
globalworkplaceanalytics.com
says that while only 25 percent of the working population currently telecommutes, more than 80 percent indicate they'd like to.
If working remotely is your dream, cue your career goals, because our latest tool at HSI is going to help you find the ideal location to make telecommuting work for you.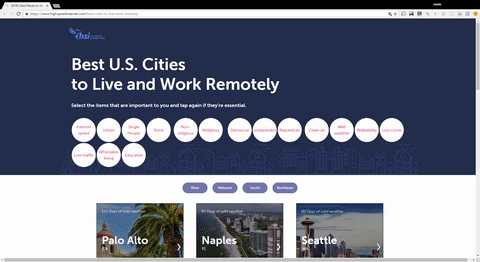 Our
Best U.S. Cities to Live and Work Remotely tool
takes the things that are important to you (like clean air or walkability) and prioritizes them with remote-working essentials such as internet speed and affordability.
We rank each city according to your personal preferences and provide recommendations on where you should live to make your dreams of working remotely a reality.
You can also filter results by region, then click on each city card to see more details on average internet speed, weather, demographics, safety, traffic, and more. How do we make our recommendations?
We use city rankings from trusted sources and cross-referenced with our own data on internet providers and speed.
The rest of the methodology mojo comes from your selection of criteria and how many times you clicked each bubble to indicate its importance. Cities like sunny Santa Fe make our list, with incredibly low traffic, great air quality, and an attractively low cost of living. Don't fancy urban life? Move instead to Bend, Oregon, which shares similar stats but a much smaller population.
With our Best Cities tool, you define what matters and leave the data crunching to us.
 Find out which city is the best for you to live and work remotely
Author - Kaz Weida
Kaz is a writer, blogger and social media junkie. She uses her tenacity to investigate the best of the Internets.