The Best Wireless Speakers of 2018
Jul 23, 2018 | Share

Equipment Guides, Technology
Wireless speakers have flooded the market, and sifting through all the options can be tough. To help you get through the boring part and back to listening to your favorite music, we've narrowed the list down to the five best options.
Top 5 Wireless Speakers on the Market
Speakers
UE Boom 2
Our Recommendation
Best Overall Wireless Speaker
Bluetooth
✓
Wi-Fi
✘
Portable
✓
Waterproof
✓
Price
$$
Buy Now
Speakers
UE Wonderboom
Our Recommendation
Best Waterproof Speaker
Bluetooth
✓
Wi-Fi
✘
Portable
✓
Waterproof
✓
Price
$$
Buy Now
Speakers
Amazon Echo
Our Recommendation
Best Smart Speaker
Bluetooth
✘
Wi-Fi
✓
Portable
✘
Waterproof
✘
Price
$$$
Buy Now
All info current as of 6/29/2018. Pricing and features subject to change.
What We Compared
To find the best choices for your needs, we combed through most speakers on the market and compared sound quality, battery life, and portability. We found what we think are the best wireless speakers for most people. Each offers something unique—whether you want a waterproof companion, an all-purpose workhorse, or epic sound quality—and one of our picks will work for you.
Best Wireless & Bluetooth Speakers
Best Overall Wireless Speaker
Specs
Connectivity: Bluetooth
Drivers: 1 x 1.8″ full-range active driver; 1 x 1.8″ x 3.2″ passive radiator
Weight: 1.2 lbs.
Battery Life: Up to 15 hours per charge
Why It's Great: Powerful 360-degree sound, portable design, waterproof, voice control with Siri, Google Now, and Alexa
The UE Boom 2 earns its name with great sound quality in a portable package. It offers up to fifteen hours of battery life for all-day entertainment, and it's waterproof as well. Add in voice control and a choice of vibrant colors, and we've got a winner. For the price, this speaker just can't be beat.
Specs
Connectivity: Bluetooth
Drivers: 1 x 3/4″ tweeter; 1 x 2″ full driver
Weight: 0.6 lbs.
Battery Life: Up to 10 hours per charge
Why It's Great: Splash and dust resistant, built-in microphone for voice calls, fits in the palm of your hand
 
This palm-sized speaker is small enough to fit in your pocket, but don't let the size deceive you—it can put out some serious sound. With a ten-hour battery life, multiple color choices, and just half a pound of weight, this is the perfect ultra-portable speaker for all your outdoor trips.
Specs
Connectivity: Bluetooth
Drivers: 2 x 1.5″ active drivers; 2 x 1.8″ x 2.6″ passive radiators
Weight: Less than one pound
Battery Life: Up to 10 hours per charge
Why It's Great: Lightweight and portable, waterproof, great sound for the size
This ultra-portable speaker delivers powerful sound, with two active drivers and two passive radiators packed into its case. It's got a built-in clip, so you can attach it to your bag and take it anywhere. And it's waterproof, so you really can take it anywhere.
Specs
Connectivity: Bluetooth, Wi-Fi
Drivers: 1 x 0.6″ tweeter; 1 x 2.5″ woofer
Weight: 1.8 lbs.
Battery Life: N/A (no internal battery)
Why It's Great: Voice control with Amazon Alexa digital assistant, 360-degree sound, affordable price
By now, we're all familiar with the Echo. The famous smart speaker, powered by digital assistant Alexa, isn't just for telling corny jokes and announcing the weather—it's actually a very capable wireless speaker as well. Echo delivers impressive 360-degree sound and can integrate directly with your favorite streaming services thanks to Alexa Skills.
Specs
Connectivity: Bluetooth, Wi-Fi, aux-in
Drivers: 2 x 1″ tweeters; 2 x 4″ midrange; 1 x 6.5″ subwoofer
Weight: 14 lbs.
Battery Life: N/A
Why It's Great: Powerful sound with a neutral frequency response, gorgeous design
This speaker puts out sound as distinctive as its shape, with powerful bass, rich mids, and a crisp high-end that really fills a room. If sound quality is paramount, you won't be disappointed with this Wi-Fi speaker. It does lack battery power, though, so you'll be tethered to a wall if you want to take it out of the house.
Wireless Speakers to Avoid
Beats®
Generally speaking, we're not fans of Beats speakers in general, and that includes the Beats Pill+.
The frequency response tends to be skewed toward the low end, meaning you get a bass-heavy sound that lacks clarity.
The price is really high for what you get. There's a bit of a markup for the brand name, and we've seen much better speakers in these price ranges.
Apple HomePod
We're also not huge fans of Apple's new HomePod. Again, the price is quite high, and while the sound quality is definitely better than other smart speakers, the smart aspect doesn't live up to the standards set by Amazon. Siri just can't hold a candle to Alexa, and the HomePod can stream music only from the Apple Music service, which makes its content very limited.
If you're heavily invested in the Apple ecosystem, this speaker might be a good buy, but otherwise we think you can do better for the money.
How to Choose a Wireless Speaker
There are lots of things to consider when choosing a wireless speaker. What type of connectivity do you need—is Bluetooth enough, or do you prefer Wi-Fi? Do you need battery power? How portable do you need the speaker to be? Let's dive into some of these questions so you can find the speaker that suits you best.
Connectivity
There's more than one way for a speaker to be wireless. While Bluetooth is the most common way to get sound into your speaker, there are several options:
Bluetooth: Bluetooth is the most common and basic type of wireless connection for speakers. Bluetooth is handy because it's universal—as long as your phone, tablet, computer, or other audio source supports it (and most of them do), you'll be able to connect to the speaker.
Wi-Fi: Some speakers make use of Wi-Fi connections instead of Bluetooth. The advantage here is potentially better sound quality. Of course, you'll need a Wi-Fi network to connect to, so this is less useful for portable speakers.
Aux-In: Even with Bluetooth or Wi-Fi connections available, you may want an auxiliary jack as a backup. This will give you the option of playing audio from devices like older iPods and MP3 players that may not have wireless connections.
Sound Quality
Sound quality with speakers is not always a cut-and-dried topic. Different preferences for the amount of bass and midrange frequencies can make a speaker sound great to one person and horrible to another. That said, your best bet for determining whether a speaker works for you is to hear it in person. If you have a friend with a speaker setup you like, that's a good place to start. Many electronics stores have showrooms as well.
Of course, if you're buying online, you may not have this option. So now what?
Here are some specs to help you determine how a speaker will sound:
Frequency Response: Frequency response is a measure of how a speaker produces sound. Generally, you want the frequency response to be as flat as possible—any big spikes, like in the bass frequencies, add color to the sound. Again, this comes down to preference: some listeners like a little extra oomph in the low end, for example.
Drivers: Most speakers are actually a combination of several smaller drivers, each of which is responsible for a specific range of frequencies. There are a few kinds of drivers:

Tweeters are the smallest and cover the high frequencies.
Woofers and subwoofers are usually larger and cover the bass frequencies.
Passive radiators are extra speaker cones without active drivers attached. These passive cones pick up and amplify the vibrations from the active drivers, helping boost certain frequencies in the sound.
A speaker with a dedicated woofer will generally always produce better bass response, and speakers without them can sound weaker by comparison. Again, there are exceptions, so hearing in person is really the best bet.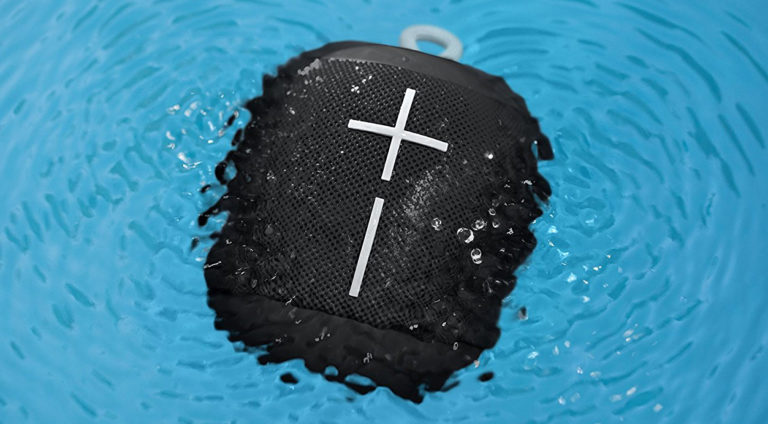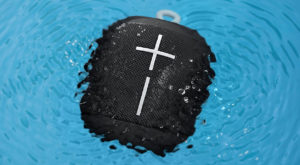 Waterproof speakers make excellent companions on camping trips, beach days, and poolside gatherings. Many portable speakers now advertise some level of water resistance—when choosing which one you want, pay extra attention to the description and rating.
Keep in mind that "water-resistant" just means a splash or light rain won't hurt the speaker. If you're planning on taking it into the water, you want a speaker with a listed IP rating. For example, the UE Wonderboom is rated IPX7. That means the speaker is waterproof for up to thirty minutes at a depth of three feet.
Portability
If you need portability, consider the battery life of a speaker. The most portable speakers tend to max out around at ten hours of battery life, which should be enough for a day of fun.
If you're taking it on a weekend trip, you'll want to make sure there's a way to recharge. If the speaker isn't battery powered, you can still take it out to your pool area or even camping as long as you have access to a power outlet.
Should I buy a Wi-Fi speaker or Bluetooth speaker?
If you're buying the speaker for portable, on-the-go use, Bluetooth is the better bet. That's because Bluetooth is a direct device-to-device connection method—it doesn't require anything besides a Bluetooth-enabled source and speaker.
Wi-Fi, while usually offering better performance, requires a stable, fast wireless network to work. That's fine for speakers used at home or in the office where you know you'll have a connection. But if you plan to take your speaker to the beach or to the lake for a day on the boat, you may find it rendered useless without an available network.
Get fast internet for smooth tunes.
Wireless speakers are a great way to liven up a get-together or bring some tunes to the great outdoors. No matter which of these top speakers you choose, you'll be ready for hours of entertainment on the go.
Author - Dave Schafer
Dave has written professionally for tech companies and consumer technology sites for nearly five years, with a special focus on TV and internet. He uses his industry expertise to help readers at HighSpeedInternet.com get the most out of their services. No matter the project, he prefers his coffee black (the stronger, the better).