A Day in the Life of a Digital Nomad
Oct 16, 2017 | Share

Brand Guides
So much to see, so much to do, so little time.
Hi there! I'm Michelle Sander, and I travel and work remotely while running my own branding and marketing firm. I've been working remotely for two years now, and I've been living abroad while working remotely—how most people define a digital nomad lifestyle—for half that time. My days are packed with activity, and no two days are ever the same; it's part of the joy of leading a digital nomad life. Let's take a closer look at a day I recently spent in Amsterdam.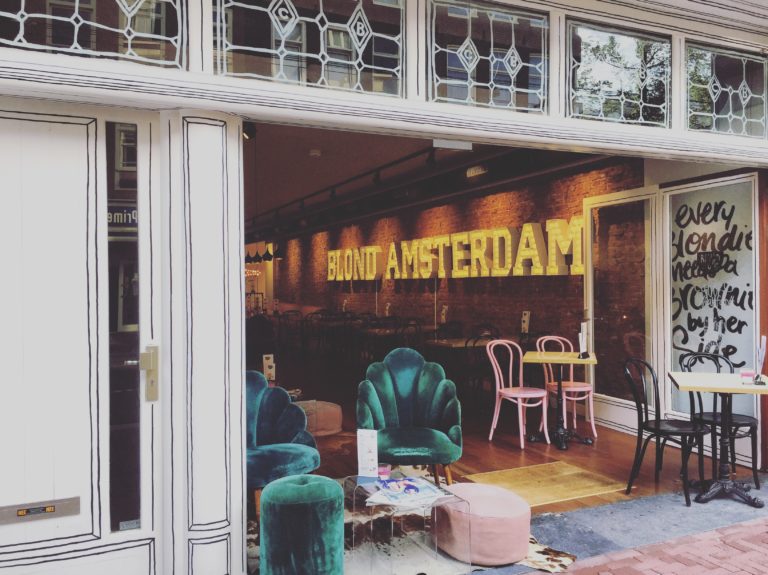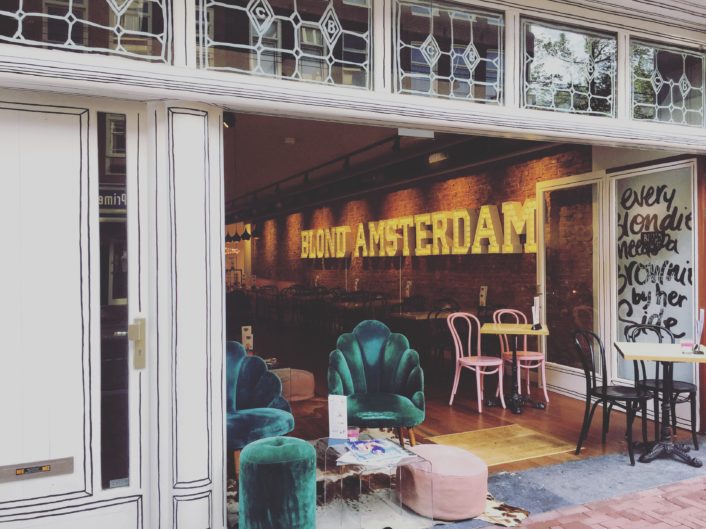 Home Is Where the Wi-Fi Is
That First Step Is a Doozy
You might think it's just because you've been spending too much time in one of Amsterdam's many coffee shops—famous for slinging more in the way of drugs than caffeine—but the truth is that buildings in Amsterdam are, in fact, leaning. The tall, brick buildings with geometrical rooftops that are so characteristic to Amsterdam were built along the canals with staircases as narrow as they are steep. But the foundations rest on swampy soil, so they have begun to lean due to a combination of erosion and settling over time.
I found myself staying in one such leaning building in the trendy Amsterdam neighborhood of De Pijp (sounds like and translates to "the pipe"). If you want to know just how trendy this neighborhood is, get this: one local restaurant has a menu based entirely on avocados, and you'll walk past such famous street art that you may not realize there's a Banksy hidden on the wall right above it.
To get to my apartment, which is on the second floor (here they call it the first floor), I must ascend a set of stairs that I've heard called "Mount Everest." (Yet another great reason to pack light, people!)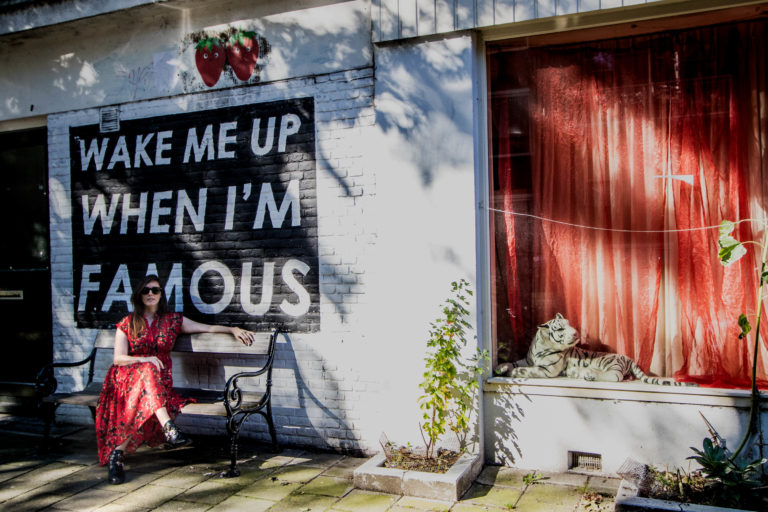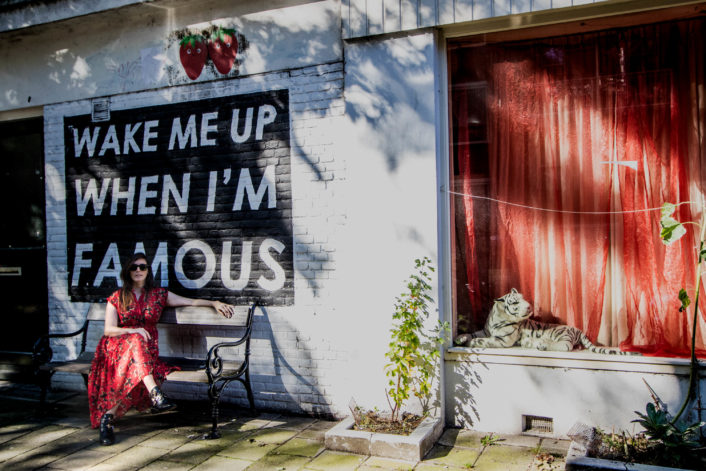 But First, Coffee
It's summer here in the Netherlands and that means that the sun rises early (6 a.m.) and sets late (9:30 p.m.). I gathered my things for the day, including my laptop, Anker power bank, headphones, and umbrella (sporadic showers are the norm) and headed to the local coffee shop, which is usually called a café here to differentiate between the places that sell cannabis-based products from the places where walnuts will be the only extras in your brownie.
I worked for a few hours and then took a requisite #RemoteWork tagged photo for Instagram. I took a conference call with a client before heading to meet my friend for lunch near the Albert Cuyp market. The Cuyp is the oldest market in Amsterdam and sets up every day but Sunday —rain or shine.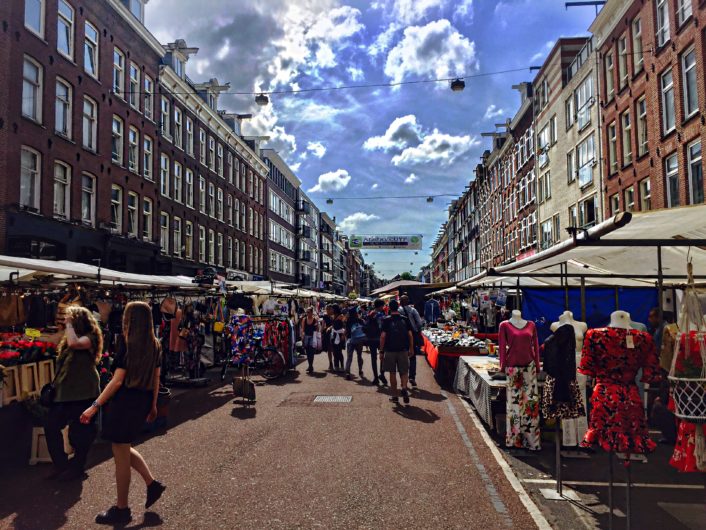 Some must-eats while you are swinging through the Amsterdam markets are the sliced herring served with diced onions and pickles and, of course, the world-famous stroopwafel! Stroopwafels have recently made their way stateside, but if you haven't tried one yet, they are basically a thin layer of caramel sandwiched between two delicate waffle-cone sheets. You can buy an entire stack of them in a tin covered in the famous Delft Blue pottery pattern, but as a digital nomad I certainly don't have room in my case for that, so instead I took the stroopwafel by hand and made my way on foot to lunch.
A Walk in the Park
After lunch, it was such a nice day that I decided to walk to Vondelpark to work from a café  surrounded by nature. It didn't disappoint. I was surrounded by pebbled trails filled with active folks on foot or on twee wielen (bicycles). Amsterdam is an active city, and as I worked on a new marketing campaign for a client, I saw tourists and locals of all ages slowly taking in the city under the tall trees, exercising in groups, or lounging on blankets near a small pond. In the café, many more lazily sipped on Amstel and Heineken beers, which are both Amsterdam originals.
It was hard to concentrate, but I knew I'd have plenty of time for socializing later in the night, so I pushed through and finished the tasks I'd outlined for the day. I decided to drop my laptop off at home, so to save some energy for the evening, I rented a FlickBike using the app from my phone. Almost 20% of the population of Amsterdam commutes to work by bike and the dedicated cycling lanes are almost always packed. I'm not great on a bike, but ever since a near miss from cycling directly into the river Amstel, I've improved quite a lot.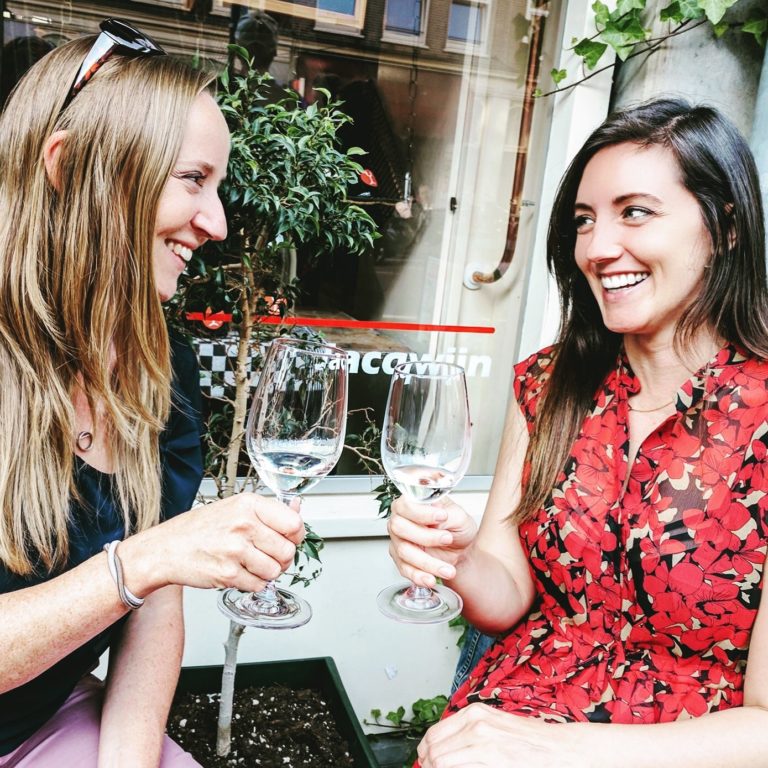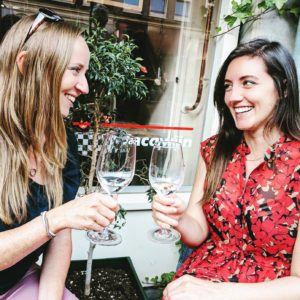 An Evening with Digital Nomad Friends
I climbed "Mount Everest" again, dropped off my bag, and freshened up a bit before I caught the local tram heading north near Westerpark. I've connected with a few ladies from a digital nomad Facebook group and we are attending a wine tasting. Facebook is a great place to find other solo travelers and digital nomads for networking and information. There's no need to reinvent the wheel, and it's great to have someone to chat with who knows that all the unbelievable stories of your digital nomad life aren't completely fabricated.
We sipped wines from around the world. As the sommelier described each of the wines, we were pleased to realize that at least one of us has traveled to each locale—certainly some #TravelGoals right there. We swapped intel on the best local co-working places and our travel to-do lists.
I walked through a corner of Westerpark to catch the tram headed toward my leaning building in De Pijp. The streets were still filled with people and the city didn't look to have any plans of stopping. I hopped off and crossed the canal near the Heineken Experience, the original Heineken brewery that's been turned into a museum. The Rijksmuseum was lit up behind me, and I made a mental note to add it to my to-do list before I leave.
Once I got home, I set my alarm for the next morning and melted into my bed, my head swimming with thoughts of warm stroopwafel and future travel plans.
4 Steps to Being a Successful Digital Nomad
Author - HSI Staff
Michelle Sander is a journalist and marketing and brand positioning leader. While traveling abroad and working remotely, she helps her clients tell their brand stories. Michelle wrote this post as she marveled at the verdant forests and remarkable Austro-Hungarian architecture of the Transylvania region of Romania, where a beer costs about 7 Lei (about $1.65).