Kickstart Your Kitchen: 6 Smart Gadgets That'll Transform Thanksgiving
Nov 14, 2016 | Share

Technology
Technology is making it easier to bring a Thanksgiving meal to your table, one smart gadget at a time. If you're looking for ways to simplify your holiday meal,
Kickstarter
is a great place to invest in innovative ideas. From cooking tools to cookie ovens, these six genius Kickstarter kitchen solutions will help you whip up something special without the hassle.
Tools & Gadgets: It's the little things that count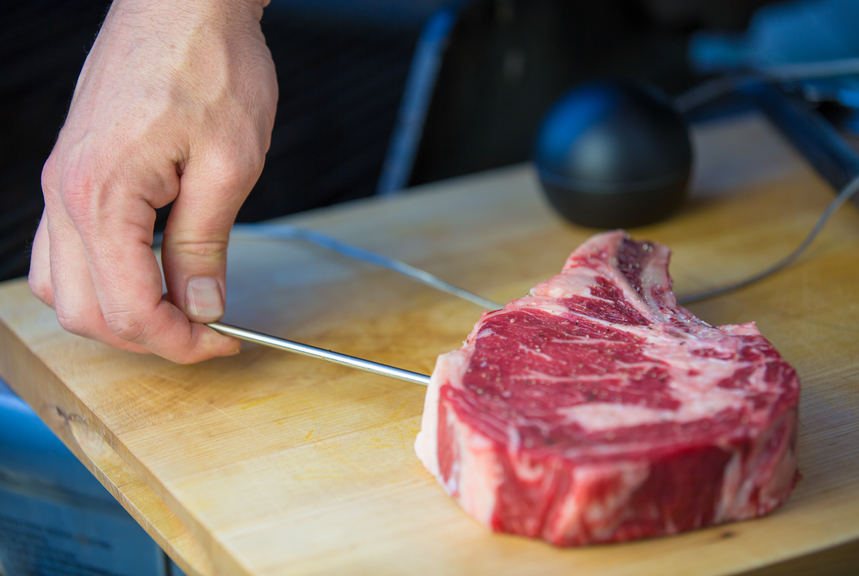 Photo by Loki – The Smart WiFi Meat Thermometer / Kickstarter.com
1.

Loki

: Get the world's most advanced meat thermometer while it's hot.
Kickstart your main course with a
smart thermometer from Loki
. This thermometer probe is Wi-Fi capable and can send temperature notifications to your mobile device. About the size of a baseball, the Loki has four different connected probes and a magnetic bottom that allows it to anchor easily. You'll never burn the turkey again once you invest in the tech Loki is packing, with built-in guides and LEDs that illuminate when your cut of meat has reached the recommended temperature.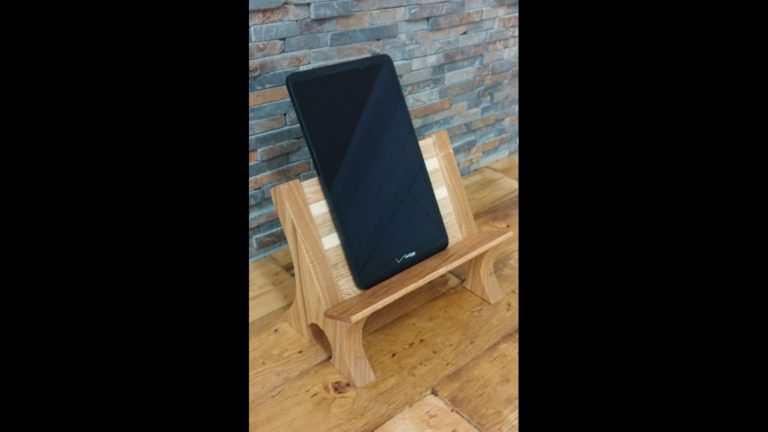 Photo by The "Park Bench" Tablet & Smart Phone Stand for the Kitchen / Kickstarter.com
2. The Park Bench: Save your Smartphone from spills
It's hard to make an omelet without breaking some eggs. If you're no stranger to messes in the kitchen, you'll appreciate this
smartphone stand from Bison Blocks
, which keeps your electronic recipes within line of sight but out of reach of spills. The Park Bench has pedestal feet and an attractive design offered in your choice of oak, maple, walnut, and cherry with an adjustable stand that'll keep your Pinterest-worthy Thanksgiving recipe at arm's reach.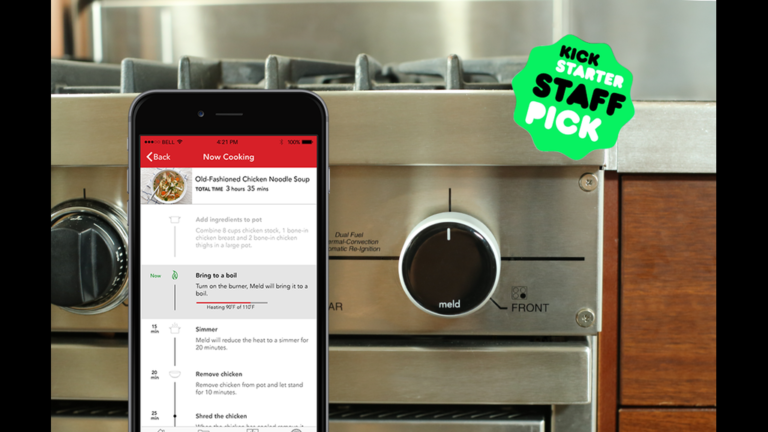 Photo by Meld: A Perfect Meal Every Time / Kickstarter.com
3. Meld: Tech for your stovetop that'll ensure the perfect temp every time
Many recipes instruct to cook on a stovetop at medium high. But what is medium high on one stove may not be the same temperature on the other.
Meld
allows you to precisely set and control temperature via a sensor that attaches to the cookware and a clip that controls the stovetop knob. This Kickstarter staff pick enables you to get your pot simmering just right on both electric and gas ranges so fire it up and meld your next Thanksgiving into a meal to remember.
Supplies & Sourcing: Grow smart and source it yourself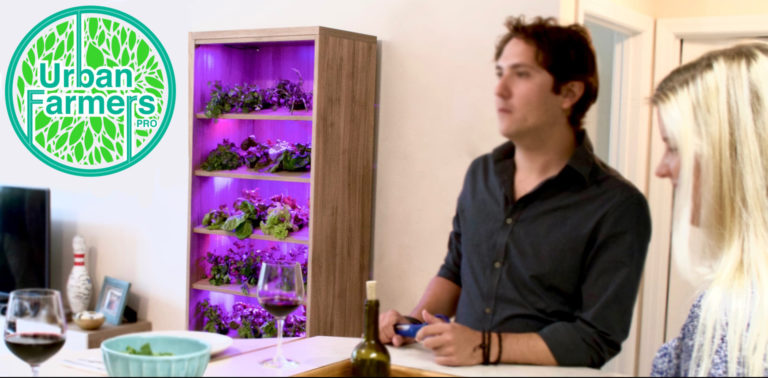 Photo by VIOS Smart Hydroponic Growing System by Urban Farmers Pro / Kickstarter.com
Vios makes this attractive, wall mounted cabinet outfitted with LED lights that uses hydroponics, a watering solution that feeds plants via minerals instead of soil, so you can grow safely indoors utilizing limited space. This Kickstarter
growing system from Urban Farmers Pro
allows you to control lighting and sends reminders about the care and feeding of your crops via smartphone. Want a bonus incentive? These urban farmers will donate a VIOS system to a family in need for each one you fund so you can give a little this Thanksgiving with every herb you grow.
No cooking skills? No problem.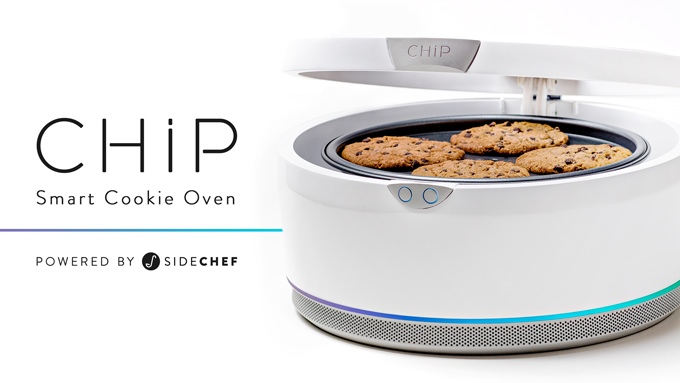 Photo by CHiP Smart Cookie Oven—Freshly Baked Cookies in 10 Minutes / Kickstarter.com
5.

 Chip: Be a smart cookie. Literally.
If pie is just too much to put on your plate this Thanksgiving, try
the Chip from SideChef
. This smart cookie oven is a small countertop appliance that comes with pre-made dough that you load into the oven. Scan the dough packaging with your smartphone, and Chip is ready to go with preloaded instructions about baking and temperature to produce the perfect cookie. Ten minutes later you'll have a warm piece of homemade goodness to finish off your meal in style. You can also use your own dough if you're feeling ambitious, and Chip's app will send alerts to your mobile device when it's done and ready to devour.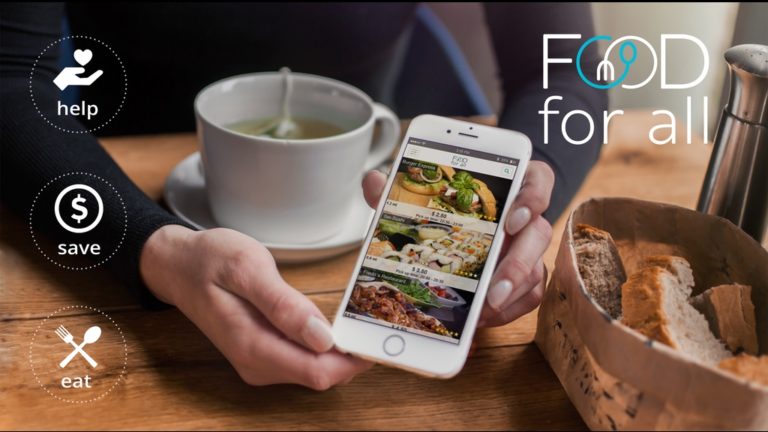 Photo by Food for All: Save Food Waste & Money Altogether / Kickstarter.com
6. 

Food for All App: Help, save, and eat your way to a better Thanksgiving.
Up to 40 percent of food produced in the United States becomes waste, but this app aims to change that. Launched in New York and Boston,
this Kickstarter, run by the folks at Food for All,
is funding to expand to a wider base. Restaurants post their leftovers, then users can log in and purchase the food at discounted prices. You can pick up a gourmet meal at a fraction of the cost. The app has emerged from beta as a sleek product ready to expand into additional markets and touted by various publications as a technological solution that can really make a difference.
---
Connected kitchens and smart gadgetry are part and parcel of the internet of things that is transforming our everyday lives. Home automation gives technology a place at the table and ensures that in the future, feeding your family will be easier than ever. Just ask the Jetsons.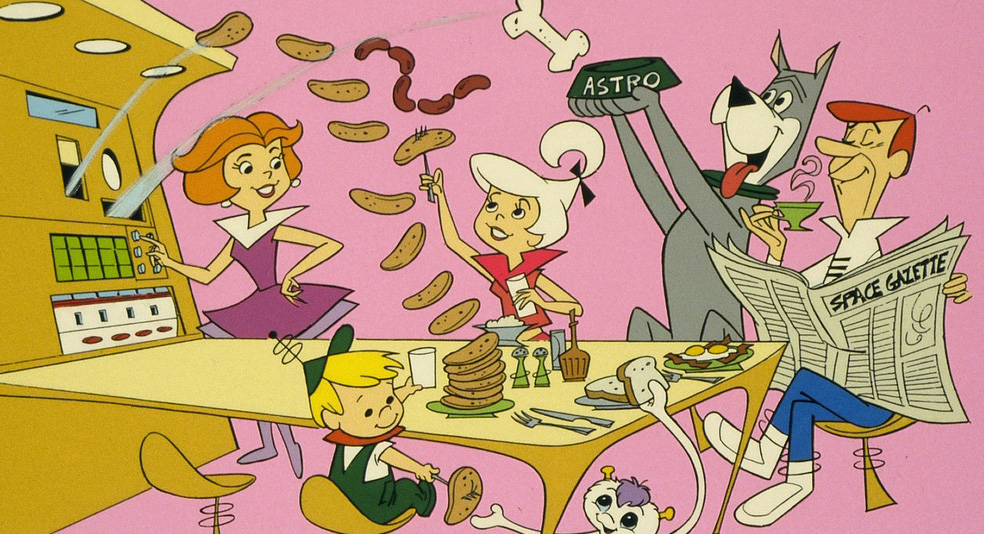 Does your smart kitchen need a faster connection to reach peak deliciousness? Enter your ZIP code to see speeds and packages for internet providers in your area.
*HSI has conducted impartial research to recommend products. This is not a guarantee. Each individual's unique needs should be considered when deciding on chosen products.
Author - HSI Staff
Kaz is a writer, blogger and social media junkie. She uses her tenacity to investigate the best of the Internets.