Should "Streaming" Really Be Called "Netflixing"?
Sep 28, 2017 | Share

Industry Exclusive/Entertainment
The results of our recent survey suggest Netflix is not simply the most popular streaming service—it is virtually synonymous with streaming in general, joining the ranks of brands like Band-Aid, Jello, and Kleenex as eponyms for a product.
Our team at HighSpeedInterent.com asked 300 internet users what they stream, when they stream, and how they stream. The results show that Netflix dominates the market, and they also reveal some surprising viewing patterns.
If you stream, you stream on Netflix.
Over 99% of the people we surveyed said they use a streaming service. Netflix led the way with over 43% of respondents saying they use the service. That was nearly double the second-place service, Hulu, which is used by over 23% of those surveyed. Amazon Video came in third with 20%. Out of the 300 people we surveyed, only two said they don't use streaming services at all.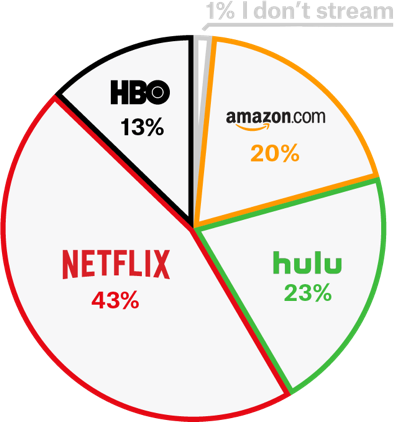 Streamers love Netflix originals.
Our survey asked people to list their favorite shows to stream on Netflix. The top two shows were both Netflix original series. Orange Is the New Black topped the list and was listed among people's favorite Netflix show more than twice as many times as the second-place show. Coming in at number two was Stranger Things.
Fuller House, the Netflix original sequel to Full House, also made the top five. Ten of the top twenty-one shows on Netflix were Netflix originals, including 13 Reasons Why, Ozark, The Ranch, Narcos, House of Cards, Daredevil, and The Defenders.
"Netflixing"?
Although one survey question specifically asked about favorite shows to stream on Netflix, several people responded to that question with shows that aren't on Netflix. People might not always know which streaming service offers which shows, but among these surprising results were shows like Game of Thrones and Rick and Morty. This comes as a surprise, considering these shows have enthusiastic fan bases you would expect to know every last detail about their favorite shows, including where to watch them.
These misaligned answers may suggest that people don't distinguish between streaming on Netflix versus streaming in general. When a brand name becomes synonymous with its product, it's called an eponym, and Netflix may be approaching that status, following in the steps of "Kleenex" and "Band-Aid." How long before we start referring to all streaming as "Netflixing"?
Netflix is not enough.
For most of the respondents to our survey, one streaming service just wasn't enough.
58% use more than one streaming service
35% use three or more streaming services
18% use four or more streaming services
Streamers eagerly await Stranger Things and Game of Thrones.
According to our survey, the two most anticipated shows to stream are Stranger Things and Game of Thrones.
Stranger Things season two is slated for release in October 2017. That same month Game of Thrones is expected to start shooting its eighth and final season. The official release date for the final season of Game of Thrones has not been announced, but it is expected to be late in 2018 or early in 2019.
What do I watch next?
The most lopsided results we saw in our survey were the answers to a question about what streamers do when they run out of new episodes of the show they're streaming. A whopping 77% said they go straight into finding another show to watch.
The streaming services have decent suggestions for what to watch next, but for a second opinion, check out this What to Watch tool from CableTV.com. Just enter a few shows you know you like and it will suggest others you'll probably like.
The rise of the mini-binge
With all the talk of hit shows being binge worthy, we were surprised to learn than only 14% of people surveyed typically watch a full season at a time. Most, 53%, watched only two to four episodes at a time while 15% said they watch just one episode at a time. 18% watch six to eight episodes at a time.
These percentages show that binge watching doesn't necessarily mean endless hours of vegging out on the couch. It usually consists of a reasonable few hours per binge: a mini-binge.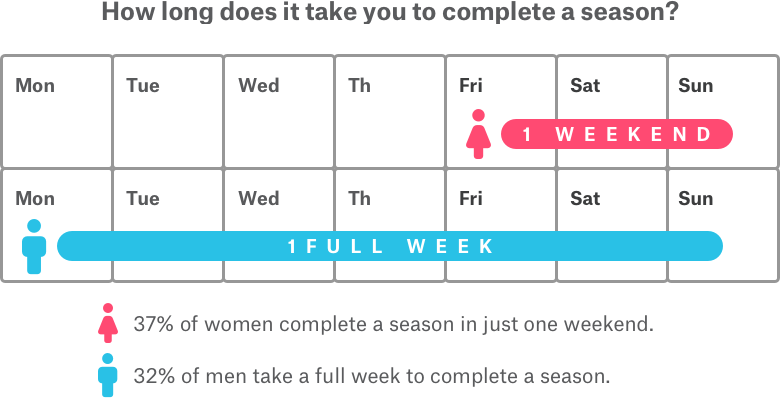 Weekdays are for watching.
While 49% of people said they viewed streamed programing almost every day, we were a little surprised which days they did the most viewing. Despite people typically having more time on weekends than during the workweek, most people said they stream the most during the week.
73% of people said they stream mostly on weekdays
27% of people said they stream mostly on weekends
Combining the binge data, the day-of-the-week data, and the family data paints a picture that doesn't fit the cord-cutter stereotype. According to our survey, the average streaming customer isn't a lonely couch potato who binge-watches the weekends away. The reality looks more like cost-conscious families enjoying a few hours of entertainment after work.
Tell us how you stream video in the comments below, and share this article with your friends so they can join the conversation.
More streaming resources:
Author - John Dilley
With over five years writing about the internet industry, John has developed a deep knowledge of internet providers and technology. Prior to writing professionally, John graduated with a degree in strategic communication from the University of Utah. His education and experience make his writing easy to understand, even when covering complex topics. John's work has been cited by Xfinity.com, PCMag, The Washington Post, Los Angeles Times, and more.