Step 3: Digital Nomad Co-Working Spaces, Flights, and Accommodations
Jun 9, 2017 | Share

Brand Guides
Take a couple aspirin because sketching out your travel plans is equal parts excitement and frustration.
You've decided to finally do it. After months of eating the same Pho for lunch and Thai takeout for dinner, weeks of virtually cycling through the French countryside in spin class, and night after night of expelling wistful sighs as you scroll through the #wanderlust hashtag on Instagram, you couldn't take it for a minute longer. So you made up your mind: you decided to become a digital nomad!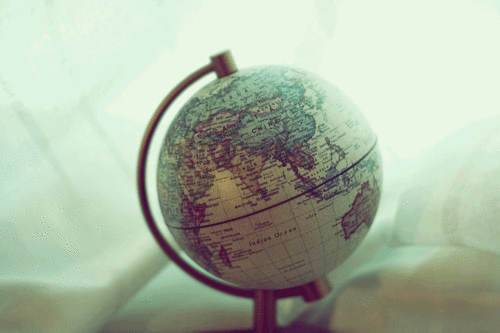 I'm Michelle Sander, and I live abroad and work remotely while running my own marketing consultancy. I've been working remotely for just shy of two years now and I've been living abroad while working remotely—how most people define a digital nomad lifestyle—for nine months. I've traveled a rocky road to get here, but now that I'm really doing it, and doing it successfully, I want to help you navigate your first steps down the path to making this lifestyle a reality.
If you haven't done so already, be sure to read all about your first few steps to leaving the status quo behind in Step 1: Becoming a Digital Nomad: Creating Your Exit Strategy, and Step 2: Digital Nomad Prep List—Things to Do before You Go. We are now sprinting ahead to Step 3!
Part 3: Where to Go and How to Get There
Open all the browser tabs.
Deciding where to go is a complicated algebra, and the unknowns to solve for are far more numerous than x. You need to consider where you'll be before and where you'd like to go after. You'll need to weigh visa restrictions. For example, perhaps you can only stay in Canguu, on the Indonesian island of Bali, for thirty days. But since you don't need a visa to enter Malaysia and because Kuala Lumpur is a hub for many value airlines, it's a great place from which to take a longer flight . . . and down the rabbit hole you go. You will spend hours sorting this stuff out, but after you get the hang of it, it will become second nature to you along with packing up and swapping out your SIM card without dropping it.
I always start with a three-month timeline. It's a nice block of time, but not so much that you'll get overwhelmed. Next I decide what I'd like the weather to be like with the qualifier of what I'd like to see. It's difficult to see the Northern Lights in Norway after April, for example; the Chiang Mai Yi Peng Lantern Festival in Thailand is in the beginning of November; and the Battle of the Oranges in northern Italy is near mid-February. Norway and Italy will be cold during these events, and it's monsoon season in Thailand during that one, so what should you do?
Here's how you can start making decisions: If you can't stand missing the world's largest food fight in Italy, you could brave the cold for a few days or weeks and then head down toward the tip of the boot for much warmer weather and the best pizza you've ever put in your mouth. From Rome, you can get anywhere inexpensively, but you might as well take your time exploring and then cross the Adriatic Sea from Bari, Italy, to Bar, Montenegro, and then traipse through the Balkans. The Balkans in springtime is not to be missed, and springtime is also the best time of year to go. You could pass through Belgrade or Sofia and then really take your time through Transylvania in Romania. Once you're in Romania, Bucharest is an international hub, and you can get anywhere from there.
And just like that, we've planned three months abroad, starting with just a few data points and far too many unknowns to count. WTG!
Co-Living Spaces
I like to minimize my carbon footprint by taking fewer flights, but some don't mind jetting to and fro. If that sounds like you, you might be interested in one of the many co-living/co-working spaces out there. There are too many to mention, but they all run about the same price.
There's Surf Office in Gran Canaria, Spain, and Lisbon, Portugal; Nest Copenhagen in Denmark; The Collective in the UK; and Roam has several locations worldwide from Bali to Miami. All of these places run about $500 a week.
A more affordable alternative would be to join a Facebook group for expats or digital nomads in the area, and find some roomies by sifting through posts. It will be a fraction of the cost, but you might have roommates who are surf bums or on their gap year. So if you have important conference calls or other virtual meetings where you don't want your bikini-clad roommate walking through, it might be worth considering a co-working space.
Co-Working Spaces
I worked off site for nearly a year before I tried my hand at the digital nomad life. Your boss isn't around. They're probably not even within a 1,000-mile radius, nor are they in the same time zone. Can you still get your work done when the beach is calling in Seminyak, when everyone is going to the Full-Moon Party on Koh-Phangan, or when you get invited to hit the slopes anywhere from Las Lenas to St. Moritz?
If there were ever a time in your career where your work performance mattered, it's now. If you are a direct report, your boss is going to be keeping a close eye on your performance because she doesn't physically see you every day, so she's going to wonder what you are up to and if you sloughed work to take that hike to the hidden waterfall after all.
If you have your own business like I do, you answer to your clients. If you don't perform, you won't make the money you need to afford this digital nomad life. You really don't have an option. That said, you don't have to completely separate work and play. I've found that my clients are eager to hear where I've traveled to and all about my adventures. It certainly makes for great small talk to kick off a conference call.
If you are having trouble focusing, try a co-working space. They are usually quite affordable and filled with small perks like free coffee or a high-speed internet connection that digital nomads need to get things done. The top co-working spaces are scattered around the globe, so try OPEN in South Africa, CocoVivo in Panama, COIN in Croatia, or Dojo Bali in Indonesia. All the co-working options usually run between $100–$200 a month, but if focusing and even networking are your goals, a good co-working space may be well worth the cost.
Getting There
Never take a taxi from the airport or train station. This is a hard-and-fast personal rule of mine after paying half the price of my three-hour flight for a twenty-minute lift. I don't want to admit that it has happened more than once, *whispers* but it's happened more than once. Sometimes it's unavoidable, but usually because I was too busy to prepare an alternative. From tuk-tuks to rickshaws, motorbikes to prop planes, there are any number of ways to get around. I go for a combination of (1) best story and/or safety, (2) affordability, and (3) convenience.
You can fly from Belgrade, Serbia, to Podgorica, Montenegro, for 78 Euro, or you can take the Balkan Express from Belgrade to Bar for under 20 Euro. The difference is about thirteen hours of your life you'll never get back and whatever you picked up from using the most questionable toilet in history on a packed train that rocked from side to side more than a large Balkan man after too much Rakia.
The other differences, though, are taking in breathtaking mountain views, glimpsing apiaries tucked into the verdant mountainside, admiring tiny villages nestled into lush valleys, and having lively conversations with everyday folks who insist on sharing more of their food than you can eat and teaching you more than a few curse words in their mother tongue.
You can't put a price on all of that.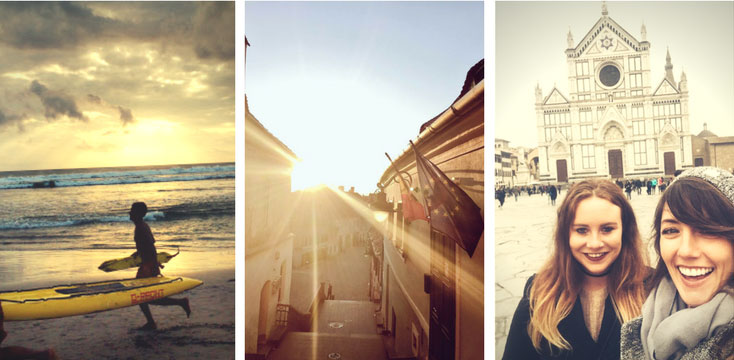 Join me next time for the final installment in the Digital Nomad Starter Kit: Step 4: Digital Nomad Tips and Tricks for Maintaining Your #RemoteLife.
Michelle Sander is a journalist and marketing and brand positioning leader. While traveling abroad and working remotely, she helps her clients tell their brand stories. Michelle wrote this post next to the largest sea island in Montenegro, near the coastal city of Budva on the Adriatic Sea. Niksicko, the local brew, comes in gold and dark and costs about 1.70 Euro (about $1.86).
Author - HSI Staff
Michelle Sander is a journalist and marketing and brand positioning leader. While traveling abroad and working remotely, she helps her clients tell their brand stories. Michelle wrote this post as she marveled at the verdant forests and remarkable Austro-Hungarian architecture of the Transylvania region of Romania, where a beer costs about 7 Lei (about $1.65).