The 5 Best Gaming Monitors for 2018
Oct 26, 2018 | Share

Equipment Guides, Gaming
A picture is worth a thousand words (and points).
Nothing kills the gaming experience like a bad monitor. (Well, except for maybe a crappy internet connection.) Lagging input, a choppy picture, and low resolution can make even the most powerful gaming PC feel like a dinosaur. So what's a gamer to do? You don't want to buy the first gaming monitor you meet—that could lead to trouble.
With gaming monitors, there's a skin for every player. The trouble comes in figuring out which one is the best for you. The good news is that whether you're looking for the cheapest option for gaming or the best option for 4K, we've got a monitor for that.  Check out our rankings to get the experience you want and the performance you need to stay in the game.
The Best Monitors for Gaming
Data current as of 10/24/18. Pricing and features subject to change.
The Monitors
If you've been playing on a medieval monitor for far too long, get ready to be blown away. These gaming monitors aren't for noobs. They offer next-level picture quality and response time for optimal gaming performance. Now you finally have an excuse to break up with the Dark Ages.
Best Overall
Resolution: 1440p Quad HD
Refresh Rate: 165Hz
Response Time: 4ms
Screen Size: 27″
Price: $$$$$
G-Sync/FreeSync Compatible: G-Sync
Our pick for best overall gaming monitor balances picture quality with a fast refresh rate and response time to deliver a performance of champions. The size is just right at 27 inches—not too large but not too small. And while the resolution isn't the highest, it might actually be better in this case: more graphics cards can handle this resolution while still delivering good frame rates.

Pros: 
Great balance of size, resolution, and response time
Extremely fast refresh rate
Excellent picture quality

Cons:
Big price tag
Some quality control issues
Best for a Budget
Resolution: 1080p Full HD
Refresh Rate: 144Hz
Response Time: 1ms
Screen Size: 24″
Price: $$
G-Sync/FreeSync Compatible: No
For PC gamers who don't want to drop a lot of cash on a screen, it's tough to beat the VG248QE from ASUS. It gives you enough bells and whistles without draining your funds. The fast refresh rate combined with a lower 1080p resolution and blazing 1ms response time makes for a picture that shows your every move without a glitch. The only major feature it's lacking is G-Sync, or FreeSync, technology, but that's easy to forgive at this price.

Pros:
Affordable price
Low response time
Very fast refresh rate

Cons:
Smaller screen compared to the competition
Lacks NVIDIA G-Sync or AMD FreeSync technology
Best Curved Gaming Monitor
Resolution: 1440p Quad HD
Refresh Rate: 100Hz
Response Time: 4ms
Screen Size: 35″
Price: $$$$$
G-Sync/FreeSync Compatible: G-Sync
If you need a big, bold, ultra-widescreen monitor built with gamers in mind, look no further than this curved model from AOC. Curved models claim you'll feel more immersed in the gaming experience and that the screen will feel deeper. Depending on the game you're playing, this could really bring it to life. But 2D games like Stardew Valley? They'll probably look about the same.
It also packs some nice gamer-focused conveniences, like a foldout headset holder and carrying handle. If you haven't realized it by now, this monitor was clearly designed for the most committed of gamers. The only catch is that all these features add up to a pretty hefty price tag, but if you're willing to pay, there's no question you'll enjoy it.
Not sure if a curved screen is right for you? Get more details below.

Pros:
Gorgeous ultra-wide curved screen
High resolution
Convenient features for gamers, like headset holders

Cons:
Costs quite a lot
Has a refresh rate that's lower than many others in this list
Best for Most Gaming Consoles
Resolution: 1080p Full HD
Refresh Rate: 75Hz
Response Time: 1ms
Screen Size: 24″
Price: $$
G-Sync/FreeSync Compatible: FreeSync
Console gaming monitors are different than PC monitors in that many consoles are capped at 1080p resolution and 60Hz refresh rates. (Except for the Xbox One X, PlayStation 4, and Nintendo Switch—they're in a league of their own. Check out our best gaming monitor for 4K below if you have one of those consoles).
If you're using the monitor for other things besides gaming, you may want better specs, but for a console-specific monitor, there's no reason to spend more on features you can't use (unless you plan on upgrading to a 4K gaming system soon). Similar to PC monitors, a great console monitor has accurate colors, a clear picture, and a fast response time. This ASUS monitor does the job perfectly, and the price is among the lowest on our list. In fact, it's probably the best gaming monitor under $200.00. Our only potential complaint is that it's a bit small—depending on how far away you like to sit, you might want something larger.
Why buy a monitor for console games instead of just using your TV? Well, it comes down to responsiveness. TVs aren't going to offer the types of refresh rates and response times you need for competitive gaming. Plus, monitors are usually more portable and affordable.

Pros:
Affordable price (under $200)
Excellent customer ratings
Fast response time

Cons:
Lower 1080p resolution
Slightly small for some console games
Best for 4K (PS4, Xbox One X, and Nintendo Switch)
Resolution: 4K Ultra HD
Refresh Rate: 60Hz
Response Time: 4ms
Screen Size: 32″
Price: $$$$$$
G-Sync/FreeSync Compatible: G-Sync
Acer's Predator line delivers some top-notch gaming accessories and a beautiful display that just keeps going and going and going . . .  just be prepared to pay for it. With a price tag that high, there's not much that falls short with this monitor. But if you have an Xbox One X, PlayStation 4, or Nintendo Switch, you need this monitor. It will give your 4K system graphics the justice they deserve.
Also, keep in mind that while we listed the 60Hz refresh rate as a con, it's not a huge deal because there aren't many graphics cards that can output 4K faster than 60 frames per second. In fact, few can even handle it above 30 FPS.
If you want something a little smaller (and more affordable), check out the Acer Predator XB271HK. This is the little brother to the XB321HK, with a 27-inch screen and basically identical specs.

Pros:
Incredibly sharp 4K display
Great size
Good response time
Compatibility with newest consoles

Cons:
Super expensive
Limited to 60Hz refresh rate
What to Look For in a Gaming Monitor
While any monitor will technically work for gaming, some specs and features have a bigger impact on gameplay than others. Gaming monitors are built with these needs in mind.
Resolution
For a standard monitor used for everyday tasks like web browsing or Netflix, higher resolution is almost always better. When it comes to optimizing game performance, though, that's not always the case.
Higher resolutions are very taxing on hardware, and pushing higher than your graphics card or processor can handle often results in low frame rates and games that look more like slideshows, which not only ruins the experience but can also cause a significant disadvantage in online gaming.
For a gaming monitor, look for a minimum of 1080p resolution. These are affordable and fairly sharp. Whether or not you can go higher, like 1440p (Quad HD) or 4K (Ultra HD), depends on your graphics card and how well it can push all those pixels.
Unless you have a new setup like the Xbox One X, PlayStation 4, or Nintendo Switch, a setup that can reliably keep up at 4K resolution is rare.
Refresh Rate
The refresh rate of a monitor is pretty straightforward. The image on a screen is actually not a smooth video—instead, it's a series of frames, like an old-school movie reel. The refresh rate is how quickly the monitor can refresh the image on the screen by moving to the next frame.
Some common refresh rates you might see are 60Hz, 120Hz, and 240Hz. Higher refresh rates are generally always better, but there are a couple caveats:
The refresh rate is limited by the maximum frame rate of your source material. For example, most movies are capped at 24 frames per second (FPS), so even with a 120Hz monitor, you won't see more than 24 FPS with that media.
Not everyone notices much of a difference in refresh rates after a certain point. The jump from 30Hz to 60Hz is typically massive and makes a huge difference in your viewing and gaming experience. The jump from 60Hz to 120Hz is also usually large, though not as noticeable for everyone. The jump from 120Hz to 240Hz can actually be hard to see, even though it seems like the biggest difference on paper. Just be aware of that before you commit to spending more money for a high refresh rate.
Response Time
Response time is often confused with refresh rate and input lag because it sounds similar on the surface, but it actually refers to the speed at which the monitor can turn a pixel on and off, or from white to black. That's it.
The lower the response time, the better.
A lower response time means the monitor is taking less time to adjust the pixels. The result of a poor response time is image ghosting, where afterimages take a moment to clear off the screen, which results in generally worse picture quality. With response time, 5 milliseconds (ms) is a good number to shoot for, though many monitors now offer 1ms response times
Input Lag Time
Input lag is one of the most important specs you should be looking for in a gaming monitor. Input lag is basically the delay between when the monitor receives a signal and when that signal gets displayed on the screen. This comes into play (pun totally intended) when you press a button on your controller, mouse, or keyboard.
Compatibility
Generally speaking, any monitor is compatible with any computer, provided the ports match up. The only thing to really watch out for is whether your graphics card can use the monitor to its full potential. If your monitor can display a 4K picture, but your graphics card only outputs 1080p (or the other way around), the lower number will be used—1080p in this case. Moral of the story? If you have an older gaming system, don't waste money on a high-definition display.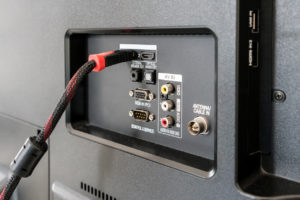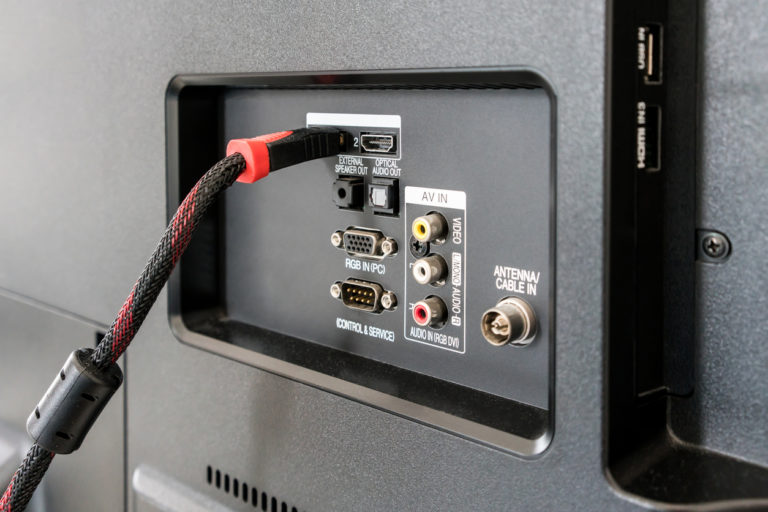 Ports
Consider what ports you need in a monitor. For the most part, this is just the connection that you'll use to send a picture from your computer to the screen. There are essentially three options here:
HDMI is the most common and convenient. DisplayPort is also pretty popular, especially among the professional crowd. It allows you to connect multiple monitors with just one port on the computer.
DVI is an older standard. Many newer computers don't include it, although a lot of monitors still do. DVI is capped at 60Hz and 2560 x 1600 resolution, so it won't work with modern 4K displays. There are adapters on the market. So if you do end up needing to use a DVI port on a monitor or computer, you shouldn't have any trouble. Just make sure any new devices you buy have either HDMI or DisplayPort on them because that's the future from here on out.
Screen Size
Screen size is pretty straightforward—it's the size of your monitor. Bigger is not always better. If your screen will be close to you and you need to see everything on the screen to play well, a huge monitor probably isn't what you want.
Curved Monitors vs. Flat Monitors
There's some debate about whether curved monitors are better, worse, or just different from their flat-screen counterparts. It boils down to this: curved screens can offer a more immersive experience but suffer from additional glare and distortion at certain angles. To learn more about curved monitors, check out this detailed overview.
FAQs about Gaming Monitors
Buying a new gaming monitor is a big commitment—after all, you're going to spend a lot of time with this fella. So it's understandable to still have some lingering questions. Hopefully this section clears them up for you.
What type of monitor is best for gaming?
Any monitor with fast refresh rates and response times is good for gaming. A low input lag time doesn't hurt either. Resolution is important, but secondary—in fact, you may want to opt for a lower resolution to improve performance if you have an older or low-powered graphics card.
What's the best 4K monitor for gaming?
If your gaming rig can handle 4K, we recommend the Acer Predator XB321HK or it's more affordable, smaller counterpart, the Acer Predator XB271HK.
There are also several nice ASUS 4K gaming monitors. Our favorite is probably the ASUS ROG Swift PG27AQ. This is a 27-inch 4K monitor with a 4ms response time and all the fancy capabilities you'd expect.
If you're upgrading your monitor, be sure to upgrade your gaming system as well. Here are the best 4K systems currently on the market:
What's the best cheap gaming monitor?
Our pick for best budget gaming monitor is the ASUS VG248QE. But there are plenty of other solid options on the market for a price that won't knock the wind out of you.
More of the Best Gaming Monitors Under $200.00
What's the best gaming PC?
In general, the best gaming PC is one you build yourself. It costs less this way, and you can tailor it to the specs you need and the budget you're working with. If that sounds like more work than you want, there are a few good (but expensive) prebuilt options available:
Check out our guide to the best gaming PCs for more details on what to look for.
Is a 5ms response time good for gaming?
In short, 5ms is decent. For the best possible experience, you want 1ms, or as close as you can get to that as possible. However, keep in mind that at a certain point your ability to physically interact with the game and computer will limit how useful faster response times and input lag will be for you.
Author - Dave Schafer
Dave has written professionally for tech companies and consumer technology sites for nearly five years, with a special focus on TV and internet. He uses his industry expertise to help readers at HighSpeedInternet.com get the most out of their services. No matter the project, he prefers his coffee black (the stronger, the better).