Best Gigabit Ethernet Switches 2022
Dec 12, 2021 | Share

Equipment Guides, FAQ
Which gigabit Ethernet switch is the best?
The best gigabit Ethernet switch you can get for most use cases is the Linksys SE3008. It has eight ports, an easy plug-and-play setup, and simple Quality of Service (QoS) features that prioritize audio and video streaming.
However, the best gigabit Ethernet switch for you depends on how many ports and features you actually need for your wired network. But if you want Ethernet switches specifically built for gaming or large networks, we list out top picks for those categories too.
Best overall—Linksys SE3008
Best overall
$39.98*
Specs:
8 gigabit Ethernet ports
Plug and play
Full duplex
Auto MDI/MDI-X cable detection
Energy efficient
According to our research, the Linksys SE3008 is the best Ethernet switch for everyday use in your home network. Using it is as simple as plugging it in, but it offers some QoS functions to streamline your data flow for streaming movies and music.
The switch's sturdy metal frame can sit on your desk or live in a rack mount, and it features eight front-facing ports with LED status lights so you know when each port is in use.
Pros:
Sturdy construction
Simple plug-and-play setup
Basic QoS for multimedia performance
Cons:
Higher price than basic switches
Power jack on opposite side of Ethernet ports
Best value—TP-Link TL-SG108
Best value
$17.99*
Specs:
8 gigabit Ethernet ports
Plug and play
Full duplex
Auto MDI/MDI-X cable detection
Energy-efficient design
This eight-port gigabit Ethernet switch is inexpensive but still has all the features you need in an unmanaged network switch. It has a metal frame, basic QoS for traffic optimization, and an automatic power-saving mode. Plus, its lifetime warranty guarantees that you're covered if it fails.
Though the TL-SG108 has a metal chassis, it weighs less than 14 ounces. So, the weight of Ethernet connections can move it if it's not secured correctly, which could be annoying since cord management is messy enough without your switch getting all tangled up.
Pros:
Low price
Metal exterior
Lifetime warranty
Cons:
Best for gaming—NETGEAR Nighthawk GS810EMX
Best for gaming
$222.26*
Specs:
8 gigabit Ethernet ports
2 10G/multigig ports
User-friendly interface
Energy Efficient Ethernet mode
The NETGEAR Nighthawk GS808E gaming switch is the only managed Ethernet switch on this list. That makes it a little more advanced and a little harder to set up, but it gives you more control over your network connections. That's a huge benefit if you want to configure your connections to prioritize gaming data and reduce latency.
This switch also has superfast max switching speeds, thanks to its two multigigabit Ethernet ports. But all the fancy features make it cost more than unmanaged switches. The benefits outweigh the costs, however. And though the managed switch is a little more difficult to set up, you only have to configure it once.

Pros:
Low latency design
User-friendly management software
Cons:
High price
More difficult setup than unmanaged switches
Best for large networks—TRENDnet TEG-S24DG
Best for large networks
$89.99*
Specs:
24 gigabit Ethernet ports
Plug and play
Full duplex
Auto MDI/MDI-X cable detection
Energy efficient design
If you need more than five or eight Ethernet ports, this TRENDnet TEG-S24DG network switch has plenty. With 16-port and 24-port options, this gigabit switch is an easy way to expand your connections.
Like other unmanaged Ethernet switches, this device doesn't have many QoS features like port configuration. But it does follow GREENnet energy saving performance standards that adjust power consumption based on the devices plugged into the switch.
The TEG-S24DG can sit on your desk for easy access or be rack-mounted, but you have to buy the rack-mounting hardware separately.
Pros:
Plenty of ports
Lifetime warranty
Cons:
No included rack-mounting hardware
Best for power over Ethernet—NETGEAR GS305Pv2
Best for power over Ethernet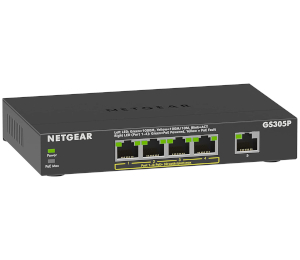 $49.99*
Specs:
5 gigabit Ethernet ports
63 watts total power
Plug and play setup
Fanless housing
Energy efficient design
Ethernet cables are typically associated with wired networking, but you can use them to deliver power too. For example, you can install security cameras in locations that lack electrical lines and outlets. Connect an Ethernet cable and the cameras can receive both data and power.
NETGEAR's GS305P (version 2) provides power up to 30 watts per port, but your maximum total output can be only 63 watts. The "plus" version is $20 more and includes software that allows you to manage the device. If you need more ports and power, the GS316PP has 16 ports and a 183-watt power budget, starting at $399.99. Ouch.
Pros:
Up to 30 watts per port
Plug-and-play design
Cons:
What is an Ethernet switch?
Very simply, an Ethernet switch gives you more Ethernet ports. It's like a power strip but for network connections instead of electrical ones.
Wired internet connections are faster and more reliable than Wi-Fi. So connecting your PC, gaming console, or streaming device to your router via Ethernet cable can give you an extra boost and keep the buffering blues at bay.
Wireless routers often have a built-in network switch to offer multiple ports (well, except for Eero). But if you run out of Ethernet port real estate on your router, an Ethernet switch is the best way to get more.
What to look for in a gigabit Ethernet switch
Ethernet switches come in many forms and sizes. To make sure you find the best gigabit switch for your network, keep these things in mind.
Number of ports
The most important factor to consider when buying a gigabit Ethernet switch is how many Ethernet ports you actually need. It would suck to purchase a device and get everything set up just to find out that you're a port short.
One key thing to remember here is that one of the ports on your network switch will be used to connect your switch to your router. For example, if you have five devices you want to connect to the Ethernet switch, you'll actually need six ports.
Gigabit Ethernet switches start out with about five ports on the small side and scale up to dozens. The larger switches are often intended for commercial or business use, but if you need 24 gigabit Ethernet ports for personal use, more power to you.
Pro tip:
When purchasing an Ethernet switch, get one with enough ports for all your wired connections. When you set up your switch, only it should be connected to your router. All your other wired connections should be made through the switch so it can help regulate your network traffic.
Switches vs. hubs
Ethernet switches and Ethernet hubs look similar, and they perform a similar function in your home network. But you want a switch, not a hub.
An Ethernet hub isn't as smart as an Ethernet switch. A hub doesn't know where each piece of information is supposed to go, so it sends every piece of information in your network to every connected device. This creates a bunch of problems that result in poor network performance.
Hubs used to be popular, cheap alternatives to Ethernet switches. But switches are now so inexpensive that it makes absolutely zero sense to buy a hub instead of a switch.
Gigabit Ethernet
Make sure that you get a gigabit Ethernet switch. Gigabit Ethernet supports data speeds of up to 1,000 Mbps, and it's backward compatible with older Ethernet standards.
Fast Ethernet is one generation older than gigabit, and it reaches speeds up to 100 Mbps. Though that's plenty of bandwidth for most connections, gigabit Ethernet has been available for twenty years. It's the current standard, and the cost difference between fast Ethernet and gigabit Ethernet equipment is usually negligible. Just go gigabit.
Managed vs. unmanaged switches
Most of the devices on our list are unmanaged Ethernet switches. This means that they don't require any configuration and work right out of the box. Any switch advertised as "plug and play" is an unmanaged switch.
The benefits of unmanaged network switches is that they're inexpensive and very simple to use. But they don't give you much control over individual connections.
Managed network switches are generally more expensive and require some configuration. But they allow you to manipulate how and where data flows in your network. Most let you monitor and regulate traffic through the switch and implement QoS.
There are some managed switches that are designed to be easier to configure and meant for residential settings, like the NETGEAR Nighthawk S8000. But because of their advanced features, managed switches are usually found in commercial or business networks.
Our verdict
If you're in need of more Ethernet ports, go for the Linksys SE3008 network switch. Its simple plug-and-play setup, eight gigabit Ethernet ports, and automatic QoS traffic prioritization make it the easiest way to expand your home network.
HighSpeedInternet.com utilizes paid Amazon links.
FAQ about Ethernet switches
Do Ethernet switches reduce network speed?
An Ethernet switch should not affect your network's internet speeds, but it can in some circumstances.
In a home network, your internet speeds can be only as fast as your slowest piece of equipment. So if your internet speeds are usually around 150 Mbps and you introduce a fast Ethernet (100 Mbps max) switch into your network, anything connected to the internet through your network switch would get only 100 Mbps.
Ethernet hubs—which are similar to Ethernet switches—can impair your network. These devices don't manage your data traffic as well as switches and can cause network issues like packet loss. If you don't know whether your device is a hub or a switch, look up the model number online. If it's a hub, replace it ASAP.
If having an Ethernet switch has enabled you to connect many more devices to your network than before, you could also run into speed problems. You have only a certain amount of bandwidth coming into your home network, and the more devices you have using that bandwidth, the less bandwidth there is for each individual connection, which could cause buffering or long load times.
Does an Ethernet switch replace my router?
An Ethernet switch does not replace your router.
Most routers have a built-in network switch, which is why they have multiple Ethernet output ports. But routers perform a ton of network management tasks that no Ethernet switch—even a high-end managed switch—can do, including creating a Wi-Fi network and securing your home network.
Disclaimer
*Amazon.com Prices as of 6/8/20 13:31 MST. Product prices and availability are accurate as of the date/time indicated and are subject to change. Any price and availability information displayed on Amazon.com at the time of purchase will apply to the purchase of this product. HighSpeedInternet.com utilizes paid Amazon links.
CERTAIN CONTENT THAT APPEARS ON THIS SITE COMES FROM AMAZON. THIS CONTENT IS PROVIDED 'AS IS' AND IS SUBJECT TO CHANGE OR REMOVAL AT ANY TIME.
Author - Rebecca Lee Armstrong
Rebecca Lee Armstrong has more than six years of experience writing about tech and the internet, with a specialty in hands-on testing. She started writing tech product and service reviews while finishing her BFA in creative writing at the University of Evansville and has found her niche writing about home networking, routers, and internet access at HighSpeedInternet.com. Her work has also been featured on Top Ten Reviews, MacSources, Windows Central, Android Central, Best Company, TechnoFAQ, and iMore.
Editor - Cara Haynes
Cara Haynes has been editing and writing in the digital space for seven years, and she's edited all things internet for HighSpeedInternet.com for five years. She graduated with a BA in English and a minor in editing from Brigham Young University. When she's not editing, she makes tech accessible through her freelance writing for brands like Pluralsight. She believes no one should feel lost in internet land and that a good internet connection significantly extends your life span.