Give Up Netflix for Disney+? Most Americans Say Nope
Nov 1, 2019 | Share

Featured, Industry Exclusive/Entertainment, Streaming Guides
Come November 12, Disney+ might be the most stacked streaming service out there—especially if you buy the Hulu and ESPN+ bundle. But is it good enough to ditch your Netflix subscription?
At HighSpeedInternet.com, we surveyed 400 Americans about their streaming habits. A whopping 60% said they would keep Netflix over Disney+ if they had to choose between the two.

Two streams are better than one
Spoiler alert: you don't have to choose one over the other. Thank goodness. Over 70% of those surveyed already have two or more streaming options, so adding a third service is just a drop in the bucket.
In our survey, 69% of Americans say they think content is more important than price when it comes to choosing streaming services.
The Disney+ base plan costs $7 per month, and to bundle in Hulu and ESPN+, you're looking at $13 per month—not bad at all.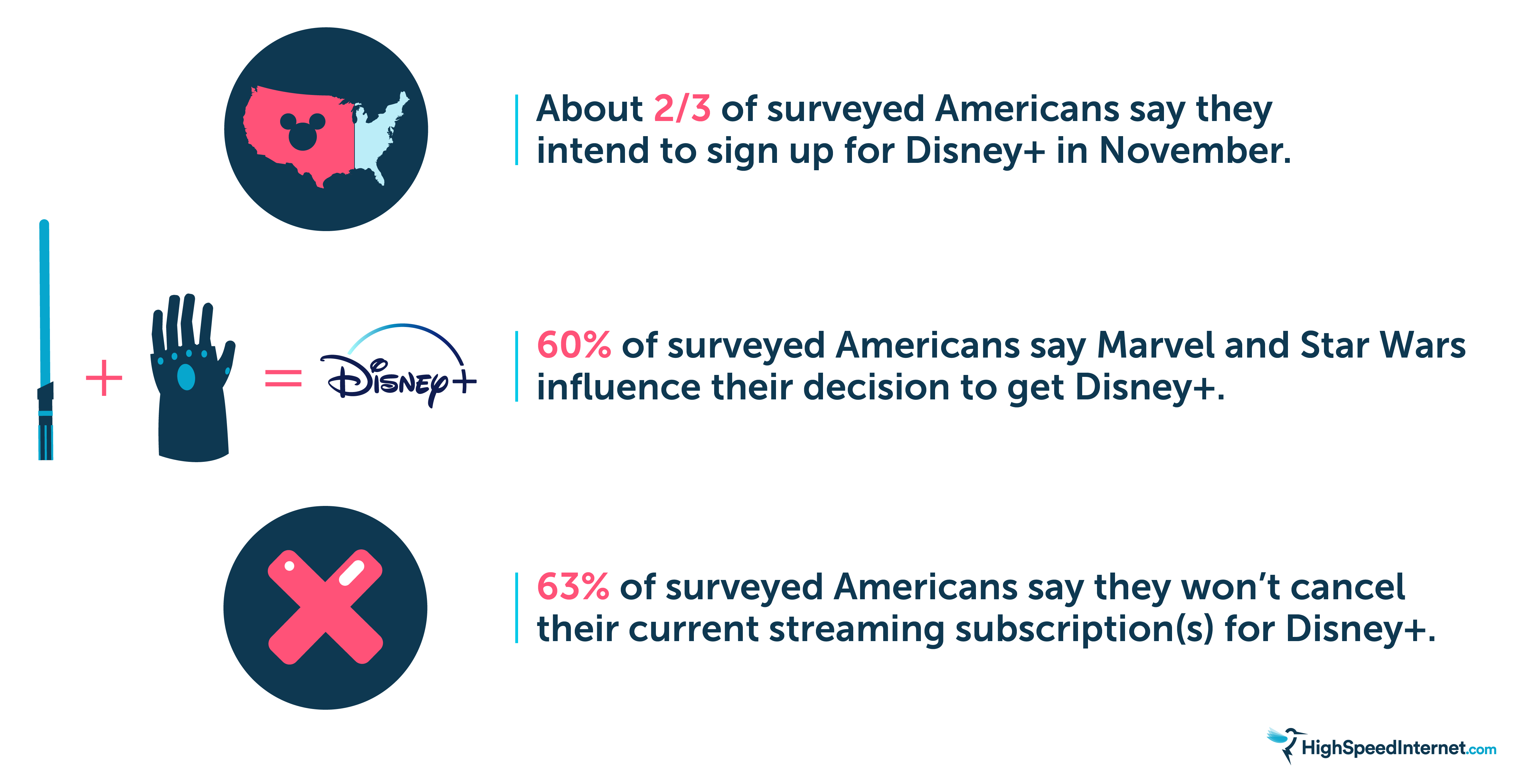 The average live TV package is around $65 or more per month. Most of the Americans we surveyed said they spend between $11 and $20 per month on streaming services.
So what's one more streaming service for $6 or $12 a month compared to a cable or satellite TV package? It's chump change for all that you get.
Adding more than Disney to your mix
About 67% or two-thirds of surveyed Americans say they will sign up for Disney+ in November. That's no surprise to us. Disney+ is getting a ton of exclusive content that's hard to pass up.
Disney+ is like The Avengers of family entertainment: You're getting shows and movies from Disney, Pixar, Marvel, Star Wars, and National Geographic. And they even managed to wrangle in all 30 seasons of The Simpsons.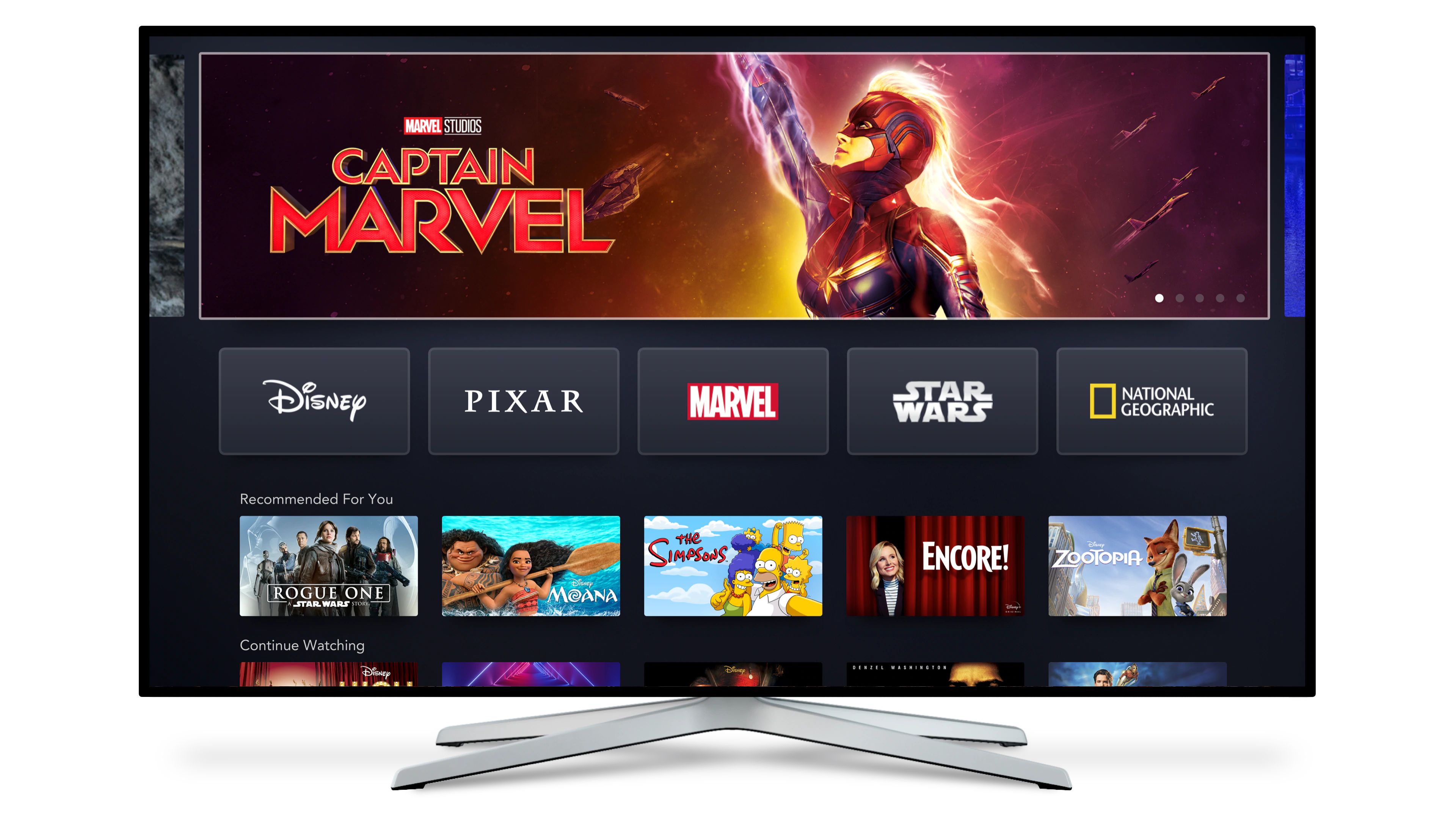 Including all of that content is going to pay off for Disney. Of those surveyed, 60% of those planning to sign up for Disney+ say Marvel and Star Wars content influenced their decision. We can't blame them.
But with so much good stuff in the pipeline, what are we most excited about with Disney+? Well, besides the absolute glory that will be The World According to Jeff Goldblum, we're stoked for the following shows: 
The Mandalorian: A new Star Wars series that will give us all the bounty-hunter action we want.
Muppets Now: We like Muppets any time, especially now.
A Lizzie McGuire reboot: Hilary Duff, if you're reading this, hit me up.
The future of Disney+ and Netflix
It's clear people remain loyal to Netflix. But they're also willing to pay to bring other streaming services on board too.
Disney+ will certainly give Netflix a run for its money, but we don't see Netflix dropping out of the race any time soon. For now, it looks like we'll be subscribing to both services.
HighSpeedInternet.com surveyed 400 Americans on their opinions and thoughts regarding their current streaming services and Disney+. We then compiled a report to summarize the findings.
Author - Trevor Wheelwright
Trevor's written professionally for five years for editorial publications and retail/e-commerce sites. He lives in Salt Lake City and enjoys photography and making music in his spare time, or you can catch him on your local dance floor bustin' a move.
Editor - Cara Haynes
Cara Haynes has been editing and writing in the digital space for seven years, and she's edited all things internet for HighSpeedInternet.com for five years. She graduated with a BA in English and a minor in editing from Brigham Young University. When she's not editing, she makes tech accessible through her freelance writing for brands like Pluralsight. She believes no one should feel lost in internet land and that a good internet connection significantly extends your life span.