Get TV service with your internet service.
Whether you want to bundle your internet service with traditional cable TV or you just want a good streaming service with fast internet, we have the facts you need to make the right decision.
Click to skip ahead to get info on each type of TV.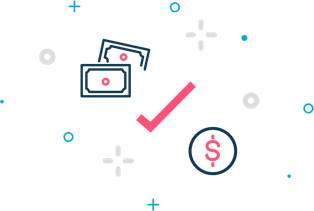 Save money by bundling your internet service with TV service.
The easiest way to save money on your TV and internet services is by bundling. When you bundle services instead of ordering them separately, you'll enjoy monthly savings. Those savings add up. By our calculations, over the course of a year, you can save over $100 by bundling.
The amount you save will vary by provider and package. But if you know you want both internet and TV services, bundling is hands down the way to go.
Bundling also provides convenience. This benefit often gets overlooked, but one bill instead of two means additional savings and a lot less hassle.
Bundling Options by Provider
| Internet Service Provider | TV Bundling Options | Packages |
| --- | --- | --- |
| Verizon | Verizon | |
| AT&T Internet |  DIRECTV Stream | |
| Xfinity | Xfinity | View Plans |
| Spectrum | Spectrum | View Plans |
| CenturyLink | DIRECTV | |
| Frontier Communications | YouTube TV | |
| Cox Communications | Cox Communications | View Plans |
| Optimum | Optimum | View Plans |
| Viasat | DIRECTV | |
| RCN | RCN | View Plans |
| Mediacom | Mediacom | View Plans |
| Windstream | DIRECTV | View Plans |
| Buckeye Broadband | Buckeye Broadband | View Plans |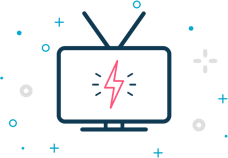 What are my TV options?
TV has come a long way from traditional cable television. From cable TV to fiber TV to streaming, there's a lot to choose from. While the specifics will vary based on the providers and packages available in your area, here's a quick rundown of the different types of available TV and streaming services.
1. Broadcast TV
If you're looking for the cheapest TV option or just want local stations, broadcast TV is the way to go.
Broadcast TV is as traditional as it gets. It's basically the television channels you receive over the air for free with a digital TV antenna. You can also receive these channels with an analog antenna and a digital converter box.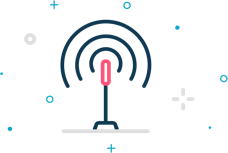 Did you know?
Broadcast television used to be just PBS and the local affiliates of the four major networks: ABC, CBS, NBC, and Fox. You could also get a few other local stations in some areas. But after the broadcast regulations made everything digital, more channels found room in the airwaves. Now, with just an antenna, many people can receive dozens of channels for free.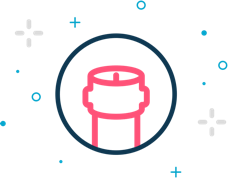 2. Cable TV
If you get your internet service from a cable provider, bundling TV should be a snap.
After exploding onto the scene in the 1980s, cable TV remains among the most popular types of TV service. And, since most internet providers are cable companies that offer both services, customers often bundle them together.
3. Fiber TV
Fiber TV uses fiber-optic cables to deliver TV service rather than the traditional cables used with cable TV. You'll see fiber TV mostly with internet providers that were originally telephone companies.
Although fiber technology saw huge growth over the past decade, its expansion has slowed significantly as of late. ISPs have shifted their focus to more cost-effective infrastructure technology. Fiber is expensive, and newer wireless technologies like 5G show more promise at a lower cost.
That said, fiber TV services are usually fantastic. The connections can handle a lot of data at once, so you get sharp images and clear sound. It's generally more expensive than cable TV, but with the savings you get by bundling it with internet service, fiber TV service might just be worth it.
4. Satellite TV
Satellite TV providers beam programming into your home wirelessly via satellites. Once inside the house, satellite TV functions similarly to cable TV, with a set-top box and all.
Satellite internet service and TV service has a reputation for getting interrupted by bad weather. However, in our 2018 customer satisfaction survey, satellite internet providers scored among the best for reliability. While this might not directly translate to TV service, it does show that common perceptions about satellite technology might not be true.
If you have satellite internet or live in a rural area, adding satellite TV service to your internet plan may be your best option for bundling.
5. Streaming TV (Internet TV)
Streaming gives you tons of affordable viewing options. Learn more about live TV, on demand, and single channel streaming services below.
If you want to watch TV online, streaming is a good option. Just make sure the shows you like are carried by a streaming service before you subscribe. Streaming refers to watching videos on the internet without downloading them.
Streaming doesn't require any additional installation, so as long as you have an internet connection, you have a lot of streaming TV options.
Almost all streaming services offer some combination of on-demand shows and live TV. Sometimes both services are included in a single subscription; sometimes live TV streaming is only available on the more expensive packages. Each service structures its packages differently. Netflix is the big exception. It offers on-demand streaming only, no live TV.
Streaming TV services each feature a different selection of shows and movies. Many streaming companies make their own shows and offer those shows exclusively through their service.
On-Demand Streaming Services
On-demand streaming services are essentially libraries of shows you can watch whenever you want.
Popular On-Demand Streaming Services
Live TV Streaming Services
Live TV streaming works more like traditional TV where shows are available on a broadcast schedule, but the signal is delivered to your computer or device through the internet instead of through a cable or satellite. After the live broadcasts, many shows will also be available to stream on demand. How soon a show is available to stream after (or if they're available to stream at all) will vary by show and by service.
Live TV streaming services are usually more expensive than on-demand streaming services, but they're still more affordable that traditional TV. They also usually offer smaller channel packages and more add-on packages. This helps you customize your service with the channels you actually watch and spend less money on those that you don't.
Popular Live TV Streaming Services
Single-Channel Streaming
Many channels offer access to stream content from their websites. Some offer this content free of charge, while others require only a subscription to a TV package that includes the channel. Others offer individual subscriptions to the single channel, but this is not the norm. Each channel will be different. If you have a subscription to any TV service, you may already have access to several channels that offer streaming content on their websites.
Popular Stand-Alone Streaming Channels
Watch TV your way.
With so many great TV options, you're bound to find the entertainment option that works for you. And while you enjoy the entertainment, your wallet will appreciate the added savings you get by bundling your TV service with your internet service. Take the first step to those savings by finding the best internet provider in your area. Enter your zip code below to get started.
Get the best TV and internet bundle for you.