2018's Best Internet Providers in Customer Satisfaction
Jan 22, 2018 | Share

Provider Reviews
Often the best way to know what to expect from an Internet Service Provider (ISP) is to ask its current customers about their experience. In our ongoing effort to bring you everything you need to know about internet service, we did just that: we surveyed customers across the country to find out which ISPs excel in which areas.
You can see the results for each category in the charts that follow. Jump directly to a chart by clicking on its corresponding question from the survey.
Note: To bring you the most helpful information possible, we separated the satellite internet providers from the other internet providers. Satellite internet is an option that's usually sought after only by those in rural communities, meaning satellite internet customers often have different experiences (and expectations) than other internet customers. Since our survey focused on the customer experience, we wanted to reflect that distinction accurately.
Overall Customer Satisfaction Ratings for Internet Service Providers*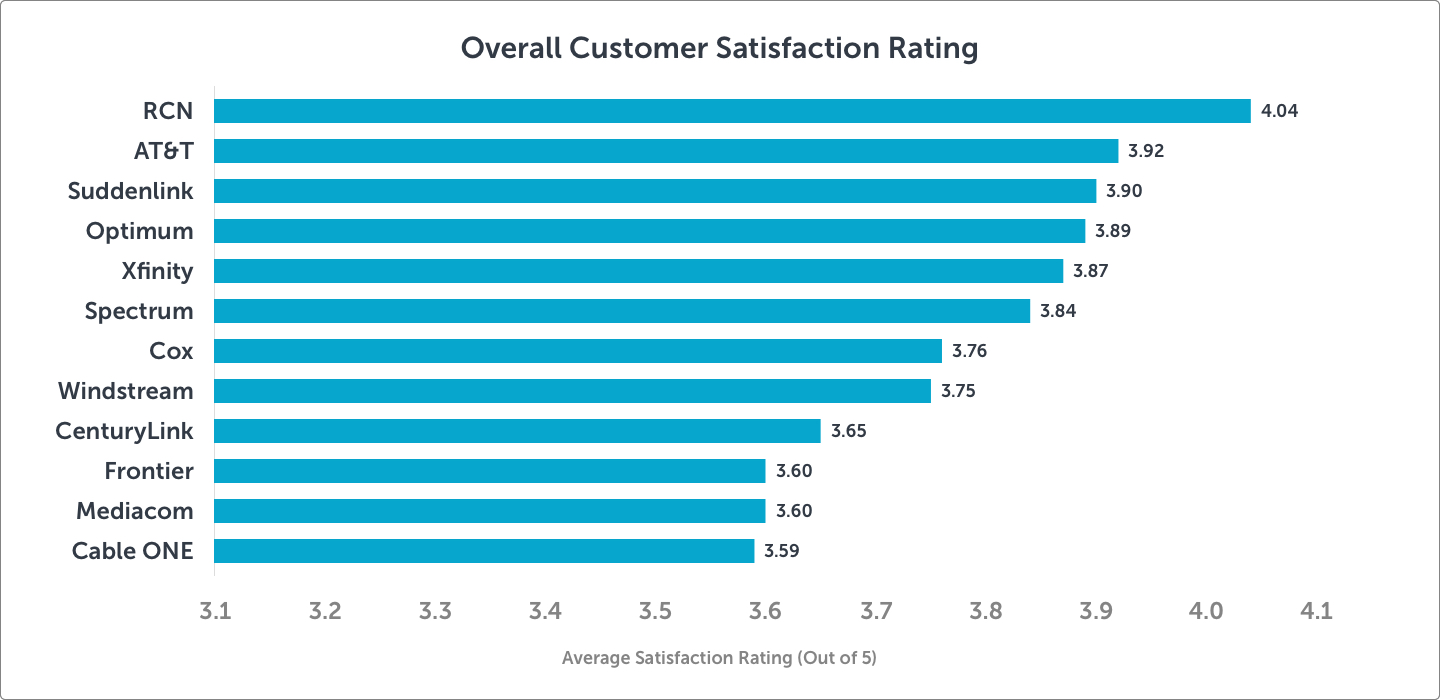 *Satellite internet providers excluded
Each brand's overall customer satisfaction score is calculated by averaging its scores from the following five categories:
Internet speed
Monthly internet bill
Installation and setup
Internet reliability
Internet tech support and customer service
Internet customer satisfaction ratings have improved.
The biggest revelation from this year's customer satisfaction survey is that customers generally seem happier with their internet services than they were in our last survey.
Our survey asked customers to rate their satisfaction with their ISPs in five different categories on a scale of one to five. While a few customers gave their providers scores of one or two in a given category, the average scores were much higher. No ISP scored lower than 3.06 in any category, and no ISP scored lower than 3.59 overall.
These are higher averages than we've seen in the past and indicate that ISPs are likely getting better at delivering what their customers want.
Customers rated RCN highest for overall satisfaction.
Clearly, customers like RCN. Along with being the highest-ranked overall, it also came out as the highest-ranked provider in three individual categories: installation and setup; monthly bill; and tech support and customer service.
What's unfortunate for most of America is that RCN is available in only a few cities, namely Boston, Chicago, Lehigh Valley, New York City, Philadelphia, and Washington DC. This smaller service area likely helps RCN maintain more consistent service quality, especially compared to ISPs whose service areas stretch across more than a dozen states. It makes sense that RCN's consistent, high-quality service would lead to its consistently high satisfaction scores.
"How satisfied are you with your internet speed?"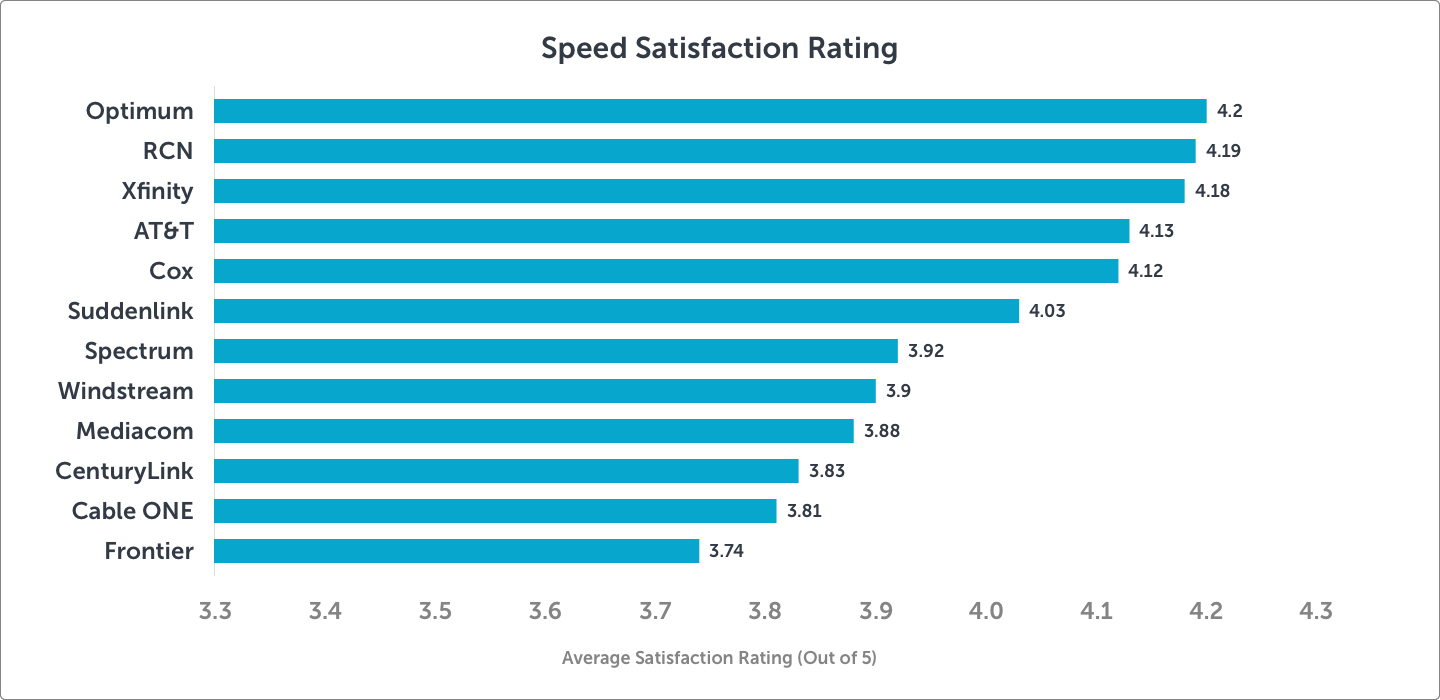 Optimum customers are the most satisfied with their internet speeds.
Speed was the most competitive category in our survey: half of the ISPs on the survey earned scores over four out of five stars. However, Optimum came out on top by the slimmest of margins, followed closely by RCN and Xfinity. The difference in scores between these top three providers was a total of just 0.02.
As speeds rise, customer satisfaction scores improve.
It's not surprising that as ISPs continue to improve their speeds, customer satisfaction scores continue to rise. The average satisfaction score for speed has risen by nearly 10% in the past two years.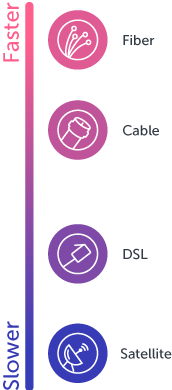 Internet type affects satisfaction scores for speed.
You may notice that the top three providers in the speed category are cable companies. While this speaks well for these companies, you should remember that this survey is about customer satisfaction—not necessarily performance. Just because these companies may have had the highest customer satisfaction scores for speed does not mean that they provide the fastest internet speeds available. It just means that, for one reason or another, customers are more satisfied with the speeds they received from cable.
This may in part be because companies offering fiber-optic internet—like AT&T , CenturyLink , and Frontier—do so only in select areas and offer DSL internet in other areas. DSL internet is often slower than other types of internet, including cable, so customers hoping for fiber-optic internet service who end up with DSL service will likely feel less satisfied with their internet speed, which would affect the overall speed score for fiber-optic providers. For example, if we look at the satisfaction rating for speed that AT&T, CenturyLink, and Frontier received from only their fiber customers, the score is about 5% higher on average than when both service types are included.
Internet providers and the speeds they offer will vary greatly from place to place, so it really comes down to what you can expect where you live. To see internet providers and the speeds they offer in your area, enter your zip code below.
"How satisfied are you with your monthly internet bill?"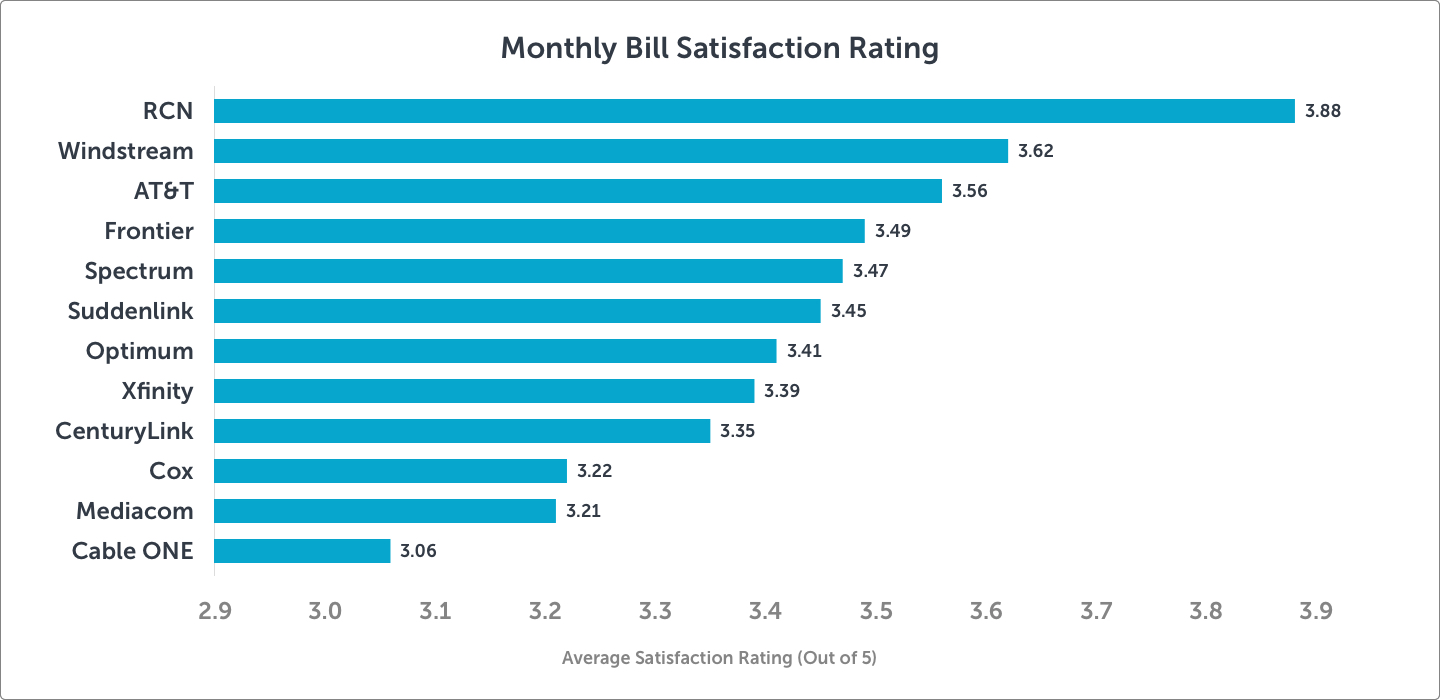 RCN customers are the most satisfied with their monthly bill.
While the internet speed category saw the highest customer satisfaction scores in this survey, the monthly bill category saw the lowest, although the scores still came out higher on average than they have in the past.
RCN snagged the top spot in monthly bill with a score of 3.88 out of 5. (The highest score for monthly billing in our last customer satisfaction survey was just 3.4.) Windstream and AT&T came in second and third respectively in this year's survey.
Considering that no one likes paying bills, these scores and the greater satisfaction they indicate show a positive trend in the financial relationship between ISPs and their customers. With the recent repeal of net neutrality, we're curious to see how a potential change of billing structure will affect that trend in our 2019 survey.
"How satisfied are you with your internet service installation and setup?"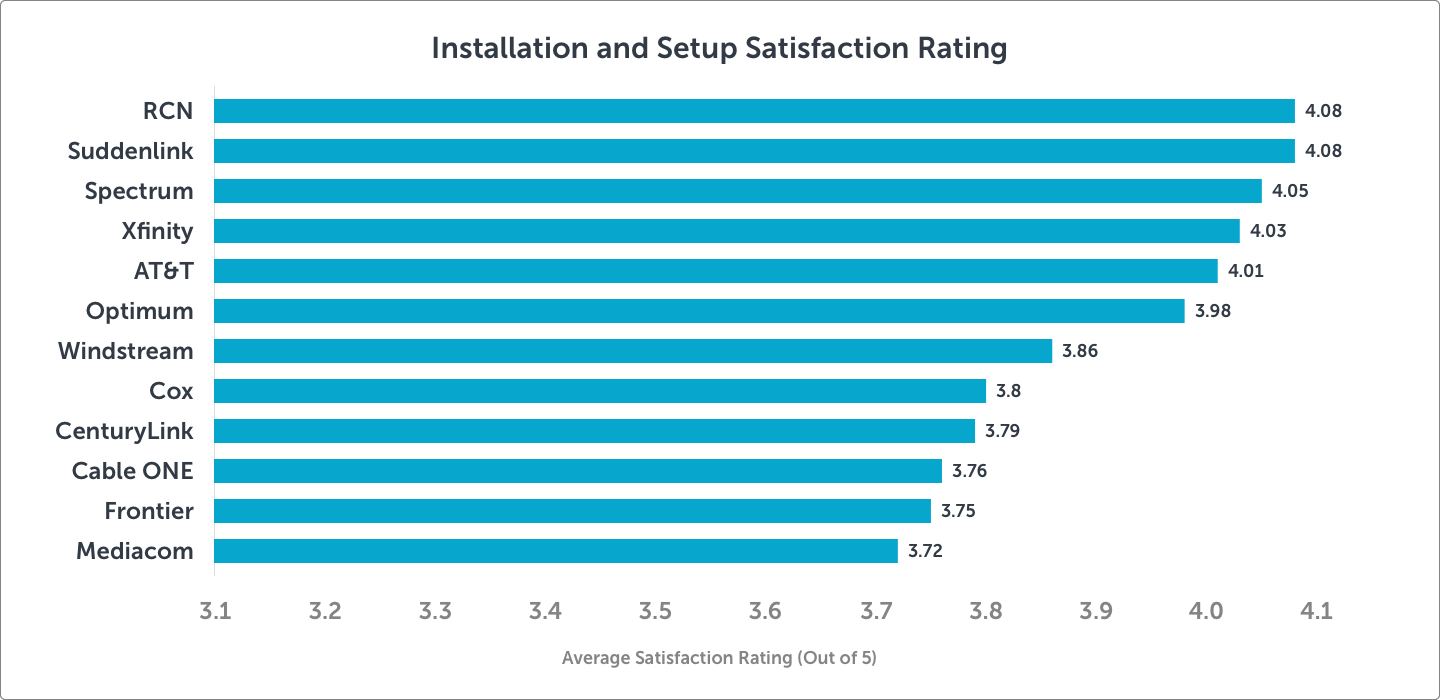 Suddenlink and RCN customers are the most satisfied with their installation and setup.
Tied with a score of 4.08, Suddenlink and RCN led the pack in installation and setup, followed closely by Spectrum at 4.05, Xfinity at 4.03, and AT&T at 4.01. Except for AT&T, all of these providers offer free professional installation options, which are bound to make customers happy. However, while AT&T can charge installation fees up to $99, it also sometimes offers promotions that feature a $100 Visa Reward Card that essentially reimburses customers the cost of the installation fee.
Some other providers offer free installation, but it's usually a self-installation option, not a professional installation option. Others, like Cable One, offer free professional installation but don't offer a self-installation option at all. Forcing customers who may prefer self-installation to have professional installation may have caused these customers to give Cable One lower scores.
Most customers are satisfied with their internet providers' installation and setup.
Overall, the installation and setup category was highly competitive. The top five providers all scored over four stars and were separated by a total of only 0.07. Even the lowest score in this category was still a very respectable 3.72. In our last survey, only two providers scored over four stars, and the lowest score was 3.28. This shows ISPs have improved at satisfying their customers when it comes to installing equipment on time and setting it up correctly.
"How satisfied are you with your internet's reliability?"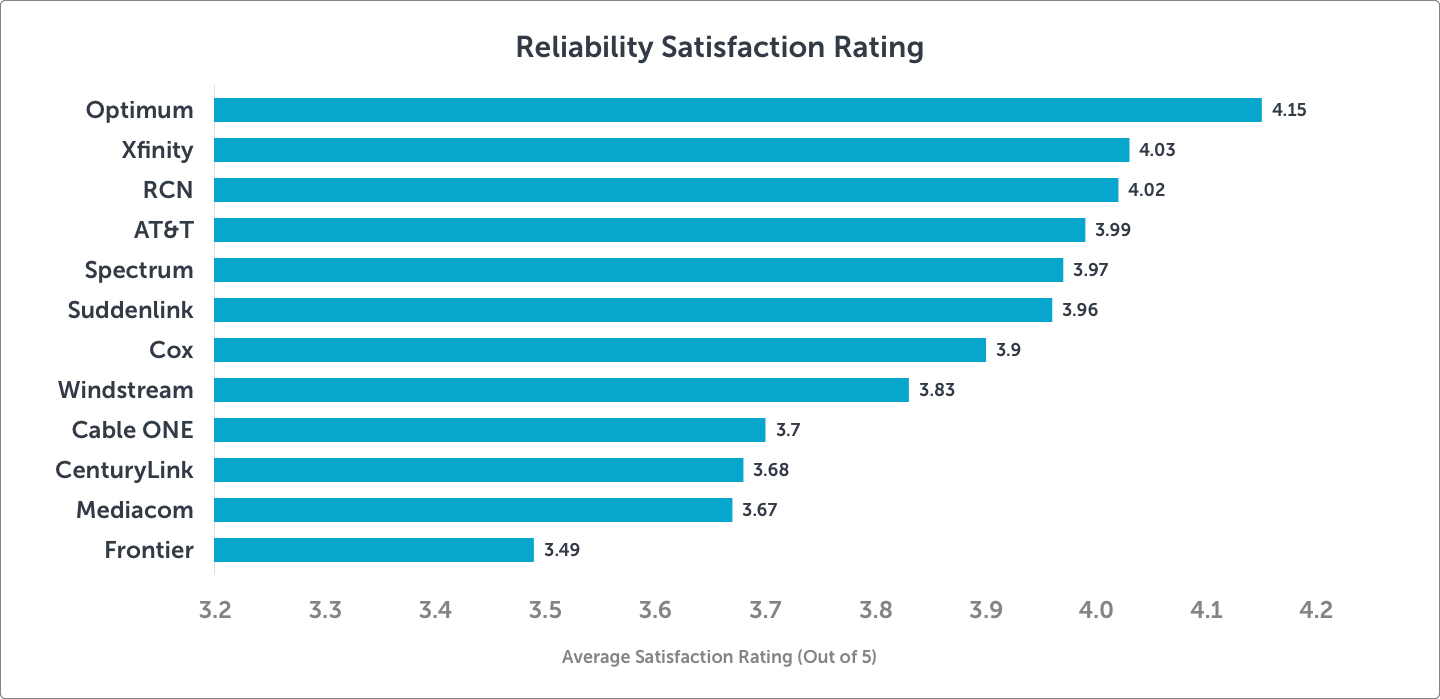 Optimum customers are the most satisfied with their internet's reliability.
While everyone wants fast internet, having the top speed doesn't matter if the service goes out or slows down. And, according to our survey, if you want reliable internet, go with Optimum.
The reliability category saw the widest gap between the top provider, Optimum, at 4.15, and the second-place provider, Xfinity, at 4.03.
Cable internet services dominated in this category, securing six out of the top seven spots. The only non-cable internet provider to crack the top seven was AT&T, which came in fourth with a score of 3.99.
Internet type may influence customer satisfaction scores for reliability.
This is another example where the potentially less reliable DSL services that many fiber internet providers offer as an alternative can bring down their average scores. For example, if we eliminate the scores from AT&T's fiber/DSL hybrid customers and look at only survey respondents with AT&T Fiber, the average customer satisfaction score for reliability would be 4.09—that score would rank it second in reliability.
To give the most accurate representation, we need to include both types of AT&T customers. But because the services available will vary based on where you live, understanding the difference it brings to the overall score is important.
Technical Support and Customer Service
"How satisfied are you with your ISP's technical support and customer service?"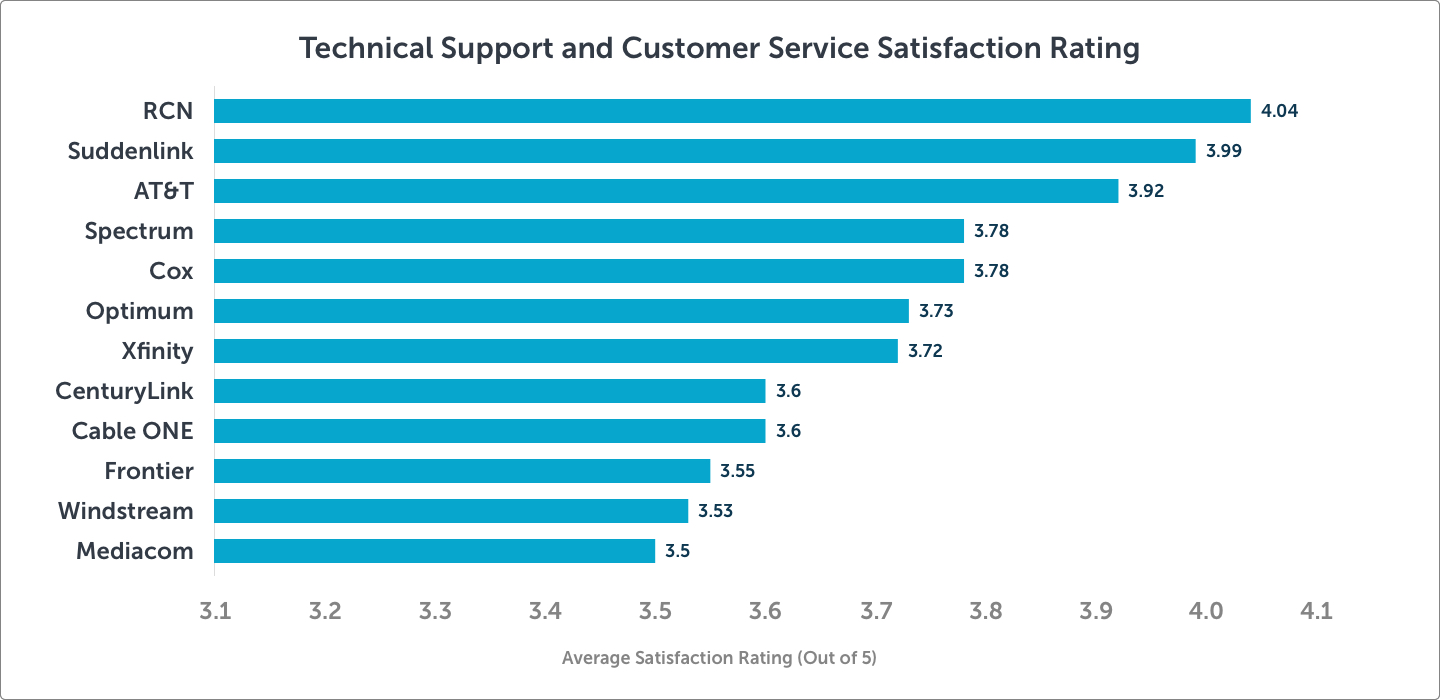 RCN customers are the most satisfied with their provider's technical support and customer service.
(4.04/5)
The technical support and customer service category saw the second-lowest average score, ahead of only the monthly bill category. Despite these scores being lower than the scores in most of the other categories, the average score in this category actually rose by 0.2 since our last survey.
RCN claimed the top spot in this category with a score of 4.04. This is no surprise. RCN puts an emphasis on customer service, touting its "Outstanding Customer Service Pledge" and its 24/7 US-based customer service. A lot of companies advertise those types of services, but often they're more of a gimmick. With RCN, the customer satisfaction scores indicate that what it says is what you get.
"Do you bundle your internet plan with cable TV?"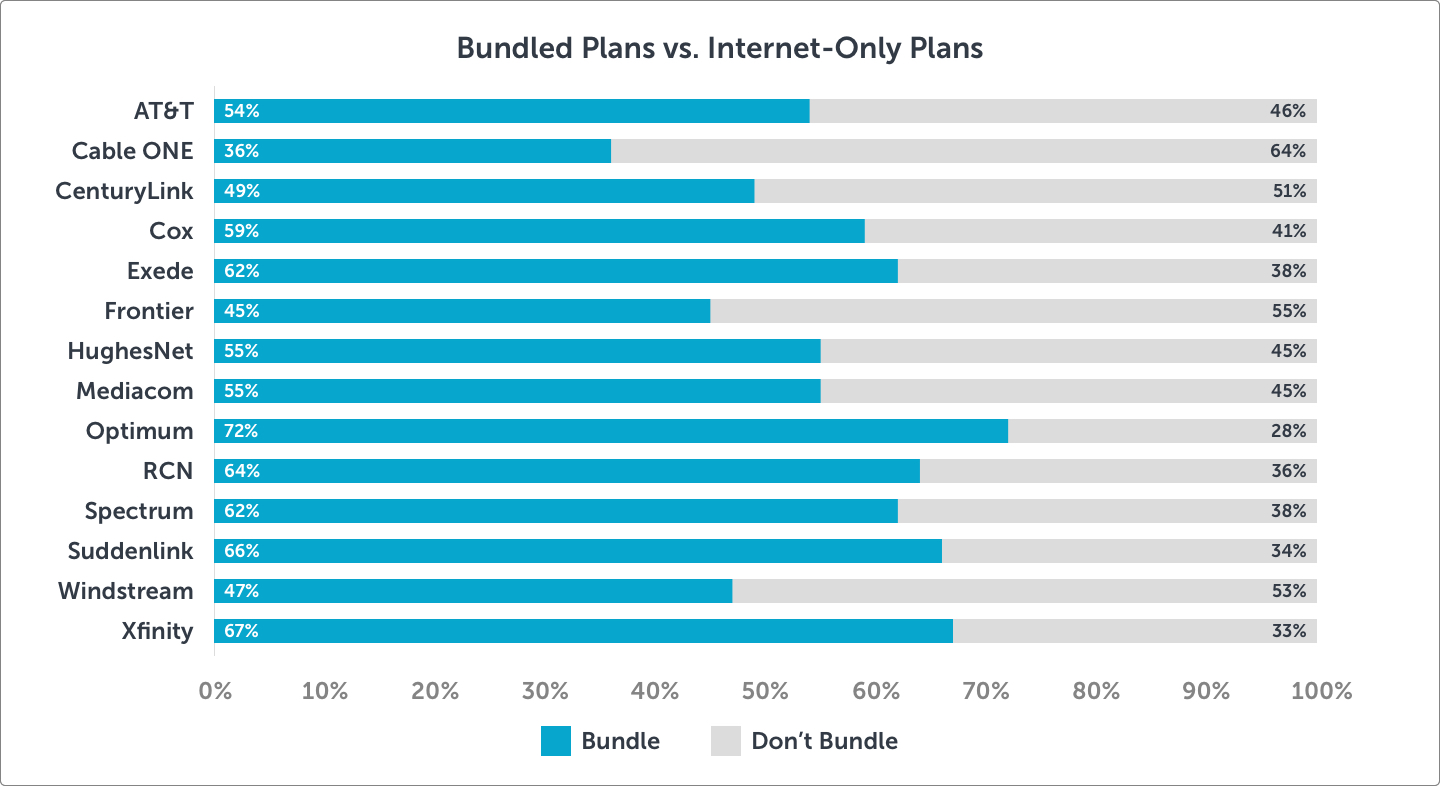 People still bundle their services.
Despite the cord-cutting trend of the last decade, our survey found that nearly 57% of respondents still bundle their internet service with TV service. Optimum had the highest percentage of bundlers at 72%, and Cable One had the lowest at 36%.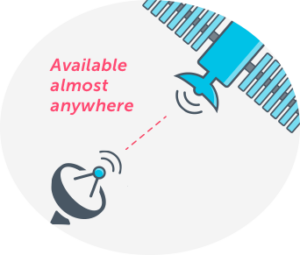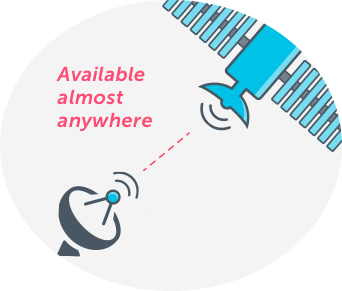 Satellite internet providers can be a great option, especially for people in rural areas. However, because these providers use satellites to deliver internet instead of wires, cables, or fibers, they function differently than most providers. That unique functionality can create a different experience for satellite customers. To accurately reflect that difference, we separated the satellite provider results of our customer satisfaction survey from those of other providers.






Exede
Exede came out as the highest-rated satellite provider for overall customer satisfaction. It led the other satellite internet provider, HughesNet, in every category except installation and setup.
Exede's high marks for speed and reliability would rank it number one among all providers—not just satellite providers. This is surprising. Traditionally, satellite internet services have a reputation of being slower and less reliable than other types of services. Perhaps that persistent reputation lowered expectations and left customers pleasantly surprised by the service they received from Exede, resulting in high satisfaction scores.
Exede's high score for customer satisfaction in the internet speed category reinforces something to keep in mind about these survey results. Scoring well in the speed category means customers are satisfied with the speed they receive, not necessarily that it was the fastest speed available. This same logic applies to all categories in the survey.
HughesNet
HughesNet topped the installation and setup category for satellite providers. Despite trailing Exede in all other categories, it still scored well, especially for reliability and monthly billing. It would have ranked among the top three of all providers for installation and setup; reliability; and monthly billing. Like Exede, it's probably that HughesNet saw bumps in ratings from pleasantly surprised customers with previously low expectations.
How satisfied are you with your internet service?
Does your experience with your ISP match our survey results? Let us know by reviewing your provider. Your reviews help other consumers who visit our site make the most-informed decisions about which ISP suits their needs.
If seeing this information has you thinking about switching Internet Service Providers, the team at HighSpeedInternet.com is here to help. Our customer satisfaction survey is just a small part of the information you'll find on our site. You can use our database to help you find ISPs in your area and compare speeds, prices, and customer reviews. Once you make your decision, you can use our site to order the service that fits you best. Just enter your zip code to get started.
Find and compare high-speed internet providers and plans in your area:
Author - John Dilley
With over five years writing about the internet industry, John has developed a deep knowledge of internet providers and technology. Prior to writing professionally, John graduated with a degree in strategic communication from the University of Utah. His education and experience make his writing easy to understand, even when covering complex topics. John's work has been cited by Xfinity.com, PCMag, The Washington Post, Los Angeles Times, and more.