2020's Best Internet Providers in Customer Satisfaction
May 18, 2020 | Share

Provider Reviews
When you're shopping around for a new internet plan, one of the best ways to figure out which provider is right for you is by asking current customers how they feel about their service. We do this regularly so you don't have to. You can also check out our survey from 2018 to compare results.
To find 2020's best internet providers in customer satisfaction, we surveyed more than 2,800 internet users across the US to find out which internet service provider (ISP) has the happiest customers. Overall, EarthLink customers are the most satisfied with their internet service, but Verizon and Optimum customers aren't mad either.
How satisfied are you with your
provider's
 equipment?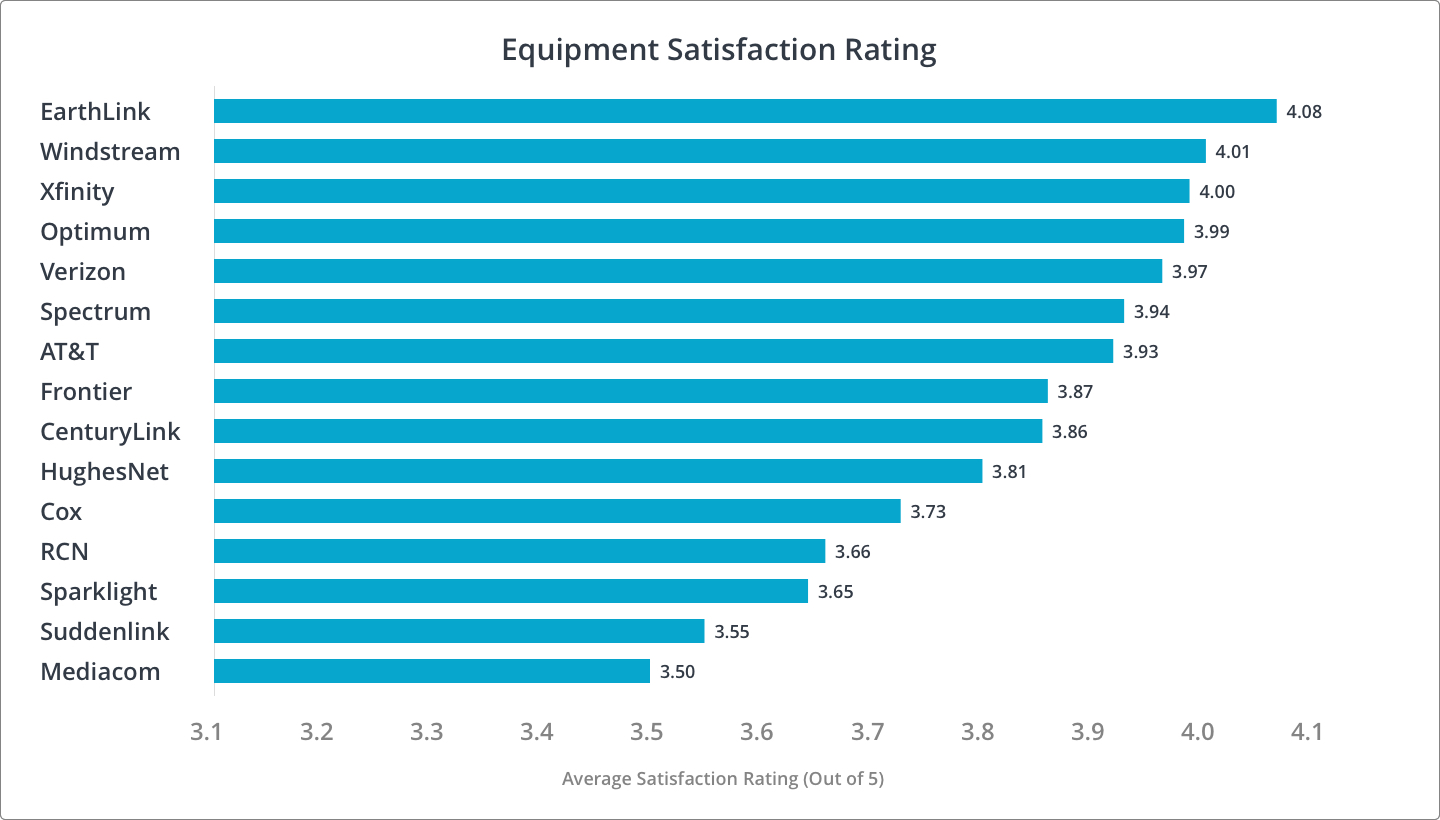 Most internet service providers give customers the option of either renting home networking equipment (a gateway or modem) or buying your own. We find it interesting—but not surprising, given the rest of the survey results—that EarthLink came out on top of this category because it requires many of its customers to rent equipment.
That's a pain point that has caused some frustration with other companies that keep a similar policy—like Frontier's fiber internet services. But EarthLink pulls it off. Part of that could be due to its lower-than-average rental fee. It costs just $6.95 per month to rent a modem from EarthLink compared to up to $15 per month from other internet providers.
1st for equipment

2nd for equipment
3rd for equipment
Methodology
We surveyed more than 2,800 people across the US—between 100 and 200 customers for each internet provider mentioned—and asked them to rank their satisfaction with their internet service. The survey contained eight categories we asked participants to rank on a five-point scale, one meaning NOT satisfied and five meaning VERY satisfied.
We averaged out the scores and compiled them here to show you how satisfied internet customers are with different ISPs.
Take note that these scores reflect anecdotal evidence, not tested performance. For example, a higher customer satisfaction score for internet speed may not indicate faster speed than a lower-scoring brand—it's more about how the ISP's speeds meet customer expectations. And since the scores are averaged, your own experience with any of these providers may differ.
Please note that there are thousands of internet providers across the US, and not all of them are represented in this report. Accuracy is important to us at HighSpeedInternet.com, and internet providers for which we were unable to find enough survey participants (including Viasat) to meet our data threshold were not included in our findings.
Are you satisfied with your internet service?
Do you have opinions about your internet provider that aren't touched on here? If you agree or disagree with our survey results—or if you have a provider that wasn't included in this report—let us know by reviewing your internet provider and sharing your insights.
And if you are unsatisfied with your internet service, run your ZIP below to see all the providers in your area to find one that can better fit your needs.
Author - Rebecca Lee Armstrong
Rebecca Lee Armstrong has more than six years of experience writing about tech and the internet, with a specialty in hands-on testing. She started writing tech product and service reviews while finishing her BFA in creative writing at the University of Evansville and has found her niche writing about home networking, routers, and internet access at HighSpeedInternet.com. Her work has also been featured on Top Ten Reviews, MacSources, Windows Central, Android Central, Best Company, TechnoFAQ, and iMore.
Editor - Cara Haynes
Cara Haynes has been editing and writing in the digital space for seven years, and she's edited all things internet for HighSpeedInternet.com for five years. She graduated with a BA in English and a minor in editing from Brigham Young University. When she's not editing, she makes tech accessible through her freelance writing for brands like Pluralsight. She believes no one should feel lost in internet land and that a good internet connection significantly extends your life span.