2023 Customer Satisfaction Survey
T-Mobile and 5G fixed wireless internet take the lead.
Sep 13, 2023 | Share

Brand Guides

Every year at HighSpeedInternet.com, we survey thousands of people to track how internet providers are performing according to the people who know best: The customers. We ask people to rate their internet service providers (ISPs) based on speed, reliability, pricing, customer service, and overall satisfaction to get a read on what's working for internet customers and what isn't.
This year is a big one. Fixed wireless internet is finally in full force, and customers overwhelmingly approve, rating fixed wireless higher than any other internet type, even fiber. To follow suit, T-Mobile is, without a doubt, this year's internet champion, with phenomenal ratings across the board for its 5G Home Internet.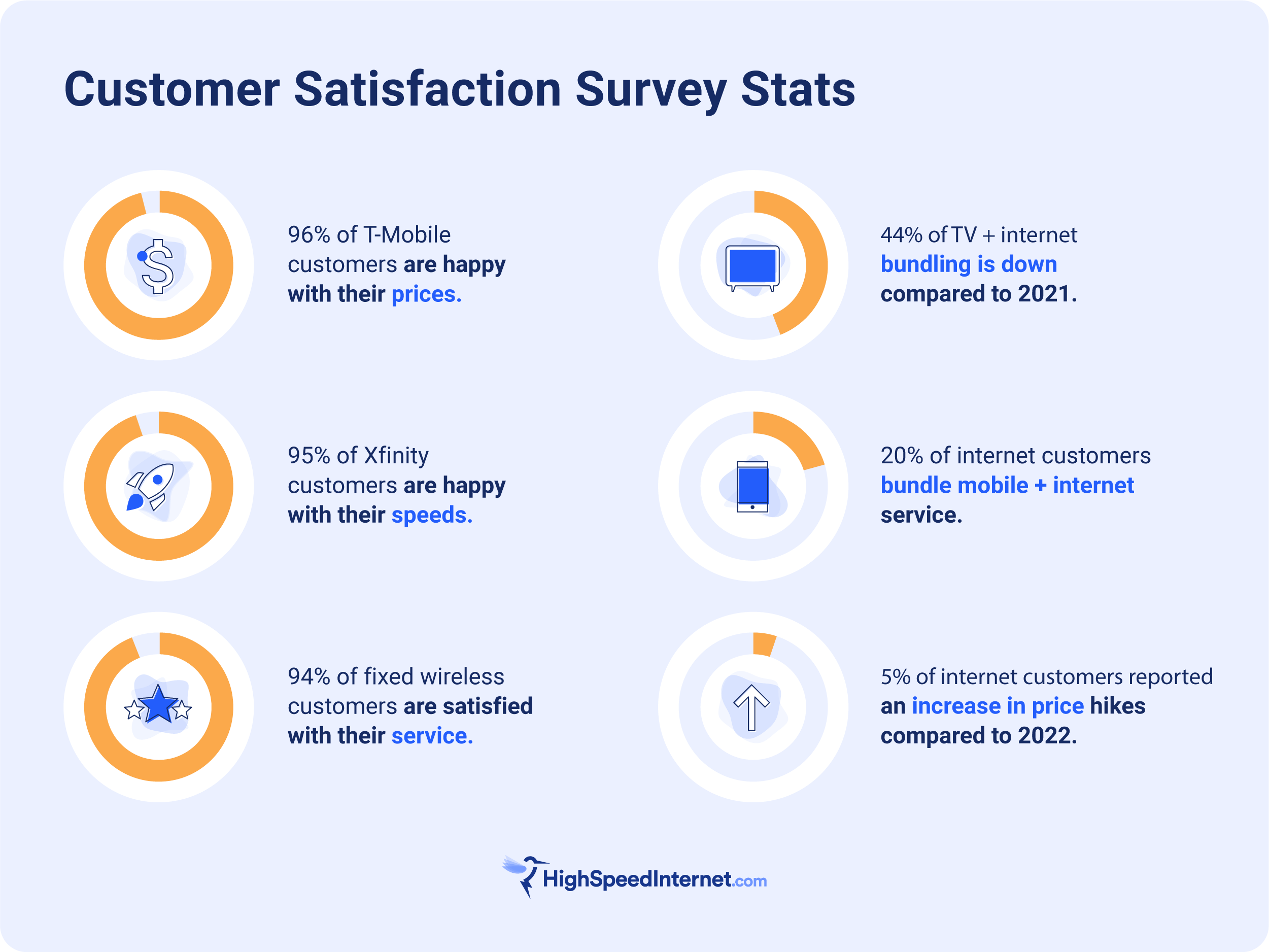 Data sourced from 2023 HSI Customer Satisfaction Survey 9/8/2023.
Is fixed wireless the new fiber?
Fixed wireless internet customers gave the highest ratings for overall satisfaction, price, and customer service. Since we started our survey in 2016, this is the first time that fiber didn't come out on top, suggesting that a killer deal and maximum convenience are more important to customers than raw internet speed.
T-Mobile rated as the best ISP overall
T-Mobile's 5G Home Internet received the best ratings for overall satisfaction, price, and customer service. In fact, T-Mobile price satisfaction score is the highest we've seen in the history of our survey. In the few categories that T-Mobile didn't take the top spot, it's still a very close second—it even surpassed several renowned fiber internet providers.
Internet + mobile bundling continues to grow, while internet + TV bundling plummets
More customers are picking up mobile deals from their ISPs, as the prices and discounts tend to be pretty great. However, TV bundling is quickly dropping in popularity—perhaps because ISPs don't offer the great TV bundling discounts they used to.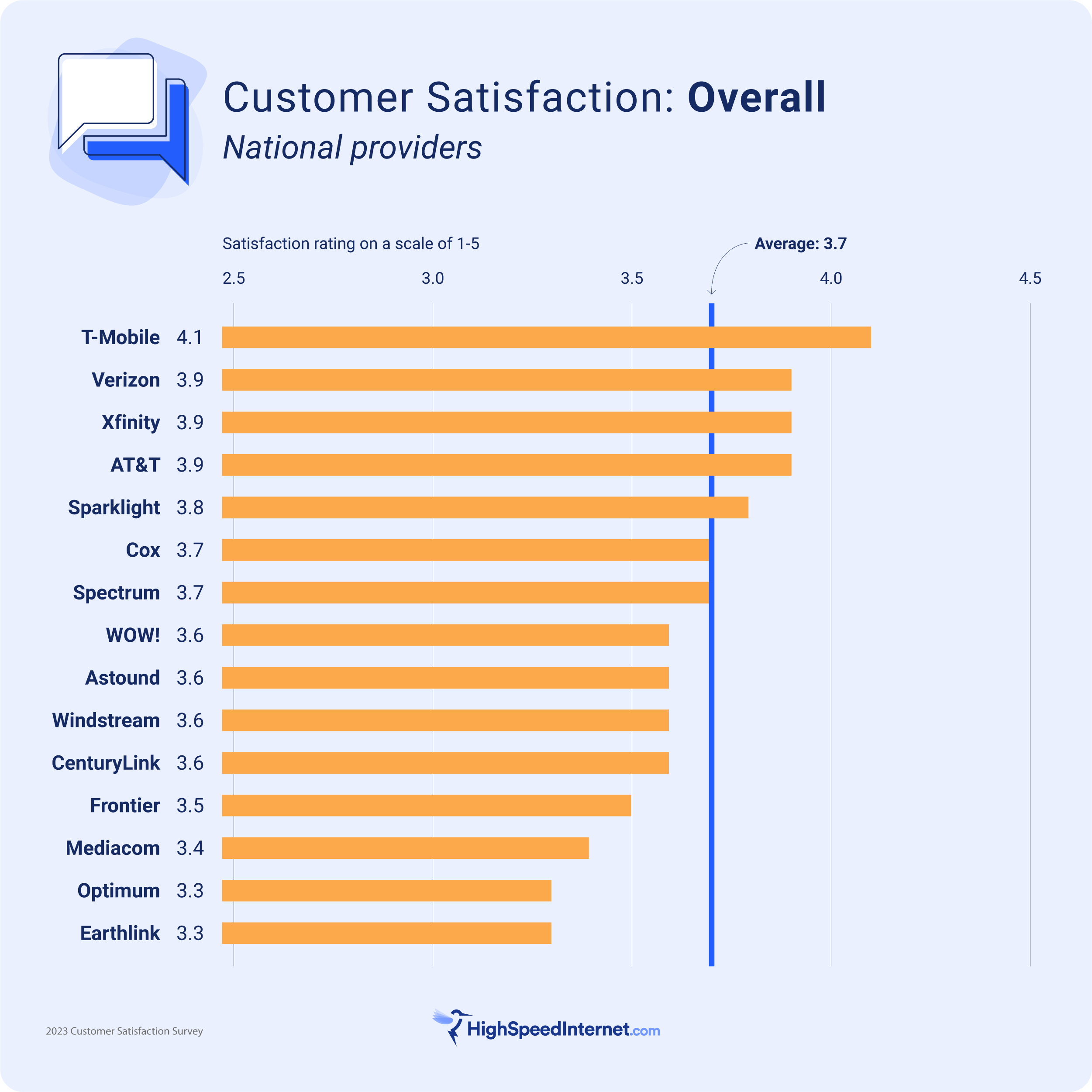 Data from HSI Customer Satisfaction Survey 9/8/2023.
T-Mobile 5G Home Internet sits at the top. An overwhelming majority (97%) of T-Mobile customers report they are satisfied with their internet service, and 92% of customers said they're likely to stick with T-Mobile the next time they shop around for an ISP.
Verizon, which also offers 5G fixed wireless (along with fiber and DSL), received excellent ratings for overall satisfaction as well, with 95% of customers saying they're satisfied with Verizon. Xfinity is still the top dog of cable internet, scoring higher than several fiber providers. Every year, Xfinity's high ratings remind us that cable internet isn't going anywhere. In 2023, Xfinity kept up its theme of constant improvement by leading the way toward powerfully fast 10G cable internet tech.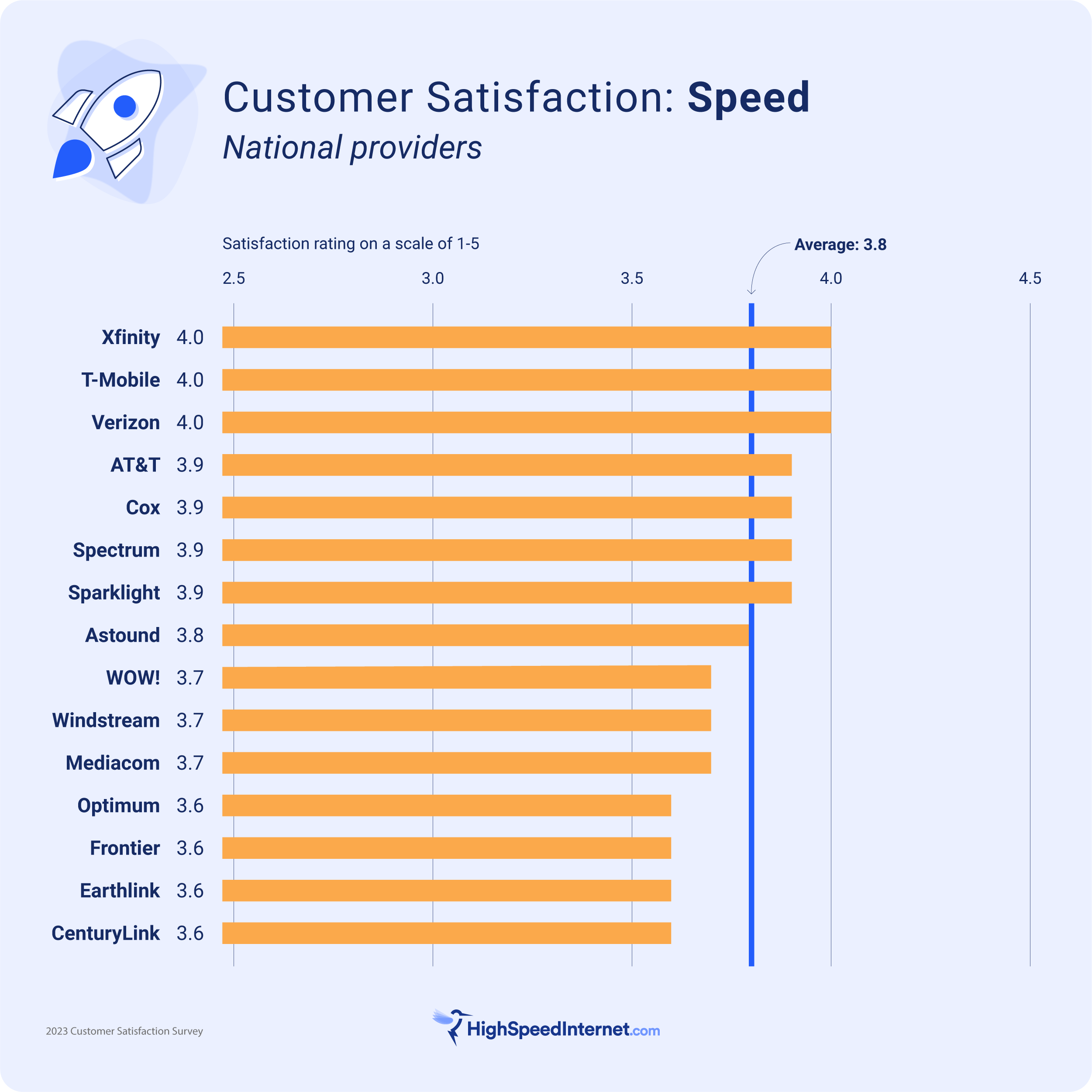 Data from HSI Customer Satisfaction Survey 9/8/2023.
Xfinity's cable internet takes the top spot for speed for the second year in a row, with 93% of Xfinity customers reporting their internet speeds meet their needs—more than any other ISP. Xfinity has always been one of the fastest internet providers out there, but this year, they've raised the bar by providing free speed upgrades to millions of customers. Back in February 2023, Xfinity introduced the Xfinity 10G network, which uses cutting-edge cable internet technology to power multi-gigabit symmetrical speeds. Customers should see results by the end of the year.
T-Mobile has the second-highest speed rating, It's even ranked above several excellent fiber ISPs, including Verizon and AT&T. Technically, every provider on the list offers faster max speeds than T-Mobile, but T-Mobile customers are satisfied regardless. T-Mobile's 245Mbps plan is right in the sweet spot to meet the demands of most households, and 91% of surveyed T-Mobile customers agree.
Best ISPs for price satisfaction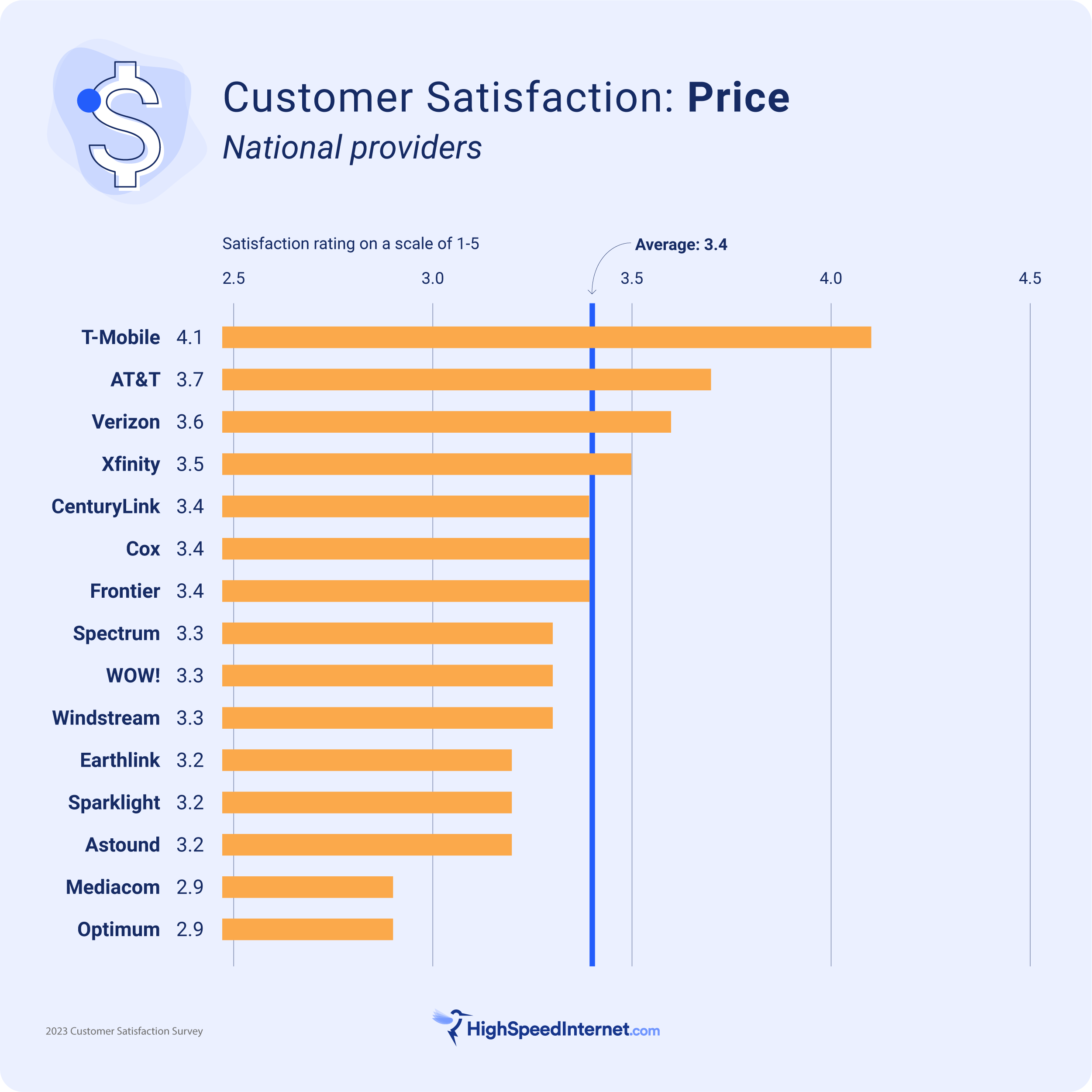 Data from HSI Customer Satisfaction Survey 9/8/2023.
The most definitive of T-Mobile's many wins in customer satisfaction is its colossal lead in price satisfaction, surpassing all ISPs by a giant margin and scoring the highest price satisfaction score for a major ISP in our survey's history.
It's not the biggest surprise, as T-Mobile's 5G Home Internet deal made our jaws drop from day one. You get fast and reliable home internet, unlimited data, a free rental internet gateway, and the easiest install ever for just $50 per month (or as cheap as $30 if you bundle it with a T-Mobile cell phone plan). And our surveyed T-Mobile customers reported fewer price hikes than any other ISP, so you can likely count on that price not changing suddenly behind your back.
At HighSpeedInternet.com, our job is to get you the best internet deal. And we're sounding the alarm for T-Mobile—there just isn't a deal we know of that can top this one. No price hikes, no hidden fees, no hassle—just great internet for less.
Best ISPs for reliability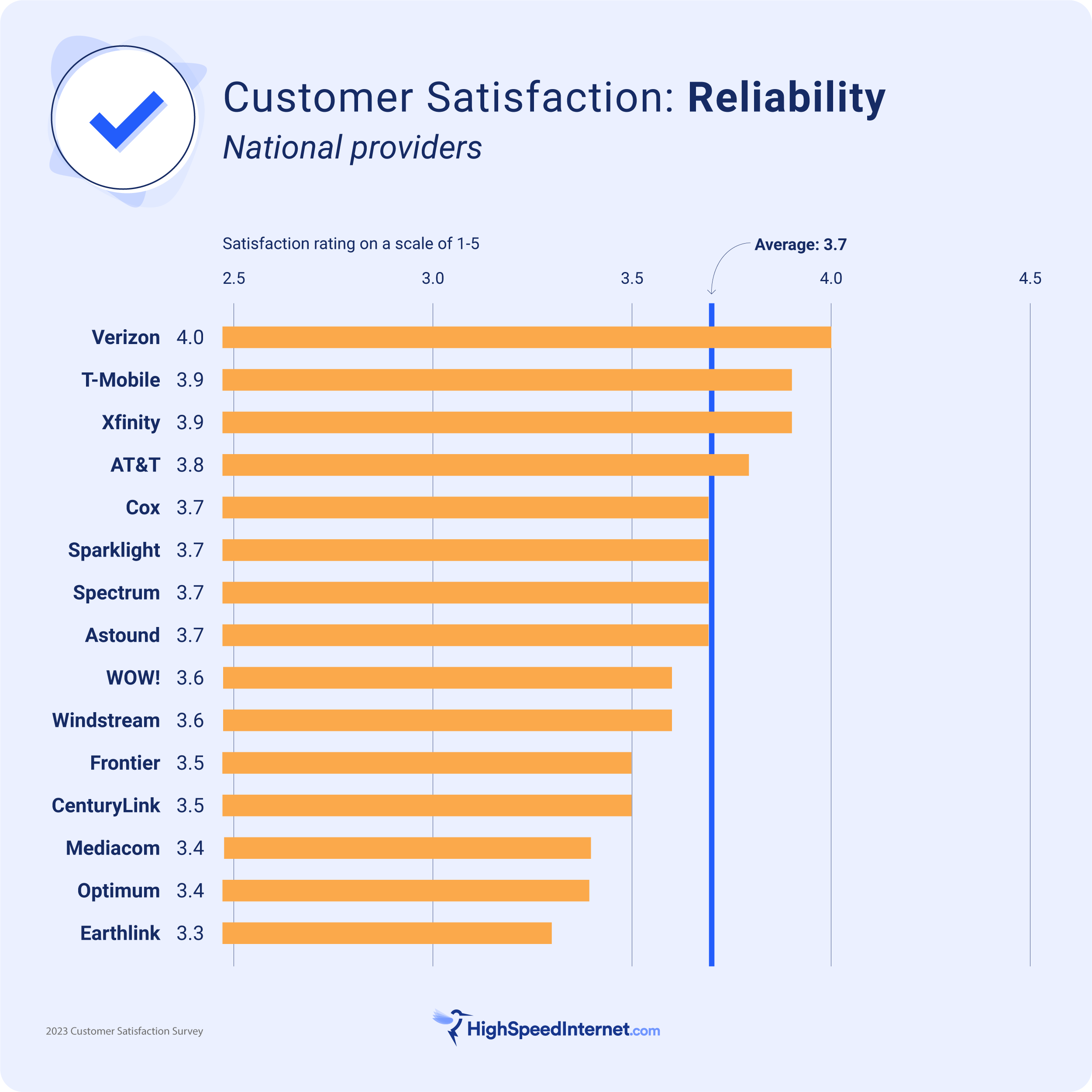 Data from HSI Customer Satisfaction Survey 9/8/2023.
A strong majority of Verizon customers (72%) reported they "never" or "rarely" experience internet outages. This is the second year in a row that Verizon has received the best reliability feedback, and its reliability ratings have improved year over year as well.
T-Mobile's 5G Home Internet comes in as a very close second with excellent reliability ratings. That's a big deal, considering 5G is a completely wireless internet service without the same interference protections of a closed network like cable or fiber. But these results suggest T-Mobile's 5G doesn't just keep up with the reliability of fiber and cable internet, but, in many instances, surpasses them.
Xfinity's all-around strong performance continues, as its reliability rating is right behind T-Mobile's. Xfinity customers reported experiencing the fewest occurrences of internet slowdowns, and only 11% of surveyed Xfinity customers reported experiencing a significant number of outages or disconnects.
Best ISPs for customer service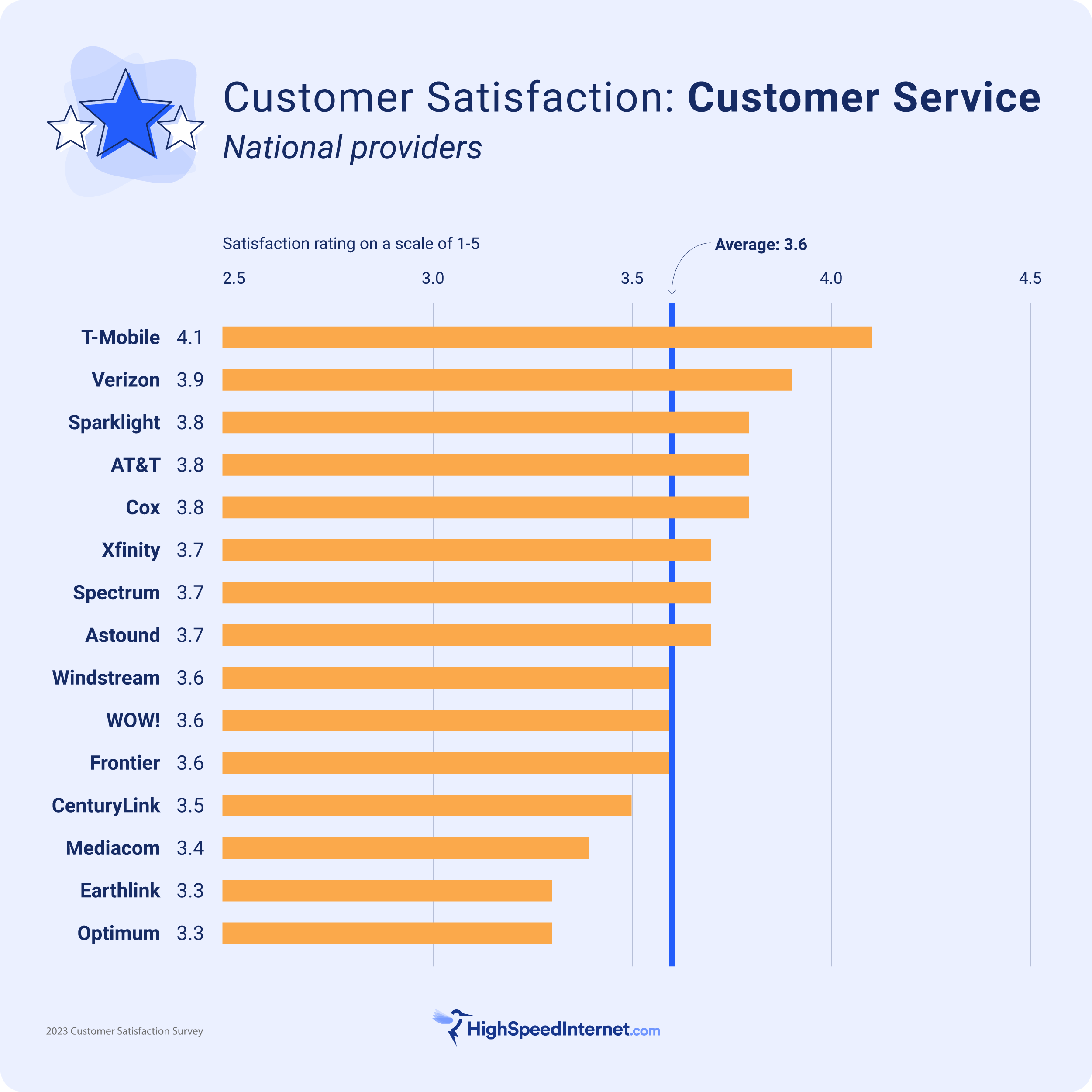 Data from HSI Customer Satisfaction Survey 9/8/2023.
T-Mobile has the highest customer service rating and the largest majority of customers (88%) saying it's easy to get help. But perhaps the best customer service is the kind you never need, and T-Mobile comes out on top there, too. The majority of T-Mobile customers (56%) reported they have never contacted customer service, which suggests they never needed to. This all adds up, considering T-Mobile's 5G Home Internet is incredibly easy to set up, use, and maintain.
Best type of internet service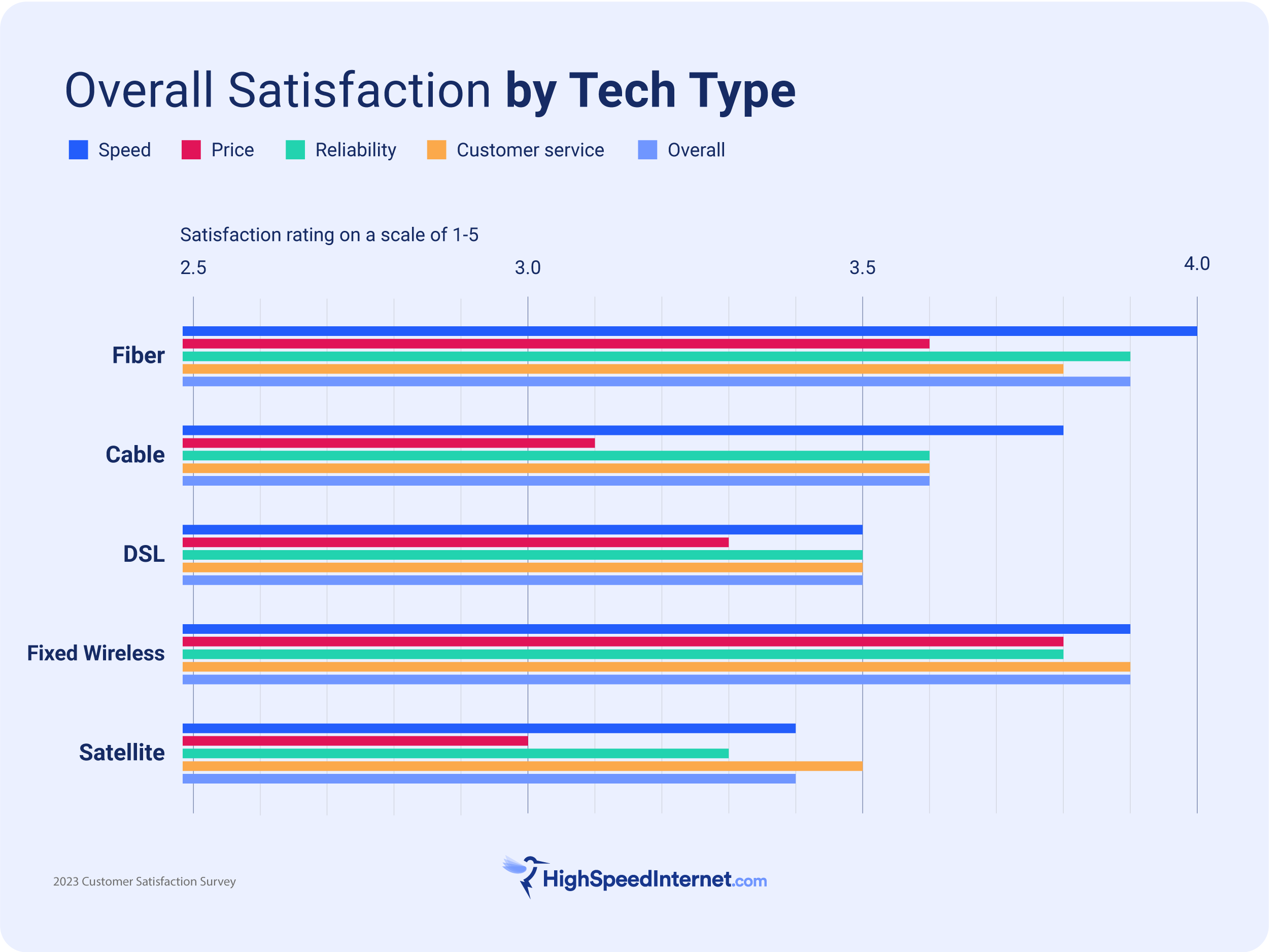 Data from HSI Customer Satisfaction Survey 9/8/2023.
Fixed wireless customers had the most positive feedback, with the highest ratings in the categories of price, customer service, and overall satisfaction. Even in the categories it didn't achieve top billing, fixed wireless came in just behind fiber.
Fiber-optic internet service is the fastest and most reliable type of service you can get, and it's usually priced competitively. But it seems fixed wireless's low pricing and convenience may matter more to customers than having a higher top speed.
Fixed wireless home internet works the same way your mobile phone does, receiving internet signal from cell towers. That means you don't need any cabling or an expensive installation. If you live close to a T-Mobile store, you could switch ISPs and have your new internet service up and running in a few hours. We know because that was our experience during our T-Mobile 5G Home Internet home test.
Fiber is still the king of speed and reliability. It has the highest ratings for both categories, with 90% of fiber customers reporting their internet speeds meet their needs. Fixed wireless is close behind, with 88% of customers saying their internet speeds keep up with their online activities.
Cable internet rated third for most categories, but it fell below even DSL for price. We've seen a lot of cable ISPs raising prices this year, and cable customers (44%) reported the most price hikes. Fiber and fixed wireless tied for the least reported occurrences of price hikes (31%).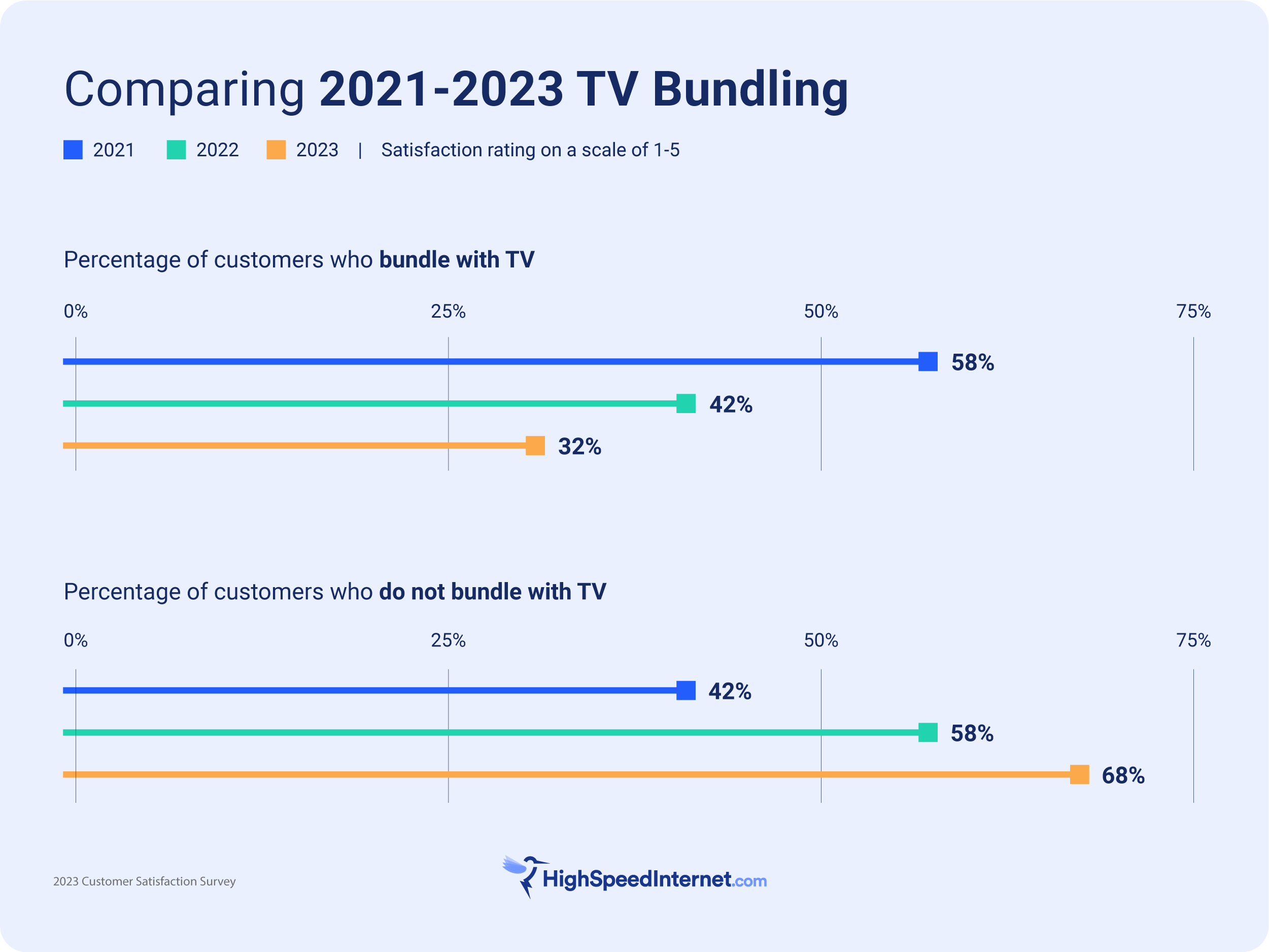 Data from HSI Customer Satisfaction Survey 9/8/2023.
Internet + TV
Every year, fewer survey respondents say they get TV service from their ISP, and 2023 is no different. Only 32% of customers report bundling their internet service with TV. That's 10% down from last year and almost 50% down from 2021 (58%).
Discounts for bundling TV and internet are modest and not nearly as enticing as they once were. Some ISPs offer bundles that include streaming boxes instead, but the plans often don't include live TV streaming, so it's akin to getting a free Roku on loan.
Internet + mobile
Internet and mobile bundling is on the rise, with 20% of customers saying they bundle these services. While ISPs aren't picking up mobile subscribers as fast as they're losing TV customers, mobile and internet bundling is up 2% over last year. We expect these numbers to rise in the coming years if providers keep up with the excellent pricing and discounts we've seen so far.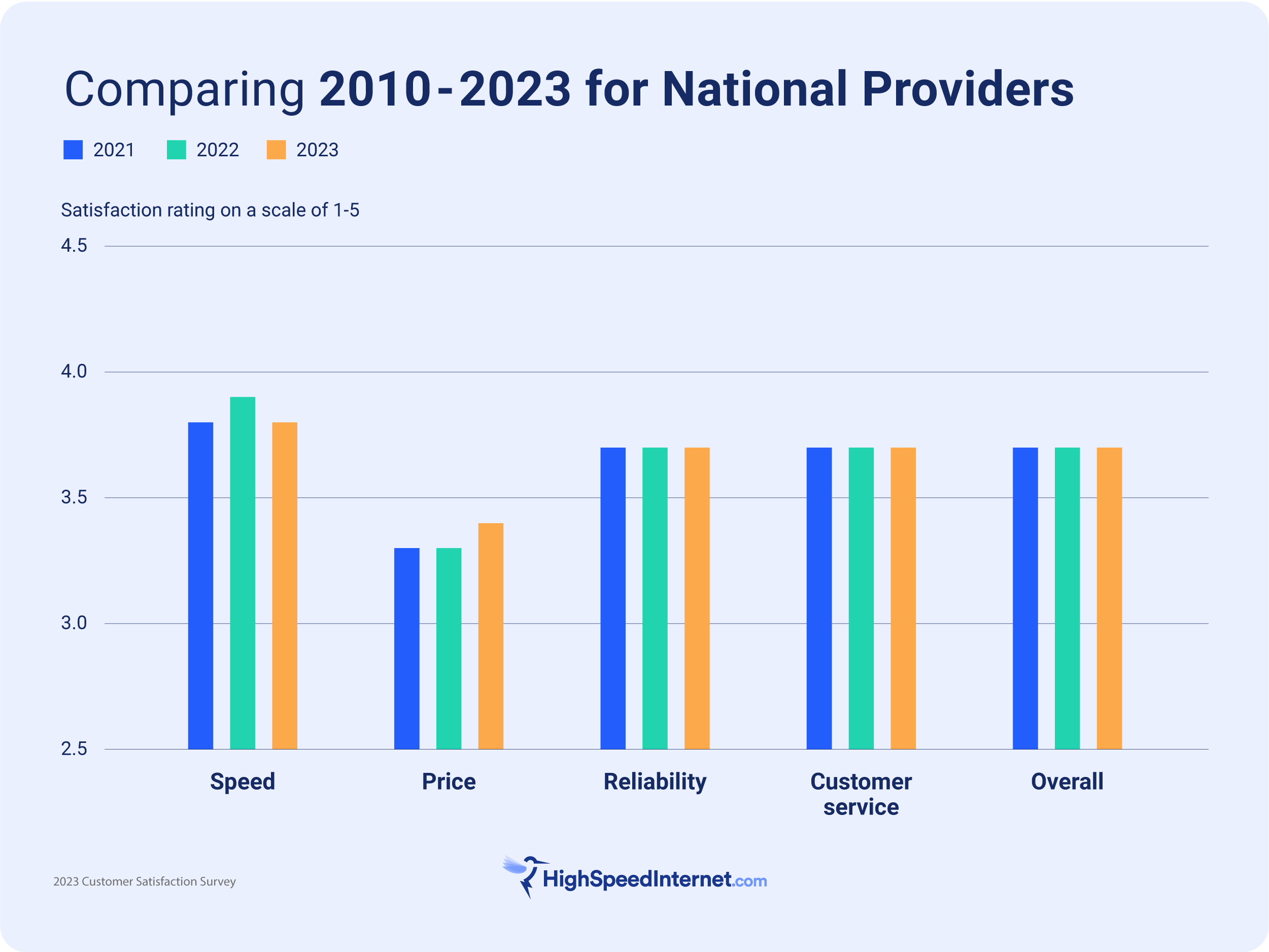 Data from HSI Customer Satisfaction Survey 9/8/2023.
For the first time since 2020, customer price satisfaction increased. Unfortunately, speed satisfaction is back down to its 2021 lows—when ISPs experienced overwhelming demand due to the pandemic. Last year, it's likely customers were enjoying ISP's response to that overwhelming demand. In 2023, 84% of customers said their internet speeds meet their needs, down from 89% last year. It seems ISPs may be reeling the bandwidth back in, and customers have noticed.
This year's data hints at customers looking at internet service as a utility more than a commodity. The rapid success of 5G and T-Mobile suggests intense speeds, endless features, and other bells and whistles are losing out to convenience and ease of use. It also explains why the ISPs with the fastest and most advanced internet connections aren't scored the highest. People don't want to spend time managing their internet connection, they just want it to deliver.
We collected over 7,000 online customer survey responses between January 1 and June 31, 2023. Internet providers with fewer than 40 customer responses were excluded from report rankings; most ISPs in the report received hundreds of responses.
We asked customers to rate key areas of their internet service (speed, reliability, price, and customer service) as well as their overall satisfaction with their provider. We also asked more specific contextual questions in each area. Overall provider scores and scores for each key area were taken directly from customers' average responses to the corresponding questions and are not the result of averaging answers from multiple questions—we do not assume all customers weigh each area equally.
ISP's were categorized as a national provider or a regional provider after careful review by our editorial team. We included the ISPs we believe to have the most impact on home internet in the United States. For this, we considered each ISP's number of home internet customers and coverage area in the last year, among other factors.
This survey collected sentiment responses from customers and does not represent actual technical performance. Analysis not focused on a specific ISP or the national or regional provider groups uses all applicable survey responses, including those of ISPs that were excluded from the report rankings.
| Provider | Overall Satisfaction | Speed | Price | Reliability | Customer Service |
| --- | --- | --- | --- | --- | --- |
| Astound | 3.6 | 3.8 | 3.2 | 3.7 | 3.7 |
| AT&T | 3.9 | 3.9 | 3.7 | 3.8 | 3.8 |
| Breezeline | 3.3 | 3.5 | 2.9 | 3.3 | 3.3 |
| Brightspeed | 3.1 | 3.2 | 3.2 | 3.1 | 3.2 |
| Buckeye Broadband | 3.5 | 3.5 | 3 | 3.4 | 3.5 |
| CenturyLink | 3.6 | 3.6 | 3.4 | 3.5 | 3.5 |
| Cox | 3.7 | 3.9 | 3.4 | 3.7 | 3.8 |
| EarthLink | 3.3 | 3.6 | 3.2 | 3.3 | 3.3 |
| Frontier | 3.5 | 3.6 | 3.4 | 3.5 | 3.6 |
| Google Fiber | 4.3 | 4.3 | 4 | 4.3 | 4.2 |
| HughesNet | 2.9 | 2.9 | 2.6 | 2.9 | 3.2 |
| Mediacom | 3.4 | 3.7 | 2.9 | 3.4 | 3.4 |
| MetroNet | 4 | 4 | 3.7 | 3.9 | 3.9 |
| Nextlink | 3.7 | 3.9 | 3.4 | 3.7 | 3.7 |
| Optimum | 3.3 | 3.6 | 2.9 | 3.4 | 3.3 |
| Sparklight | 3.8 | 3.9 | 3.2 | 3.7 | 3.8 |
| Spectrum | 3.7 | 3.9 | 3.3 | 3.7 | 3.7 |
| Starlink | 4.1 | 4.3 | 3.5 | 4 | 3.8 |
| T-Mobile | 4.1 | 4 | 4.1 | 3.9 | 4.1 |
| Verizon | 3.9 | 4 | 3.6 | 4 | 3.9 |
| Viasat | 3.1 | 2.9 | 2.6 | 2.9 | 3.3 |
| Windstream | 3.6 | 3.7 | 3.3 | 3.6 | 3.6 |
| WOW! | 3.6 | 3.7 | 3.3 | 3.6 | 3.6 |
| Xfinity | 3.9 | 4 | 3.5 | 3.9 | 3.7 |
| Ziply Fiber | 3.8 | 3.9 | 3.4 | 3.8 | 3.6 |
Author - Austin Aguirre
Austin worked as a broadband technician installing and troubleshooting countless home internet networks for some of the largest ISPs in the U.S. He became a freelance writer in 2020 specializing in software guides. After graduating with a BS in technical communication from Arizona State University, he joined the team at HighSpeedInternet.com where he focuses on home network improvement and troubleshooting.