How Much Data Does Zoom Use?
Feb 10, 2021 | Share

Brand Guides
For the average user, Zoom consumes nearly 900 MB of data in one hour-long call. That's not very much if you have an internet package with unlimited data or a 1 TB data cap (which is fairly common nowadays). But that much data usage can really add up if you have a limited data cap.
Thankfully, you can still do a lot on Zoom with a limited amount of data. We calculated out how much data the app requires and worked out some methods to keep Zoom from burning through too much. Read on for the ultimate guide to managing your data usage on Zoom.
How much data does Zoom use?
| Activity | Amount of data used |
| --- | --- |
| 1:1 call in "high-quality video" (480p) | 540 MB/hr. |
| 1:1 video call in 720p | 1.08 GB/hr. |
| 1:1 video call in 1080p | 1.62 GB/hr. |
| Group call in "high-quality video" (480p) | 810 MB/hr. |
| Group video call in 720p | 1.35 GB/hr. |
| Group video call in 1080p | 2.475 GB/hr. |
| Audio VoiP | 27–36 MB/hr. |
| Screen sharing | 22.5–67.5 MB/hr. |
Zoom uses an average of 888 MB in an hour-long call. We came up with that number by adding up the data for each activity above and then calculating the average of the total. We determined these data usage numbers by making calculations from Zoom's list of basic speed requirements.
How much data does a Zoom video call take?
A video conferencing call on Zoom will use a minimum of 810 MB of data per hour. That's how much you'll use if your video is set to the lowest resolution.
Video calls are Zoom's most popular feature, but Zoom's video data usage can be pretty steep. If your video is set to 720p, a group call will use up 1.35 GB of data in an hour. Videos set to 1080p will use even more data—about 2.475 GB per hour.
If you're worried about exceeding your data cap, switch off the "Enable HD" feature in your video settings to lower your video resolution. Or you can switch off your video. Using no video at all reduces your hourly data rate to just 27–36 MB per hour, while screen sharing takes up 22.5–67.5 MB an hour.
If you're hungry for more data to Zoom in HD, run a search below to see if there are internet providers with unlimited data options in your area.
How much data do you have for Zoom?
Data effective 1/19/21. Offers and availability may vary by location and are subject to change.
You should aim to have at least 500 GB of data per month on your internet plan if you use Zoom regularly.
Many internet providers give you at least 1 TB of data per month. That's plenty, so you won't have to be too cautious about overusing Zoom and going over your monthly data cap. You'd have to spend over 1,100 hours on Zoom to use up all of that 1 TB cap!
CenturyLink doesn't charge overage fees if you use too much data for the month. However, it will slow down or even disconnect your service if you exceed your data cap too many times. When you reach your data limit on Viasat and HughesNet plans, you don't get any charges, but your internet speed is slowed down significantly.
Some internet packages (including most fiber internet packages) give you unlimited data, which is even better because that means you can make as many Zoom calls as you like.
But you'll need to be cautious if you're on a lower-cost plan, have satellite internet, or use your mobile data to talk on Zoom over your cell phone. Some of the cheapest cable internet plans give you only 60–250 GB per month. Most satellite packages have even lower data caps, so even a handful of Zoom calls can put you over your monthly limit.
Having 500 GB of data per month will give you a solid buffer so you can make daily Zoom calls and do all the other stuff you love to do online.
Pro tip:
Not sure which providers have data caps and which don't? Take a look at our data caps guide to find out.
What happens if you go over your data limit?
Going over your data limit leads to overage fees added to your monthly bill—usually $10 for every 50 GB you use. Satellite internet providers don't impose fees, but they will slow down your internet speed if you exceed your data cap.
Data limits are also known as "data caps" or a "data allowance." If your internet provider gives you unlimited data, then you won't have to worry about exceeding your data cap. Put in your zip code below to find providers that might give you unlimited data in your area.
How can you reduce your data use on Zoom?
You can reduce the amount of data you use on Zoom by disabling HD video or limiting Zoom to audio-only. Read on for more tips and tricks to preserve your data while making Zoom calls.
Switch off "Enable HD"
You can switch off HD resolution to vastly reduce the amount of data you use per hour on a Zoom call. Click to the Video Settings menu—you can find it by clicking the small, upwards-pointing arrow next to the button for Start Video. Once you're in the menu, click off the boxes for "Enable HD" and "Touch up my appearance."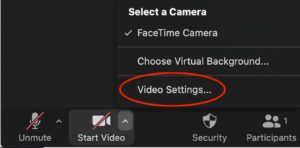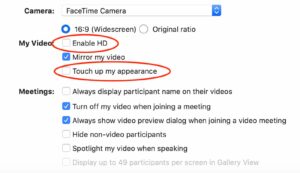 Switch off your video entirely
Since streaming video takes up so much data, the best thing you can do is make audio-only Zoom calls. To turn off your video, click the Start Video button in the bottom left corner of your screen. Your video will be turned off when there's a red line through the button.
You'll use up data if other participants on your call have their videos switched on. But switching off your own video will lower the total amount of data you use.
Call into Zoom by phone
You can call into a Zoom meeting over the phone if you don't want to use any data at all. Punch in the digits for one of Zoom's call-in numbers (listed below), put in your meeting ID and passcode, and you'll be in.
You won't be able to share your screen or show video, of course, but this feature gives you access if you're all out of data—or don't have Wi-Fi at all. Call one of the numbers below to enter a meeting:
+1-669-900-6833 (San Jose)
+1-253-215-8782 (Tacoma)
+1-346-248-7799 (Houston)
+1-646-876-9923 (New York)
+1-301-715-8592 (Washington, DC)
+1-312-626-6799 (Chicago)
+1-877-853-5257 (toll free)
+1-855-880-1246 (toll free)
For international calls, go to Zoom's Help Center to see a list of non–US dial-in numbers.
Get an unlimited data plan
Most internet providers give you the option to buy more data if your current data cap is too low. AT&T will sell you unlimited data (if your plan doesn't have it already) for an extra $30 per month. Xfinity's unlimited data option costs an additional $30 per month on top of your bill.
Of course, there are also internet providers that will hook you up with unlimited data as part of your plan at no extra cost. If you want to rid yourself of all potential data dilemmas, run a search with your zip code below to see if you can find a provider in your area that gives you unlimited data:
Does Zoom use data?
Yes, Zoom uses internet data. For it to work you need an internet connection over broadband internet or through a mobile data plan. You can call into Zoom using a phone, which won't require data usage. But then you won't be able to share your screen, turn on your video, or use most of Zoom's other features.
How much data does Zoom use per hour?
Zoom uses about 900 MB of data per hour, depending on the task you're doing. One-on-one video calls consume an average of about 540 MB to 1.62 GB per hour (with more data used in HD). Group calls with everyone's video turned on takes up 810 MB to 2.475 GB an hour.
How much mobile data does Zoom use?
Zoom uses the same amount of data whether you're on a mobile data plan or on a broadband internet plan.
You should be cautious of how much time you spend on Zoom if you're connecting over a mobile data plan with your cellphone, since many cellular plans give you significantly less data than home internet plans over a fiber, cable, or DSL connection. But you won't need to worry if you have a cellular package that gives you unlimited data.
How much bandwidth does Zoom use?
According to Zoom's bandwidth requirements, Zoom requires a minimum of 3 Mbps download speeds and 0.6–1 Mbps upload speeds. That will be fast enough for you to use its most important features with a reliable connection. You can make sure you have fast enough speeds by using our speed test.
Your Zoom connection will be a lot smoother with less buffering and fewer delays if you have more bandwidth. But you can still get by on a slow connection by disabling the "Enable HD" function or switching off your video altogether.
Does Zoom work without Wi-Fi?
Zoom works without Wi-Fi if you use your mobile data, plug your computer into your modem or router through Ethernet, or call into a Zoom meeting on your phone.
You can access a Zoom meeting with the app on your cellphone if you don't have Wi-Fi access at your house. Simply turn on your mobile data and you'll be all set. Another option is to plug your computer directly into your router or modem using an Ethernet cable. That way you'll get an internet connection without needing to log into your home Wi-Fi account.
You can also call into a Zoom meeting using your phone. Calling in will give you access to a Zoom webinar or video call even without an internet connection. But it's audio-only, so you won't be able to see anyone's video feed or see if someone is sharing their screen.
To enter a Zoom call by phone, dial +1-877-853-5257 or +1-855-880-1246 and enter the meeting's ID. You also may need to enter a passcode, depending on how the host has set up the call. If you can't connect through those numbers, try one of the other Zoom dial-in numbers that we listed above in our section on calling into Zoom meetings.
Author - Peter Holslin
Peter Holslin has spent more than a decade writing for Rolling Stone, VICE, BuzzFeed, and countless other publications. He graduated with a BA in liberal arts and journalism from New York City's The New School University in 2008. Since then, he has roved from city to city and lived overseas, mastering his craft as an editor, staff writer, and freelancer while also acquiring ninja-like skills to address feeble Wi-Fi speeds and other internet challenges.
Editor - Rebecca Lee Armstrong
Rebecca is a natural techie and the friend you turn to when your Wi-Fi randomly stops working. Since graduating from the University of Evansville with a degree in creative writing, Rebecca has leveraged her tech savvy to write hundreds of data-driven tech product and service reviews. In addition to HighSpeedInternet.com, her work has been featured on Top Ten Reviews, MacSources, Windows Central, Android Central, Best Company, TechnoFAQ and iMore.