TP-Link Deco X55 Pro Review
The Deco X55 Pro is a nice upgrade from the original but for a higher price.
Aug 30, 2023 | Share

Equipment Guides, Product Reviews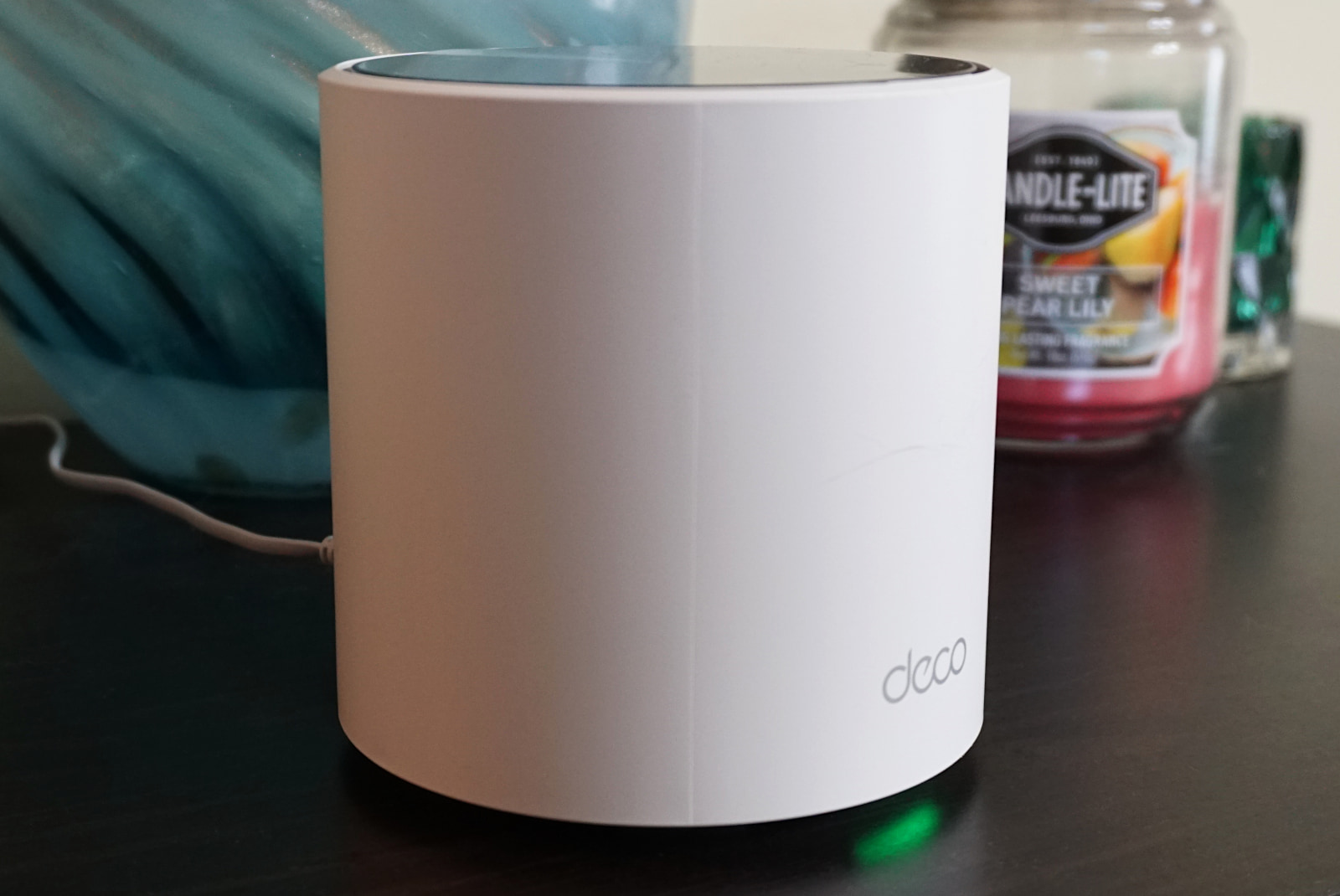 The Deco X55 Pro's 2.5Gbps Ethernet upgrade helps deliver the fast Wi-Fi speeds you need. Kevin Parrish | HighSpeedInternet.com
Is the Deco X55 Pro right for you?
The Deco X55 Pro is a significant design upgrade from the vanilla X55 model, offering more Wi-Fi speeds to devices that support superwide channels. But unlike the older X55 system, which has a few notable features the Pro model lacks, there's not much else happening here. It's a barebones system providing good speeds throughout your house, but that's it. Consider the vanilla X55 instead if you want free VPN tools and IoT device management.
Pros:
2.5Gbps Ethernet ports
160 MHz channel support
Free basic parental controls
Cons:
Subscription-locked features
No free VPN features
No channel controls
Fastest internet plans for the Deco X55 Pro
What makes this system a "pro" model is the usable wired speed increase of up to 2,370Mbps (give or take) versus around 940Mbps on the original model.
To see if you have the best internet speeds for the Deco X55 Pro, run our speed test first:
Also, you don't absolutely need a 2,000Mbps plan to use this system—any plan under 2,300Mbps will do. Here's a list of options if you were already thinking about an upgrade anyway:
Plan
Speed
Type
Price
Order online
Astound Broadband 1200 Mbps Internet
Up to 1,200Mbps
Cable
$60.00/mo.*
AT&T Internet 2000
Up to 2,000Mbps
Fiber
$110.00/mo.†
CenturyLink Fiber Gigabit
Up to 940Mbps
Fiber
$65.00/mo.‡
Cox Go Beyond Fast
Up to 2,000Mbps
Fiber
$149.99/mo.§
View Plans

for Cox Communications

Frontier Fiber 2 Gig
Up to 2,000Mbps
Fiber
$99.99/mo.||
View Plans

for Frontier

Google Fiber 2 Gig
Up to 2,000Mbps
Fiber
$100.00/mo.||||
Mediacom Prime Internet 1 GIG
Up to 1,000Mbps
Cable
$54.99/mo.#
View Plans

for Xtream Powered by Mediacom

Optimum 2 Gig Fiber Internet
Up to 2,000Mbps
Fiber
$105.00/mo.**
View Plans

for Optimum

Spectrum Internet® Gig
Up to 1,000Mbps
(wireless speeds may vary)
Cable/fiber
$89.99/mo.††
for 12 mos.
View Plans

for Spectrum

Verizon Internet 2 Gig
Up to 2,300Mbps
Fiber
$94.99/mo.‡‡
WOW! Internet 1.2 Gig
Up to 1,200Mbps
Cable
$94.99/mo.##
View Plans

for WOW!

Xfinity Gigabit Extra
Up to 1,200Mbps
Cable
$80.00/mo.§§
View Plans

for Xfinity
Deco X55 Pro standout features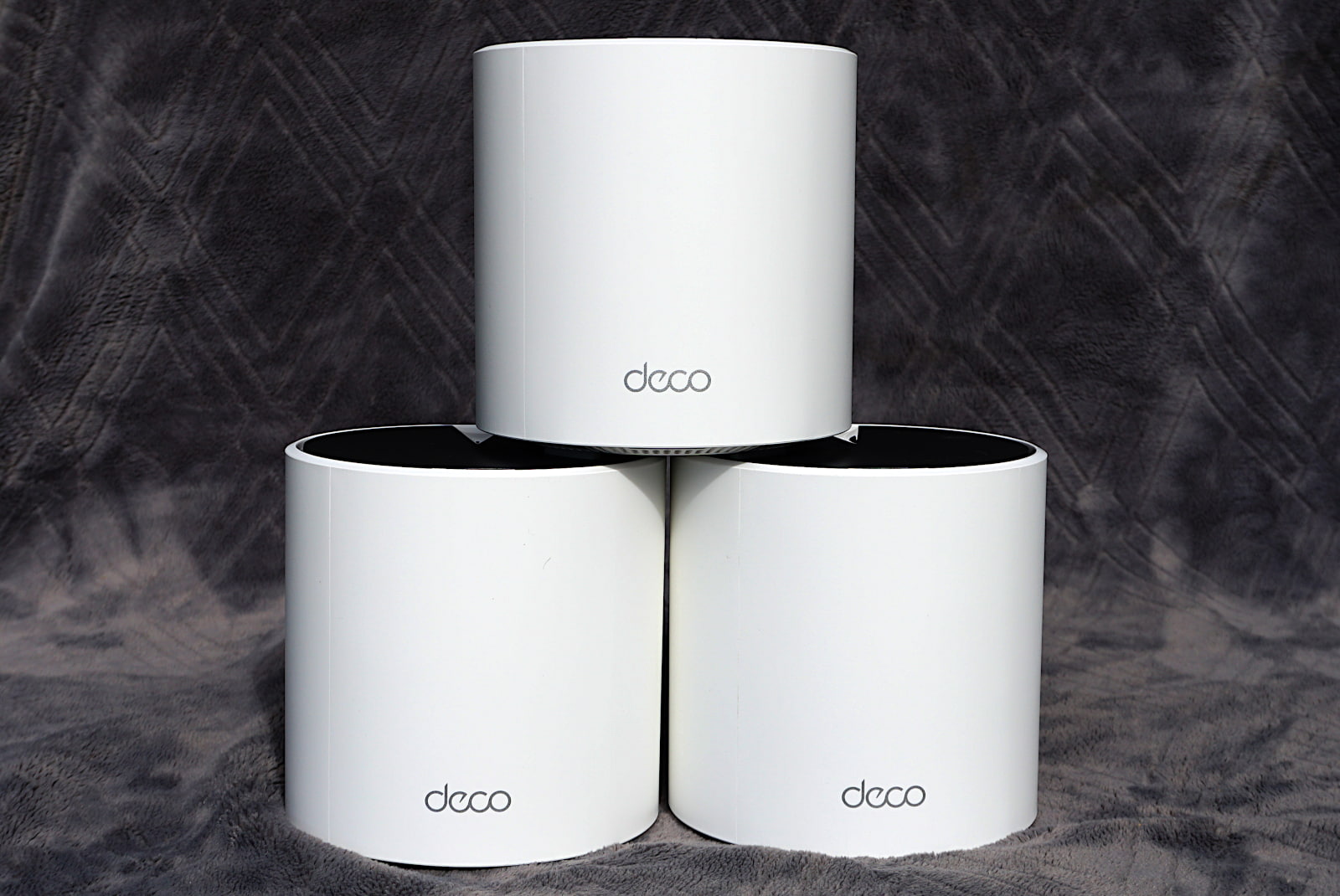 The Deco X55 Pro system takes only a few minutes to set up and use. Kevin Parrish | HighSpeedInternet.com
The Deco X55 Pro mesh system is as barebones as you can get. We have more to say about the design than about its features.
Our Deco X55 Pro scoring breakdown
| | | |
| --- | --- | --- |
| Category | Score* | Summary |
| Performance | 4 | Matches other dual-band systems based on our tests. |
| Features | 3 | Requires a subscription for some premium parental controls and security. |
| Design | 3 | Includes 2.5Gbps ports to better support 160 MHz channels. |
| Setup | 5 | Gets you up and running in no time flat. |
| Ease of use | 4 | Provides a great user experience through the Deco app. |
* out of 5 points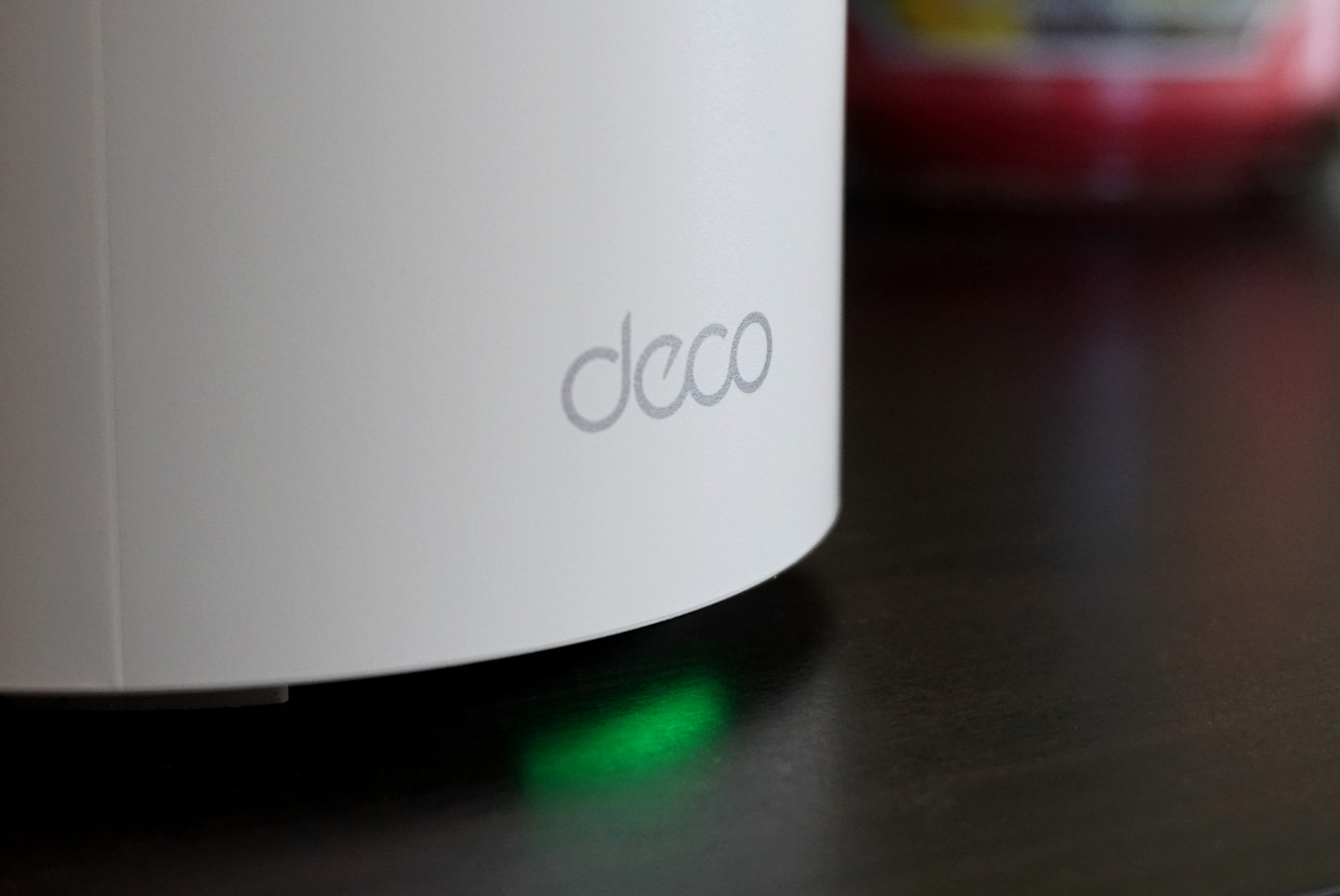 The Deco X55 Pro needs a dedicated third band for router-to-satellite chatter and faster Wi-Fi speeds. Kevin Parrish | HighSpeedInternet.com
The X55 Pro had better speed results in our 80 MHz channel tests than the vanilla X55 model, but we're going to blame it on better conditions versus anything related to the 2.5Gbps Ethernet port. It matched nearly every other mesh system we've tested at close range, but there's a clear difference between mesh systems with two bands like this one and those with a third band dedicated to router-to-satellite communication (backhaul).
For example, with the TP-Link Deco X55, X55 Pro, and X50-PoE systems, we tested an average of 350Mbps to 400Mbps from the satellite located in the dining room. Technically, it's a 20-foot trip in a straight line from router to satellite, but two walls, a door, furniture, and cabinets block the path. These three systems do not have a dedicated wireless line for Deco-to-Deco communication.
By comparison, the NETGEAR Nighthawk MK83 and Amazon Eero Pro 6 do have a third band used for router-to-satellite chatter, and we tested a significantly higher 540Mbps to 600Mbps average in the same spot. TP-Link's Deco XE75 Pro uses the 6 GHz spectrum for its dedicated line, producing an even better average of 785Mbps.
As for testing the 160 MHz channel speeds, our Lenovo ThinkPad laptop and Google Pixel 6 reached around 1,670Mbps sitting next to the router unit, which is right on the money and shows the benefits of having a 2.5Gbps Ethernet port. A Gigabit Ethernet port would max the real-world speeds to 940Mbps.
Finally, we saw a lot of fluctuation when we tested the satellite-to-router communication since it uses a 160 MHz channel by default. The best averages we saw were around 1,180Mbps, but we mostly recorded around 750Mbps on average when the connection switched to an 80 MHz channel due to interference—which aligns with what we recorded with the iPhone 12 Pro Max at 20 feet.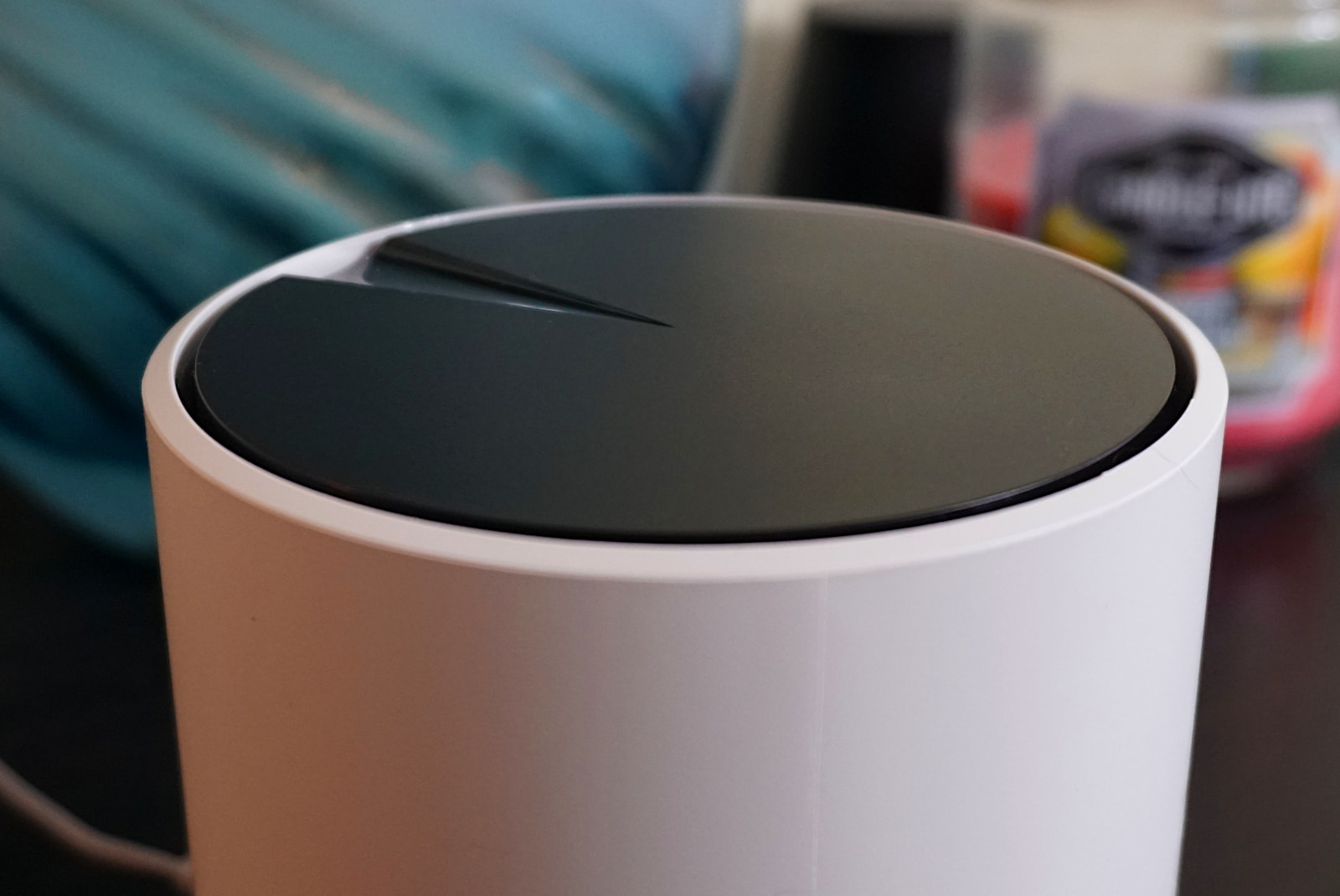 Like the previous model, the Deco X55 Pro system looks good anywhere you place it. Kevin Parrish | HighSpeedInternet.com
The Deco X55 Pro is about as featureless as you can get for a mesh system—especially after reviewing the Deco XE75 Pro.
With the XE75 Pro, you get things like a third IoT network, device isolation, native support for smart home devices, and built-in VPN tools at no extra cost. It, too, supports a 2.5Gbps wired connection, but you also get a third 6 GHz band.
That's not the case with the X55 Pro. It's essentially our favorite budget mesh system stripped and outfitted with new 2.5GHz ports, and that's it—we provide a comparison in our FAQ. If you need VPN support, you must subscribe to HomeShield Total Security or select a different system, like NETGEAR's Nighthawk MK83, sold at the same price.
Still, we gave it a higher-than-it-deserves score because it offers more free parental controls than other standalone routers and mesh systems we've tested. A lot of good features are locked behind the Advanced Parental Controls Advanced subscription, but there's enough here to keep your little peeps in check.
What we wish the Deco X55 Pro did better
Built-in VPN server
Native USB connectivity
We already harped about this, but the Deco X55 Pro needs a built-in VPN server, at the very least, like with the original X55 system. It usually allows you to remotely use your home internet connection from a coffee shop or a hotel to keep you anonymous as you surf online. There's a VPN client you can use, but it requires a HomeShield Total Security subscription.
And while you can connect a USB stick to an Ethernet port using an adapter, mesh systems generally don't include built-in features to support USB devices, like file and printer sharing. One day that'll change. Maybe.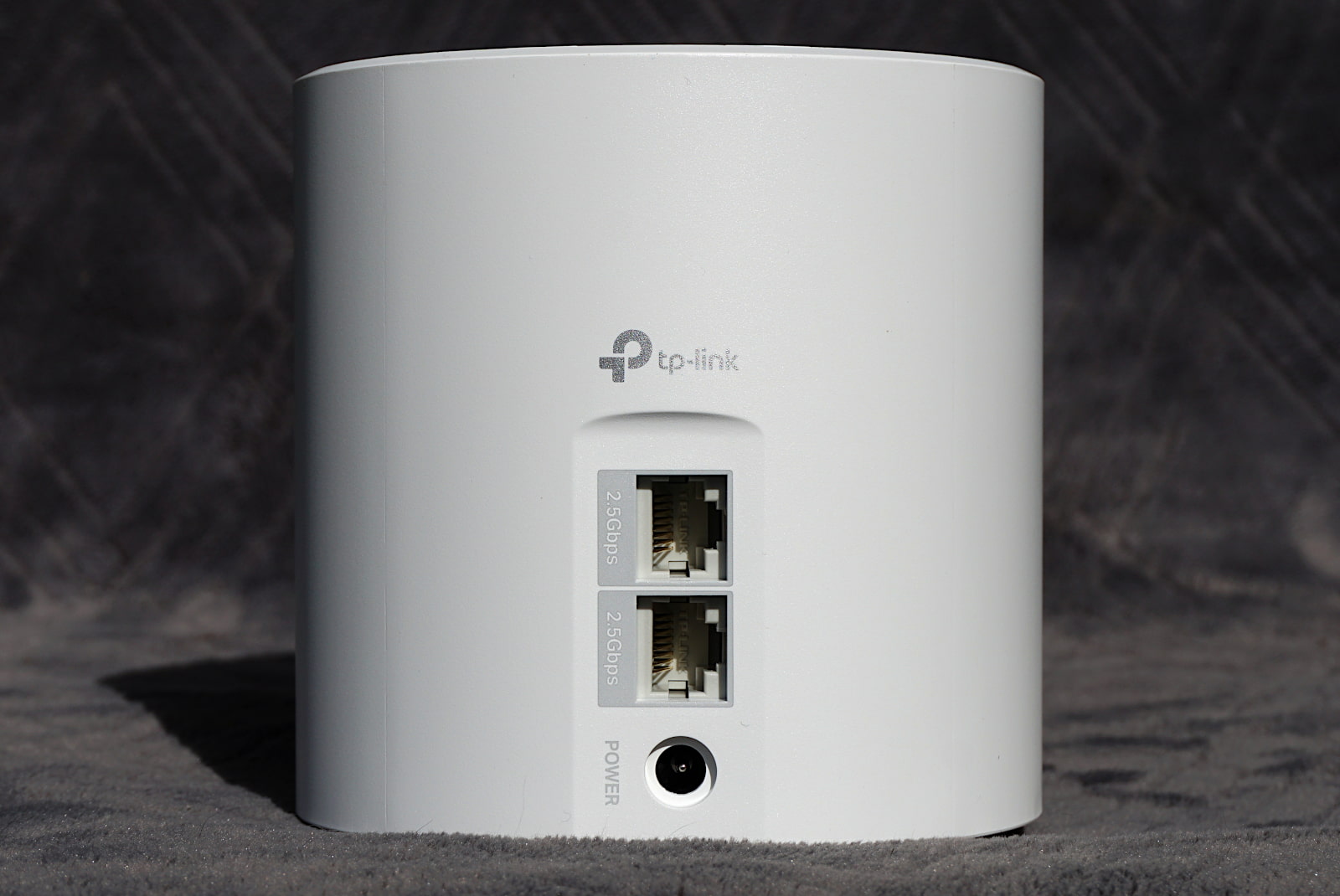 Both Ethernet ports on the Deco X55 Pro deliver speeds up to 2,500Mbps (2.5Gbps). Kevin Parrish | HighSpeedInternet.com
The big callout here is the upgrade from Gigabit Ethernet to 2.5Gbps Ethernet. Both ports on the X55 Pro model are now faster, not just one, which is a pleasant surprise. This upgrade makes the advertised 2,402Mbps speed possible on the X55 Pro, whereas the vanilla X55 model fails to meet that advertised speed because it's bottlenecked by the slower Gigabit Ethernet port.
For example, when we used the widest Wi-Fi channel (160 MHz) for testing, we recorded a 1,550Mbps average on a single device connected to the X55 Pro. When we connected the same device to the vanilla X55 using a similar superwide channel, we recorded an 874Mbps average. That's a huge difference and shows how the 2.5Gbps Ethernet upgrade on the Pro model enables more Wi-Fi speed.
But there's a drawback.
What the X55 Pro doesn't upgrade is how each Deco unit communicates with each other. There's no third band dedicated for backhaul use, so you're sharing the airwaves with their chatter, reducing your speeds. We suggest you use the upgraded wired connection for Deco-to-Deco use, so their transmissions don't interfere with yours—even if your ONT or modem still uses Gigabit Ethernet. Yes, draping Ethernet can get a little ugly, but hopefully, your home is already wired for Ethernet use.
Setting up the Deco X55 Pro is really, really easy. It quickly walks you through restarting your modem, connecting the first Deco, and naming the Deco's location. You can power on the other Deco units at any time, and they automatically join your new network in two minutes or less—and with no manual configurations on your part.
To set up and use this system, you need a free TP-Link ID account, but we've never seen a mesh kit that doesn't require a cloud account. It's the norm and allows you to securely manage your network no matter where you are.
TP-Link overhauled the Deco app to provide you with easier network management. Kevin Parrish | HighSpeedInternet.com
The Deco app is easy to use. Everything you need is spread out across four tabs: Network, Security, Parental Controls, and More. You'll never need to access the web interface for some settings like you do on standalone routers.
What you can't do with the Deco X55 Pro is manually change the Wi-Fi channel or channel width, which is unfortunate if you're trying to troubleshoot Wi-Fi issues. The Network Optimization tool presumably changes the channel automatically after a quick scan, but it may not help if there's too much interference from neighboring networks. We talk more about the 5 GHz channels in our FAQ.
Are there any additional costs?
TP-Link's new pricing is a little confusing since the company still lists HomeShield Pro on its websites. The company now separates its premium parental controls from its premium security services. We provide detailed pricing for Total Security and Advanced Parental Controls in our FAQ.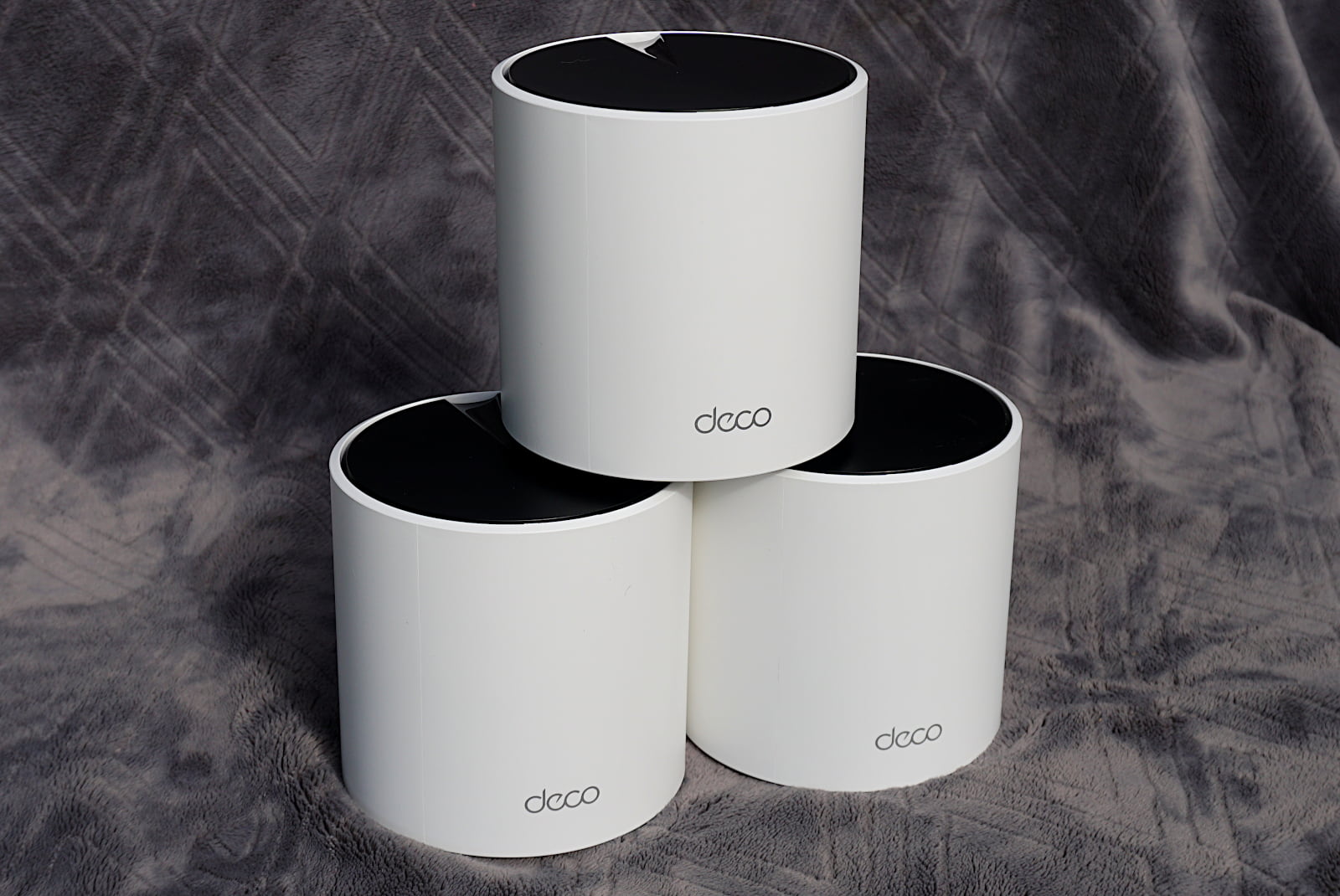 The Deco X55 Pro lacks some of the features made available on the cheaper, vanilla X55 system. Kevin Parrish | HighSpeedInternet.com
Our Deco X55 Pro review: The verdict
We like the vanilla Deco X55 system because it offers decent whole-home speeds for the money. We recommend it for those on a budget and in need of a new system. You can build it out over time if you can't afford the three-piece kit.
But now the Pro version is here, delivering faster speeds for $100 more. But it's a difficult product to suggest as your next upgrade, given we've tested better systems sold at the same price. Plus, TP-Link stripped out a few notable features, so we're on the fence about recommending one X55 model over the other.
The big selling point over the original X55 system is the support for 160 MHz Wi-Fi channels and the 2.5Gbps wired speeds to back them up. If you have an internet plan over 940Mbps and wireless devices with 160 MHz channel support, then this is the system for you. If your service is 940Mbps or slower, the original X55 system makes more sense.
FAQ about the Deco X55 Pro
What's the difference between HomeShield Basic, Security+, and Total Security?
Based on the information provided in the Deco app, TP-Link dropped the HomeShield Pro label and divided its security suite into three HomeShield tiers. Here are the differences:
| | | | |
| --- | --- | --- | --- |
| | Basic | Security+ | Total Security |
| New Device Alert | ✓ | ✓ | ✓ |
| Router Security Scan | ✓ | ✓ | ✓ |
| Wireless Security Scan | ✓ | ✓ | ✓ |
| Web Protection | ✗ | ✓ | ✓ |
| Intrusion Prevention | ✗ | ✓ | ✓ |
| IoT Protection | ✗ | ✓ | ✓ |
| Comprehensive Reports | ✗ | ✓ | ✓ |
| Antivirus Protection | ✗ | ✗ | ✓ |
| Unlimited VPN | ✗ | ✗ | ✓ |
| Password Management | ✗ | ✗ | ✓ |
| PC Cleaner | ✗ | ✗ | ✓ |
| Monthly cost: | Free | $4.99 | N/A |
| Yearly cost: | Free | $35.99 | $69.99* |
What's the difference between Advanced Parental Controls Basic and Advanced?
Based on the information provided in the Deco app, TP-Link removed its parental control suite from HomeShield and now offers two Advanced Parental Controls tiers. Here are the differences:
| | | |
| --- | --- | --- |
| | Basic | Advanced |
| Pause the Internet | ✓ | ✓ |
| Block Specific Websites | ✓ | ✓ |
| Filter Websites (By Cat.) | ✓ | ✓ |
| Flexible Bedtime | ✗ | ✓ |
| Offtime Control | ✗ | ✓ |
| Time Limits | ✗ | ✓ |
| Comprehensive Insights | ✗ | ✓ |
| Detailed Reports | ✗ | ✓ |
| Monthly cost | Free | $2.99 |
| Yearly Cost | Free | $17.99 |
Does the Deco X55 Pro support a wired backhaul?
Yes, we encourage you to use Ethernet for router-to-satellite communication (backhaul). By doing so, you won't see the speed degradation associated with router-to-satellite wireless transmissions. Plus, they're not sharing your airwaves (your fronthaul), which also reduces your speeds. Draping Ethernet isn't attractive (if your home isn't already wired with it), but you get better network-wide performance.
What 5 GHz channels does the Deco X55 Pro support?
From what we can tell, this mesh system supports the following channels:
80 MHz: Channel 42 (36 + 40 + 44 + 48)
160 MHz: Channel 50 (36 + 40 + 44 + 48 + 52 + 56 + 60 + 64)
That said, if you and your neighbors are using an 80 MHz channel width, changing the "center" channel (36, 40, 44, or 48) may not significantly improve your Wi-Fi speed since both of you are still hogging all four. For this reason, we prefer tri-band routers and systems or those that support all usable channels (36–165), not just the lower ones.
What's the difference between the X55 and X55 Pro?
There are some notable differences between the original and Pro versions. Take a look:
| | | |
| --- | --- | --- |
| | X55 | X55 Pro |
| Ethernet ports: | 3 | 2 |
| Ethernet speed: | 1,000Mbps | 2,500Mbps |
| Free VPN | Server, client | No (paid) |
| IoT network & device isolation | Yes | No |
| Price (3-pack): | $199.99 | $299.99 |
We test router speed by setting up each router in an office and connecting it to a local test server. Then, we transmit test data between our wireless devices and the server, taking numerous measurements to account for fluctuations in Wi-Fi speeds.
The first tests occur close to the router, without obstructions—so the Wi-Fi is as strong and fast as it's gonna get. We repeat the process straight out at 10, 20, and 30 feet, with only a glass door obstructing our view of the router. The same glass door and an exterior door blocks our path when we test outside at 40 and 50 feet.
We also run tests in a hallway to the left of the TV room and office—where there's a glass door, three walls, and an air handler unit blocking our view of the router. The dining room, another testing point, sits to the right of the kitchen, TV room, and office—two walls and a glass door block the path in this test.
To test video streaming, we connect a fast storage device to the router and stream a 4K video to six wireless devices simultaneously—two phones, three tablets, and a laptop—connected to the same wireless band.
Client devices used in testing
| | iPhone 12 Pro Max | Google Pixel 3 |
| --- | --- | --- |
| Wi-Fi version | Wi-Fi 6 | Wi-Fi 5 |
| Stream configuration | 2 x 2 | 2 x 2 |
| Max channel width | 80 MHz | 80 MHz |
| Max 5 GHz speed (AX) | 1,200 Mbps | – |
| Max 5 GHz speed (AC) | 866 Mbps | 866 Mbps |
| Max 2.4 GHz speed (AX) | 195 Mbps | – |
| Max 2.4 GHz speed (AC) | 195 Mbps | 144 Mbps |
Deco X55 Pro benchmarks (5 GHz only)
| | iPhone 12 Pro Max* | Google Pixel 3* |
| --- | --- | --- |
| 2 feet | 824 | 621 |
| 10 feet | 768 | 559 |
| 20 feet | 751 | 434 |
| 30 feet | 658 | 376 |
| 40 feet (porch) | 425 | 280 |
| 120 feet (across street) | 113 | 75 |
| 160 feet (mailboxes) | Not tested | Not tested |
| 20 feet (hallway) | 416 | 281 |
| 20 feet (dining room) | 391 | 283 |
* Speeds in megabits per second (Mbps) using an 80 MHz channel.
Amazon.com Prices as of 8/16/23 17:35 MST. Product prices and availability are accurate as of the date/time indicated and are subject to change. Any price and availability information displayed on Amazon.com at the time of purchase will apply to the purchase of this product. Highspeedinternet.com utilizes paid Amazon links.
CERTAIN CONTENT THAT APPEARS ON THIS SITE COMES FROM AMAZON. THIS CONTENT IS PROVIDED 'AS IS' AND IS SUBJECT TO CHANGE OR REMOVAL AT ANY TIME.
Best internet plans for the Deco X55 Pro
* No contract required. 24 Month Internet Pricing. Equipment priced separately. Includes $5 discount for 12 months w/ ebill & autopay. Observed speeds may vary. Excludes surcharges and fees. New residential customers only.
† Price after $5/mo Autopay & Paperless bill discount (w/in 2 bills). Plus taxes & fees. Monthly State Cost Recovery Charge in TX, OH, NV applies. Ltd. availability/areas.
‡ Speed may not be available in your area. Maximum download/upload speed of up to 940 Mbps via a wired connection. Paperless billing required. Taxes and fees apply. Offer details. Offer includes professional installation at customer's eligible location
§ No annual contract or cancellation fees.
|| w/ Auto Pay & Paperless Bill. Max wired speed 2000/2000 Mbps. Wi-Fi, actual & average speeds vary. One-time charges apply.
# For the first 12 months. Plus, activation, installation and monthly modem rental fees.
** w/Auto Pay & Paperless Bill. Terms apply.
†† For 12 months when bundled. Limited time offer; subject to change; valid to qualified residential customers who have not subscribed to any services within the previous 30 days and who have no outstanding obligation to Charter. Spectrum Internet® Gig promotion price is $89.99/mo; standard rates apply after yr. 1. Taxes, fees and surcharges extra and subject to change during and after the promotional period; installation/network activation, equipment and additional services are extra.
‡‡ Available in select areas only. Price per month with Auto Pay & without select 5G mobile plans. Fios plan prices include taxes & fees
§§ For 24 months. No term contract. Taxes not included. Includes $10/mo automatic payments and paperless billing discount.
|||| Plus taxes and fees. Upload/download speed and device streaming claims are based on maximum wired speeds. Actual Internet speeds are not guaranteed and may vary based on factors such as hardware and software limitations, latency, packet loss, etc.
## With AutoPay & paperless billing. Equipment, taxes, data allowance, and other fees extra.
Author - Kevin Parrish
Kevin Parrish has more than a decade of experience working as a writer, editor, and product tester. He began writing about computer hardware and soon branched out to other devices and services such as networking equipment, phones and tablets, game consoles, and other internet-connected devices. His work has appeared in Tom's Hardware, Tom's Guide, Maximum PC, Digital Trends, Android Authority, How-To Geek, Lifewire, and others. At HighSpeedInternet.com, he focuses on network equipment testing and review.