TP-Link Deco X50-PoE Review: One of the Fastest Mesh Systems We've Tested
The Deco X50-PoE is a great mesh system for business, and it's a good choice for homes too.
Jun 22, 2023 | Share

Equipment Guides, Product Reviews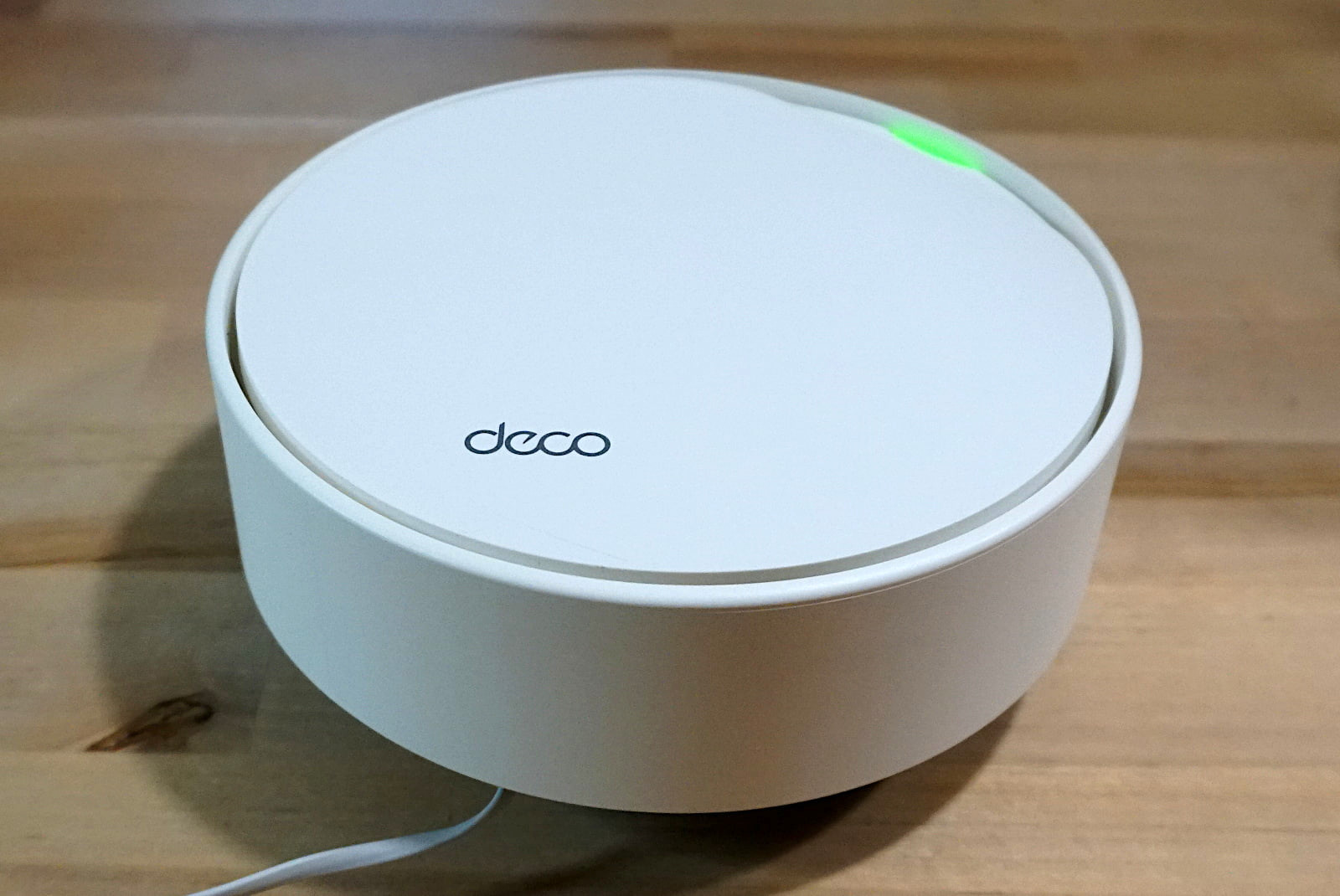 The TP-Link Deco X50-PoE is one of the fastest mesh networking systems we've tested to date. Kevin Parrish | Highspeedinternet.com
Is the Deco X50-PoE right for you?
The Deco X50-PoE is a good mesh networking system for businesses and rentals. The big selling point here is Power over Ethernet (PoE), which requires an additional piece of hardware and at least four long Ethernet cables to use fully. You can mount each unit on a wall or the ceiling, keeping them (somewhat) out of reach of clients and renters.
But is the Deco X50-PoE ideal for homes? That's a good head-scratchin' question. It has great speeds even without the Ethernet wiring, but honestly, there's no point in purchasing it if you never plan to utilize the PoE technology. TP-Link has other home-friendly mesh systems that can do the job just as well, like the Deco X55.
Pros:
Multi-Gig internet support
Power over Ethernet support
Basic parental controls
Cons:
No VPN tools
Optional subscription requirement
Limited Wi-Fi control
Deco X50-PoE standout features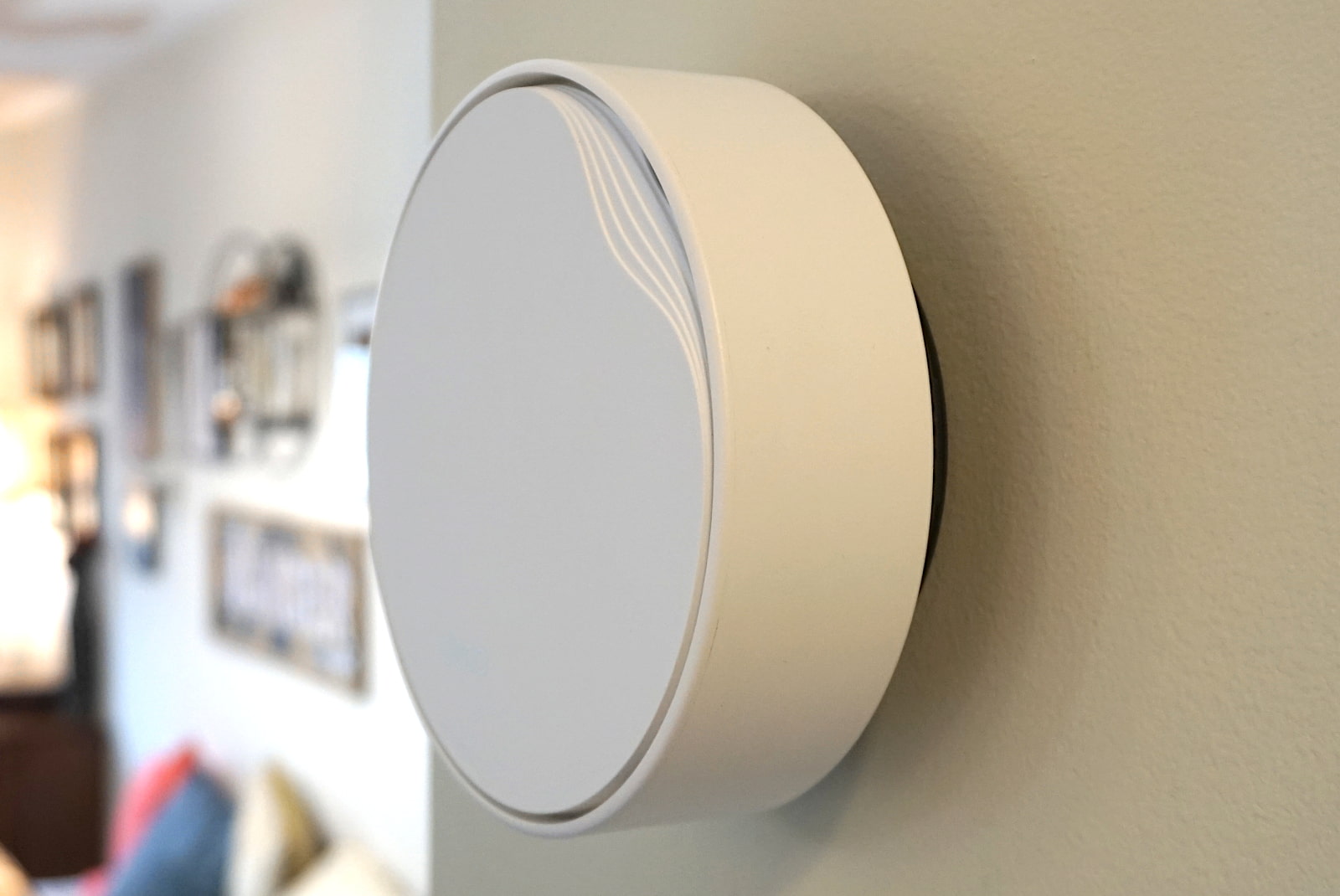 You can mount the Deco X50-PoE on a wall or on the ceiling. Kevin Parrish | Highspeedinternet.com
Like most mesh networking systems, the Deco X50-PoE doesn't have a ton of notable features. TP-Link locks security features and some parental controls behind a subscription, but you can still wrangle your young'uns with a few basic controls to keep internet activity in check.
Our Deco X50-PoE scoring breakdown
| | | |
| --- | --- | --- |
| Category | Score* | Summary |
| Performance | 4 | Goes neck and neck with the Eero Pro 6 in speed. |
| Features | 3 | Requires a subscription for security and some parental controls. |
| Design | 4 | Includes Multi-Gig internet support and PoE networking. |
| Setup | 4 | Has one of the easiest setups we've seen to date. |
| Ease of use | 4 | Provides a better experience thanks to the Deco app update. |
* out of 5 points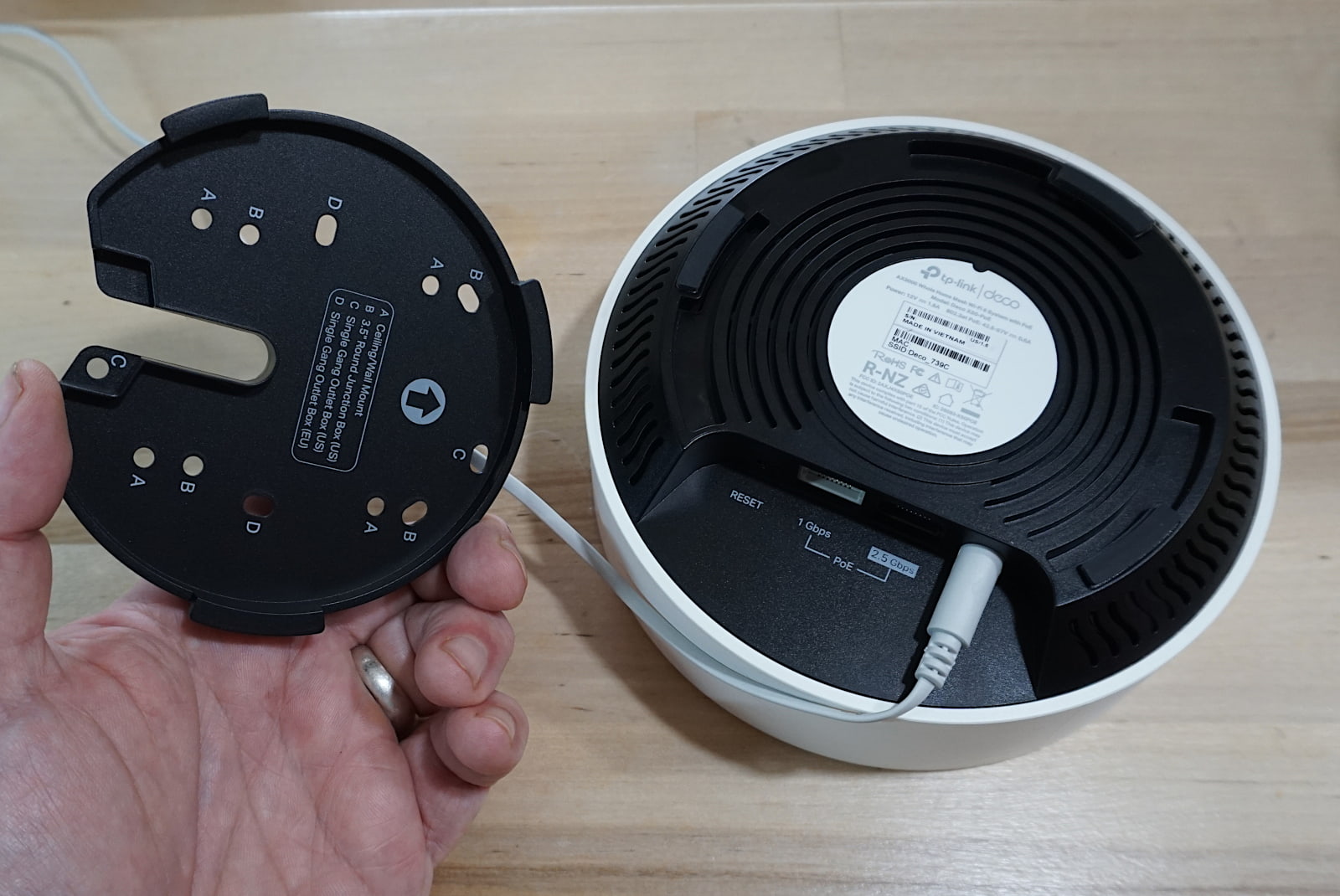 Each Deco X50-PoE unit includes a mounting bracket you can slide on and off. Kevin Parrish | Highspeedinternet.com
If we run tests and get unusually low numbers, we change the channel to get better speeds. Neighboring networks typically use channels 36–48 on the 5 GHz band, so finding one in the upper end (149+) is better for testing. The bad news is, in most cases, you can't change the channel on a mesh system—as is the case for the X50-PoE. That means you may see better or worse speeds than those we recorded—it depends on the radio noise surrounding your network.
For this test session, we didn't use a wired backhaul: all three units communicated with each other via Wi-Fi. However, if you want the most speed out of the X50-PoE, string them together with Ethernet cables connected to the 2.5 Gbps ports—even if you never use the PoE aspect.
Thankfully, we squeezed better speeds out of the X50-PoE than we did with the X55 system. Speeds measured with the iPhone 12 Pro Max averaged 821 Mbps at close range, while our Lenovo laptop and Google Pixel 6 saw speeds up to 1,200 Mbps at close range (they support wider channel width). The Lenovo and Pixel numbers were a bit lower than what we wanted, but since we couldn't manually select the best channel, they're all we got.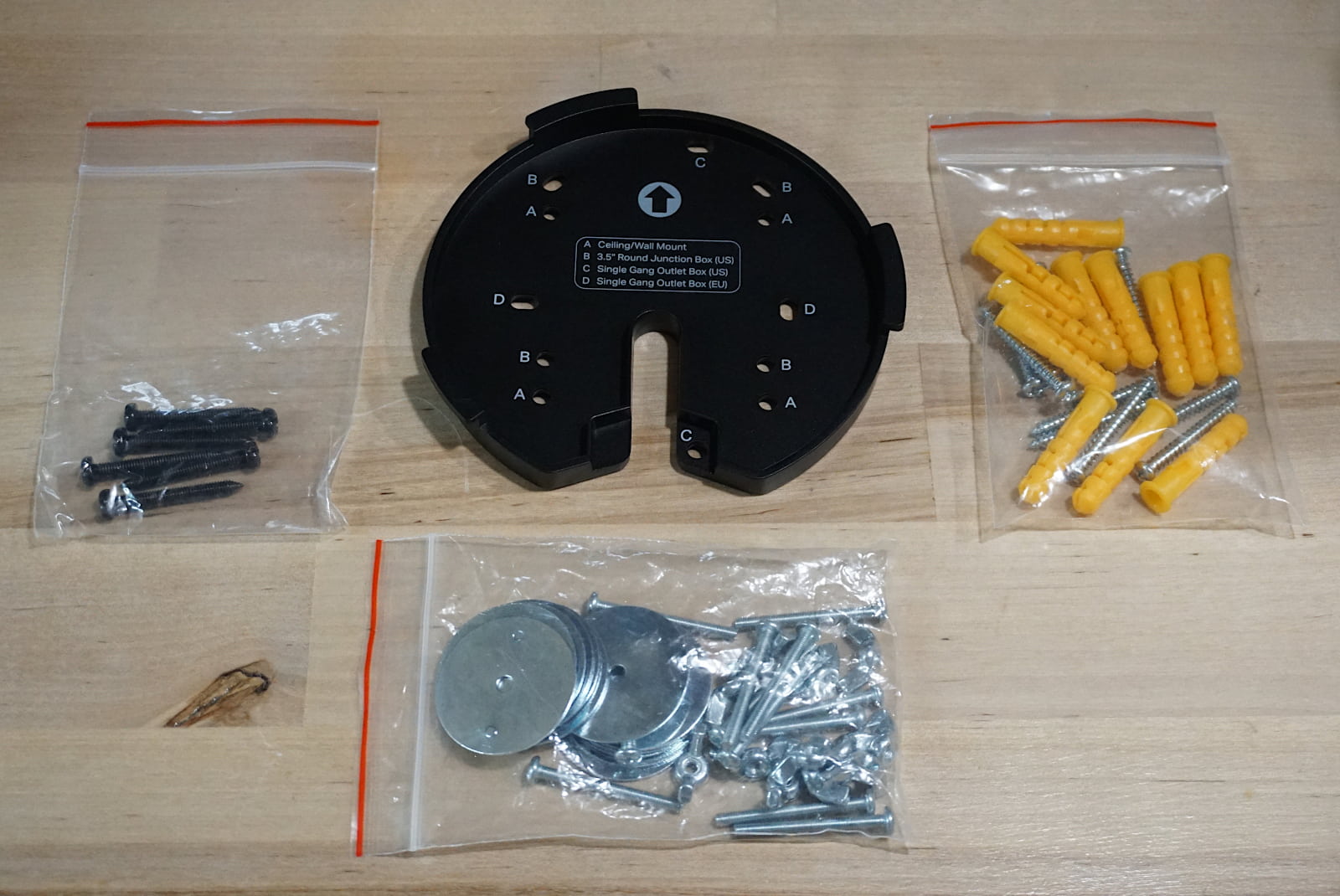 The Deco X50-PoE includes all the screws and washers you need. Kevin Parrish | Highspeedinternet.com
Mesh systems like the X50-PoE lack many features and settings you can find on standalone routers, like VPN tools and media sharing.
This system's most notable feature is its basic parental controls. You can create a profile, assign a device to that profile, block sites, set a content filter, and schedule a daily bedtime. All other parental controls require a subscription.
The Alexa and Google Assistant support isn't exactly novel, as many standalone routers and mesh systems support them. Just link your TP-Link ID to Amazon, or add the system to Google Home. After that, you can use voice commands to make network changes.
What we wish the Deco X50-PoE did better
Free antivirus
Unlocked parental controls
HomeShield Basic is just that—basic. It performs a network scan and allows you to block websites, but the Avira-based components cost extra—unlike TP-Link's HomeCare suite powered by Trend Micro.
And as we already mentioned, you get basic parental controls. But if you want custom bedtimes, time limits, and offtimes, you need a HomeShield Pro subscription.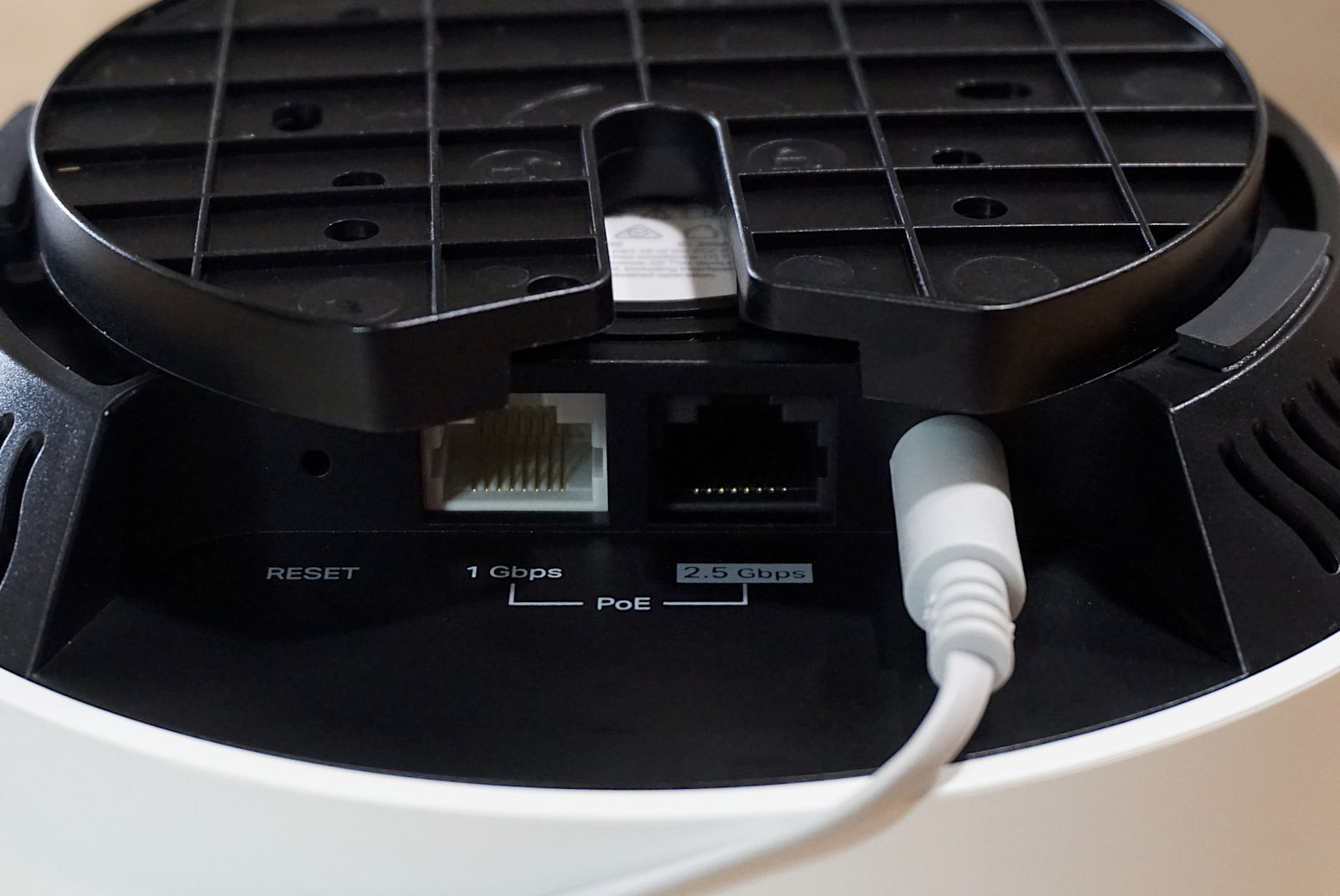 Each Deco X50-PoE unit provides one Gigabit and one 2.5Gbps Multi-Gig Ethernet port. Kevin Parrish | Highspeedinternet.com
Each X50-PoE unit provides two Ethernet ports: one at 1 Gbps and another at 2.5 Gbps. What's important to note is they support Power over Ethernet, meaning you don't need the power adapters if you connect these access points to a PoE switch. Plus, each unit comes with a bracket and all the screws and washers you need to mount them on a wall or ceiling. If you're a business owner looking for a new Wi-Fi kit, the X50-PoE should be a great fit.
Of course, you can use the X50-PoE like any other mesh network kit—the Ethernet backhaul is not a requirement. But because there's no extra Wi-Fi band dedicated to the network backhaul, latency and speed become an issue. Too bad the X50-PoE doesn't have a third band for better speeds and less congestion.
We're still not keen on the cloud account requirement to use mesh networking systems, as standalone routers generally don't require one unless you manage the network remotely. But that's how mesh systems work. Take it or leave it, right?
The X50-PoE setup process is lengthy but easy. TP-Link pulls you through a 15-step process clearly aimed at a novice user, so if you're an expert, you must go through all the steps (or at least pretend to) regardless—there's no "advanced" setup option.
The other X50-PoE units are preconfigured, so they automatically join the network when you plug them in. Yeah boy.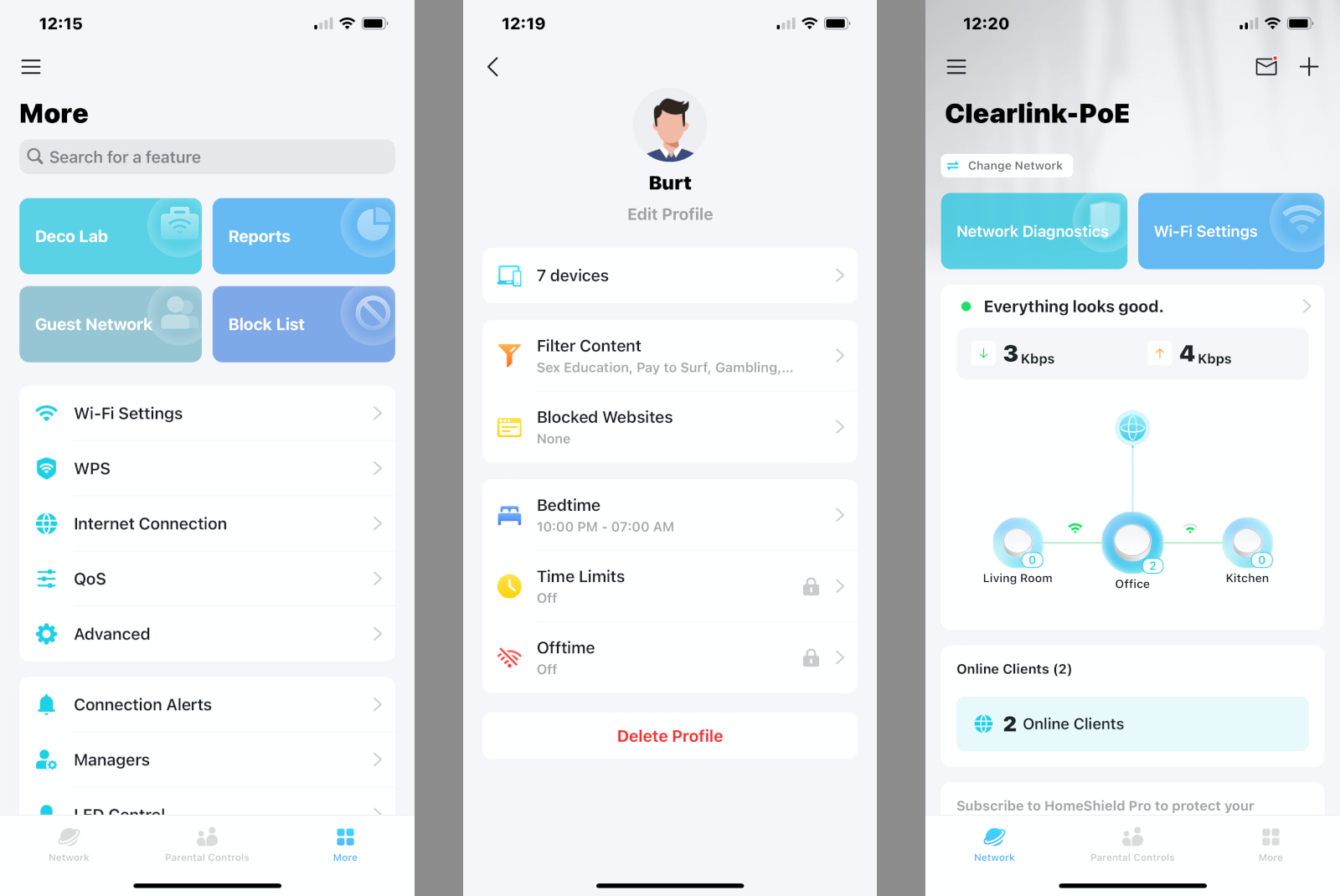 The new Deco app is a vast improvement over the previous version. Kevin Parrish | Highspeedinternet.com
TP-Link updated the Deco app in October 2022, and our opinion about the X50-PoE's ease of use is slightly more optimistic than when we reviewed the X55 using the older app. TP-Link ripped out the confusing Clients and Location columns and now presents an easier way to monitor your network at a glance through a clean and streamlined interface.
But the Deco app seriously needs a dark mode. It's nitpicking, we get it, and yes, the updated design is far better than before, but there's not enough blue on the screen to offset all the blinding white. Ugh. Where are those sunglasses again?
Are there any additional costs?
Yes, there are optional additional costs. First, the HomeShield Pro subscription gives you all the parental controls and security features the system has to offer. We provide more information about this plan in the FAQ.
You also need a PoE switch and Ethernet cables if you install this system with the technology in mind. The Deco units do not transmit power, so you can't daisy chain power to each one. We provide two recommendations in the FAQ.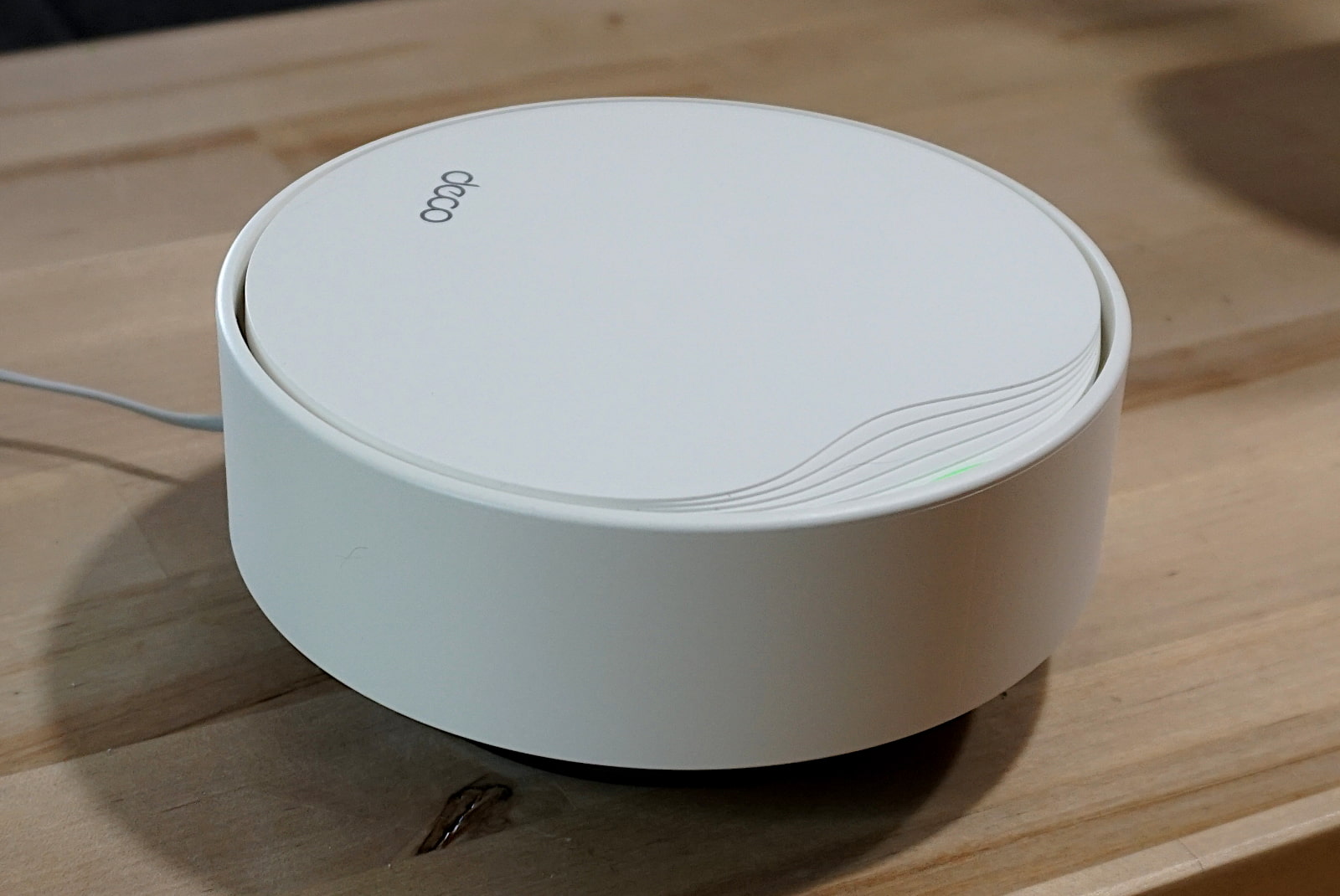 The Deco X50-PoE is best for business but you can use it in homes too. Kevin Parrish | Highspeedinternet.com
Our Deco X50-PoE review: The verdict
The Deco X50-PoE caught our eye because it supports Power over Ethernet. You can mount each unit on a wall or the ceiling and use Ethernet to power each one. Sure, you can still use them without Ethernet, but you need to strategically place each unit near a power outlet. That kinda defeats the purpose of buying this kit in the first place.
That said, the Deco X50-PoE is an investment. You start with the kit, and then you also need to install a switch and all the cabling needed to take advantage of PoE. If you want to expand your network outside, TP-Link provides weather-resistant models too. So, when you get right down to it, the Deco X50-PoE is ideal for business.
But if you shove all that PoE fluff aside, the X50-PoE can be a decent kit for homes too. We saw good speeds in testing, although you may have better or worse results—it all depends on the local congestion. Heck, maybe one day you'll get bored and decide to climb up into the attic and install everything you need to make this system really shine.
FAQ about the Deco X50-PoE
What is Power over Ethernet (PoE)?
Power over Ethernet (PoE) is a network standard for sending data and power over a single Ethernet cable. Compatible devices like access points and digital security cameras do not need a power adapter to function when you connect them to a PoE switch. PoE is similar to how USB provides data and power to webcams.
What is a PoE switch, and why do you need one?
A PoE switch is an Ethernet hub that plugs into a power outlet. Each port sends power and data across an Ethernet cable to a connected compatible device. You need a PoE switch if you mount a Deco unit in a location where it cannot access power—the Deco units do not transmit power to each other, even when they're plugged into an outlet.
Which PoE switch should you use?
Here are the PoE switches we recommend:
*Amazon.com prices (as of 11/10/22 17:35 MST). Read full disclaimer.
Is the Deco X50-PoE built for outdoor use?
No, we do not recommend the Deco X50-PoE for outdoor use. But you can add Deco X50-Outdoor units to your X50 network, which have an IP65 dust and water resistance rating. Each X50-Outdoor unit also includes two Gigabit PoE ports.
What is the Deco X50-PoE's range?
TP-Link lists the coverage in square feet:
3 units: 6,500 sq. ft.
2 units: 4,500 sq. ft.
1 unit: 2,500 sq. ft.
What's the difference between HomeShield Basic and Pro?
The Deco X50-PoE comes with basic parental controls like profiles, content filtering, and bedtimes. For security, HomeShield scans the local and public networks only. Here are the extra features provided with the HomeShield Pro subscription:
Security
Parental controls

IoT device security
Malicious content filtering
DDoS protection
Port intrusion prevention

Time limits
Customizable bedtimes
Offtime
Time rewards
Traffic statistics
Visit TP-Link for a full comparison of the Basic and Pro plans. HomeShield Pro costs $5.99 per month or $54.99 per year.
We test router speed by setting up each router in an office and connecting it to a local test server. Then, we transmit test data between our wireless devices and the server, taking numerous measurements to account for fluctuations in Wi-Fi speeds.
The first tests occur close to the router, without obstructions—so the Wi-Fi is as strong and fast as it's gonna get. We repeat the process straight out at 10, 20, and 30 feet, with only a glass door obstructing our view of the router. The same glass door and an exterior door blocks our path when we test outside at 40 and 50 feet.
We also run tests in a hallway to the left of the TV room and office—where there's a glass door, three walls, and an air handler unit blocking our view of the router. The dining room, another testing point, sits to the right of the kitchen, TV room, and office—two walls and a glass door block the path in this test.
To test video streaming, we connect a fast storage device to the router and stream a 4K video to six wireless devices simultaneously—two phones, three tablets, and a laptop—connected to the same wireless band.
Client devices used in testing
| | iPhone 12 Pro Max | Google Pixel 3 |
| --- | --- | --- |
| Wi-Fi version | Wi-Fi 6 | Wi-Fi 5 |
| Stream configuration | 2 x 2 | 2 x 2 |
| Max channel width | 80 MHz | 80 MHz |
| Max 5 GHz speed (AX) | 1,200 Mbps | – |
| Max 5 GHz speed (AC) | 866 Mbps | 866 Mbps |
| Max 2.4 GHz speed (AX) | 195 Mbps | – |
| Max 2.4 GHz speed (AC) | 195 Mbps | 144 Mbps |
Deco X50-PoE benchmarks (5 GHz only)
| | iPhone 12 Pro Max* | Google Pixel 3* |
| --- | --- | --- |
| 2 feet | 821 | 618 |
| 10 feet | 719 | 561 |
| 20 feet | 657 | 497 |
| 30 feet | 593 | 405 |
| 40 feet (porch) | 366 | 258 |
| 100 feet (across street) | 83 | 6 |
| 160 feet (mailboxes) | Not tested | Not tested |
| 20 feet (hallway) | 347 | 338 |
| 20 feet (dining room) | 384 | 357 |
*speed in megabits per second (Mbps)
Amazon.com Prices as of 6/22/23 17:35 MST. Product prices and availability are accurate as of the date/time indicated and are subject to change. Any price and availability information displayed on Amazon.com at the time of purchase will apply to the purchase of this product. Highspeedinternet.com utilizes paid Amazon links.
CERTAIN CONTENT THAT APPEARS ON THIS SITE COMES FROM AMAZON. THIS CONTENT IS PROVIDED 'AS IS' AND IS SUBJECT TO CHANGE OR REMOVAL AT ANY TIME.
Author - Kevin Parrish
Kevin Parrish has more than a decade of experience working as a writer, editor, and product tester. He began writing about computer hardware and soon branched out to other devices and services such as networking equipment, phones and tablets, game consoles, and other internet-connected devices. His work has appeared in Tom's Hardware, Tom's Guide, Maximum PC, Digital Trends, Android Authority, How-To Geek, Lifewire, and others. At HighSpeedInternet.com, he focuses on network equipment testing and review.
Editor - Rebecca Lee Armstrong
Rebecca Lee Armstrong has more than six years of experience writing about tech and the internet, with a specialty in hands-on testing. She started writing tech product and service reviews while finishing her BFA in creative writing at the University of Evansville and has found her niche writing about home networking, routers, and internet access at HighSpeedInternet.com. Her work has also been featured on Top Ten Reviews, MacSources, Windows Central, Android Central, Best Company, TechnoFAQ, and iMore.