Best Wi-Fi 6 Routers 2021
Dec 3, 2021 | Share

Equipment Guides, Technology
Which Wi-Fi 6 router is best?
The ASUS RT-AX86U is the best Wi-Fi 6 router because it has everything you need, including fast speeds, great security features, and easy network management. And while it's still pretty pricey for a router, it's more affordable than other $400+ Wi-Fi 6 models out there.
Do I really need a Wi-Fi 6 router?
You don't need to drop everything to upgrade to the new Wi-Fi 6 standard, but if you're replacing your router anyway, purchasing a Wi-Fi 6 router now will keep your home network up to date for the next several years—especially as more budget-friendly Wi-Fi 6 routers continue to hit the market.
Best overall—ASUS RT-AX86U
Best overall
$348.99
5,700 Mbps max throughput
2 bands
3 external antennas
4 gigabit LAN ports
1 2.5G WAN/LAN port
2 USB-A 3.2 ports
Adaptive QoS
AiProtection Pro security
Compatible with AiMesh
ASUS Router app
The ASUS RT-AX86U is a gaming router, yes, but it's also an all-around great router for non-gamers as well. It has basically everything you need in a Wi-Fi 6 router, plus it's easy to use and manage on the ASUS mobile app.
We like that this ASUS router has simple Quality of Service (QoS) features that let you prioritize different devices on your network. That way, connections where speed and reliability are most important (like gaming, streaming Netflix, or video conferencing) get the most bandwidth so they don't fizzle out. It even has a dedicated gaming port (which you can use for stuff besides gaming as well) with a prioritized wired connection to give you the fastest speeds and lowest latency.
Pros:
Built-in security
AiMesh compatibility for expansion options
Multigig internet support
Cons:
Requires updates from ASUS to enable QoS
Best for a budget—TP-Link Archer AX10
Best for a budget
$69.95
1,500 Mbps max throughput
2 bands
4 external antennas
4 gigabit LAN ports
OFDMA 1024-QAM
MU-MIMO
Beamforming
TP-Link Tether app
Works with Alexa
The TP-Link Archer AX10 is an inexpensive upgrade to the newest Wi-Fi 6 standard. While its speed specs aren't as impressive as top-of-the-line Wi-Fi 6 routers (or even some high-end Wi-Fi 5 routers), this one still supports speeds fast enough for most home networks—very few US internet connections exceed 1,500 Mbps.
We recommend this TP-Link router if you're looking for a future-proof upgrade but don't see yourself getting gigabit internet anytime soon. It's an everyperson router as opposed to most of the Wi-Fi 6 routers currently available that are more focused toward early adopters. You still get the efficiency of the new Wi-Fi standard but without shelling out for top speeds you'll never get close to.
Pros:
Inexpensive price
Triple-core 1.5 GHz processor
Cons:
No USB port
Slower max speeds than some Wi-Fi 5 routers
Best for mesh Wi-Fi—NETGEAR Orbi RBK852
Best for mesh Wi-Fi
$699.99
6,000 Mbps max throughput
5,000 sq. ft. coverage
3 bands
Dedicated backhaul
Orbi app
5 gigabit Ethernet ports on router
4 gigabit Ethernet ports per satellite
5 Gbps WAN port
The Wi-Fi 6 Orbi is expensive, but it's the best option for those wanting to upgrade a large home to the newest Wi-Fi standard. The Orbi Mesh System lets you customize your network coverage using multiple satellites, with each device covering up to 2,500 square feet. You can add more Orbi satellites to expand coverage.
One of the nice things about the Wi-Fi 6 Orbi system is that it keeps the simplicity of other Orbi products. This system is easy to install and manage using the Orbi app. But with that simplicity comes truly powerful performance.
It has max speeds up to 6,000 Mbps and has a dedicated wireless backhaul channel to sync communications between Orbi devices. That keeps extra data traffic like Orbi-to-Orbi communications off your Wi-Fi network to keep your connections as fast as possible.
Pros:
Expandable coverage with additional satellites
Customizable coverage
Cons:
Best for gaming—NETGEAR Nighthawk RAXE500
Best for gaming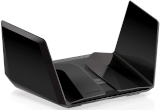 $599.99
10,800 Mbps max throughput

3 bands

8 concealed antennas

4 gigabit LAN ports

1 2.5G WAN/LAN port

2 USB-A 3.2 ports
Gamers demand insane speeds to keep latency at bay, and the Nighthawk RAXE500 does just that. Its top wireless speed on a single band is 4.8 Gbps, more than any wireless device on the market can currently handle. This router even includes the 6 GHz band, promising more Wi-Fi channels and faster connections than the 2.4 GHz and 5 GHz bands. 
If all that doesn't raise an eyebrow, you also get five gigabit Ethernet ports, two of which can be used for 2 Gbps internet and two others for link aggregation to other devices. There's a separate 2.5 Gbps Ethernet port plus two USB-A 3.2 ports for sharing files across your local network.  All of this gaming goodness is powered by a four-core processor that can handle 60 devices across 2,500 square feet.
Pros:
Supports multi-gig internet
Tri-banded
Cons:
Best value
$132.99
1,800 Mbps max throughput
2 bands
2 external antennas
4 gigabit Ethernet ports
1 USB-A 2.0 Port
1 USB-A 3.2 port
AiProtection
ASUS AiMesh compatible
Like our best budget pick (TP-Link Archer AX10), this router is more of a modest upgrade than the other routers on this list. This guy has faster max speeds than the TP-Link and a few more bells and whistles for the price, including built-in security from AiProtection, USB ports for setting up a network drive, and up to 3,000 square feet of Wi-Fi coverage.
Unlike the other ASUS routers on this list, this one does not have adaptive QoS (which can help keep important connections consistent during activities like streaming), but you can still use the ASUS router app to set up and manage your Wi-Fi networks.
Pros:
Reasonable price for great features
AiProtection security
Cons:
Slower max throughput than more expensive models
What to look for in a Wi-Fi 6 router
When upgrading to a Wi-Fi 6 router, you want to pick something that will work for your home network for the next several years. This wireless standard just came out in 2019, so it'll be up to date for a while.
Price
Most Wi-Fi 6 routers right now are expensive. We've highlighted a few great budget options in our lineup, but a lot of the Wi-Fi 6 landscape is still aimed at early adopters and people looking for high-end devices.
You can still find a range of great Wi-Fi 6 routers around the $200–$300 price point (like the ASUS RT-AX86U) that will serve you well as your network expands. Prices for the fastest gaming routers, for example, are upwards of $400.
Speeds
As with all routers, you want to buy a Wi-Fi 6 router that has faster max speeds than your actual internet plan. You can usually find the router's max speed by looking at a router's name. Wi-Fi 6 routers tend to have something like AX3000 (or whatever number) either in their name or at least featured prominently. That's the max speed.
Most Wi-Fi 6 routers can handle up to gigabit internet speeds. But though many boast multigig throughput numbers, a lot of Wi-Fi 6 routers still use gigabit Ethernet ports. Gigabit ports can transfer data at speeds up to 1,000 Mbps (1 Gbps), so if you happen to have an internet plan faster than that, make sure you invest in a Wi-Fi router that either allows port aggregation or has multigigabit Ethernet ports.
On a similar note, you also need a gigabit modem to get the most out of a multigig internet connection.
Standalone vs. mesh
Wi-Fi 6 improves signal range over previous versions of Wi-Fi. Standalone Wi-Fi 6 routers can handle small and medium-sized homes well, but complications and dead zones can arise when it comes to massive homes or metal walls. Thankfully, alongside many standalone Wi-Fi 6 routers, there are Wi-Fi 6 enabled mesh systems as well that provide better coverage.
We highlight the Wi-Fi 6 version of the NETGEAR Orbi above—and while it's the best Wi-Fi 6 mesh system in our opinion, it's far from the only one. Mesh Wi-Fi has the advantage when it comes to large homes and homes with complicated layouts (e.g., multiple floors, lots of interior walls, etc.).
Pro tip:
Looking for a router that can go the distance? Both standalone and mesh systems can cover large homes. Check out our lineup of the Best Long-Range Routers 2020 to compare your options.
Our final take
Overall, we recommend the ASUS RT-AX86U because of its intersection of price, performance, and features. It's one of the best Wi-Fi 6 routers on the market. And though different home networks have many different needs, this router is a good choice for most homes looking to upgrade to Wi-Fi 6.
FAQ about Wi-Fi 6 routers
What is Wi-Fi 6?
Wi-Fi 6 is the sixth generation of Wi-Fi standards. It's also called 802.11ax. Newer naming conventions have simplified it to Wi-Fi 6, but older wireless standards are often still called by their lettered names. For example, Wi-Fi 5 is "wireless ac" and Wi-Fi 4 is "wireless n."
What is the difference between Wi-Fi 5 and Wi-Fi 6?
In short, Wi-Fi 6 is newer, faster, and more efficient than Wi-Fi 5. The new standard builds upon strengths of previous versions of Wi-Fi to streamline connectivity between more devices.
While Wi-Fi 6 is a few gigabits faster than Wi-Fi 5, both standards can still reach speeds well above most internet speeds in the US. The boost to Wi-Fi's max theoretical speeds is nice, but the aspect of Wi-Fi 6 that will most affect your daily life is its efficiency.
With a single device connected to a Wi-Fi 5 or Wi-Fi 6 router, you might see similar max speeds. The big difference between the two standards shows when you connect a dozen or so devices at the same time. Where Wi-Fi 5 might get bogged down with all those simultaneous connections, Wi-Fi 6 can handle them much more efficiently, thanks to a slough of new technologies like OFDMA combined with MU-MIMO, and BSS color (which works against signal interference).
What devices are compatible with Wi-Fi 6?
Several newer smartphones, tablets, and laptops are compatible with Wi-Fi 6, including the iPhone 12 series, Samsung Galaxy S20, and Lenovo Yoga c940 laptop.
But you don't need to have all Wi-Fi 6 devices (or any, really) to benefit from an upgrade. Wi-Fi 6 routers are backward compatible with previous versions of Wi-Fi. Though you can't use some of the Wi-Fi 6 features with devices that don't support Wi-Fi 6, your new router will have faster speeds and better efficiency than most older routers.
Disclaimer
Product prices and availability are accurate as of the date/time indicated and are subject to change. Any price and availability information displayed on Amazon.com at the time of purchase will apply to the purchase of this product. HighSpeedInternet.com utilizes paid Amazon links.
CERTAIN CONTENT THAT APPEARS ON THIS SITE COMES FROM AMAZON. THIS CONTENT IS PROVIDED 'AS IS' AND IS SUBJECT TO CHANGE OR REMOVAL AT ANY TIME.
Author - Rebecca Lee Armstrong
Rebecca Lee Armstrong has more than six years of experience writing about tech and the internet, with a specialty in hands-on testing. She started writing tech product and service reviews while finishing her BFA in creative writing at the University of Evansville and has found her niche writing about home networking, routers, and internet access at HighSpeedInternet.com. Her work has also been featured on Top Ten Reviews, MacSources, Windows Central, Android Central, Best Company, TechnoFAQ, and iMore.
Editor - Cara Haynes
Cara Haynes has been editing and writing in the digital space for seven years, and she's edited all things internet for HighSpeedInternet.com for five years. She graduated with a BA in English and a minor in editing from Brigham Young University. When she's not editing, she makes tech accessible through her freelance writing for brands like Pluralsight. She believes no one should feel lost in internet land and that a good internet connection significantly extends your life span.