The Best Routers and Modems for Xfinity
Feb 5, 2020 | Share

Brand Guides, Equipment Guides
Did you know that you don't have to use the equipment your Internet Service Provider (ISP) gives you? Most people just take their provider's gear and don't think twice about other options, but there is another way. If you're finding that your wireless connection with Comcast Xfinity isn't living up to your expectations, purchasing your own modem and router can give your connection a boost and possibly save you money in the long run.
There are a lot of alternative devices available, but not all are compatible with Xfinity. To make your search easier, we rounded up the four best wireless routers that work with Comcast Xfinity internet and provided links of where you can find them on Amazon.
The best routers for Comcast Xfinity
Enter your ZIP code to find all available Xfinity plans available in your area:
Dimensions: 10.8″ x 10.2″ x. 3.6″
Weight: 2.8 lbs.
Speed: Up to 960 Mbps
Bands: Dual-band (2.4 Ghz and 5 Ghz)
Ports: Four gigabit Ethernet ports
Price: ≈$275
Other features: Combo modem/router/voice modem
For customers who need an all-in-one combo with a little more punch than the provided Xfinity modem, the NETGEAR Nighthawk is a great pick. It provides faster speeds and more advanced phone features. It's also more compact and half the weight, so it's more likely to fit in places like a cramped entertainment center.
NETGEAR Nighthawk Tri-Band AX12
Dimensions: 11.7″ x 8.3″ x 3.1″
Weight: 3.2 lbs.
Speed: Up to 10.8 Gbps
Bands: Tri-band (2.4 Ghz and two 5 Ghz)
Ports: Five gigabit Ethernet ports
Price: ≈ $500
Other features: MU-MIMO support, dynamic QoS, and a powerful processor for sustained performance
For users who need the fastest wireless speeds possible, the NETGEAR Nighthawk Tri-Band AX12 is tough to beat. With the new Wi-Fi 6 wireless protocol on board, this futuristic-looking router delivers speeds up to 10.8 Gbps. It also comes packed with advanced features to ensure you get the most power possible from your Xfinity internet connection.
The only catch is that it doesn't include a modem, so you'll need to use the one provided by Xfinity in addition to this one. But if you're subscribing to Xfinity's ultrafast 2G fiber service, you'll need equipment that can keep up.
xFi Wireless Gateway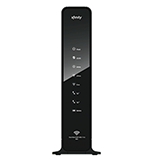 Dimensions: 5″ x 10.8″ x 10.8″
Weight: 5.1 lbs.
Speed: Up to 700 Mbps
Bands: Dual-band (2.4 Ghz and 5 Ghz)
Ports: Four gigabit Ethernet ports
Price: $10 per month
Other features: Combo modem/router/voice modem
The xFi Wireless Gateway is the standard modem/router you get from Xfinity when you sign up for an internet plan with speeds up to 300 Mbps. This means it's guaranteed to work well with your Xfinity service, and it covers all the bases by including the internet modem, a wireless router, and a voice modem all in one box.
Covering all those bases does come at a cost, which is why you'll have to shell out $10.00 a month to rent this router. Still, if you don't plan to have Xfinity service for long, this might be the most cost-effective option for you. Another advantage is Xfinity customer support will troubleshoot issues with the xFi Gateway, whereas if you use your own equipment, you might be on your own when technical complications arise.
Dimensions: 10.9″ x 10.2″ x 2.8″
Weight: 2.7 lbs.
Speed: Up to 686 Mbps
Bands: Dual-band (2.4 Ghz and 5 Ghz)
Ports: Four gigabit Ethernet ports
Price: ≈ $150
Other features: Wireless Power Boost and AnyBeam beamforming for increased performance and range
For Xfinity customers who want to use their own router but don't want to spend a lot, this Motorola modem/router combo is the perfect choice. Like the standard Xfinity Gateway, it combines your modem and router in one box, which saves space. While it doesn't have some of the advanced features of the other routers on the list, the lower price makes up for that.
Should you use the Xfinity router or purchase your own router?
5 things to consider when purchasing a wireless router
If you've decided to use your own equipment, here are five key features to look for when shopping for a router.
Compatibility
The first thing to consider when shopping is whether the router is compatible with your Xfinity internet service. Most stand-alone wireless routers should work just fine with Xfinity (or any other provider), and all the routers listed in this article are compatible with Xfinity internet service. You'll need to pay extra attention only when the router in question also includes a modem. Most providers, including Xfinity, provide lists of compatible modems and routers for customers interested in using their own equipment.
What's the difference between a modem and a router? If you don't know the answer to this question, you should before you start shopping. The modem is the part of the network that connects to your provider's lines (like the cable jack in the wall) and translates those signals into something useable by your devices. This is why you'll need to make sure any modem you buy can decode your provider's signal.
The router takes the signal from the modem and makes it accessible to your devices. Routers broadcast the internet signal over the air as radio waves so other devices can pick it up without plugging directly into the modem/router.
Speed
If you have Xfinity, speed is probably the biggest thing you can improve by purchasing your own router. The one provided by Xfinity just doesn't offer a ton of throughput. Many modern routers support more bandwidth than your ISP can provide, but that doesn't necessarily mean its capability is going to waste. The extra overhead can help the router perform better when multiple devices are hitting it hard, making your internet connection less likely to slow down or boot users off.
Speed on routers is a little tricky, though. That's because the advertised speed on a wireless router is almost never going to be the actual speed your devices experience—even if your internet service supports it. The thing about Wi-Fi is that because it's transmitted through the air, it's always subject to interference and other environmental factors.
Actual speeds on routers can be as low as a third of the advertised maximum speed. But since routers usually offer seemingly unbelievable maximum speeds, experiencing even one third of what they advertise will still allow you to see improvements (as long as your connection is fast enough).
Wireless standard
When shopping for routers, you'll see strings of numbers and letters beginning with "802.11." Common examples are 802.11g, 802.11n, and 802.11ac. These represent the wireless standard (or protocol) used by the router. This standard is part of what dictates the speed and range the router is capable of. Sometimes these standards are simplified with names like "Wi-Fi 4" or "Wi-Fi 5." There are three common standards you'll see on modern routers:
11ac is the most common standard you'll see on new routers. Also known as Wi-Fi 5, 802.11ac supports speeds up to 1.3 Gbps.
11n (Wi-Fi 4) is the standard of the previous generation. It supported speeds up to 450 Mbps and can still be found on some low-end routers.
11ad and 11ax (Wi-Fi 6) are newer standards that appear on some high-end routers. It supports speeds up to 4.8 Gbps (four times as fast as 802.11ac), but few devices and even fewer internet connections are capable of making full use of this protocol.
Look for a router that supports 802.11ac or Wi-Fi 5 to make the most of modern connection speeds and mobile devices. Wi-Fi 6 is a nice bonus, but it may not be worth the cost quite yet.
Range
You want to make sure the range of your router matches up with the size of your home. Most modern routers should cover an average-sized home with no problem, but if your house is unusually large, you'll need to either look at options with more range or purchase extenders. If the range of a router is low, devices that are far away will get weak signals (or no signal at all).
Advanced features
Keep an eye out for these other advanced features that can make your home Wi-Fi experience more pleasant.
Quality of Service (QoS): QoS helps prioritize the traffic and devices on your network so more important traffic gets sent first. This is a common feature on business-class routers because it does things like help prevent the important video call from getting slowed down by John Doe streaming Netflix in the corner cubicle. This feature isn't just useful for businesses, though. In the home, it can ensure a strong signal for streaming even if others are using the network to surf Facebook or do homework at the same time.
MU-MIMO: MU-MIMO stands for multi-user, multiple-input, multiple-output. This technology helps a router communicate with multiple devices more efficiently. If you commonly have several people online at once in your home, MU-MIMO can make a big difference in performance.
Beamforming: Beamforming is a technology that takes the wireless signal broadcast by your router and focuses it toward specific devices on the network rather than just sending it out in every direction. The result? A stronger, longer-range signal.
Educating yourself about the different options available helps you make informed decisions, whether you end up using the xFi Wireless Gateway or purchasing your own modem/router. Any of the top routers we covered above should help you get the most out of your Xfinity internet service.
Author - Rebecca Lee Armstrong
Rebecca Lee Armstrong has more than six years of experience writing about tech and the internet, with a specialty in hands-on testing. She started writing tech product and service reviews while finishing her BFA in creative writing at the University of Evansville and has found her niche writing about home networking, routers, and internet access at HighSpeedInternet.com. Her work has also been featured on Top Ten Reviews, MacSources, Windows Central, Android Central, Best Company, TechnoFAQ, and iMore.
Editor - Cara Haynes
Cara Haynes has been editing and writing in the digital space for seven years, and she's edited all things internet for HighSpeedInternet.com for five years. She graduated with a BA in English and a minor in editing from Brigham Young University. When she's not editing, she makes tech accessible through her freelance writing for brands like Pluralsight. She believes no one should feel lost in internet land and that a good internet connection significantly extends your life span.