Best Routers for Security 2022
Expert picks to keep your network secure
Jan 7, 2022 | Share

Equipment Guides
Our pick: Which router for security is best?
The best router for security is Google Nest Wifi. It supports automatic updates and the latest security protocols, so you know your wireless connections are always safe from eavesdropping hackers. Plus, the simple, app-based controls streamline your network management. It's a great security solution for your Wi-Fi network that doesn't require a lot of know-how to get started.
The 5 best routers for security
Best secure Wi-Fi routers
| | Model | Max throughput | Security protocol | Price | Get it |
| --- | --- | --- | --- | --- | --- |
| Best overall | Google Nest Wifi | 2,200 Mbps | WPA2, WPA3 | $139.00 | View on Amazon |
| Best for a budget | TP-Link Archer A10 | 2,600 Mbps | WEP, WPA, WPA2 | $94.99 | View on Amazon |
| Best for Wi-Fi 6 | ASUS RT-AX88U | 6,000 Mbps | WEP, WPA, WPA2 | $268.00 | View on Amazon |
| Best for advanced security | Synology RT2600ac | 2,600 Mbps | WPA3 | $199.99 | View on Amazon |
| Best for parental controls | Gryphon Tower | 3,000 Mbps | WPA3 | $199.00 | View on Amazon |
Your router handles every bit of data that passes through your internet connection—including passwords, messages, and payment information. Making sure that your router is secure is one of the most important ways to keep that information away from prying eyes.
Most modern routers have what it takes to keep your network safe and sound. Residential networks usually just need something with a firewall, software updates, and strong passwords. But our recommendations offer a little something extra in addition to great security—whether that's stronger parental controls for a family, advanced security features to tinker with, or superfast speeds.
What to look for in a router for security
Most routers on the market today will have the tools you need to be able to secure your wireless network. But if you're particularly focused on securing your home Wi-Fi, these are the features you should look for in a router:
WPA2 or WPA3 (preferable) security
Guest networks
VPN compatibility
For a deeper dive into security router must-haves, check out the specs and features section.
Best overall—Google Nest Wifi Router
Best overall
$139.00
Specs:
Max throughput: Up to 2,200 Mbps
Coverage: 2,200 sq. ft. (expandable with additional points)
Ethernet ports: 1 LAN, 1 WAN
Security protocol: WPA2 and WPA3
Firewall: Yes
Automatic updates: Yes
Google Nest Wifi is an expandable mesh router system—that means you can add Nest Wifi devices to your network to increase your Wi-Fi range. Each Nest Wifi router covers up to 2,200 square feet, and Nest Wifi points add up to 1,600 square feet each. The points also act as smart speakers that connect to Google Assistant.
We like the Nest Wifi system because it's so dang simple. Some routers make you jump through hoops to access their features, but Nest Wifi lets you set everything up in the Google Home app, where you can view all the devices on your network, prioritize certain connections, and set parental controls.
Pros:
WPA2 and WPA3 security
Automatic firmware updates
User-friendly setup
Cons:
No router-level VPN support
Best for a budget—TP-Link Archer A10
Best for a budget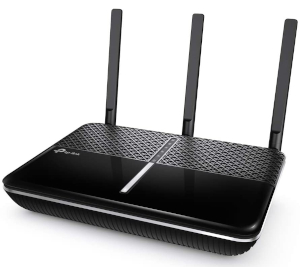 $94.99
Specs:
Max throughput: Up to 2,600 Mbps
Streams: 4×4
Coverage: Not specified
Ethernet ports: 1 WAN, 4 LAN
Security protocol: WPA2
Firewall: Yes
Automatic updates: Yes
TP-Link's Archer A10 packs a lot of bang for your buck. It's the latest model in the Archer "A" series delivering Wi-Fi 5 speeds up to 1,733 Mbps on the 5 GHz band and up to 800 Mbps on the 2.4 GHz band.
The big security takeaway with the A10 is that it supports OpenVPN and the point-to-point tunneling protocol (PPTP), so you can use a VPN service to remotely access your company's network with ease. Plus, the compatible Tether app allows you to easily manage your home network from a mobile device no matter where you are across the globe.
And while the A10 doesn't support the latest WPA3 security protocol, it does support WPA/WPA2-Enterprise, making it a great candidate for the corporate environment.
Pros:
Inexpensive price
App for setup and management
OpenVPN and PPTP VPN server compatibility
Cons:
Best for Wi-Fi 6—ASUS RT-AX88U
Best for Wi-Fi 6
$268.00
Specs:
Max throughput: Up to 6,000 Mbps
Coverage: Not specified, listed as suitable for "Very large homes"
Ethernet ports: 1 WAN, 8 LAN
Security protocol: WPA and WPA2
Firewall: Yes
Automatic updates: Yes
If you want to future-proof your home network for the next several years and prep for the fastest internet speeds, Wi-Fi 6 (the newest Wi-Fi standard), is the way to go. The ASUS RT-AX88U is a great security-focused Wi-Fi 6 router with wireless speeds up to 6,000 Mbps, and it includes a subscription to AiProtection Pro, powered by Trend Micro.
AiProtection provides an advanced firewall, automatic software updates, URL-level content filtering, detection and protection of malware-infected devices, and malicious site blocking.
Many devices that include extra security software charge for the subscription after a year or two, but you get AiProtection Pro for as long as you have your ASUS router.
Pros:
Lifetime subscription to AiProtection
Max speeds up to 6,000 Mbps
Cons:
Best for advanced security—Synology RT2600ac
Best for advanced security
$199.99
Specs:
Max throughput: Up to 2,600 Mbps
Coverage: Up to 3,000 sq. ft.
Ethernet ports: 1 WAN, 4 LAN (one LAN port can optionally be used as a WAN port)
Security protocol: WPA3
Firewall: Yes
Automatic updates: Yes
The Synology RT2600ac router has a robust feature set that allows tech-savvy users to customize their network. While the fancier features and applications may be a bit much for most people, the RT2600ac is a good choice if you want complete control over your network security.
What sets the Synology router apart from others is its firmware. Many routers have basic firmware management pages or apps, but Synology's is pretty complex (in a good way). You can get to basic controls (like guest networks and parental controls) via the DS Router app, but accessing the online interface via a web browser lets you get deep into customization.
The Package Center in the online interface has several included packages or apps like the VPN package or Intrusion Prevention package to add extra layers of security to your network.
Pros:
Robust Synology Router Management firmware
Free add-on applications via the Package Center
Cons:
Involved setup that might be too advanced for some
Best for parental controls—Gryphon Tower
Best for parental controls
$199.00
Specs:
Max throughput: Up to 3,000 Mbps
Coverage: Up to 3,000 sq. ft.
Ethernet ports: 1 WAN, 3 LAN
Security protocol: WPA 3
Firewall: Yes
Automatic updates: Yes
The Gryphon Tower mesh router is an expandable, multipoint system focused on parental controls and security. It's a great router for families who want to moderate online activity or those who just want a supersecure mesh Wi-Fi system.
The main downside to this router is that many of its security features—like the daily security updates and IoT device scanning—are included only for the first year. After that, you have to pay $79 per year for a subscription to Advanced Internet Protection to keep those features.
Without the subscription, though, the Gryphon Towser still has powerful parental controls that allow you to monitor your kids' online activity, set internet schedules for certain devices, and filter out inappropriate content. These features can all be set up and controlled through the Gryphon Connect app.
Pros:
Advanced parental controls
Expandable mesh system for wider coverage
Daily security updates
z Cons:
Advanced Internet Protection subscription for only 1 yr.
Secure Wi-Fi router specs and features
There are certain things you need to look for in routers in general, like max speeds and the number of Ethernet ports. But if you want to make sure your network will be as safe as possible, be on the lookout for features that protect your privacy and controls that make those features easy to use and maintain.
Firewall
A firewall acts as a protective barrier between your network or computer and the internet. It basically catches certain types of internet traffic and blocks it from entering your network or spreading through it.
Most routers have a built-in firewall to help protect your network from malicious attacks, but these usually come disabled by default. To turn it on, log in to your router's online user interface, find the firewall or security settings, and activate it.
Admittedly, firewalls sometimes can cause inconveniences when you try to download files from the internet. You may need to disable your firewall for certain updates or for taking internet speed tests.
Pro tip: How to log in to your router
You have to log in to your router's user interface to access your router's security features and settings. To do that, you need to enter your router's default IP address into a web browser and log in using your router's admin credentials. For a step-by-step walkthrough of the process, check out our guide to logging in to your router.
Wireless security protocol
The wireless security protocols WEP, WPA, WPA2, and WPA3 prevent unwanted connections from joining your Wi-Fi network and encrypt data that is transmitted via wireless networks. All of these protocols are a little different, and when looking for a secure router, you want to make sure that it at least has WPA2. 
WEP (Wired Equivalent Privacy) is the oldest and weakest wireless security protocol. You don't want to rely on it because it has known vulnerabilities.
WPA (Wi-Fi Protected Access) is also outdated but often used with WPA2.
WPA2 (Wi-Fi Protected Access version 2) uses Advanced Encryption Standard (AES), which is also used for government information security.
WPA3 (Wi-Fi Protected Access version 3) is the latest wireless security standard, and it is not yet widely used. But snagging a router with WPA3 means you'll stay protected in the long run.
Easy controls
Some routers have difficult-to-access user interfaces, while others can be managed easily via smartphone apps. So many routers have apps these days, so it's difficult to recommend going with one that doesn't.
Easy security and management controls makes it much more likely that you'll remember to stay on top of firmware updates and notice when something on your network seems fishy. They also simplify things like setting up guest networks, changing network passwords, and monitoring your parental controls.
Automatic updates
Find a router that updates automatically—like Nest Wifi. That way you don't have to worry about remembering to keep your router's firmware up to date.
Keeping your router's software in tip-top shape is important because each update improves security measures for your network and responds to any known vulnerabilities. A router with outdated firmware can fall prey to a type of attack or malware that has already been fixed in a recent update.
Guest networks
Guest networks are perfect for situations where you don't want to hand over the password to your main Wi-Fi network to a visitor.
Maintaining a guest network is good for securing your main network against the comings and goings of different devices. You don't know where your visitors' devices have been or if they may be infected with malware that could potentially spread throughout your network. Isolating unknown factors onto a guest network is a good practice.
You can also often control the number of devices or amount of bandwidth a guest network can support. That way you don't lose all your internet speed to your neighbor kid's Fortnite habit.
Our verdict
Most households simply need a firewall, strong passwords, and regular updates to maintain a secure network. Google Nest Wifi is our recommendation for a secure router because it makes monitoring your network and keeping it up to date easy.
FAQ about routers for security
What is a firewall router?
A firewall router is a router that can function as a layer of security between your home network and the rest of the internet.
Many routers have built-in firewalls that are disabled by default. You can enable your router's firewall (if it has one) in your router's user interface.
What is the best type of security for a router?
The current standard for Wi-Fi security is WPA2, but the newer WPA3 protocol is starting to appear in consumer devices and is generally more secure.
If you want to secure your router, the best thing to do is to make sure you update your router's firmware, enable its firewall, and set strong passwords.
Disclaimer
Product prices and availability are accurate as of the date/time indicated and are subject to change. Any price and availability information displayed on Amazon.com at the time of purchase will apply to the purchase of this product. HighSpeedInternet.com utilizes paid Amazon links.
CERTAIN CONTENT THAT APPEARS ON THIS SITE COMES FROM AMAZON. THIS CONTENT IS PROVIDED 'AS IS' AND IS SUBJECT TO CHANGE OR REMOVAL AT ANY TIME.
Author - Rebecca Lee Armstrong
Rebecca Lee Armstrong has more than six years of experience writing about tech and the internet, with a specialty in hands-on testing. She started writing tech product and service reviews while finishing her BFA in creative writing at the University of Evansville and has found her niche writing about home networking, routers, and internet access at HighSpeedInternet.com. Her work has also been featured on Top Ten Reviews, MacSources, Windows Central, Android Central, Best Company, TechnoFAQ, and iMore.
Editor - Cara Haynes
Cara Haynes has been editing and writing in the digital space for seven years, and she's edited all things internet for HighSpeedInternet.com for five years. She graduated with a BA in English and a minor in editing from Brigham Young University. When she's not editing, she makes tech accessible through her freelance writing for brands like Pluralsight. She believes no one should feel lost in internet land and that a good internet connection significantly extends your life span.