Best Firewall Routers of 2023
Fortify your network with these powerful routers.
Dec 27, 2022 | Share

Equipment Guides
Your router is the heart of your wireless network. It can also be your first line of defense against attack. While most routers include a built-in firewall to protect your network, not all are created equal. We've rounded up the top firewall routers to help your home Wi-Fi stay safe and secure.
The 3 best firewall routers
Compare firewall router speeds and prices
What to look for in a firewall router
Let's dive deeper and learn more about what to look for in a firewall router.
What's a firewall?
In simple terms, a firewall is a piece of software that blocks unauthorized access to a network. They work by inspecting each incoming (and sometimes outgoing) packet of information on the network for suspicious behavior.
If something fishy is detected, the firewall blocks the packet from passing.
For example, if you're streaming movies at home and the firewall detects a request for access to your computer (say, from a malicious website or hacker), it will block that access and allow you to continue streaming in peace.
Does a firewall affect network performance?
Firewalls do affect performance, but typically the difference is so small that you'd never notice it. This is especially true with streaming and web browsing because once the content is loaded, there's no need for continuous network activity.
It's possible to have a firewall so strict that it does noticeably affect performance, but this is something you'd have to go out of your way to set up.
Best overall—NETGEAR Nighthawk X10
Best overall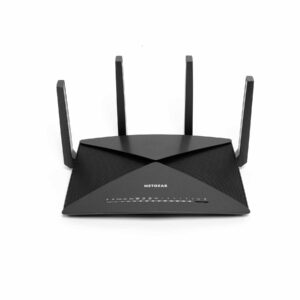 $399.00
Specs:
Max throughput:

7,200 Mbps

Ethernet ports: 6

Antennas: 4

Bands: Tri-band
The Nighthawk X10 was billed as the most powerful router on the market when it was released, and despite new competitors, that designation holds up today.
If you want a fast router with all the bells and whistles—like MU-MIMO to optimize simultaneous streaming and Dynamic Quality of Service (QoS) to prioritize important traffic—look no further.
The X10 features a built-in firewall to secure your devices and data, but unfortunately that's where the security features end.
Still, the combination of advanced features, blazing fast speeds, long range, and a built-in firewall makes this our top pick and one of the best routers you can buy.
If you have a large home or office, be sure to check out our guide to the best long-range routers.
Pros:
Tons of power
Advanced features to maximize speed and signal strength
Cons:
Expensive price
Fairly basic security features
Best for gamers—ASUS RT-AC3100
Best for gamers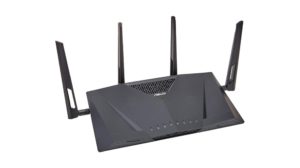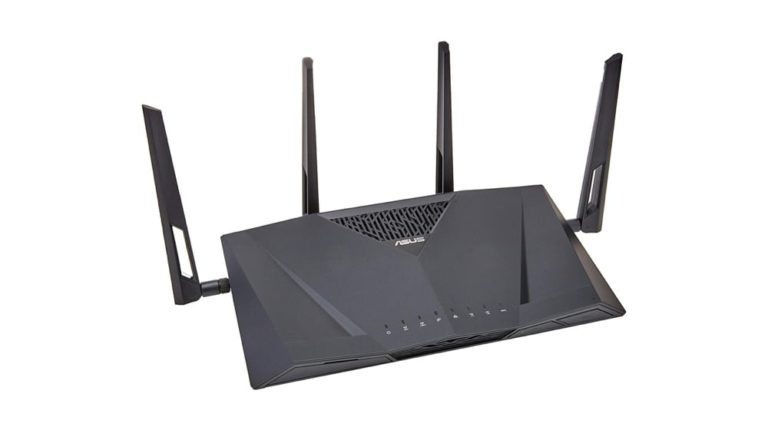 $79.00
Specs:
Max throughput: 3,167

 Mbps

Ethernet ports: 4

Antennas: 4

Bands: Dual-band
The ASUS RT-AC3100 offers fast wireless speeds and advanced features like MU-MIMO to maximize performance. It's also packing several features that make it ideal for both gaming and keeping your family safe online.
For gamers, the RT-AC3100 offers access to the WTFast Gamers Private Network. This is a private network of optimized servers that are intended only for gaming.
When the Gamers Private Network is turned on, traffic is routed through these servers to reduce latency and lag and improve response times.
The RT-AC3100 also features AiProtection from Trend Micro. This software goes beyond a simple firewall: it monitors your devices and home network and protects against cyber attacks, blocks malicious or inappropriate websites, and keeps infected devices from spreading viruses on your network. It also features excellent parental controls.
Pros:
Advanced security features powered by Trend Micro
Technology optimized specifically for gaming
Cons:
Comes with only four Ethernet ports
Lacks the latest cutting-edge wireless standards
Best for budgets—TP-Link Archer C1200
Best for budgets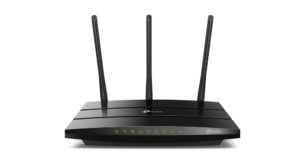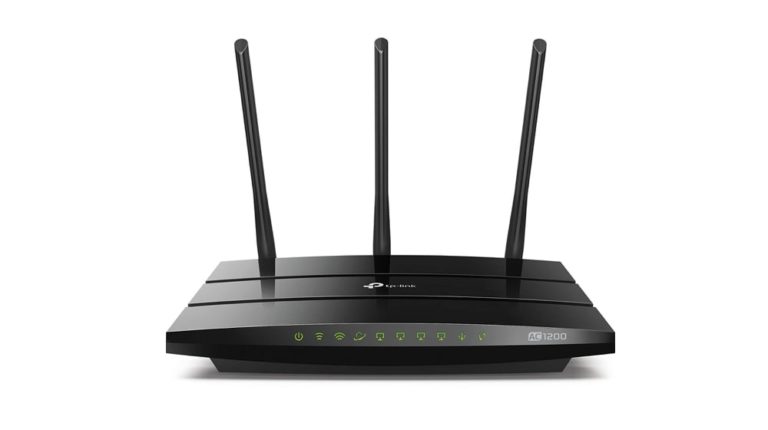 $99.98
Specs:
Max throughput: 1

,200 Mbps

Ethernet ports: 4

Antennas: 3

Bands: Dual-band
The best budget router is a tough category with lots of competition. But this affordable little router from TP-Link stands out.
It packs a lot of networking power for the price. Although it isn't capable of the same blazing speeds as the other routers on this list, its 1,200 Mbps should be plenty for most home networks.
This router actually comes in two versions: the basic Archer C1200 model and, for $10 more, the more advanced Archer A6 with MU-MIMO. This feature helps the router communicate with multiple devices simultaneously, increasing efficiency on the network. It also features a built-in firewall to enhance network security.
Pros:
Affordable price
Excellent features for the price
Cons:
Lacks advanced features of pricier models
Firewall router pros and cons
There are pros and cons to everything, and firewalls are no exception. But unless your firewall setup is unusually active, there's really no reason to not have one in place.
Pros:
Prevents malicious software and files
Prevents unauthorized transmissions from being sent from your computer (like keyloggers)
Cons:
Poorly configured firewalls can prevent your programs from functioning normally
Overly strict rules can impact performance
FAQ about firewall routers
Do modems affect your internet speed?
Modems affect your internet speed, but they also don't. Let us explain: If your modem's max speed is lower than your internet plan allows, you'll be losing bandwidth. But a modem with a max speed higher than your plan won't magically make things faster.
What is a combined modem and router?
Typically modems and routers are separate devices. The modem translates your ISP's signal, and the router broadcasts it wirelessly as a Wi-Fi network. Some manufacturers offer combined modems and routers, where the two devices are inside one box.
This can be more convenient, but it can also be more limiting in terms of features. Most ISPs these days provide a combined modem/router, which is sometimes called a gateway.
Don't forget about your internet connection.
A good firewall router will help protect your network, but it won't make your internet faster. That will depend on your internet service package.
See internet speeds and providers available near you.
Amazon.com Prices as of 12/27/22 12:53 MST. Product prices and availability are accurate as of the date/time indicated and are subject to change. Any price and availability information displayed on Amazon.com at the time of purchase will apply to the purchase of this product. Highspeedinternet.com utilizes paid Amazon links.
CERTAIN CONTENT THAT APPEARS ON THIS SITE COMES FROM AMAZON. THIS CONTENT IS PROVIDED 'AS IS' AND IS SUBJECT TO CHANGE OR REMOVAL AT ANY TIME.
Author - Dave Schafer
Dave has written professionally for tech companies and consumer technology sites for nearly five years, with a special focus on TV and internet. He uses his industry expertise to help readers at HighSpeedInternet.com get the most out of their services. No matter the project, he prefers his coffee black (the stronger, the better).