The 5 Best Wi-Fi Routers for Streaming
Oct 11, 2019 | Share

Equipment Guides, Internet Speed Guides, Streaming Guides
5 Best Routers for Streaming
Streaming—especially 4K streaming—is a bandwidth hog. If you want to stream without suffering through buffering, make sure your router is up to the task. These feature-packed routers will keep you connected, whether you're wired in or on Wi-Fi.
Top routers for 4K streaming
These five routers are the fastest, most feature-packed consumer routers on the market today. Each one will easily handle 4K streaming as well as offer other advanced features detailed below.
Amazon Rating: 
(4.2/5)
Speed: 7.2 Gbps
Ethernet Ports: 8
USB Ports: 2
Antennas: 4
Dimensions: 6.6″ x 8.8″ x 2.9″
Weight: 4.1 lbs.
Notable Features: Tri-band Wi-Fi, MU-MIMO technology, dynamic QoS settings, 802.11ad wireless support
If speed is your number-one concern, check out NETGEAR's Nighthawk X10. Billed as the world's fastest router when it was released, this futuristic device offers speeds up to 7.2 Gbps, ensuring everyone in the house can stream and game to their heart's content. It also features the new 802.11ad wireless protocol, making it more future-proof.
Amazon Rating: 
(4.1/5)
Max throughput: 6 Gbps
Ethernet Ports: 8
USB Ports: 2
Antennas: 8
Dimensions: 10″ x 12″ x 4″
Weight: 3.5 lbs.
Notable Features: Wi-Fi 6 support, MU-MIMO technology, tri-band Wi-Fi
The TP-Link Archer router doesn't quite meet the X10's max speeds but it's still on the edge of overkill with Wi-Fi 6 speeds, eight external antennas for excellent range, and a load of advanced features like MU-MIMO and beamforming. It's also a bit cheaper than the X10— though admittedly, it does look more like a spider.
Amazon Rating: 
(4.1/5)
Max throughput: 3 Gbps
Ethernet ports: 8
USB ports: 2
Antennas: 6
Dimensions: 11″ x 6.7″ x 1.75″
Weight: 2.7 lbs.
Notable Features: Tri-band Wi-Fi, MU-MIMO technology, and VPN support
If you want tri-band performance, this TRENDnet router might be just the ticket. It doesn't match the ridiculous throughput of some of the other routers on this list, but it's plenty fast for 4K streaming. And small families will do just fine with it.
Amazon Rating: 
(4.0/5)
Speed: 5.3 Gbps
Ethernet Ports: 4
USB Ports: 2
Antennas: 8
Dimensions: 24.5″ x 24.5″ x 6.5″
Weight: 3.2 lbs.
Notable Features: Tri-band Wi-Fi, unique antenna design for longer range, built-in gaming optimizations
This router is unique in that it's optimized specifically for gaming. It'll work for any purpose, of course, but if there are gamers in the house, they'll really like this one. The router hooks into a special network that ensures low latency times for fast in-game response. It also has an exceptionally long range thanks to the large size and unique antenna design.
Amazon Rating: 
(4.3/5)
Speed: 1.75 Gbps
Ethernet Ports: 4
USB Ports: 2
Antennas: 6
Dimensions: 12.4″ x 9.5″ x 2.8″
Weight: 1.9 lbs.
Notable Features: Dual-band Wi-Fi, dedicated guest network, WPS button for one-touch secure connections
This budget-friendly router combines good-enough speeds with a super-low price tag. It lacks many of the advanced features of the other routers on this list, but if 4K on a budget is what you're after, you'll find it here.
How to choose the best router for streaming
In networking terms, the router is the device that takes your internet connection and makes it wireless. Routers are the heart of Wi-Fi. While most internet service providers (ISPs) provide a router as part of their service packages, families with demanding usage needs may find this average router a little lacking.
Particularly in households with a love for 4K streaming, a basic router won't get the job done. These families need a router that facilitates streaming an entire season of A Series of Unfortunate Events or The Office—a router that provides high speeds, reliable connections, and wireless traffic management. Routers that support multiple devices and ultra-high definition video content can make a world of difference in user experience.
Fortunately, there are several routers designed for 4K aficionados. We include the best ones here and share tips to keep in mind when shopping for a home router that supports your streaming activities.
Selecting the best 4K streaming router
Streaming—especially 4K streaming—eats bandwidth for breakfast, lunch, dinner, and dessert, so you'll need to purchase equipment and services that sustain it. You'll want to start with an internet plan that provides enough bandwidth (and a high enough data cap) to support your streaming habits and provide a good experience. Then you'll need a router that can handle the bandwidth and work with multiple devices at once to prioritize traffic.
Keep in mind that while the router provided by your ISP might be able to handle basic 4K streaming, it likely lacks the advanced features that help facilitate streaming on multiple devices simultaneously with no hiccups. If you're seeing a lot of buffering, stutters, or hangs when streaming video, it might be time to consider purchasing your own router.
Quality of Service
Many high-end routers feature a technology called quality of service (QoS). Typically considered a business-level feature, QoS is also perfect for streaming as it allows you to prioritize devices and traffic on the network so that the most important data streams (like Netflix, in this case) get more bandwidth. This ensures smooth video playback without interference from downloads, gaming, or other activities that might be going on in the home at the same time as the streaming. If your house has a lot of simultaneous internet usage, definitely look for this feature in a router.
Powerful processors
You might hear the word "processors" and think of computer specifications, but processors perform a role in the router world, too. The latest and greatest routers often possess dual processors, allowing them to process data and instructions faster. The result for the end user is a smoother connection with fewer pauses and delays.
Tri-band, dual-band, or single-band
Routers employ one of two radio frequencies or "bands": the older 2.4 GHz or the newer 5 GHz. A basic single-band router supports only one of those bands. Newer routers often feature dual-band capabilities, meaning they communicate with devices on both bands, one 2.4 GHz and one 5 GHz.
The most advanced routers have tri-band functionality. These routers typically use two 5 GHz bands and one 2.4 GHz band. The ability to use three bands increases download and upload speeds and often reduces the chances for signal interference.
Wireless standards
Naming conventions for wireless standards are in the process of changing, but you'll commonly see standards like 802.11n and 802.11ac. These are the most commonly used standards at the moment, but a newer wireless standard is available in top-of-the-line routers. That standard is most commonly referred to as Wi-Fi 6 (which is much easier to remember than 802.11ad). 
You could see decent streaming quality with an 802.11n router, but you want to look for one using 802.11ac or Wi-Fi 6 if possible. These standards offer the speeds needed to stream 4K video and handle a game or two on your Xbox or PS4 too. It's easy to tell which wireless standard a router uses—it's usually in the name.
MU-MIMO and beamforming
Many of the newer standalone routers employ technologies like MU-MIMO and beamforming. These technologies help extend Wi-Fi coverage throughout the home and support multiple users and devices. MU-MIMO stands for multi-user multiple input and multiple output. It keeps internet speeds steady when multiple users access the network by divvying up the bandwidth. Think of it like advanced multi-tasking for your router. It can make a big difference, so if your household often has multiple devices active at once, be sure to look for it.
Beamforming typically accompanies MU-MIMO. It uses transmitters and receivers compatible with MU-MIMO to increase wireless throughput and range. The router (transmitter) essentially beams the Wi-Fi signal to your devices' internal antennas, forming a home network capable of supporting high-end streaming.
What's the end result? You get a longer-range, more powerful signal that can handle multiple devices at once.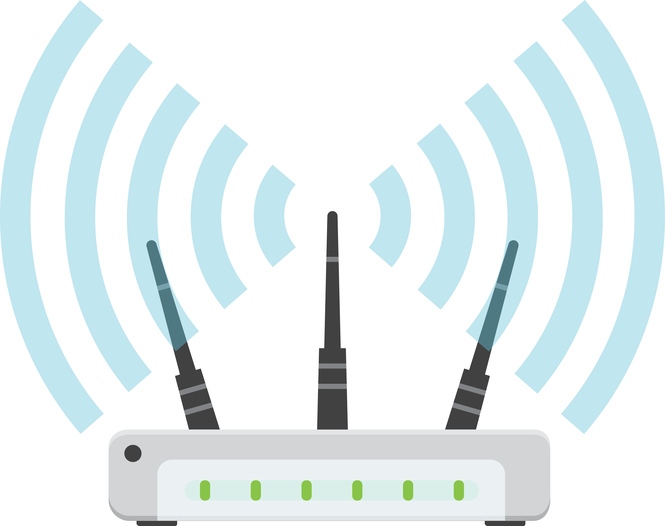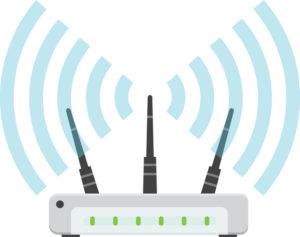 Antennas
When it comes to 4K streaming, you can never have enough antennas. Antennas on a router enable greater throughput, a marker for how much data can be transmitted from one spot in the home to another within a given time period. As the antenna number increases, so does the speed, from mere bits per second to megabits and even gigabits per second.
Ports
Ethernet and USB ports make for a more functional router. You certainly could go wireless for everything, but it sometimes makes sense to hardwire in a device. Plus, if you plan to use Wi-Fi extenders, you definitely want a router with a few free Ethernet ports. Many people make do with two ports, but some can't get by without four.
Ethernet ports on routers come in handy when placing the router on your entertainment center and plugging your streaming box directly into it. This helps ensure a powerful signal to your main device and leaves the Wi-Fi signal available for tablets and other devices.
Other features
Finally, some routers offer additional benefits. They won't necessarily improve a 4K stream, but they could make your life easier. Features range from parental controls to Cloud access and from enhanced security settings to automatic backups. Some even include "airtime fairness," a feature that extends bandwidth to 802.11ac–compatible devices, such as your 4K HDTV, before offering it to 802.11n devices.
It's time to upgrade to faster feeds and speeds. Choose one of the high-end routers listed here, and you'll be well on your way to enhanced 4K streaming.
And if you need faster internet to go with it, we've got you covered there, too. Enter your zip code below to see plans available in your area.
For more information on choosing a router that will work for you, check out these articles. 
Is My Wi-Fi Slow because of My Router or My ISP?
The Best Streaming Devices You Can Buy
Author - Dave Schafer
Dave has written professionally for tech companies and consumer technology sites for nearly five years, with a special focus on TV and internet. He uses his industry expertise to help readers at HighSpeedInternet.com get the most out of their services. No matter the project, he prefers his coffee black (the stronger, the better).