ASUS ROG Rapture GT-AX11000 Review
The ROG Rapture GT-AX11000 is an excellent choice for any network if you're willing to pay the price.
Jun 23, 2023 | Share

Equipment Guides, Product Reviews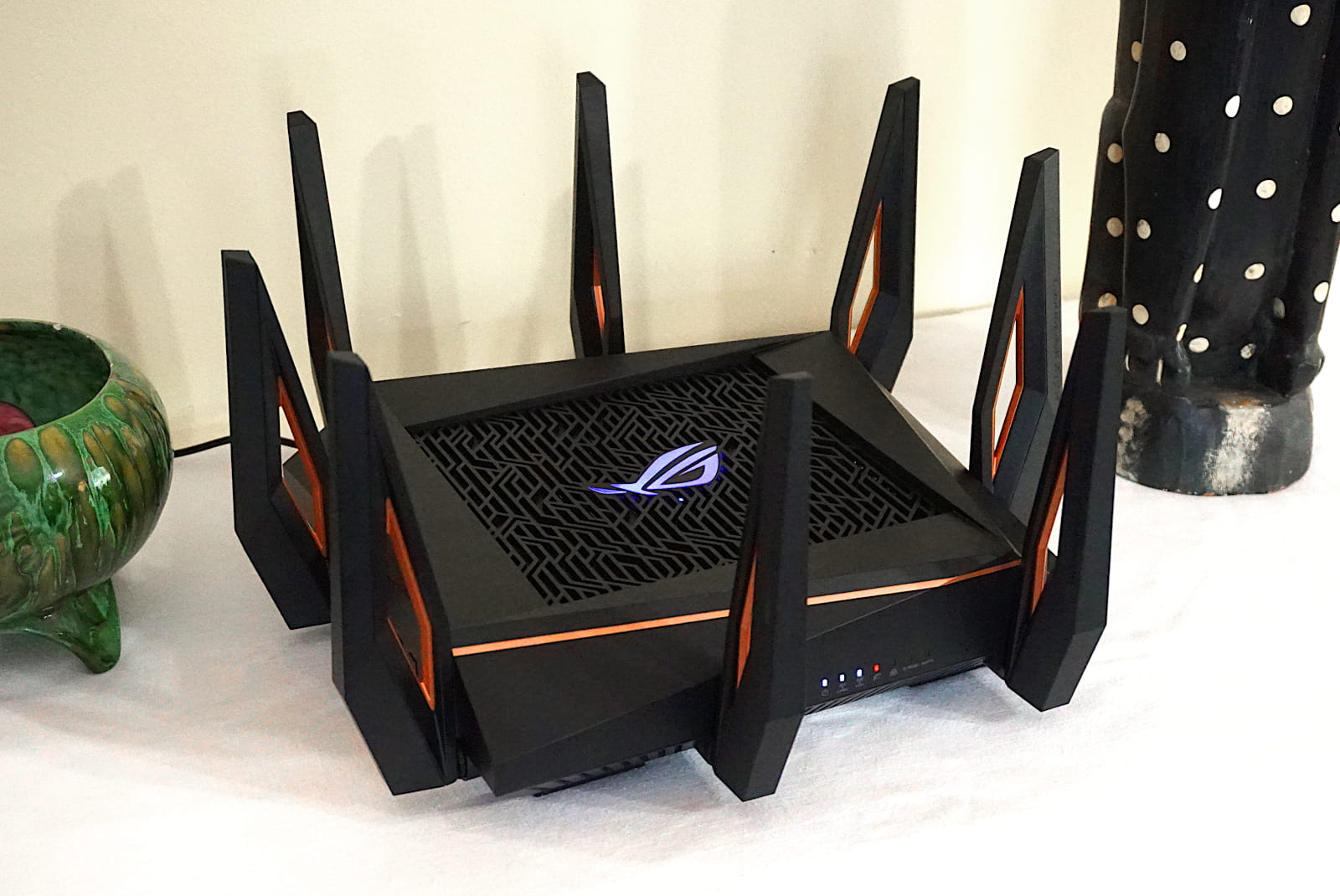 You don't need to be a gamer to appreciate everything the Rapture GT-AX11000 has to offer. Kevin Parrish | Highspeedinternet.com
Is the ROG Rapture GT-AX11000 right for you?
The ROG Rapture GT-AX11000 is ideal if you're not afraid to pay a high price for a fully loaded router. It has everything you need—from good Wi-Fi 6 speeds to multi-gig internet support to built-in VPN tools. It's a far better deal than NETGEAR's Nighthawk RAX200 in our book. It has fewer Ethernet ports than the NETGEAR router, but you'd probably never fully use them anyway (unless you're a wired-first gamer *cough*).
Pros:
Free security and parental controls
Multi-gig internet compatibility
Great long range speeds
Cons:
Hefty price
Fewer Ethernet ports than others
Annoying antennas
ROG Rapture GT-AX11000 standout features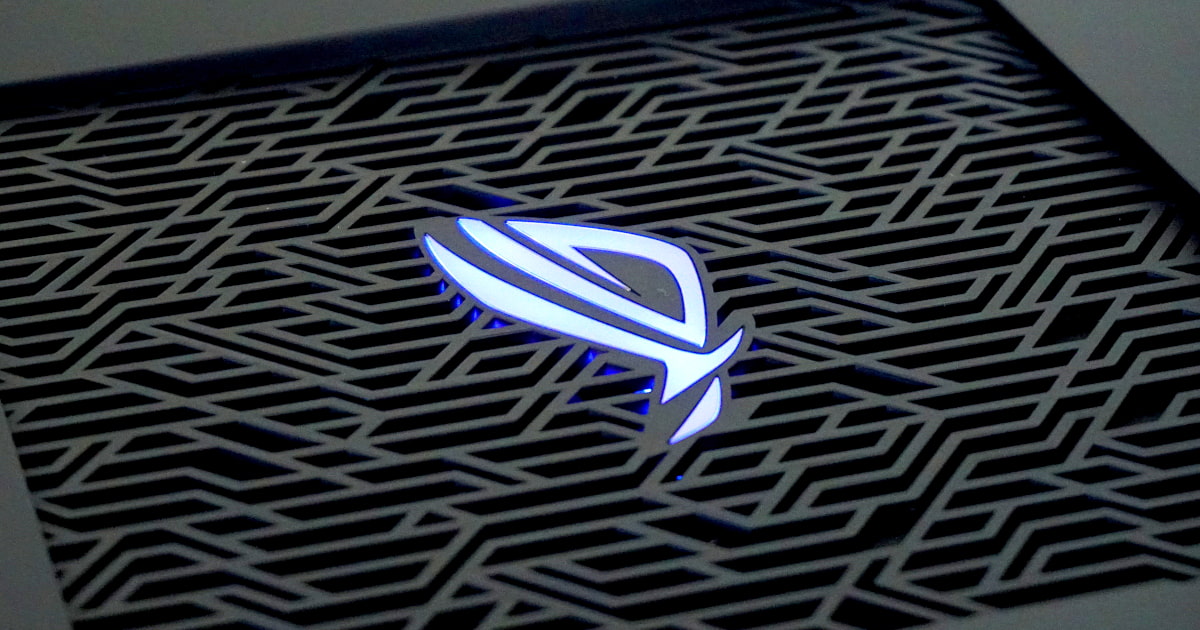 The ROG logo syncs with other compatible Aura RGB gaming gear. Kevin Parrish | Highspeedinternet.com
The ROG Rapture GT-AX11000 is one of the most fully featured routers we've tested to date. It's a gaming router for sure, but it's also a versatile choice for security, media streaming, and accommodating a home stuffed full of data-hungry devices (and teens).
Our ROG Rapture GT-AX11000 scoring breakdown
| | | |
| --- | --- | --- |
| Category | Score* | Summary |
| Performance | 4 | Falls just short of the RAX200 in Wi-Fi 6 speed but is one of the fastest we've tested. |
| Features | 5 | Includes free antivirus, parental controls, and a built-in VPN server and client. |
| Design | 4 | Supports 6 wireless devices at full speed; 12 at half speed. |
| Setup | 4 | Requires more time to set up all the extra features you normally don't get on a standard router. |
| Ease of use | 4 | Provides a better experience in the web interface than the mobile app. |
* out of 5 points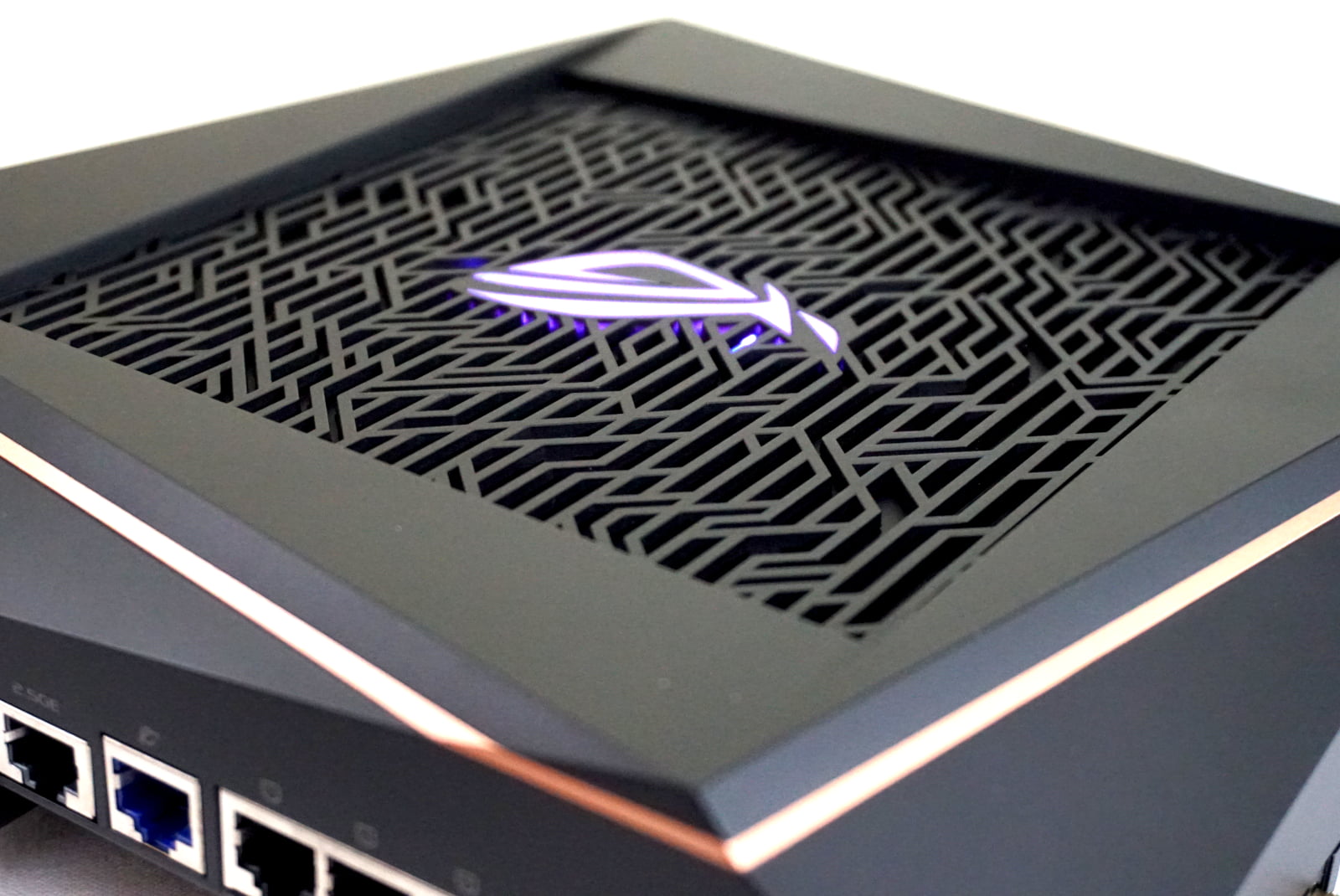 The Rapture GT-AX11000 has some of the fastest Wi-Fi speeds we've tested to date. Kevin Parrish | Highspeedinternet.com
Comparing this router's speed to the likes of the Nighthawk RAX200 and Archer AX11000 seems like a waste of time. All three generally provide the same speeds, although the RAX200 pulls slightly ahead in our tests. There's simply not enough difference between them to write home about, even at 120 feet.
Still, of the three routers mentioned here, the RAX200 was the only one we could still record a speed at 160 feet—albeit really, really slow. But that little bit of extra range doesn't justify the RAX220's hefty price tag. When you compare megabits to dollars, the ROG Rapture GT-AX11000 is a better value.
The Rapture GT-AX11000 has eight antennas you screw into place, but they can fall over time. Kevin Parrish | Highspeedinternet.com
The ROG Rapture GT-AX11000 gets a perfect score here, as it packs everything you could possibly need in a router. It checks every box many competing routers can't or won't, like a built-in VPN client, free security, printer sharing, and cloud support. Some competitors require a subscription to use some of these features, but ASUS does not.
And get this, folks: the GT-AX11000 includes real gaming tools. Some competitors label standard settings with game-centric names. We list all the tools this router provides in the FAQ, like the Game Radar and Native WTFast support.
Plus, if you own other ASUS products, you can sync this router's logo color and effect to match your compatible gaming gear. The flashy logo is pretty cool on its own too.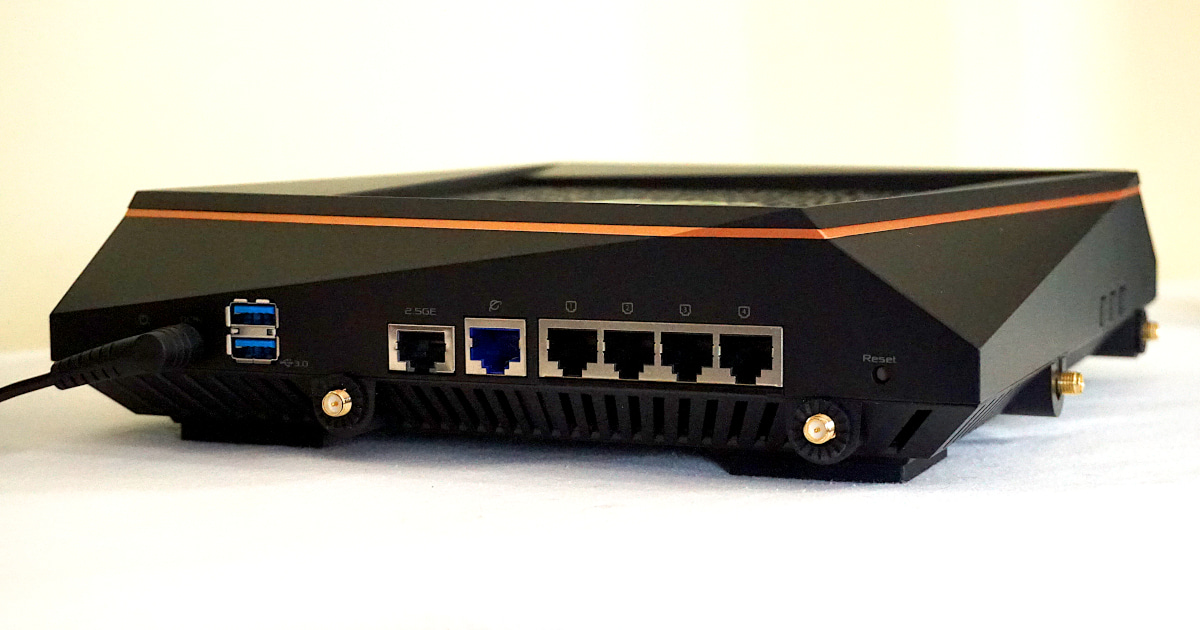 The Rapture GT-AX11000 has wired speeds up to 2.5Gbps. Kevin Parrish | Highspeedinternet.com
We love this router's overall design, but it falls short in Ethernet count compared to its rivals. And that's okay—not everyone needs eight wired connections (but an Ethernet switch has you covered if you do).
The big callout here is all the bands and streams. Essentially, you can have six wireless devices connected simultaneously at full speed or 12 devices at half speed. However, our biggest beef with this router is with the antennas. No matter how hard we tightened them onto the base, some refused to stay upright and fell over time.
We give ASUS a thumbs up for the way it addresses novice and advanced users. The Basic setup process cuts the ten steps down to six, so you're up and running in no time. The Advanced setup includes a bit more customization—which you can do later on if you take the Basic route.
Both setups require you to assign a function to the Boost Key, which you can use to auto-select a channel, enable Aura RGB, or turn the LEDs on and off. Take the Advanced plunge if you plan to use the 2.5Gbps port for your internet connection.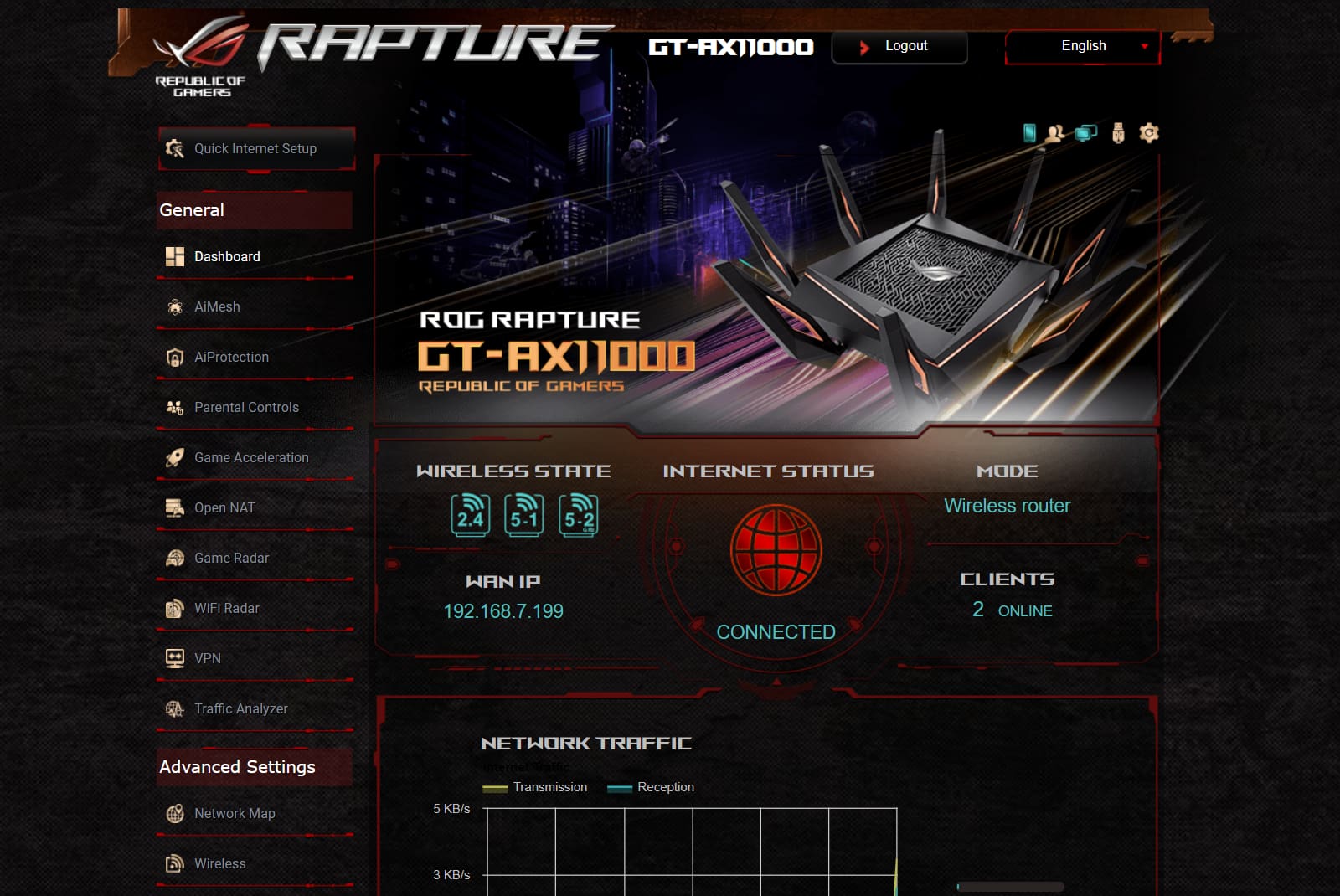 The ROG Rapture GT-AX11000 has one of the best web interfaces we've used to date. Kevin Parrish | Highspeedinternet.com
We like the web interface better than the app, but you need both to use all the networking features. With the web version, ASUS lists every setting under the General and Advanced columns on the left, so you're not clicking through tabs to get to what you need. It's a clean design that's easy to view thanks to a dark backdrop, white lettering, and red highlights.
Additionally, the Dashboard on the web interface provides easy access to some of the router's cooler settings, like Aura RGB. Here you can use a slider to customize the router's ROG logo color and select an effect. But the parental controls are best set through the ASUS Router app—the web version isn't quite so user-friendly.
Are there any additional costs?
No, there are no additional costs to you—unless you want a mesh network. The ROG Rapture GT-AX11000 supports AiMesh technology, so you can pair it with another compatible ASUS router to create a mesh-based network. ASUS provides a list of compatible AiMesh products.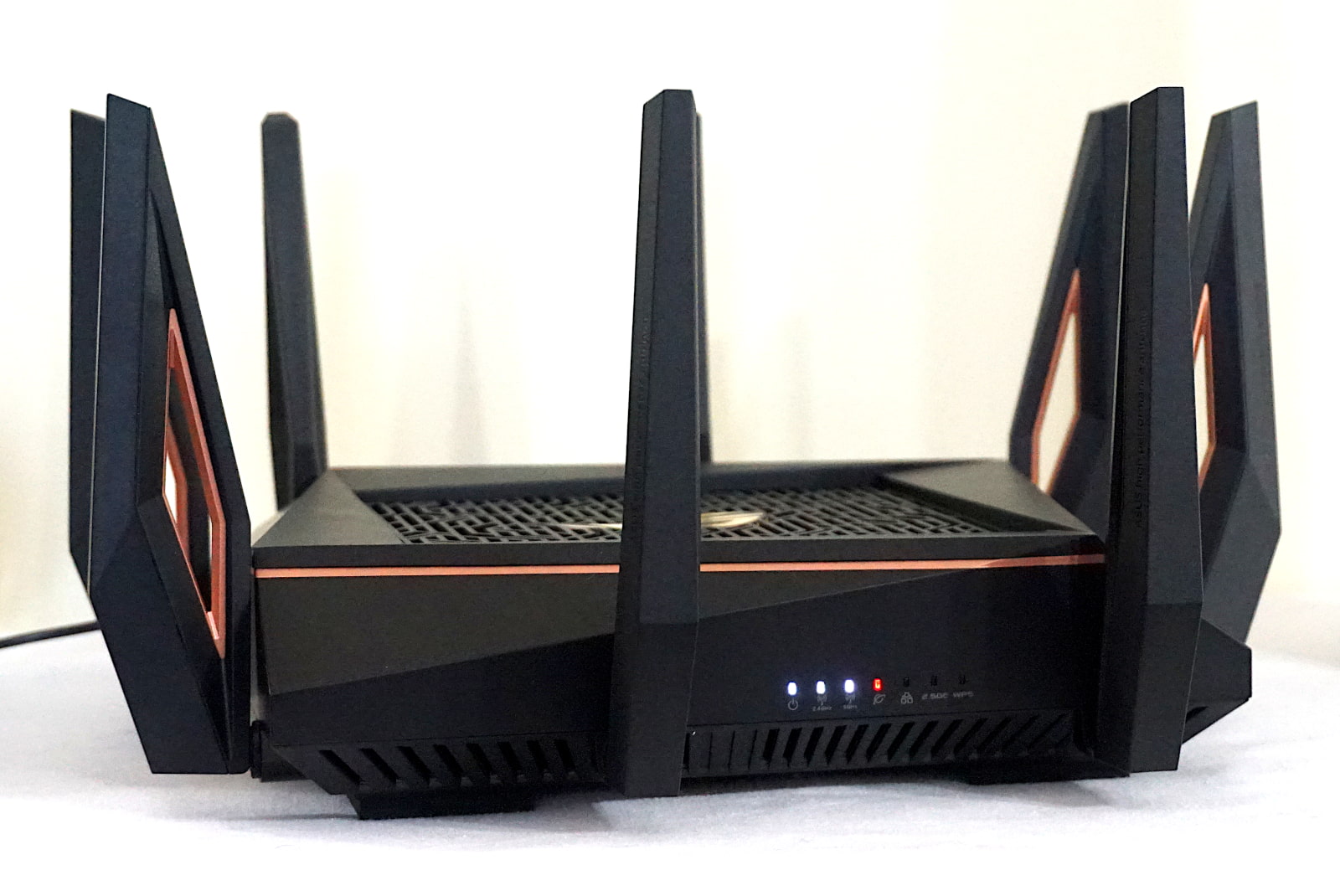 The Rapture GT-AX11000 is an excellent, full-featured router if you can afford it. Kevin Parrish | Highspeedinternet.com
Our ROG Rapture GT-AX11000 review: The verdict
The ASUS ROG Rapture GT-AX11000 is the best router we've tested and reviewed to date—even if it does have an annoyingly long name. It's not the fastest Wi-Fi 6 router in our tests, but it has the best megabits-per-dollar value.
Its price is certainly a drawback, however. The GT-AX11000 is far more expensive than the similar TP-Link Archer AX11000, which doesn't check all the feature boxes like the GT-AX11000 does. The ASUS router also doesn't have the same Ethernet port count, but not everyone needs eight wired connections. Still, the GT-AX11000 is an excellent buy for anyone—not just gamers—who don't want to jump onto the Wi-Fi 6E bandwagon just yet.
FAQ about the ROG Rapture GT-AX11000
What gaming tools does the Rapture GT-AX11000 include?
Here's a list of gaming tools you get with this router:
ROG First: Syncs the logo color and effects with other products
Aura RGB: Sets the logo's color and effect
Game Radar: Lists the real-time ping rates of popular game servers
Game Profiles: Forwards game data to specific platforms (Steam, PS4, Xbox Series X, etc.)
Native WTFast support (see below)
Gaming QoS mode
Game Device Prioritizing
You can find most of these features under General > Game Acceleration.
What is WTFast?
The WTFast Gamers Private Network (GPN) is a subscription service that aims to reduce packet loss and lower latency for one device. The network selects the best, most optimized path between your device and the remote gaming server. The router includes a free subscription for one device only—you need additional paid subscriptions for all other devices.
What are Aura RGB and Aura Sync?
Aura RGB is software that allows you to change the color and effect of one or a group of LEDs. This technology is usually paired with Aura Sync, which synchronizes colors and effects across compatible devices. For example, you can have an ASUS mouse, keyboard, desktop motherboard, and router all have the same Rainbow effect.
How does the Rapture GT-AX11000 support multi-gig internet?
You can configure the 2.5Gbps Multi-Gig Ethernet port as your WAN port under Advanced > WAN > Dual WAN. You can also use link aggregation to pair the Gigabit Ethernet WAN port with the LAN 4 port for a 2 Gbps connection.
What is Dual WAN?
You can configure the Rapture GT-AX11000 to access two internet connections simultaneously: one primary and one secondary. You only need to set the primary connection in the router's interface under Advanced > WAN > Dual WAN.
In Failover and Failback Modes, the router switches to the second WAN connection when the first one fails. In Load Balance Mode, the router distributes your traffic evenly between the two connections.
We test router speed by setting up each router in an office and connecting it to a local test server. Then, we transmit test data between our wireless devices and the server, taking numerous measurements to account for fluctuations in Wi-Fi speeds.
The first tests occur close to the router, without obstructions—so the Wi-Fi is as strong and fast as it's gonna get. We repeat the process straight out at 10, 20, and 30 feet, with only a glass door obstructing our view of the router. The same glass door and an exterior door blocks our path when we test outside at 40 and 50 feet.
We also run tests in a hallway to the left of the TV room and office—where there's a glass door, three walls, and an air handler unit blocking our view of the router. The dining room, another testing point, sits to the right of the kitchen, TV room, and office—two walls and a glass door block the path in this test.
To test video streaming, we connect a fast storage device to the router and stream a 4K video to six wireless devices simultaneously—two phones, three tablets, and a laptop—connected to the same wireless band.
Client devices used in testing
| | iPhone 12 Pro Max | Google Pixel 3 |
| --- | --- | --- |
| Wi-Fi version | Wi-Fi 6 | Wi-Fi 5 |
| Stream configuration | 2 x 2 | 2 x 2 |
| Max channel width | 80 MHz | 80 MHz |
| Max 5 GHz speed (AX) | 1,200Mbps | – |
| Max 5 GHz speed (AC) | 866Mbps | 866Mbps |
| Max 2.4 GHz speed (AX) | 195Mbps | – |
| Max 2.4 GHz speed (AC) | 195Mbps | 144Mbps |
ROG Rapture GT-AX11000 benchmarks (5 GHz only)
| | iPhone 12 Pro Max* | Google Pixel 3* |
| --- | --- | --- |
| 2 feet | 848 | 652 |
| 10 feet | 827 | 644 |
| 20 feet | 755 | 529 |
| 30 feet | 729 | 462 |
| 40 feet (porch) | 642 | 308 |
| 120 feet (across street) | 260 | 189 |
| 160 feet (mailboxes) | Out of range | Out of range |
| 20 feet (hallway) | 460 | 264 |
*speed in megabits per second (Mbps)
Amazon.com Prices as of 6/23/23 17:35 MST. Product prices and availability are accurate as of the date/time indicated and are subject to change. Any price and availability information displayed on Amazon.com at the time of purchase will apply to the purchase of this product. Highspeedinternet.com utilizes paid Amazon links.
CERTAIN CONTENT THAT APPEARS ON THIS SITE COMES FROM AMAZON. THIS CONTENT IS PROVIDED 'AS IS' AND IS SUBJECT TO CHANGE OR REMOVAL AT ANY TIME.
Author - Kevin Parrish
Kevin Parrish has more than a decade of experience working as a writer, editor, and product tester. He began writing about computer hardware and soon branched out to other devices and services such as networking equipment, phones and tablets, game consoles, and other internet-connected devices. His work has appeared in Tom's Hardware, Tom's Guide, Maximum PC, Digital Trends, Android Authority, How-To Geek, Lifewire, and others. At HighSpeedInternet.com, he focuses on network equipment testing and review.
Editor - Rebecca Lee Armstrong
Rebecca Lee Armstrong has more than six years of experience writing about tech and the internet, with a specialty in hands-on testing. She started writing tech product and service reviews while finishing her BFA in creative writing at the University of Evansville and has found her niche writing about home networking, routers, and internet access at HighSpeedInternet.com. Her work has also been featured on Top Ten Reviews, MacSources, Windows Central, Android Central, Best Company, TechnoFAQ, and iMore.