ExpressVPN Aircove Review
We tested the ExpressVPN Aircove to see if it's a better value than your typical Wi-Fi router.
Jun 22, 2023 | Share

Equipment Guides, Product Reviews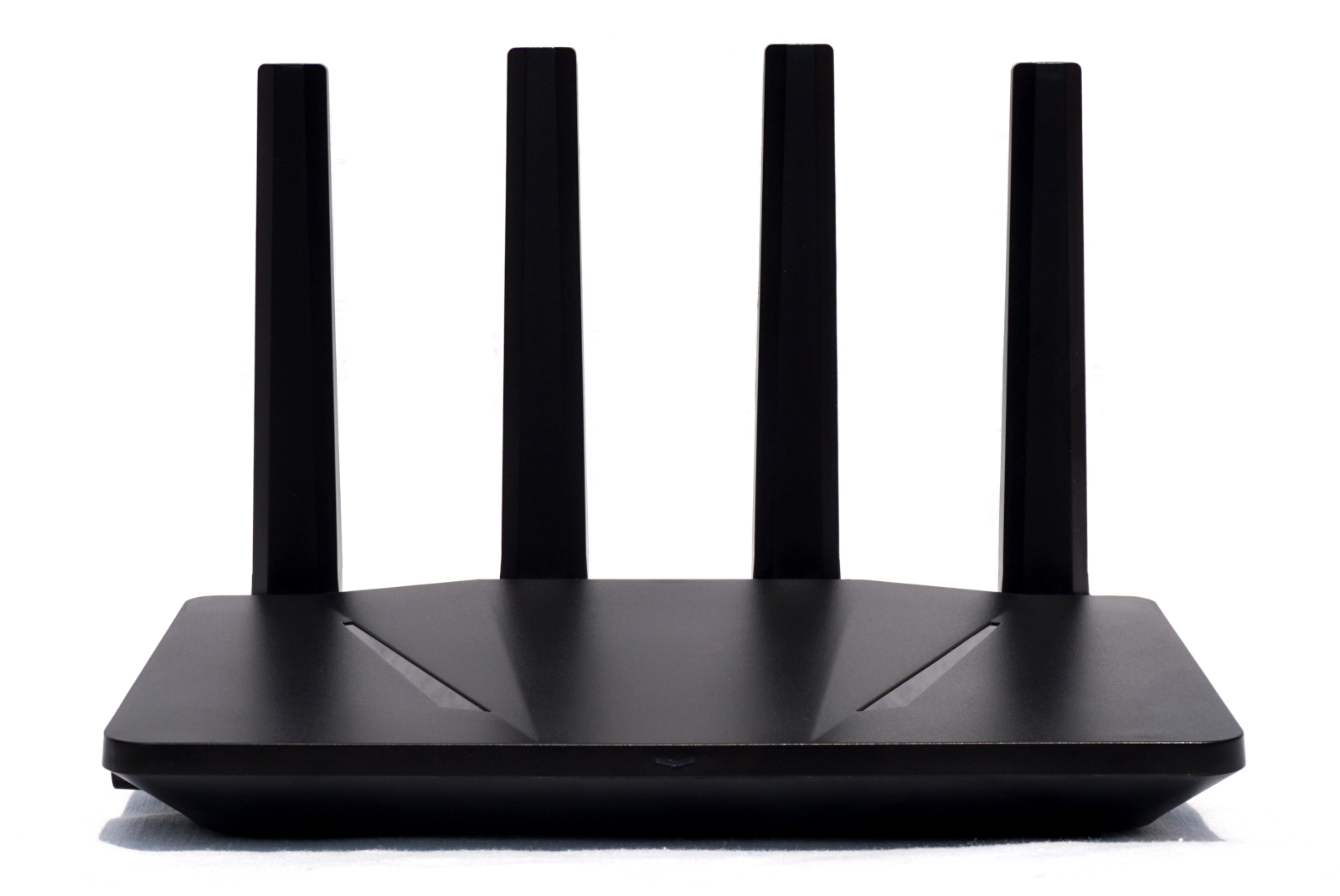 The Aircove is a niche router best used by ExpressVPN customers. Kevin Parrish | HighSpeedInternet.com
Is the Aircove right for you?
The ExpressVPN Aircove is a niche product. It's designed explicitly for ExpressVPN subscribers, providing an easy-to-use, built-in VPN client that groups your devices and accesses different ExpressVPN servers simultaneously. That alone is rather neat, but there's nothing else here that makes the Aircove a worthwhile investment as your primary network centerpiece. It's best used as a secondary router.
Pros:
Built-in VPN client
Easy setup
Works without ExpressVPN
Cons:
No parental controls
No multi-gig support
No mobile app
Aircove standout features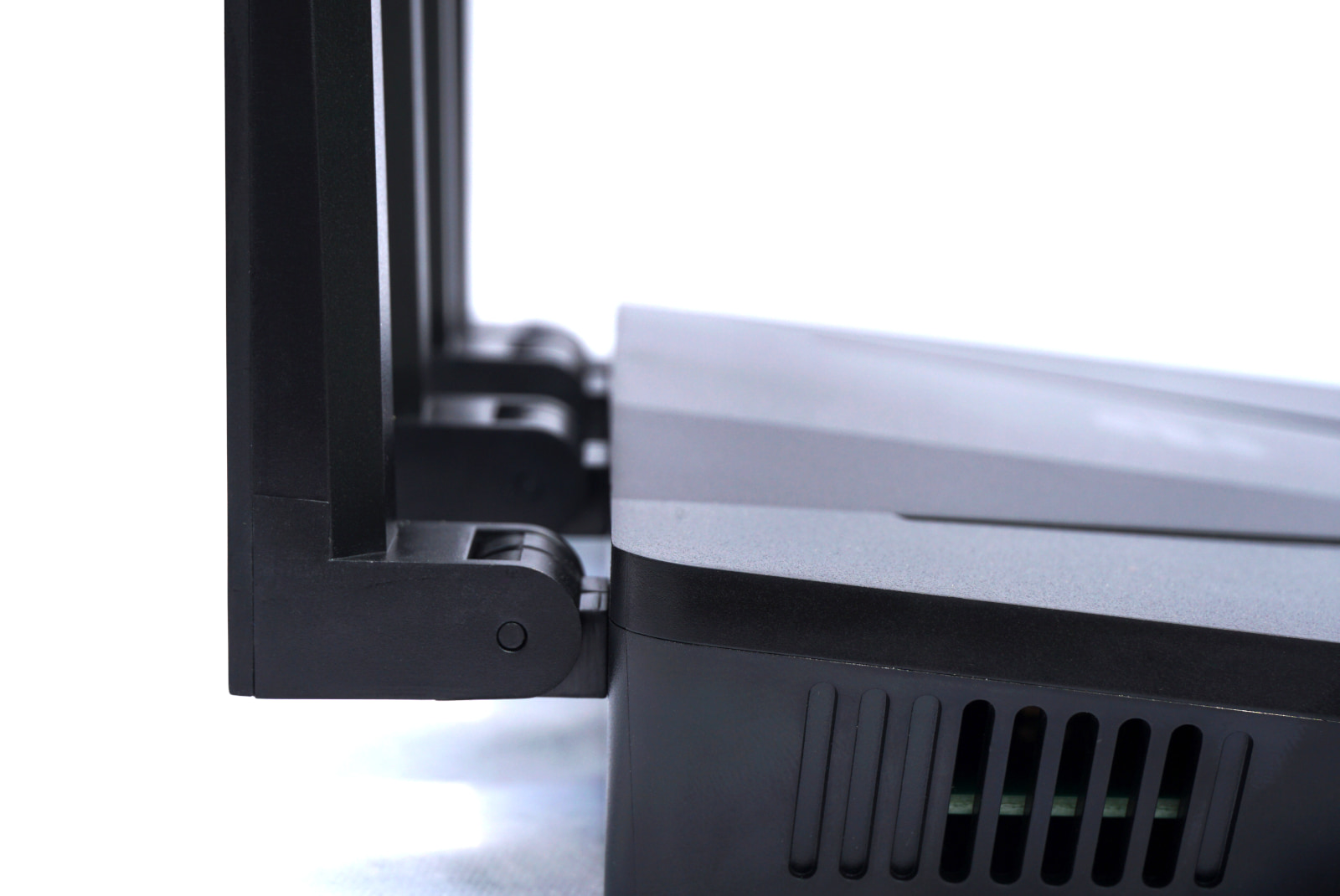 The ExpressVPN Aircove has good raw up-close Wi-Fi speeds based on our tests. Kevin Parrish | HighSpeedInternet.com
The Aircove isn't a feature-packed router. It mainly provides a built-in ExpressVPN client and some basic settings.
Our Aircove scoring breakdown
| | | |
| --- | --- | --- |
| Category | Score* | Summary |
| Performance | 4 | Provides decent speeds for the price based on our tests. |
| Features | 2 | Lacks most notable features offered on competing routers. |
| Design | 3 | Includes a USB port you can't even use. |
| Setup | 5 | Has the fastest setup process we've seen to date. |
| Ease of use | 4 | Offers a simple web interface on desktop and mobile. |
* out of 5 points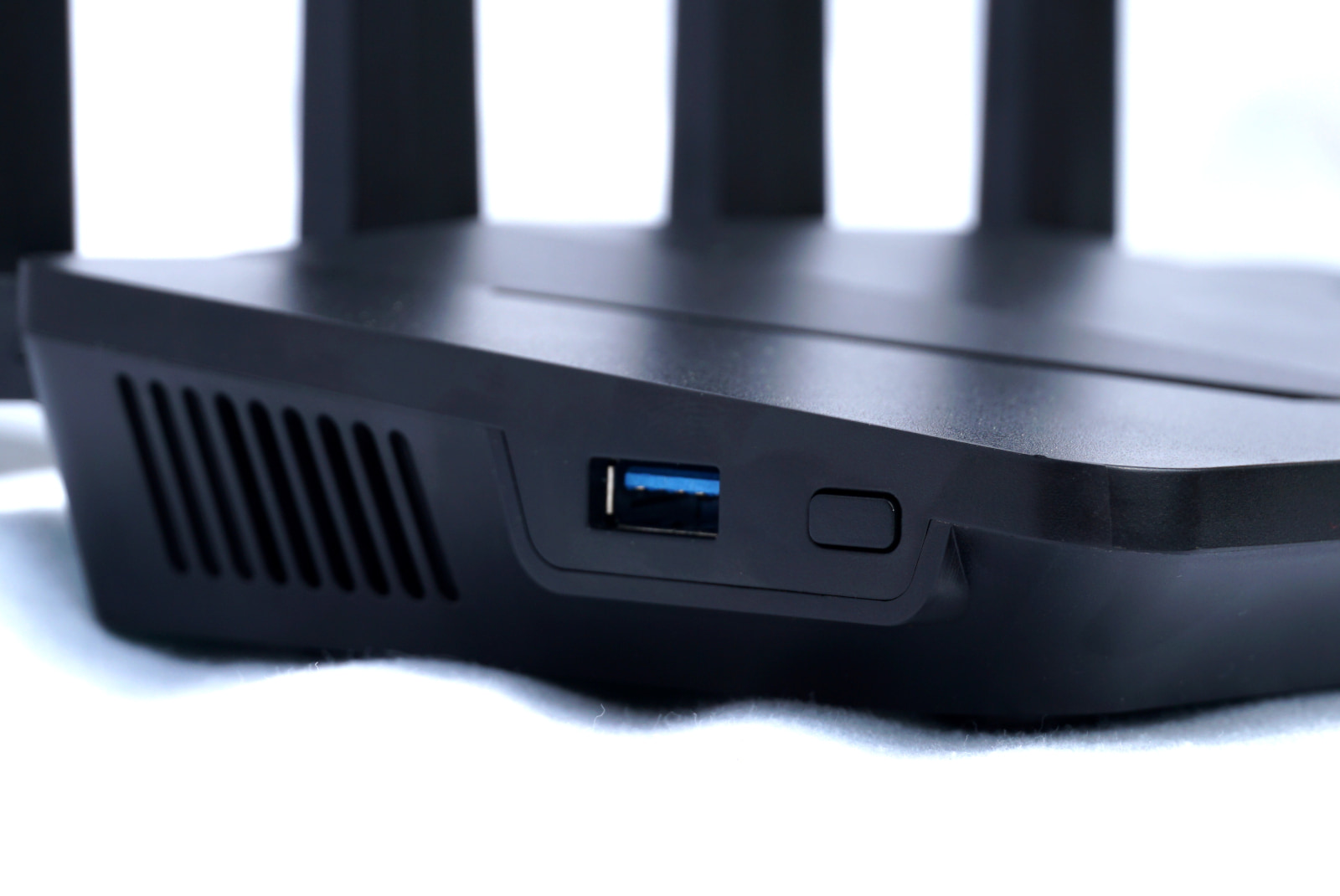 The ExpressVPN Aircove has a Sync button and USB port you can't use. Kevin Parrish | HighSpeedInternet.com
The Aircove's Wi-Fi 6 raw speeds tested average for a router sold at the current price. We recorded an 845Mbps single device average at close range, putting it in line with two similarly priced routers we've tested, the ASUS RT-AX68U and the Reyee RG-E5.
But by the time we reached our 40-foot marker outside, the Aircove fell way behind the competition in our tests. We recorded a 413Mbps average at that point, more than 200Mbps slower than the Reyee model. The gap was just as wide at 120 feet, with the Aircove averaging 191Mbps versus the Reyee unit at 330Mbps.
Keep in mind that we benchmarked the Aircove without assigning our test devices to a VPN. The results reflect the raw transmission speeds between our local test server, the router, and our test devices. Speeds from VPN use are heavily dependent on the connection from the modem/ONT to the remote destination, so we chose not to evaluate this router based on external VPN connectivity.
However, we provide benchmarks later in the review to illustrate how ExpressVPN affects the speed of a 500Mbps internet plan.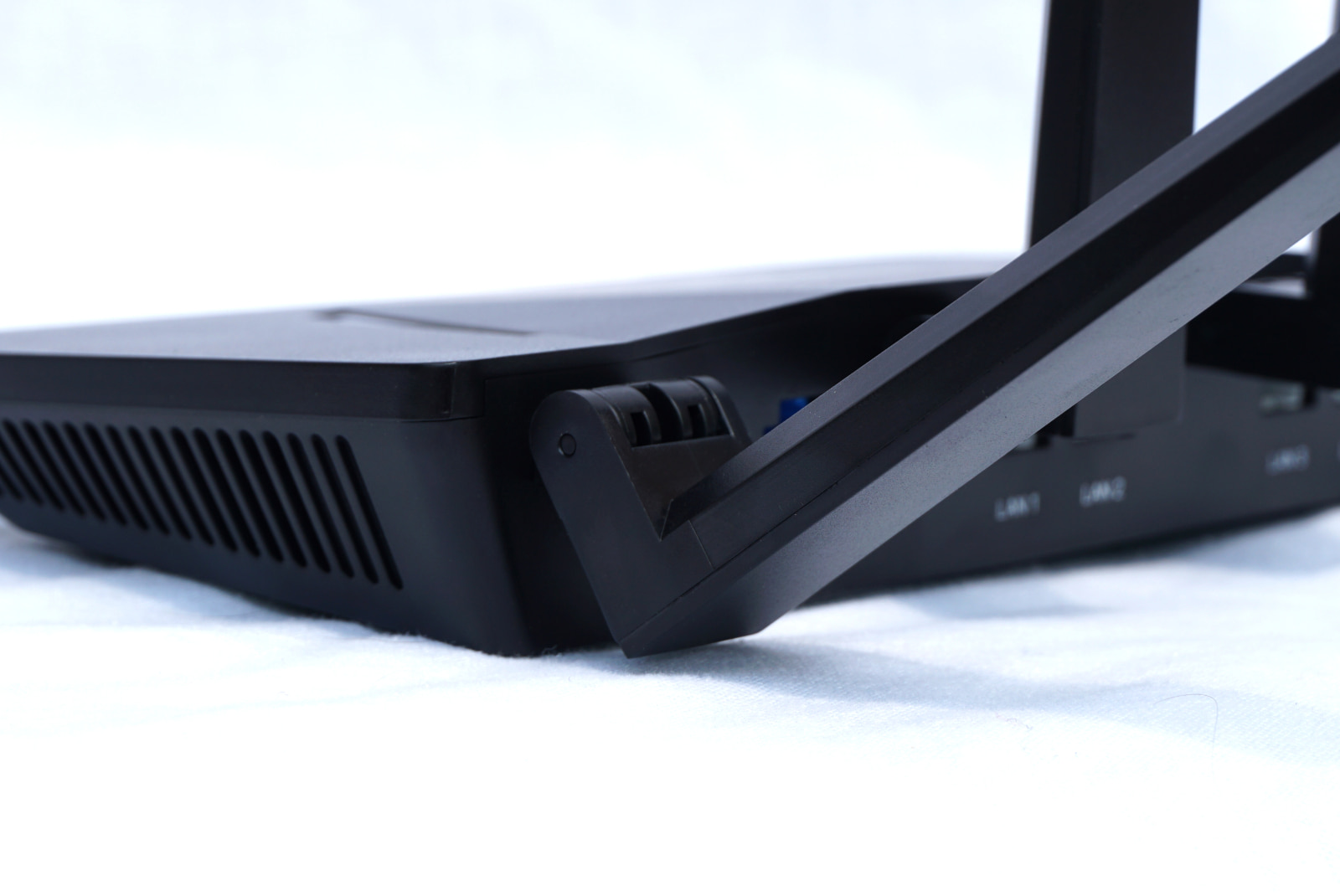 The ExpressVPN Aircove antennas bend back 180 degrees. Kevin Parrish | HighSpeedInternet.com
So, this is a weird one. The Aircove is a VPN-first router, so you won't find anything here, as seen with the competition, like parental controls, media sharing, or ad blocking. That limited feature set makes it a hard sell as a primary router, especially for businesses and homes that need means to manage how and when users access the internet.
On the flip side, since the Aircove is a VPN-first router, it excels in that department. You can group devices and have them connect through a VPN server in Tokyo, for example, while another group may use a VPN server in Madrid. The drawback is you can only use an ExpressVPN subscription—no other VPN subscription works with this router.
The bottom line here is you may be better off with the original GL Tech Flint model if you need more than basic networking and explicit ExpressVPN compatibility. The Aircove is not really meant for anyone other than ExpressVPN customers even though you can use it without an ExpressVPN subscription.
What we wish the Aircove did better
Parental controls
Ad blocking
Unlike the original GL Tech Flint router, the Aircove doesn't have parental controls. There's no way to set filters or block internet access at specific times. ExpressVPN suggests using OS-specific controls like Screen Time and Family Sharing (Apple), Google Family Link (Android), or Family Safety (Windows).
And unlike the original Flint router, there's no ad-blocking component. Flint uses AdGuard Home, launched in October 2018, which blocks video and in-app ads for all devices connected to the local network. It also hides you from analytics systems and online trackers.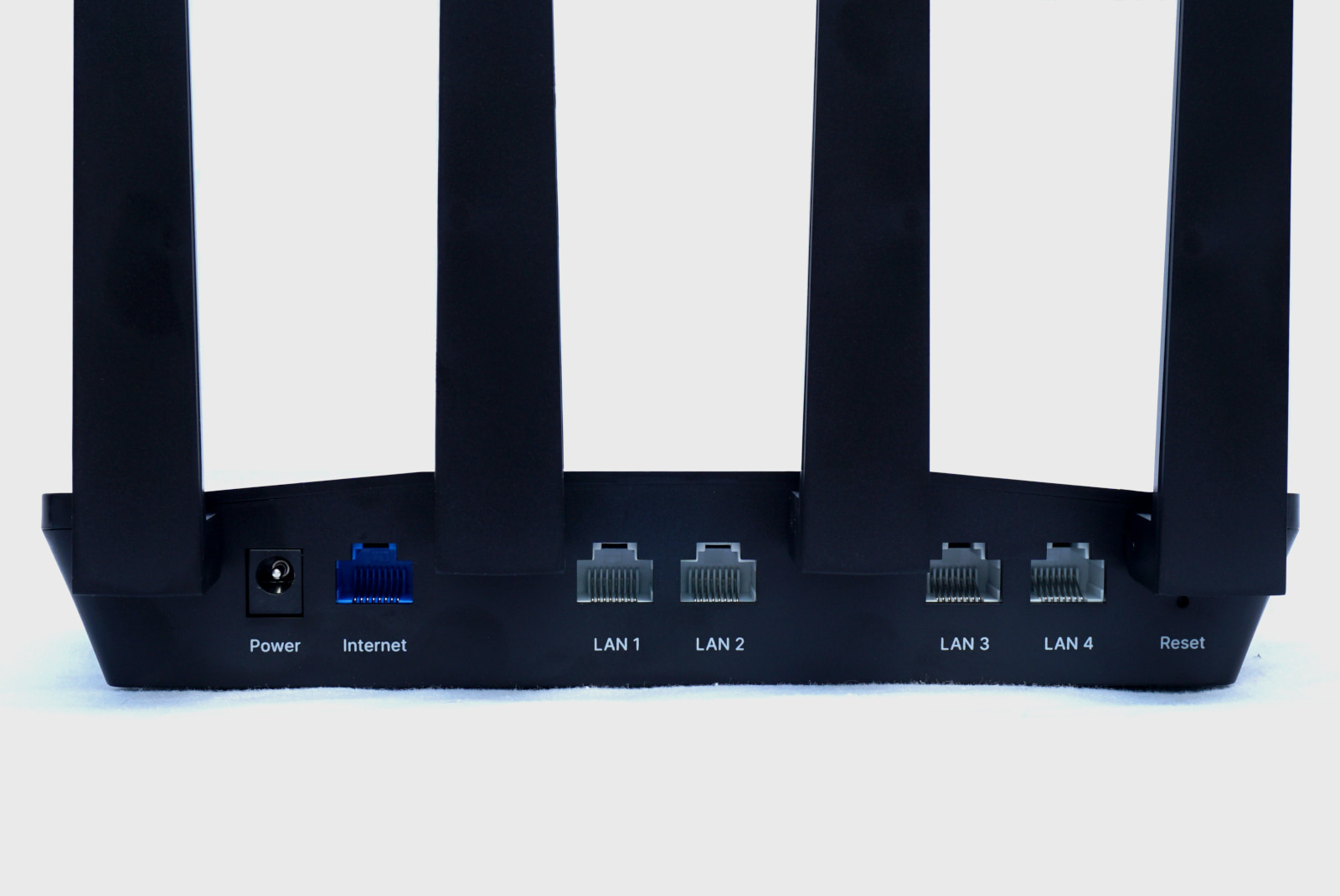 The ExpressVPN Aircove doesn't support multi-gig wired speeds. Kevin Parrish | HighSpeedInternet.com
The Aircove is simplistic in design. It's probably the size of a thick 7-inch tablet with four large antennas you can bend back up to 180 degrees. There's no multi-gig or link aggregation to be had here, so the most real-world wired speeds you'll get is sound 940Mbps—perfect for those gigabit-but-not-quite-gigabit internet plans and slower.
The Aircove has a 2×2 stream configuration on both bands. That's fine in a small home with very few wireless devices. But if you have a larger family with dozens of devices trying to access Wi-Fi simultaneously, you'll experience slower speeds and latency. We always say the more streams, the better.
Finally, the Aircove has a Sync button and a USB port you can't use—at least, not at the time of this review. A rubber cap plugs into the USB port when you take it out of the box, which we thought was just for protection, but after digging into the interface, there are no means to use the port. Perhaps ExpressVPN will add features for the Sync button and USB port in the near future.
Believe it or not, we had this router up and running after four steps—not 10 steps or 12 steps or what seems like a gazillion steps, as seen with other router setups. There was no MAC cloning confusion or manual time zone adjustments. The process was insanely quick, although we didn't sign in to ExpressVPN until after the setup. Even then, all we had to do was enter our activation code, and voila! We were rolling with a new network. Kapow!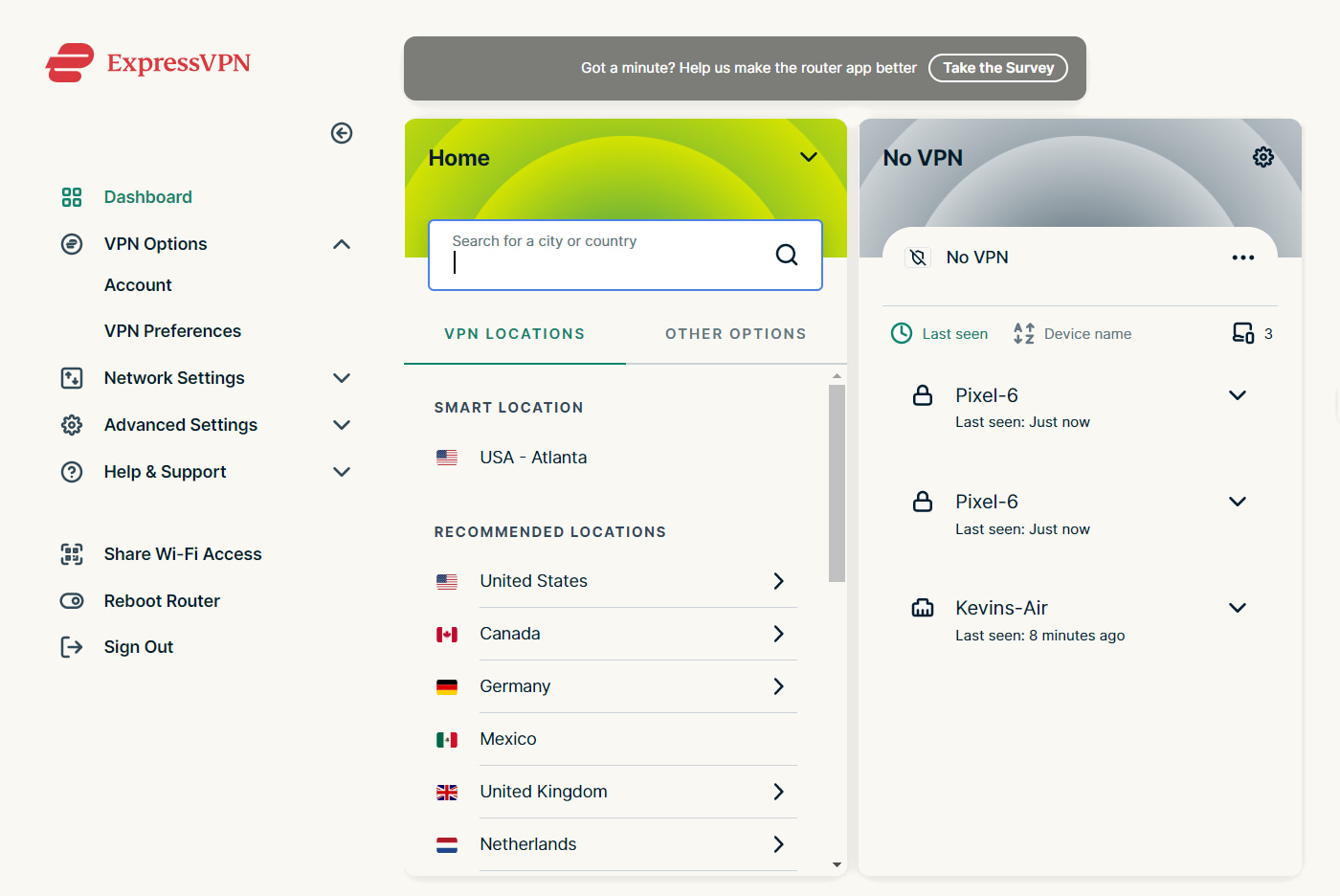 The ExpressVPN Aircove Dashboard highlights VPN use but very little network management. Kevin Parrish | HighSpeedInternet.com
The interface is nearly identical to the ExpressVPN account dashboard. On the Aircove router, the Dashboard displays all your device groups—up to five—while the collapsible side menu breaks down what little settings this router has into three categories: VPN Options, Network Settings, and Advanced Settings. The color scheme is easy on the eyes too, although a Dark Mode option would be ideal.
ExpressVPN doesn't provide a mobile app to manage the Aircove, so you must enter the router's web address into any browser, just like you would on a desktop or laptop. The interface shuffles and condenses to work beautifully on a smartphone screen. We love this idea, actually, because the user experience is the same across any device you use, unlike other router setups where the mobile app lacks a lot of settings made available in the web interface.
The bottom line here is the router's lack of all the "expert" settings makes it extremely easy to use for anyone. Disabling band steering, for example, is just a two-click process. But there are drawbacks to this simplistic design too, like the inability to see what band your devices currently use, which should be a staple in any Wi-Fi router interface. It was an annoying lack of information while we performed our tests, for sure.
Ultimately, if you want complete control over your home network, such as changing the transmit power or enabling AP mode, this router isn't for you.
Are there any additional costs?
You don't need an ExpressVPN subscription to use this router, but you need one to use the built-in VPN client.
| Monthly | Half-yearly | Annually |
| --- | --- | --- |
| $12.95 | $59.94 | $99.84 |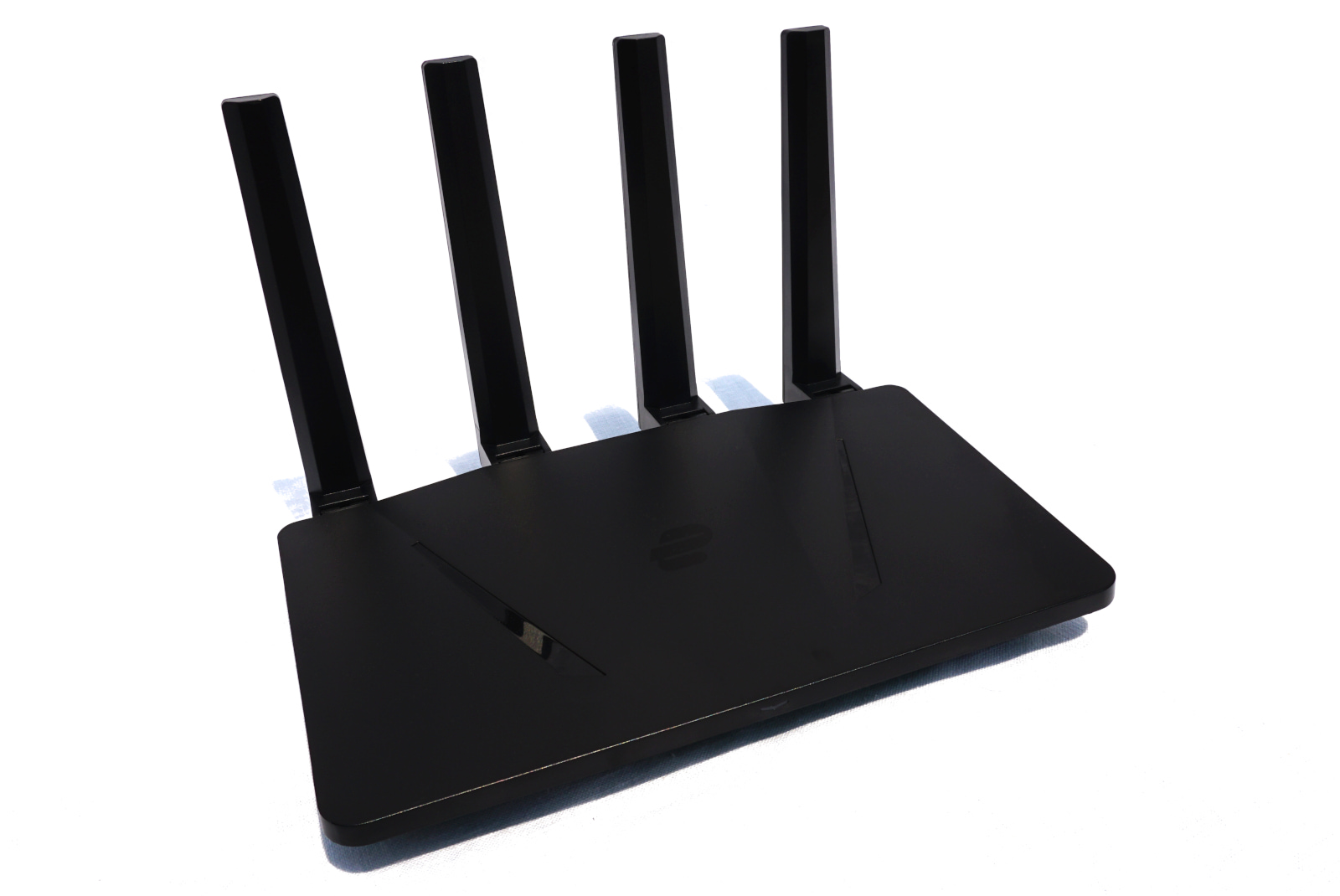 The ExpressVPN Aircove is best used as a secondary router in any home or business. Kevin Parrish | HighSpeedInternet.com
Our ExpressVPN Aircove review: The verdict
As we previously stated, comparing the ExpressVPN Aircove router to the competition seems a little unfair. It's a niche router laser-focused on connecting your devices to ExpressVPN's network. It excels at its job as a hardware-based VPN client, allowing you to gather devices into five groups and have each group connect to a different ExpressVPN server around the globe. We give a thumbs up to the coolness and simplicity of this design.
But truth be told, we can't recommend this router as your network centerpiece. There are just too many other similarly-priced routers on the market with a built-in client and server. Sure, they lack the simplicity of Aircove's VPN management, but they also include other callouts—like parental controls and free security—that the Aircove router clearly lacks.
Of course, things may change in future firmware updates, but for now, it's just a hardware VPN client with minimal network management. If you're an ExpressVPN customer (or plan to be), the Aircove may serve best as a secondary router—especially if you need more control over your network and devices.
FAQ about the ExpressVPN Aircove
How is the Aircove different from other routers with VPN?
Many routers we test include a VPN server component you can access from anywhere. In most cases, you download software onto your device and install a configuration file supplied by the router. The software sends your internet traffic to the router, which then redirects your traffic to the destination, hiding your location.
Some routers also include a built-in VPN client. In this case, you already have a VPN subscription, so you enter the login credentials directly into the router. The router then connects to your account and transmits all incoming and outgoing traffic through the remote VPN network. The built-in client is ideal for devices that don't support VPN software, like IoT gadgets, game consoles, and media streamers.
The Aircove router has a built-in client too, but here you can group devices together so their traffic is redirected through a specific location—you can't do that on other routers. Plus, you don't need the built-in VPN server because your traffic is already redirected through ExpressVPN when you're off the local network.
Of course, the big catch is you must use ExpressVPN with the Aircove router, whereas you can generally use any VPN subscription on other routers.
Do you need an ExpressVPN subscription to use this router?
No, you do not need an ExpressVPN subscription to use this router. However, the Aircove lacks a lot of features offered with other routers at this price, so you may want to look elsewhere if you don't plan to use ExpressVPN.
Did ExpressVPN manufacture this router?
No, ExpressVPN did not manufacture this router. The Aircove is based on the Flint router (GL-AX1800) from GL Technologies, which uses the customizable OpenWRT operating system.
Here's a list of features that are included with Flint but not available on Aircove:
AdGuard Home (ad blocker and tracker)
Support for other VPN services
Network modes (Access point, extender, WDS)
IPv6
Guest Wi-Fi
Firewall controls
VPN server (OpenVPN or WireGuard)
Tor service
File sharing
Media sharing (DLNA, Samba, WebDAV)
Multi-WAN connections (Cellular, Ethernet, repeater, and tethering)
Remote access
Plug-ins
Parental controls
Mesh networking (via the Sync button)
Why don't the USB port and Sync button work?
The USB port and Sync button are intentionally disabled for security reasons, according to a spokesperson for ExpressVPN. However, ExpressVPN is open to add support for these features in future firmware updates, but the company needs more feedback first.
We test router speed by setting up each router in an office and connecting it to a local test server. Then, we transmit test data between our wireless devices and the server, taking numerous measurements to account for fluctuations in Wi-Fi speeds.
The first tests occur close to the router, without obstructions—so the Wi-Fi is as strong and fast as it's gonna get. We repeat the process straight out at 10, 20, and 30 feet, with only a glass door obstructing our view of the router. The same glass door and an exterior door blocks our path when we test outside at 40 and 50 feet.
We also run tests in a hallway to the left of the TV room and office—where there's a glass door, three walls, and an air handler unit blocking our view of the router. The dining room, another testing point, sits to the right of the kitchen, TV room, and office—two walls and a glass door block the path in this test.
To test video streaming, we connect a fast storage device to the router and stream a 4K video to six wireless devices simultaneously—two phones, three tablets, and a laptop—connected to the same wireless band.
Client devices used in testing
| | iPhone 12 Pro Max | Google Pixel 3 |
| --- | --- | --- |
| Wi-Fi version | Wi-Fi 6 | Wi-Fi 5 |
| Stream configuration | 2 x 2 | 2 x 2 |
| Max channel width | 80 MHz | 80 MHz |
| Max 5 GHz speed (AX) | 1,200 Mbps | – |
| Max 5 GHz speed (AC) | 866 Mbps | 866 Mbps |
| Max 2.4 GHz speed (AX) | 195 Mbps | – |
| Max 2.4 GHz speed (AC) | 195 Mbps | 144 Mbps |
Aircove benchmarks (5 GHz only)
| | iPhone 12 Pro Max* | Google Pixel 3* |
| --- | --- | --- |
| 2 feet | 845 | 635 |
| 10 feet | 834 | 614 |
| 20 feet | 725 | 562 |
| 30 feet | 637 | 485 |
| 40 feet (porch) | 413 | 227 |
| 120 feet (across street) | 191 | 98 |
| 20 feet (hallway) | 375 | 270 |
* Speeds in megabits per second (Mbps) using an 80 MHz channel.
Judging a router based on VPN performance isn't fair. It doesn't have any control over the speeds you get between its connection to your modem or ONT and the remote destination. Still, we tested a wired and wireless connection so you can see how a VPN affects your internet speed.
For this test, we used the Spectrum Internet Ultra plan, so our total maximum bandwidth is supposedly 500Mbps (but our wired speed test hit 582Mbps). Here are the distances between us, the remote VPN server, and Spectrum's speed test server.
| | To VPN server | From VPN server to Spectrum server | From Spectrum server back to lab |
| --- | --- | --- | --- |
| Location | Washington, DC | Durham, NC | New Hanover, NC |
| Distance | 364 miles | 258 miles | 153 miles |
In total, our speed test traveled 775 miles when we moved our test devices into a group connected to the closest VPN server.
First, we tested a wired connection using a MacBook connected to one of the router's Gigabit Ethernet ports.
Internet connection: Spectrum Internet Ultra (up to 500Mbps)
Wired connection: Gigabit Ethernet
| No VPN | 582Mbps |
| --- | --- |
| With VPN | 134Mbps |
Next, we sat next to the router and ran the speed test again using an iPhone 12 Pro Max connected to the 5 GHz band.
Internet connection: Spectrum Internet Ultra (up to 500Mbps)
Wireless connection: 5 GHz
| No VPN | 567Mbps |
| --- | --- |
| With VPN | 115Mbps |
Amazon.com Prices as of 6/22/23 17:35 MST. Product prices and availability are accurate as of the date/time indicated and are subject to change. Any price and availability information displayed on Amazon.com at the time of purchase will apply to the purchase of this product. Highspeedinternet.com utilizes paid Amazon links.
CERTAIN CONTENT THAT APPEARS ON THIS SITE COMES FROM AMAZON. THIS CONTENT IS PROVIDED 'AS IS' AND IS SUBJECT TO CHANGE OR REMOVAL AT ANY TIME.
Author - Kevin Parrish
Kevin Parrish has more than a decade of experience working as a writer, editor, and product tester. He began writing about computer hardware and soon branched out to other devices and services such as networking equipment, phones and tablets, game consoles, and other internet-connected devices. His work has appeared in Tom's Hardware, Tom's Guide, Maximum PC, Digital Trends, Android Authority, How-To Geek, Lifewire, and others. At HighSpeedInternet.com, he focuses on network equipment testing and review.
Editor - Rebecca Lee Armstrong
Rebecca Lee Armstrong has more than six years of experience writing about tech and the internet, with a specialty in hands-on testing. She started writing tech product and service reviews while finishing her BFA in creative writing at the University of Evansville and has found her niche writing about home networking, routers, and internet access at HighSpeedInternet.com. Her work has also been featured on Top Ten Reviews, MacSources, Windows Central, Android Central, Best Company, TechnoFAQ, and iMore.