Gryphon AX Review
The Gryphon AX is the ideal centerpiece if you need lots of free parental controls
Jun 12, 2023 | Share

Equipment Guides, Product Reviews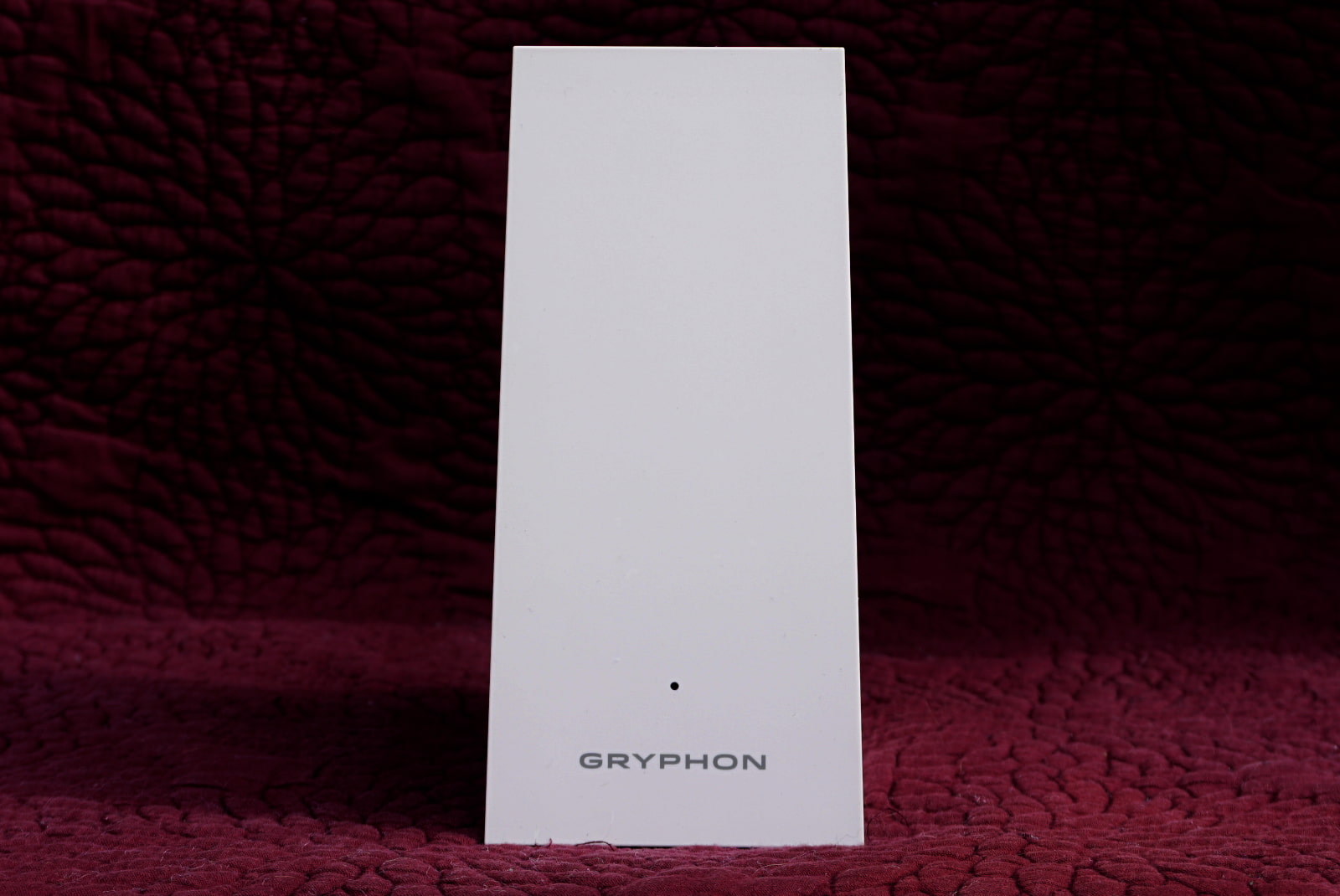 The Gryphon AX is one of the fastest mesh routers we've tested. Kevin Parrish | HighSpeedInternet.com
Is the Gryphon AX right for you?
The Gryphon AX is a great network centerpiece if you need free parental controls and better IoT management. It's meant to be a part of a multi-device mesh system, so don't expect a lot of features packed under the hood. You'll need to look elsewhere for things like media sharing and VPN tools.
Pros:
Free basic parental controls
IoT device isolation
YouTube restrictions
Cons:
Premium subscription features
No Multi-Gig support
No 160 MHz channels
Gryphon AX standout features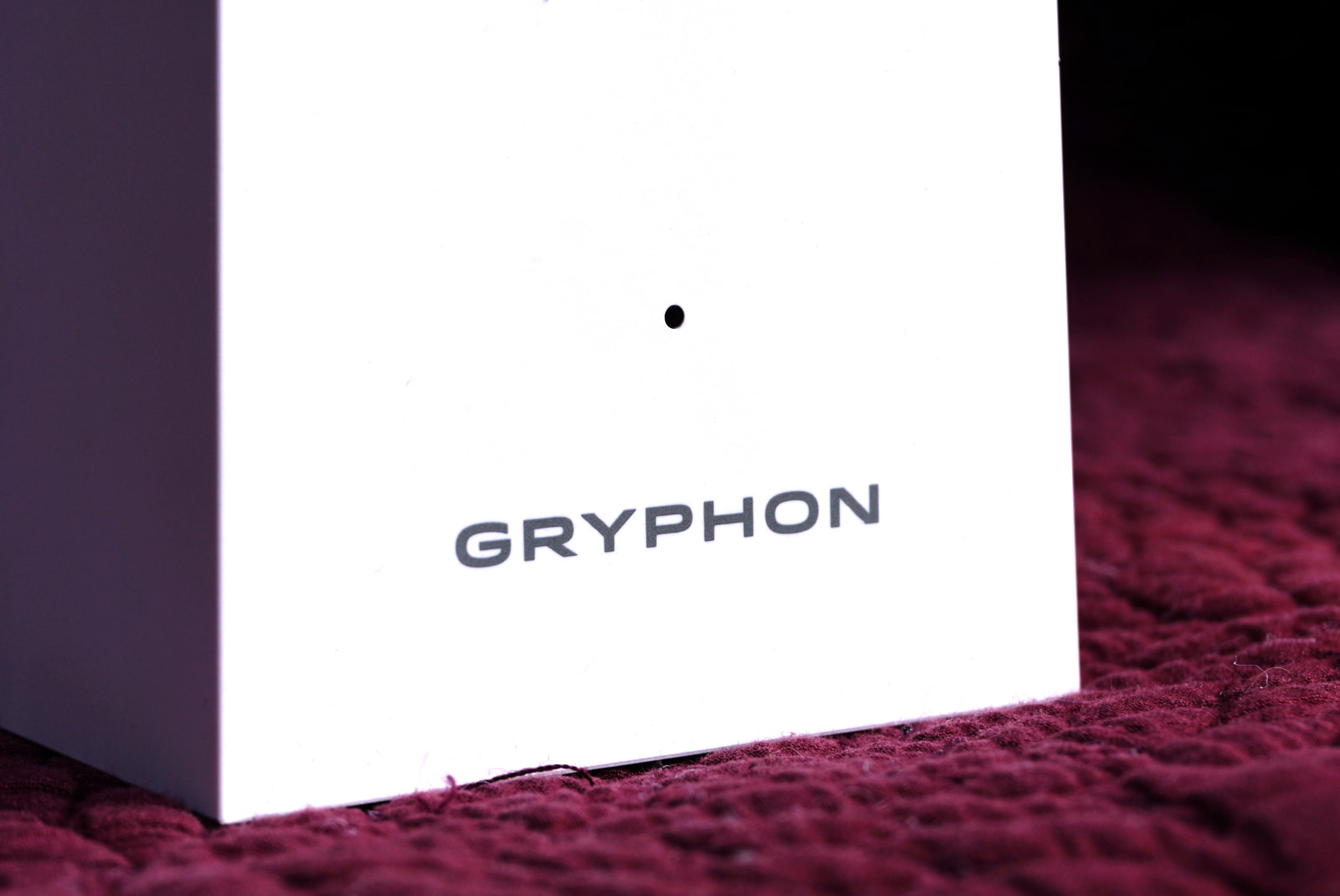 You need a subscription to get the most out of the Gryphon AX. Kevin Parrish | HighSpeedInternet.com
The Gryphon AX has a few free gems under the hood you can easily overlook. Security is front and center, although you need a subscription to get the most out of this system.
Our Gryphon AX scoring breakdown
| | | |
| --- | --- | --- |
| Category | Score* | Summary |
| Performance | 4 | Outperforms other mesh routers we've tested to date. |
| Features | 4 | Includes some free parental controls and IoT management. |
| Design | 4 | Has three bands geared for mesh networking. |
| Setup | 4 | Leads you through a quick and easy process. |
| Ease of use | 4 | Categorizes everything neatly in the mobile app. |
* out of 5 points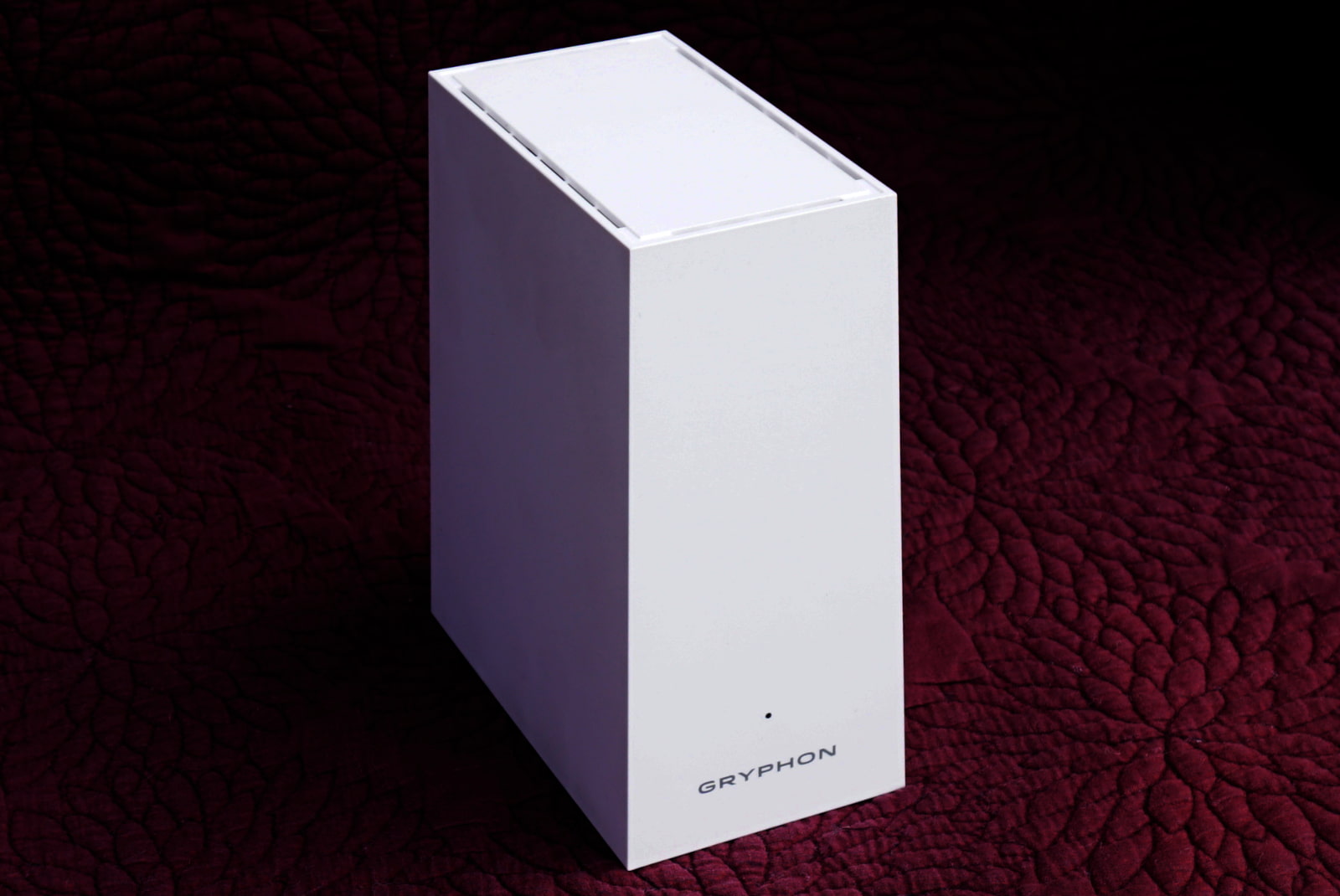 You'll never directly use all three bands on the Gryphon AX. Kevin Parrish | HighSpeedInternet.com
So, here's the thing. The Gryphon AX had the best averages out of all the mesh routers we tested before this review. Maybe we tested it during a good, low-interference day. Maybe we had the client devices positioned just right. Maybe it was because we could find the best channel. Who knows. Who cares? Just count us impressed by what a single Gryphon AX can do in terms of speed and range.
But we can't, in good faith, compare the single Gryphon AX router with the other tested systems we have in-house since they're all three-unit kits. Yes, we recorded a better score with the Eero Pro 6 kit at 30 feet, but we assume the increased performance stemmed from testing at the second router, which utilizes the best connection for increased router-to-router speeds.
So, when we look at the numbers, the Gryphon AX doesn't have the long-range speeds we see on standalone Wi-Fi 6 routers. But given it's designed to work with identical units, there are good speeds to be had here. You can't go wrong with the Gryphon AX.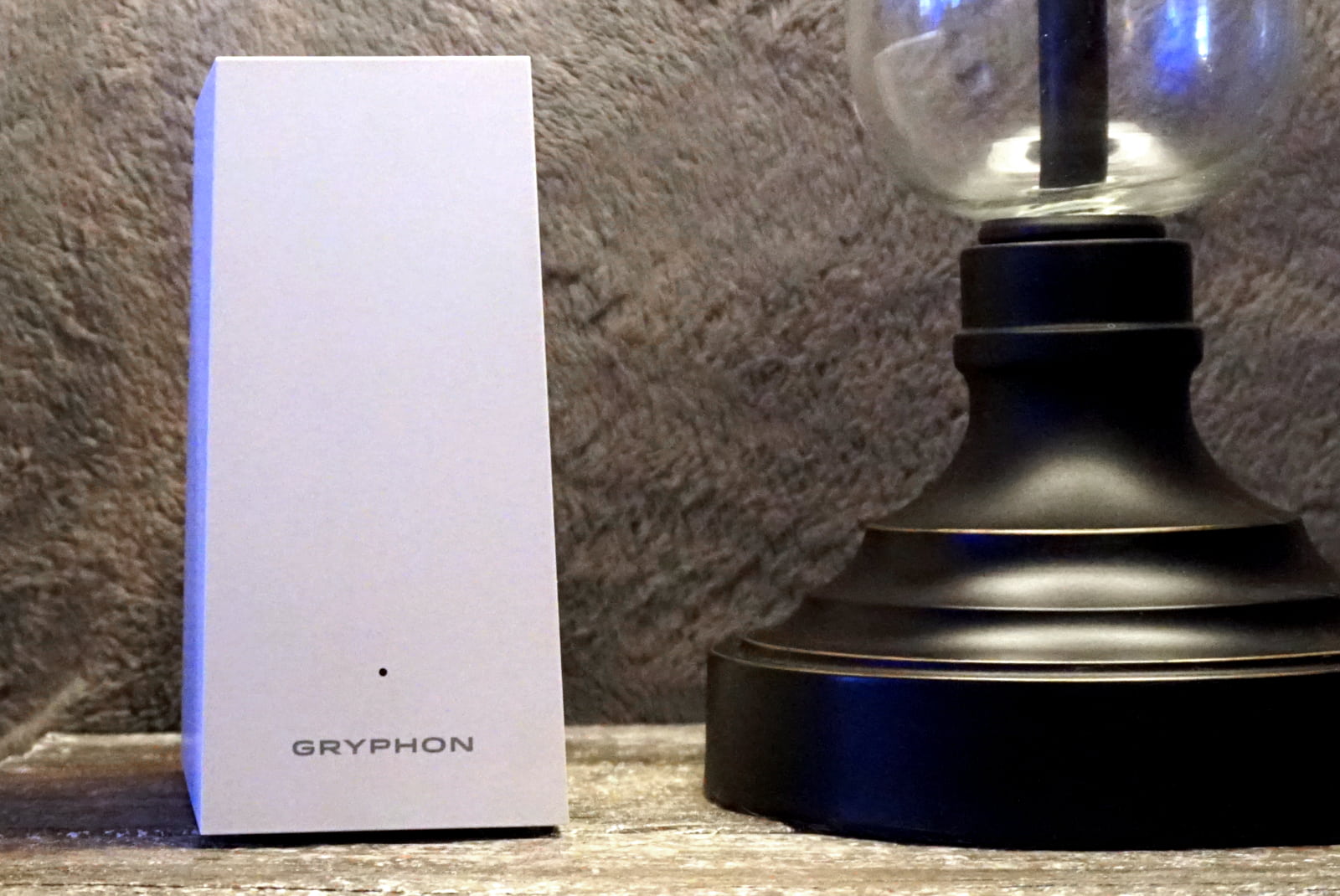 The Gryphon AX has excellent free parental controls. Kevin Parrish | HighSpeedInternet.com
We almost always map out the web and mobile interfaces to pinpoint callout features that may be important to you. As a parent, this author zooms in on ways to set bedtimes, school hours, and content blocks. The Gryphon AX allows you to do just that, plus block ads, restrict YouTube content, and enable Safe Search. Good stuff for sure.
Another cool callout is the IoT network component. It creates a virtual network for IoT devices, so they're not mingling with your computers, smartphones, and tablets. You can isolate this network too, preventing hackers from infiltrating your primary network through a compromised smart thermostat, for example.
What we wish the Gryphon AX did better
From what we've experienced with mesh networking kits, they're platforms to sell services: usually premium parental controls and security. And while the Gryphon AX has enough free parental controls to keep your kids in check, we wished mesh systems like this one included free security, as seen with many standalone routers.
As for VPN tools, they're more common in standalone routers than in years past. Mesh systems usually don't offer VPN tools outside a subscription, and that needs to change. You can enable VPN passthrough on a per-profile basis with the Gryphon AX, but that's it. There's no built-in server or client.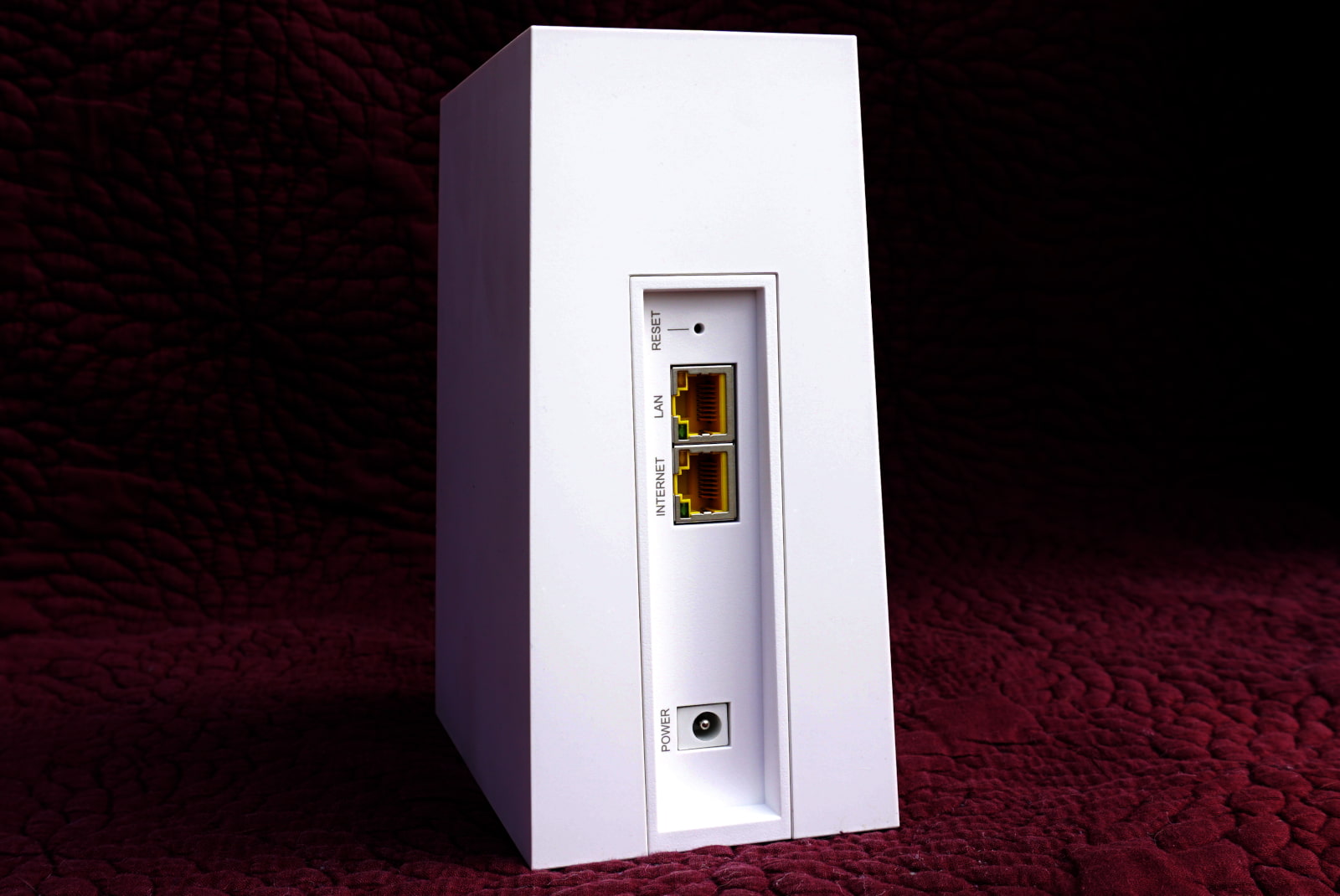 The Gryphon AX doesn't support multi-gig internet. Kevin Parrish | HighSpeedInternet.com
The Gryphon AX is a small mesh router, so we can't expect it to have the same number of buttons and ports seen on traditional standalone routers. The design reflects what we generally see across mesh systems released over the last few years. However, a Multi-Gig internet port would've been excellent for those with Gigabit (1,000 Mbps) or faster internet connections.
You can use the Gigabit Ethernet LAN port as a wired backhaul between your main Gryphon AX router and other Gryphon AX units you have on the network. This design translates to near-Gigabit wired speeds at each point. Otherwise, the routers use the third 5 GHz band for a wireless backhaul between them.
We talk more about the two 5 GHz radios in our FAQ.
The setup process isn't any different than the other mesh networking kits we've tested. You need a cloud account to use them all—Gryphon Connect in this case—and you're usually bombarded with a free trial to premium features towards the end. They generally cater to novice users too, offering step-by-step instructions on connecting the system to your modem or gateway.
The only difference we noticed with the Gryphon AX was that you can enable two-factor authentication for an extra layer of security on your Gryphon Connect account. You can toggle this later in Settings > User Account if you skip this step.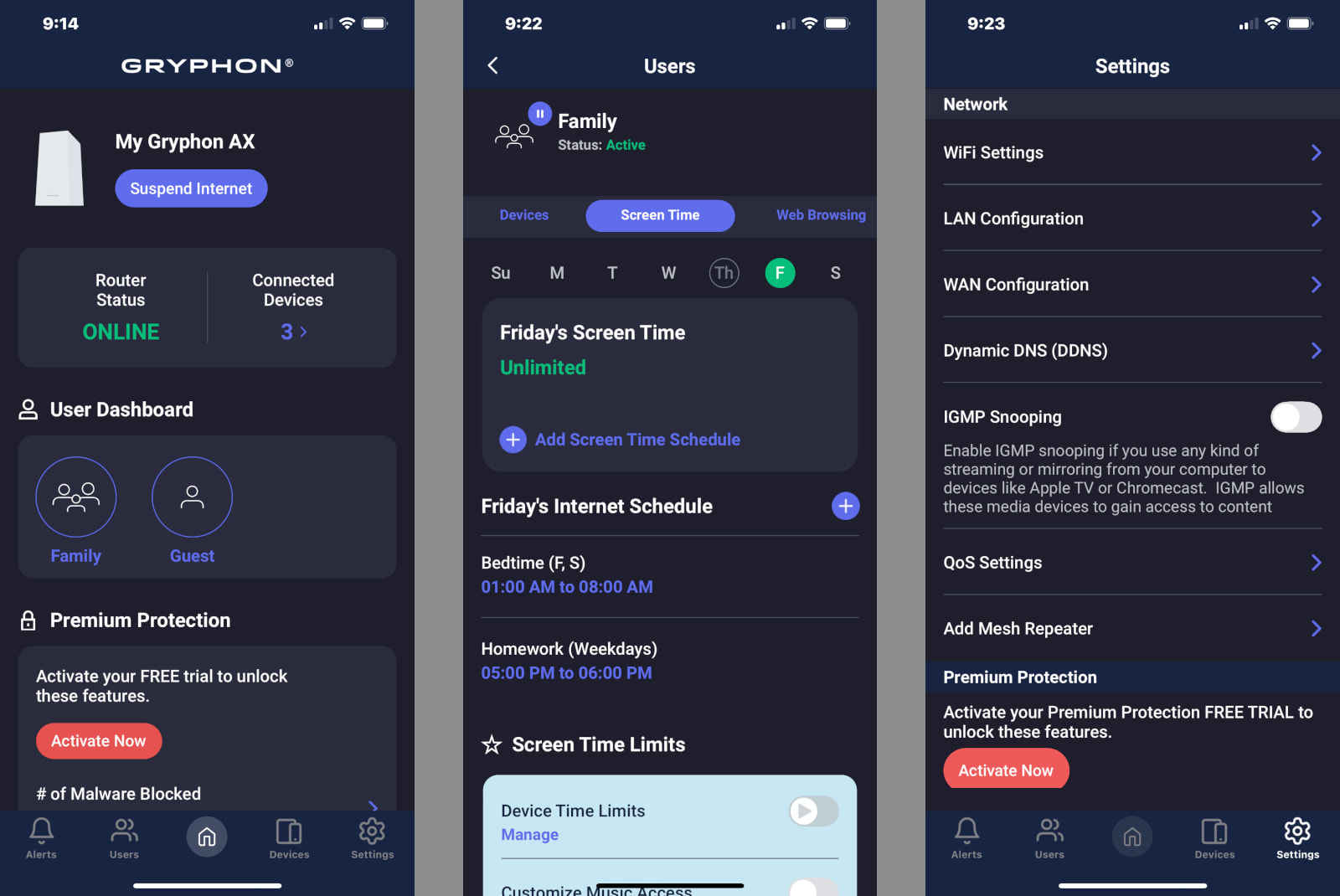 Gryphon Connect is excellent at cramming everything you need into a single app. Kevin Parrish | HighSpeedInternet.com
The Gryphon Connect does an excellent job categorizing everything you need to make network management a painless experience—even if you're a novice user. The Home screen provides quick, easy access to the profiles you create, Wi-Fi login credentials, a speed test, and more. The Settings tab contains all the "hard-core" stuff like the Wi-Fi settings, WAN configuration, and (premium) security features.
What's interesting here are the links to Gryphon's how-to videos. There are 17 ranging from getting started with your new Gryphon AX kit to setting up a static IP address. Want to know how to set homework times for your kids? There's a tutorial for that too. Kudos to Gryphon for a great entry-level experience!
Are there any additional costs?
You need at least one other Gryphon AX router to create a mesh network. You also need a Premium Protection subscription to get the most out of the security and parental controls.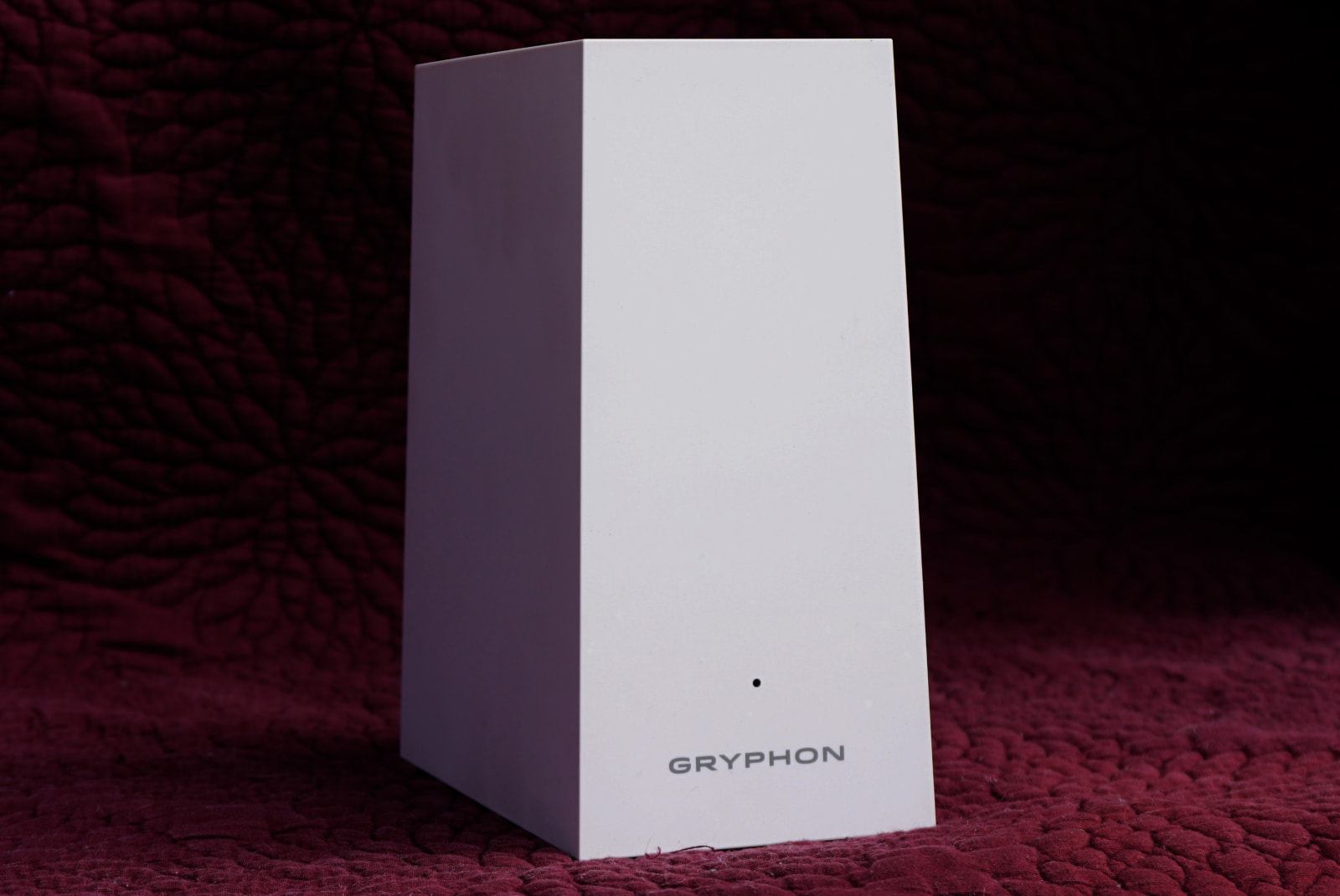 You can use the Gryphon AX as a standalone router but it's best used in a multi-device setup. Kevin Parrish | HighSpeedInternet.com
Our Gryphon AX review: The verdict
The Gryphon AX was a weird router to review. You can use it as a standalone router, and that's how we tested it. But when we compare it to other mesh kits and standalones we've tested, it feels like one of a multi-unit system. It's similar to the Eero Pro 6 system in that each device is a router.
That all said, we can't recommend the Gryphon AX as a standalone router because you can get more for your money elsewhere. If you need media sharing, VPN tools, or more management over your network, then the Gryphon AX isn't for you.
On the other hand, the Gryphon AX has plenty of free parental tools to keep your kids in check. If you're more about seeking whole-home coverage and better IoT management, then the Gryphon AX should be a good fit—if you're willing to invest in a multi-unit system, that is.
Why can't I see the second 5 GHz connection?
If you use the Gryphon AX as a standalone router and you disable band steering, you'll notice the second 5 GHz radio doesn't show up in the app or on your device's Wi-Fi list. Plus, there's no toggle to separate the two 5 GHz radios. So what's going on? Here's the skinny:
Router-only mode
5 GHz-1 (2×2) – Disabled
5 GHz-2 (4×4) – Available for client devices (fronthaul)
In this scenario, the SSID applies to the second 5 GHz radio. All channels are made available, although the router uses the lower ones by default. You can change the channel in the app (but not the width).
Mesh networking mode
5 GHz-1 (2×2) – Available for client devices (fronthaul)
5 GHz-2 (4×4) – Unavailable; for wireless backhaul only
In this scenario, the SSID applies to the first 5 GHz radio. The second 5 GHz radio uses five lower channels for a dedicated router-to-router line, so it doesn't appear as a third connection on your Wi-Fi list.
How does the IoT network feature work?
The IoT network feature uses your existing network to create a virtual one with a new SSID. This separation ensures that drive-by hackers can't quickly access your primary network and steal your data. IoT devices are the least secure gadgets in your home, so this extra protection is a must.
What's included in Premium Protection?
The Premium Protection subscription costs $7.50 per month (billed annually) and adds the following features:
Extended hardware warranty
Parental controls on cellular internet and outside Wi-Fi
Privacy protection on cellular internet and outside Wi-Fi
Security protection on cellular internet and outside Wi-Fi
Adware, malware, spyware, and ransomware filtering
Scam and phishing website blocking
Infected device and network vulnerability alerts
What mesh devices are compatible with the Gryphon AX?
The Gryphon AX only works with other Gryphon AX routers. You cannot pair it with the Guardian and Tower models.
We test router speed by setting up each router in an office and connecting it to a local test server. Then, we transmit test data between our wireless devices and the server, taking numerous measurements to account for fluctuations in Wi-Fi speeds.
The first tests occur close to the router, without obstructions—so the Wi-Fi is as strong and fast as it's gonna get. We repeat the process straight out at 10, 20, and 30 feet, with only a glass door obstructing our view of the router. The same glass door and an exterior door blocks our path when we test outside at 40 and 50 feet.
We also run tests in a hallway to the left of the TV room and office—where there's a glass door, three walls, and an air handler unit blocking our view of the router. The dining room, another testing point, sits to the right of the kitchen, TV room, and office—two walls and a glass door block the path in this test.
To test video streaming, we connect a fast storage device to the router and stream a 4K video to six wireless devices simultaneously—two phones, three tablets, and a laptop—connected to the same wireless band.
Client devices used in testing
| | iPhone 12 Pro Max | Google Pixel 3 |
| --- | --- | --- |
| Wi-Fi version | Wi-Fi 6 | Wi-Fi 5 |
| Stream configuration | 2 x 2 | 2 x 2 |
| Max channel width | 80 MHz | 80 MHz |
| Max 5 GHz speed (AX) | 1,200 Mbps | – |
| Max 5 GHz speed (AC) | 866 Mbps | 866 Mbps |
| Max 2.4 GHz speed (AX) | 195 Mbps | – |
| Max 2.4 GHz speed (AC) | 195 Mbps | 144 Mbps |
Gryphon AX benchmarks (5 GHz only)
| | iPhone 12 Pro Max* | Google Pixel 3* |
| --- | --- | --- |
| 2 feet | 855 | 684 |
| 10 feet | 789 | 607 |
| 20 feet | 695 | 588 |
| 30 feet | 584 | 442 |
| 40 feet (porch) | 469 | 255 |
| 120 feet (across street) | 146 | 85 |
| 20 feet (hallway) | 365 | 164 |
*speed in megabits per second (Mbps)
Amazon.com Prices as of 6/22/23 17:35 MST. Product prices and availability are accurate as of the date/time indicated and are subject to change. Any price and availability information displayed on Amazon.com at the time of purchase will apply to the purchase of this product. Highspeedinternet.com utilizes paid Amazon links.
CERTAIN CONTENT THAT APPEARS ON THIS SITE COMES FROM AMAZON. THIS CONTENT IS PROVIDED 'AS IS' AND IS SUBJECT TO CHANGE OR REMOVAL AT ANY TIME.
Author - Kevin Parrish
Kevin Parrish has more than a decade of experience working as a writer, editor, and product tester. He began writing about computer hardware and soon branched out to other devices and services such as networking equipment, phones and tablets, game consoles, and other internet-connected devices. His work has appeared in Tom's Hardware, Tom's Guide, Maximum PC, Digital Trends, Android Authority, How-To Geek, Lifewire, and others. At HighSpeedInternet.com, he focuses on network equipment testing and review.
Editor - Rebecca Lee Armstrong
Rebecca Lee Armstrong has more than six years of experience writing about tech and the internet, with a specialty in hands-on testing. She started writing tech product and service reviews while finishing her BFA in creative writing at the University of Evansville and has found her niche writing about home networking, routers, and internet access at HighSpeedInternet.com. Her work has also been featured on Top Ten Reviews, MacSources, Windows Central, Android Central, Best Company, TechnoFAQ, and iMore.