Linksys EA8300 Review
You can get a more modern router for the same price, but the EA8300 still holds its ground.
Jun 23, 2023 | Share

Equipment Guides, Product Reviews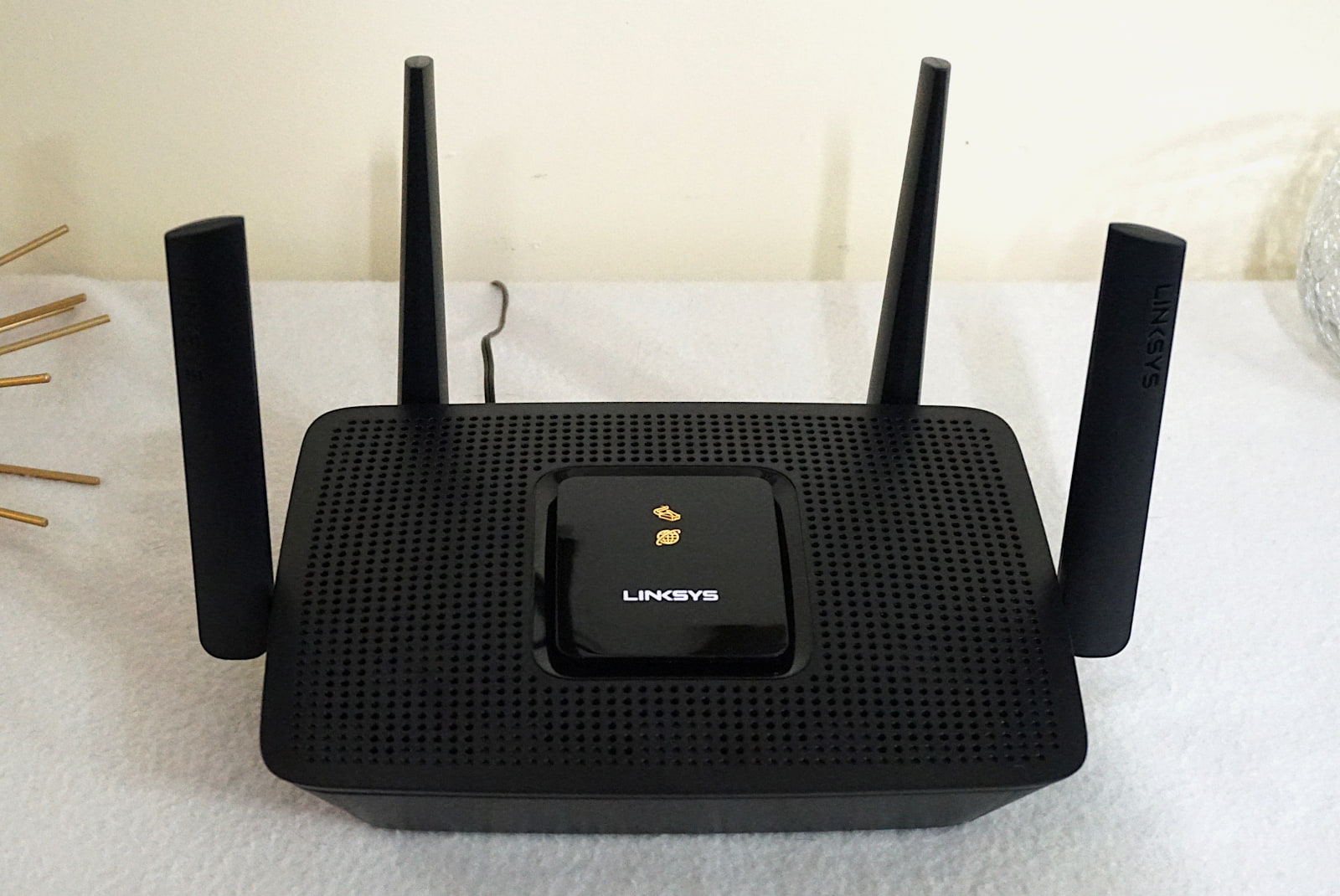 The Linksys EA8300 is an older Wi-Fi 5 router with few extras to offer. Kevin Parrish | HighSpeedInternet.com
Is the Linksys EA8300 right for you?
Let's get this out of the way first: the EA8300 is old. Like, six years old at the time of this review. We can't sit here and recommend this router. Not really. You can find a newer Wi-Fi 6 model for the same price, if not cheaper. But there are a few golden nuggets to dig up here that make this router worth a look, especially since it's a better deal now with the lower price.
Pros:
3 Wi-Fi bands
Amazon Alexa support
USB sharing
Cons:
No real parental controls
No outstanding security
Low speeds at long range
Linksys EA8300 standout features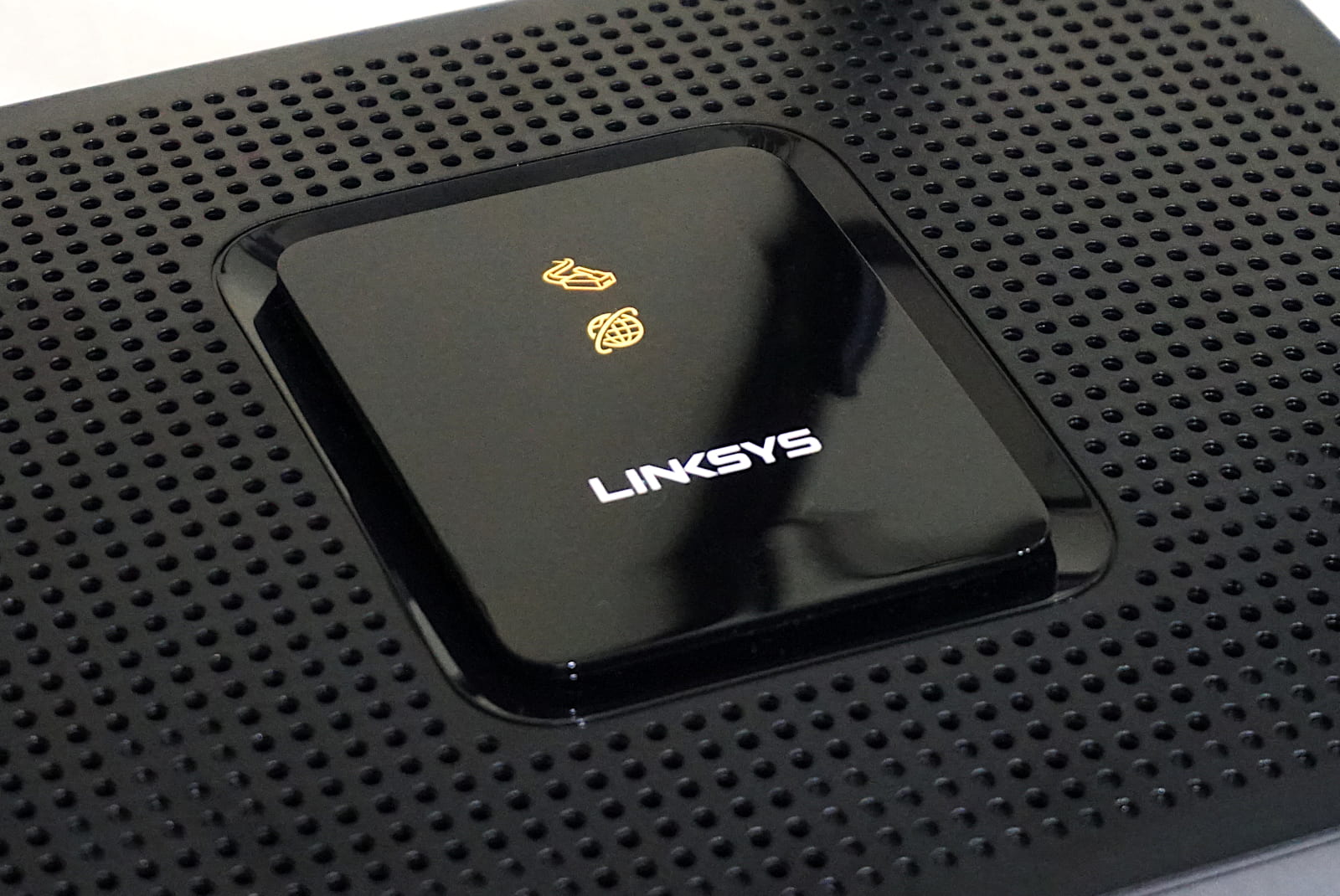 The Linksys EA8300's three Wi-Fi bands means less congestion and better speed. Kevin Parrish | HighSpeedInternet.com
The EA8300 doesn't have a lot of standout features. Its biggest selling point is the three Wi-Fi bands, and the USB port is a nice touch.
Our Linksys EA8300 scoring breakdown
| | | |
| --- | --- | --- |
| Category | Score* | Summary |
| Performance | 4 | Has great 5 GHz speeds at close range. |
| Features | 3 | Lacks real parental controls and VPN tools. |
| Design | 4 | Includes a third Wi-Fi band and USB sharing. |
| Setup | 3 | Takes longer to set up than competing routers. |
| Ease of use | 3 | Has one of the best interfaces we've tested. |
* out of 5 points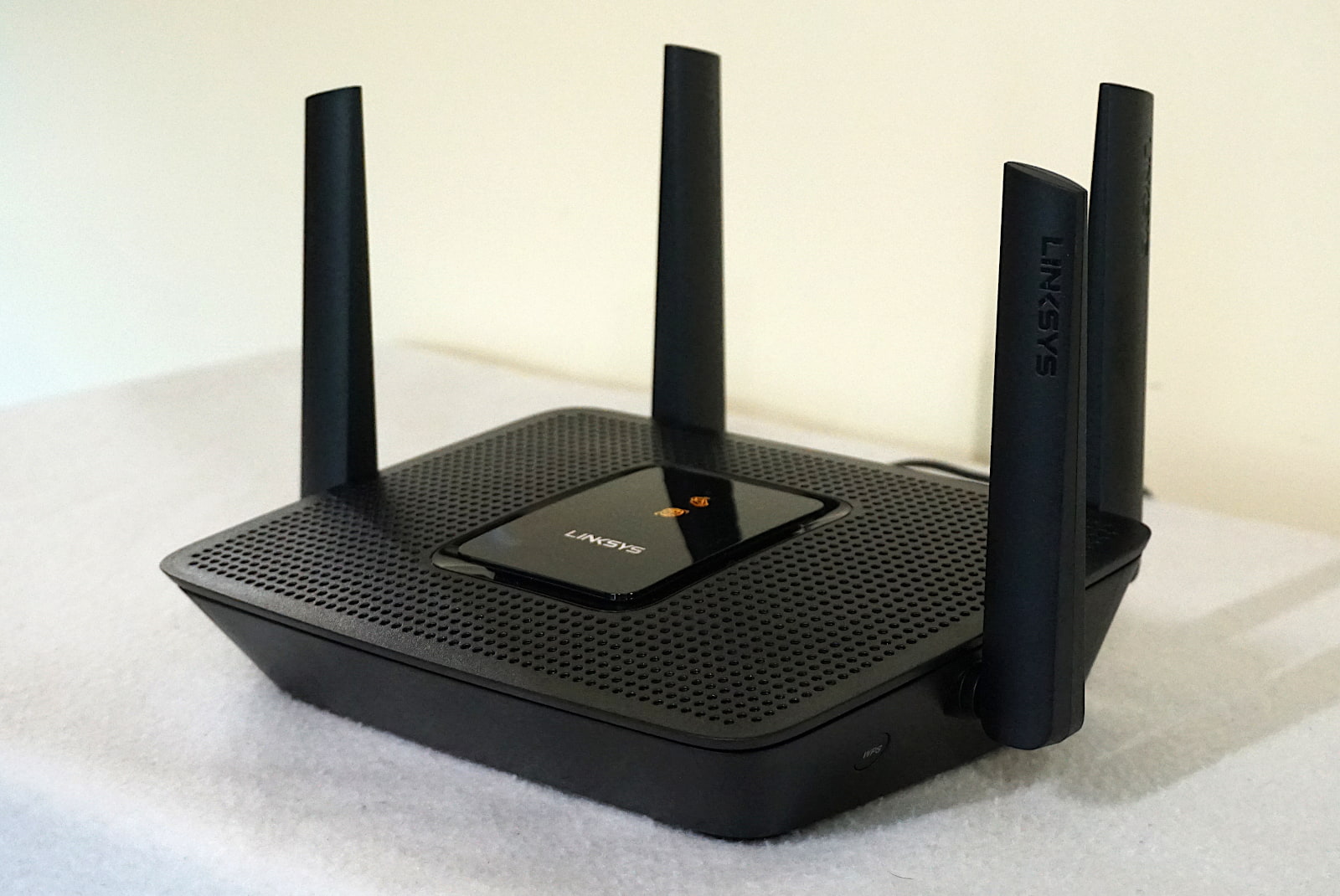 The Linksys EA8300 does well at close range, but it can't compete at long distances. Kevin Parrish | HighSpeedInternet.com
The EA8300 has good speeds at close range when you use the 5 GHz band. It tested better than the TP-Link Archer A10 and the NETGEAR's Nighthawk XR500 with a throughput of 675Mbps. Not bad.
But the EA8300 has a steep speed dropoff compared to the other two. It's definitely not ideal for long range either, as we recorded a mere 57Mbps at 120 feet compared to 235Mbps with the XR500. That's a big difference, and the XR500 costs more too.
The 2.4 GHz numbers are pretty boring at first glance. A throughput of 89Mbps at close range isn't much, but when we look back at other scores, it's actually in line with the Wi-Fi 5 routers we already tested. The XR500 recorded a decent 110Mbps at close range, while the far more expensive ASUS RT-AC88U tested at 85Mbps.
You can't remove the Linksys EA8300 antennas, but they rotate side to side and back. Kevin Parrish | HighSpeedInternet.com
The Linksys EA8300 is as bare-bones as you can get. It has all the basics you need—firewall, guest access, and limited device prioritization. But if you want robust security features and parental controls, this is not the router for you.
But we can give a callout to the USB port. It doesn't share printers, but you can share files, create an FTP server, or create a media server to stream your favorite music and videos across the home network. Link aggregation is nice too, if you want to stream media from a NAS device instead.
What we wish the Linksys EA8300 did better
VPN tools
Better parental controls
Many modern routers at this price offer a VPN server component at the very least—some even include a built-in client. The fact that this router only enables VPN passthrough shows how much we need better security now than in 2017.
Meanwhile, the parental controls provide means to block websites and internet access only. You can't create profiles, custom bedtimes, or apply filters like other routers at this price.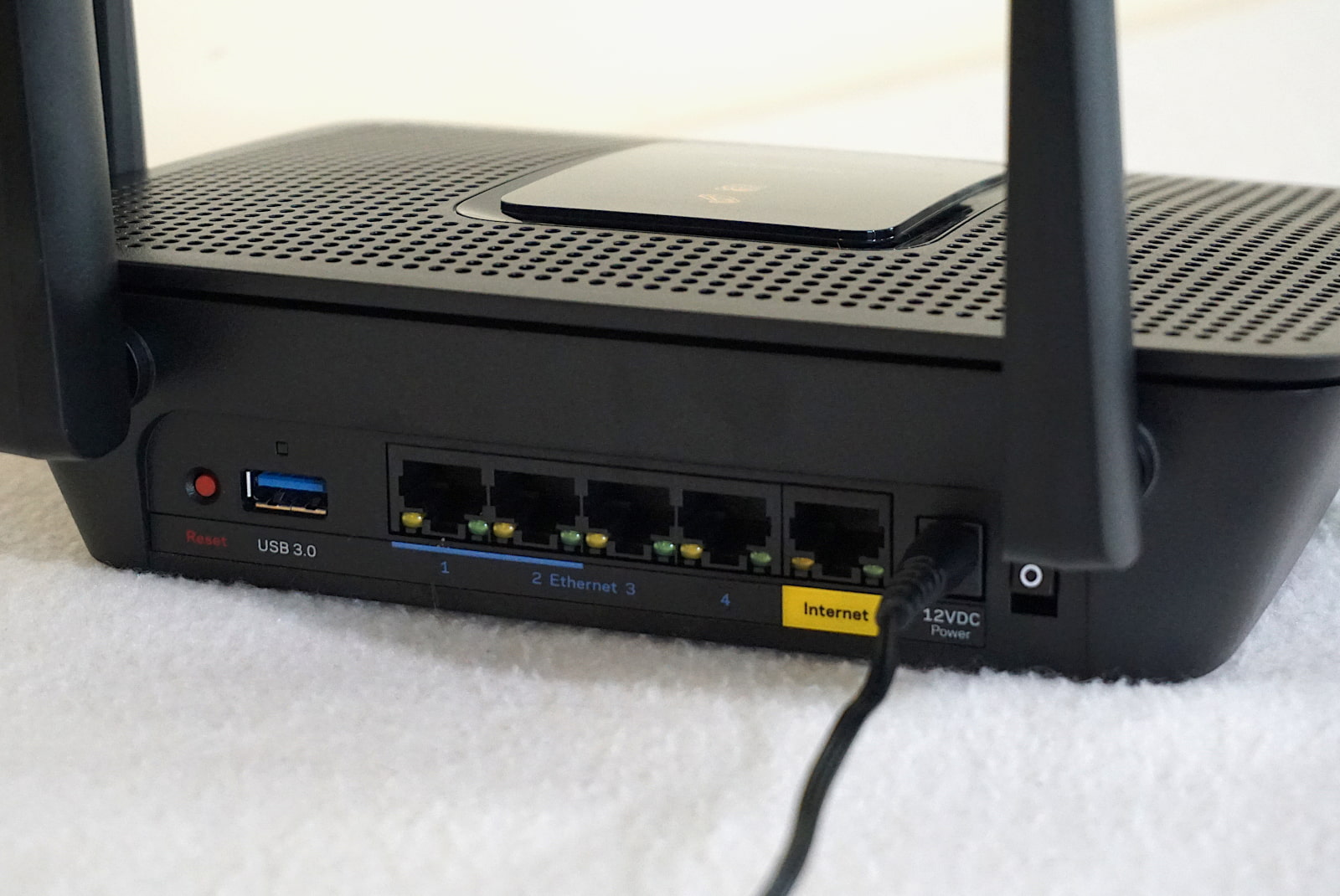 The Linksys EA8300 has all the basics you need for wired networking. Kevin Parrish | HighSpeedInternet.com
There's nothing to see here, really. The only standout is the third Wi-Fi band. Then again, why not cram the four streams into one band like other routers? Answer: Because the two 5 GHz bands use different channels, which translates to less congestion in that spectrum. Generally, the second 5 GHz band uses channel 100 to 165.
Another callout is the USB port. You can attach a storage device to share files and folders across your local network, create a media server, or set up an FTP server.
The setup process is easy enough, but it automatically updates the firmware in the second step, so it may feel longer than other router setups. The good news is there's no head scratching involved until you set the Wi-Fi network name and password.
The router enables band steering by default, but if you select to use different names for each band, a pop-up appears with a warning, saying your devices won't roam between 2.4 GHz and 5 GHz. Fine. Whatever.
Yet there's a second 5 GHz connection you can't name until after the setup—when you can go into Wi-Fi Settings and turn off band steering altogether. This extra step was a facepalm moment, for sure.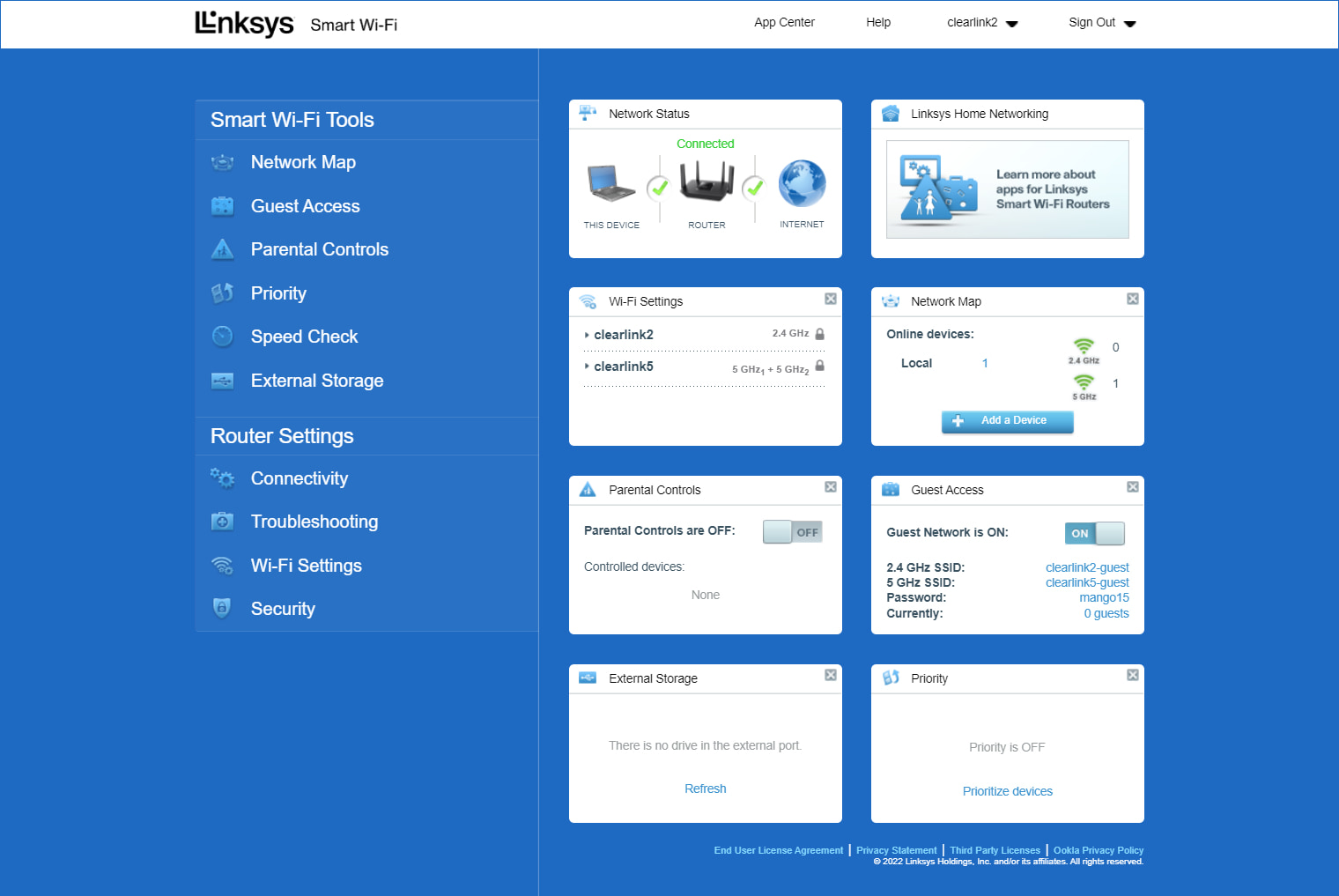 The Linksys EA8300 web interface is one of the best we've seen. Kevin Parrish | HighSpeedInternet.com
The Linksys EA8300 has one of the best web interfaces we've seen to date. It's clean, it's well organized, and it makes network management downright simple—and we really like simple. The Linksys app is just as dandy, packed with more settings than we usually see on competing products. You don't need a cloud account to use it locally, either.
The only drawback is the router's age. The App Center link in the web interface no longer works, so don't expect to add extra tools. Frankly, we can't even remember what the App Center added back in the day.
Are there any additional costs?
No, there are no additional costs.
The Linksys EA8300's lower price makes it a more attractive deal. Kevin Parrish | HighSpeedInternet.com
Our Linksys EA8300 review: The verdict
The Linksys EA8300 is six years old, so we can't really recommend it. You can find newer routers on the market for the same price. There's plenty of speed at close range though, but it doesn't have enough oomph to push that speed to length like other routers.
Still, we like the third Wi-Fi band. You have less congestion on the 5 GHz spectrum, which translates to better speeds. The USB sharing is a nice touch too, but that's about it. If you aren't looking for the latest and greatest, the EA8300 is definitely worth a look.
FAQ about the Linksys EA8300
How old is the Linksys EA8300?
Linksys introduced the EA8300 router on January 4, 2017. It arrived on store shelves later that spring.
Does the Linksys EA8300 support mesh networking?
No, the EA8300 does not support mesh networking.
Does the Linksys EA8300 support gigabit internet?
No, the Gigabit Ethernet WAN port supports 1,000Mbps only (940Mbps actual).
Is the Linksys EA8300 a Wave 1 or a Wave 2 router?
The Linksys EA8300 is a Wi-Fi 5 (802.11ac) Wave 2 router. Wave 2 adds MU-MIMO technology, 160 MHz channel bandwidth, and support for four spatial streams.
We test router speed by setting up each router in an office and connecting it to a local test server. Then, we transmit test data between our wireless devices and the server, taking numerous measurements to account for fluctuations in Wi-Fi speeds.
The first tests occur close to the router, without obstructions—so the Wi-Fi is as strong and fast as it's gonna get. We repeat the process straight out at 10, 20, and 30 feet, with only a glass door obstructing our view of the router. The same glass door and an exterior door blocks our path when we test outside at 40 and 50 feet.
We also run tests in a hallway to the left of the TV room and office—where there's a glass door, three walls, and an air handler unit blocking our view of the router. The dining room, another testing point, sits to the right of the kitchen, TV room, and office—two walls and a glass door block the path in this test.
To test video streaming, we connect a fast storage device to the router and stream a 4K video to six wireless devices simultaneously—two phones, three tablets, and a laptop—connected to the same wireless band.
Client devices used in testing
| | iPhone 12 Pro Max | Google Pixel 3 |
| --- | --- | --- |
| Wi-Fi version | Wi-Fi 6 | Wi-Fi 5 |
| Stream configuration | 2 x 2 | 2 x 2 |
| Max channel width | 80 MHz | 80 MHz |
| Max 5 GHz speed (AX) | 1,200Mbps | – |
| Max 5 GHz speed (AC) | 866Mbps | 866Mbps |
| Max 2.4 GHz speed (AX) | 195Mbps | – |
| Max 2.4 GHz speed (N) | 195Mbps | 144Mbps |
Linksys EA8300 benchmarks (5 GHz only)
| | iPhone 12 Pro Max* | Google Pixel 3* |
| --- | --- | --- |
| 2 feet | 675 | 659 |
| 10 feet | 662 | 657 |
| 20 feet | 569 | 503 |
| 20 feet (hallway) | 151 | 144 |
| 30 feet | 503 | 427 |
| 40 feet (porch) | 338 | 297 |
| 120 feet (neighbor's yard) | 57 | 42 |
*speed in megabits per second (Mbps)
Amazon.com Prices as of 6/23/23 17:35, MST. Product prices and availability are accurate as of the date/time indicated and are subject to change. Any price and availability information displayed on Amazon.com at the time of purchase will apply to the purchase of this product. Highspeedinternet.com utilizes paid Amazon links.
CERTAIN CONTENT THAT APPEARS ON THIS SITE COMES FROM AMAZON. THIS CONTENT IS PROVIDED 'AS IS' AND IS SUBJECT TO CHANGE OR REMOVAL AT ANY TIME.
Author - Kevin Parrish
Kevin Parrish has more than a decade of experience working as a writer, editor, and product tester. He began writing about computer hardware and soon branched out to other devices and services such as networking equipment, phones and tablets, game consoles, and other internet-connected devices. His work has appeared in Tom's Hardware, Tom's Guide, Maximum PC, Digital Trends, Android Authority, How-To Geek, Lifewire, and others. At HighSpeedInternet.com, he focuses on network equipment testing and review.
Editor - Rebecca Lee Armstrong
Rebecca Lee Armstrong has more than six years of experience writing about tech and the internet, with a specialty in hands-on testing. She started writing tech product and service reviews while finishing her BFA in creative writing at the University of Evansville and has found her niche writing about home networking, routers, and internet access at HighSpeedInternet.com. Her work has also been featured on Top Ten Reviews, MacSources, Windows Central, Android Central, Best Company, TechnoFAQ, and iMore.