Google Nest Wifi Review
Google Nest Wifi is a little outdated but still a decent buy if you want basic mesh networking at an affordable price.
Jun 23, 2023 | Share

Equipment Guides, Product Reviews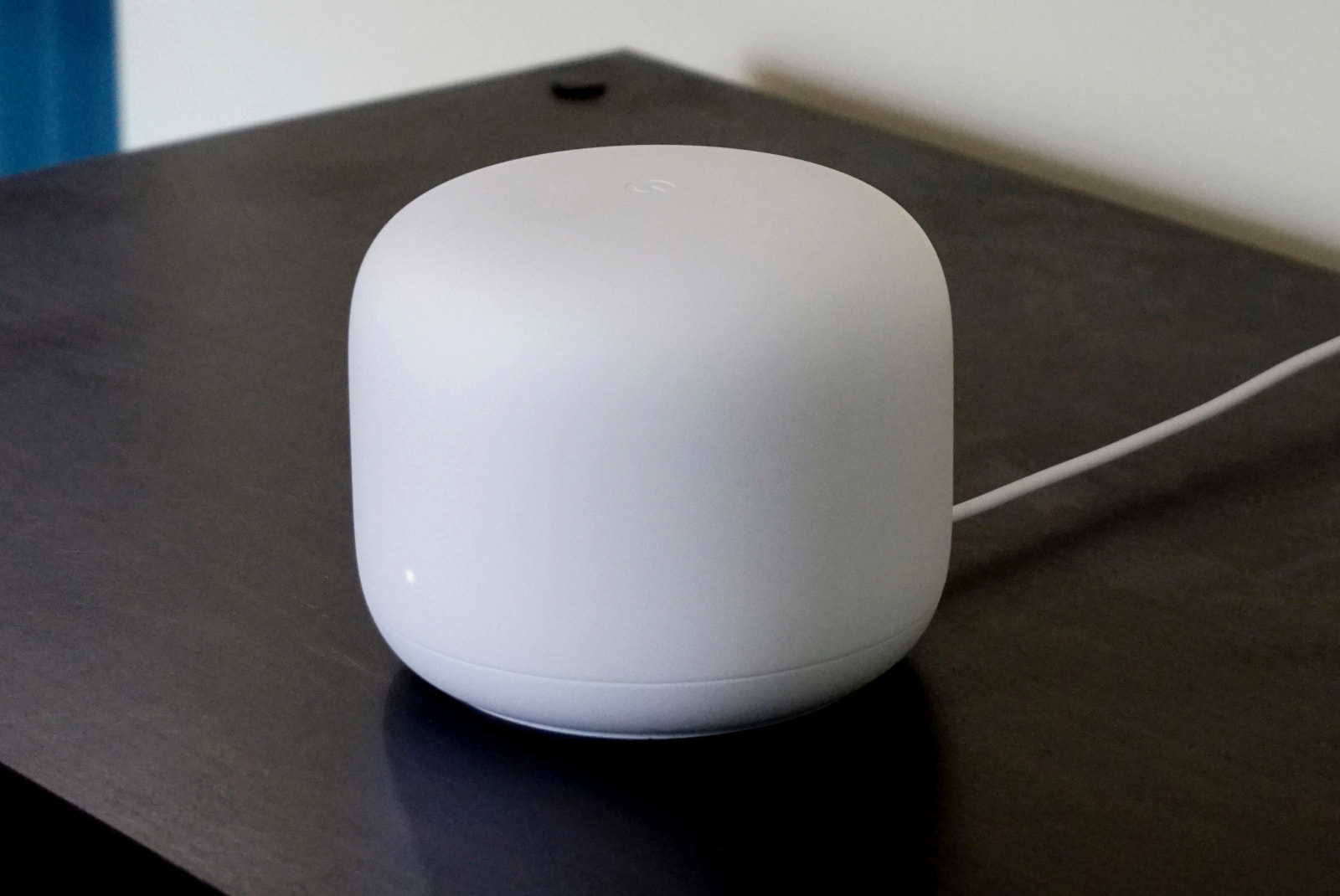 Google Nest Wifi goes head-to-head with the Eero Pro 6 in Wi-Fi 5 speeds. Kevin Parrish | Highspeedinternet.com
Is the Google Nest Wifi right for you?
Google Nest Wifi is a mixed bag. It's based on Wi-Fi 5, so technically, it's old news now that Google Nest Wifi Pro 6E is here. You can get a three-pack kit relatively cheap compared to the competition, but right off the bat, your home network is already outdated.
But there's still some coolness here we can't overlook. The satellite units are access points with built-in smart speakers, bringing Google Assistant functionality wherever you place them in your home. The free basic parental controls are a nice touch too.
Pros:
Native Google Assistant support
Affordable price
Decent Wi-Fi 5 speeds
Cons:
No Wi-Fi 6 speeds
No Ethernet on points
Two streams per point
Google Nest Wifi standout features
Each Google Nest Wifi satellite point includes a smart speaker and LED ring. Kevin Parrish | Highspeedinternet.com
Google Nest Wifi doesn't have a lot of standout features. The router unit includes wired connectivity and free basic parental controls. Each satellite point unit ditches Ethernet for a built-in smart speaker.
Our Deco X55 scoring breakdown
| | | |
| --- | --- | --- |
| Category | Score* | Summary |
| Performance | 4 | Goes head to head with the Eero Pro 6 in Wi-Fi 5 speeds. |
| Features | 4 | Provides smart speaker functionality wherever you place the points. |
| Design | 4 | Includes smart speakers but lacks Ethernet on each point unit. |
| Setup | 4 | Has a simple but lengthy process. |
| Ease of use | 4 | Provides easy network management through the Google Home app only. |
* out of 5 points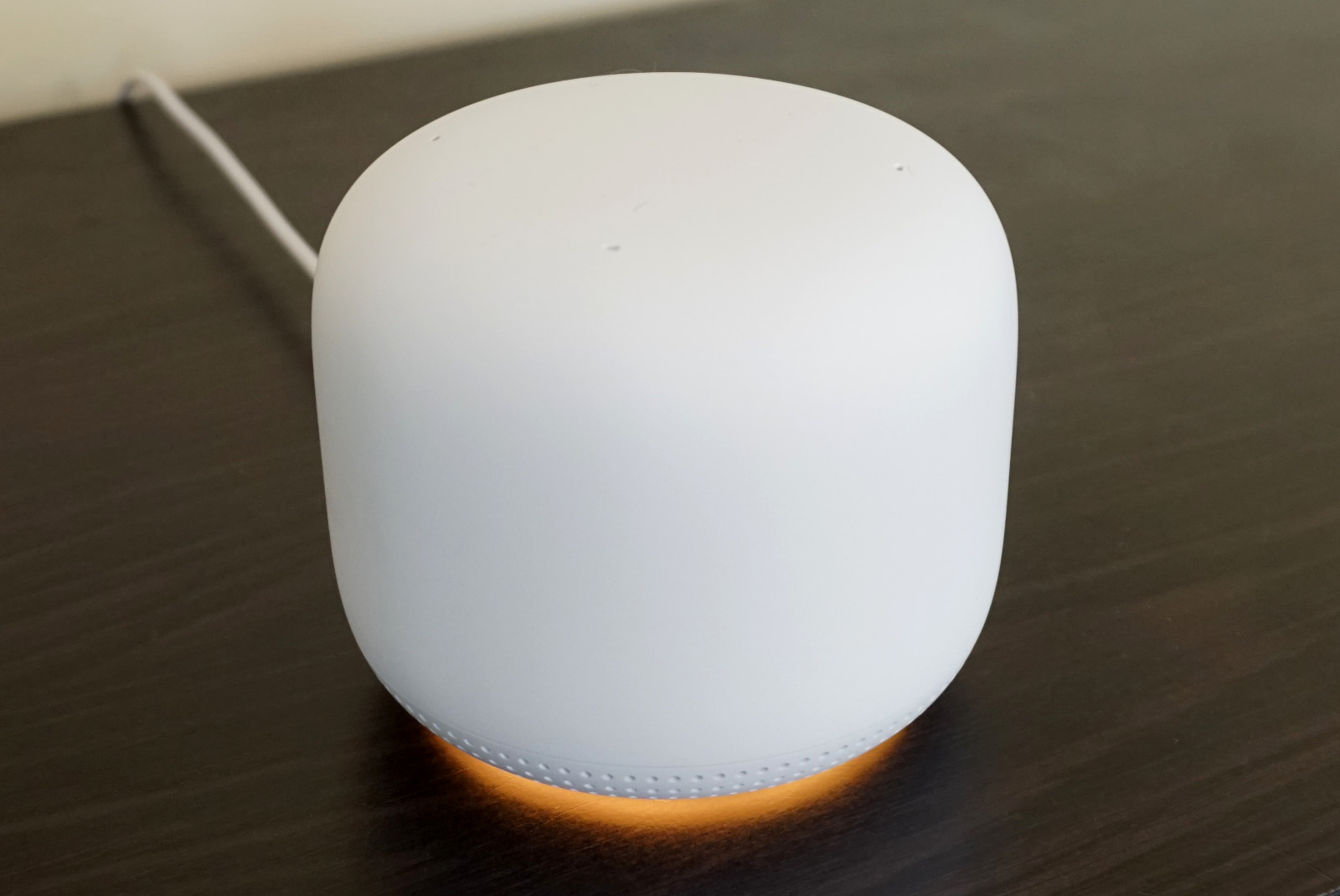 The Google Nest Wifi points include touch volume controls on the top. Kevin Parrish | Highspeedinternet.com
Google Nest Wifi has decent Wi-Fi 5 speeds for the money. Modern smartphones, tablets, and most laptops support a Wi-Fi 5 link rate of 866Mbps. After overhead and general interference, the connection tested around 671Mbps at close range. That's decent for a single Wi-Fi 5 device.
But Google's kit lacks a dedicated third band included with more premium routers like the Eero Pro 6, which enables faster speeds because your devices can't access it. So, we recorded 367Mbps with a Nest point placed in the dining room compared to 545Mbps when we put an Eero Pro 6 satellite in the same spot. The third dedicated band does make a difference—but at a higher cost.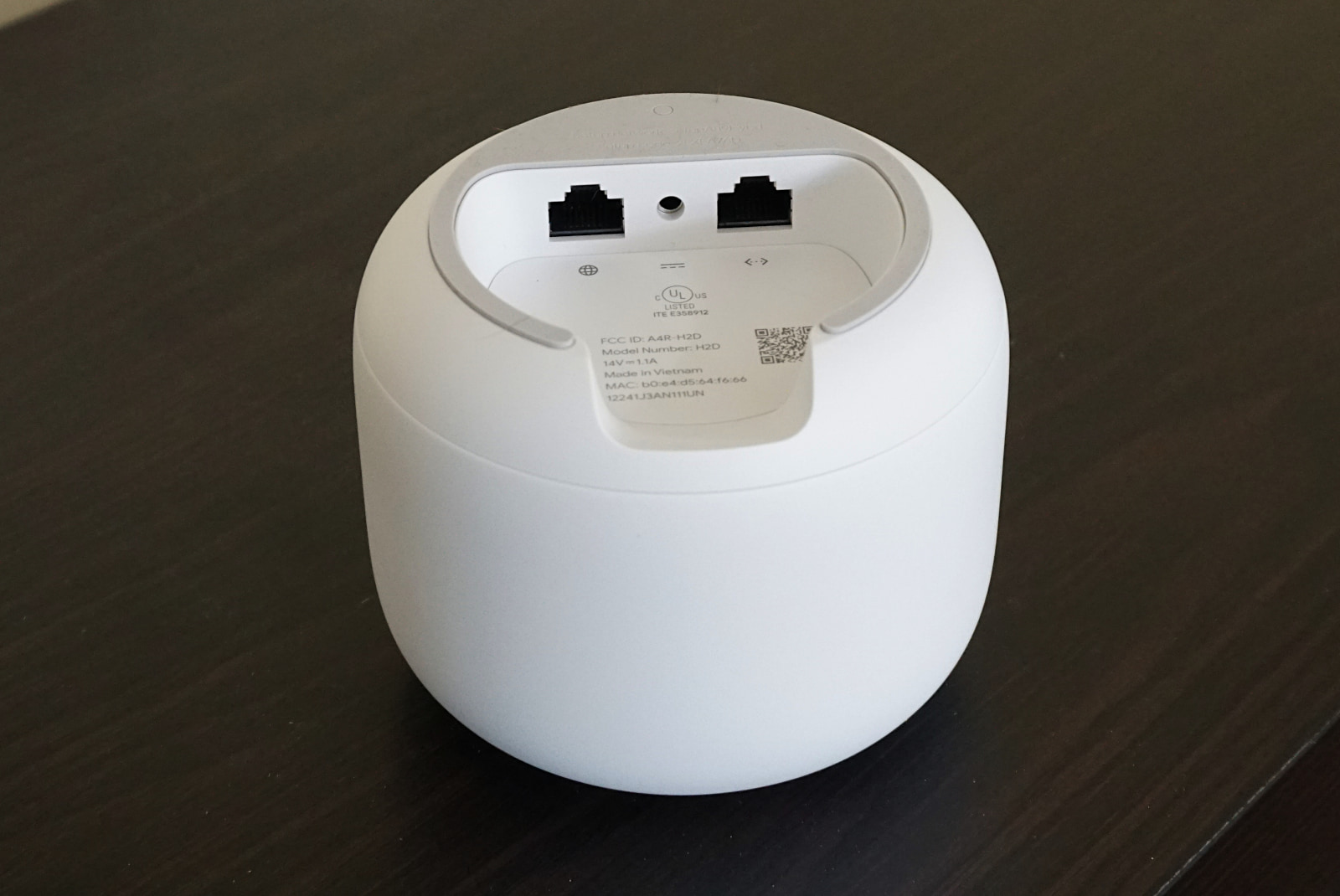 The Google Nest Wifi router includes two Ethernet ports but no smart speaker or LED ring. Kevin Parrish | Highspeedinternet.com
You won't find a ton of notable features with Google Nest Wifi. The router unit doesn't include a smart speaker like the points, but you can still use voice commands to manage your Google Nest Wifi network through other devices you set up in Google Home, like the Nest Mini. Prefer Amazon Alexa instead? There's an Alexa Skill you can install in the Alexa app.
The free parental controls are better than competing kits and standalone routers. You can create a group (a.k.a. profile), assign devices to it, enable or disable SafeSearch, and set schedules. While you can't block specific websites or use age-specific filters as with other routers, there's enough here to manage devices without a separate parental control subscription.
What we wish the Google Nest Wifi did better
Built-in smart speaker on main router
VPN tools
The Nest router unit doesn't have a smart speaker, so you need another unit (like a point or the $49 Nest Mini) if you want smart speaker functionality—or splurge $100 for the Nest Audio if you're feeling fancy. A router-smart speaker combo unit would be ideal (and probably cheaper than your current options).
We also wish it had a VPN server so you can surf the internet from anywhere anonymously, as your data would go through the VPN server first before it reaches the final destination.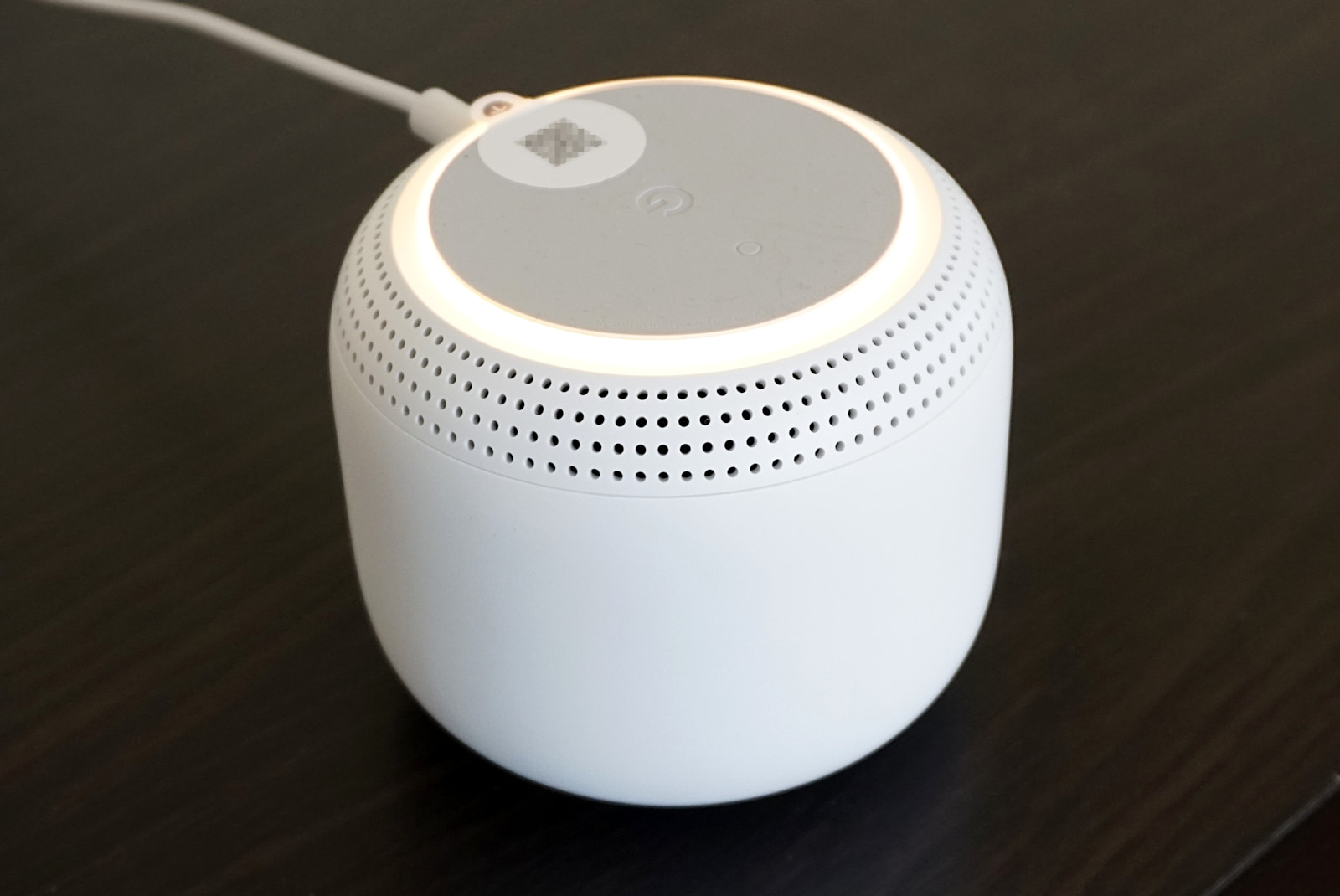 The 2×2 stream configuration of each Google Nest Wifi point limits your speed. Kevin Parrish | Highspeedinternet.com
The router unit sports two Gigabit Ethernet ports: one for the internet and one for wired networking. The points do not have Ethernet ports, relying solely on Wi-Fi to communicate with each other. So if you want a wired backroad for better speeds from each access point, you'd need multiple router units. But you lose the cool integrated smart speakers if all you have are routers.
What Google Nest Wifi needs is a dedicated wireless band for router-to-point communication, like with Amazon's Eero Pro 6. It would make for less delay and more speed because your devices wouldn't have to fight the router and points for airtime. The point units also need more than two wireless streams per band, since the max link rate gets cut in half with the router or other point using one stream and your device on the other.
Still, we give it a higher score because we love the integrated smart speaker and LED ring.
The setup process is simple. Open Google Home, search for the router, scan its QR code, create the network name and password, and select its location. Easy peasy, right? The points are just as quick and painless after that: find the device, confirm you hear sound, select its location, and link your services like any other Nest smart speaker.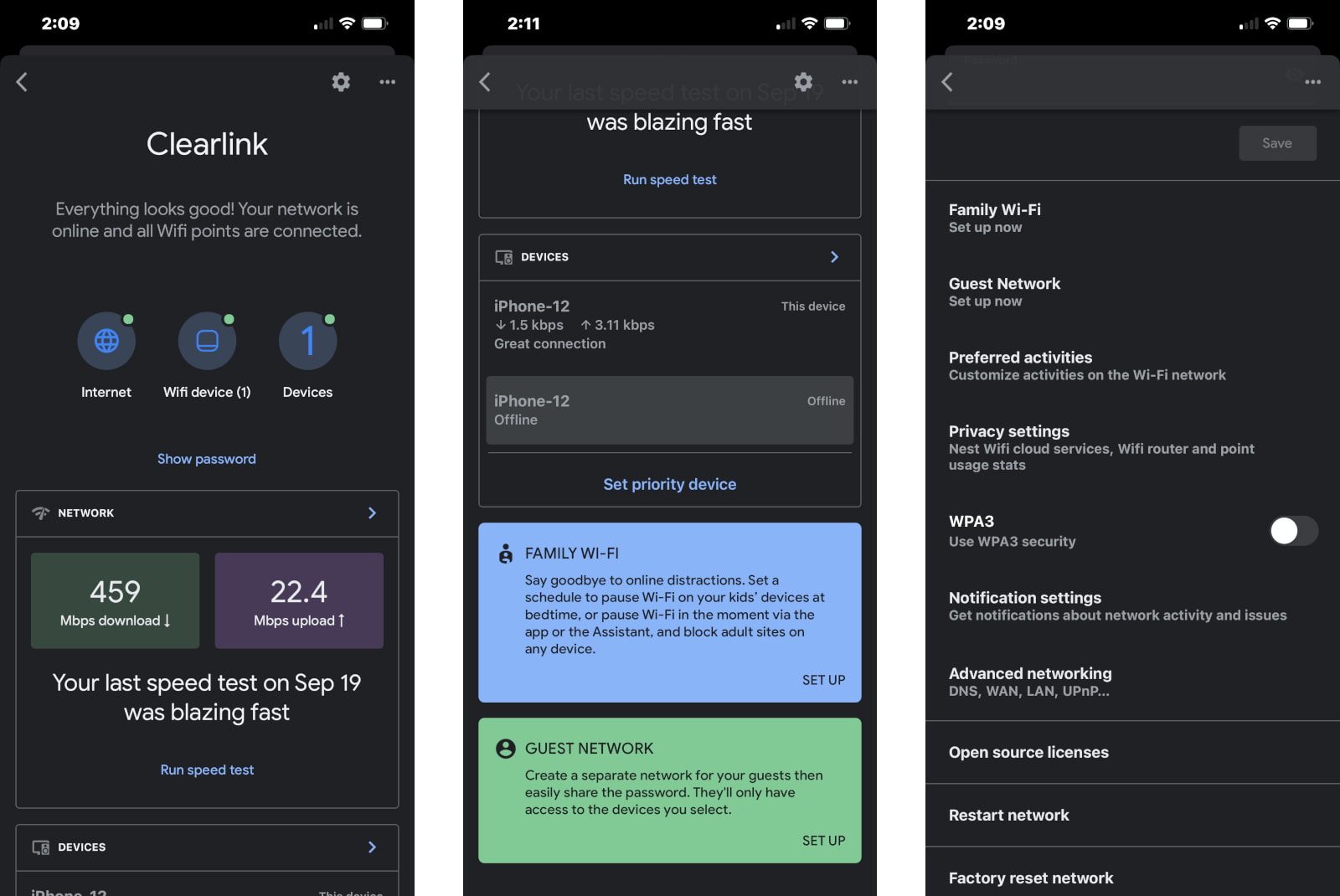 Network management is easy through the Google Home app. Kevin Parrish | Highspeedinternet.com
Google doesn't use a web interface or dedicated app for network management. Instead, you use Google Home, which may feel a little weird at first. Simply tap on the Wi-Fi icon to find everything you need to run a speed test, set parental controls, create a guest network, and more.
What's great about this approach is Google Home puts functionality first. It's clean and easy to manage, unlike other router apps with flashy graphics that hog the screen. Your most important tools are front and center, while Google crams everything else behind a separate gear icon.
Are there any additional costs?
The kit we reviewed includes one router and two points. You can start cheap and get just the router unit for $58.99 and then add up to four points for $78.99 each when you need them. Google recommends a maximum of five Nest Wifi units total. You can also swap out points for routers if you need wired connections and a wider range. We provide more information about expanding your network in our FAQ.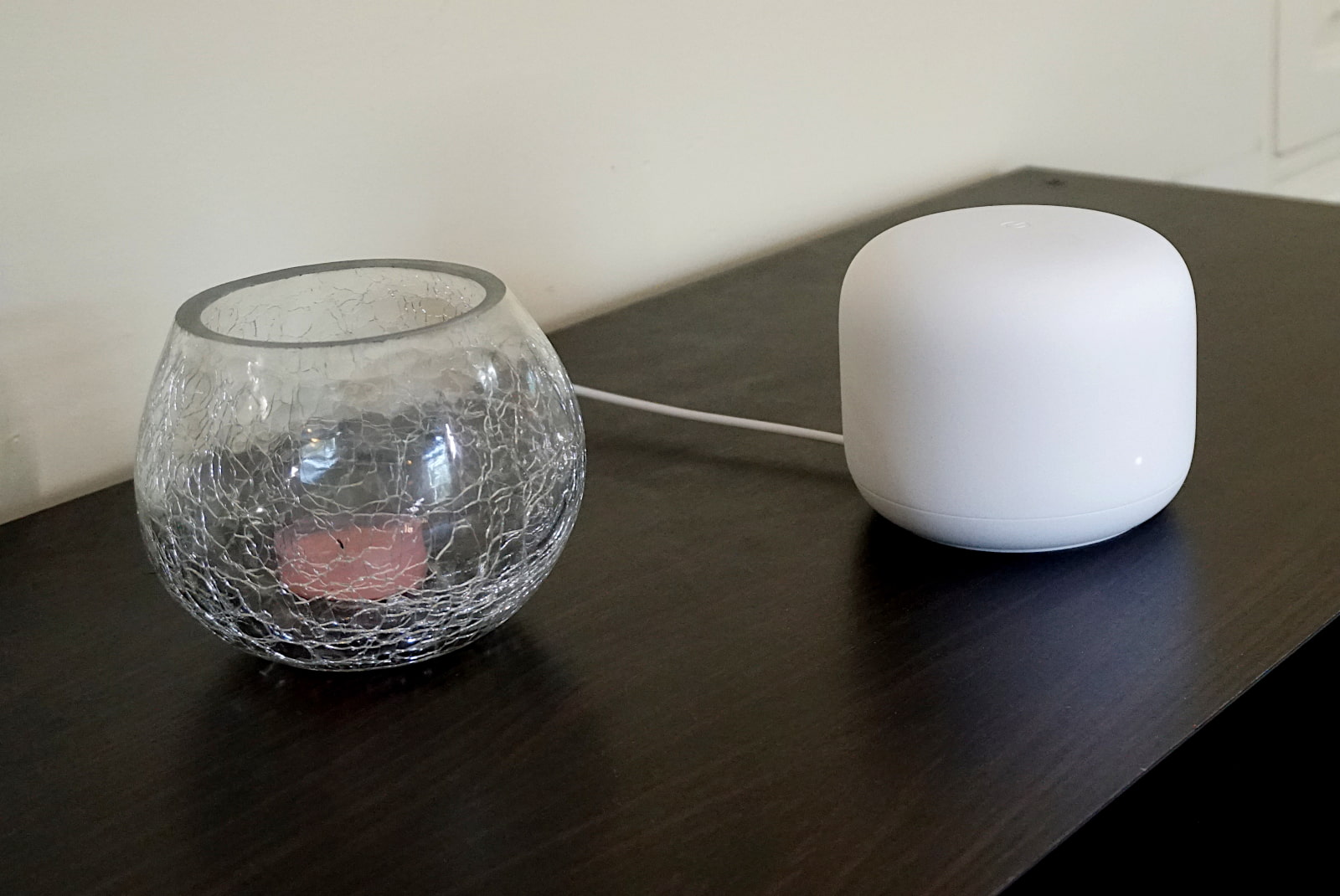 The Google Nest Wifi router and points are small, compact, and good-looking anywhere you place them. Kevin Parrish | Highspeedinternet.com
Our Google Nest Wifi review: The verdict
Google Nest Wifi is hard to recommend. On the one hand, it has decent Wi-Fi 5 speeds, free basic parental controls, and—if you also purchased a Nest Wifi point—a built-in smart speaker. The price is decent for what you get.
On the other hand, Google Nest Wifi uses Wi-Fi 5, so it's an outdated investment. We don't recommend Google Nest Wifi if you have already set your sights on the latest iPhone or Google Pixel smartphone. Instead, get Google's new Nest Wifi Pro starting at $199.99 if you don't mind the higher cost.
FAQ about Google Nest Wifi
Does Google Nest Wifi come in white only?
No, you can get Google Nest Wifi in Snow (white), Mist (pale blue), and Sand (pale pink).
How much does each Google Nest Wifi unit cost?
Prices for Nest Wifi units on Amazon start at $59.99 for a single router. Here are all the configurations we found:
*Amazon.com prices (as of 6/23/23 17:35 MST). Read full disclaimer.
How many Google Nest Wifi points and routers can you add?
Google suggests a maximum of five units per network—more could be "detrimental," according to Google. You need at least one router to get started, and then the other four units can be routers or points. Here are the ranges:
| | |
| --- | --- |
| Devices | Range |
| Router | 2,200 sq. ft. |
| Router + One Point (1,600 sq. ft.) | 3,800 sq. ft. |
| Router + Two Points | 5,400 sq. ft. |
| Router + Three Points | 7,000 sq. ft. |
| Router + Four Points | 8,600 sq. ft. |
Google also suggests you place each point two or three rooms apart and have a clear line of sight to each other for the best performance. You have a wider range if you use routers only, but you lose the built-in smart speaker.
Can you assign an SSID to each band?
No, you cannot assign a different SSID to each Wi-Fi band. For this reason, we did not test the 2.4 GHz connection.
What does SafeSearch block?
With Google Nest Wifi, SafeSearch technology blocks sexually explicit websites but doesn't hide these sites in search results. SafeSearch does not block sites containing illegal or violent content.1
Does Google Nest Wifi support gigabit speeds?
Google Nest Wifi includes a Gigabit Ethernet port with real-world wired speeds of around 940Mbps. So, even if you have a desktop that supports four streams and 1,732Mbps wireless speeds, you won't see internet speeds faster than 940Mbps.
Can you use voice commands to manage your network?
You can use Google Assistant to pause and resume Wi-Fi for a group, test the internet speed, and check the guest Wi-Fi password. Google provides a complete list of voice commands you can use to control Google Nest and Google Home devices.
How old is Google Nest Wifi?
Google Nest Wifi launched in 2019 alongside the Google Pixel 4 smartphone. It succeeds the original Google Wifi router released in 2016.
We test router speed by setting up each router in an office and connecting it to a local test server. Then, we transmit test data between our wireless devices and the server, taking numerous measurements to account for fluctuations in Wi-Fi speeds.
The first tests occur close to the router, without obstructions—so the Wi-Fi is as strong and fast as it's gonna get. We repeat the process straight out at 10, 20, and 30 feet, with only a glass door obstructing our view of the router. The same glass door and an exterior door blocks our path when we test outside at 40 and 50 feet.
We also run tests in a hallway to the left of the TV room and office—where there's a glass door, three walls, and an air handler unit blocking our view of the router. The dining room, another testing point, sits to the right of the kitchen, TV room, and office—two walls and a glass door block the path in this test.
To test video streaming, we connect a fast storage device to the router and stream a 4K video to six wireless devices simultaneously—two phones, three tablets, and a laptop—connected to the same wireless band.
Client devices used in testing
| | iPhone 12 Pro Max | Google Pixel 3 |
| --- | --- | --- |
| Wi-Fi specification | Wi-Fi 6 | Wi-Fi 5 |
| Stream configuration | 2 x 2 | 2 x 2 |
| Max 5 GHz speed (AX) | 1,200Mbps | – |
| Max 5 GHz speed (AC) | 866Mbps | 866Mbps |
| Max 2.4 GHz speed (AX) | 195Mbps | – |
| Max 2.4 GHz speed (AC) | 195Mbps | 144Mbps |
Google Nest Wifi benchmarks (5 GHz only)
| | iPhone 12 Pro Max* | Google Pixel 3* |
| --- | --- | --- |
| 2 feet | 665 | 671 |
| 10 feet | 655 | 654 |
| 20 feet | 650 | 645 |
| 30 feet | 632 | 612 |
| 40 feet (porch) | 440 | 399 |
| 20 feet (hallway) | 304 | 298 |
| 20 feet (dining room) | 335 | 367 |
* in megabits per second (Mbps).
Amazon.com Prices as of 6/23/23 17:35 MST. Product prices and availability are accurate as of the date/time indicated and are subject to change. Any price and availability information displayed on Amazon.com at the time of purchase will apply to the purchase of this product. Highspeedinternet.com utilizes paid Amazon links.
CERTAIN CONTENT THAT APPEARS ON THIS SITE COMES FROM AMAZON. THIS CONTENT IS PROVIDED 'AS IS' AND IS SUBJECT TO CHANGE OR REMOVAL AT ANY TIME.
Author - Kevin Parrish
Kevin Parrish has more than a decade of experience working as a writer, editor, and product tester. He began writing about computer hardware and soon branched out to other devices and services such as networking equipment, phones and tablets, game consoles, and other internet-connected devices. His work has appeared in Tom's Hardware, Tom's Guide, Maximum PC, Digital Trends, Android Authority, How-To Geek, Lifewire, and others. At HighSpeedInternet.com, he focuses on network equipment testing and review.
Editor - Rebecca Lee Armstrong
Rebecca Lee Armstrong has more than six years of experience writing about tech and the internet, with a specialty in hands-on testing. She started writing tech product and service reviews while finishing her BFA in creative writing at the University of Evansville and has found her niche writing about home networking, routers, and internet access at HighSpeedInternet.com. Her work has also been featured on Top Ten Reviews, MacSources, Windows Central, Android Central, Best Company, TechnoFAQ, and iMore.