Amazon Eero Pro 6 Review
The Eero Pro 6 system provides good, stable speeds but comes at a hefty price.
Jun 21, 2023 | Share

Equipment Guides, Product Reviews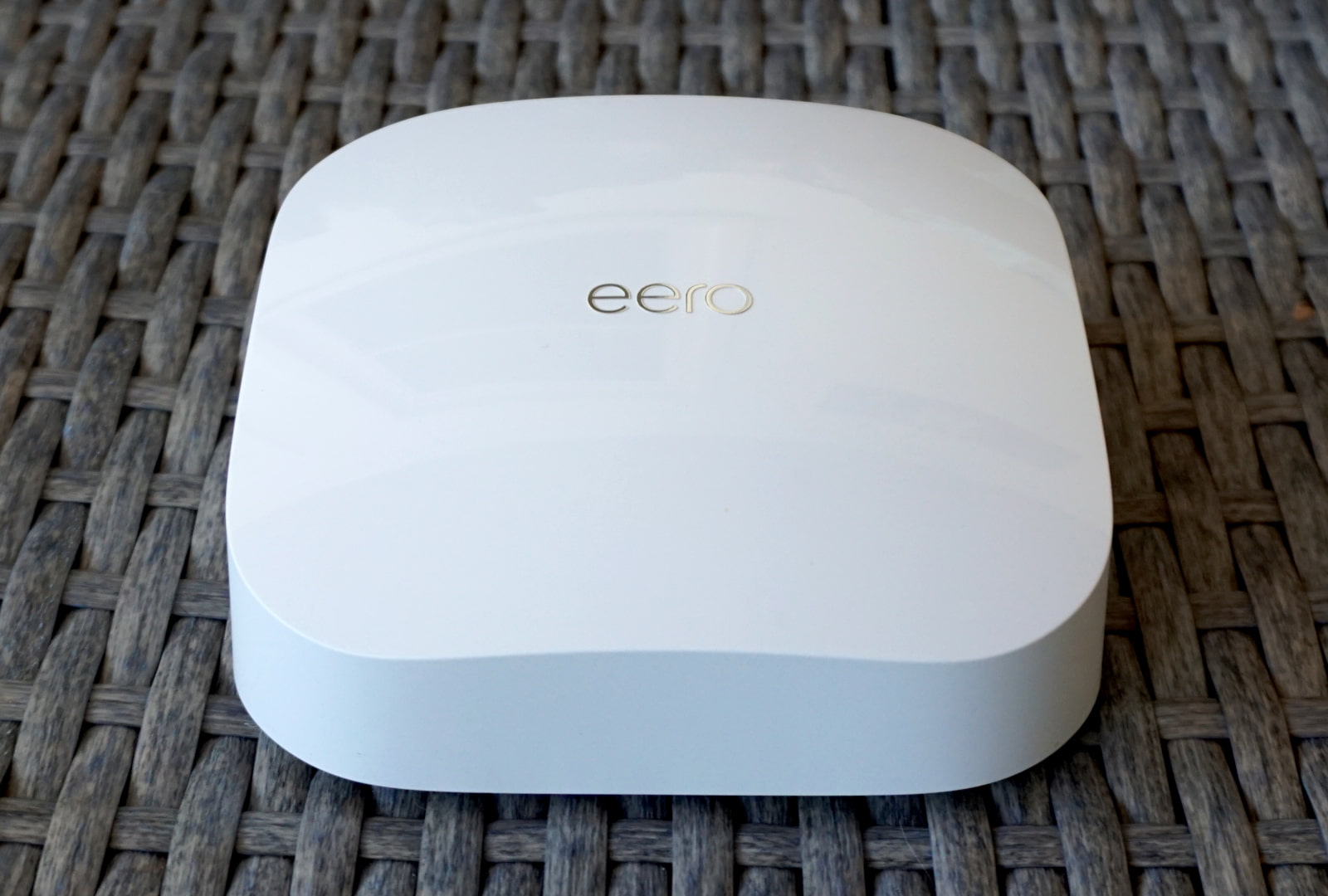 The Eero Pro 6 has the fastest speeds of all the mesh systems we've tested. Kevin Parrish | Highspeedinternet.com
Is the Eero Pro 6 right for you?
The Eero Pro 6 is an expensive step up from the Eero 6 system. It has great speeds at a wide range and outperforms all the other mesh networking systems we've tested to date. But we can't help but wonder if a cheaper option is to purchase a higher-performing standalone router like the TP-Link Archer AX11000, along with a compatible OneMesh extender. You probably won't need the added subscription requirements to use it fully, either.
Pros:
Good Wi-Fi 6 speeds
Three Wi-Fi bands
Built-in Zigbee smart hub
Cons:
Hefty price tag
No multi-gig internet support
Premium paid features
Eero Pro 6 standout features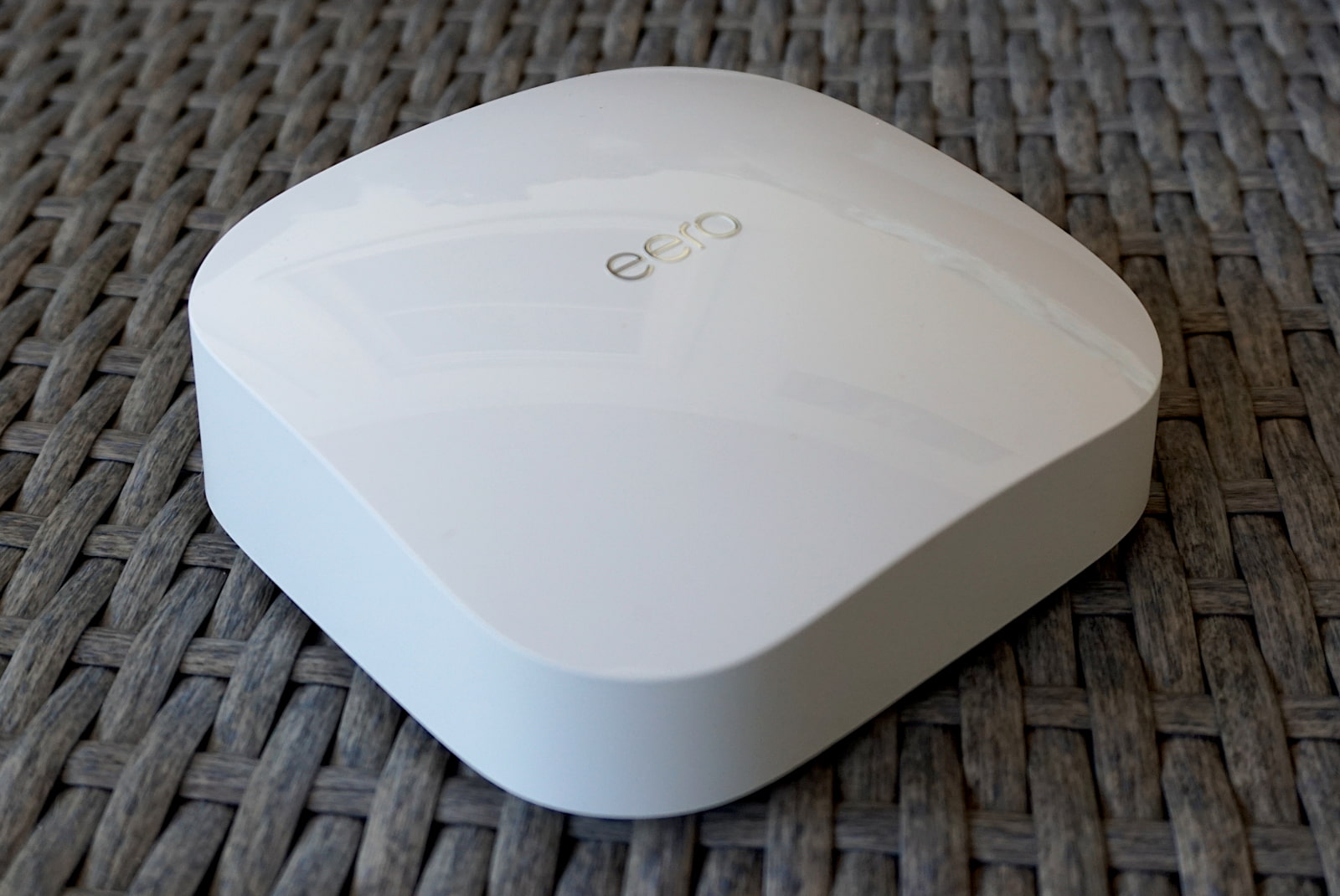 The Eero Pro 6 includes a built-in Zigbee smart hub to manage your IoT devices. Kevin Parrish | Highspeedinternet.com
The Eero Pro 6 isn't feature-packed like standalone routers, but there are a few golden nuggets to dig up here. One of them is the Zigbee hub, which may be especially important if you have a lot of compatible smart devices lurking in every room.
Our Eero Pro 6 scoring breakdown
| | | |
| --- | --- | --- |
| Category | Score* | Summary |
| Performance | 4 | Outperforms all other mesh kits we've tested to date. |
| Features | 3 | Locks premium security and parental controls behind a subscription. |
| Design | 4 | Includes a third wireless band for better throughput. |
| Setup | 4 | Provides one of the fastest and easiest setups we've experienced to date. |
| Ease of use | 4 | Requires the Eero mobile app for quick and easy network management. |
* out of 5 points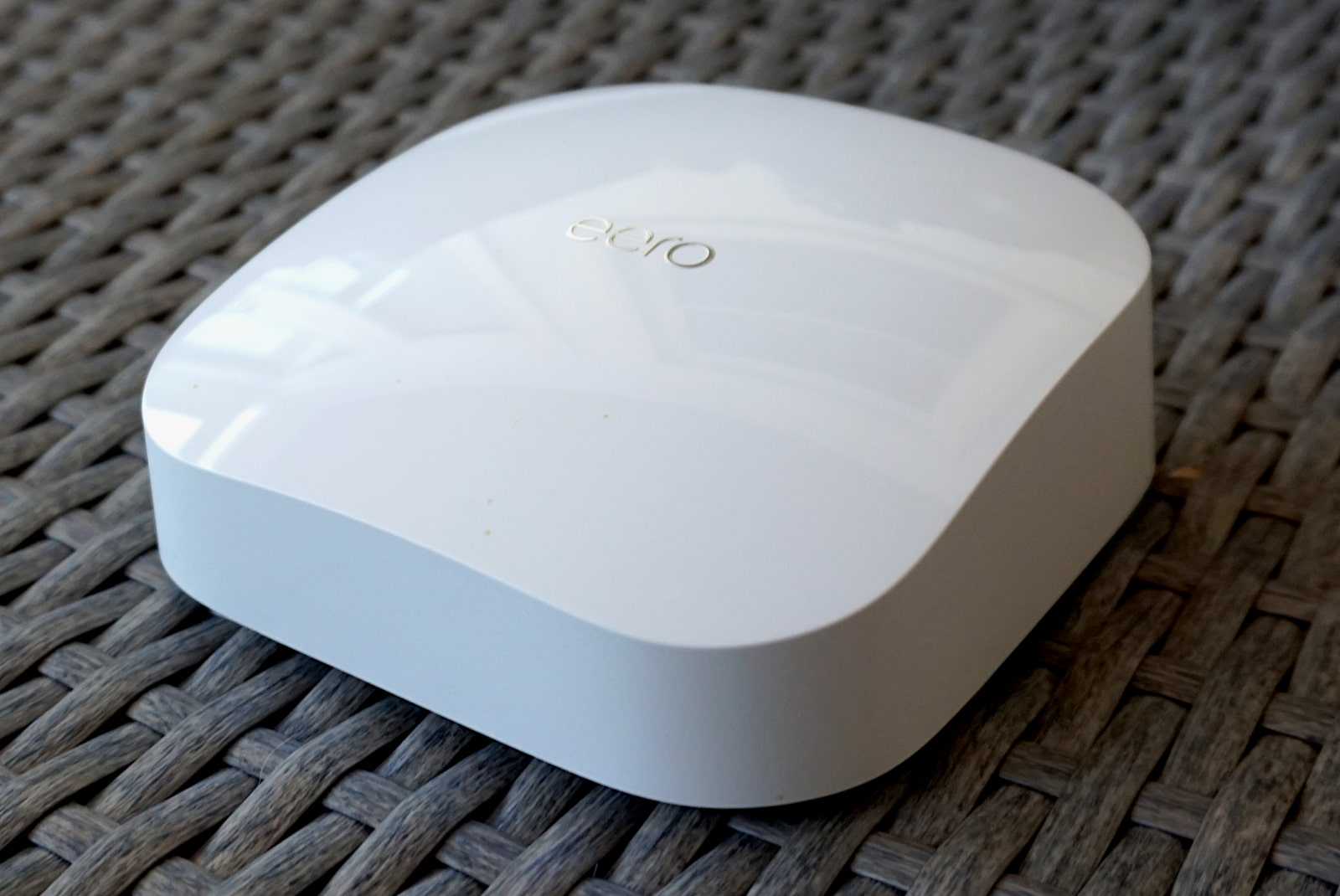 The Eero Pro 6 uses three bands to manage and optimize your network flow. Kevin Parrish | Highspeedinternet.com
The Eero Pro 6 has the best speeds of the mesh networking kits we've tested. We clocked a 606 Mbps speed average in the dining room 20 feet away, which doesn't sound very far, but the signal passed through all three routers in the kit to get there. We recorded a 373 Mbps average with the TP-Link Deco X55 in the same spot.
Unfortunately, you're at the mercy of Eero's channel selection. You typically can't change the channel on mesh networking systems—the Orbi is the only exception here—so low speeds can crop up if there's too much congestion with the selected channel. Plus, with the Eero Pro 6, you can't select a specific band to use since it keeps band steering control on lockdown. Sigh.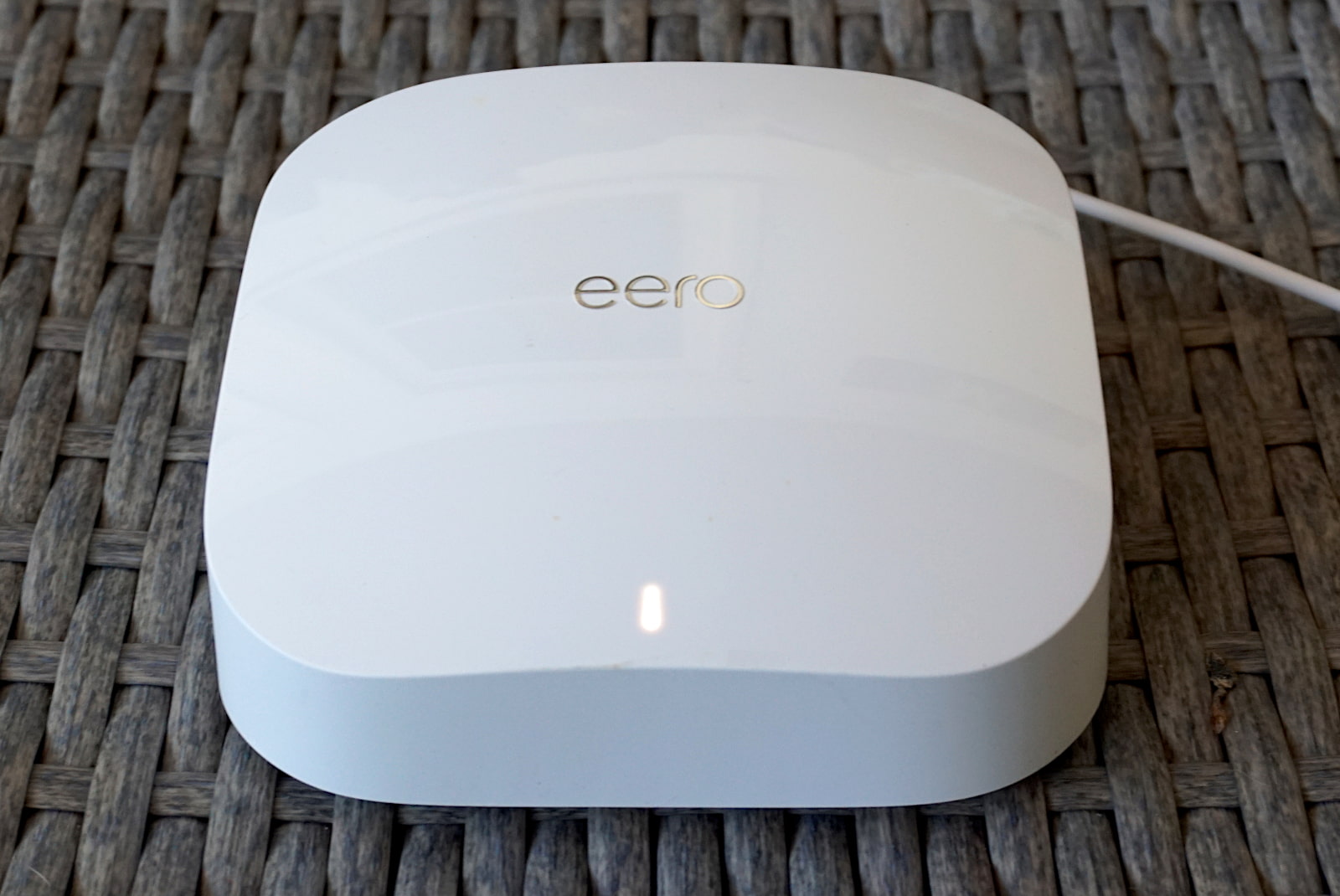 The Eero Pro 6 locks the most notable features behind a subscription. Kevin Parrish | Highspeedinternet.com
The most notable features fall behind two Eero Secure subscriptions: premium parental controls and security. Sure, you can add profiles and schedule pauses, but the content filters and reports require a bit more cash. Want safeguards against malware and phishing attacks? You'll need a subscription for those too.
On the whole, the Eero Pro 6 is rather featureless for such an expensive mesh router. There are no free VPN tools, no media sharing, no printer sharing—all the "pro" goodies stay locked behind a subscription. Its only real callout is the integrated Zigbee smart home hub, which pairs Alexa to compatible smart devices when you connect them to the Wi-Fi network.
What we wish the Eero Pro 6 did better
No subscription requirements
Free VPN tools
You have to wonder why some manufacturers expect you to pay extra money for features you can get for free on cheaper (and probably more powerful) competing products. You've already shelled out the big bucks for your router or system; why doesn't it include all the premium features in the price?
As for VPN tools, they've become the norm in most modern routers. The Eero Pro 6 supports VPN passthrough, but the built-in VPN client (Encrypt.me) is part of the Eero Plus subscription. Many competing products provide a VPN server and client for free.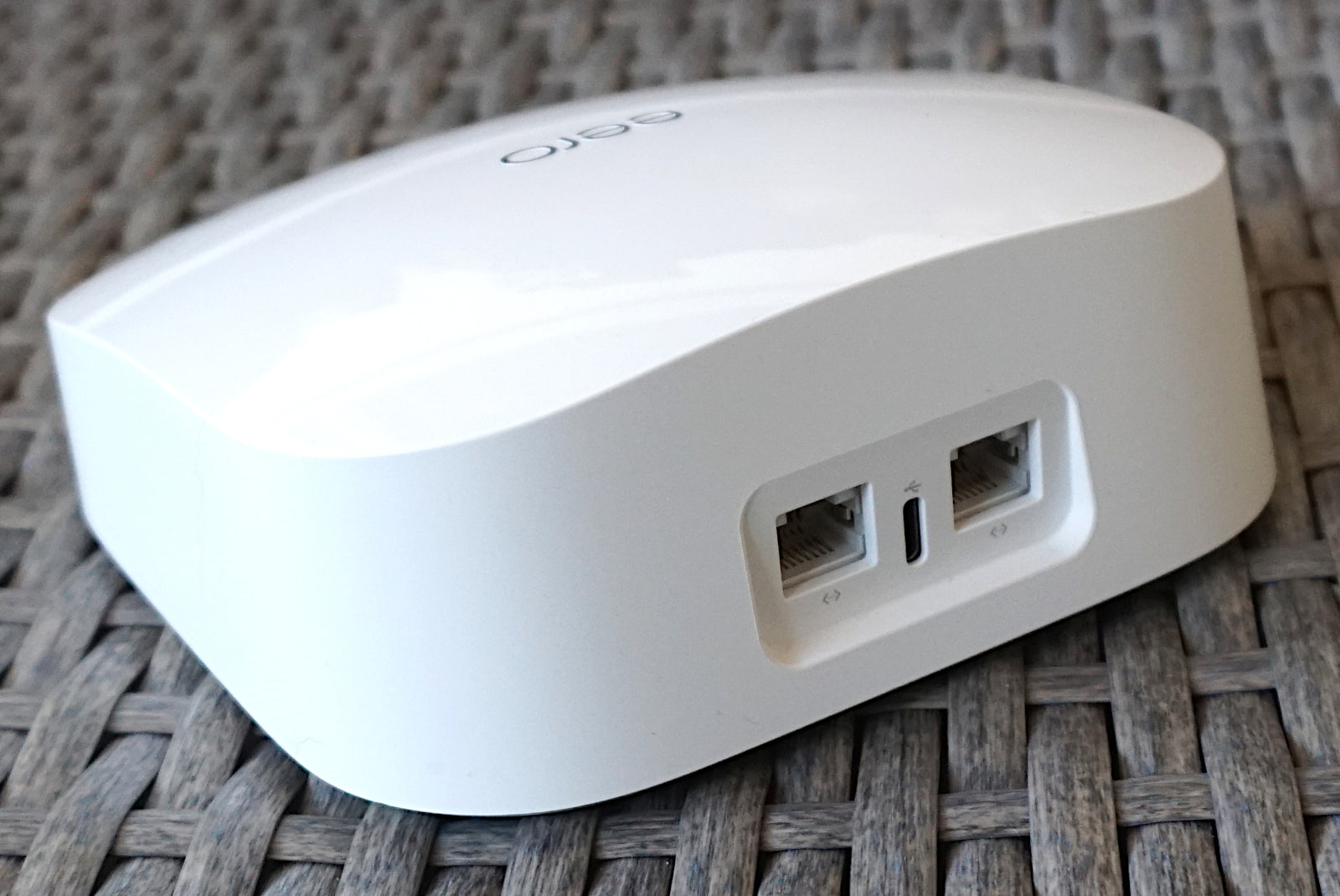 You can use the Eero Pro 6 Ethernet ports for a wired backhaul or any wired device. Kevin Parrish | Highspeedinternet.com
The big callout here is the third band. NETGEAR's Orbi system uses it as a private road between Orbi units. It sends and receives data between the units uninterrupted—the backhaul, if you will. The Eero Pro 6 works differently: the system chooses any of the three bands for the backhaul but leaves them all open for you to use freely.
Another callout is the number of Ethernet ports. You get two per unit, which you can use for wired devices or to tether the Eero units together and create a wired backhaul for faster speeds. Still, Eero may choose Wi-Fi over Ethernet for backhaul use if the connection is better.
We give the Eero Pro 6 a higher setup score than others because the process is simple and perfect for novice users who have no idea how to replace a router. Grinnin' Grandma will even appreciate how easy the setup is.
But there's a flip side to all this fun. The Eero Pro 6 is an Amazon product after all, so expect to enter your Amazon login credentials. If you don't, you must provide a name, phone number, and email address before you can use it. Sounds a little invasive, right? Eero uses your number to activate and verify your account via SMS.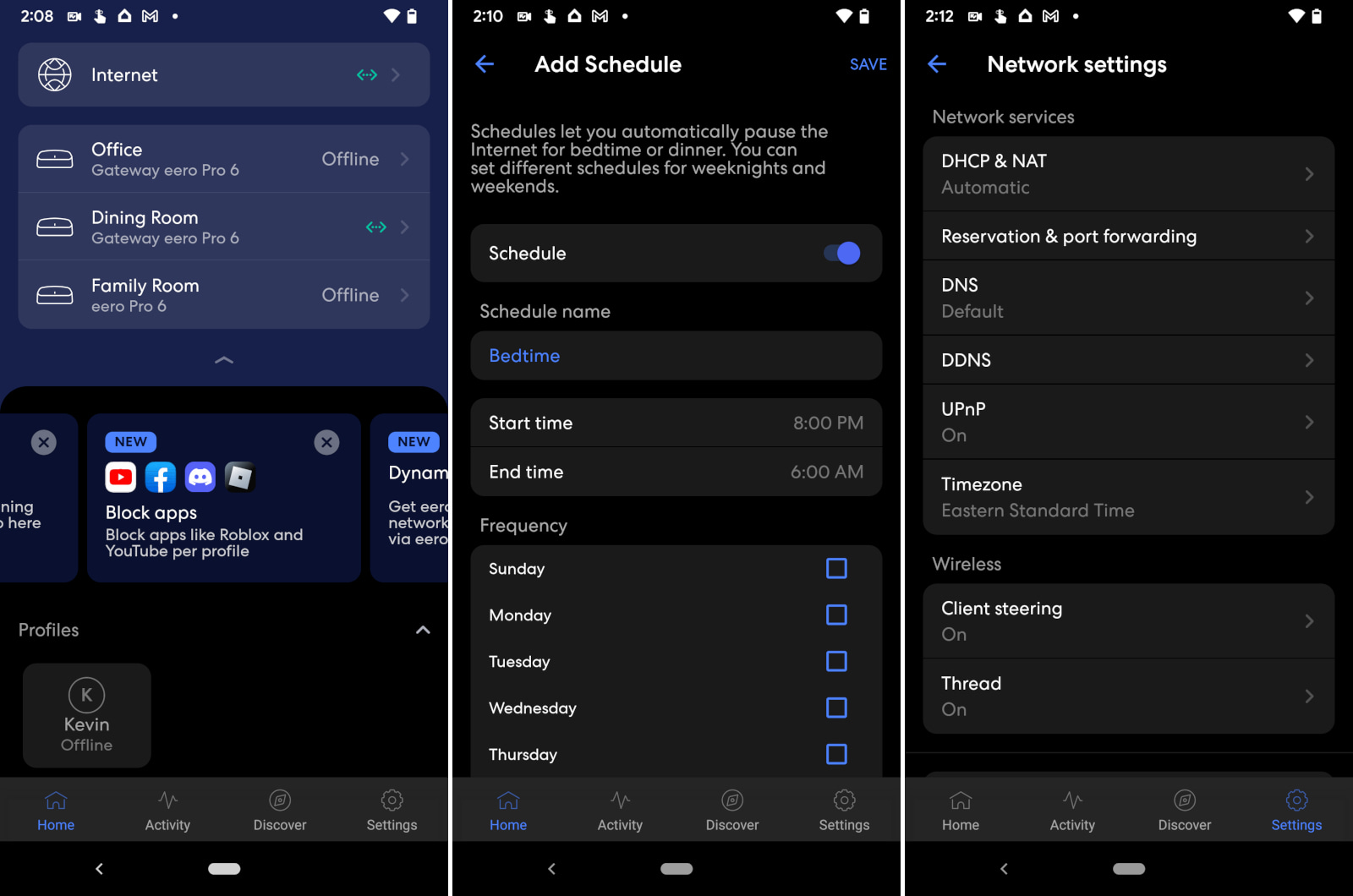 Amazon's Eero app is extremely easy to use. Kevin Parrish | Highspeedinternet.com
Eero has always been extremely easy to use, and the Eero Pro 6 system is no different. The Eero app does a fine job categorizing everything, so you're not immediately overwhelmed with a long column of categories and subcategories at first glance. You can easily manage devices from the Home tab, and you can tweak some settings for the optimal experience, like port forwarding and client steering.
Are there any additional costs?
We list the price of one Eero Pro 6 unit in this review, but you need more to create a mesh network. Amazon provides slightly discounted per-unit pricing for multi-unit kits. Here's the skinny:
Also, you need an Eero Security subscription if you want all the security and premium parental controls it offers. We provide more details in our FAQ.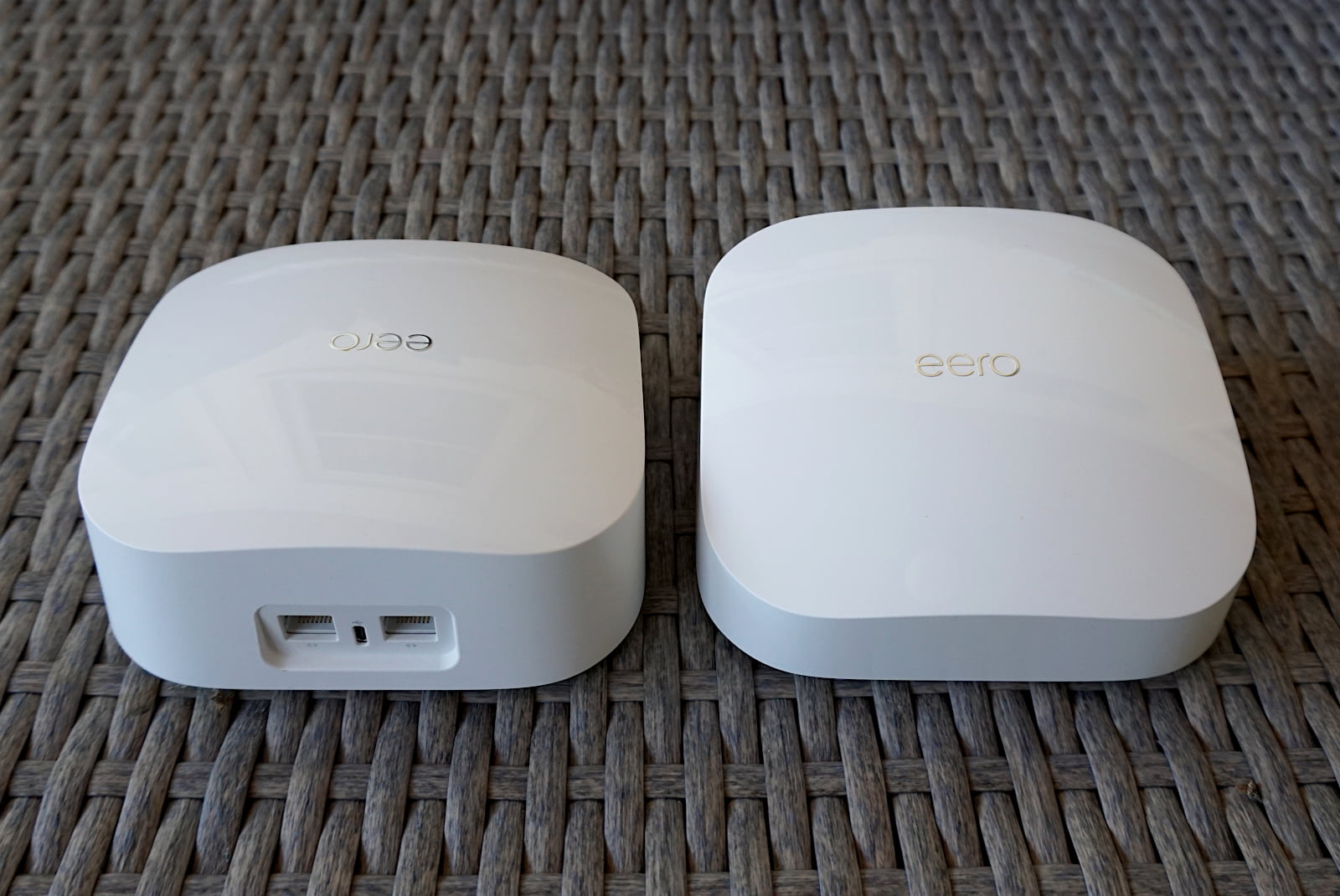 Each Eero Pro 6 unit is a router—there are no Eero Pro 6 extenders like the Eero 6. Kevin Parrish | Highspeedinternet.com
Our Eero Pro 6 review: The verdict
The Eero Pro 6 is a hard sell to make. On the one hand, it has the best speeds of all the mesh networking systems we've tested to date. Long range isn't a feature of the Eero Pro 6, so we didn't stand out in the street to test its speed. However, if you live in a multi-floor home and want speed, then the Eero Pro 6 is a good system to get.
But it's not cheap, and quite frankly, the only elements this "pro" version brings to the table are the third band and wider range. Plus, the Eero Pro 6 is a router, so the multi-pack kits are always far more expensive than the Eero 6 ones. So, if you want a lot of bang for your buck, you should probably look elsewhere.
How old is the Eero Pro 6?
Amazon launched the Eero Pro 6 in September 2020. It will stop receiving updates in 2027.1
What is the Zigbee smart hub?
A smart hub is hardware or software that controls smart devices, like doorbells, thermostats, lights, and locks. Since different manufacturers make each device, you need a central point to manage them all. In this case, the built-in smart hub supports products based on the Zigbee protocol.
What's the difference between Eero Secure+ and Eero Secure?
Here's a chart to show the differences:
 
Eero Secure
Eero Secure+
Advanced threat protection

✓

✓

Content filtering

✓

✓

Adblocking

✓

✓

Activity insights

✓

✓

Weekly activity reporting

✓

✓

VIP support

✓

✓

Password management

✗

✓

VPN client (5 profiles)

✗

✓

Client antivirus (3 devices)

✗

✓

DDNS protection

✗

✓

 

$2.99/mo. or

$29.99/yr.

$9.99/mo. or

$99.99/yr.
What's the difference between Eero 6 and Eero Pro 6?
Here's a chart showing the differences between the Eero 6 and the Eero 6 Pro:
| | | |
| --- | --- | --- |
|   | Eero 6 | Eero Pro 6 |
| Wi-Fi bands: | 2 | 3 |
| Coverage: | 1,500 sq. ft. | 2,000 sq. ft. |
| Recommended ISP speed: | 500 Mbps | 1,000 Mbps |
| Max throughput: | 1,800 Mbps | 4,200 Mbps |
| Bundled as: | Router + Extenders | Routers only |
| Zigbee hub: | Router only | All units |
| Starting cost: | $89.00 | $229.00 |
Is the Eero Pro 6 compatible with Eero Built-In products?
All Eero mesh systems are compatible with Eero Built-In products—except for the original first-generation system released in 2016.
Here are all the Eero Built-In products you can add to the Eero Pro 6 system to extend your whole-home Wi-Fi coverage:
*Amazon.com prices (as of 6/21/23 17:35 MST). Read full disclaimer.
We test router speed by setting up each router in an office and connecting it to a local test server. Then, we transmit test data between our wireless devices and the server, taking numerous measurements to account for fluctuations in Wi-Fi speeds.
The first tests occur close to the router, without obstructions—so the Wi-Fi is as strong and fast as it's gonna get. We repeat the process straight out at 10, 20, and 30 feet, with only a glass door obstructing our view of the router. The same glass door and an exterior door blocks our path when we test outside at 40 and 50 feet.
We also run tests in a hallway to the left of the TV room and office—where there's a glass door, three walls, and an air handler unit blocking our view of the router. The dining room, another testing point, sits to the right of the kitchen, TV room, and office—two walls and a glass door block the path in this test.
To test video streaming, we connect a fast storage device to the router and stream a 4K video to six wireless devices simultaneously—two phones, three tablets, and a laptop—connected to the same wireless band.
Client devices used in testing
| | iPhone 12 Pro Max | Google Pixel 3 |
| --- | --- | --- |
| Wi-Fi version | Wi-Fi 6 | Wi-Fi 5 |
| Stream configuration | 2 x 2 | 2 x 2 |
| Max channel width | 80 MHz | 80 MHz |
| Max 5 GHz speed (AX) | 1,200 Mbps | – |
| Max 5 GHz speed (AC) | 866 Mbps | 866 Mbps |
| Max 2.4 GHz speed (AX) | 195 Mbps | – |
| Max 2.4 GHz speed (AC) | 195 Mbps | 144 Mbps |
Eero Pro 6 benchmarks (5 GHz only)
| | iPhone 12 Pro Max* | Google Pixel 3* |
| --- | --- | --- |
| 2 feet | 802 | 675 |
| 10 feet | 739 | 641 |
| 20 feet | 690 | 584 |
| 30 feet | 674 | 536 |
| 40 feet (porch) | 332 | 242 |
| 100 feet (across street) | Not tested | Not tested |
| 160 feet (mailboxes) | Out of range | Out of range |
| 20 feet (hallway) | 335 | 287 |
| 20 feet (dining room) | 606 | 545 |
*speed in megabits per second (Mbps)
Amazon.com Prices as of 12/28/22. Product prices and availability are accurate as of the date/time indicated and are subject to change. Any price and availability information displayed on Amazon.com at the time of purchase will apply to the purchase of this product. Highspeedinternet.com utilizes paid Amazon links.
CERTAIN CONTENT THAT APPEARS ON THIS SITE COMES FROM AMAZON. THIS CONTENT IS PROVIDED 'AS IS' AND IS SUBJECT TO CHANGE OR REMOVAL AT ANY TIME.
Author - Kevin Parrish
Kevin Parrish has more than a decade of experience working as a writer, editor, and product tester. He began writing about computer hardware and soon branched out to other devices and services such as networking equipment, phones and tablets, game consoles, and other internet-connected devices. His work has appeared in Tom's Hardware, Tom's Guide, Maximum PC, Digital Trends, Android Authority, How-To Geek, Lifewire, and others. At HighSpeedInternet.com, he focuses on network equipment testing and review.
Editor - Rebecca Lee Armstrong
Rebecca Lee Armstrong has more than six years of experience writing about tech and the internet, with a specialty in hands-on testing. She started writing tech product and service reviews while finishing her BFA in creative writing at the University of Evansville and has found her niche writing about home networking, routers, and internet access at HighSpeedInternet.com. Her work has also been featured on Top Ten Reviews, MacSources, Windows Central, Android Central, Best Company, TechnoFAQ, and iMore.