Best Modem/Router Combos 2022
Expert picks to keep your networking all in one place
Jan 7, 2022 | Share

Equipment Guides, Featured

Great holiday deals on modem/router combos
NETGEAR Nighthawk CAX30S
2.7 Gbps combined wireless speed
Original price: $329.99
Deal price: $248.59

You save: $81.40

Get the Deal
NETGEAR Nighthawk CAX80
Cable speeds up to 6 Gbps
Original price: $429.99
Deal price: $369.99

You save: $60.00

Get the Deal
NETGEAR C6300
1,750 Mbps combined Wi-Fi speed
Original price: $179.99
Deal price: $108.08

You save: $71.91

Get the Deal
NETGEAR C6220
Cable speeds up to 200 Mbps
Original price: $109.99
Deal price: $77.17

You save: $32.82

Get the Deal
Our pick: Which modem/router combo is best?
The Motorola MG7700 is the best modem/router combo you can get right now for cable internet. It works with most major cable internet providers and can handle internet speeds up to 600 Mbps. Its Wireless Power Boost feature—which expands its signal range—makes it a good option for larger homes.
The 5 best modem/router combos
Best modem/router combo devices
What should you look for in a modem/router combo?
The top thing you should check for in a modem/router combo device is compatibility with your internet provider. Most modem/router combos on the market specifically work with cable internet providers like Xfinity, Cox, and Spectrum—and very few work with DSL providers like CenturyLink or Frontier.
Every internet provider should have a list of compatible modems and modem/router combos listed on its website. Here's how to find a compatible device for you internet plan from a few ISPs:
For more recommendations on what to look for in a modem/router combo, check out the specs and features section below.
Motorola MG7700—Best overall
Best overall
$174.97
Recommended for internet speeds up to: 600 Mbps
Ethernet Ports: 4
Dual-Band Wi-Fi: Yes
Compatible ISPs: Xfinity, Cox
The Motorola MG7700 packs a powerful punch, with support for internet speeds up to 600 Mbps. Four gigabit Ethernet ports let you plug in your devices directly for a faster connection, while dual-band Wi-Fi support and beamforming (a feature that directs your wireless signal in a single direction) provide fast and reliable wireless. If all that sounds like gibberish, don't worry—all you need to know is that this modem/router combo packs a ton of modern features into one sleek package to maximize your internet speed and reliability.
Even after all that, this cable modem/router packs one more feature that makes it our pick for best overall. Motorola calls it the "Wireless Power Boost," but we just call it awesome. Basically this tech amplifies the wireless signal and extends its range so you can cover a larger area with a single box. This makes it perfect for larger homes or pretty much any area where you want a strong single no matter where you're at.
Pros
Extended wireless range
Strong performance
Beamforming technology for more reliable Wi-Fi
Cons
Approved for use only with Xfinity and Cox
Not the most attractive device
ARRIS SURFboard SBG7600AC2—Best for speed
Best for speed
$163.00
Recommended for internet speeds up to: 600 Mbps
Ethernet Ports: 4
Dual-Band Wi-Fi: Yes
Compatible ISPs: Xfinity, Cox, Spectrum
If speed is your need, this ARRIS modem/router combo really delivers. With a maximum throughput of up to 600 Mbps, this little fella can handle plenty of internet traffic. Four gigabit Ethernet ports let you plug your devices straight in for optimum speed or you can take advantage of the built-in AC2350 Wi-Fi.
While the SURFboard device can handle internet speeds up to 600 Mbps, different cable internet providers have approved this modem/router for different speed tiers. For example, Xfinity recommends it for speeds up to 600 Mbps, but Cox has lower max speed recommendations—only up to 300 Mbps. So check this device's compatibility with your internet provider's speeds.
Pros
Excellent Wi-Fi speeds
Compatibility with most common providers
Cons
NETGEAR Nighthawk C7000—Best for gaming
Best for gaming
$234.33
Recommended for internet speeds up to: 400 Mbps
Ethernet Ports: 4
Dual-Band Wi-Fi: Yes
Compatible ISPs: Xfinity, Cox, Spectrum
NETGEAR is known for its powerful routers, and the C7000 is no exception. This futuristic-looking device combines gigabit speeds with useful features to give gamers (or anyone that needs fast internet with minimal latency) an edge.
The 1.6 Ghz processor helps deliver a stronger signal and prioritize traffic for maximum speed. This is especially important when gaming, where lag and network delays can be costly. And beamforming helps the wireless signal travel farther and increases reliability so you don't have to worry about losing your connection at a critical moment.
Pros
Powerful processor to boost gaming performance
Beamforming tech for long wireless range and a reliable connection
Guest network for keeping your password private
Cons
More expensive model
Has a love-it-or-hate-it design
ARRIS SURFboard SBG10—Best budget option
Best budget option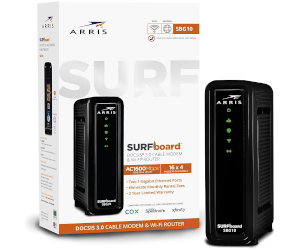 $99.99
Recommended for internet speeds up to: 400 Mbps
Ethernet Ports: 2
Dual-Band Wi-Fi: Yes
Compatible ISPs: Xfinity, Cox, Spectrum, and more
If you don't want to spend a ton of money on a modem/router, go with this model. Whether you're on a budget or just don't need the fancy features, our pick for the best budget modem/router is another one from ARRIS: the SBG10.
This box supports all the major US cable providers, and at a lower price than our other picks, it's a great value. Its Wi-Fi speeds on the 5 GHz band can be overkill, zooming up to 1,300 Mbps compared to the modem portion's 686 Mbps max speed. ARRIS suggests using this combo unit with plans speeding up to 400 Mbps.
The biggest downside to the SBG10 is connectivity. It comes with just two Ethernet ports, but if you need more, you can get one of the best gigabit Ethernet switches to expand your wired connectivity.
That said, this is still a good option. If price is the main concern for you, you can't go wrong with the ARRIS SURFboard SBG10.
Pros
Comes at an easy-to-swallow price
Works with most major cable providers
Cons
Slower speeds than more expensive models
Only two Ethernet ports
Motorola MD1600—Best DSL modem/router
Best DSL modem/router
$400.00
Recommended for internet speeds up to: 100 Mbps
Ethernet Ports: 4
Dual-Band Wi-Fi: Yes
Compatible ISPs: CenturyLink, Frontier
If you have DSL service, the other modem/router options in this article won't work for you—you need a DSL-specific device. The MD1600 from Motorola is our pick for best DSL option because of its powerful features and fast speeds.
First off, it's worth mentioning that this is probably the nicest-looking box we've seen, and it's really a shame other modem/router models aren't adopting a sleeker look like this. It just looks better on a desk and minimizes any potential for awkward fits.
As for actual networking, the MD1600 can support any DSL speed you have, and it offers four Ethernet ports for your devices if you prefer a direct connection.
Our only other gripe about this unit is the lack of AT&T support. CenturyLink and Frontier customers will get a lot of good use out of it though.
Pros
Works with major DSL providers
Has a sleek design
Offers lots of ports
Cons
Supports only a single Wi-Fi band
Not supported with AT&T
Modem/router combo specs and features
When shopping for a modem/router combo, there are a few things you need to keep in mind to ensure you get the best experience.
Internet speed support
If you have unusually fast internet, like a gigabit plan, make sure the modem/router you choose can support it. Many routers and modems these days can handle these speeds, but inexpensive models or older stock may not have the necessary protocols.
What happens if your modem/router can't handle your internet speed? It'll still work, so you can use it. But modems and routers are rated for a certain maximum speed, and if your plan gives more than your devices can handle, the extra speed is wasted.
Modems vs. routers
To put it simply, the modem takes the signal from your ISP and makes it usable by your devices. The router then takes that signal and turns it into a network. Without a router, you wouldn't have home network security, network traffic management, or Wi-Fi.
A modem/router combo takes the two devices and puts them in one box for convenience. It saves space and makes the purchase and configuration easier, although that comes at the expense of flexibility and upgradeability.
Combo vs. individual equipment
The main reason to go for a modem/router combo is convenience—both devices are packaged in one enclosure, saving space and making device management that much easier.
The downside of a combined device is the lack of flexibility. If you want a particular router—well, too bad. You're either stuck with the one that came with your combo unit or you're buying another router and making half your combo obsolete. The routers in a combo are also typically much less powerful than the best stand-alone routers on the market.
Now, for most people, the convenience of the combined device will very likely outweigh any potential cons. Power users, on the other hand, may want to stick to separate devices to allow for future upgradeability and more powerful wireless routers that can cater to a specific need, like streaming or large homes.
Pro tip:
If you're interested in separate equipment, check out these detailed guides for more insight:
Overall, we recommend the Motorola MG7700. It's compatible with major cable internet companies, easy to use, and can handle internet speed packages up to 600 Mbps. It's a great modem/router combo that keeps all your home networking equipment in one place.
Other recommended modem/router combos
Related content about modems and routers
FAQ about modem/router combos
Do modems affect your internet speed?
Yes and no. A modem can't make your internet faster than your plan supports. However, if your modem has a maximum speed lower than your internet plan, it will slow your connection down.
For example, say you have a 250 Mbps internet plan. If your modem supports up to 350 Mbps speeds, you'll see your full plan speed of 250 Mbps, but not more. If your modem supports only 150 Mbps speeds, that will be the maximum speed you'll see, not 250 Mbps.
What is a combined modem and router?
A modem is a device that translates the signal from your ISP (Internet Service Provider) into something your devices can use. A router then takes that signal and makes it wireless. A combined modem and router simply places the two devices into one unit for convenience.
What is dual-band Wi-Fi?
Dual-band Wi-Fi is a feature where wireless routers broadcast the signal over two different radio frequencies simultaneously—in this case 2.4 Ghz and 5 Ghz. Single-band routers use only the 2.4 Ghz frequency. Dual-band Wi-Fi helps provide faster speeds by distributing traffic on two frequencies instead of one.
What is beamforming?
Beamforming is a technology that focuses a wireless signal in a single, specific direction. The benefits of beamforming are faster speeds and greater wireless range.
What are Mbps?
Mbps stands for megabits per second. It's the unit used to measure internet speed, which is essentially how much data passes through the connection in a second. For some context, eight megabits are equal to one Megabyte (MB), the unit for file sizes. So, to download a 10 MB file in one second, you'd need an 80 Mbps connection.
Disclaimer
Product prices and availability are accurate as of the date/time indicated and are subject to change. Any price and availability information displayed on Amazon.com at the time of purchase will apply to the purchase of this product. HighSpeedInternet.com utilizes paid Amazon links.
CERTAIN CONTENT THAT APPEARS ON THIS SITE COMES FROM AMAZON. THIS CONTENT IS PROVIDED 'AS IS' AND IS SUBJECT TO CHANGE OR REMOVAL AT ANY TIME.
Author - Rebecca Lee Armstrong
Rebecca Lee Armstrong has more than six years of experience writing about tech and the internet, with a specialty in hands-on testing. She started writing tech product and service reviews while finishing her BFA in creative writing at the University of Evansville and has found her niche writing about home networking, routers, and internet access at HighSpeedInternet.com. Her work has also been featured on Top Ten Reviews, MacSources, Windows Central, Android Central, Best Company, TechnoFAQ, and iMore.
Editor - Cara Haynes
Cara Haynes has been editing and writing in the digital space for seven years, and she's edited all things internet for HighSpeedInternet.com for five years. She graduated with a BA in English and a minor in editing from Brigham Young University. When she's not editing, she makes tech accessible through her freelance writing for brands like Pluralsight. She believes no one should feel lost in internet land and that a good internet connection significantly extends your life span.