Reyee RG-E5 Review
The RG-E5 is ideal for businesses and homes wanting expandable Wi-Fi coverage.
Jun 23, 2023 | Share

Equipment Guides, Product Reviews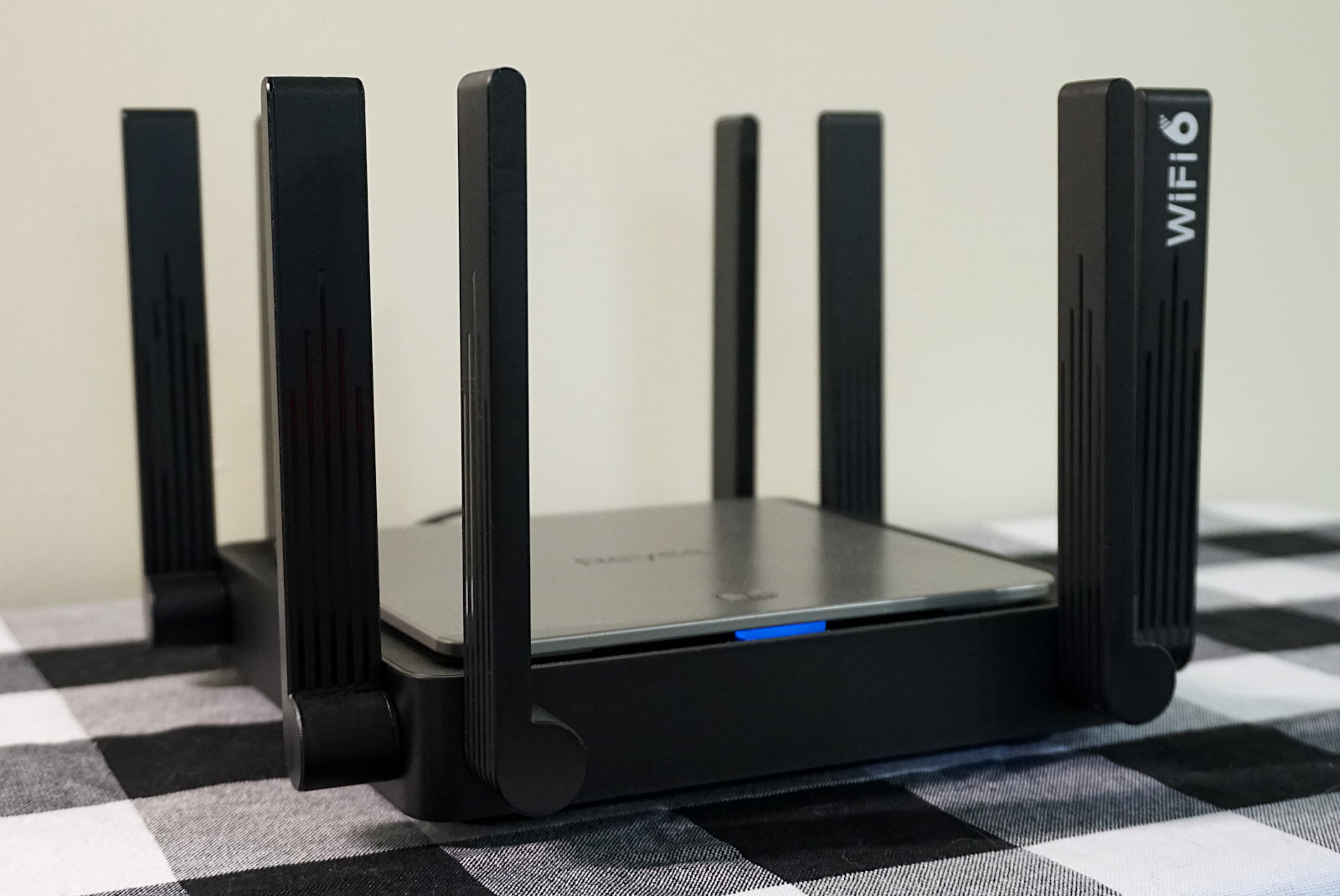 The Reyee RG-E5 has great range for offices and homes. Kevin Parrish | HighSpeedInternet.com
Is the Reyee RG-E5 right for you?
Reyee's RG-E5 Smart Home Router seems to suffer from an identity crisis. It feels like a router for business, but features like parental controls and smart home support indicate Reyee targets a wider mainstream audience.
But here are the facts: The RG-E5 is a great barebones router with decent speeds and a decently long range. You should consider the RG-E5 if you don't need multigig internet support, media sharing, or built-in VPN tools. It's affordable too—great for offices and homes on a strict budget.
Pros:
Free cloud management
Mesh networking support
Long range
Cons:
No USB connectivity
No multi-gig internet support
No built-in VPN tools
Reyee RG-E5 standout features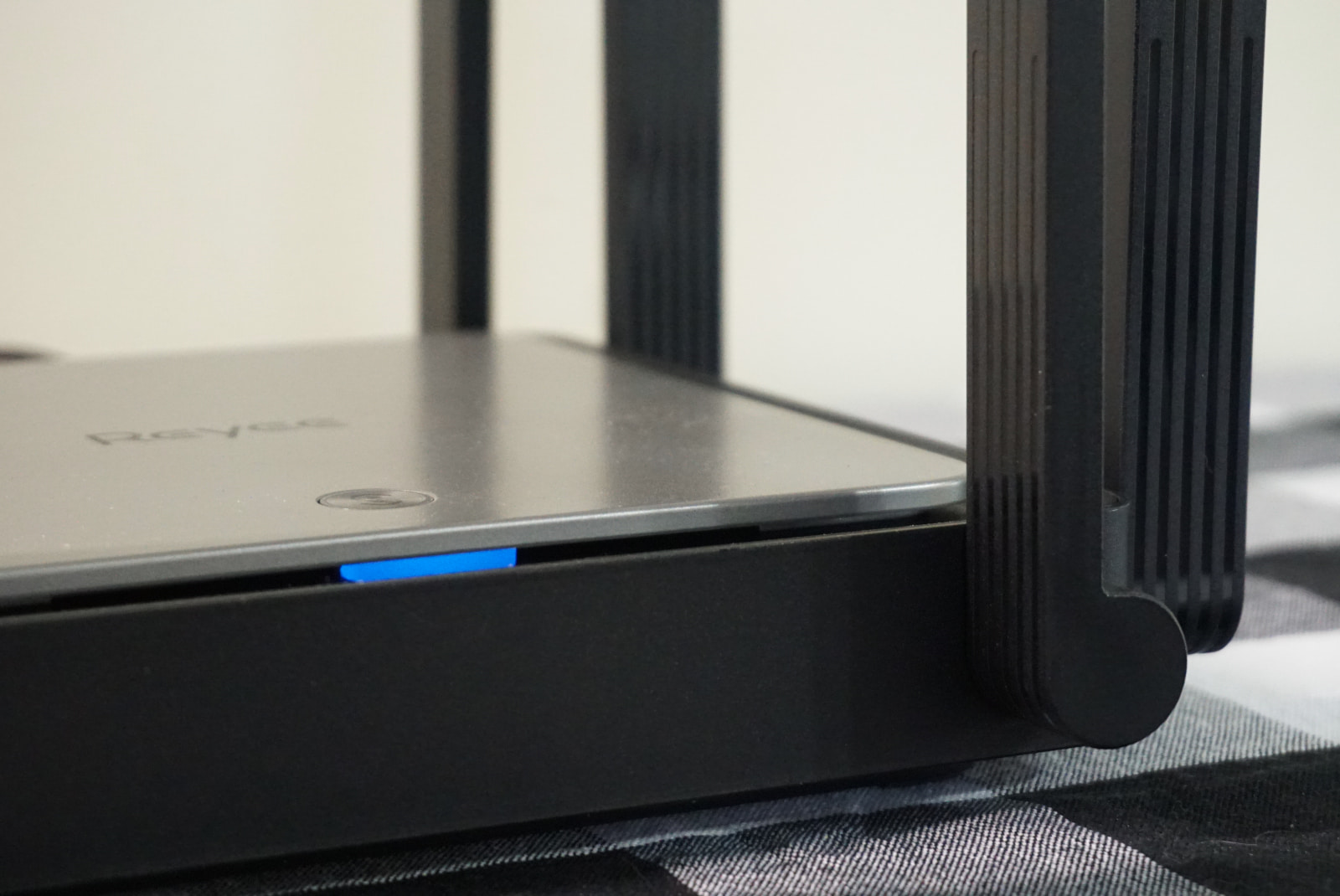 The Reyee RG-E5 includes a WPS button on top for fast device pairing. Kevin Parrish | HighSpeedInternet.com
The RG-E5 isn't feature-packed, but there are one or two tidbits that may raise a brow or two with business owners: free cloud management and mesh networking. It also includes an ARP Guard component to prevent man-in-the-middle attacks on the local network.
Our Reyee RG-E5 scoring breakdown
| | | |
| --- | --- | --- |
| Category | Score* | Summary |
| Performance | 4 | Keeps up in speed with the Archer AX6000 and the Nighthawk XR1000. |
| Features | 3 | Provides an ARP Guard and free Ruijie Cloud account. |
| Design | 3 | Lacks USB ports, multi-gig internet support, and VPN tools. |
| Setup | 4 | Has one of the fastest setups we've tested to date. |
| Ease of use | 4 | Requires the web interface and mobile app to use fully. |
* out of 5 points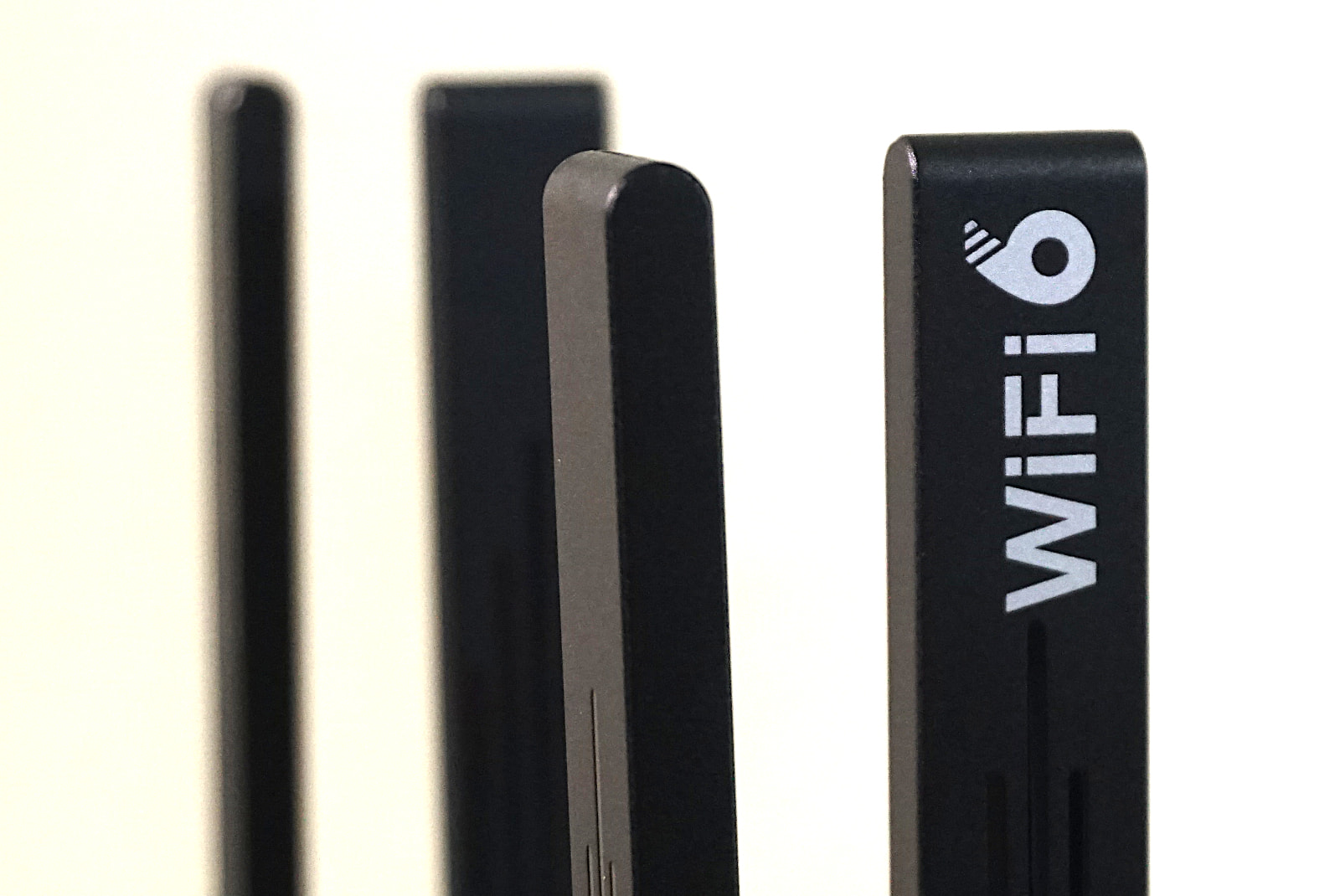 The Reyee RG-E5 has good Wi-Fi 6 speeds and range for the money. Kevin Parrish | HighSpeedInternet.com
What initially piqued our interest in the RG-E5 was the suggestion that it has a really really long range. Now after reviewing and testing dozens of standalone routers, the results are in and yes, it has the best tested speeds at 120 feet than any other router we've tested to date.
So, how good is the range? We recorded a 330Mbps average at 120 feet with an iPhone 12 Pro Max, a length that includes two doors, a few walls, and some furniture along the way. The Pixel 3 had a 143Mbps average, but it's a Wi-Fi 5 device, so we expected the lower speed.
By comparison, the TP-LInk Archer AX6000 tested with a 280Mbps average at 120 feet, while the Nighthawk XR1000 tested with a 275Mbps average in the same spot. Both routers cost $100 more.
Overall, a 330Mbps throughput is excellent at that range—more than enough to stream 4K movies while standing in your neighbor's yard (cough). The fastest speed we recorded was 843Mbps at close range, while the slower Google Pixel 3 tested a 695Mbps average, which isn't bad either.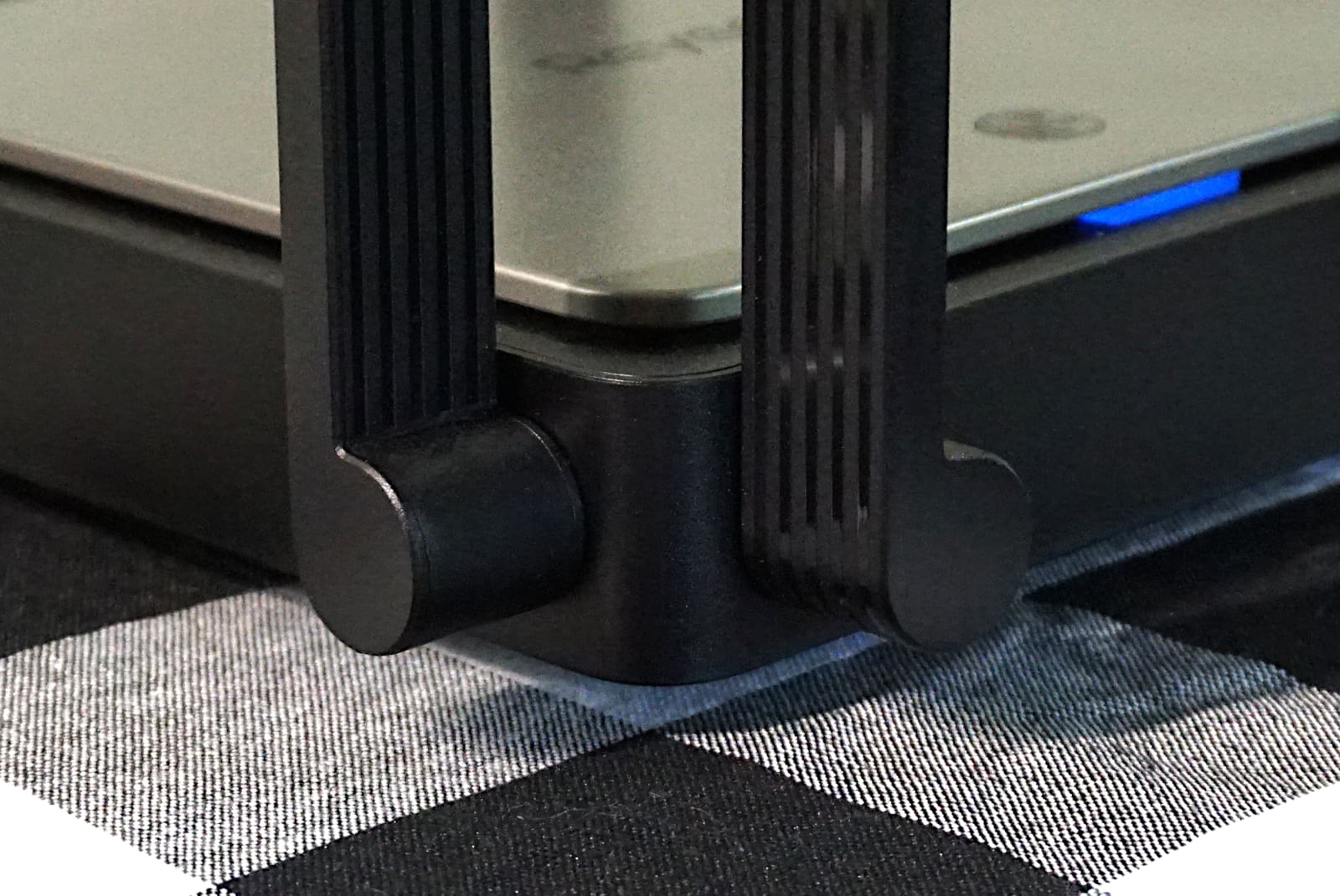 The Reyee RG-E5 antennas don't detach, but you can rotate them 90 degrees. Kevin Parrish | HighSpeedInternet.com
The RG-E5 is as plain as you can get. It doesn't have media sharing, printer sharing, or native support for smart assistants. But you can add smart devices to a secondary 2.4 GHz SSID that uses a different channel than your primary one.
The RG-E5 also doesn't include the built-in VPN tools we've seen on other routers at this price. You probably don't need VPN tools on a local business network anyway—the company likely has its own server and client software. But a built-in VPN server is handy for residents accessing the internet from a coffee shop, for instance.
The parental controls aren't even labeled as such in the web interface. You click into the Clients section and set times to block internet access to each device. In the app, you tap on Scenario followed by Parental Control to do the same thing. There are no age-specific filters to use or profiles to create.
What this router does include, however, is free protection against Address Resolution Protocol poisoning and attack prevention. It's an important feature for business networks but not really useful at home. The Ruijie Cloud service is a handy remote management tool, but it's best for companies with multiple access points and related networking devices.
What we wish the Reyee RG-E5 did better
We get why there are no USB ports—it prevents you from spreading malware to your boss and coworkers (as fun as that sounds). But the lack of USB prevents printer sharing too, which could be helpful in an office or home environment.
What's surprising here is the lack of WPA3 support. It's the latest security standard we normally see on Wi-Fi 6 routers, but not here. The WPA2 protocol is your best line of defense.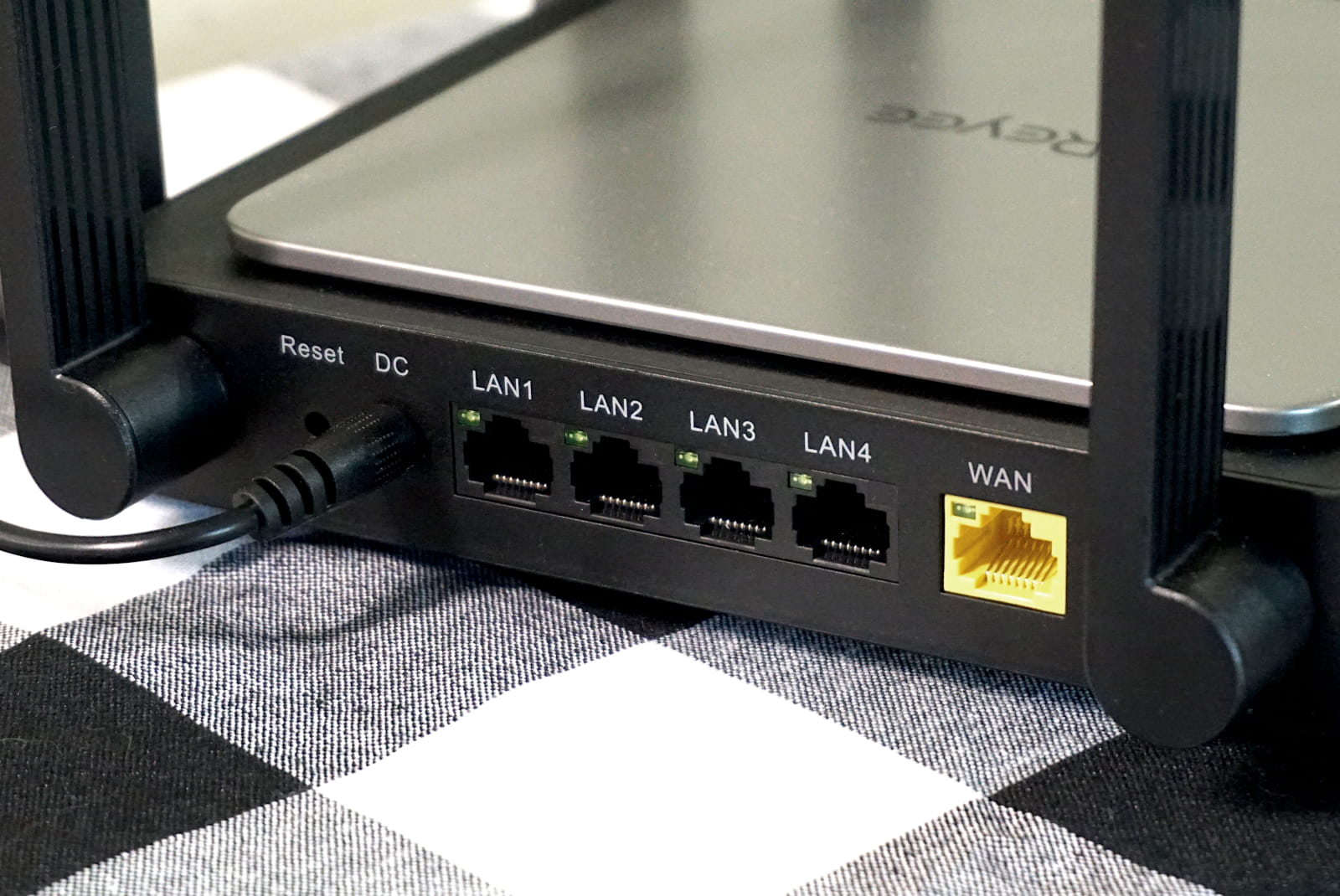 The Reyee RG-E5 provides basic connections with wired speeds up to 1Gbps. Kevin Parrish | HighSpeedInternet.com
The router looks like a giant CPU sitting in a motherboard socket, only with two antennas parked at each corner. It doesn't look cheap by any means, but it has a low price for good reason: It avoids many features businesses simply may not need.
First, it doesn't have more than eight Ethernet ports because, generally, wired office environments converge at a hub that connects to the router. As mentioned before, the lack of USB connectivity reduces the chance of malware spreading across the local network.
What's surprising is the lack of multi-gig connectivity, whether it's an internet connection or a two-lane NAS tethered to the router. It doesn't even have a Wi-Fi on/off switch or a power button.
The RG-E5 has one of the fastest setups we've tested to date, and competitors like TP-Link should really take note. But we had to create a cloud account to use this router, plus we experienced registration issues with the Reyee Router mobile app afterward—those are the main drawbacks.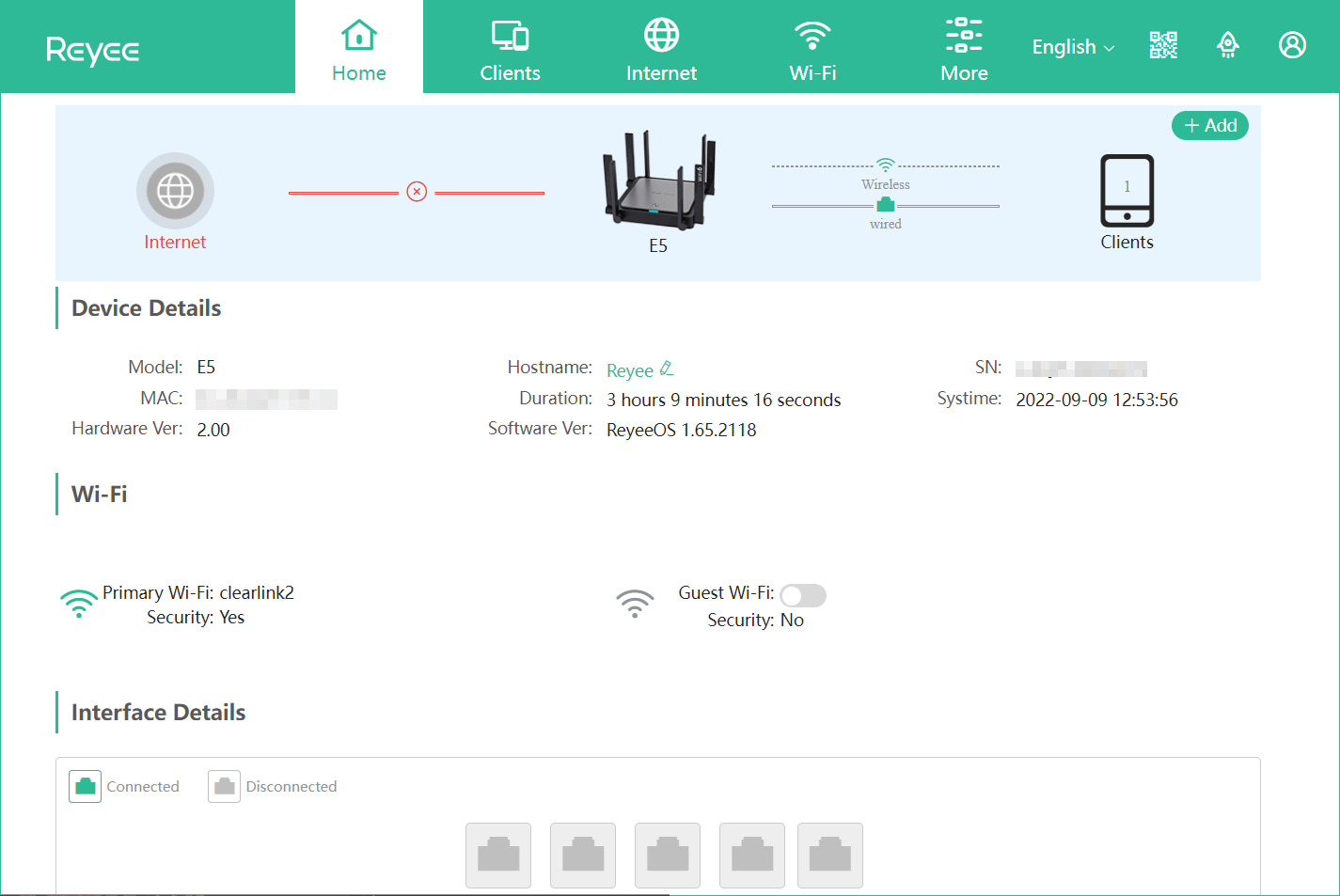 The Reyee RG-E5 is one of the easiest routers we've used to date. Kevin Parrish | HighSpeedInternet.com
The web interface has one of the best layouts we've seen to date. Reyee crams everything you need under five tabs displayed along the top. For example, click on the Clients tab, and you have instant access to data like signal strength, channel, IP address, MAC address, and more for each device. You can easily block a device too with one click, or add a blocked time.
The Reyee app clearly caters to home users with terms like "parental controls" and "smart home" that you don't see in the web interface. Here Reyee divides the layout into three tabs instead of five: Home, Scenario, and Settings.
Overall, the RG-E5 requires you to use the web interface and the mobile app to get the most out of it. Plus, the two interfaces lack proper on-screen instructions, so chances are you'll end up searching Google to find out what Smart Wi-Fi does or why you should or should not enable ARP Guard.
Are there any additional costs?
There are no additional costs associated with the RG-E5. You'll see wording like "free trial" and "free lifetime service of all basic features" associated with Ruijie Cloud, but there are no monthly subscriptions or premium features that require an additional fee.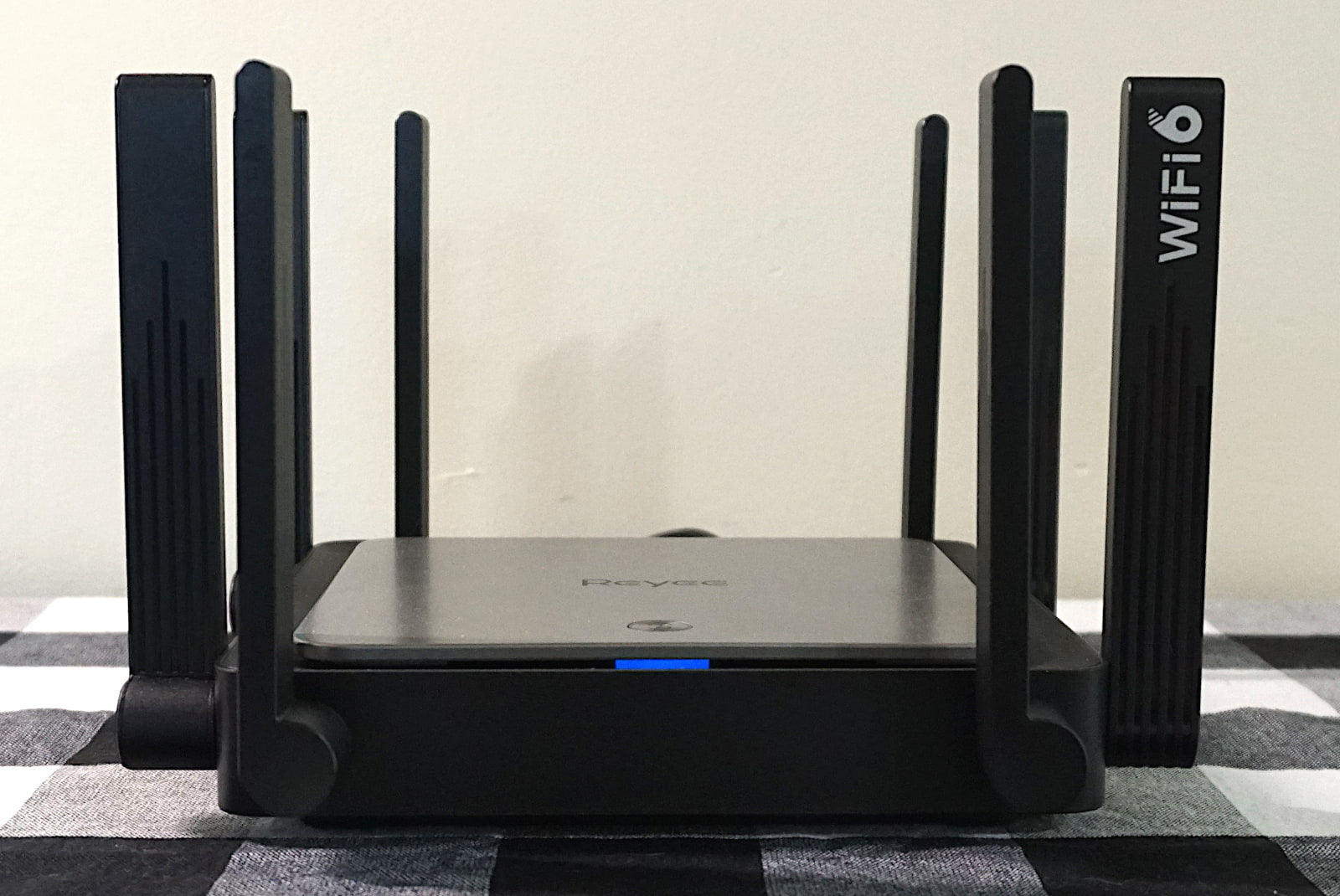 The Reyee RG-E5 feels like a business router, but it targets home use. Kevin Parrish | HighSpeedInternet.com
Our Reyee RG-E5 review: The verdict
The Reyee RG-E5 is a Wi-Fi 6 router that keeps one foot in the business pool and one in the residential one. In fact, the web interface seems directed at businesses, while the Reyee app is better for homes. The funny thing is, you need both to get the most out of this router.
Look, the bottom line is the RG-E5 has decent speeds and an excellent range. Sure, you can probably get an insane range by placing this router in an open field, but that's not a real-world scenario. Sticking this router in the center of your home or office and trying to get great speeds at 100 feet is a real-world scenario, and the RG-E5 does just that.
On the other hand, the RG-E5 lacks many features we've come to love from competitors like ASUS and TP-Link: free antivirus, robust parental controls, USB sharing, multi-gig internet support—you name it. Still, there's a lot of speedy bang for your buck here, making the RG-E5 a good investment if you don't want to spend more than $150.
FAQ about the Reyee RG-E5
What is Ruijie Cloud?
Ruijie Cloud is a cloud service offered by Ruijie Networks. You can monitor all registered devices from one interface no matter where they are around the globe. You can remotely monitor performance, change configurations, upgrade firmware, and more. The service supports access points, switches, gateways, home routers, and other Ruijie networking devices.
What is ARP Guard?
Address Resolution Protocol (ARP) Guard prevents hackers from poisoning the translation between MAC addresses to IP addresses (and vice versa). Hackers target the weakness in this translation to steer traffic and perform a man-in-the-middle attack. This "spoofing" applies to local networking only, like between the router and a targeted client device.
We test router speed by setting up each router in an office and connecting it to a local test server. Then, we transmit test data between our wireless devices and the server, taking numerous measurements to account for fluctuations in Wi-Fi speeds.
The first tests occur close to the router, without obstructions—so the Wi-Fi is as strong and fast as it's gonna get. We repeat the process straight out at 10, 20, and 30 feet, with only a glass door obstructing our view of the router. The same glass door and an exterior door blocks our path when we test outside at 40 and 50 feet.
We also run tests in a hallway to the left of the TV room and office—where there's a glass door, three walls, and an air handler unit blocking our view of the router. The dining room, another testing point, sits to the right of the kitchen, TV room, and office—two walls and a glass door block the path in this test.
To test video streaming, we connect a fast storage device to the router and stream a 4K video to six wireless devices simultaneously—two phones, three tablets, and a laptop—connected to the same wireless band.
Client devices used in testing
| | iPhone 12 Pro Max | Google Pixel 3 |
| --- | --- | --- |
| Wi-Fi version | Wi-Fi 6 | Wi-Fi 5 |
| Stream configuration | 2 x 2 | 2 x 2 |
| Max channel width | 80 MHz | 80 MHz |
| Max 5 GHz speed (AX) | 1,200Mbps | – |
| Max 5 GHz speed (AC) | 866Mbps | 866Mbps |
| Max 2.4 GHz speed (AX) | 195Mbps | – |
| Max 2.4 GHz speed (N) | 144Mbps | 144Mbps |
| | iPhone 12 Pro Max* | Google Pixel 3* |
| --- | --- | --- |
| 2 feet | 843 | 695 |
| 10 feet | 842 | 692 |
| 20 feet | 789 | 656 |
| 30 feet | 725 | 646 |
| 40 feet (porch) | 636 | 445 |
| 120 feet (across street) | 330 | 143 |
| 160 feet (mailboxes) | No connection | No connection |
*speed in megabits per second (Mbps)
Amazon.com Prices as of 6/23/23 17:35, MST. Product prices and availability are accurate as of the date/time indicated and are subject to change. Any price and availability information displayed on Amazon.com at the time of purchase will apply to the purchase of this product. Highspeedinternet.com utilizes paid Amazon links.
CERTAIN CONTENT THAT APPEARS ON THIS SITE COMES FROM AMAZON. THIS CONTENT IS PROVIDED 'AS IS' AND IS SUBJECT TO CHANGE OR REMOVAL AT ANY TIME.
Author - Kevin Parrish
Kevin Parrish has more than a decade of experience working as a writer, editor, and product tester. He began writing about computer hardware and soon branched out to other devices and services such as networking equipment, phones and tablets, game consoles, and other internet-connected devices. His work has appeared in Tom's Hardware, Tom's Guide, Maximum PC, Digital Trends, Android Authority, How-To Geek, Lifewire, and others. At HighSpeedInternet.com, he focuses on network equipment testing and review.
Editor - Rebecca Lee Armstrong
Rebecca Lee Armstrong has more than six years of experience writing about tech and the internet, with a specialty in hands-on testing. She started writing tech product and service reviews while finishing her BFA in creative writing at the University of Evansville and has found her niche writing about home networking, routers, and internet access at HighSpeedInternet.com. Her work has also been featured on Top Ten Reviews, MacSources, Windows Central, Android Central, Best Company, TechnoFAQ, and iMore.