TP-Link Archer AX5400 Pro Review
A speedy router with lots of features for the money based on our testing and review
Apr 27, 2023 | Share

Equipment Guides, Product Reviews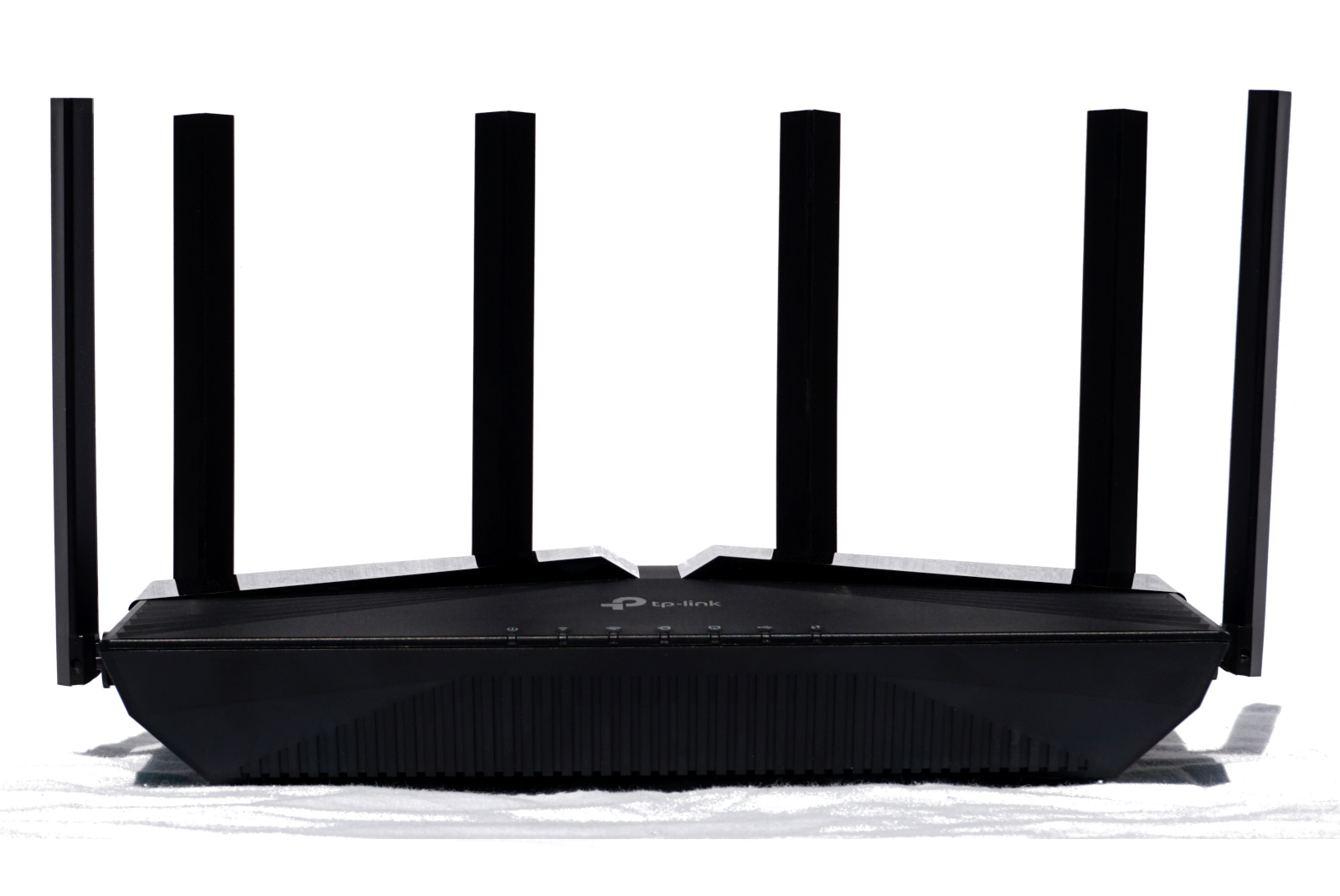 Our tests show the Archer AX5400 Pro has good speeds for the money. Kevin Parrish | HighSpeedInternet.com
Is the Archer AX5400 Pro right for you?
The Archer AX5400 Pro is a great pick if you need multi-gig internet support at an affordable price. It's feature-rich, too, packing VPN tools, file sharing, and basic free parental controls under the hood. You really can't go wrong with this router, although you may want to look elsewhere if you need the maximum amount of speed you can get at a very long range.
Pros:
Multi-gig internet support
VPN tools
Basic free parental controls
Cons:
Subscription-locked features
Inconsistent user experience
No printer sharing
Archer AX5400 Pro standout features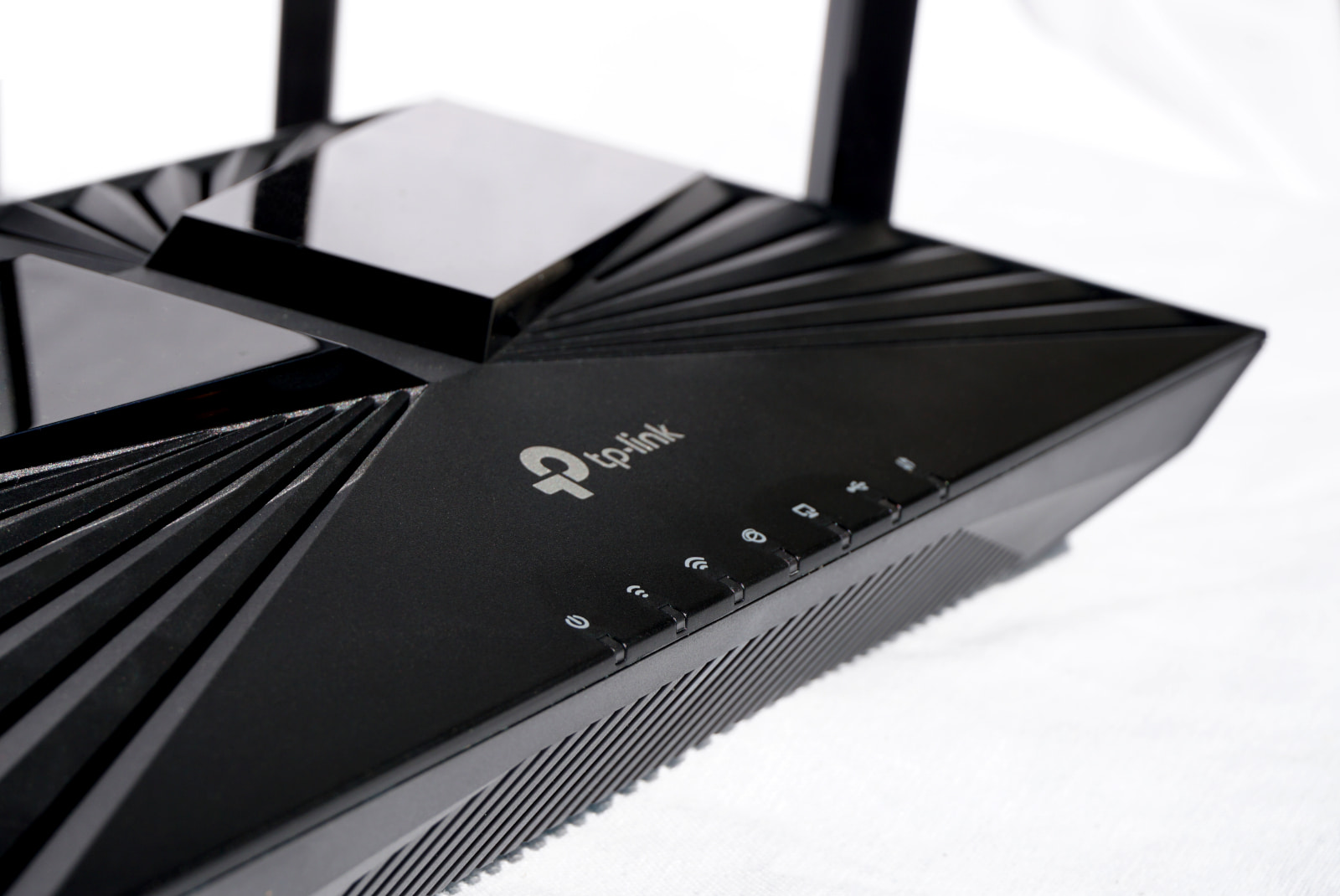 The Archer AX5400 Pro includes VPN tools and free basic parental controls. Kevin Parrish | HighSpeedInternet.com
The Archer AX5400 Pro has your standard feature set. The big callout is the multi-gig Ethernet port you can use for internet or wired networking.
Our Archer AX5400 Pro scoring breakdown
| | | |
| --- | --- | --- |
| Category | Score* | Summary |
| Performance | 4 | Matches similar routers in speed tests. |
| Features | 4 | Includes a VPN server and client along with file sharing. |
| Design | 4 | Provides multi-gig internet support and USB connectivity. |
| Setup | 3 | Has an annoying, troublesome setup process. |
| Ease of use | 3 | Presents an inconsistent experience across the web and Tether app interfaces. |
* out of 5 points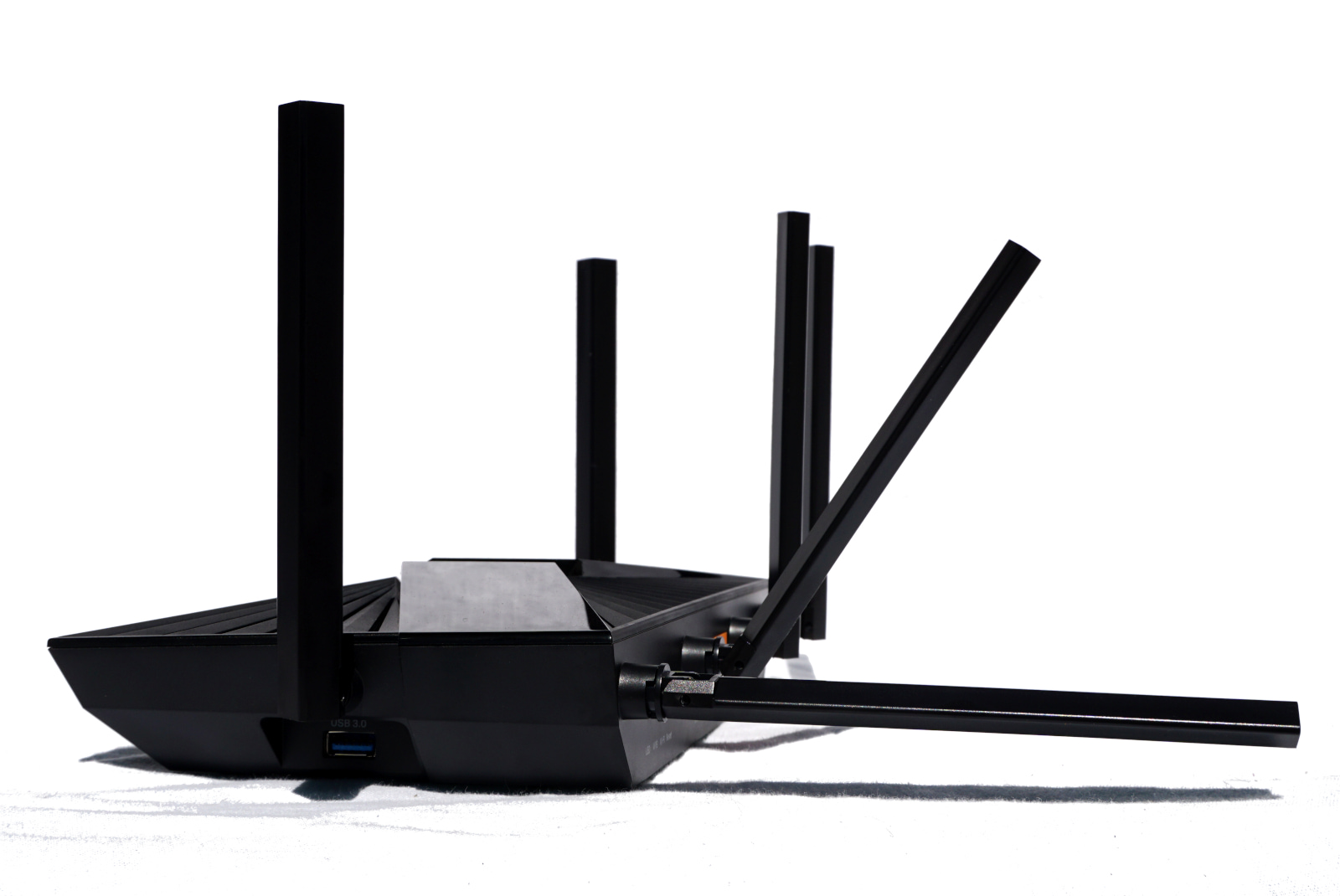 You can bend the Archer AX5400 Pro antennas back and side-to-side. Kevin Parrish | HighSpeedInternet.com
The Archer AX5400 Pro has good speeds for the money. We say that a lot because, in most cases, Wi-Fi 6 routers in a specific price bracket have a similar speed range from two feet to 120 feet. In this case, we generally record averages of just over 840Mbps at close range and around 250Mbps at 120 feet.
And while the Archer AX5400 Pro had a slightly better up-close speed average than the competition in our tests, we found the Reyee RG-E5 to have the best range for a $150 router. We recorded 330Mbps at 120 feet, the highest average we've tested on a router to date. The NETGEAR Nighthawk XR1000 had a better 120-foot average than the TP-Link router, too, testing at 275Mbps compared to 242Mbps with the Archer AX5400 Pro.
Even at 40 feet (our marker just beyond the front patio), the Reyee RG-E5 surpassed the competition with a 636Mbps average. The Archer AX5400 Pro also did fairly well here, with a 501Mbps average—but at a slightly higher cost. And yes, the Reyee model has the upper hand here as the better megabit-per-dollar value, but it doesn't have all the features offered on TP-Link's router, like multi-gig internet support and built-in VPN tools.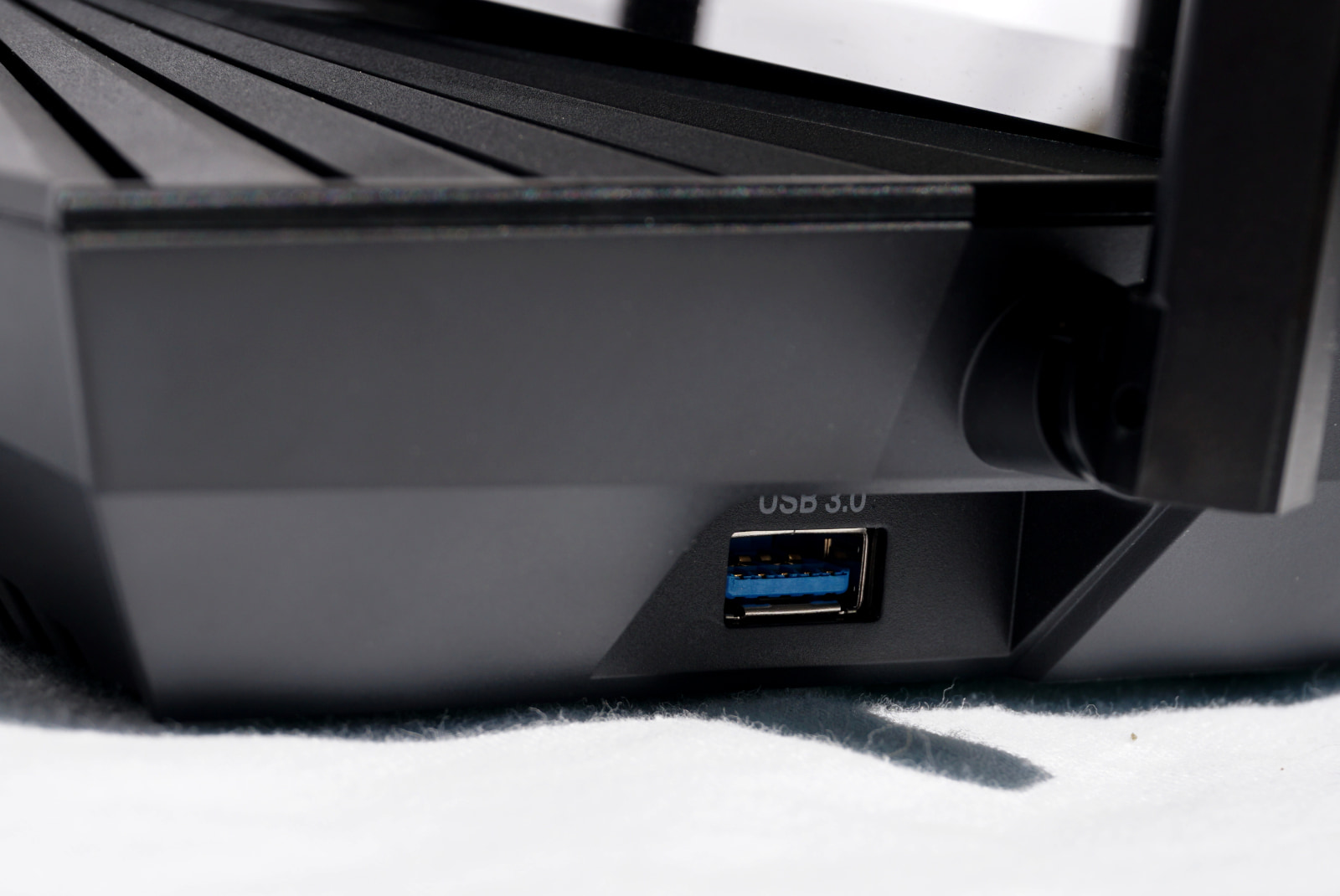 The Archer AX5400 Pro USB port supports file sharing and media streaming. Kevin Parrish | HighSpeedInternet.com
Like the hardware design, the Archer AX5400 Pro is fairly standard in features for a router at this price. The USB port supports file sharing and local media streaming, but there's no native printer share support. In fact, as we look in our database, TP-Link routers rarely support printer sharing—but many ASUS and NETGEAR routers do.
There's also a built-in VPN server and client. The latter should come in handy if you already have a VPN subscription and want to use it with devices that don't support VPN software, like IoT gadgets, media streamers, and game consoles. Other notable features here include per-device speed limits, smart assistant support (via the Tether app), and mesh networking support.
What we wish the Archer AX5400 Pro did better
Free security
More free parental controls
Many of TP-Link's routers include HomeCare, a free suite of security tools and parental controls. The Archer AX5400 Pro is not one of them. There are some basic parental controls here and a free evaluation of your network's security, but you need a HomeShield Pro subscription to assign different bedtimes or block malicious content, for example.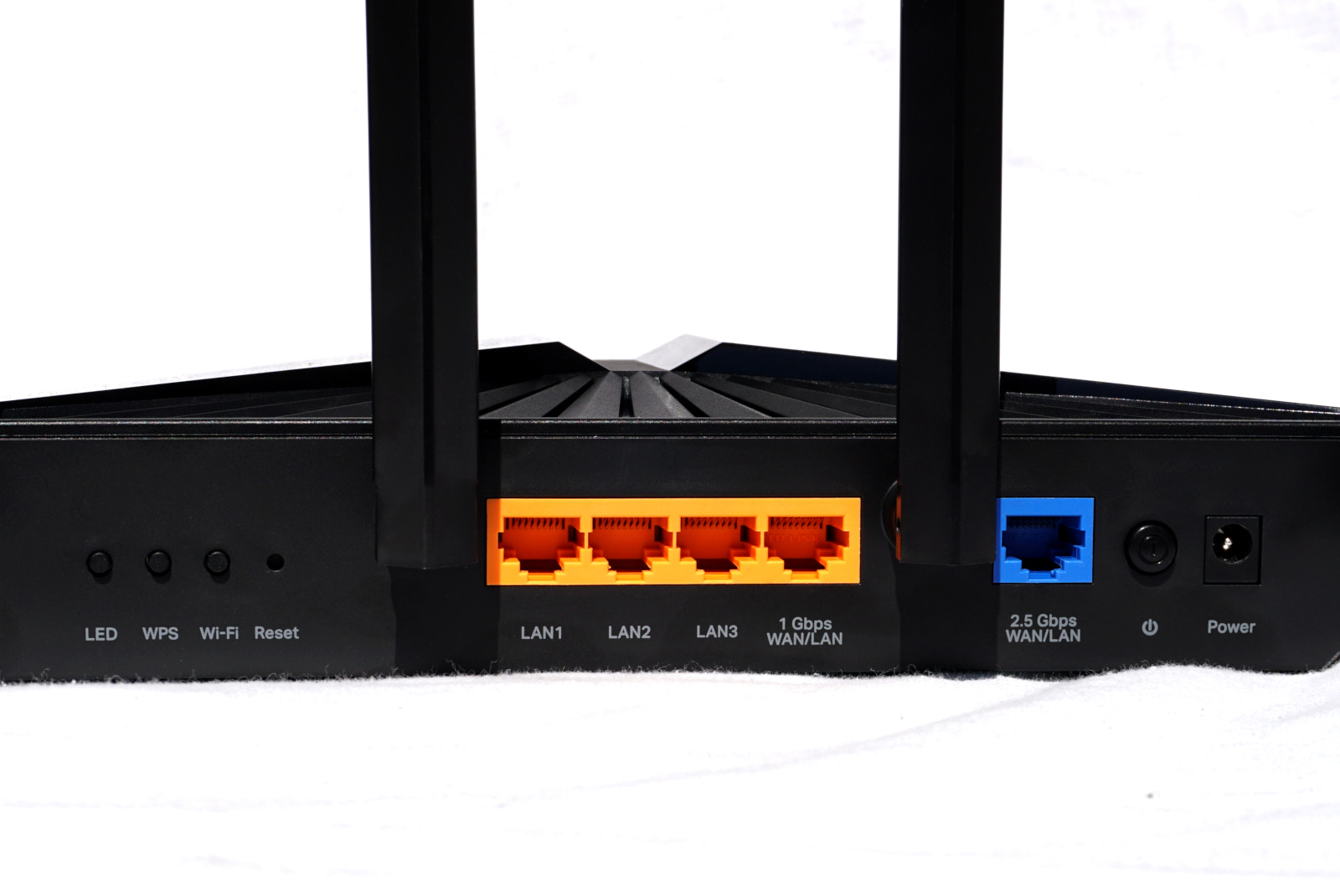 You can use the 2.5Gbps port on the Archer AX5400 Pro for internet or wired networking. Kevin Parrish | HighSpeedInternet.com
The Archer AX5400 Pro has a relatively standard design for a router at this price: two bands, a handful of Ethernet ports, and a single USB port. In fact, it's the same design used with the Archer AX73, only this model sports a 2.5Gbps Ethernet port—the "pro" portion of this router—and a different shell. You can use the multi-gig port for internet or local networking, while the USB ports set you up for file sharing. You get all the 5 GHz channels and 160 MHz channel support too for hitting those real-world sub-2Gbps wireless speeds.
Setting up this router was highly annoying. It crashed twice and didn't save most of the settings we manually set during the multi-step process. Plus, the setup is still overly lengthy compared to other routers that usually auto-detect some settings and push other settings into an Advanced setup.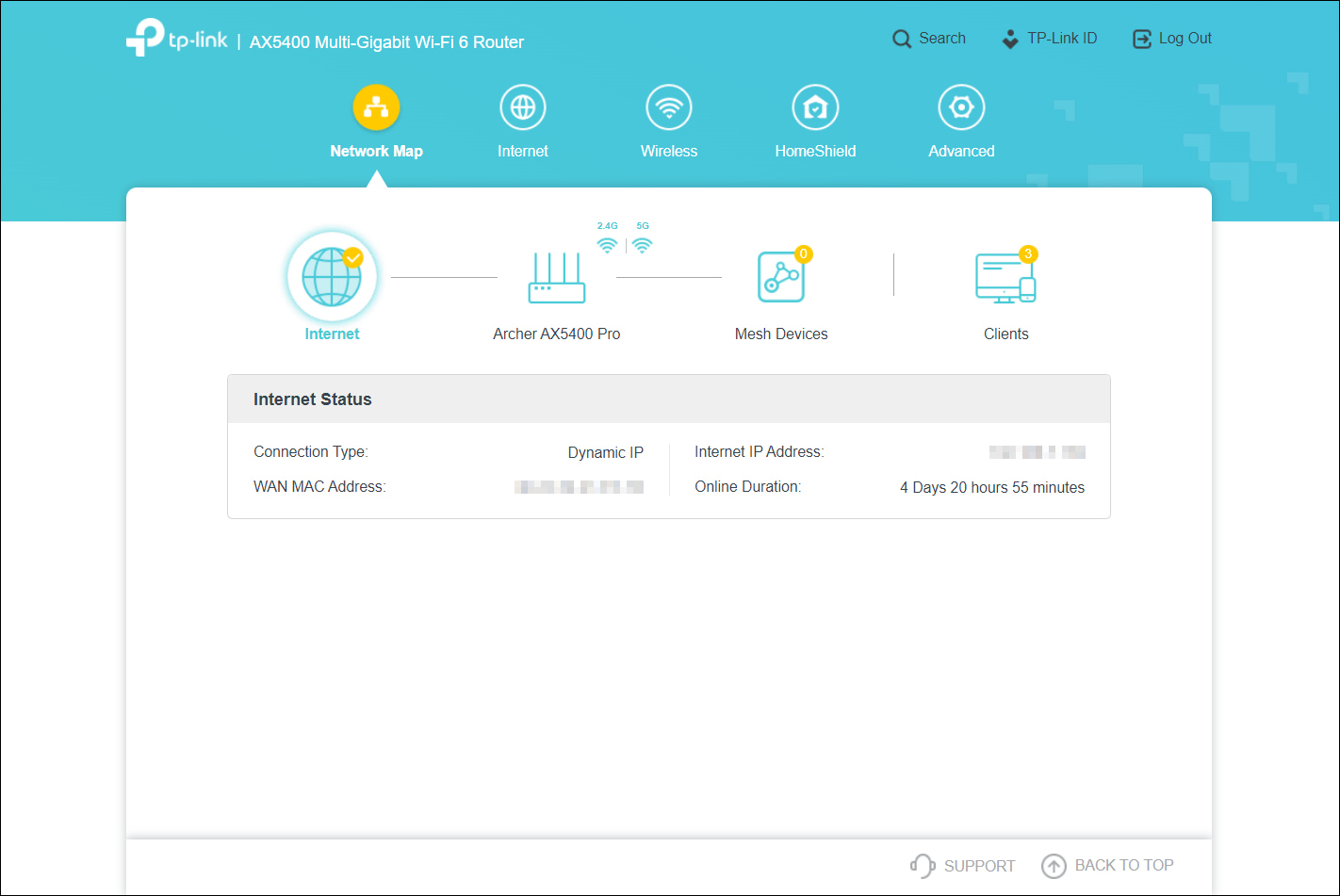 The Archer AX5400 Pro has an inconsistent experience across its web and mobile interfaces. Kevin Parrish | HighSpeedInternet.com
We're all about keeping a consistent user experience across multiple devices. Router manufacturers don't seem to grasp this concept. They push mobile apps as your primary go-to interface, but eventually, you end up loading a browser to change this setting or that setting.
TP-Link is an excellent example of this. The QoS settings—which are nothing more than speed limits and device prioritizations—are clearly categorized in the Tether app, but there's no QoS category in the web interface. Instead, you'll find the same settings parked next to each device on the network map. Plus, you can only access the free parental controls in the mobile app. Want to set up the VPN server? It's only accessible on the web interface.
Ugh.
Seriously, all this back-and-forth to manage one network is downright annoying, but they all mostly do it. The only exception we've seen to date is the ExpressVPN Aircove, which ditches the mobile app and forces you to use a web browser on mobile and desktop.
Yes, you can access TP-Link's web interface through a mobile browser, which nicely conforms to the smaller screen. But you may find using a mobile browser for network management inconvenient and clunky, hence the need for a more user-friendly Tether app.
Overall, both the web interface and Tether app experiences are just okay. We've seen better web layouts on other routers that ditch the tabs and list everything in streamlined, expandable categories. The Tether app is a cleaner experience that crams mostly everything under a Tools tab.
Are there any additional costs?
You need a HomeShield Pro subscription to access all the features offered on the Archer AX5400 Pro. The subscription costs $5.99 per month or $54.99 per year.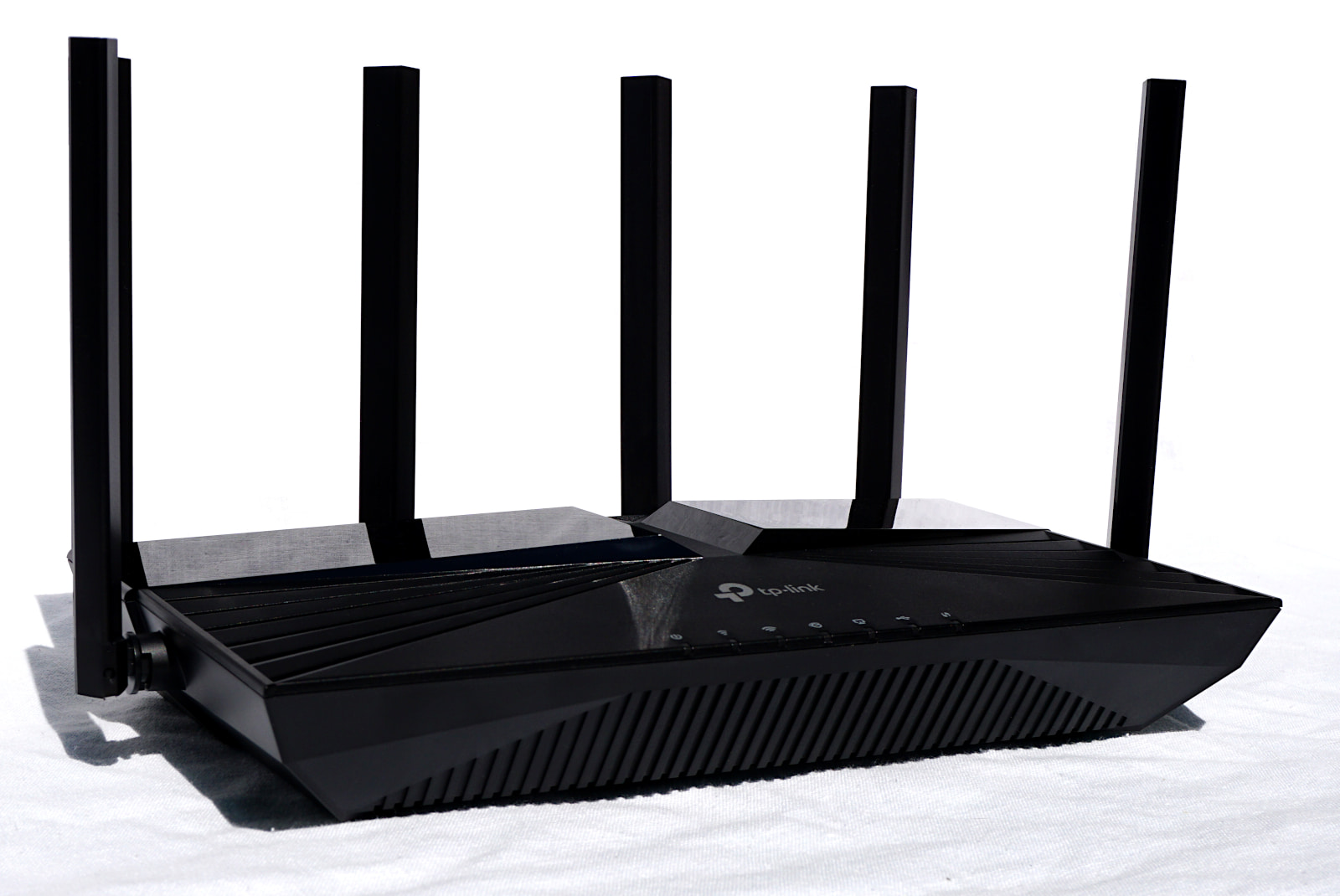 The Archer AX5400 Prp is a good deal for the money based on tests. Kevin Parrish | HighSpeedInternet.com
Our Archer AX5400 Pro review: The verdict
The Archer AX5600 Pro is a decent pick if you need a router with multi-gig internet support. It's loaded with features, like built-in VPN tools, file sharing, media streaming, and basic free parental controls. There's certainly lots to love about the Archer AX5400 Pro, but there are a few caveats that give us pause.
First, you need a HomeShield Pro subscription to get the most out of this router. That's not the case with other TP-Link routers, like the Archer AX11000, with a free lifetime subscription to the Trend Micro-charged HomeCare service.
Second, you need to use both the web interface and the Tether app to use everything this router offers. That's generally true with all modern routers, but it would be nice to have one interface that grants access to every feature, not some in one interface and some in the other.
The bottom line is that the Archer AX5400 Pro doesn't stand out. Sure, it supports multi-gig internet, but nothing here distinguishes it from other routers in this price range with similar features. Don't get us wrong—it's as solid as they come in features and performance—but you may want to do a few comparisons first before you invest.
What's the difference between HomeCare and HomeShield?
HomeCare is a suite of security features powered by Trend Micro and is offered on some TP-Link routers. The suite is free to use for the lifetime of the product.
HomeShield is another suite of features powered by Norton and is offered on other TP-Link routers like the Archer AX5400 Pro. The Basic version is free to use, whereas the Pro version adds premium features for $5.99 per month or $54.99 per year.
Refer to TP-Link's HomeShield comparison table to see the differences between the Basic and Pro versions.
How is the Archer AX5400 Pro different from the AX73 model?
From what we can tell, the two routers are basically the same. The only difference is the AX5400 Pro has a 2.5Gbps Ethernet WAN/LAN port and the AX73 does not. The AX5400 Pro also has a different shell.
What parental controls are made available for free?
HomeShield Basic allows you to do the following:
Block websites
Filter content (Adult, Gambling, Sex Education, Online communication, Social Networking, Pay to Surf, Media, Downloads, Games, and Search Engine)
Set one bedtime
The HomeShield Pro subscription adds the following features:
Set bedtimes for Weekdays & Weekends
Set bedtimes for Custom Days
Set Time Limits for internet
Set offtime for internet
We test router speed by setting up each router in an office and connecting it to a local test server. Then, we transmit test data between our wireless devices and the server, taking numerous measurements to account for fluctuations in Wi-Fi speeds.
The first tests occur close to the router, without obstructions—so the Wi-Fi is as strong and fast as it's gonna get. We repeat the process straight out at 10, 20, and 30 feet, with only a glass door obstructing our view of the router. The same glass door and an exterior door blocks our path when we test outside at 40 and 50 feet.
We also run tests in a hallway to the left of the TV room and office—where there's a glass door, three walls, and an air handler unit blocking our view of the router. The dining room, another testing point, sits to the right of the kitchen, TV room, and office—two walls and a glass door block the path in this test.
To test video streaming, we connect a fast storage device to the router and stream a 4K video to six wireless devices simultaneously—two phones, three tablets, and a laptop—connected to the same wireless band.
Client devices used in testing
| | iPhone 12 Pro Max | Google Pixel 3 |
| --- | --- | --- |
| Wi-Fi version | Wi-Fi 6 | Wi-Fi 5 |
| Stream configuration | 2 x 2 | 2 x 2 |
| Max channel width | 80 MHz | 80 MHz |
| Max 5 GHz speed (AX) | 1,200 Mbps | – |
| Max 5 GHz speed (AC) | 866 Mbps | 866 Mbps |
| Max 2.4 GHz speed (AX) | 195 Mbps | – |
| Max 2.4 GHz speed (AC) | 195 Mbps | 144 Mbps |
Archer AX5400 Pro benchmarks (5 GHz only)
| | iPhone 12 Pro Max* | Google Pixel 3* |
| --- | --- | --- |
| 2 feet | 864 | 683 |
| 10 feet | 833 | 633 |
| 20 feet | 786 | 577 |
| 30 feet | 731 | 528 |
| 40 feet (porch) | 501 | 392 |
| 120 feet (across street) | 242 | 114 |
| 160 feet (mailboxes) | Out of range | Out of range |
| 20 feet (hallway) | 507 | 380 |
* Speeds in megabits per second (Mbps) using an 80 MHz channel.
Amazon.com Prices as of 4/12/23 17:35 MST. Product prices and availability are accurate as of the date/time indicated and are subject to change. Any price and availability information displayed on Amazon.com at the time of purchase will apply to the purchase of this product. Highspeedinternet.com utilizes paid Amazon links.
CERTAIN CONTENT THAT APPEARS ON THIS SITE COMES FROM AMAZON. THIS CONTENT IS PROVIDED 'AS IS' AND IS SUBJECT TO CHANGE OR REMOVAL AT ANY TIME.
Author - Kevin Parrish
Kevin Parrish has more than a decade of experience working as a writer, editor, and product tester. He began writing about computer hardware and soon branched out to other devices and services such as networking equipment, phones and tablets, game consoles, and other internet-connected devices. His work has appeared in Tom's Hardware, Tom's Guide, Maximum PC, Digital Trends, Android Authority, How-To Geek, Lifewire, and others. At HighSpeedInternet.com, he focuses on network equipment testing and review.
Editor - Rebecca Lee Armstrong
Rebecca Lee Armstrong has more than six years of experience writing about tech and the internet, with a specialty in hands-on testing. She started writing tech product and service reviews while finishing her BFA in creative writing at the University of Evansville and has found her niche writing about home networking, routers, and internet access at HighSpeedInternet.com. Her work has also been featured on Top Ten Reviews, MacSources, Windows Central, Android Central, Best Company, TechnoFAQ, and iMore.