TP-Link Archer AX11000 Review
You don't need to be a gamer to enjoy everything this feature-packed router has to offer.
Apr 11, 2023 | Share

Equipment Guides, Product Reviews
The TP-Link Archer AX11000 provides a lot of speed and value for the money. Kevin Parrish | Highspeedinternet.com
Is the Archer AX11000 right for you?
TP-Link markets the Archer AX11000 as a gaming router, and at first glance, that seems to be the case. But when you take a deep dive into everything it has to offer, the Archer AX11000 is a full-featured router anyone can use. The "gaming" features are standard, relabeled tools.
That said, there's a lot to love with the Archer AX11000, and we highly recommend it for any scenario, whether it's gaming or streaming your favorite Marvel shows on Disney Plus. Want free parental controls? Check. Want free antivirus? Check that too. You can't beat what you get at this price, no sirree.
Pros:
Free antivirus
Free parental controls
Multigig internet support
Loads of wired connectivity
Cons:
No real gaming tools
Repetitive settings
No adjustable antennas
Archer AX11000 standout features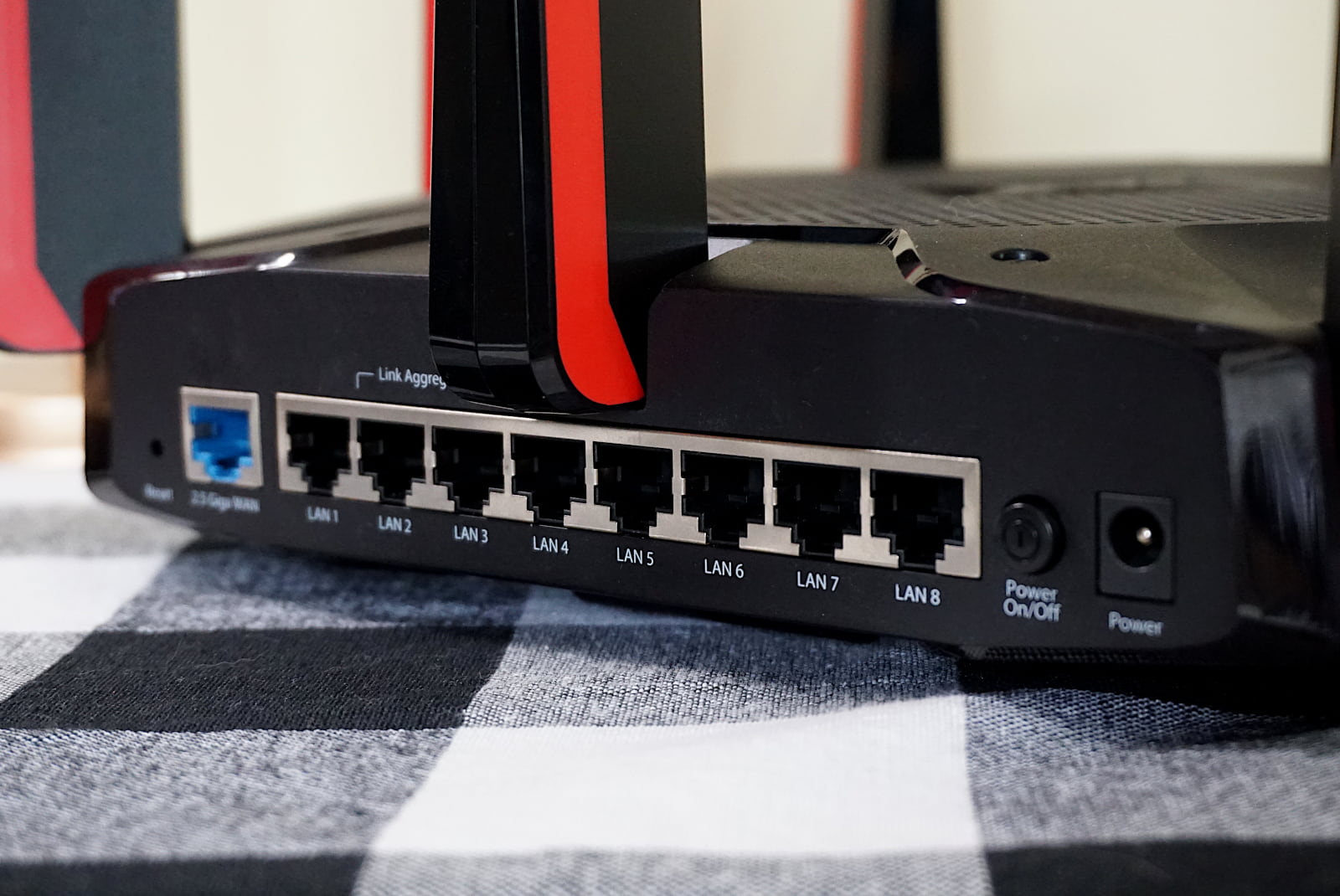 The TP-Link Archer AX11000 includes multigig internet and wired LAN support. | Highspeedinternet.com
The Archer AX11000 packs three Wi-Fi bands with four streams each, perfect for large families with lots of devices. It also sets you up for multigig speeds, with a 2,500 Mbps internet port and a 2,000 Mbps dual-Ethernet port connection. So, if you're eyeing a new internet plan with speeds faster than a gigabit, this router is for you, hands down.
Our Archer AX11000 scoring breakdown
| | | |
| --- | --- | --- |
| Category | Score* | Summary |
| Performance | 4 | Competes with the Nighthawk RAX200 in speed but doesn't have the range. |
| Features | 4 | Includes free antivirus from Trend Micro and easy parental controls. |
| Design | 4 | Provides a 2.5 Gbps internet port, plus eight Gigabit Ethernet ports for wired devices. |
| Setup | 4 | Gets your network running quickly, whether you use a browser or the Tether app. |
| Ease of use | 4 | Employs the best interface of all the TP-Link routers we've tested. |
* out of 5 points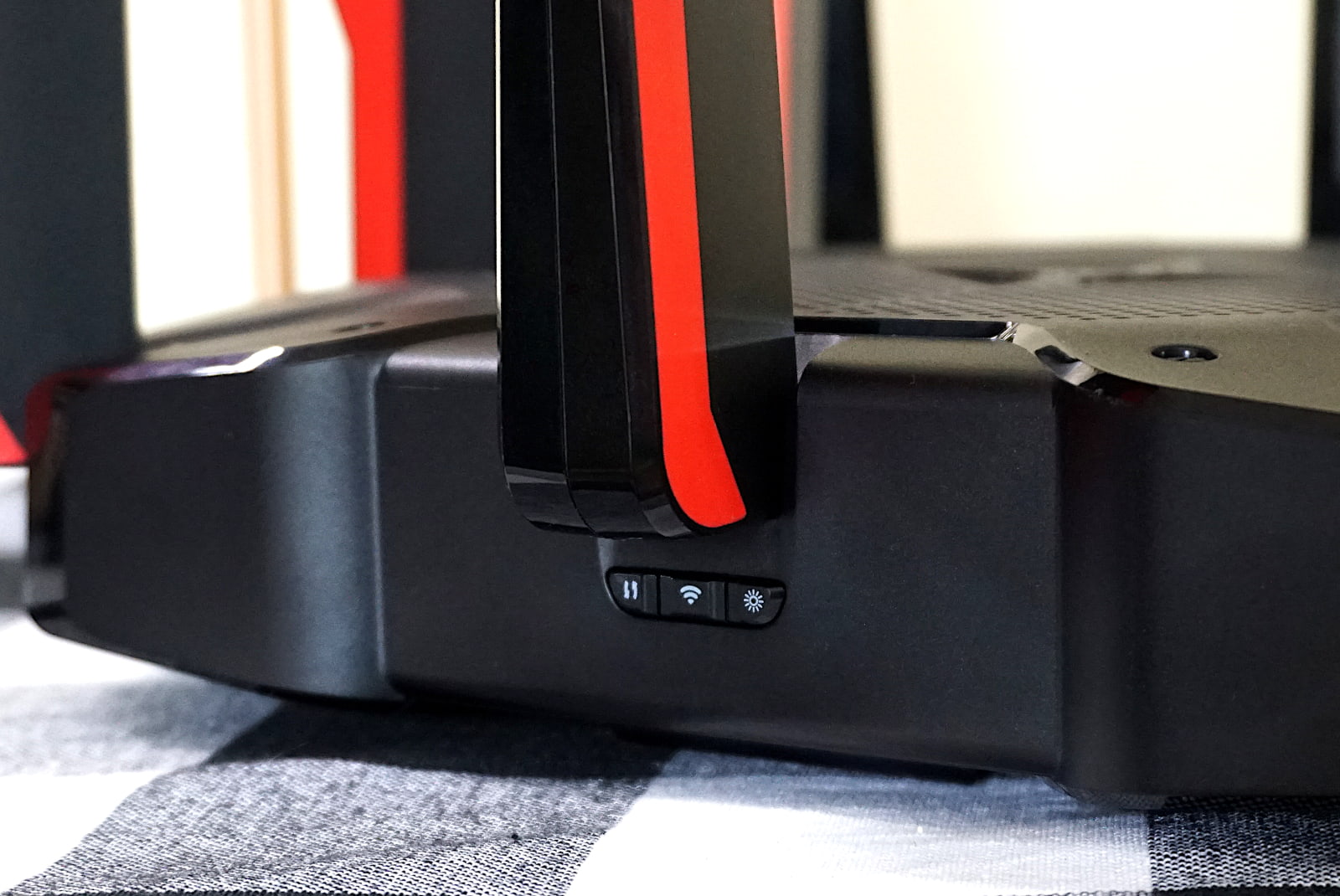 You can easily turn Wi-Fi off with the press of a button on the TP-Link Archer AX11000. Kevin Parrish | Highspeedinternet.com
We retested the Archer AX11000 for this review, and the results are much higher than our original averages. Chalk it up to new firmware or less interference, but the updated averages now put the Archer AX11000 closer to NETGEAR's faster but far more expensive Nighthawk RAX200 and RAXE500 routers.
That said, we recorded an 860 Mbps average out of a 1,200 Mbps max rate with the Archer AX11000—20 Mbps less on average than the pricier Nighthawk RAX200. Meanwhile, our Lenovo laptop at close range tested with speeds up to 1,610 Mbps out of a 2,400 Mbps maximum, which is excellent. By comparison, the similar Asus ROG Rapture GT-AX11000 tested slower than both routers at close and long range.
If you want a router with long range, the Archer AX11000 delivers. We tested 282 Mbps at 120 feet, a distance that includes two doors, some furniture, and a nosy cat or two. That's a decent speed at that range, but we recorded faster speeds with TP-Link's Archer AX6000 and Reyee's RG-E5. NETGEAR's Nighthawk RAX200 and RAXE500 are the only tested routers to date that can even connect with our devices at 160 feet.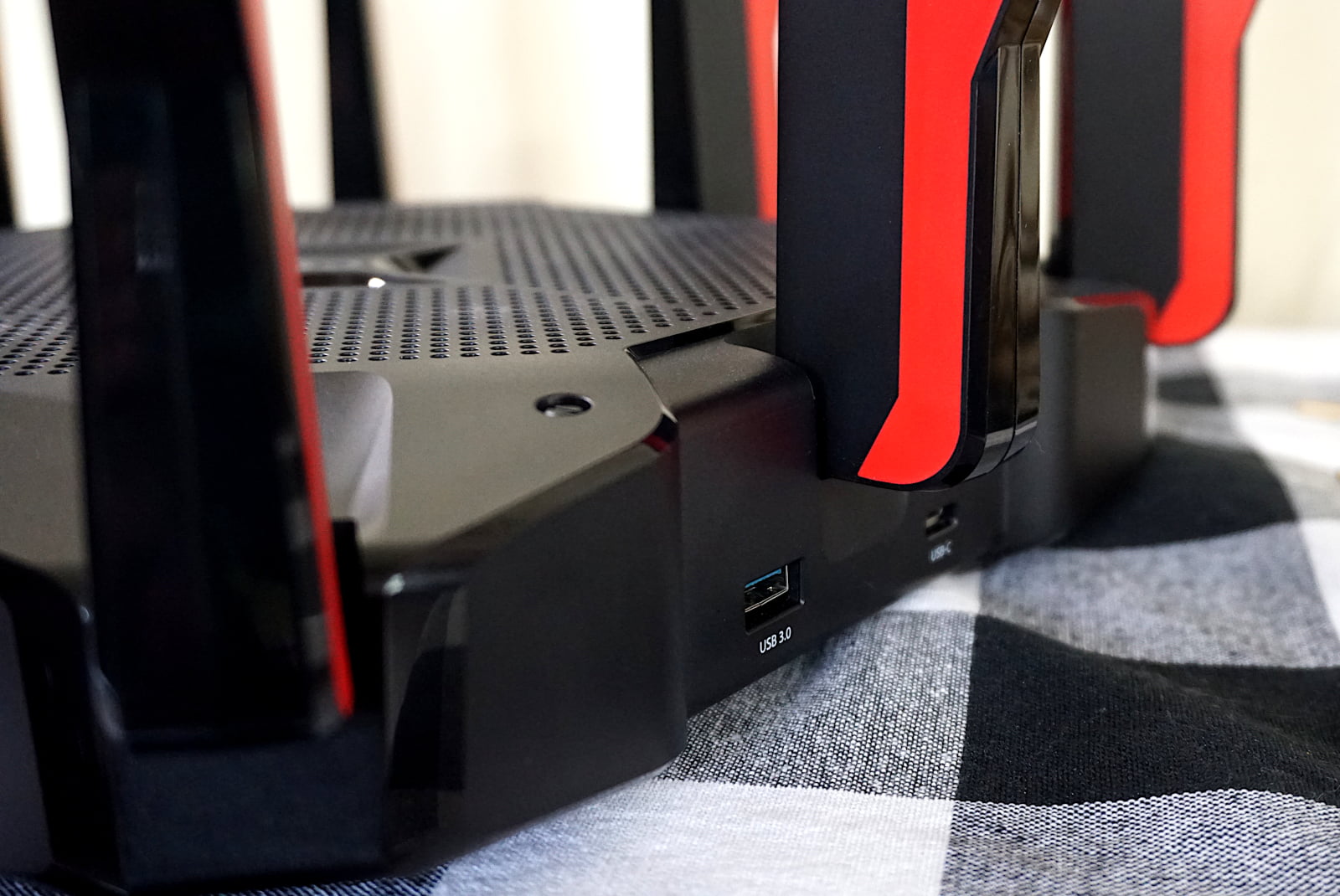 The Archer AX11000 has loads of connectivity for wired devices and file sharing. Kevin Parrish | Highspeedinternet.com
The Archer AX11000 packs lots of features for the price. For starters, HomeCare covers your security and parental control needs for free. We provide a list of what HomeCare does, but in short, you can create profiles, filter traffic, set bedtimes, and more.
The VPN server allows you to access the internet safely when connected to public Wi-Fi. Your internet traffic goes directly to the router first and then to the destination on the internet, hiding your current IP address and location. You don't need a subscription to use this feature.
Other goodies under the hood include Amazon Alexa support (found under Smart Game Assistant), mesh networking with compatible TP-Link range extenders and powerline adapters, and QoS settings tailored for gaming.
What we wish the Archer AX11000 did better
Printer sharing
Real gaming tools
You can share files, share media, and create a Time Machine backup using a USB stick connected to the router, but you can't share a printer, which is unfortunate. Then again, you can share most new printers using Wi-Fi, but a shareable USB tether is a good backup.
Also, the Archer AX11000 doesn't have real gaming tools. The Game Center portion merely relabels common tools like security, parental controls, and QoS settings you can access elsewhere on the interface. The only real game-centric tools are the router's ping and traceroute utilities.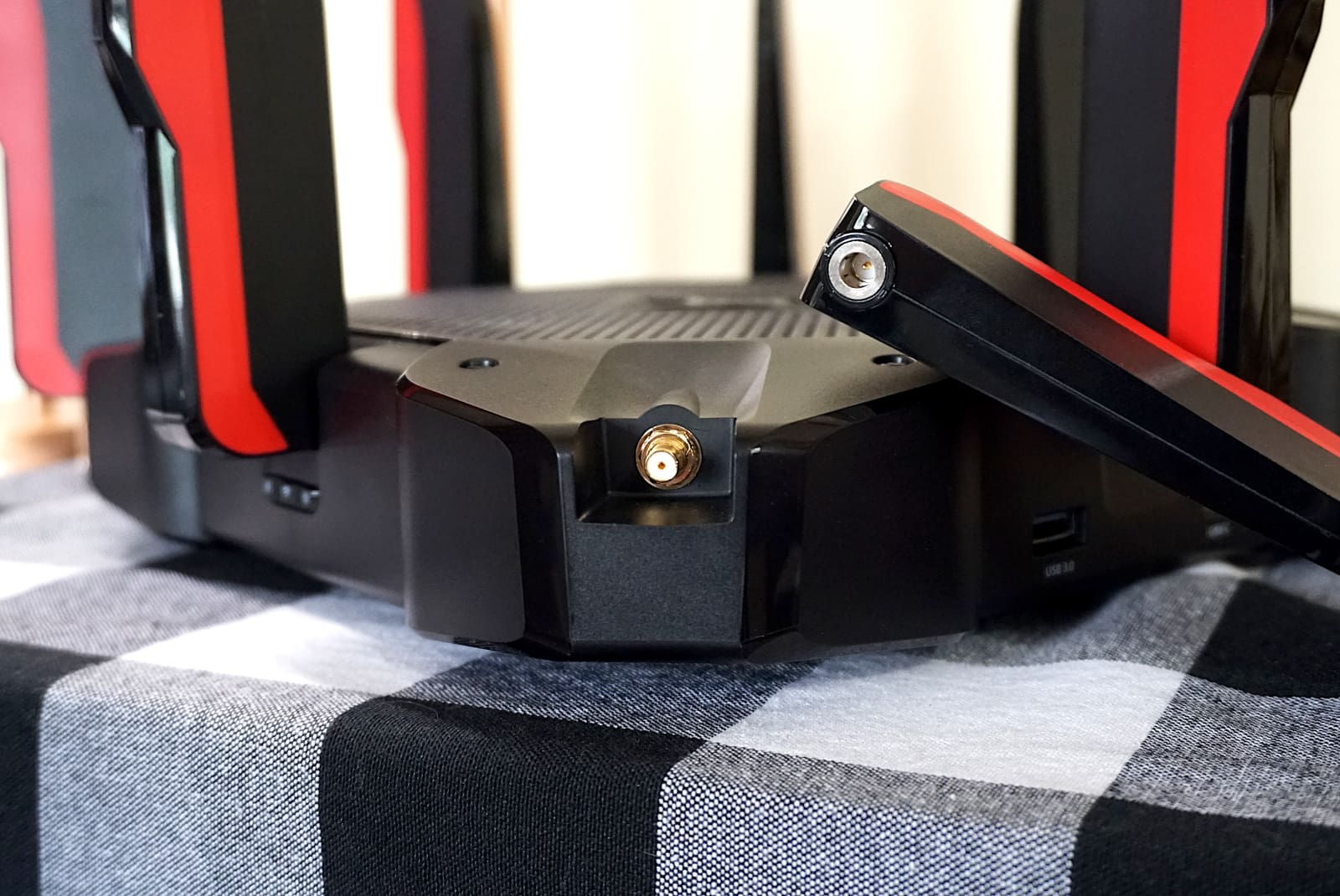 Each antenna plugs into the main unit but you can't adjust them like you can on other routers. Kevin Parrish | Highspeedinternet.com
If you need loads of wired connections, you can't go wrong with the Archer AX11000. There are eight Gigabit Ethernet ports on the back, two of which you can pair together for a 2,000 Mbps (2 Gbps) wired connection. The 2.5 Gbps WAN port is ideal for cable and fiber internet plans faster than a gigabit.
What's amusing here is that for nearly a decade now, security experts have warned that WPS isn't a secure way to connect devices to routers.1 Yet manufacturers like TP-Link continue to add WPS to their routers and gateways because gadgets like printers and digital cameras still use it. Always disable WPS if you don't need it.
Finally, the antennas plug into the main unit—you don't screw them in like with other routers. And while popping them on is a lot quicker, you can't adjust them, so if you need better Wi-Fi on a second floor, you may need to invest in a TP-Link range extender or powerline adapter with OneMesh support.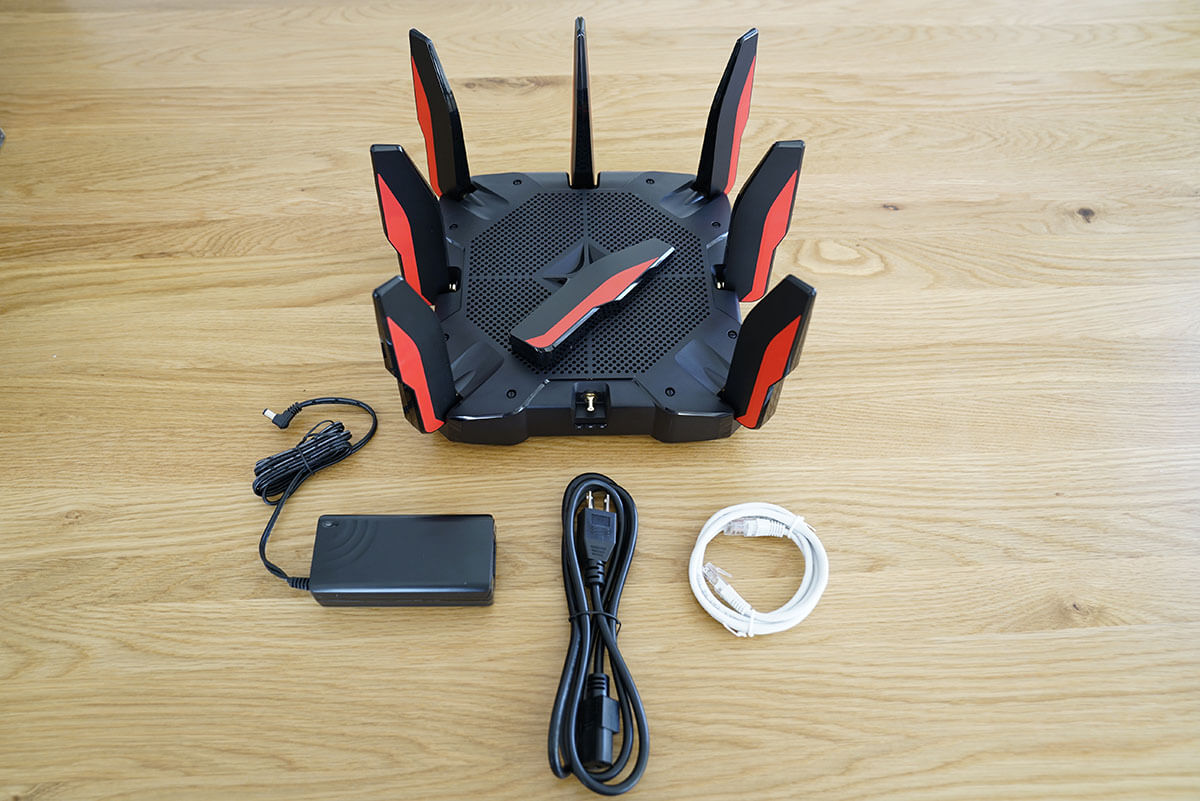 You can get the Archer AX11000 up and running through the web interface or TP-Link's Tether app. Anastasia Hrivnak | Highspeedinternet.com
TP-Link employs one of the longest setups of all router manufacturers.
The problem is TP-Link doesn't separate the basic and advanced options, so you may find yourself stumped over the MAC address aspect when all you want to do is get this thing up and running.
In contrast, competing routers determine your best settings automatically, like your time zone, making the process smoother and faster. Still, at least TP-Link doesn't bombard you with subscription nags like those seen with NETGEAR routers.
The Archer AX11000 has one of the coolest web interfaces we've seen to date. Kevin Parrish | Highspeedinternet.com
The Archer AX11000 has one of the sleekest web interfaces we've seen yet. It caters to gamers, sure, but it's easy on the eyes and, quite frankly, a little exciting. It's a far better design than the humdrum blue and white ones loaded on other TP-Link routers.
And yet, the Game Center portion is a little confusing. It simply relabels and relists settings you can find in other sections. For example, you may think the Game Protector parental controls are separate from the HomeCare ones, but they're not—it's the same function listed in two different places.
But is the router easy to use? It's extremely easy, and the Tether app is even easier once you learn the layout.
Are there any additional costs?
No, there are no additional costs. TP-Link's HomeCare suite is free to use for the lifetime of the router.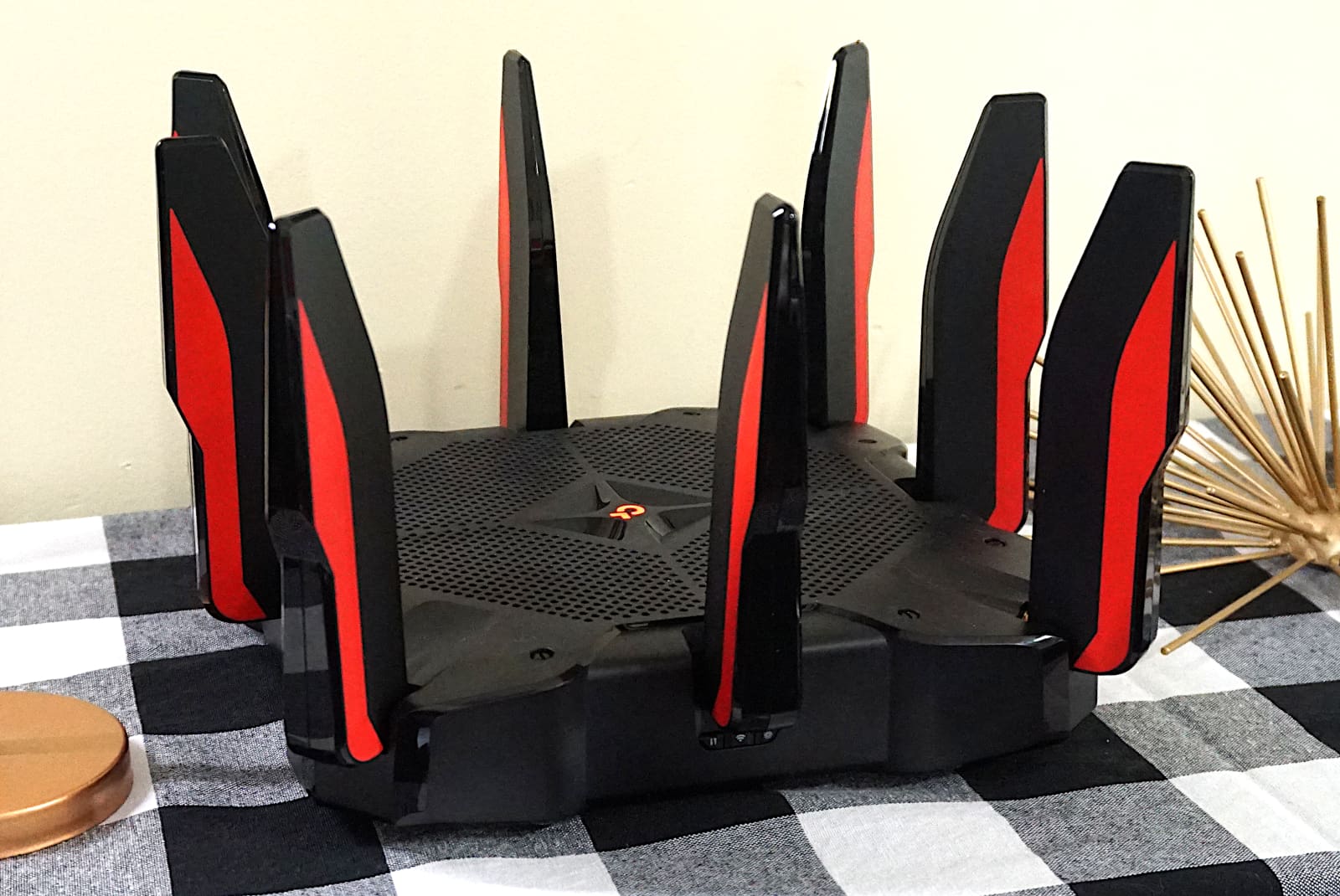 The TP-Link Archer AX1100 is one of the best routers we've tested to date. Kevin Parrish | Highspeedinternet.com
Our TP-Link Archer AX11000 review: The verdict
You can't go wrong with the Archer AX11000. It has free security. It has free parental controls. Want native Amazon Alexa support? You got it. Want more wired connections than you'll ever possibly need? It's all there, plus a 2,500 Mbps internet port to boot.
But don't let its game-centric allure fool you. It's a feature-packed router with a gamer dressing, that's all. It's a great solution for large families with a device arsenal no budget router can handle. If you want speed, this is it. If you want range, this is it too. There's just no beating what the Archer AX11000 offers at this price.
FAQ about the Archer AX11000
HomeCare vs. HomeShield: What's the difference?
HomeCare is a service powered by Trend Micro offered on some TP-Link routers like the Archer AX11000. HomeShield is a newer service powered by Avira offered on other routers. HomeShield has free and premium tools, whereas HomeCare is completely free to use for the lifetime of the router.
Here's a rough comparison of the two free services:
| | | |
| --- | --- | --- |
|   | HomeCare | HomeShield Free |
| Custom profile | Unlimited | 16 family members |
| Content filtering | Yes | Yes |
| Site blocking | Yes | Yes |
| Device blocking | Yes | Yes |
| Internet pause | Yes | Yes |
| Bedtimes | Unlimited | One only |
| Time limit | Yes | Pro only |
| Log insight | Yes | 1 day |
| Usage monitor | Yes | Pro only |
| Firewall | Yes | Yes |
| Antivirus | Yes | Pro only |
| QoS by device | Yes | Yes |
| QoS by application | Yes | No |
| IoT device identification | No | Yes |
| Network security scan | No | Yes |
| Public Wi-Fi scan | No | Yes |
The bottom line is HomeShield leans more toward IoT support, detailed reporting, and added parental tools. HomeShield Pro costs $5.99 per month or $54.99 per year.
What gaming tools does the Archer AX11000 have?
The Archer AX11000 doesn't have tools specific to gaming. Instead, you can find common tools relabelled and relisted under the Game Center tab:
Game Accelerator (Gaming QoS toggle)
Game Protector (Antivirus and parental controls)
Smart Game Assistant (Amazon Alexa)
VPN Server (OpenVPN and PPTP)
Port Forwarding
Game diagnostics (Ping and traceroute)
You can run a speed test from the Network Map, but that's a common tool provided on most modern routers.
We test router speed by setting up each router in an office and connecting it to a local test server. Then, we transmit test data between our wireless devices and the server, taking numerous measurements to account for fluctuations in Wi-Fi speeds.
The first tests occur close to the router, without obstructions—so the Wi-Fi is as strong and fast as it's gonna get. We repeat the process straight out at 10, 20, and 30 feet, with only a glass door obstructing our view of the router. The same glass door and an exterior door blocks our path when we test outside at 40 and 50 feet.
We also run tests in a hallway to the left of the TV room and office—where there's a glass door, three walls, and an air handler unit blocking our view of the router. The dining room, another testing point, sits to the right of the kitchen, TV room, and office—two walls and a glass door block the path in this test.
To test video streaming, we connect a fast storage device to the router and stream a 4K video to six wireless devices simultaneously—two phones, three tablets, and a laptop—connected to the same wireless band.
Client devices used in testing
| | iPhone 12 Pro Max | Google Pixel 3 |
| --- | --- | --- |
| Wi-Fi version | Wi-Fi 6 | Wi-Fi 5 |
| Stream configuration | 2 x 2 | 2 x 2 |
| Max channel width | 80 MHz | 80 MHz |
| Max 5 GHz speed (AX) | 1,200 Mbps | – |
| Max 5 GHz speed (AC) | 866 Mbps | 866 Mbps |
| Max 2.4 GHz speed (AX) | 195 Mbps | – |
| Max 2.4 GHz speed (AC) | 195 Mbps | 144 Mbps |
Archer AX11000 benchmarks
| | iPhone 12 Pro Max* | Google Pixel 3* |
| --- | --- | --- |
| 2 feet | 860 | 658 |
| 10 feet | 848 | 645 |
| 20 feet | 768 | 572 |
| 30 feet | 745 | 453 |
| 40 feet (porch) | 692 | 330 |
| 120 feet (across street) | 282 | 175 |
| 160 feet (mailboxes) | No connection | No connection |
*speed in megabits per second (Mbps)
Amazon.com Prices as of 8/16/22 17:35, MST. Product prices and availability are accurate as of the date/time indicated and are subject to change. Any price and availability information displayed on Amazon.com at the time of purchase will apply to the purchase of this product. Highspeedinternet.com utilizes paid Amazon links.
CERTAIN CONTENT THAT APPEARS ON THIS SITE COMES FROM AMAZON. THIS CONTENT IS PROVIDED 'AS IS' AND IS SUBJECT TO CHANGE OR REMOVAL AT ANY TIME.
Author - Kevin Parrish
Kevin Parrish has more than a decade of experience working as a writer, editor, and product tester. He began writing about computer hardware and soon branched out to other devices and services such as networking equipment, phones and tablets, game consoles, and other internet-connected devices. His work has appeared in Tom's Hardware, Tom's Guide, Maximum PC, Digital Trends, Android Authority, How-To Geek, Lifewire, and others. At HighSpeedInternet.com, he focuses on network equipment testing and review.
Editor - Rebecca Lee Armstrong
Rebecca Lee Armstrong has more than six years of experience writing about tech and the internet, with a specialty in hands-on testing. She started writing tech product and service reviews while finishing her BFA in creative writing at the University of Evansville and has found her niche writing about home networking, routers, and internet access at HighSpeedInternet.com. Her work has also been featured on Top Ten Reviews, MacSources, Windows Central, Android Central, Best Company, TechnoFAQ, and iMore.