TP-Link Archer AX20 Review
The Archer AX20 is a good deal for apartments and small families with a few devices.
Jun 23, 2023 | Share

Equipment Guides, Product Reviews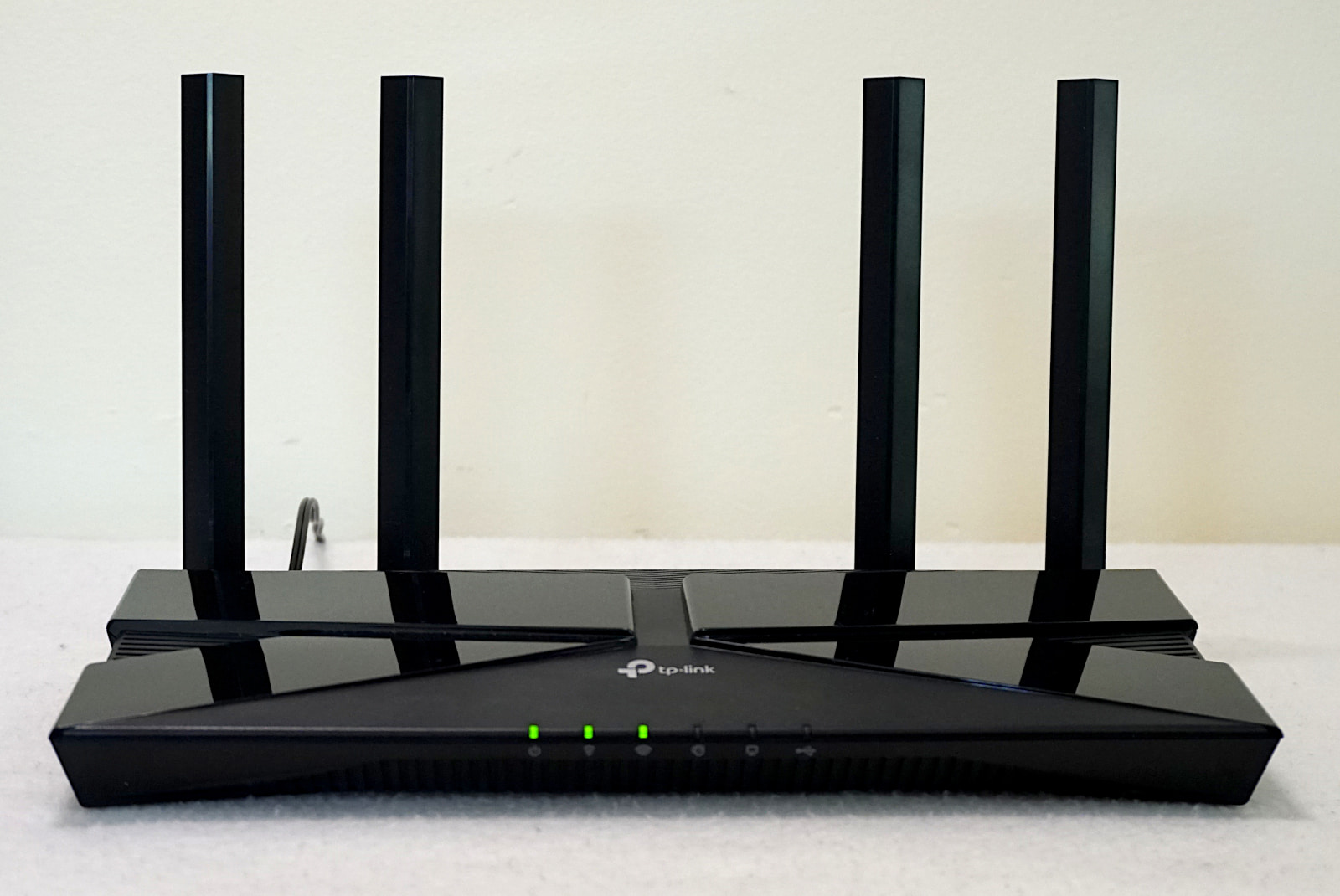 The TP-Link Archer AX20 is a great router for roommates and small families. Kevin Parrish | Highspeedinternet.com
Is the TP-Link Archer AX20 right for you?
There's quite a bit here for the money. Need parental controls? You got it (kinda). Have a VPN subscription? It has you covered. Need large amounts of bandwidth to handle all your wireless devices at once? Maybe you should look elsewhere. Sure, the Archer AX20 has decent speeds even at a long range, but in the end, it's best for apartments and small families with a few devices.
Pros:
Low price
Good long-range speeds
Built-in VPN server and client
Cons:
Low stream count
Lackluster parental controls
No multi-gig speeds
TP-Link Archer AX20 standout features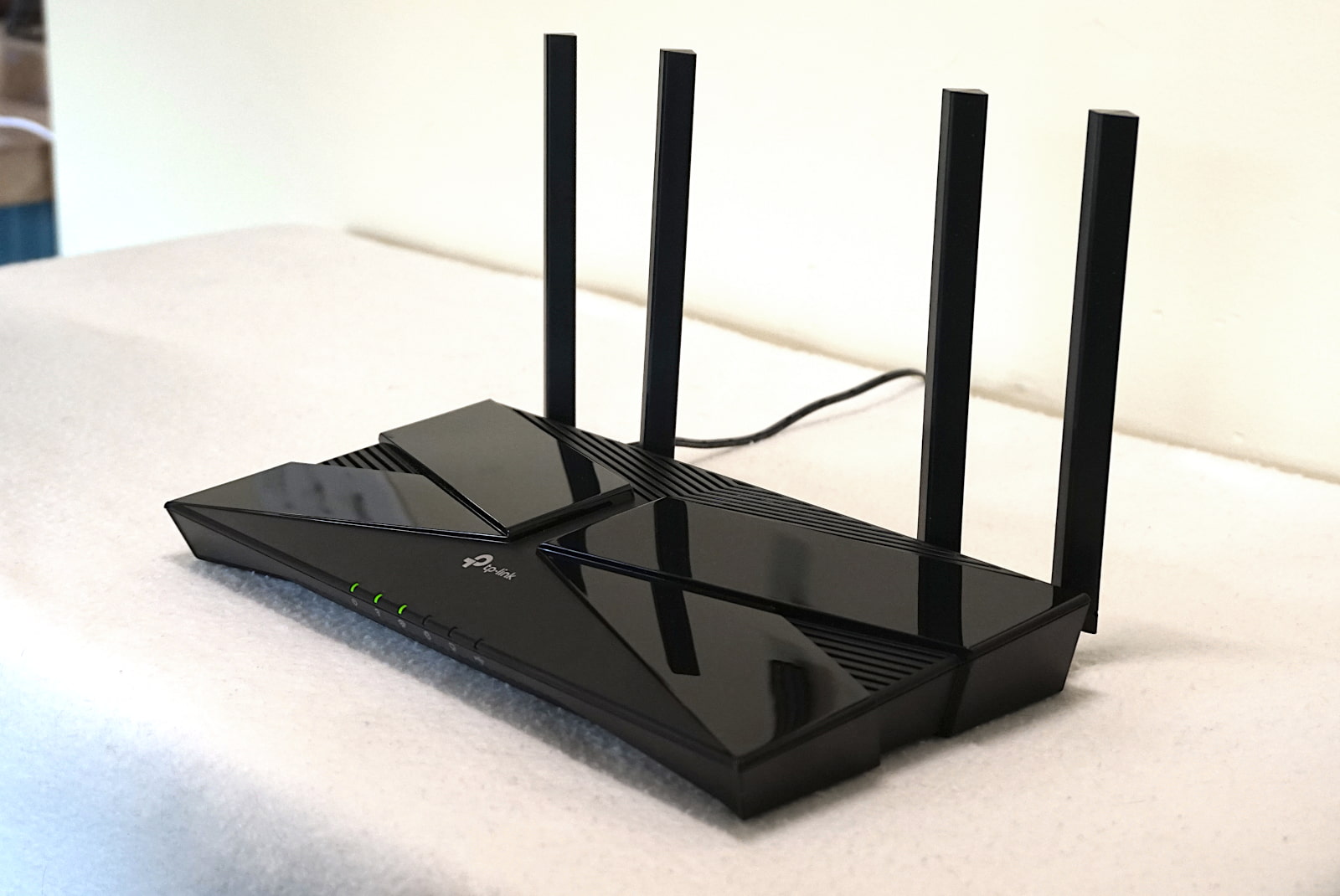 You can pair the Archer AX20 with a OneMesh extender to create a mesh network. Kevin Parrish | Highspeedinternet.com
The Archer AX20 has a lot to love: VPN tools, a media server, and Amazon Alexa support. It even has TP-Link's Mesh Technology, so you can pair it with other OneMesh devices.
Our TP-Link Archer AX20 scoring breakdown
| | | |
| --- | --- | --- |
| Category | Score* | Summary |
| Performance | 4 | Provides decent speeds even at a long range. |
| Features | 4 | Includes VPN tools and basic parental controls. |
| Design | 3 | Needs more streams on the 5 GHz band. |
| Setup | 3 | Needs a faster, more streamlined process. |
| Ease of use | 4 | Includes a decent web interface, but the Tether app is better. |
* out of 5 points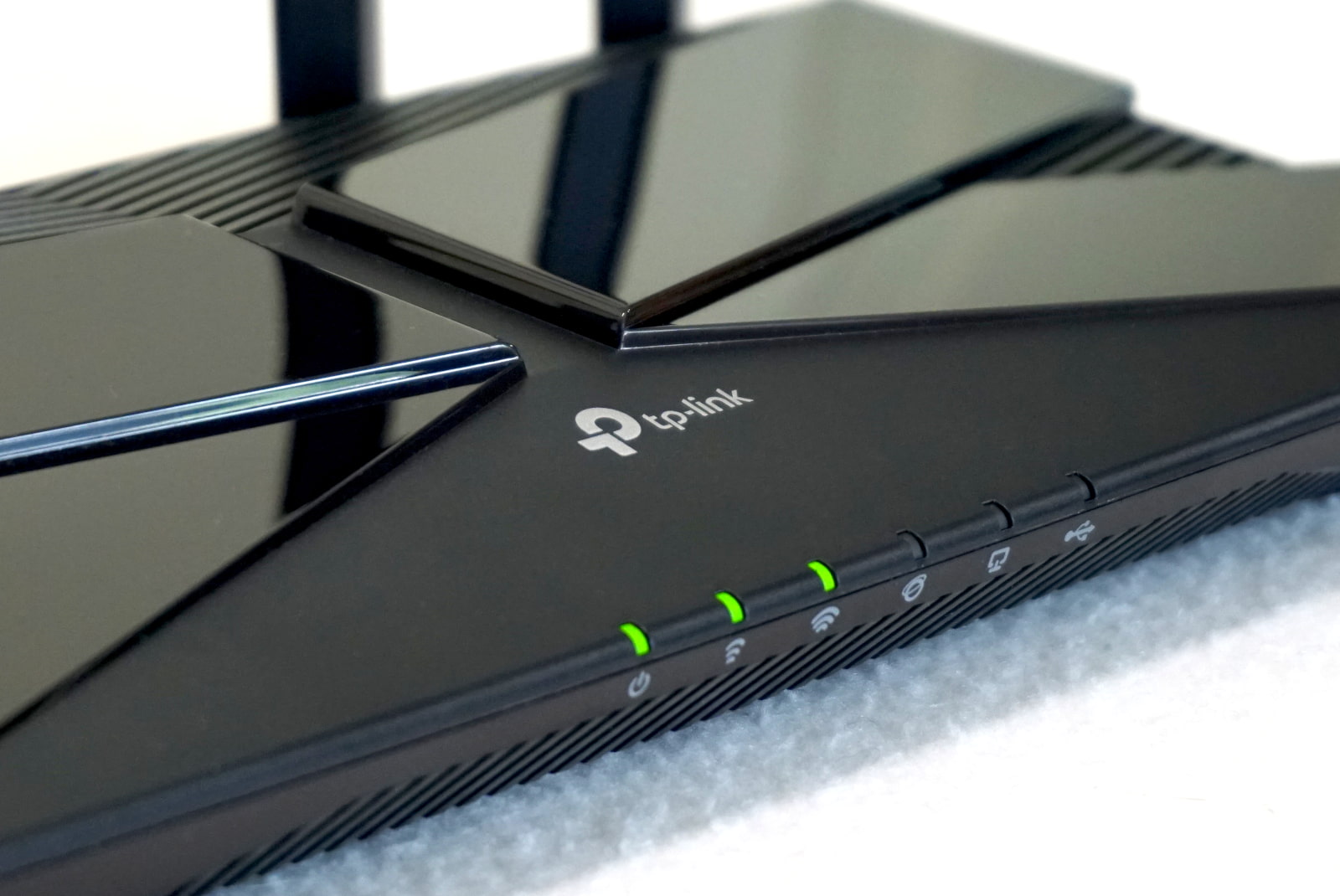 The TP-Link Archer AX20 provides decent speeds even at 120 feet. Kevin Parrish | Highspeedinternet.com
The Archer AX20 has the speeds we expected for the price. We recorded an 809Mbps average at close range and 244Mbps at 120 feet with an iPhone 12 Pro Max. The older Pixel 3 phone with Wi-Fi 5 had a 620Mbps average at close range and 92Mbps at 120 feet. What's good to note here is you can get decent speeds on a single device at a long range—you don't need an insanely priced router to stream 4K video in your neighbor's yard.
But if high speeds at long range are what you want, the Reyee RG-E5 is a better choice with a recorded 330Mbps average at 120 feet. The RG-E5's overall speeds are better too, but at a higher price than the Archer AX20. The NETGEAR R6700AX has better speeds than the AX20 at close range but falls short at 120 feet.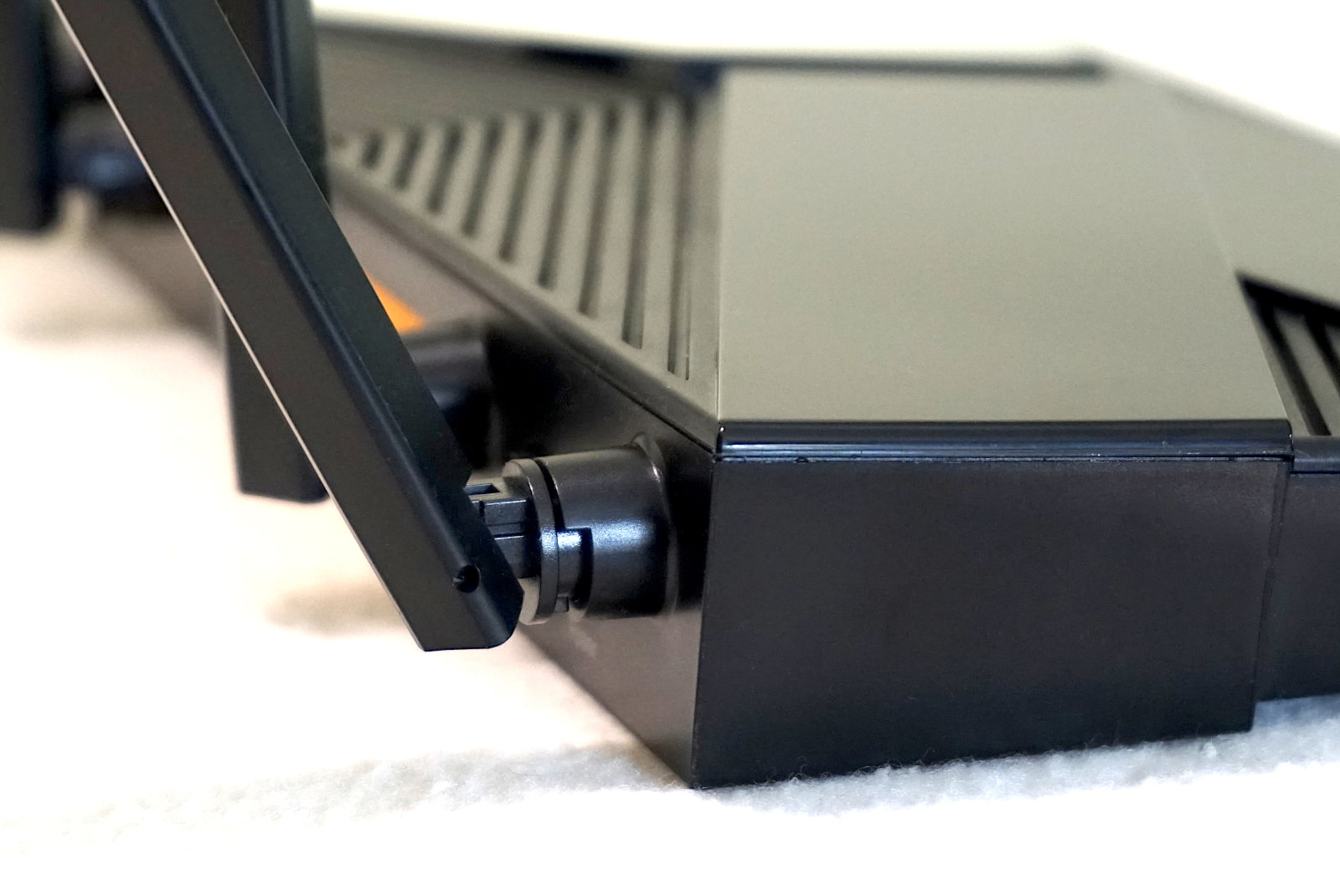 You can rotate the Archer AX20 antennas side to side and bend them back, but you cannot remove them. Kevin Parrish | Highspeedinternet.com
The Archer AX20 has a great feature set: parental controls, a built-in VPN server and client, OneMesh compatibility, a built-in media server, and Amazon Alexa support. We're floored about what you can get at this price.
The biggest standout feature is the VPN, however. You can surf the internet anonymously no matter where you are—your data goes through the VPN server first before it arrives at the destination. With the VPN client, you can sign in to your VPN subscription service on the router, so all your devices can use it—even the ones that don't support VPN software.
What we wish the TP-Link Archer AX20 did better
Shared printing
Better parental controls
Most modern printers include Wi-Fi so you can print straight from your other Wi-Fi devices. But it doesn't always work as intended. A wired tether eliminates any wireless conflicts your printer may have with the router.
Meanwhile, the AX20's parental controls are free but lackluster at best. You can create a profile, add device(s), enable a blacklist or whitelist, set time periods on a chart, and set a daily usage amount. We like the parental controls on the Archer A10 better, but in the end, they both do the exact same thing.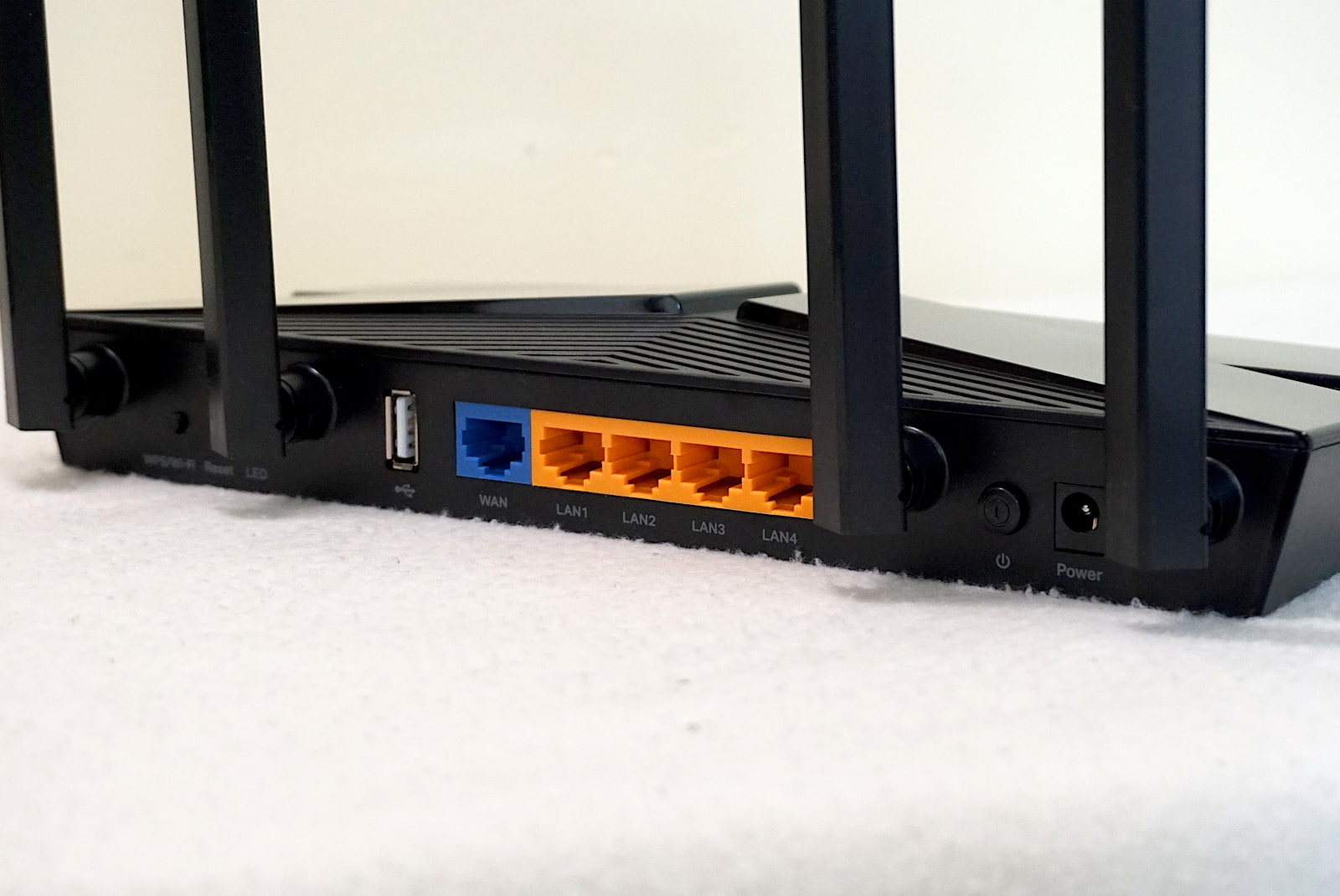 The Reyee RG-E5 provides basic connections with wired speeds up to 1Gbps. Kevin Parrish | Highspeedinternet.com
We're not thrilled with the spatial stream count. One device can access a single band at the maximum rate. Add a second active device, and the speed halves. Add a third device, and the speed still halves, but the router can only communicate with two devices simultaneously. Four streams allow at least one of the three devices to have the full download rate.
Still, kudos to TP-Link for the USB port on this model. You can't share a printer, but you can share files and stream media to all devices on your local network. The only drawback is your top speed is only 480Mbps—newer ports are 5Gbps or 10Gbps, depending on the configuration.
For this review, we used the web interface to set up this router. We complained about the setup process in our Archer A10 review, and we have similar complaints with this one too. TP-Link needs to streamline the process. Some users don't know anything about MAC cloning, so they'll need to stop mid-setup to call someone for help or research the topic to choose the right setting. This isn't something we see with other brands, and for good reason. Router setups should be quick and basic, so your network is up and running in a few minutes.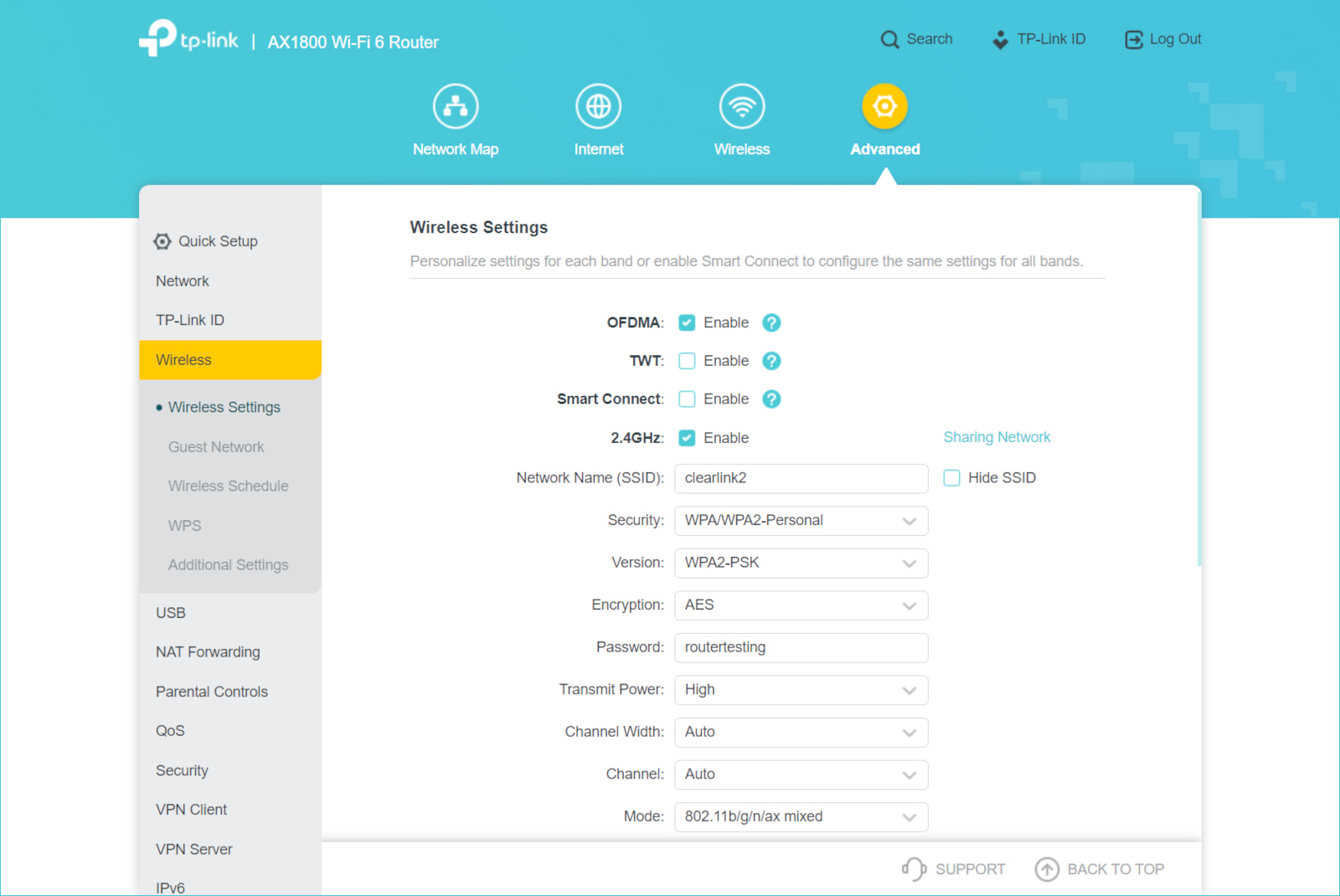 The web interface is easy to use, but the Tether app is even better. Kevin Parrish | Highspeedinternet.com
We can't lie to you: we like other TP-link routers' web interfaces better. That's not to say this one is bad—it's not. It's clean and easy to use. But, for example, the Archer A10 keeps its interface simple with Basic and Advanced tabs. The Archer AX20 spreads everything across four tabs: Network Map, Internet, Wireless, and Advanced.
The Tether app is even easier to use. Every quick setting is front and center, while all the advanced settings fall under the Tools tab. You still need to access the web interface for some settings, however, like the VPN server and client.
Are there any additional costs?
No, you have no additional costs unless you want to take advantage of the OneMesh technology and create a mesh network using compatible TP-Link extenders and adapters.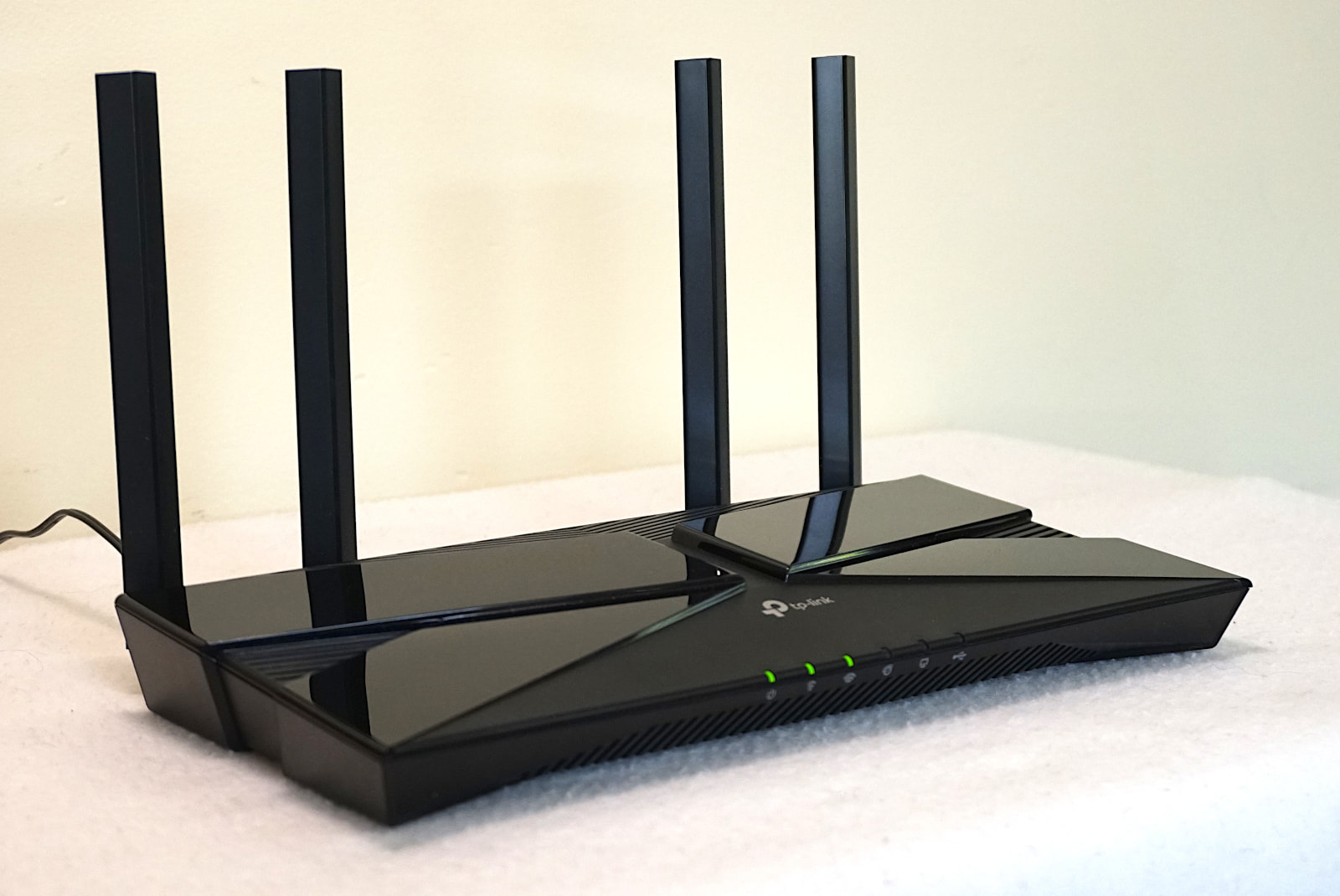 The TP-Link Archer AX20 has decent speeds for the money. Kevin Parrish | Highspeedinternet.com
Our TP-Link Archer AX20 review: The verdict
We can't deny the TP-Link Archer AX20 is excellent for the price. We're even impressed with the tested speeds at 120 feet. The VPN tools, USB port, Amazon Alexa support, and OneMesh compatibility—they're all icing on the cake.
But if you have lots of wireless devices that use the internet simultaneously, Wi-Fi speed and latency become an issue. We recommend routers with more than two streams on a single band, but we also know that's a lot to ask for an $80 router.
That said, the AX20 is ideal for one or two roommates or small families. You can always get a compatible OneMesh extender to help manage the load.
FAQ about the TP-Link Archer AX20
What is OneMesh?
OneMesh is TP-Link's brand for routers, range extenders, and adapters with TP-Link Mesh Technology. You can pair one router with TP-Link's OneMesh extenders and adapters, but you can't pair two OneMesh routers with each other.
What can you do with the USB drive?
You can create a Samba media server for Windows, a local FTP server, or an internet FTP server. Secure Sharing restricts file sharing to one folder only. Time Machine backs up your Mac to the drive wirelessly.
Does the Archer AX20 support multigig speeds?
On paper, the Archer AX20 supports 1,000Mbps internet and slower—up to 940Mbps in real-world wired speed. For wireless, the maximum data rate is 1,200Mbps, but the real-world speed is under 900Mbps. The AX20 does not support a 160 MHz channel width. So no, this router doesn't support multigig internet.
We test router speed by setting up each router in an office and connecting it to a local test server. Then, we transmit test data between our wireless devices and the server, taking numerous measurements to account for fluctuations in Wi-Fi speeds.
The first tests occur close to the router, without obstructions—so the Wi-Fi is as strong and fast as it's gonna get. We repeat the process straight out at 10, 20, and 30 feet, with only a glass door obstructing our view of the router. The same glass door and an exterior door blocks our path when we test outside at 40 and 50 feet.
We also run tests in a hallway to the left of the TV room and office—where there's a glass door, three walls, and an air handler unit blocking our view of the router. The dining room, another testing point, sits to the right of the kitchen, TV room, and office—two walls and a glass door block the path in this test.
To test video streaming, we connect a fast storage device to the router and stream a 4K video to six wireless devices simultaneously—two phones, three tablets, and a laptop—connected to the same wireless band.
Client devices used in testing
| | iPhone 12 Pro Max | Google Pixel 3 |
| --- | --- | --- |
| Wi-Fi version | Wi-Fi 6 | Wi-Fi 5 |
| Stream configuration | 2 x 2 | 2 x 2 |
| Max channel width | 80 MHz | 80 MHz |
| Max 5 GHz speed (AX) | 1,200Mbps | – |
| Max 5 GHz speed (AC) | 866Mbps | 866Mbps |
| Max 2.4 GHz speed (AX) | 195Mbps | – |
| Max 2.4 GHz speed (AC) | 195Mbps | 144Mbps |
TP-Link Archer AX20 benchmarks (5 GHz only)
| | iPhone 12 Pro Max* | Google Pixel 3* |
| --- | --- | --- |
| 2 feet | 809 | 620 |
| 10 feet | 741 | 540 |
| 20 feet | 653 | 415 |
| 30 feet | 542 | 327 |
| 40 feet (porch) | 470 | 200 |
| 120 feet (across street) | 244 | 92 |
*speed in megabits per second (Mbps)
Amazon.com Prices as of 6/23/23 17:35 MST. Product prices and availability are accurate as of the date/time indicated and are subject to change. Any price and availability information displayed on Amazon.com at the time of purchase will apply to the purchase of this product. Highspeedinternet.com utilizes paid Amazon links.
CERTAIN CONTENT THAT APPEARS ON THIS SITE COMES FROM AMAZON. THIS CONTENT IS PROVIDED 'AS IS' AND IS SUBJECT TO CHANGE OR REMOVAL AT ANY TIME.
Author - Kevin Parrish
Kevin Parrish has more than a decade of experience working as a writer, editor, and product tester. He began writing about computer hardware and soon branched out to other devices and services such as networking equipment, phones and tablets, game consoles, and other internet-connected devices. His work has appeared in Tom's Hardware, Tom's Guide, Maximum PC, Digital Trends, Android Authority, How-To Geek, Lifewire, and others. At HighSpeedInternet.com, he focuses on network equipment testing and review.
Editor - Rebecca Lee Armstrong
Rebecca Lee Armstrong has more than six years of experience writing about tech and the internet, with a specialty in hands-on testing. She started writing tech product and service reviews while finishing her BFA in creative writing at the University of Evansville and has found her niche writing about home networking, routers, and internet access at HighSpeedInternet.com. Her work has also been featured on Top Ten Reviews, MacSources, Windows Central, Android Central, Best Company, TechnoFAQ, and iMore.