NETGEAR R6700AX Review
The R6700AX is a decent pick for people with a few devices living in an apartment or small home.
Jun 23, 2023 | Share

Equipment Guides, Product Reviews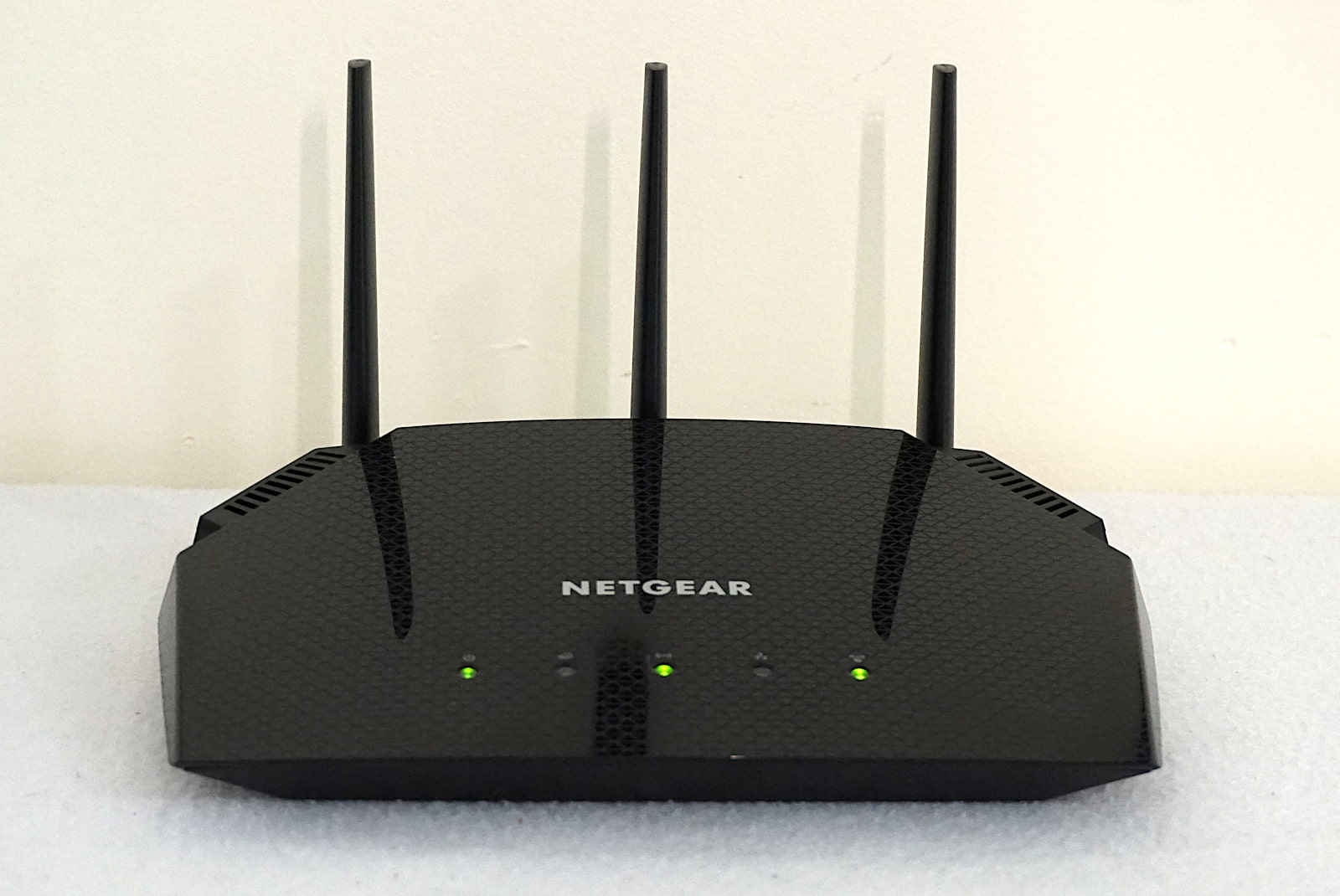 The NETGEAR R6700AX has good speeds for the money. Kevin Parrish | HighSpeedInternet.com
Is the R6700AX right for you?
The R6700AX has great speeds and a decently long range for the money. It even has a built-in VPN server and client, so you can stay protected as you surf the internet. But the subscription fees you need to get the most out of this router make it an expensive investment.
Pros:
Great speeds
Decent long range
Built-in VPN server and client
Cons:
Subscription security
Subscription parental controls
Limited stream count
R6700AX standout features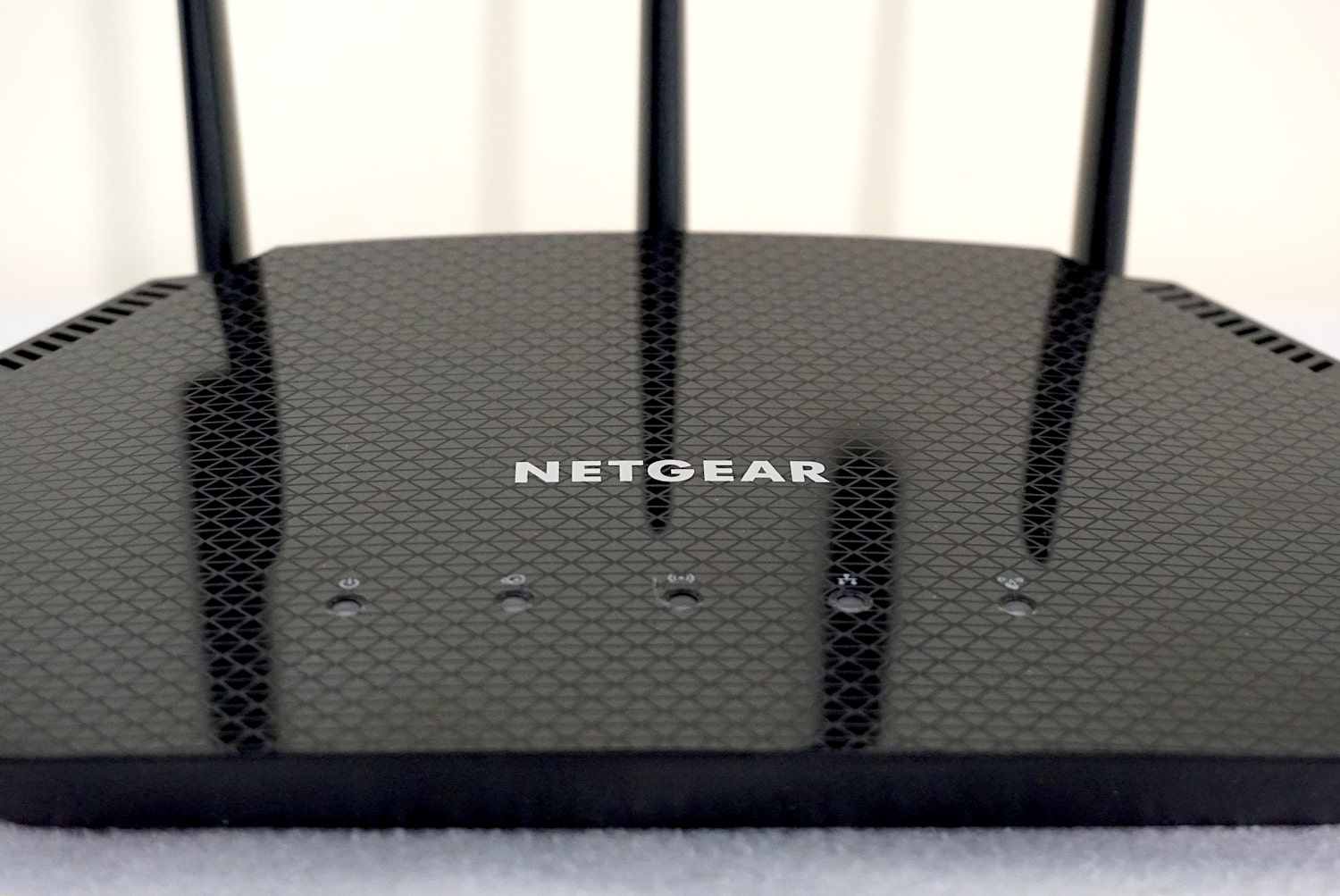 The NETGEAR R6700AX includes built-in VPN tools. Kevin Parrish | HighSpeedInternet.com
There's not a lot to say about the R6700AX. It's a budget router, so you won't find a lot of features at this price. But it includes a built-in VPN server and client and a built-in speed test tool that probably gives you a more accurate reading than a web browser or app.
Our R6700AX scoring breakdown
| | | |
| --- | --- | --- |
| Category | Score* | Summary |
| Performance | 4 | Performs better than the AX20 in our tests but not by much. |
| Features | 3 | Includes a built-in VPN server and client, but that's it. |
| Design | 3 | Lacks the USB port and extra streams found on other routers. |
| Setup | 3 | Has issues when setting up using the web interface. |
| Ease of use | 3 | Provides a clean but ugly web interface and a decent app. |
* out of 5 points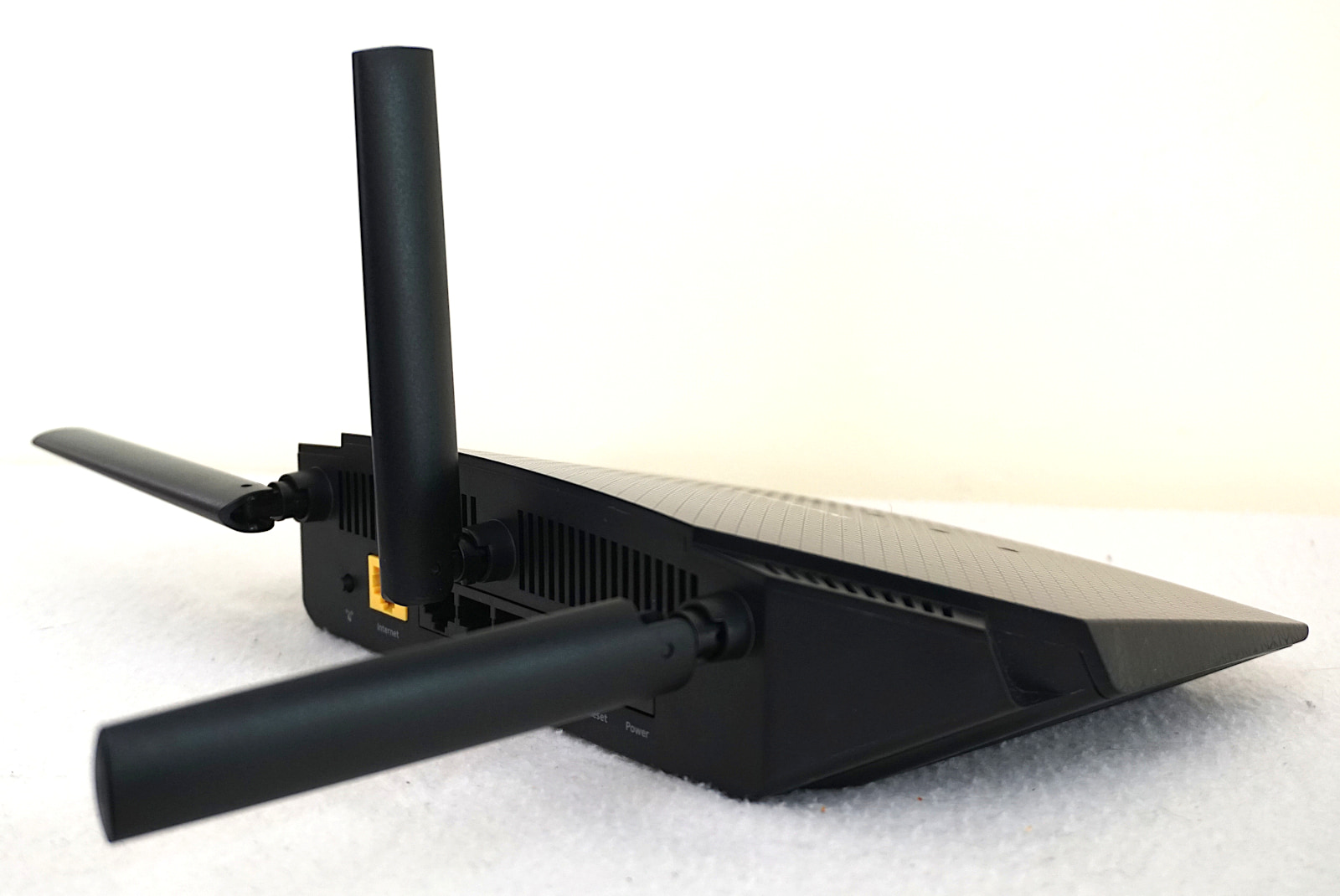 You can't remove the NETGEAR R6700AX's antennas, but they're fully adjustable. Kevin Parrish | HighSpeedInternet.com
The R6700AX did surprisingly well for a router at this price. We clocked 837Mbps at close range and 203Mbps at 120 feet, meaning you can easily stream 4K content in your neighbor's yard with ease (but you probably shouldn't). We also tested decent speeds on a Wi-Fi 5 device, but we couldn't get a connection at 160 feet on either device.
The problem with this router is its limited streams. Once you add a second active device, that 837Mbps speed cuts in half. The good news is you probably won't flood your entire connection as we do during our tests, so you may not even notice the speed reduction.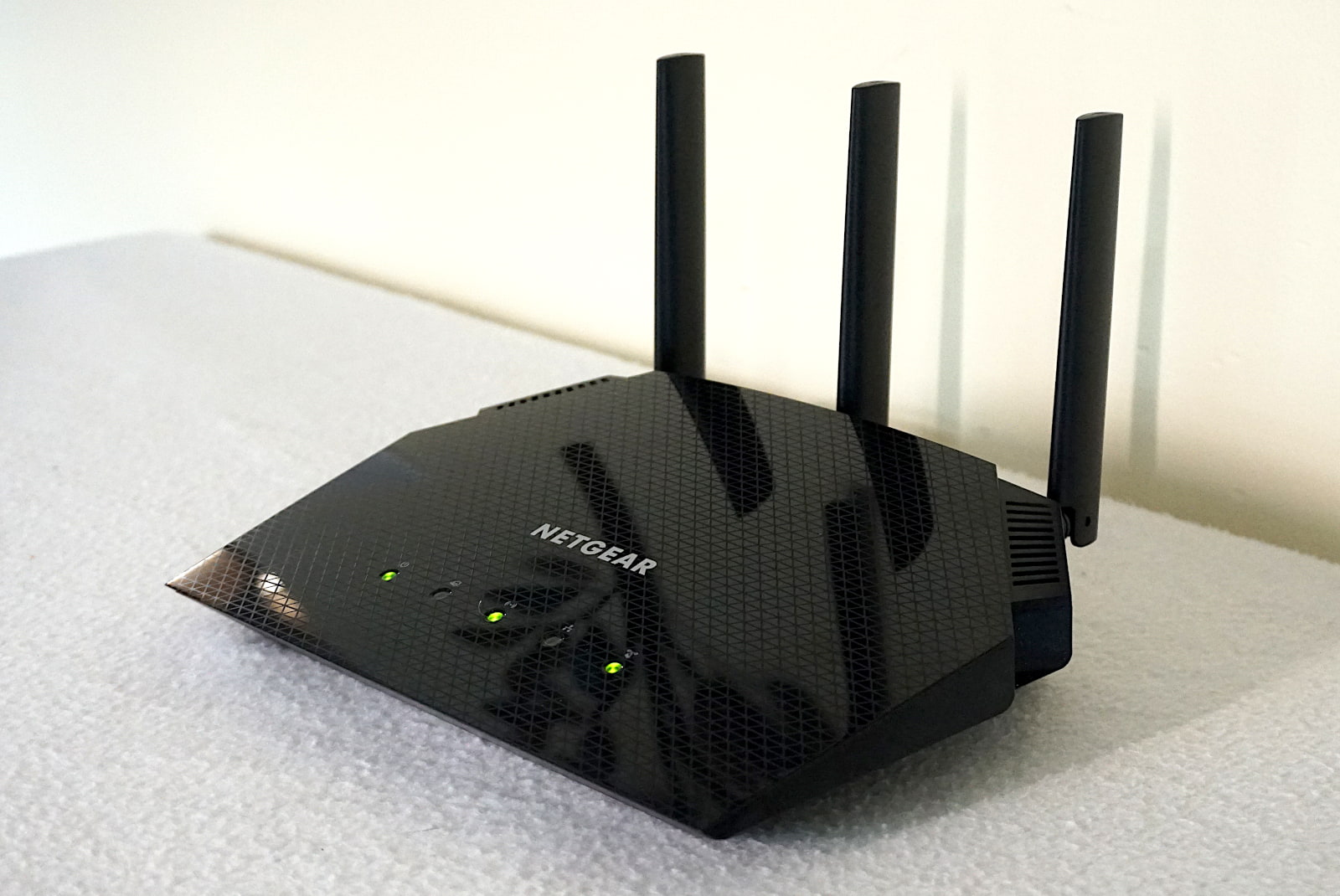 The NETGEAR R6700AX is extremely light and compact. Kevin Parrish | HighSpeedInternet.com
This router has no notable features other than the built-in VPN tools. The server portion supports OpenVPN, which is standard for most routers with VPN server functionality. This feature allows you to surf the web safely outside your home network: your traffic goes straight to the router and then out to the destination. The VPN client supports the PureVPN subscription service only.
We also note the built-in speed test tool. Many routers include one, which is the best close-to-the-bone way to measure your internet connection speed without tethering a computer or running a mobile app.
What we wish the R6700AX did better
USB connectivity
Easy free parental controls
We always root for USB connectivity because you can share media or a connected printer across the local network. Printers with Wi-Fi are convenient, but they're not always reliable—a USB tether to a router generally resolves connection issues.
As for parental controls, this router has zero without paying a monthly fee. Why not add basic controls like custom profiles and set downtimes, at the very least? Right now, you can schedule when to block sites and services, but it's complicated. Plus, you can only block and allow devices—you can't schedule downtimes.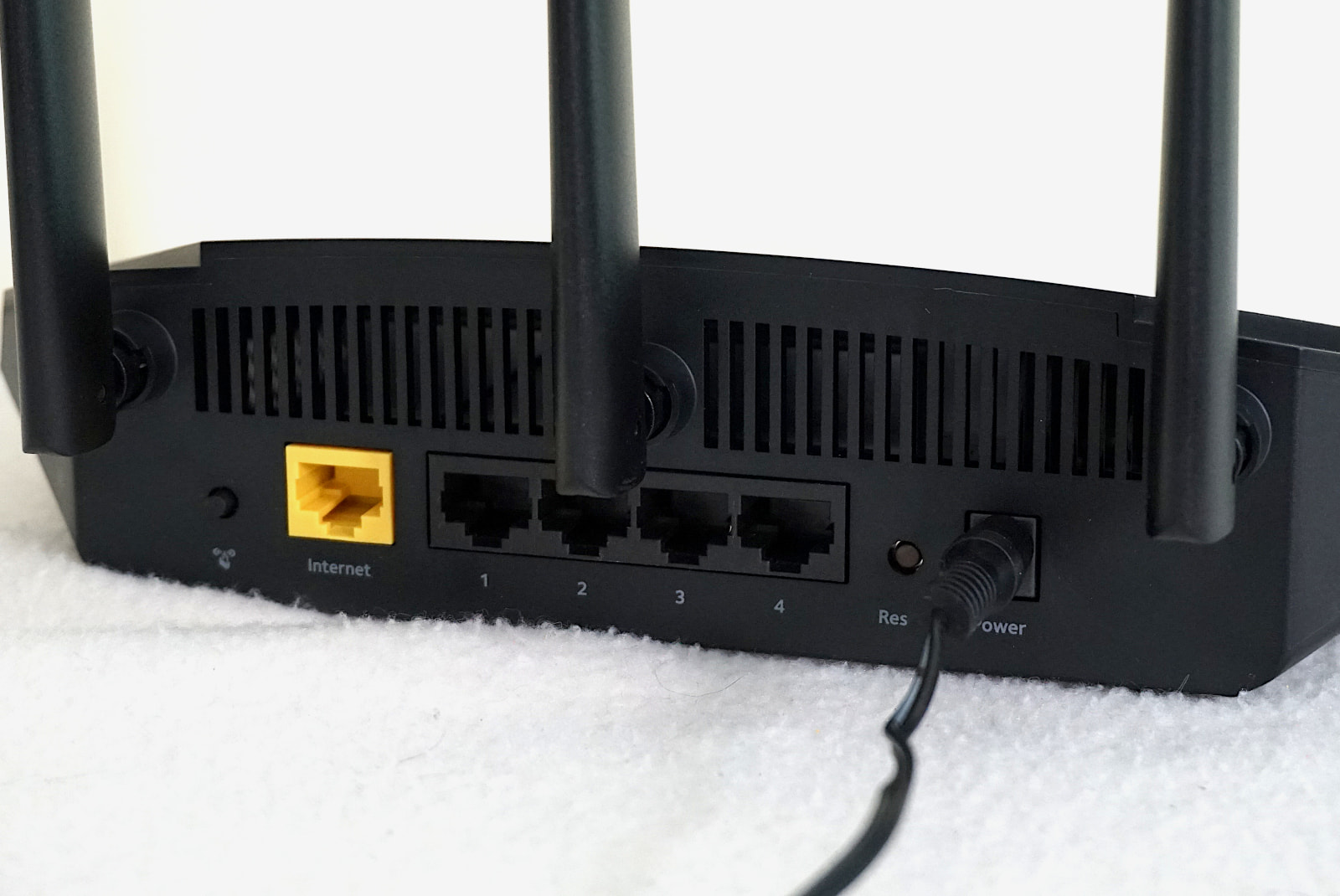 The NETGEAR R6700AX router has all the basics you need for 940Mbps internet. Kevin Parrish | HighSpeedInternet.com
There's not a lot to report about the router's design. As the list shows, you get the standard array of buttons and ports. You don't get a power button, a Wi-Fi button to shut wireless off, or a USB port for sharing media or a printer. There's no multigig support either for a NAS device or a local gaming server.
NETGEAR encourages you to use the Nighthawk app for setup and general use, and that's fine. But if you typically use a web interface, NETGEAR makes the setup process extremely difficult. The funny thing is, you absolutely must use the web interface to get the most out of this router.
That said, the setup process was a bit of a pain and took longer than expected. A strange redirection issue at the end delayed us from logging in to the web interface. In contrast, TP-Link's setup process can be a pain if you don't have the information you need on hand. The only aggravation-free setups we've experienced to date were with ASUS routers.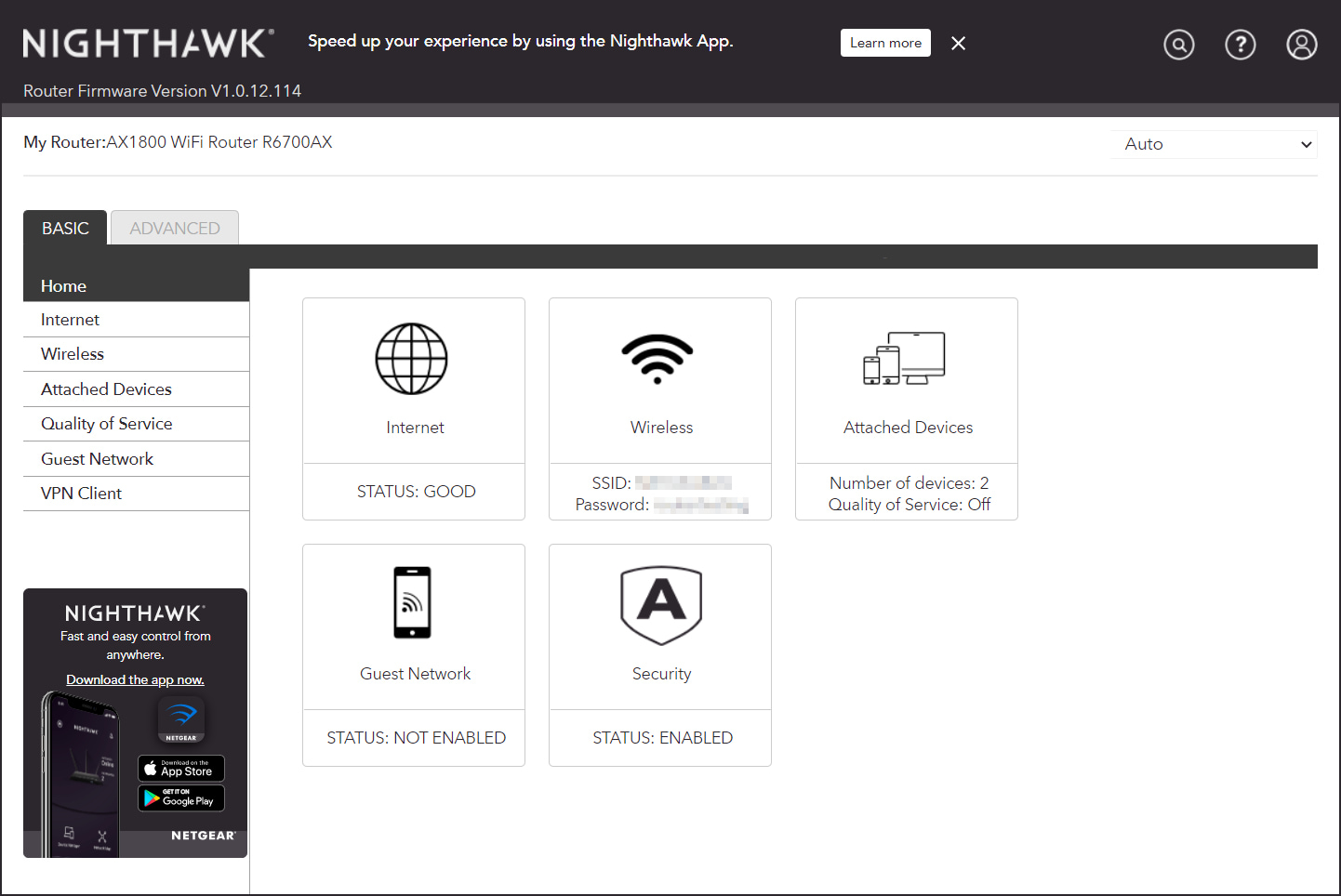 The web interface is clean and easy to use, but it's not the prettiest for a NETGEAR router. Kevin Parrish | HighSpeedInternet.com
The web interface is downright ugly compared to others installed on NETGEAR routers, but it's structured well, so you can quickly get to the most important settings. We're not sure why NETGEAR chose to split the VPN server and client or why you must enable Access Control in the web interface to block devices when you can tap a toggle in the Nighthawk app without the extra step.
The Nighthawk app is a watered-down version of the web interface painted with a friendly touch-first interface. But as we mentioned before, you need access to the web interface to get the most out of this router, yet for some reason, NETGEAR makes it annoyingly difficult at the start.
Are there any additional costs?
This router's low initial sticker price looks great. The catch? You must pay additional fees to reach the R6700AX's true potential. There are three subscriptions you can add to the R6700AX to use features that often come at no cost with other routers.
NETGEAR Armor Powered by Bitdefender is a good example: it costs $99.99 annually for antivirus, Bitdefender's VPN service, anti-theft, and a handful of other services. You don't necessarily need NETGEAR Armor, but it's good for devices that can't block malware.
Another service is NETGEAR Smart Parental Controls (SPC), which costs $7.99 per month or $69.99 per year. Once activated, you can open the Nighthawk app to create profiles, custom bedtimes, filter content, and so on. You can install the My Time by NETGEAR app on your kids' devices, so they can view their time limits.
Finally, the VPN client supports the PureVPN subscription service only. It costs $10.95 per month, although PureVPN ran a special at the time of this review, discounting the cost to $1.49 per month for five years. Not bad.
But if you want it all? That's over $300 per year just to use the router you already bought. For that price, you could just get a much more powerful and feature-rich device to start.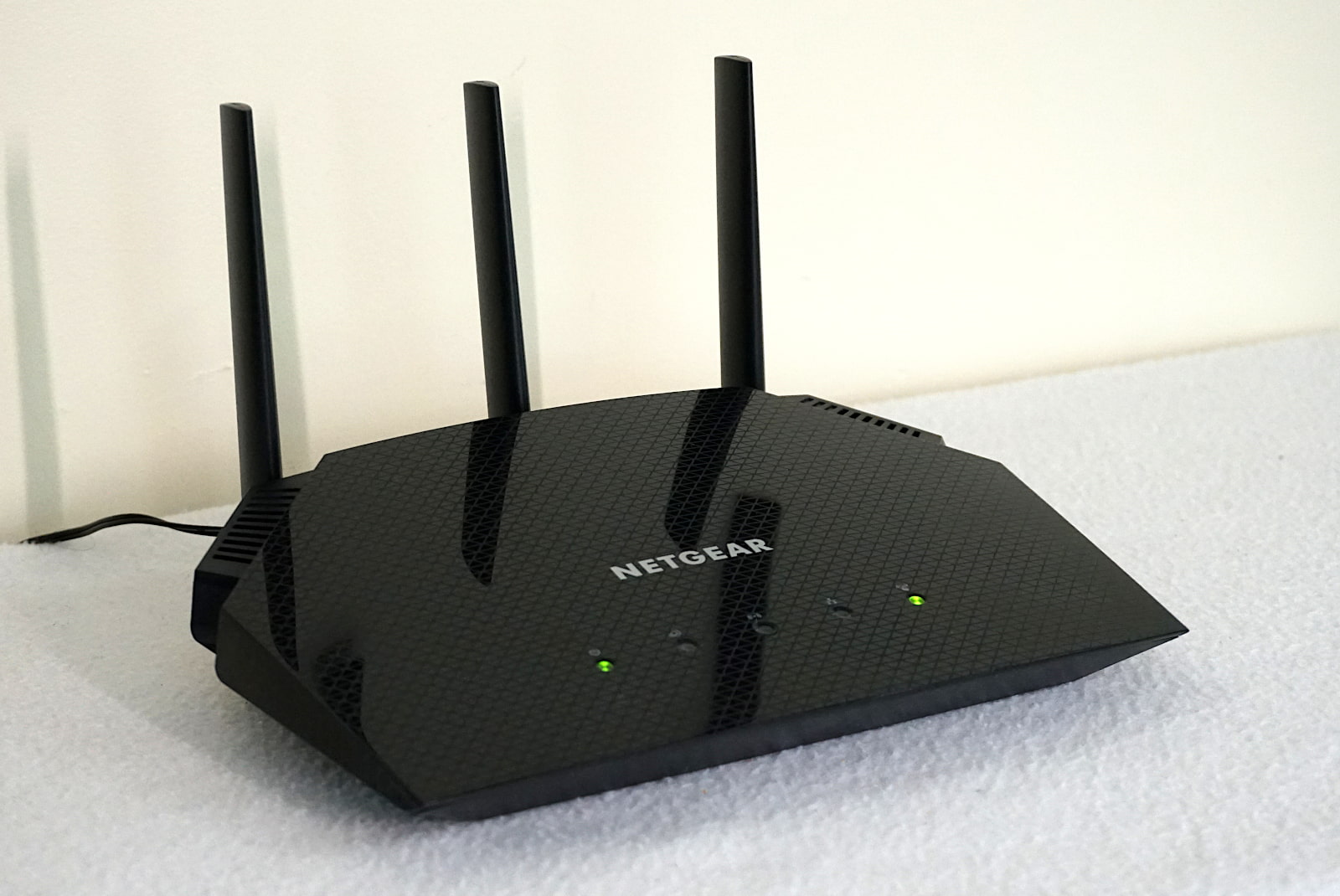 The NETGEAR R6700AX is a decent deal for a budget-priced router. Kevin Parrish | HighSpeedInternet.com
Our R6700AX review: The verdict
If you live with someone in an apartment or small home and don't want to spend gobs of money on a router, the NETGEAR R6700AX is a good candidate. There's plenty of speed even at long range—it did well pushing signals through several doors, walls, and an air handler unit too.
But the R6700AX is as bare-bones as you can get, so don't dive in thinking you'll get multigig internet or cool extras like media and printer sharing. That's not happening. If anything, it's good if you want to use VPN services to hide your location and internet activity.
The R6700AX itself is affordable, but you need to pay so much more if you want to get the most out of it. You may want to look elsewhere if you want more value in a router priced under $100.
Does the R6700AX support multi-gig connections?
No, the R6700AX does not include link aggregation or Multi-Gig Ethernet ports.
Is the R6700AX a gaming router?
No, the R6700AX is not a gaming router, nor does it include tools for gaming.
What do you get with NETGEAR Armor?
Here's the short list of what you get with NETGEAR Armor:
URL blacklist
Vulnerability assessment
Device security management
Bitdefender VPN
Sensitive data protection
Anomaly detection
Brute force protection
DoS and DDoS protection
Exploit prevention
The cost is $99.99 per year only—there is no monthly fee that we can find. You can find out more about this service from NETGEAR and Bitdefender.
What do you get with NETGEAR Smart Parental Controls?
You can get a complete list of features from NETGEAR. It costs $7.99 per month or $69.99 per year. Here's what you get:
Profiles
Usage insights
Content filters
Quick internet pause
Time limits
Custom bedtimes
Custom Off times (dinner etc.)
Rewards
We test router speed by setting up each router in an office and connecting it to a local test server. Then, we transmit test data between our wireless devices and the server, taking numerous measurements to account for fluctuations in Wi-Fi speeds.
The first tests occur close to the router, without obstructions—so the Wi-Fi is as strong and fast as it's gonna get. We repeat the process straight out at 10, 20, and 30 feet, with only a glass door obstructing our view of the router. The same glass door and an exterior door blocks our path when we test outside at 40 and 50 feet.
We also run tests in a hallway to the left of the TV room and office—where there's a glass door, three walls, and an air handler unit blocking our view of the router. The dining room, another testing point, sits to the right of the kitchen, TV room, and office—two walls and a glass door block the path in this test.
To test video streaming, we connect a fast storage device to the router and stream a 4K video to six wireless devices simultaneously—two phones, three tablets, and a laptop—connected to the same wireless band.
Client devices used in testing
| | iPhone 12 Pro Max | Google Pixel 3 |
| --- | --- | --- |
| Wi-Fi version | Wi-Fi 6 | Wi-Fi 5 |
| Stream configuration | 2 x 2 | 2 x 2 |
| Max channel width | 80 MHz | 80 MHz |
| Max 5 GHz speed (AX) | 1,200Mbps | – |
| Max 5 GHz speed (AC) | 866Mbps | 866Mbps |
| Max 2.4 GHz speed (AX) | 195Mbps | – |
| Max 2.4 GHz speed (AC) | 195Mbps | 144Mbps |
R6700AX benchmarks (5 GHz only)
| | iPhone 12 Pro Max* | Google Pixel 3* |
| --- | --- | --- |
| 2 feet | 837 | 689 |
| 10 feet | 747 | 605 |
| 20 feet | 678 | 502 |
| 30 feet | 560 | 369 |
| 40 feet (porch) | 434 | 234 |
| 120 feet (across street) | 203 | 91 |
| 160 feet (mailboxes) | No connection | No connection |
*speed in megabits per second (Mbps)
Amazon.com Prices as of 6/23/23 17:35, MST. Product prices and availability are accurate as of the date/time indicated and are subject to change. Any price and availability information displayed on Amazon.com at the time of purchase will apply to the purchase of this product. Highspeedinternet.com utilizes paid Amazon links.
CERTAIN CONTENT THAT APPEARS ON THIS SITE COMES FROM AMAZON. THIS CONTENT IS PROVIDED 'AS IS' AND IS SUBJECT TO CHANGE OR REMOVAL AT ANY TIME.
Author - Kevin Parrish
Kevin Parrish has more than a decade of experience working as a writer, editor, and product tester. He began writing about computer hardware and soon branched out to other devices and services such as networking equipment, phones and tablets, game consoles, and other internet-connected devices. His work has appeared in Tom's Hardware, Tom's Guide, Maximum PC, Digital Trends, Android Authority, How-To Geek, Lifewire, and others. At HighSpeedInternet.com, he focuses on network equipment testing and review.
Editor - Rebecca Lee Armstrong
Rebecca Lee Armstrong has more than six years of experience writing about tech and the internet, with a specialty in hands-on testing. She started writing tech product and service reviews while finishing her BFA in creative writing at the University of Evansville and has found her niche writing about home networking, routers, and internet access at HighSpeedInternet.com. Her work has also been featured on Top Ten Reviews, MacSources, Windows Central, Android Central, Best Company, TechnoFAQ, and iMore.