NETGEAR Orbi RBK853 Review
The Orbi RBK853 is an expensive mesh system with good speeds but little else.
Jun 30, 2023 | Share

Equipment Guides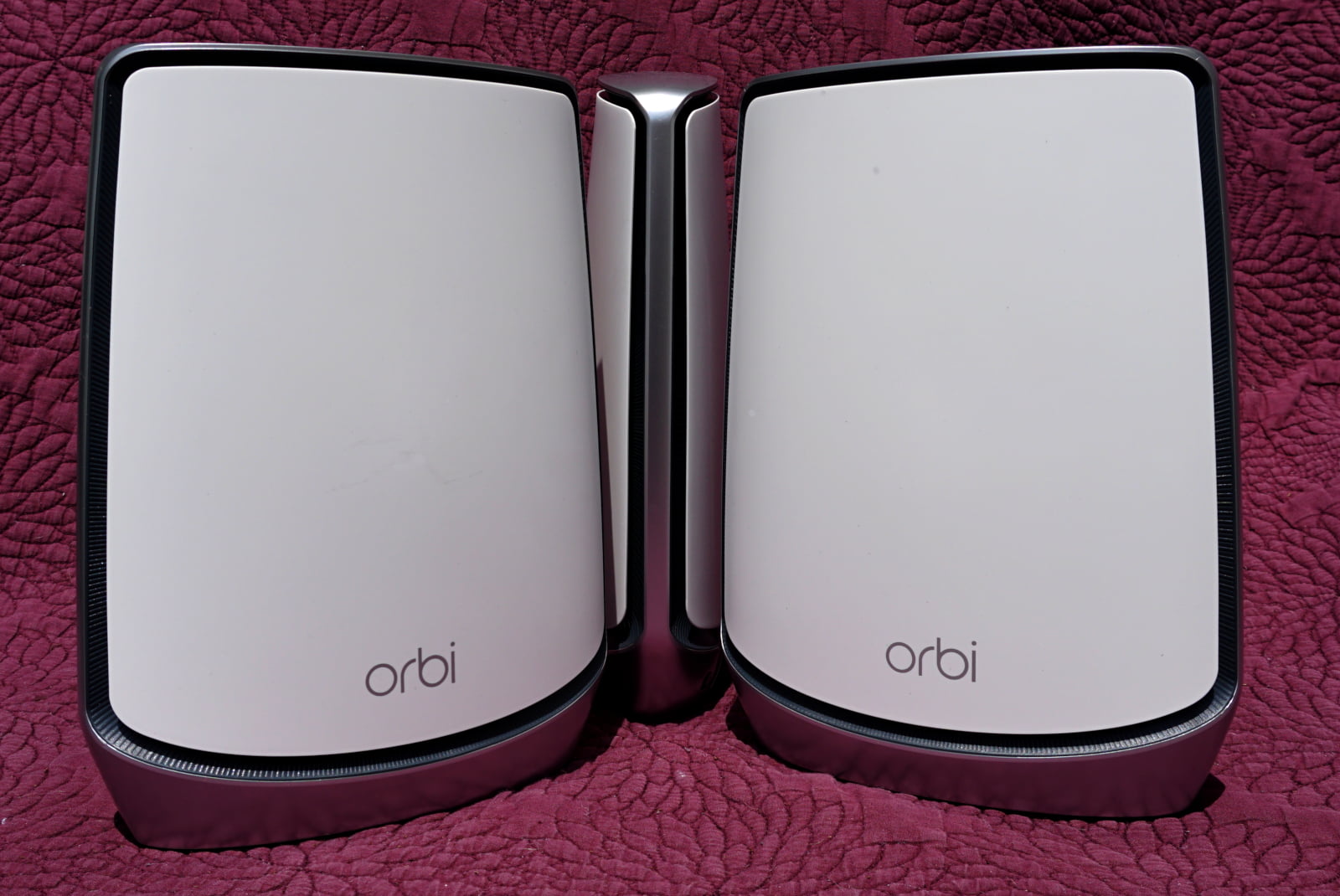 The NETGEAR Orbi RBK853 offers good Wi-Fi 6 speeds based on our tests. Kevin Parrish | HighSpeedInternet.com
Is the NETGEAR Orbi RBK853 right for you?
The NETGEAR Orbi RBK853 is a hard mesh system to suggest because it's just so darn expensive. Sure, it's packed with multi-gig internet support and a built-in VPN server, but that's it. You're paying a high price for good wide-range speeds you can get from cheaper (and smaller) mesh systems. Plus, you need at least two subscriptions to get the most out of it.
Pros:
Good Wi-Fi 6 speeds
Multi-gig internet support
Built-in VPN server
Cons:
Subscription-locked features
Locked band steering
High price
Orbi RBK853 standout features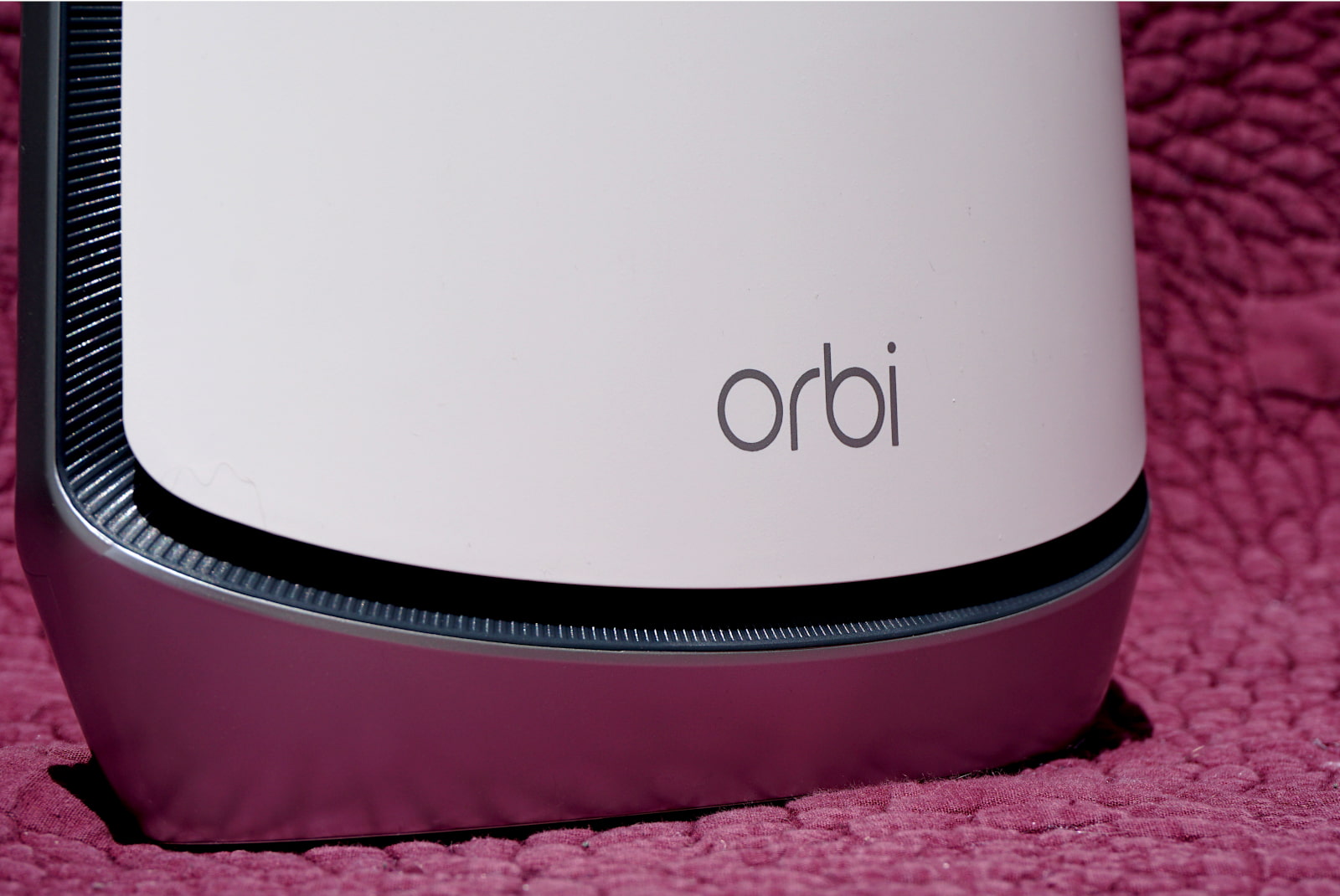 The NETGEAR Orbi RBK853 has only two callout features. Kevin Parrish | HighSpeedInternet.com
Like other Orbi systems, you're mostly paying for a wide range and decent speeds. It has the two callout features we list below, but that's it. You don't even get basic parental controls outside pausing a profile's internet access.
Our Orbi RBK853 scoring breakdown
| | | |
| --- | --- | --- |
| Category | Score* | Summary |
| Performance | 4 | Matches the speeds of other mesh systems we tested. |
| Features | 3 | Lacks basic parental controls and 160 MHz channels. |
| Design | 4 | Includes multi-gig internet support and a third band. |
| Setup | 4 | Gets your home network up and running smoothly. |
| Ease of use | 4 | Presents a better app experience than the web interface. |
* out of 5 points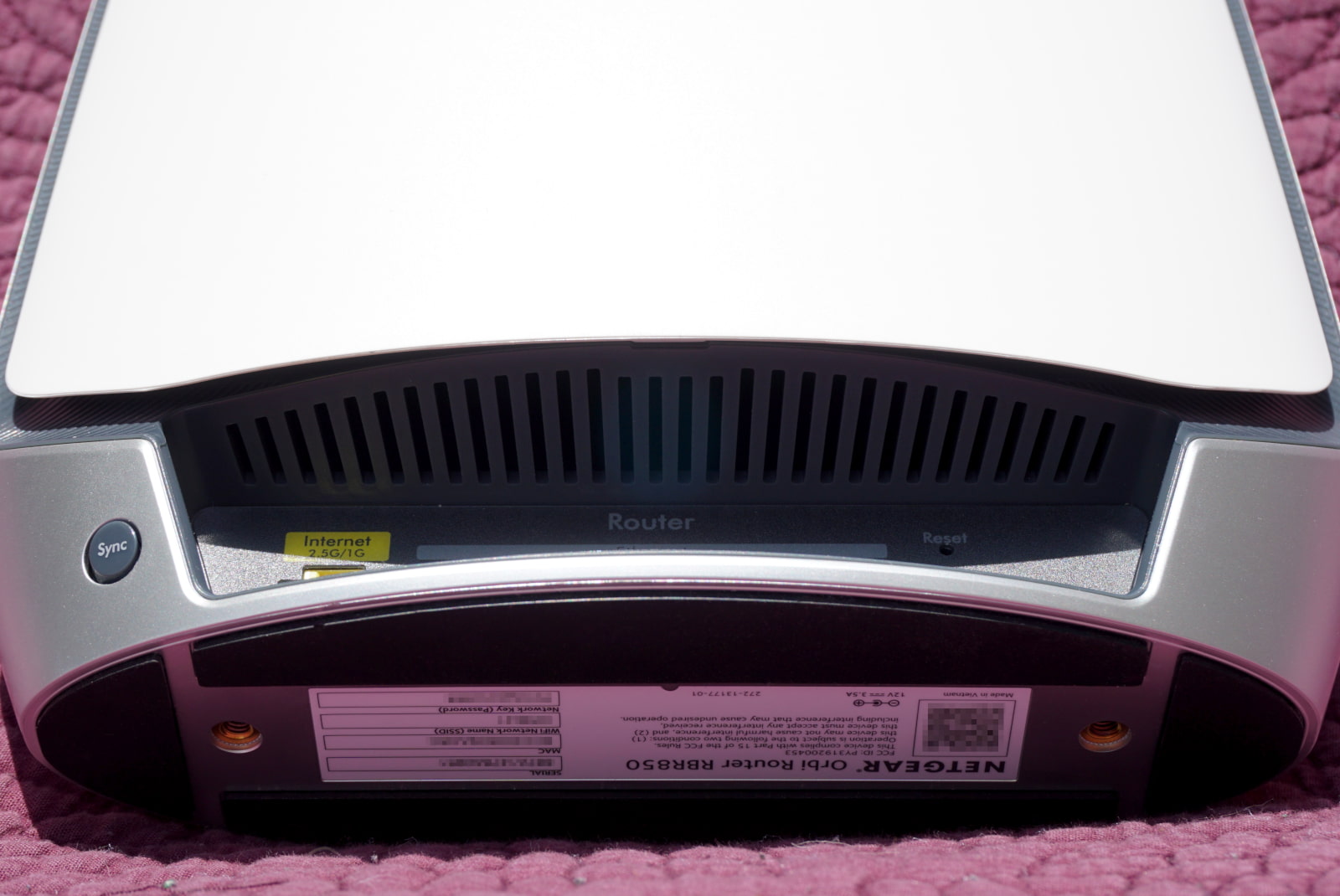 The NETGEAR Orbi RBK853 has a third band reserved for Orbi-to-Orbi communication. Kevin Parrish | HighSpeedInternet.com
With three-unit systems, we typically create an L-shaped topology that starts in the office (Router), continues into the TV room (Satellite #1), and ends at the bar dividing the kitchen from the dining room (Satellite #2).
First, we tested the connections between the router and the satellites. We plugged a laptop into an Ethernet port on Satellite #1 and recorded a 780Mbps average. We then moved our wired laptop to Satellite #2 and recorded a 749Mbps average. Whether the router decided to shoot through the wall or send our test connection through Satellite #2 is anyone's guess, but our tests showed that each satellite had good starting speeds using a dedicated Wi-Fi band for the backhaul (Orbi-to-Orbi communication).
We also tested Wi-Fi using our iPhone 12 Pro Max and Google Pixel 6. We recorded a 601Mbps average standing maybe five feet from Satellite #2 and a 604Mbps average standing in the hallway behind Satellite #1. We saw similar speeds with the Eero Pro 6, which also has a third band but only sometimes uses it for the backhaul.
By comparison, we don't usually see these speeds when testing kits without a third band for backhaul use. The TP-Link Deco X55 and X50-PoE systems benched a 379Mbps average near Satellite #2 and a 357Mbps average in the hall behind Satellite #1. But they're also significantly cheaper than the Orbi RBK853 system.
And while we went long in the tooth here discussing the performance, hopefully, our efforts show the value in this system's design and the speeds you can get throughout your home. We'll always tell you to wire the router and satellites for the best backhaul speeds, but the dedicated 5 GHz band is a good alternative.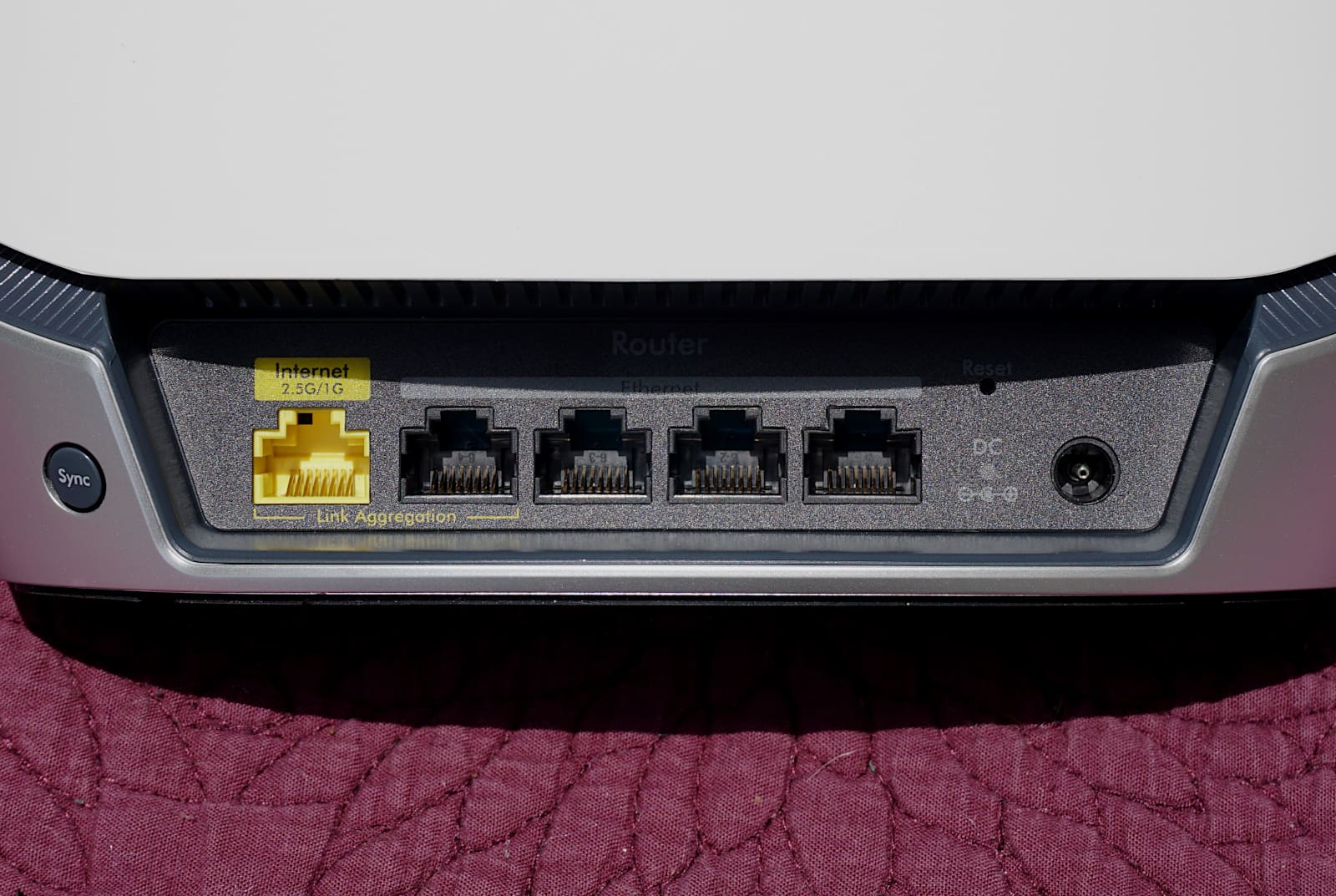 You can use link aggregation or the multi-gig WAN port for fast internet. Kevin Parrish | HighSpeedInternet.com
The Orbi RBK853 is a featureless system out of the box. The only notable callout is the built-in OpenVPN server (buried in the Advanced > Advanced section) you can use to surf the internet anonymously while you're off the home network.
So, let's ponder over that for a moment, shall we? If a single Orbi router is roughly $290, you could instead opt for a feature-packed standalone router—with super long range, mesh capabilities, free security, and free parental controls—for around the same price.
What we wish the Orbi RBK853 did better
File sharing
Some free parental controls
Many standalone routers with USB include services like file sharing and printer sharing. Mesh systems generally don't have USB connectivity, but the Orbi system feels like it should, given the size of each unit.
Orbi could also use a basic level of parental controls. You can create a profile and pause the internet, but that's it. You can't even set a single bedtime like you can on non-NETGEAR products.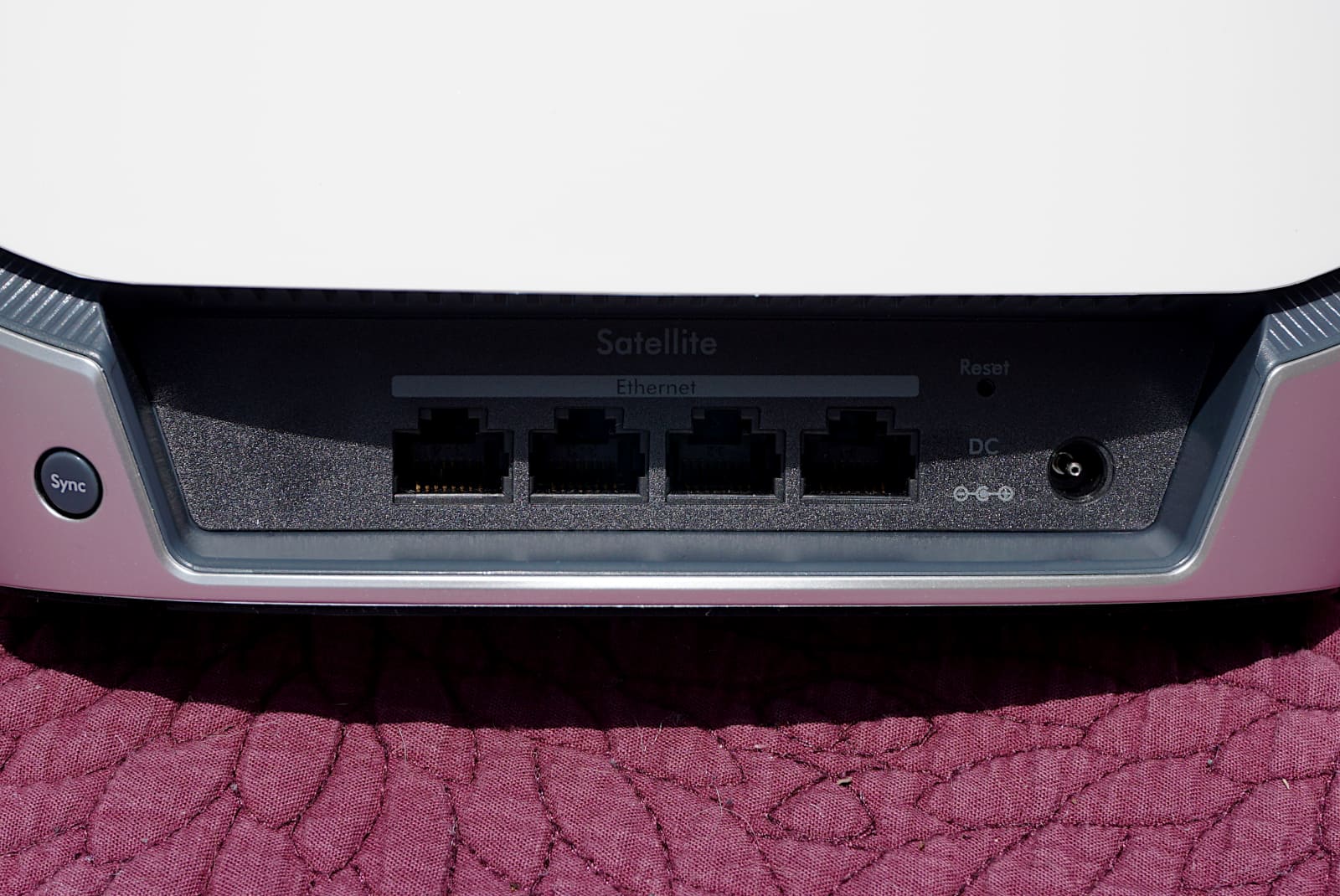 All NETGEAR Orbi RBK853 satellites have four Gigabit Ethernet LAN ports. Kevin Parrish | HighSpeedInternet.com
This Orbi system has a decent design. First, it includes a 2.5Gbps WAN port best used for internet plans of 1,000–2,300Mbps. It supports link aggregation, too, for speeds up to 2,000Mbps when connected to a compatible modem.
Second, it has a dedicated Wi-Fi band for Orbi-to-Orbi communication. This design is good because your devices and the Orbi units don't share the same Wi-Fi channels that would otherwise cause congestion on your network. The downside is you only have four channels on the 5 GHz connection you can use, which may limit your speeds.
The setup process for this mesh system is easy, but it's a little lengthy compared to installing a standalone router since you're adding satellites. Plus, there are a few extra steps other manufacturers don't require, like setting up security questions.
However, the setup includes two subscription nags: ProSupport for Home extended warranty and support and Armor security. Be prepared for NETGEAR's email spam, too.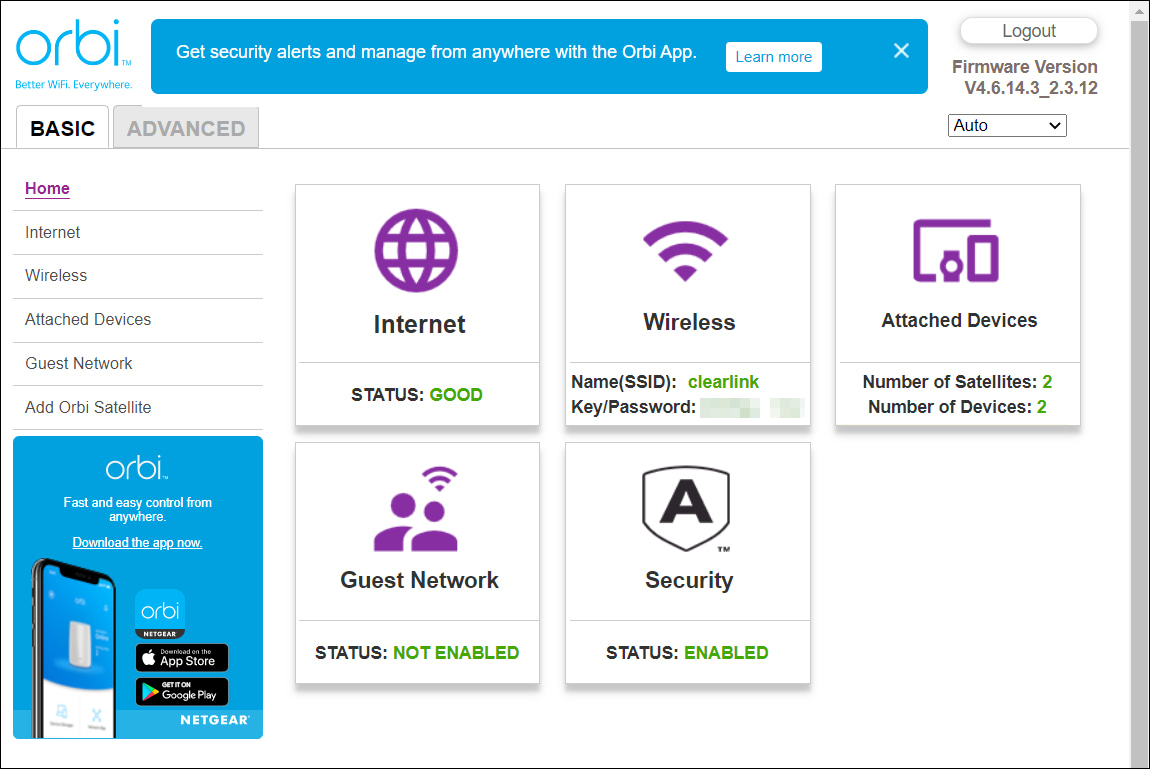 You need the web interface and the Orbi app to get the most out of the Orbi RBK853 system. Kevin Parrish | HighSpeedInternet.com
NETGEAR Orbi seemingly tries to combine the best of both worlds: the customization of a standalone router and the whole-home connectivity of a mesh system. You need the web interface and mobile app to use this system fully, which often applies to standalone routers but not mesh systems.
The NETGEAR Orbi app has a better, more streamlined experience than the web interface but not without some quirks. The app's Orbi image consumes half of the home screen, plus the tile design requires you to scroll down to access many settings. Why can't we have an organized tab design and a home screen detailing helpful information? Insert your favorite shrug emoji here.
Finally, every device you add defaults to the Home profile. You can create additional profiles to better group your devices, but profiles primarily exist for parental controls—which require a subscription. Many other mesh systems allow you to create profiles for anyone, not just for kids.
Are there any additional costs?
All NETGEAR Orbi systems have an additional cost if you want to get the most out of this system. Here's what to expect:
So, just in the security and parental controls alone, you'll pay $169.98 annually after shelling out nearly $900 for this system. Honestly, you should get more free features at that price.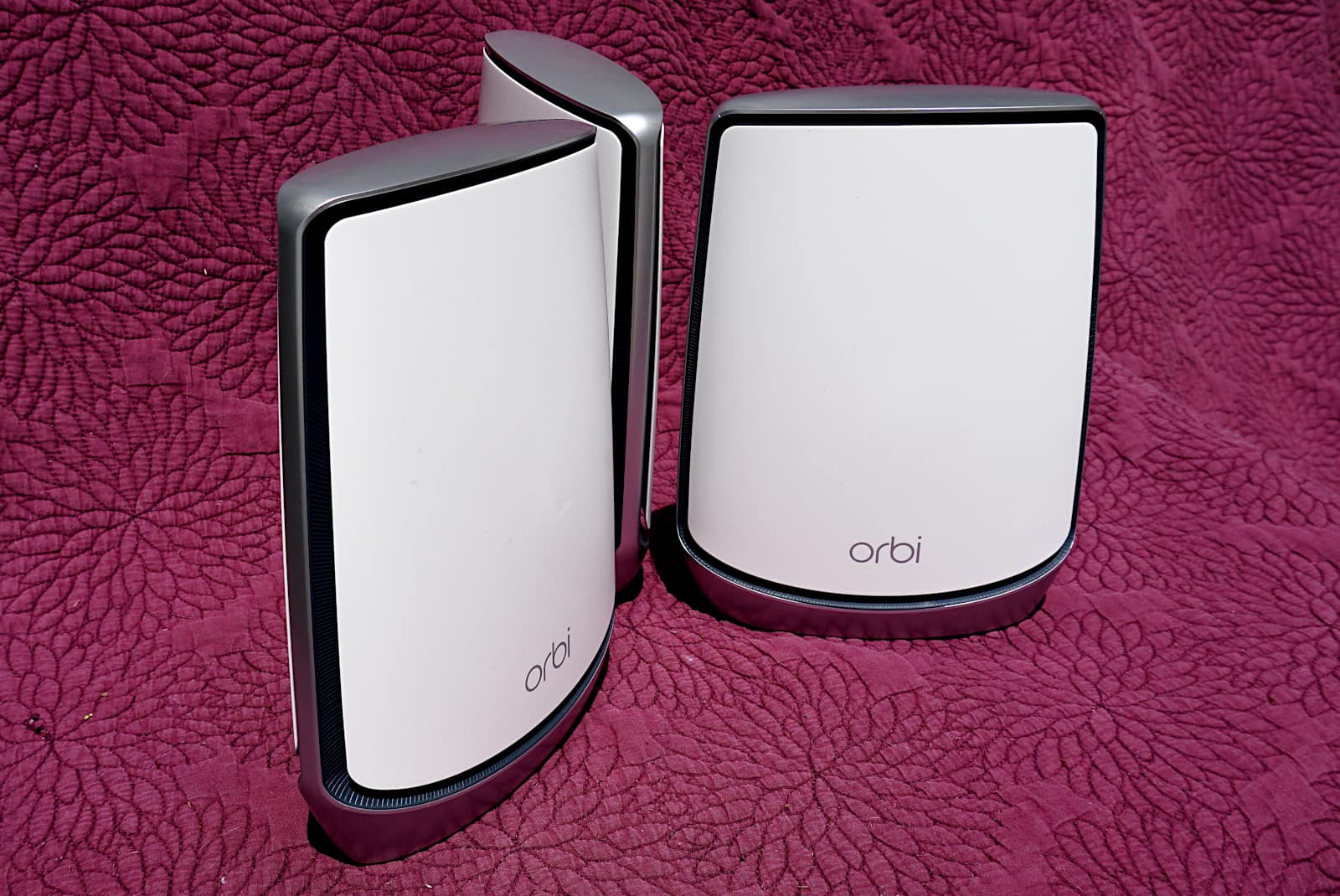 The NETGEAR Orbi RBK853 is an expensive system with speeds you can get with competing kits. Kevin Parrish | HighSpeedInternet.com
Our Orbi RBK853 review: The verdict
We can't deny that the Orbi RBK853 mesh system provides good speeds at a wide range. You shouldn't have problems getting stable, fast Wi-Fi connections throughout your home. Heck, it even supports multi-gig internet, so all your devices should have enough bandwidth to do their thing.
But we can't get past the price—buying the router alone sets you back $290 (based on Amazon's current price). You can get a far better standalone router with more free features and mesh support at that price. Then again, you may be hard-pressed to find a standalone router with a third band dedicated to backhaul communication.
So, we're on the fence here, and maybe it's because the free features and long range associated with standalone routers spoiled us. If you need strong, whole-home coverage spanning multiple floors, then this is the system for you. However, you may want to consider an older system (like the RBK752) or Amazon's Eero Pro 6 if the potential investment has your wallet hissing with claws out at the price tag.
FAQ about the Orbi RBK853 system
What is a backhaul?
The backhaul is the communication between the router and satellite units. Think of it as the hidden passageways workers use in the mall or your favorite amusement park.
The connection your devices use is called the fronthaul. You get the best Wi-Fi speeds if mesh systems can use a dedicated band or Ethernet for backhaul communication, so they're not hogging your device's usable bandwidth.
Why include a 2.5Gbps WAN port if the Orbi doesn't support 160 MHz-wide channels?
Multi-gig internet is more about capacity than speed, especially when we look at Wi-Fi and all the devices you use simultaneously. Here's why:
A 2.5Gbps Ethernet port has real-world speeds of around 2.35Gbps. That's more than enough for a 2Gbps internet plan.
A modern Wi-Fi 6 smartphone usually has the following:
Two transmit antennas and two receive antennas (2×2)
Support for 80 MHz channels
A maximum data rate of 1,200Mbps, but benches around 850Mbps average in real-world speed at two feet (based on our testing)
The Orbi's usable 5 GHz connection has four streams and a total throughput of 2,400Mbps. So, if we only go by the theoretical speeds, two modern smartphones can download at full speed (2 x 1,200), or four smartphones can download at half speed (4 x 600).
What's the big deal with 160 MHz channels?
Think of your Wi-Fi connection as an invisible road. A road with a single lane (channel) measures 20 MHz wide, while a road with four lanes measures 160 MHz wide. Using that analogy, you can move more cars (data) from Point A to Point B in one second using a four-lane road than a one-lane option.
The technical answer is channels measure 20 MHz wide, and routers combine them to give you more speed, but we like the road analogy better.
What does NETGEAR Armor include?
NETGEAR Armor protects unlimited devices running Windows, macOS, iOS, iPadOS, and Android. It costs $99.99 annually and includes the following:
URL blacklist
Network vulnerability assessment
Device detection and management
Bitdefender VPN (client only)
Sensitive data protection
Anomaly detection
Brute force protection
DoS and DDoS protection
Exploit prevention
Anti-theft protection
What does Smart Parental Controls include?
NETGEAR Smart Parental Controls (SPC) offers Basic and Premium tiers.
Basic
Premium

Profile creation
Device assignment
Profile and network pause

All Basic features
Internet and app usage reports
Website history
Profile automatic time limits
Profile bedtime schedules
Profile rewards
My Time companion app
Profile content filter
Scheduled automatic internet breaks

Free
$7.99/mo. or $69.99/yr.
What does ProSupport for Home include?
ProSupport for Home offers two tiers. Here are the features you'll get.
Warranty
Warranty + Support

Repair and replacements
Accidental damage coverage
Free express replacement service

Repair and replacements
Accidental damage coverage
Free express replacement service
Exclusive phone support
24/7 access to expert tech support
Software support via chat, email, and phone

Two years
Two years
$49.99 (one-time fee)
$119.99 (one-time fee)
We test router speed by setting up each router in an office and connecting it to a local test server. Then, we transmit test data between our wireless devices and the server, taking numerous measurements to account for fluctuations in Wi-Fi speeds.
The first tests occur close to the router, without obstructions—so the Wi-Fi is as strong and fast as it's gonna get. We repeat the process straight out at 10, 20, and 30 feet, with only a glass door obstructing our view of the router. The same glass door and an exterior door blocks our path when we test outside at 40 and 50 feet.
We also run tests in a hallway to the left of the TV room and office—where there's a glass door, three walls, and an air handler unit blocking our view of the router. The dining room, another testing point, sits to the right of the kitchen, TV room, and office—two walls and a glass door block the path in this test.
To test video streaming, we connect a fast storage device to the router and stream a 4K video to six wireless devices simultaneously—two phones, three tablets, and a laptop—connected to the same wireless band.
Client devices used in testing
| | iPhone 12 Pro Max | Google Pixel 3 |
| --- | --- | --- |
| Wi-Fi version | Wi-Fi 6 | Wi-Fi 5 |
| Stream configuration | 2 x 2 | 2 x 2 |
| Max channel width | 80 MHz | 80 MHz |
| Max 5 GHz speed (AX) | 1,200Mbps | – |
| Max 5 GHz speed (AC) | 866Mbps | 866Mbps |
| Max 2.4 GHz speed (AX) | 195Mbps | – |
| Max 2.4 GHz speed (AC) | 195Mbps | 144Mbps |
Orbi RBK853 benchmarks (5 GHz only)
| | iPhone 12 Pro Max* | Google Pixel 3* |
| --- | --- | --- |
| 2 feet | 838 | 619 |
| 10 feet | 830 | 599 |
| 20 feet | 789 | 524 |
| 30 feet | 653 | 428 |
| 40 feet (porch) | 388 | 252 |
| 120 feet (across street) | 116 | 39 |
| 20 feet (hallway) | 604 | 346 |
| 20 feet (dining room) | 601 | 494 |
*Speeds in megabits per second (Mbps) using an 80 MHz channel.
Amazon.com Prices as of 6/13/23 17:35 MST. Product prices and availability are accurate as of the date/time indicated and are subject to change. Any price and availability information displayed on Amazon.com at the time of purchase will apply to the purchase of this product. Highspeedinternet.com utilizes paid Amazon links.
CERTAIN CONTENT THAT APPEARS ON THIS SITE COMES FROM AMAZON. THIS CONTENT IS PROVIDED 'AS IS' AND IS SUBJECT TO CHANGE OR REMOVAL AT ANY TIME.
Author - Kevin Parrish
Kevin Parrish has more than a decade of experience working as a writer, editor, and product tester. He began writing about computer hardware and soon branched out to other devices and services such as networking equipment, phones and tablets, game consoles, and other internet-connected devices. His work has appeared in Tom's Hardware, Tom's Guide, Maximum PC, Digital Trends, Android Authority, How-To Geek, Lifewire, and others. At HighSpeedInternet.com, he focuses on network equipment testing and review.