TP-Link Archer AX90 Review
The Archer AX90 is a great router, but expect to pay extra to get the most from it.
Jun 22, 2023 | Share

Equipment Guides, Product Reviews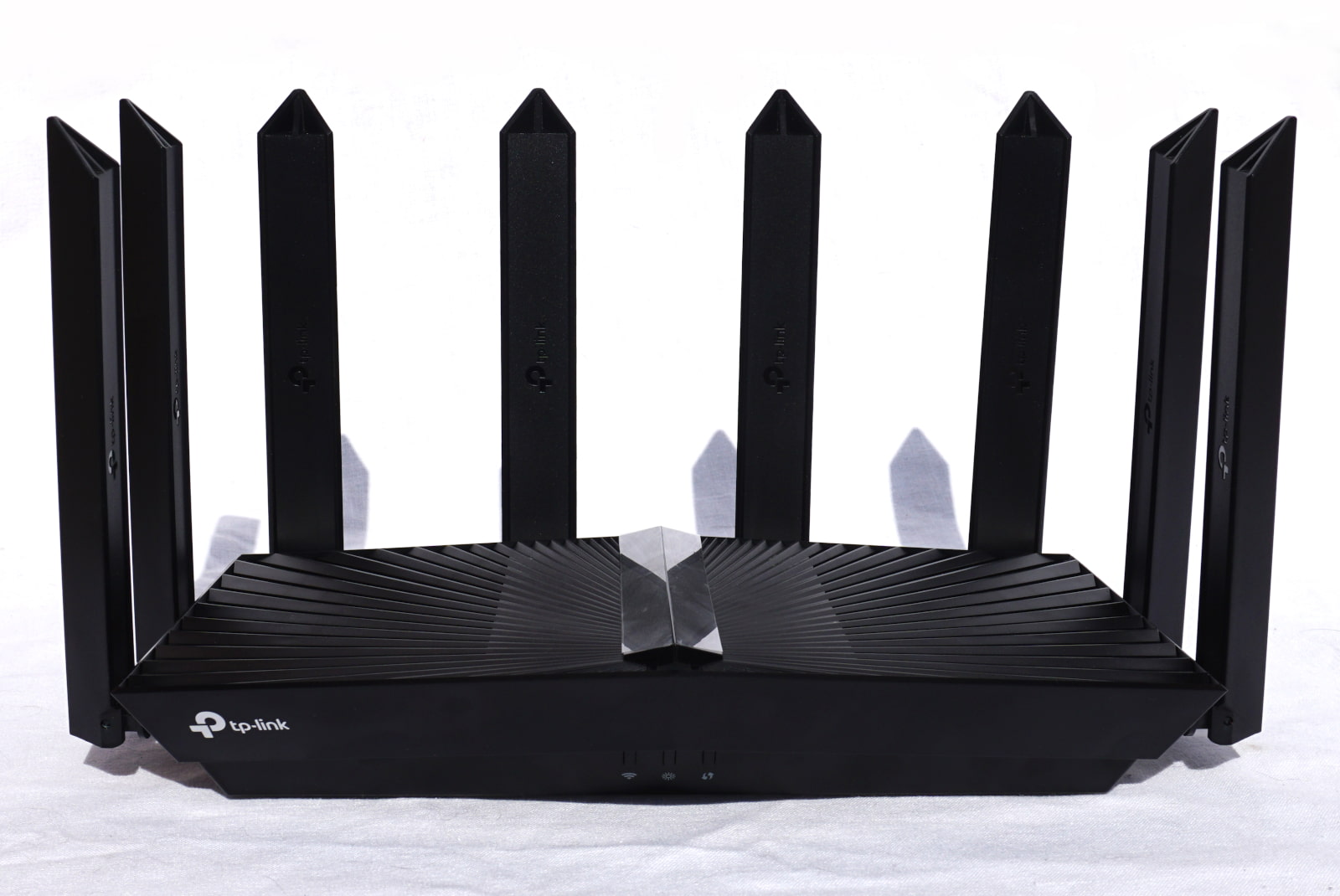 The TP-Link Archer AX90 has some of the best Wi-Fi 6 speeds we've tested. Kevin Parrish | HighSpeedInternet.com
Is the Archer AX90 right for you?
If speed is what you need, the Archer AX90 is one of the fastest routers we've tested to date. Plus, it's ready for multi-gig internet (up to 2.5Gbps), perfect for fast fiber plans from AT&T and Google Fiber, and cable internet speeding along at 1,000Mbps and faster.
But if you prefer features over speed, you may find the AX90 a little lacking. Sure, it has some nice touches, like media sharing and VPN support, but you need a subscription for premium parental controls and antivirus. Sorry, but that's a boo hiss in our book.
Pros:
Multi-gig internet support
Fast Wi-Fi 6 speeds
Free basic parental controls
Cons:
Subscription-locked features
No printer sharing
No link aggregation
Archer AX90 standout features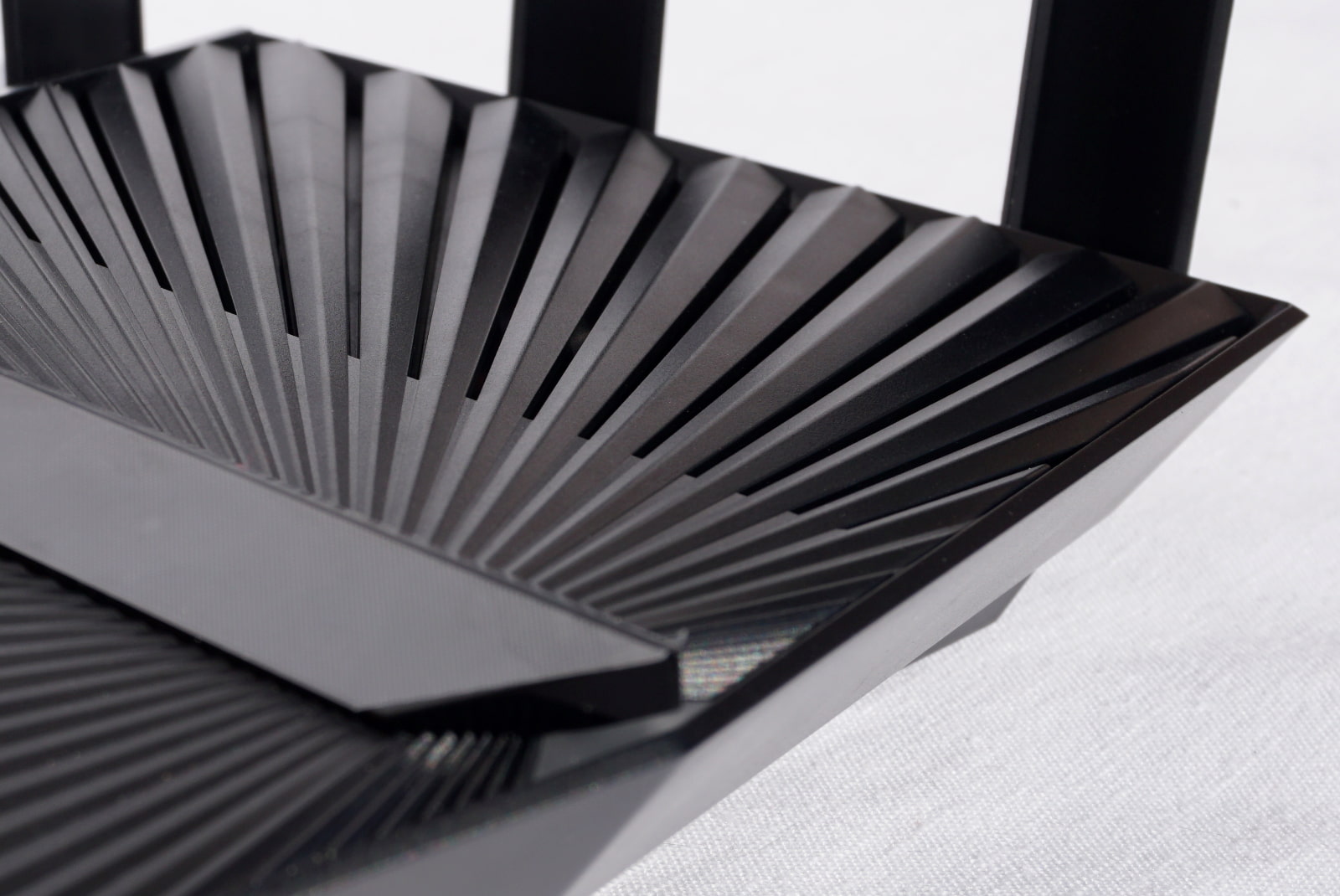 The Archer AX90 includes VPN tools, media streaming, and Alexa support. Kevin Parrish | HighSpeedInternet.com
The Archer AX90 isn't bulging at the seams with features. But there are a few callouts to pique your interest, like built-in VPN tools. You also get free basic parental controls and USB ports for sharing media across your local network or the internet.
Our Archer AX90 scoring breakdown
| | | |
| --- | --- | --- |
| Category | Score* | Summary |
| Performance | 4 | Tested some of the fastest speeds we've seen to date. |
| Features | 3 | Requires a subscription for some features. |
| Design | 4 | Supports three Wi-Fi bands and multi-gig internet. |
| Setup | 4 | Needs a faster setup but is still somewhat painless. |
| Ease of use | 3 | Locks QoS, parental controls, and security to the Tether app only. |
* out of 5 points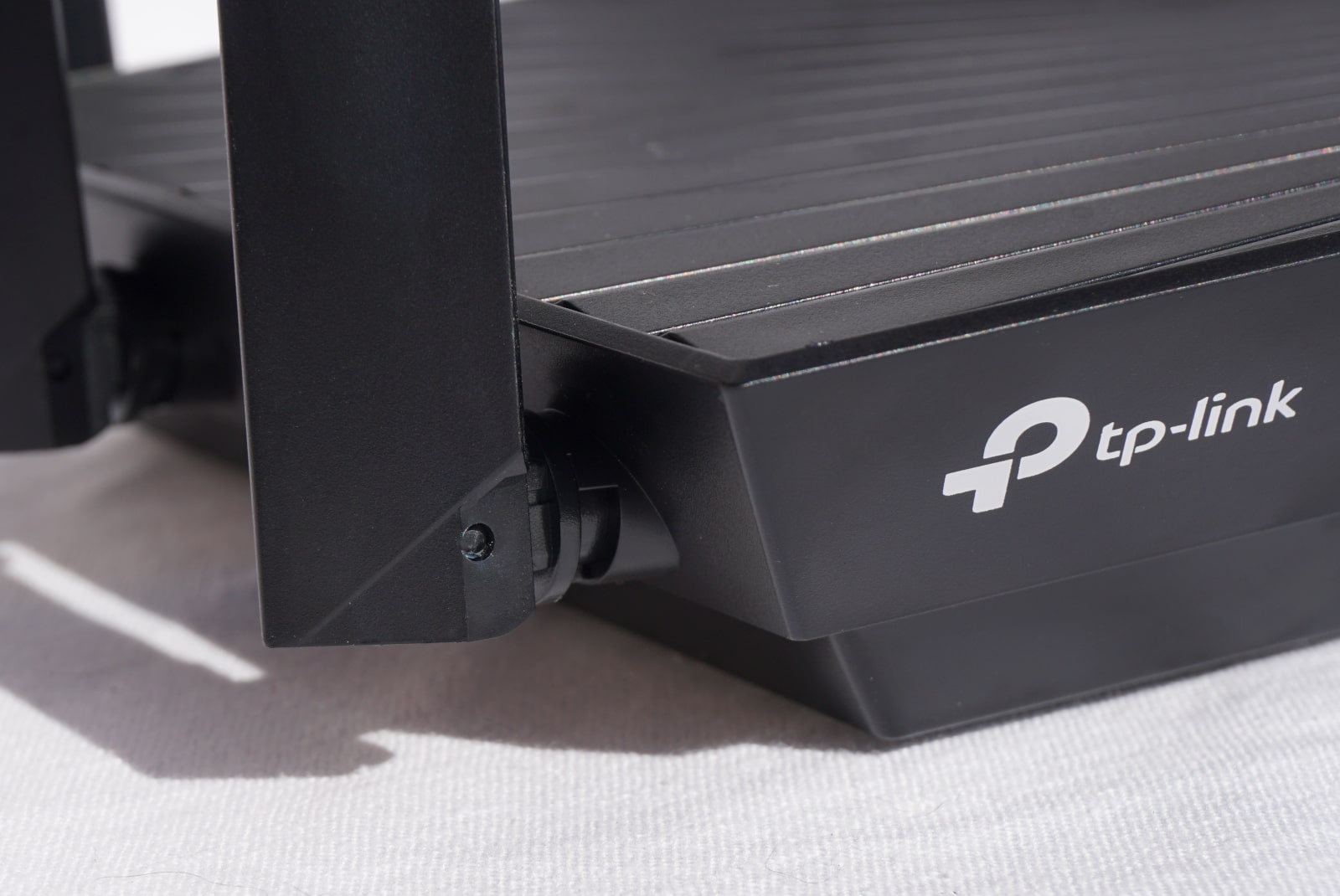 The Archer AX90 has eight antennas you can adjust side to side but not remove. Kevin Parrish | HighSpeedInternet.com
The Archer AX90 has some of the highest speeds we've tested to date. At close range, we recorded an 860Mbps average using an iPhone 12 Pro Max—the same speed we recorded with the Archer AX11000 model. Both routers fall slightly behind the current speed kings in our inventory: the NETGEAR Nighthawk RAXE500 and RAX200.
Next, as we stood across the street at 120 feet, the Archer AX90 tested around 30Mbps slower than the Archer AX11000 model. It also fell behind the similarly-priced NETGEAR Nighthawk XR1000 at that range, but that's okay—you'd never notice the difference in real-world use. None of these routers registered throughput at 160 feet, like with the RAXE500 and RAX200 routers.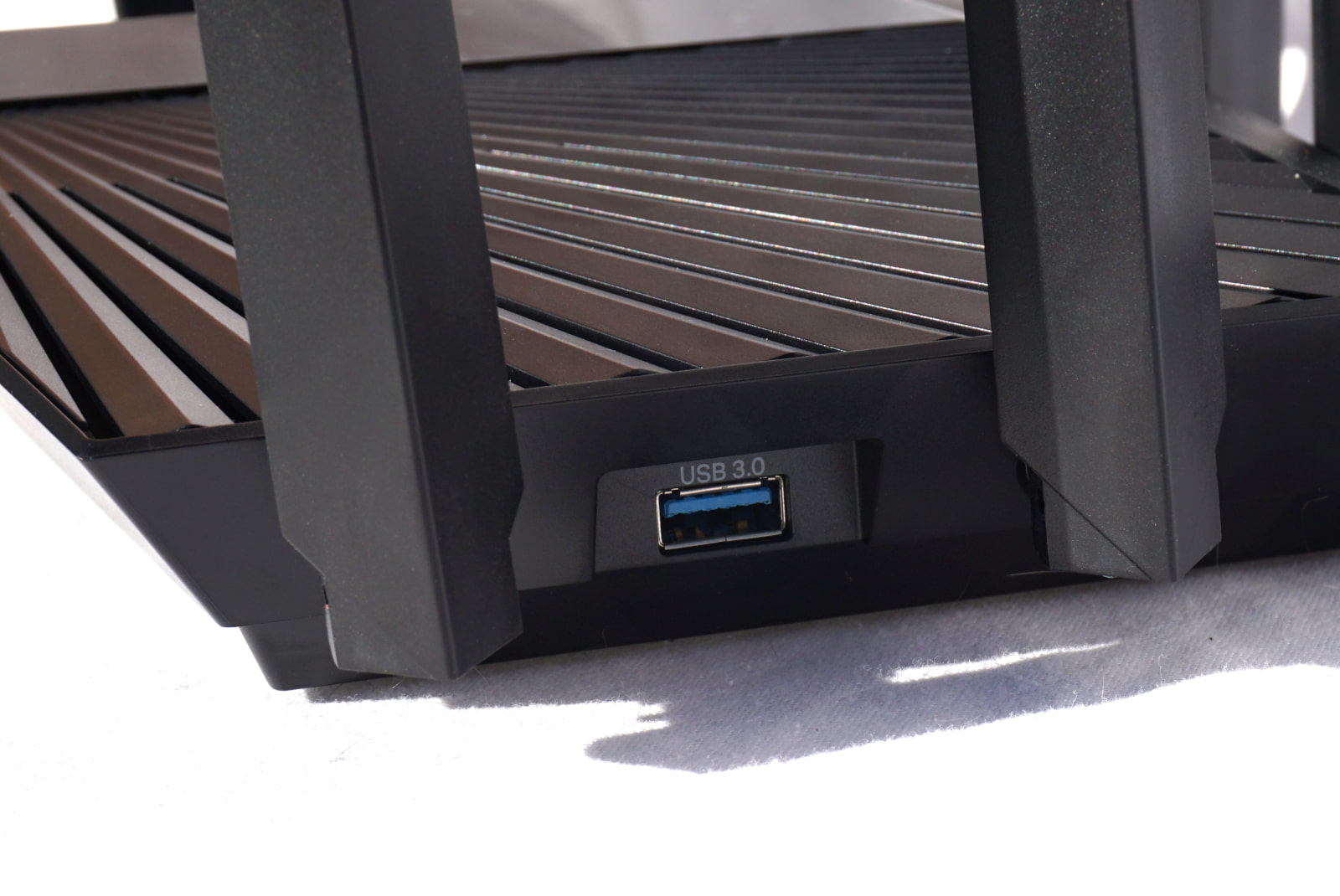 The Archer AX90 has a speedy USB-A port located on the right side. Kevin Parrish | HighSpeedInternet.com
It's hard to give a router a high score when it pushes paid services. With the AX90, you need a HomeShield Pro subscription to get everything it has to offer—unlike some other TP-Link routers. Want different bedtime schedules? You need a subscription for that. Want to keep malicious content off your network? You need a subscription for that too.
But there are some basic features to be had here. You get a built-in VPN server and client, media sharing, Amazon Alexa support, and OneMesh compatibility. The free parental controls, QoS, and security features are available only in the Tether app.
What we wish the Archer AX90 did better
Printer sharing
Totally free parental controls
Printer sharing from a router's USB port is probably obsolete by now, but it's still nice to have if your printer and router can't get along using Wi-Fi.
As for parental controls, you shouldn't have to pay money for setting custom bedtimes and time limits. TP-Link doesn't need to do anything on its end to accommodate these features either—the fee is just to siphon more cash from you after the initial router sale.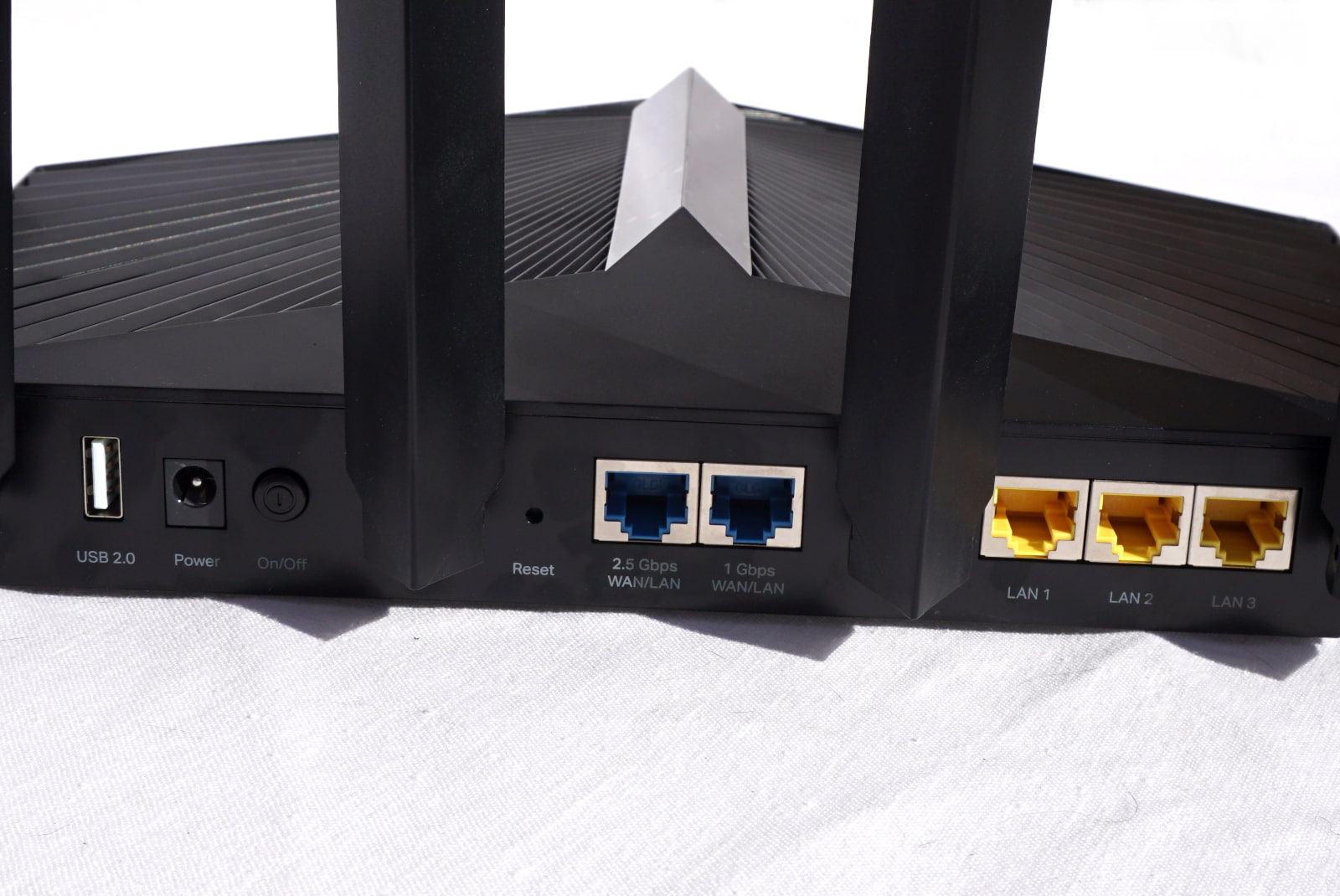 The Archer AX90 supports multi-gig internet connections up to 2.5Gbps. Kevin Parrish | HighSpeedInternet.com
We're always big fans of tri-band configurations. They give you more options to choose the best Wi-Fi channels and channel widths for the fastest connections you can get. The extra 5 GHz band also gives your devices more breathing room to do their thing.
The multi-gig port is ideal for internet plans with speeds from 1Gbps to 2.5Gbps. You can get real-world sub-2Gbps wireless speeds of around 1,600Mbps from the second 5 GHz radio if you have a device supporting 160 MHz channels.
The good news here is you don't need a cloud account to use this router—you need it only for remote management. The bad news is the setup process could be shorter. We've complained about this in other TP-Link router reviews, and we still believe TP-Link should separate the steps into Basic and Advanced options. That way, novice users can plug and play without manually setting a time zone or pestering Google about cloning MAC addresses.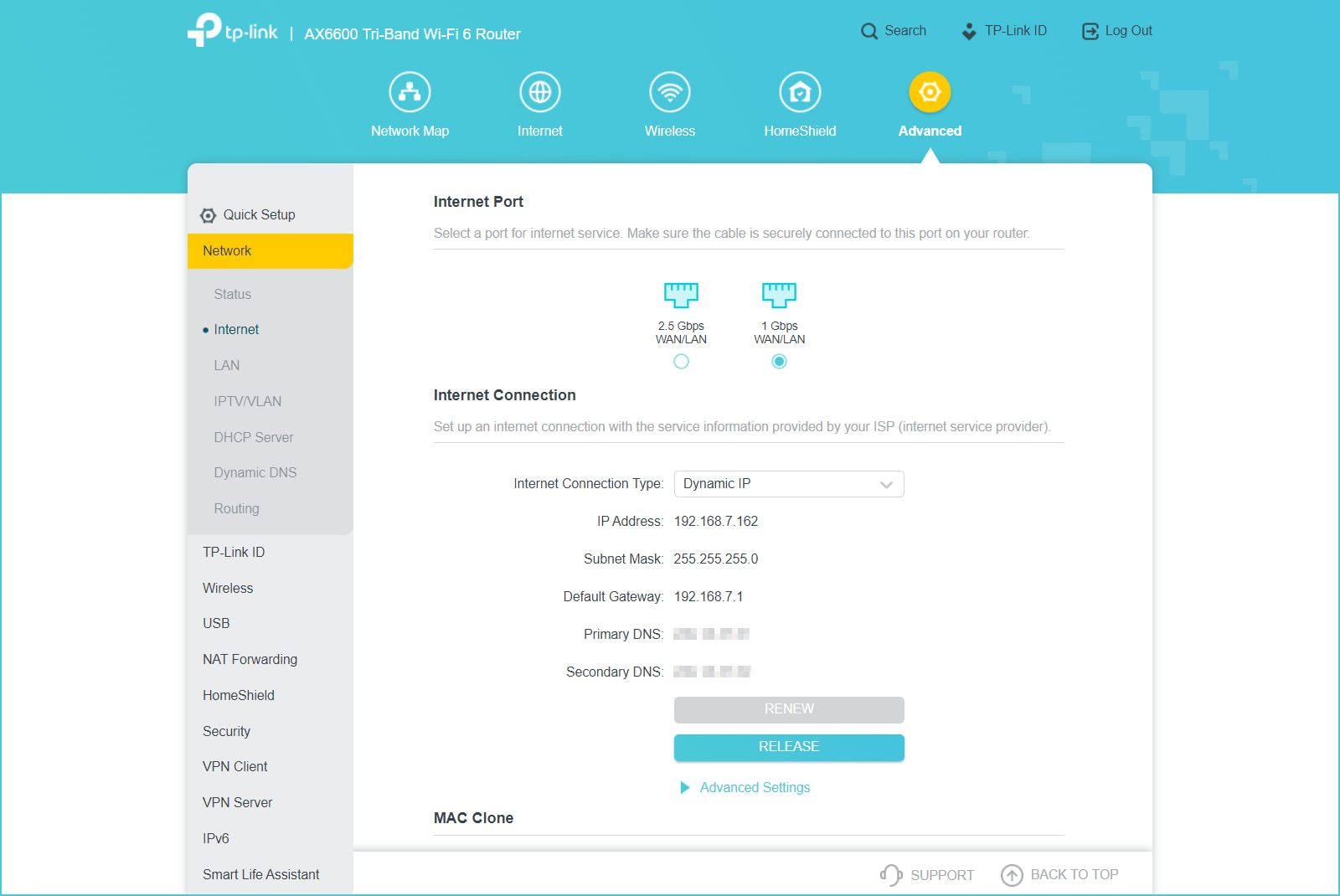 You need the web interface and Tether app to fully utilize the Archer AX90. Kevin Parrish | HighSpeedInternet.com
TP-Link uses three different web interfaces across its router lineup, and this one comes in second behind the AX11000 model. We're not a big fan of the color scheme, but we do like that it throws the most used settings under highlighted tabs to simplify router management. The Tether app is just as easy to use, so kudos there.
But our big beef with the AX90 is you can't access QoS, parental controls, or extra security features in the web interface. On the flip side, you can't change Wi-Fi channels or channel widths in the Tether app. You need both interfaces to fully utilize this router, which is a real head-scratcher. Seriously, why can't manufacturers create one unified interface that works on desktop and mobile?
Are there any additional costs?
You need a HomeShield Pro subscription to get the most out of this router. It costs $5.99 per month or $54.99 annually. We explain the differences between the Free and Pro versions in our FAQ.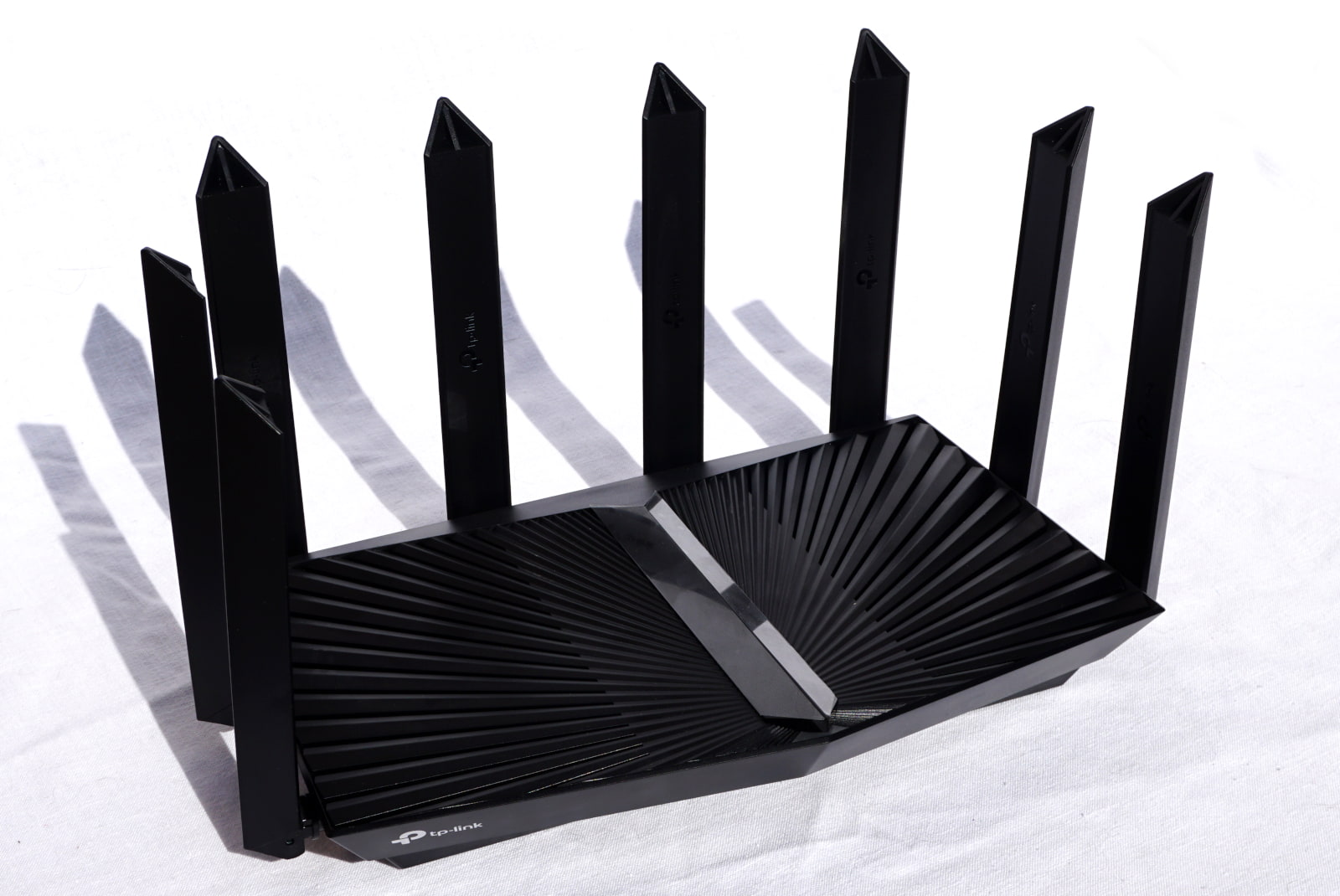 The Archer AX90 is a great router, but expect to pay extra for everything it offers. Kevin Parrish | HighSpeedInternet.com
Our Archer AX90 review: The verdict
We're a little confused about whether we should or should not recommend the Archer AX90. On the one hand, it has excellent speeds, matching the TP-Link Archer AX11000 model and just behind the more expensive NETGEAR Nighthawk RAXE500 and RAX200 models. All four support multi-gig internet, so you should see real-world sub-2Gbps wireless speeds no matter which one you choose.
On the other hand, the AX90 is a little pricey compared to the AX11000 model. Both are tri-band routers, but the AX90 has fewer streams. The AX11000 has eight Ethernet ports, and the AX90 has only four. Moreover, the AX11000 doesn't require a subscription, and the AX90 does.
Do you get our conundrum?
The AX90 is an exceptional router—better than most others we've tested. Unfortunately, the AX11000 model is a far better deal in our book, so we'll always suggest it over the AX90 model.
FAQ about the Archer AX90
What VPN server protocols does this router support?
The Archer AX90 supports OpenVPN, L2TP/IPSec, and PPTP.
How many servers do the VPN client support?
You can add up to six different VPN servers.
What parental controls are available on the AX90?
You can do the following on the Archer AX90 for free:
Create up to 16 profiles
Set one bedtime for each profile
Pause the internet for each profile
Apply specific content filters to each profile
The HomeShield Pro subscription adds the following:
Time limits for each profile
Different custom bedtimes for each profile (weekdays, weekends, etc.)
Traffic statistics
What security features does HomeShield Pro add?
HomeShield Pro includes the following security features:
Malicious content filtering
DDoS prevention
Port intrusion prevention
The free version includes a network security scan and a public Wi-Fi scan.
HomeCare vs. HomeShield: What's the difference?
Here's a chart to show the differences:
| | | |
| --- | --- | --- |
|   | HomeCare | HomeShield Free |
| Custom profile | Unlimited | 16 family members |
| Content filtering | Yes | Yes |
| Site blocking | Yes | Yes |
| Device blocking | Tes | Yes |
| Internet pause | Yes | Yes |
| Bedtimes | Unlimited | One only |
| Time limit | Yes | Pro only |
| Log insight | Yes | 1 day |
| Usage monitor | Yes | Pro only |
| Firewall | Yes | Yes |
| Antivirus | Yes | Pro only |
| Q0S by device | Yes | Yes |
| Q0S by application | Yes | No |
| IoT device identification | No | Yes |
| Network security scan | No | Yes |
| Public Wi-Fi scan | No | Yes |
HomeShield Pro costs $5.99 per month or $54.99 per year.
What is OneMesh?
OneMesh is a term used by TP-Link to categorize products with its mesh technology. You can pair a single OneMesh-compatible TP-Link router—like the Archer AX11000, AX6000, or AX20—with any compatible OneMesh TP-Link Wi-Fi extender or powerline adapter to create a mesh network. Check with TP-Link to see which product supports OneMesh.
We test router speed by setting up each router in an office and connecting it to a local test server. Then, we transmit test data between our wireless devices and the server, taking numerous measurements to account for fluctuations in Wi-Fi speeds.
The first tests occur close to the router, without obstructions—so the Wi-Fi is as strong and fast as it's gonna get. We repeat the process straight out at 10, 20, and 30 feet, with only a glass door obstructing our view of the router. The same glass door and an exterior door blocks our path when we test outside at 40 and 50 feet.
We also run tests in a hallway to the left of the TV room and office—where there's a glass door, three walls, and an air handler unit blocking our view of the router. The dining room, another testing point, sits to the right of the kitchen, TV room, and office—two walls and a glass door block the path in this test.
To test video streaming, we connect a fast storage device to the router and stream a 4K video to six wireless devices simultaneously—two phones, three tablets, and a laptop—connected to the same wireless band.
Client devices used in testing
| | iPhone 12 Pro Max | Google Pixel 3 |
| --- | --- | --- |
| Wi-Fi version | Wi-Fi 6 | Wi-Fi 5 |
| Stream configuration | 2 x 2 | 2 x 2 |
| Max channel width | 80 MHz | 80 MHz |
| Max 5 GHz speed (AX) | 1,200Mbps | – |
| Max 5 GHz speed (AC) | 866Mbps | 866Mbps |
| Max 2.4 GHz speed (AX) | 195Mbps | – |
| Max 2.4 GHz speed (AC) | 195Mbps | 144Mbps |
Archer AX90 benchmarks (5 GHz only)
| | iPhone 12 Pro Max* | Google Pixel 3* |
| --- | --- | --- |
| 2 feet | 860 | 642 |
| 10 feet | 818 | 534 |
| 20 feet | 764 | 464 |
| 30 feet | 692 | 359 |
| 40 feet (porch) | 530 | 281 |
| 120 feet (across street) | 252 | 146 |
| 160 feet (mailboxes) | Out of range | Out of range |
| 20 feet (hallway) | 523 | 236 |
*speed in megabits per second (Mbps)
Amazon.com Prices as of 6/22/23 17:35 MST. Product prices and availability are accurate as of the date/time indicated and are subject to change. Any price and availability information displayed on Amazon.com at the time of purchase will apply to the purchase of this product. Highspeedinternet.com utilizes paid Amazon links.
CERTAIN CONTENT THAT APPEARS ON THIS SITE COMES FROM AMAZON. THIS CONTENT IS PROVIDED 'AS IS' AND IS SUBJECT TO CHANGE OR REMOVAL AT ANY TIME.
Author - Kevin Parrish
Kevin Parrish has more than a decade of experience working as a writer, editor, and product tester. He began writing about computer hardware and soon branched out to other devices and services such as networking equipment, phones and tablets, game consoles, and other internet-connected devices. His work has appeared in Tom's Hardware, Tom's Guide, Maximum PC, Digital Trends, Android Authority, How-To Geek, Lifewire, and others. At HighSpeedInternet.com, he focuses on network equipment testing and review.