How to Log In to Your Router
Nov 4, 2020 | Share

Equipment Guides, FAQ
Accessing your router's settings can seem daunting and highly technical, but logging in to your router is actually a simple process. We'll walk you through each step so you'll be switching up your network settings, changing Wi-Fi passwords, and updating your firmware in no time.
1. Connect to your router
There are two ways you can connect to your router. Either use your router's Wi-Fi network or connect to the router with an Ethernet cable. If you're using your home internet right now, congratulations. You're already connected to your router.
2. Get your router's default IP address
This is the most technical step in this whole process, so you've been warned (it can still be very easy though). Now, your router's default IP address is not the same as the IP address you get when you google "what is my IP address?" Your router actually has two IP addresses—a LAN IP (the default IP address) and a WAN IP (your public IP address). You don't need to worry about the latter.
There are a few different ways to find your router's default IP address, depending on what kind of device you use to look it up.
If you know the manufacturer and model of your router, it might be faster to simply search "[router model] default IP" in a search engine. You'll probably get the right answer. The steps we outline below are more likely to get you the right answer the first time, but you can definitely also just google it.
Pro tip:
If you have a network management app, like TP-Link Tether, Xfinity app, or D-Link Wi-Fi, you can probably find your router's default IP address there along with the rest of your router's information.
Finding your router IP on a Windows computer
Click on the Windows icon in the bottom right corner of your screen (or press the Windows key).
Search for the Command Prompt desktop app.
Type "ipconfig" and press Enter. This will give you a lot of information, but you don't need to worry about most of it.
Find the Default Gateway line and write that number down. That's your router's default IP address.

Finding your router IP on a Mac
Click on the Apple logo in the upper left corner of your screen and choose System Preferences.
Select Network.
Select the network you're connected to from the options on the left side and click on the Advanced button near the bottom right.
Choose TCP/IP from the options across the top of the box.
Your router's IP address is listed under IPv4 Address.

Finding your router IP address on an Android device
Navigate to Settings.
Select Network & internet.
Go to Wi-Fi and click on the Wi-Fi network you're using.
Hit Advanced.
Your router's default IP address is listed under Gateway.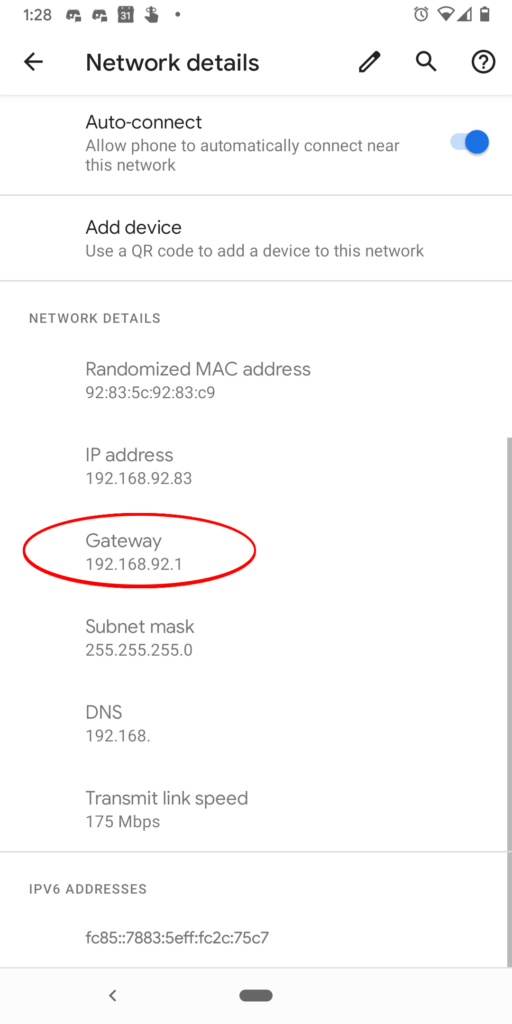 Finding your router IP address on an iPhone
Open Settings and select Wi-Fi.
Find and select your Wi-Fi network.
Your router's default IP address is listed under Router.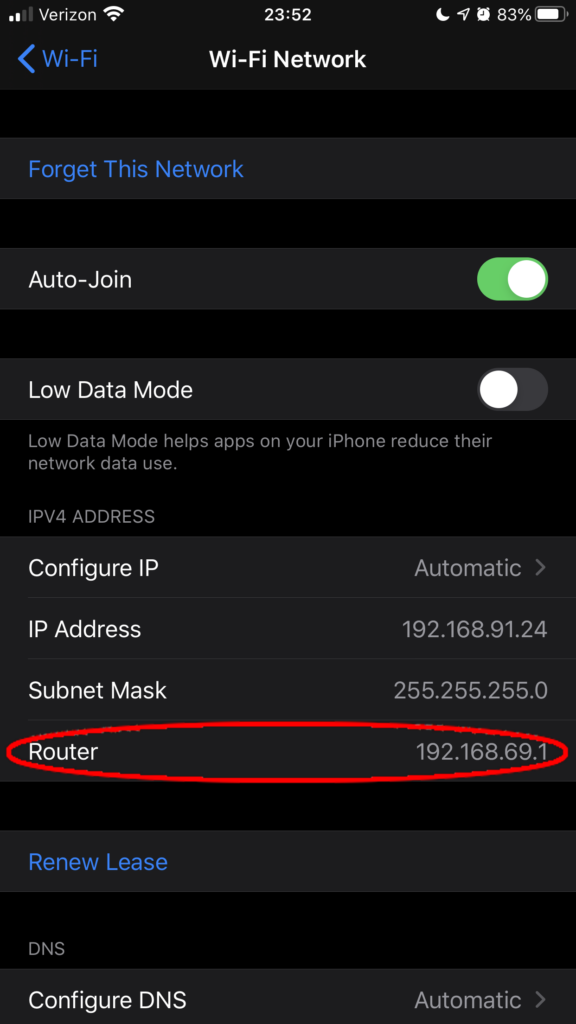 3. Log in using a web browser
Now that you have your IP address, go to a web browser like Chrome, Firefox, or Safari. Any will do. Type (or paste) the IP address into the address bar to navigate to your router's login page.
If it's your first time visiting, you'll need to find your router's default login credentials. These can be found in your router's user manual (or, again, by googling your router), but try this first:
User name: admin
Password: password
A ton of routers use this as a default username and password combo, so it's worth a go if you don't know your login info off the top of your head. Just remember to change it to something harder to guess once you're in.
Pro tip:
If you've previously set a custom username or password and can't recover them, hard reset your router (holding down the recessed Reset button for about 10 seconds should do the trick). Then you can use the default login credentials. This will reset your Wi-Fi network and password as well.
Author - Rebecca Lee Armstrong
Rebecca is a natural techie and the friend you turn to when your Wi-Fi randomly stops working. Since graduating from the University of Evansville with a degree in creative writing, Rebecca has leveraged her tech savvy to write hundreds of data-driven tech product and service reviews. In addition to HighSpeedInternet.com, her work has been featured on Top Ten Reviews, MacSources, Windows Central, Android Central, Best Company, TechnoFAQ and iMore.
Editor - Cara Haynes
Cara Haynes has edited for HighSpeedInternet.com for three years, working with smart writers to revise everything from internet reviews to reports on your state's favorite Netflix show. She believes no one should feel lost in internet land and that a good internet connection significantly extends your life span (buffering kills). With a degree in English and editing and five years working with online content, it's safe to say she likes words on the internet. She is most likely to be seen wearing Birkenstocks and hanging out with a bouncy goldendoodle named Dobby, who is a literal fur angel sent to Earth.