Best Routers for Business
Feb 7, 2018 | Share

Equipment Guides, FAQ, Featured
Choosing a router for your office network is serious business. While home offices and very small businesses can get away with a standard, run-of-the-mill network hub, larger offices and businesses need special routers to handle greater security needs and volumes of traffic.
Picking a router can be a nightmare for those not in the know. Navigating industry vocabulary is tough, and if you're not a network engineer, you could spend days googling terms and various products. But don't worry—we've taken care of all that for you and recommended five of the best top-rated routers on the market.
Read on to learn what you need in a business router and which business routers we at HighSpeedInternet.com recommend.
Best Overall
Amazon Rating: 
(4.4/5)
Antennas: 8
Speed: Up to 5.3 Gbps
Ports: 8 gigabit Ethernet ports
Protocol: 802.11ac
Band: Tri-band—one 2.4 GHz band; two 5 GHz bands
Dimensions: 5.4″ x 14.3″ x 11.7″ / 3.3 lbs.
Other Features: Advanced security features, built-in firewall, beamforming technology
The Linksys AC5400 is a powerful tri-band router with a healthy 5.3 Gbps of maximum bandwidth. This router offers more Ethernet ports than any other router on our list—perfect for extending your network or connecting critical devices for more stability. But there is one downside: it's on the more expensive side.
Most Powerful
Amazon Rating: 
(4.2/5)
Antennas: 8
Speed: Up to 7.2 Gbps
Ports: Six gigabit Ethernet ports, one 10-gigabit fiber Ethernet port
Protocol: 802.11ac, 802.11ad
Band: Tri-band—one 2.4 GHz band; one 5 GHz band; one 60 GHz band
Dimensions: 6.6″ x 8.8″ x 2.9″ / 4.1 lbs.
Other Features: Beamforming technology, advanced antenna technology, VPN support, 802.11ad support for ultra-fast wireless speeds
The Nighthawk has been a router powerhouse for several years, and the X10 continues that tradition. This router comes equipped with the newest Wi-Fi standard: 802.11ad. This protocol allows for speeds up to three times as fast as 802.11ac. Couple that with the tri-band system, and the Nighthawk X10 can support speeds up to 7.2 Gbps. That makes it the fastest router on our list. Unfortunately, 802.11ad is not yet widely supported on devices, so it'll probably be a few years before you can truly take advantage of all that power.
Best Value
Amazon Rating: 
(3.9/5)
Antennas: 6
Speed: Up to 3.2 Gbps
Ports: Four gigabit Ethernet ports
Protocol: 802.11ac
Band: Tri-band—one 2.4 GHz band; two 5 GHz bands
Dimensions: 7.9″ x 7.9″ x 1.5″ / 3.1 lbs.
Other Features: QoS support, built-in VPN, mobile app, Smart Connect technology
The AC3200 router from TP-Link offers a lot of bang for your buck. It's a tri-band router supporting up to 3.2 Gbps—not the most powerful on this list, but it still offers quite a bit of bandwidth. It has six moveable antennas for finding the best connection, four Ethernet ports for extending your network, and one built-in VPN server for maximizing security. Although it's listed for almost $300, you can often find it for quite a bit less, making it a great value for a small business.
Longest Range
Amazon Rating: 
(4/5)
Antennas: 8
Speed: Up to 5.3 Gbps
Ports: Four gigabit Ethernet ports
Protocol: 802.11ac
Band: Tri-band—one 2.4 GHz band; two 5 GHz bands
Dimensions: 24.5″ x 24.5″ x 6.5″ / 3.2 lbs
Other Features: Advanced security features from Trend Micro, large coverage area, mobile app
Clear off some desk space—this is one big router. At over four square feet, the ASUS AC5300 is huge. All that size serves a purpose, though. This is one of the most powerful routers on this list, with tons of bandwidth and eight moveable antennas. This is also the best Wi-Fi router for long ranges thanks to the unique antenna setup.
Most Affordable
Amazon Rating: 
(3.7/5)
Antennas: 6
Speed: Up to 3.2 Gbps
Ports: Four gigabit Ethernet ports
Protocol: 802.11ac
Band: Tri-band—one 2.4 GHz band; two 5 GHz bands
Dimensions: 13″ x 13″ x 3″ / 2.7 lbs.
Other Features: Targeted beamforming, open-source compatibility, Smart Connect technology
TRENDnet makes a great range of budget-friendly routers, including this AC3200 model. This router features Smart Connect technology, which helps prioritize your network devices to maximize performance. It's also compatible with open-source firmware, so it can be customized to your company's specific needs.
Primary Considerations for Choosing a Router for Your Business or Office
When shopping for routers, you're going to encounter just about every networking buzzword and piece of jargon in the world. To make things easier, we've broken down the features you actually need.
Wi-Fi Protocol
This is the string of numbers and letters beginning with "802" that you'll see associated with routers. Among other things, the wireless protocol determines the maximum theoretical bandwidth and range a router can support.
For the most part, you're looking for routers with the 802.11ac protocol. This is sometimes known as Gigabit Wi-Fi because it supports speeds up to 1.3 Gbps (in theory). Gigabit internet connections are becoming more common, so even if you don't currently have one, this will help with future-proofing.
There is a newer protocol, 802.11ad, that is hypothetically three times as fast as 802.11ac. But 802.11ad is very new, and few routers (much less computers and internet service packages) support this kind of bandwidth. So while 802.11ad is technically the best, we're not quite at the point where it's a necessity.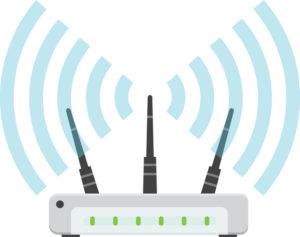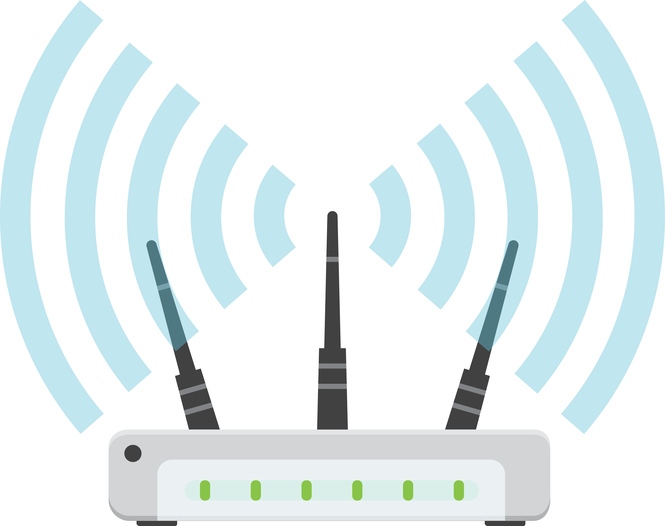 Supported Bands
Routers often have terms like dual-band or tri-band attached to them. The "bands" refer to how many radio frequency bands the router picks up. There are two common bands used: 2.4 Ghz and 5 Ghz. 2.4 Ghz is a slower band that older wireless standards like 802.11n use. The protocol 802.11ac, which we recommended above, operates with the 5 Ghz band.
Most routers these days are dual-band, meaning they support both bands, allowing for higher theoretical speeds, a more stable connection, and less network congestion. Many newer routers are tri-band, which supports one 2.4 Ghz band and two 5 Ghz bands, further reducing congestion.
Technically, more bands are better, though the difference between dual-band and tri-band can be hard to notice in certain environments.
Speed
Higher maximum speeds on the router will allow for more devices to use the network at once without slowdown. However, keep in mind that your internet connection still needs to provide the bandwidth—the router can't use something it doesn't have. That said, more speed is basically always better if you can afford it.
Range
The range of a router is primarily important if you're planning to use only one router—in a very small office, for example. But for the most part, businesses are going to want more than one router in the network. This ensures both full coverage of large office spaces and plenty of bandwidth for simultaneous users. While it's technically possible to connect over 200 devices to a single router, this is a sure way to bring your connection (and business operations) to a slow crawl.
Advanced Features
Beyond the basics, there are some features more commonly found in business-class routers that you'll want to look for when shopping:
Quality of Service (QoS): QoS is a feature that allows you to prioritize certain types of traffic on the network. This is important if your network gets congested often. For example, when there is too much traffic, mission-critical applications—like the VoIP service of a video call—may get bumped off when somebody streams Netflix on their break.
Built-In VPN Server: A Virtual Private Network (VPN) server provides a secure, private network for your business that encrypts all traffic. This provides an enhanced layer of security for sensitive business information. Many business-class routers include a VPN server.
The Difference between Business-Class Routers and Consumer Routers
The main differences between business routers and home routers are security features and raw power. Business-class routers often include built-in security monitoring and VPN servers to enhance security, and they tend to be dual-band at minimum to provide the maximum amount of bandwidth for multiple users. In terms of features, there is some overlap between high-end consumer routers and entry-level business routers.
If you need to only provide internet access to a small office, you might be able to get away with a small network setup similar to what you might find in a home. However, as your office size and network usage expands—and data and information become more critical and sensitive—network needs change. At that point, you should probably opt for a router system with more business-oriented features.
Finding the right router for your office can be a tough task, but with a little knowledge and research, you're sure to find a great fit. Our five recommended routers offer something for every business, whether you're in a small home office or have a whole floor of an office building. If you have any other recommendations, leave us a comment and let us know!
And if you're looking for a dependable internet service to power your new router, enter your zip code to see what's available in your area:
Author - Dave Schafer
Dave has written professionally for tech companies and consumer technology sites for nearly five years, with a special focus on TV and internet. He uses his industry expertise to help readers at HighSpeedInternet.com get the most out of their services. No matter the project, he prefers his coffee black (the stronger, the better).