Cisco Meraki Go GX50 Review
A great centerpiece for bringing all your different networks together
Aug 22, 2023 | Share

Equipment Guides, Product Reviews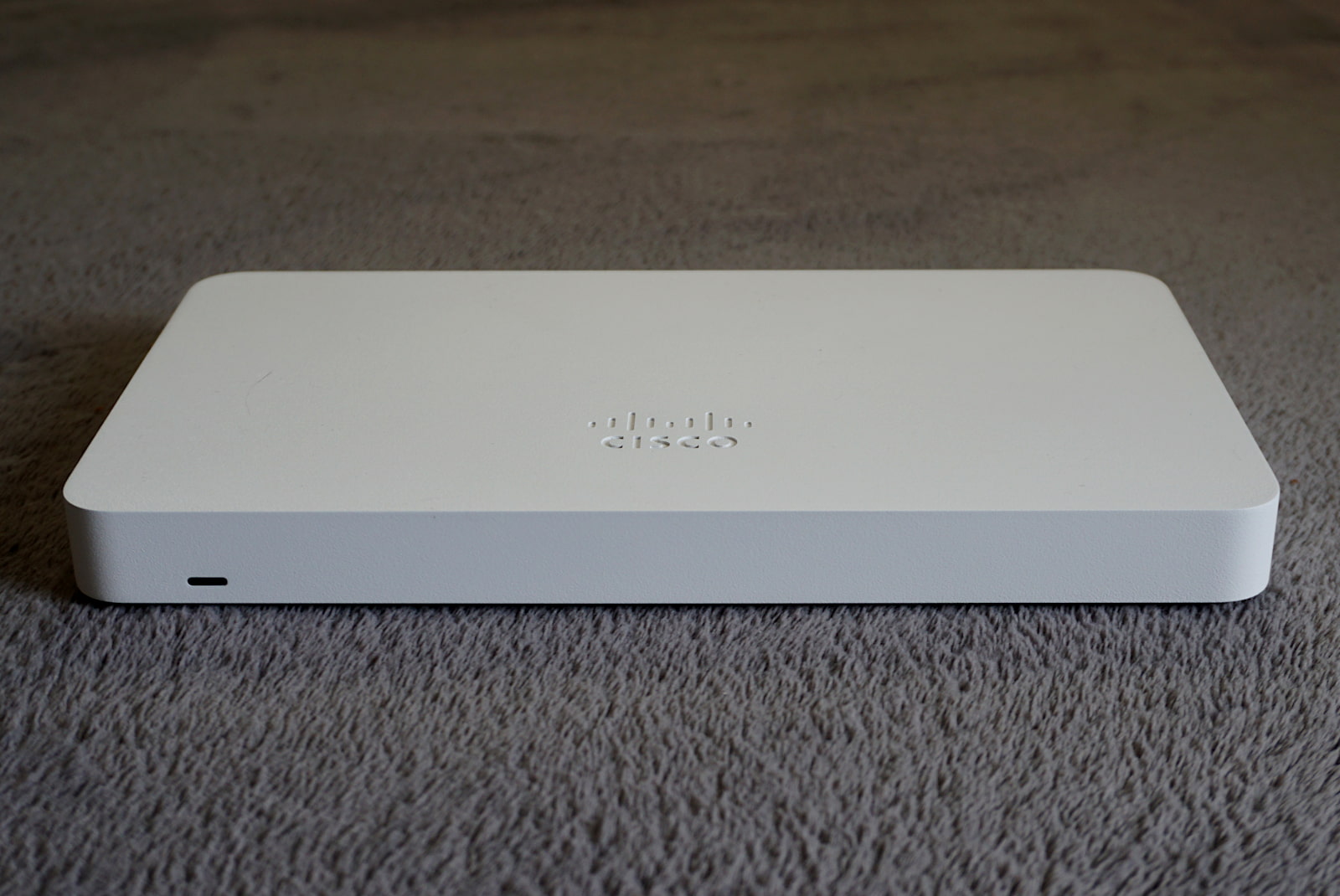 The Meraki Go GX50 has good wired speeds based on our tests. Kevin Parrish | HighSpeedInternet.com
Is the Meraki Go GX50 right for you?
The Meraki Go Router Firewall Plus (GX50) is ideal for businesses and enterprise branch offices that need to isolate different devices and their networks, such as separating Point of Sale machines from guest computers. It's designed to sit at the front of your network—your bouncer at the front door inspecting every digital nugget that flows in and out of your internet connection. The GX50 includes a few handy VPN tools, too, for remote management and site-to-site communication.
Pros:
VPN tools
Network isolation
Comprehensive traffic analysis
Cons:
No VLAN-specific customization
No Power over Ethernet
No Wi-Fi
Fastest internet plans for the Meraki Go GX50
The Meraki Go GX50 uses Gigabit Ethernet internet connections, so it's not compatible with plans of 1,000Mbps and faster. To see if you have the best internet speeds for the GX50, run our speed test first:
You don't need the fastest plan to enjoy this firewall router. But If you're shopping for an internet upgrade, here's a list of the best plans you can get.
Meraki Go GX50 standout features
The Meraki Go GX50 includes site-to-site VPN tunneling support. Kevin Parrish | HighSpeedInternet.com
We love the GX50's ability to create virtual networks and assign each one to an Ethernet port. The site-to-site VPN is also rather handy if you have multiple GX50 firewall routers installed in different locations.
Our Meraki Go GX50 scoring breakdown
| | | |
| --- | --- | --- |
| Category | Score* | Summary |
| Performance | 4 | Provides decent wired speeds. |
| Features | 4 | Includes network isolation and built-in VPN tools. |
| Design | 4 | Packs a USB port only used to charge devices. |
| Setup | 4 | Gets your first network up and running quickly. |
| Ease of use | 5 | Presents a clean interface on desktop and mobile. |
* out of 5 points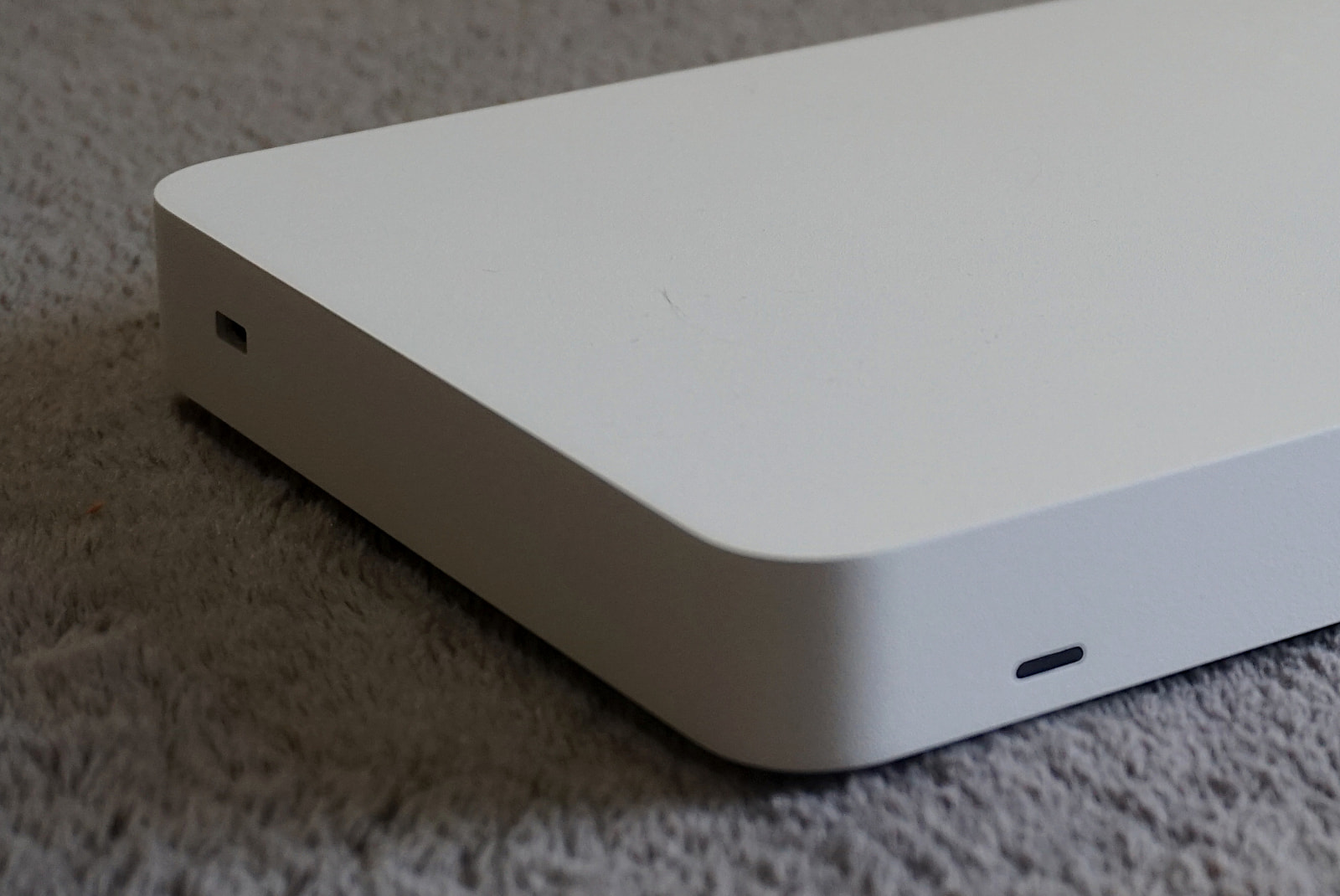 The Kensington lock helps keep the Meraki Go GX50 secured to its station. Kevin Parrish | HighSpeedInternet.com
The Router Firewall Plus (GX50) doesn't have Wi-Fi, so we couldn't benchmark its wireless speeds and range. This is also the first firewall router we've tested, so giving the GX50 a performance score was a little weird.
So, here's the skinny. The product page says the GX50 pushes a total throughput of over 500Mbps, double the speed of the vanilla Router Firewall (GX20) model. Given gigabit Ethernet has a maximum real-world speed of around 940Mbps, both numbers sound unusually low for a wired connection. We explain why the speeds are slower in our FAQ.
To test the speed, we created two virtual networks (VLANs) and assigned each to an Ethernet port. We connected a test server to one port and a client device to another. We then allowed both VLANs to mingle with each other, allowing us to benchmark the firewall.
After a few tests, we recorded a 642Mbps average, which we can't say is good or bad without testing other firewall routers. Again, Cisco states "over 500Mbps," so our tested average speed appears normal.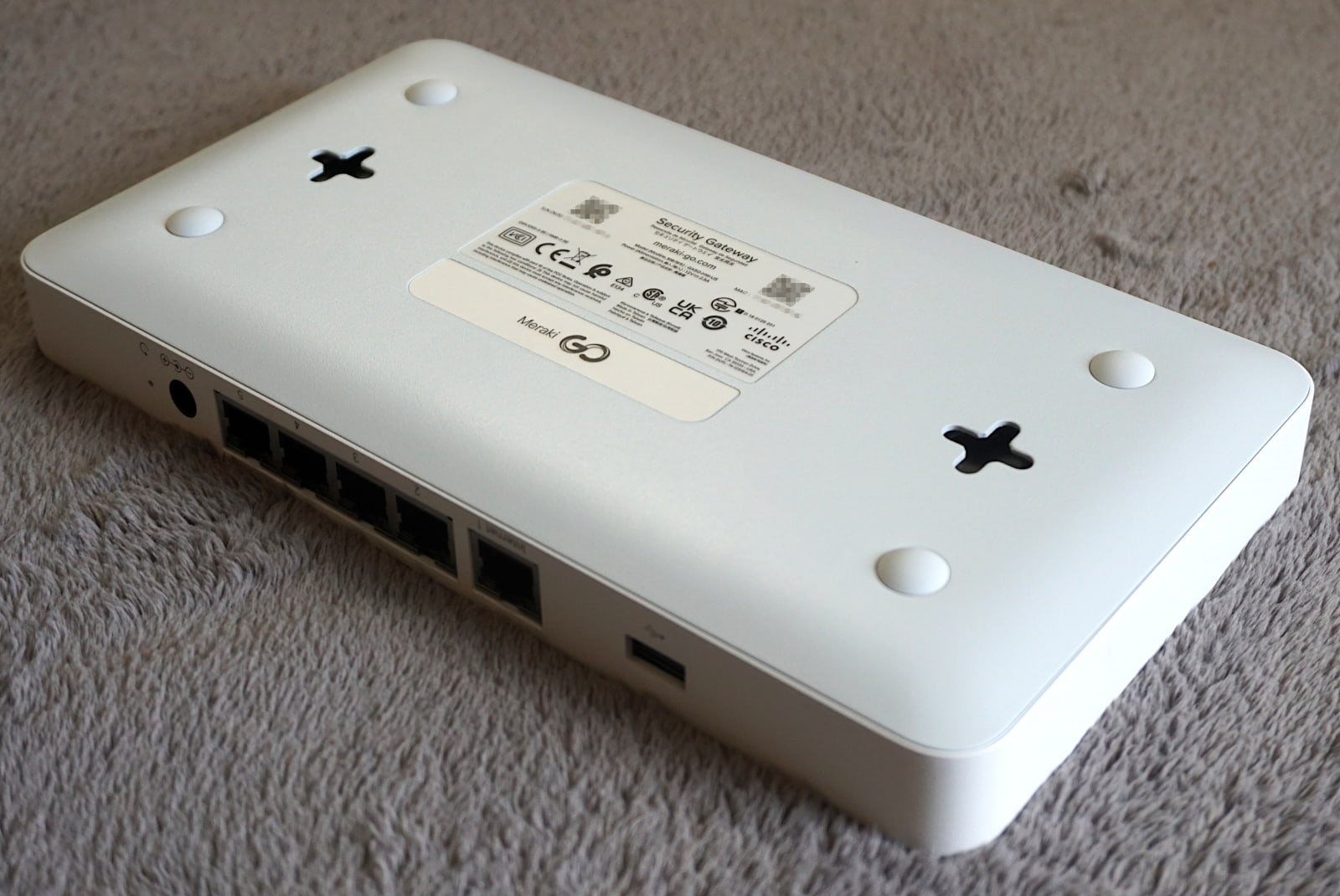 The Meraki Go GX50 includes screws and anchors for mounting it on a wall. Kevin Parrish | HighSpeedInternet.com
Since the GX50 is a business-oriented device, we have to throw out any expectations for home features like printer sharing and parental controls. Think of it as a bouncer standing in front of the doorway to your network, and its only job is to use a microscope to inspect everything that comes in or out and jot it all down.
That said, we found the GX50 rather neat. You can create up to four virtual networks and assign each to an Ethernet port. You can isolate each network, too, so your Point of Sale device network doesn't mingle with your Guest network. Consider how a hotel needs to separate the lobby's guest-accessible computer from the PCs used to take your money, and you get why this feature is vital.
Another callout is the VPN. Cisco calls it a "client VPN" although we generally use the "server VPN" term with standard routers. It allows you to access your network and connected devices remotely, but you can't use it to surf anonymously from a coffee shop. There's a site-to-site VPN you can establish, too, if you want your virtual network(s) to connect with others on a remote GX50.
What we wish the Meraki Go GX50 did better
Better network customization
USB utilization
You can't set custom web blocking and QoS settings for each virtual network you create. We assume this is on purpose since the GX50 sits directly behind your modem or ONT. But if you don't plan to add access points to your networks, then any website you block or application you limit applies to all virtual networks.
The GX50 has a USB port, but it's only used for charging devices. You can't host a network-shared storage device like a USB stick or network-attached storage (NAS) unit.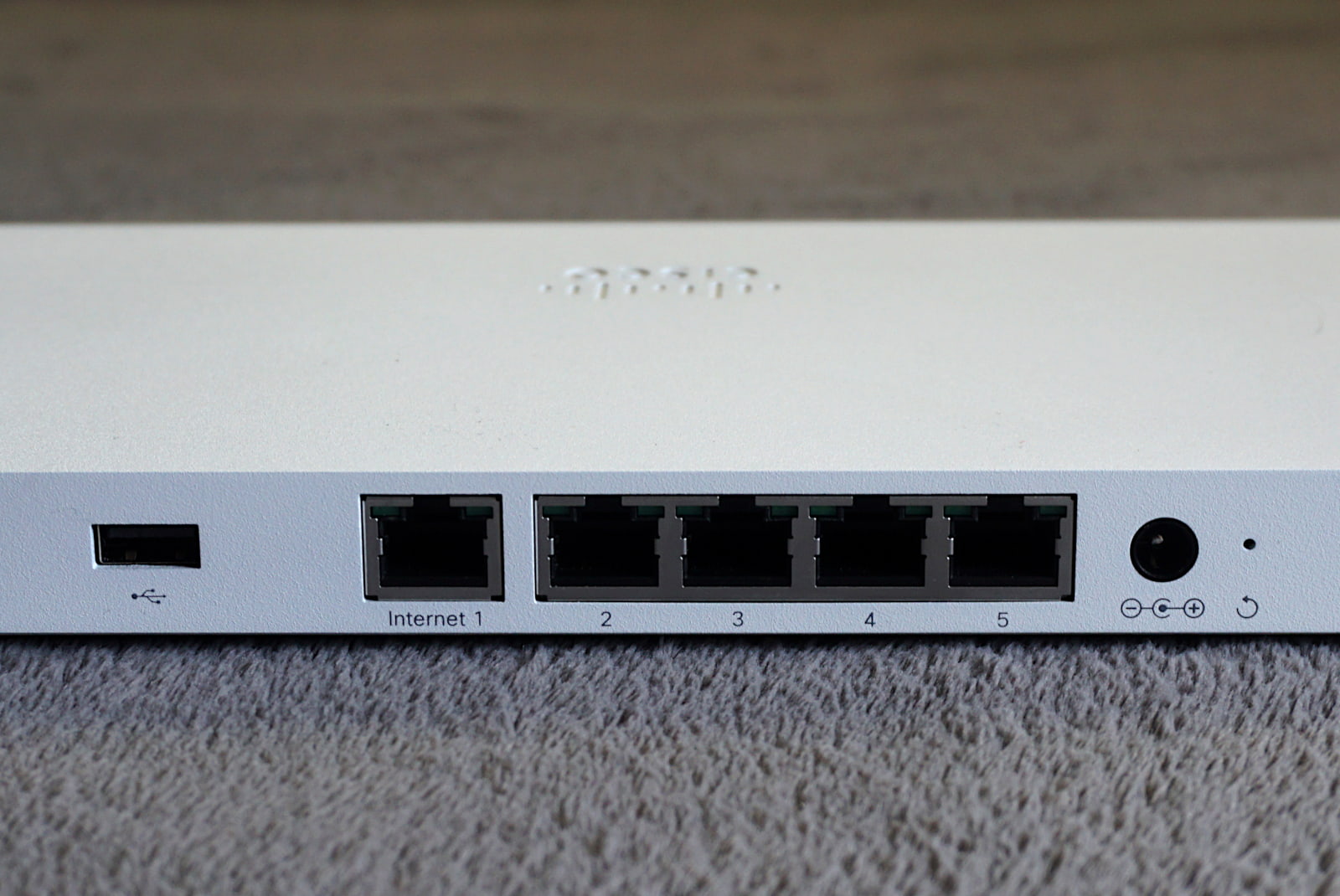 You can assign a virtual network to each Gigabit Ethernet port on the Meraki Go GX50. Kevin Parrish | HighSpeedInternet.com
At first glance, we frowned at the lack of a 2.5Gbps WAN port to support 2,000Mbps internet plans. But then you would need 2.5Gbps LAN ports instead of the Gigabit ones, and for any switch and access point you tether to the GX50. Plus, we tested a 642Mbps average, so upgrading from Gigabit Ethernet to 2.5Gbps Ethernet may not increase your throughput much anyway.
The GX50 packs a lot of system memory and flash storage, which is good. The router does a lot more data processing than your standard one from ASUS and TP-Link on purpose. The extra processing reduces the throughput by around 300Mbps in exchange for better traffic management and security.
You can see what the GX50 is scanning too. Select Application on the Home screen, and you can view the amount of data each application uses. Microsoft Windows Update Service, Slack, and Google Services were our top three data gobblers on our test client PC.
The GX50 was easy to set up. You create a cloud account, enter the router's serial number, and wait for the GX50 to sync with the Meraki Go servers—that's it. After that, you create the virtual networks you need and assign them to the Ethernet ports.
Keep in mind that you need a Meraki Go account to use this router. It's an enterprise-grade device meant to be part of a multi-site network management system. You can't simply log in locally and manage this router like you can with traditional ones from ASUS and NETGEAR.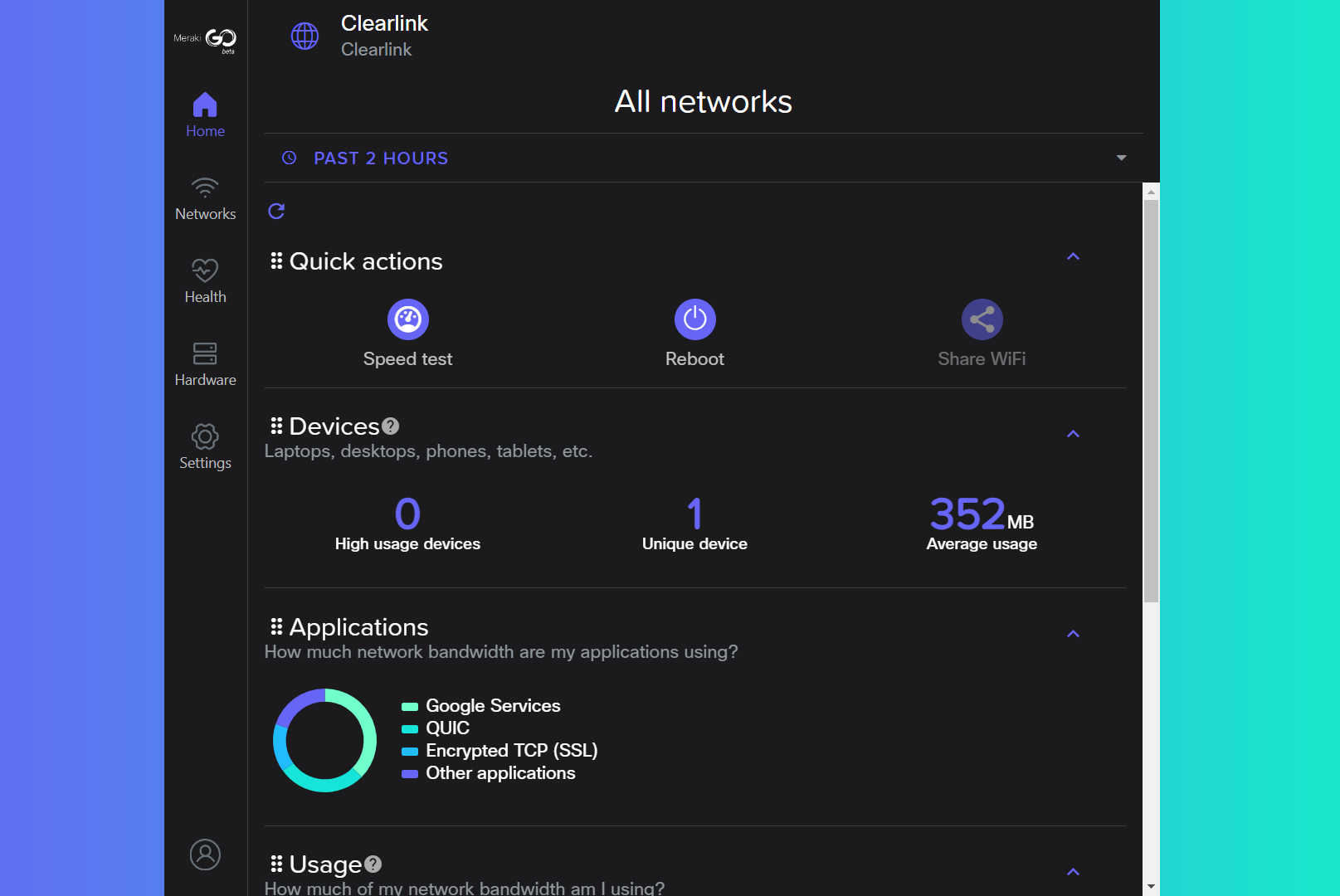 The Meraki Go GX50 web and mobile apps are easy to use and nearly identical in design. Kevin Parrish | HighSpeedInternet.com
The web interface and Meraki Go app have the same features—they only position the five tabs differently to accommodate the screen. Both have a Home tab presenting device, application, and usage statistics along with quick-action tools like rebooting the router and running a speed test.
The Settings tab is where you'll find most of your customization options, like web blocking, traffic shaping, QoS management for any switch you add, and administration management. The Hardware tab is where you add more routers, switches, and access points and see all the devices connected to your network(s).
Overall, the interface was a little daunting for this first-time firewall router user until the GX50's abilities were clarified through the handful of how-to's on the Meraki Go website. After that, network management was a breeze. Cisco also gets extra kudos for having a Dark Mode option.
Are there any additional costs?
The optional Meraki Go Umbrella Security License costs around $114 for one year, depending on where you get the subscription. You can get a three-year ($300) or five-year ($544) plan too.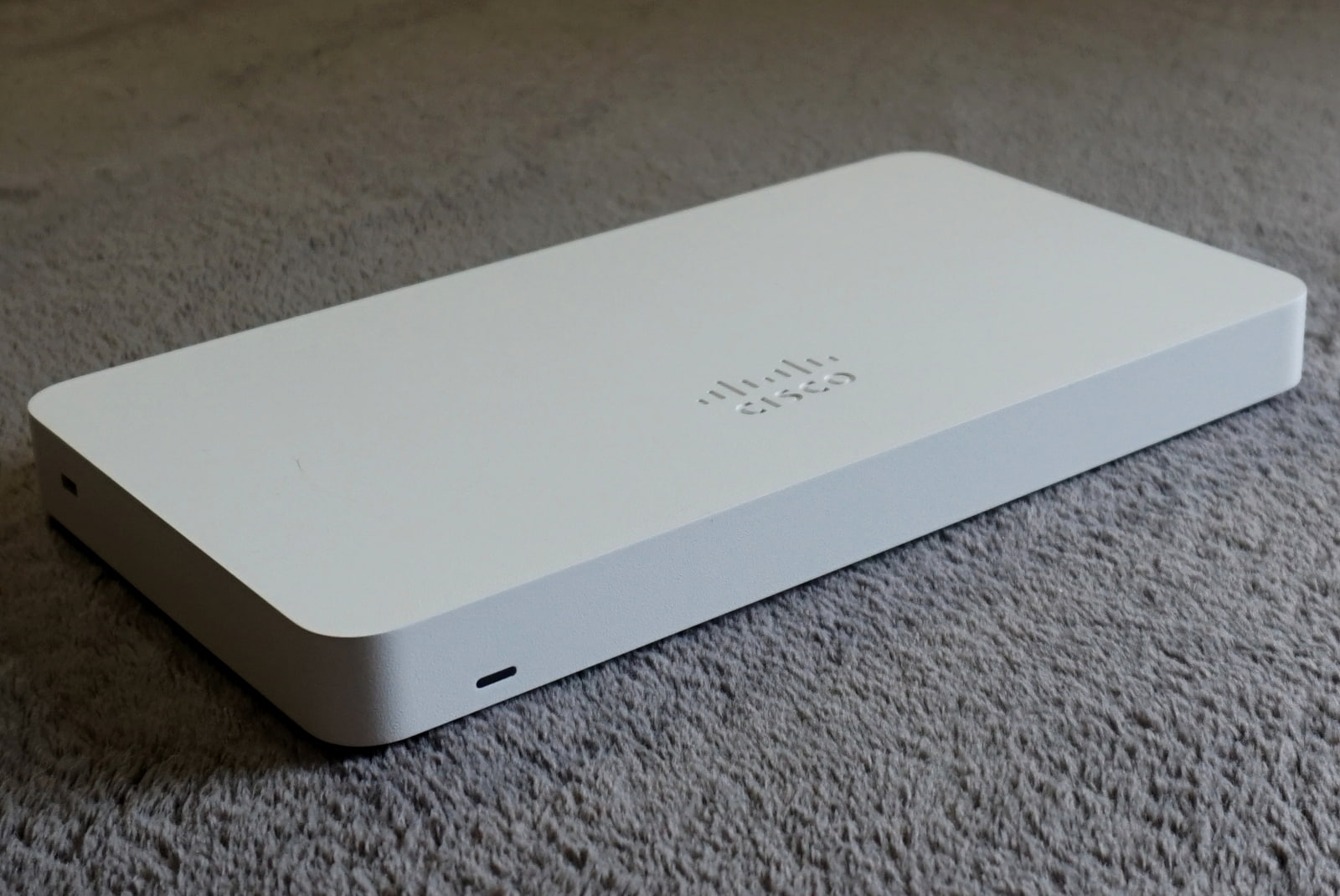 The Meraki Go GX50 is a great centerpiece for bringing all your networks together. Kevin Parrish | HighSpeedInternet.com
Our Cisco Meraki Go GX50 review: The verdict
The Meraki Go Router Firewall Plus (GX50) wasn't designed for home use. It's meant for businesses that need multiple standalone networks to converge at a point and connect to a modem or ONT. You want to separate your Point of Sale devices from your publicly-accessible computers, and that's where this router shines.
Since it's not a Wi-Fi router, we couldn't perform our wireless tests. We had to solely gauge its performance based on wired connections alone. Overall, the results show how this type of deep traffic analysis can slow your wired speeds compared to off-the-shelf routers from ASUS and TP-Link. They also match Cisco's "over 500Mbps" claim, so we'll assume the router is right on the money in performance.
Overall, the GX50 is good at what it does. It has a little bit of a learning curve if you're never used a firewall router before, but network management is pretty easy once you have it all sorted out. You could use the GX50 in a home setting if you need to separate wired devices and speed isn't a major concern.
FAQ about the Meraki Go GX50
Can you use the GX50 at home?
Yes, you can use the GX50 in your home network, but it's primarily designed for small- to mid-sized businesses and enterprise branch offices.
Why are the wired speeds so slow?
Like most modern routers, the GX50 includes a stateful firewall that inspects the active state of all connections. The more rules you apply to the firewall, the longer the inspection takes to process each packet, reducing the overall speed. Cisco clearly states the GX50 is designed with 50 devices in mind and a firewall throughput of over 500Mbps, so our results based on the default settings appears to be optimal.
What are the VPN speeds?
According to Cisco, 300Mbps is the maximum speed you get when connecting to the network remotely through the VPN server. The site-to-site VPN tunnel has a 50Mbps maximum.
What's the difference between the GX50 and GX20?
What does the Meraki Go Umbrella Security License include?
The subscription adds the following:
Network security alerts
Security insights about suspicious and blocked devices
Single-tap security configurations
Increased protection against malicious websites, downloads, and phishing.
The pricing depends on where you order the subscription. We found the following prices on Hummingbird Networking:
| | | | |
| --- | --- | --- | --- |
| Years: | 1 | 3 | 5 |
| Price: | $99.49 | $297.73 | $543.73 |
Amazon
Amazon.com Prices as of 8/9/23 17:35 MST. Product prices and availability are accurate as of the date/time indicated and are subject to change. Any price and availability information displayed on Amazon.com at the time of purchase will apply to the purchase of this product. Highspeedinternet.com utilizes paid Amazon links.
CERTAIN CONTENT THAT APPEARS ON THIS SITE COMES FROM AMAZON. THIS CONTENT IS PROVIDED 'AS IS' AND IS SUBJECT TO CHANGE OR REMOVAL AT ANY TIME.
Best internet plans for the Meraki Go GX50
* No contract required. 24 Month Internet Pricing. Equipment priced separately. Includes $5 discount for 12 months w/ ebill & autopay. Observed speeds may vary. Excludes surcharges and fees. New residential customers only.
† Price after $5/mo Autopay & Paperless bill discount (w/in 2 bills). Plus taxes & fees. Monthly State Cost Recovery Charge in TX, OH, NV applies. One time install chrg may apply. Ltd. avail/areas. Call or go to www.fiber.att.com to see if you qualify.
‡ Speed may not be available in your area. Maximum download/upload speed of up to 940 Mbps via a wired connection. Paperless billing required. Taxes and fees apply. Offer details. Offer includes professional installation at customer's eligible location
§ for 12 months with 1-yr. term agreement
|| w/ Auto Pay & Paperless Bill. Max wired speed 500/500 Mbps. Wi-Fi, actual & average speeds vary. One-time charges apply.
# For 1 year. Plus activation, installation, modem rental, taxes & fees. Price includes $10/mo discount for autopay and paperless billing.
** w/Auto Pay & Paperless Bill. Terms apply.
†† For 12 months when bundled. Limited time offer; subject to change; valid to qualified residential customers who have not subscribed to any services within the previous 30 days and who have no outstanding obligation to Charter.
for 12 mos.
‡‡ Price per month with Auto Pay & without select 5G mobile plans. Fios plan prices include taxes & fees
§§ For 24 months. No term contract. Taxes and equipment not included. Includes $10/mo automatic payments and paperless billing discount.
Author - Kevin Parrish
Kevin Parrish has more than a decade of experience working as a writer, editor, and product tester. He began writing about computer hardware and soon branched out to other devices and services such as networking equipment, phones and tablets, game consoles, and other internet-connected devices. His work has appeared in Tom's Hardware, Tom's Guide, Maximum PC, Digital Trends, Android Authority, How-To Geek, Lifewire, and others. At HighSpeedInternet.com, he focuses on network equipment testing and review.