TP-Link Archer AX21 Review
The AX21 is an unusual revision to TP-Link's great Archer AX20 budget router.
Oct 6, 2023 | Share

Equipment Guides, Product Reviews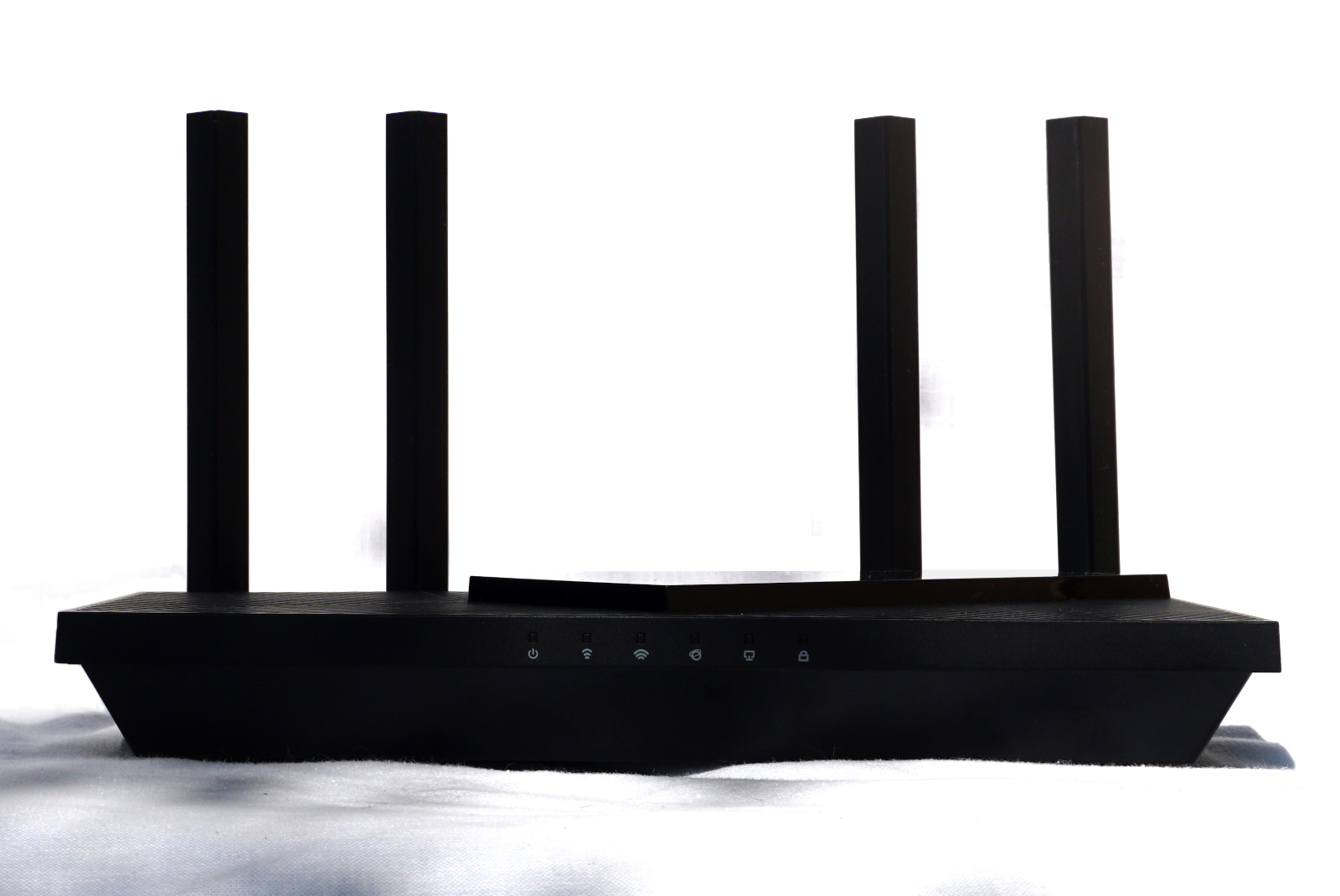 The TP-Link Archer AX21 has good speeds for the money based on our tests. Kevin Parrish | HighSpeedInternet.com
Is the Archer AX21 right for you?
The Archer AX21 is a weird one because you'd think a newer model would be better than the previous one, right? But it's not. In fact, TP-Link took a step back with this revision that makes it less of a value. It's not a bad router by any means—it even provides more Wi-Fi channels than the one before it. But if standout features are what you want, the Archer AX20 is a better buy.
Pros:
Great low price
Built-in VPN server
EasyMesh support
Cons:
No multi-gig support
Subscription-locked features
No USB ports
Fastest internet plans for the Archer AX21
You don't need the fastest plan to enjoy this router. But If you're shopping for an internet upgrade, here's a list of the best plans you can get.
Archer AX21 standout features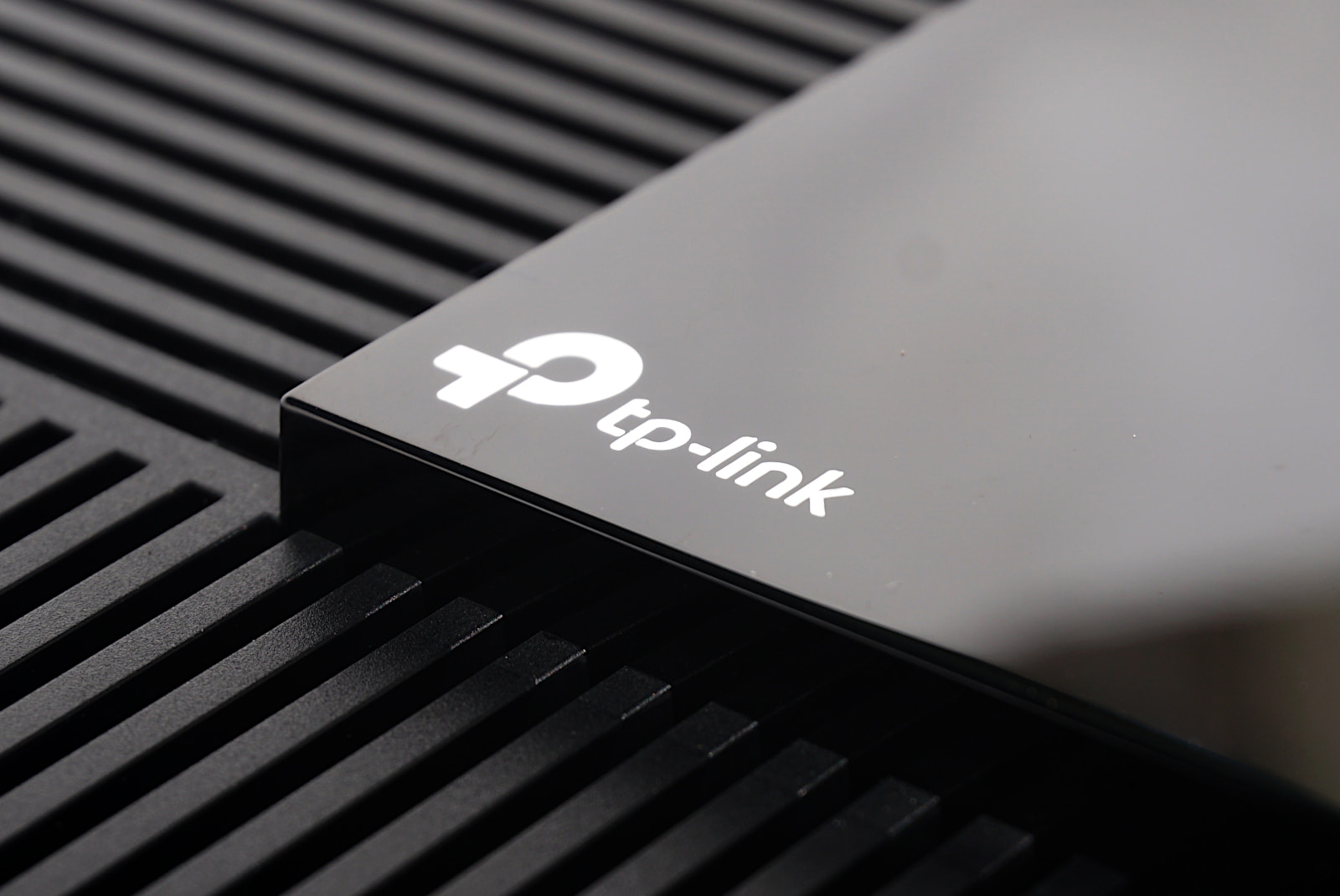 The TP-Link Archer AX21 lacks some of the standout features included with the older AX20 model. Kevin Parrish | HighSpeedInternet.com
TP-Link removed many of the notable features seen with the Archer AX20 model, so the list isn't quite so impressive.
Our Archer AX21 scoring breakdown
| | | |
| --- | --- | --- |
| Category | Score* | Summary |
| Performance | 4 | Matches the speeds of similar budget routers. |
| Features | 3 | Lacks some notable features offered on the AX20 model. |
| Design | 3 | Has more channels than the AX20 but lacks the USB port. |
| Setup | 3 | Needs to be more streamlined for a faster process. |
| Ease of use | 4 | Provides a great interface for easy network management. |
* out of 5 points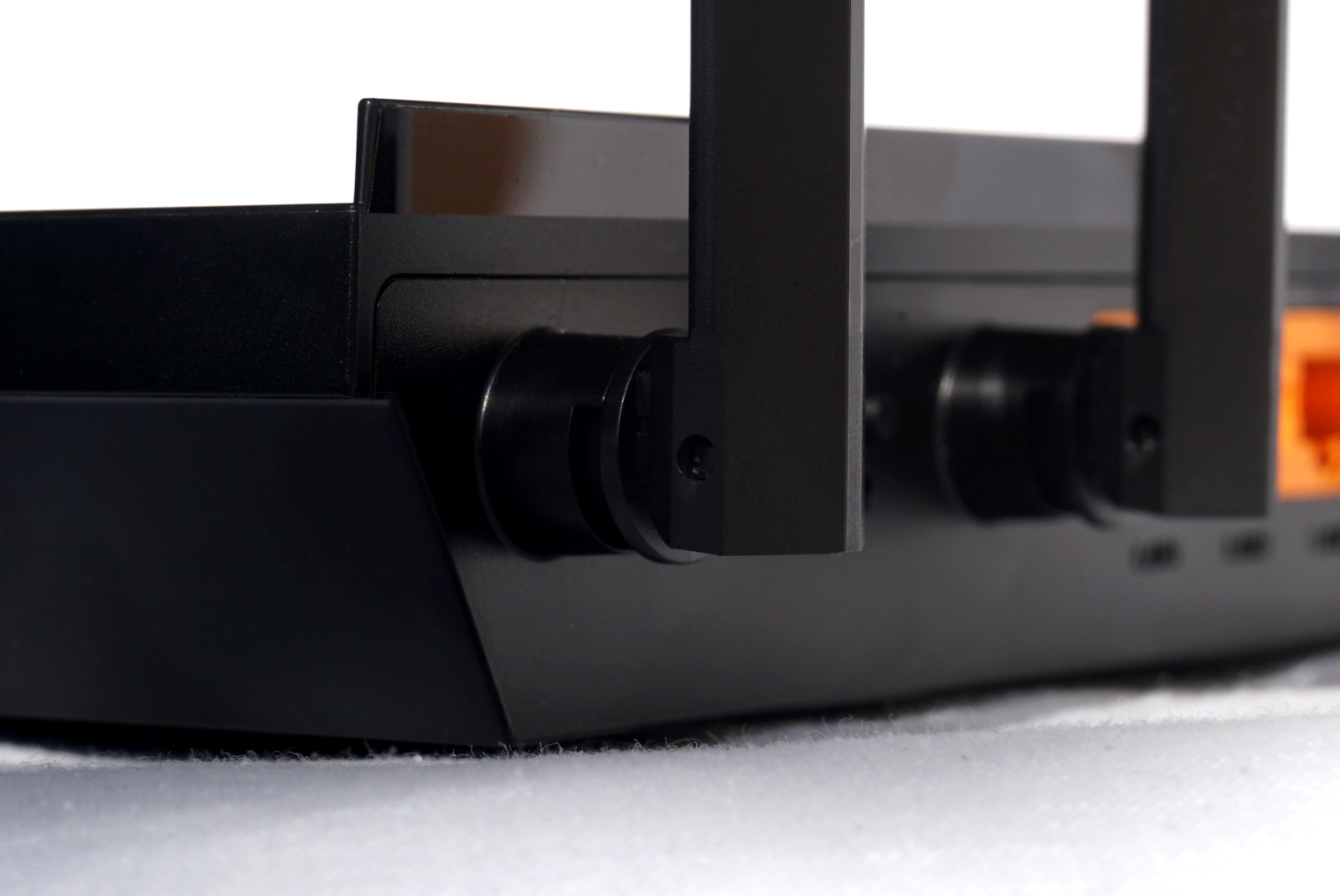 The Archer AX21's antennas aren't removable, but you can position them back and side to side. Kevin Parrish | HighSpeedInternet.com
Like its predecessor, the Archer AX21 has really good speeds for the money. It's on par with nearly every inexpensive router we've tested, like the NETGEAR R6700AX and the Reyee RG-E5—at least at close range. The Reyee model outperformed the other two at long range in our testing, with a 330Mbps average versus 223Mbps with the Archer AX21 and 203Mbps with NETGEAR's router.
However, we didn't see an uptick in performance with the AX21 over the older Archer AX20 model. Both had similar speeds up close and at long range. Also, neither one supports 160 MHz channels or has the multi-gig port to back them up, so the most Wi-Fi speeds you'll ever see will be under 940Mbps anyway.
If you need more speed, take a look at TP-Link's Archer AX3000 Pro and AX5400 Pro routers, although they're almost double in price. Both routers have multi-gig internet ports and 160 MHz channels.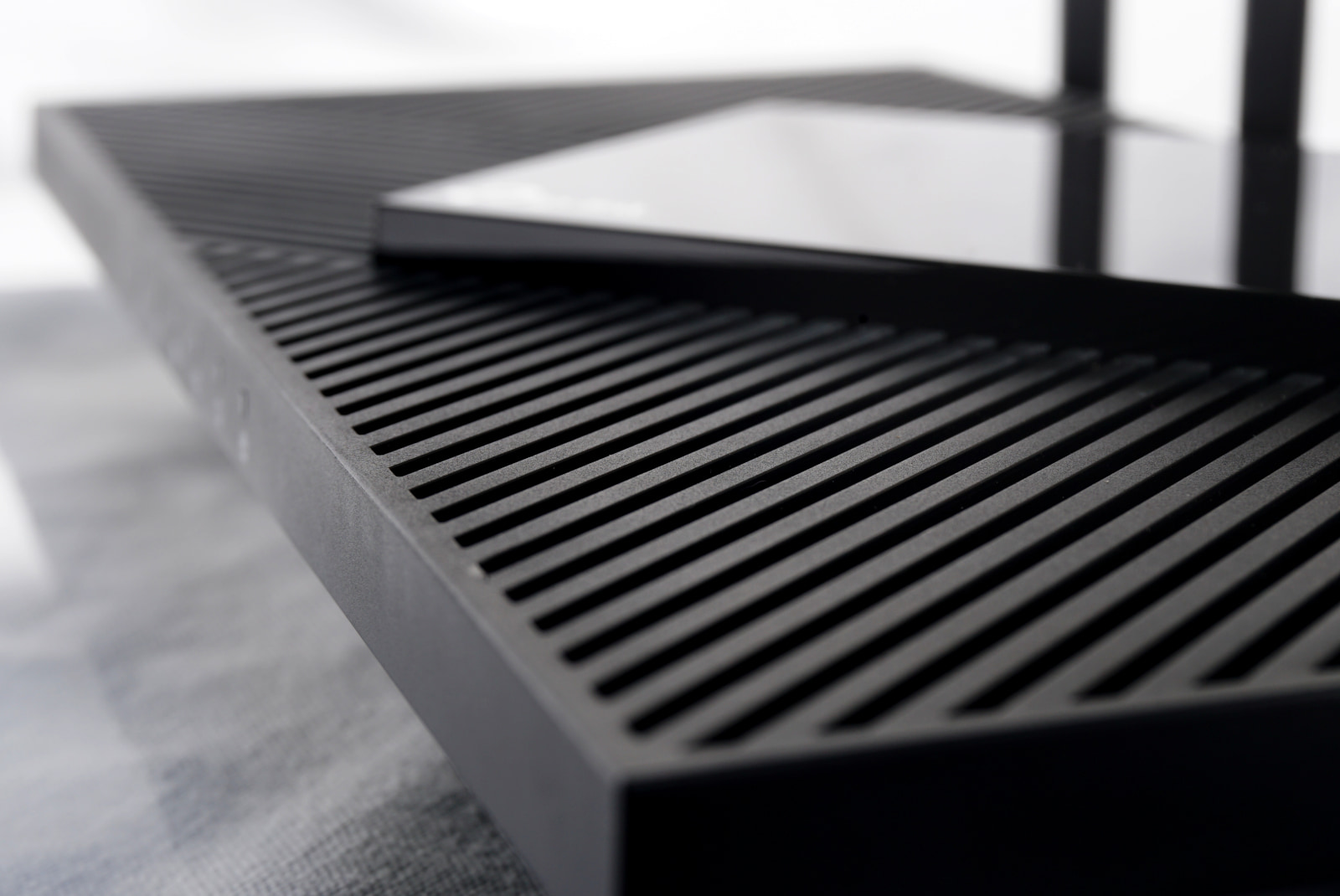 Unlike the previous model, the Archer AX21 includes all the non-DFS 5 GHz channels. Kevin Parrish | HighSpeedInternet.com
If you want more value for your money, the older AX20 model is a better deal feature-wise. You get media streaming and file sharing, which the newer AX21 model lacks. You also get a built-in VPN client, which the newer model also lacks. If none of these matters to you, ignore our complaint and go with the newer model. Case closed. Thank you and have a nice day.
But here's the deal: The older AX20 model supports TP-Link's free HomeCare suite of security tools and parental controls. The AX21 uses HomeShield, which now splits its premium features into three optional subscriptions—two for security and one for parental controls. So, expect to pay more over time for the AX21 model if you want to use everything it offers.
What we wish the Archer AX21 did better
Better free parental controls
File sharing
The AX21's free parental controls are limited. You can create a user profile, add connected devices, block and allow specific websites, set daily internet use limits for weekdays and weekends (up to eight hours each day), and create daily use windows, like 5–8 p.m. on Tuesday. You can't filter out content and applications or reward kids with extra internet time without a subscription.
As for file sharing, other TP-Link routers with a USB port allow you to share files across your local network and the internet using a USB drive. You can also stream media from a connected USB drive or back up your Mac using Time Machine. The Archer AX21 doesn't have a USB port, so you'll need a NAS device connected to an Ethernet port to have similar services.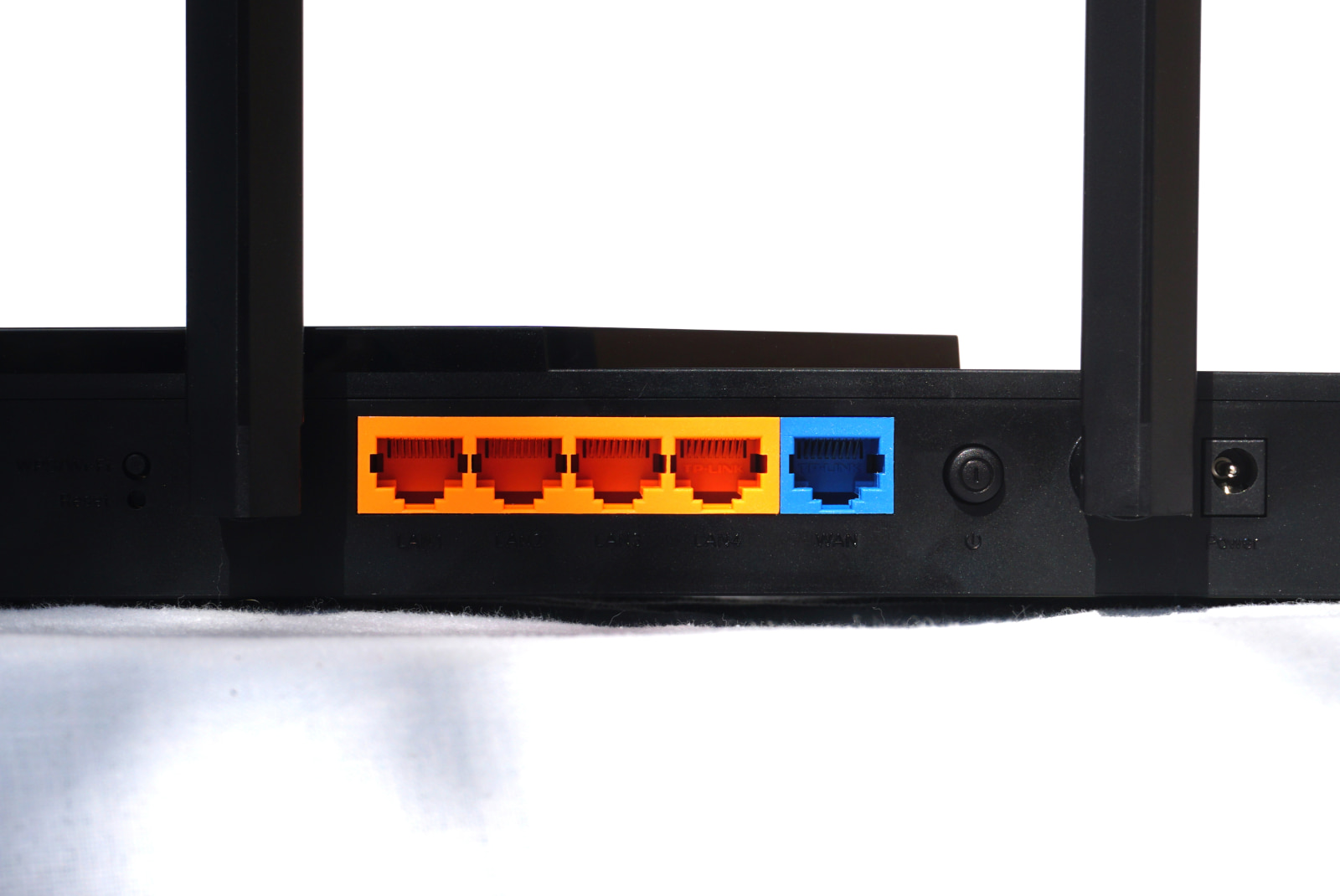 The Archer AX21 does not support multi-gig wired or wireless connections. Kevin Parrish | HighSpeedInternet.com
We don't expect much from a router under $100, but we can call out the differences between this router and the earlier model, the Archer AX20.
The big difference between the two is the AX21's lack of a USB port, which removes some of the features that made the AX20 model a good value, like local media streaming and file sharing. There's none of that here unless you connect a NAS to one of the router's Ethernet ports.
On the other hand, the AX21 supports all the non-DFS 5 GHz wireless channels, so you have more options for steering your Wi-Fi network away from interference caused by neighboring networks flooding the area. The older AX20 model supports only the lower 5 GHz channels.
But both routers limit your data stream count, so you may want to look elsewhere if your home generates a lot of network traffic on your side of the modem or ONT. The more streams you have, the better a router can support lag-free simultaneous downloads.
We've said the TP-Link setup process could be a bit more streamlined, and the Archer AX21 setup is no exception. You can click the autodetect button to detect your internet connection, but you can't do the same with the time zone. Instead, you have to manually choose it. You must also select your router's MAC address type, which may leave novice users scratching their heads.
The setup process would be better if it were split into Basic and Advanced options like we see with ASUS routers. Advanced would include the MAC address step and additional steps for setting security questions. A basic option would be ideal for those who want to get the network up and running quickly—they can deal with the more technical settings later.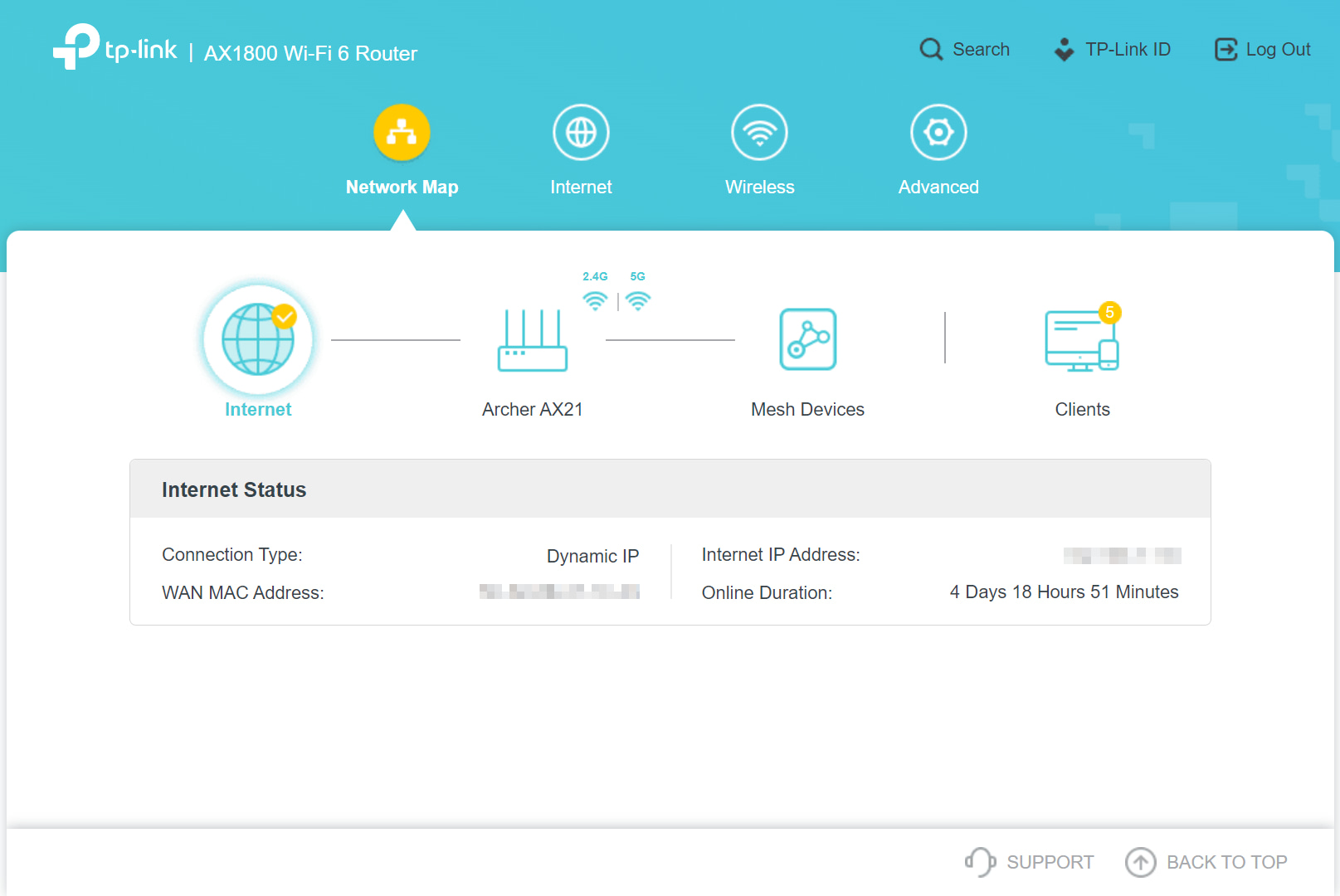 The web interface on the Archer AX21 is the same one used across many other TP-Link routers. Kevin Parrish | HighSpeedInternet.com
There's little to report here. The web interface is one of the best we've used on a TP-Link router, and the company does an excellent job cramming most of what you need into the Tether app. Both are easy to use and even easier once you get the hang of where everything is.
But all the blue and white can get rather hard on the eyes, especially when managing your home network in dim lighting. TP-Link provides a dark interface on its Archer AX11000—why can't we get something similar across the board? At least give the Tether app a dark mode option, since most users will probably use it as their primary interface.
That said, we've given this category a score of "3" in past TP-Link router reviews featuring this same interface and app layout, but maybe we've been a bit too harsh. It is easy to use, after all—we just want one single, easy-to-read interface. Is that asking too much?
Are there any additional costs?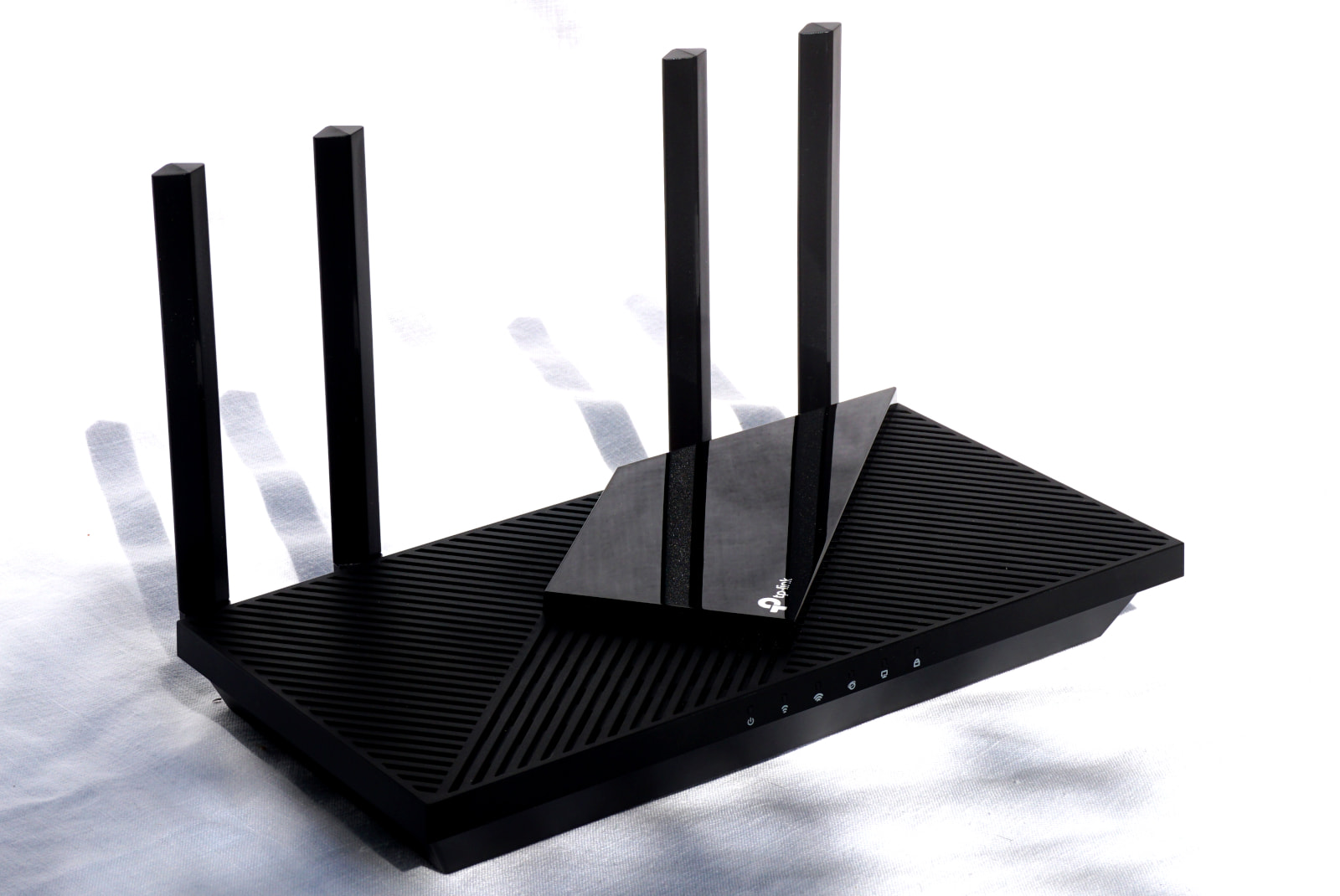 The Archer AX21 has a great price, but you may find more value in the older AX20 model. Kevin Parrish | HighSpeedInternet.com
Our Archer AX21 review: The verdict
The Archer AX21 is a revision of the AX20, and we're not sure why it's even a thing. On one hand, TP-Link increased the channel count on this model to better avoid interference creeping in from neighboring networks. That's a good thing. You want access to the higher, less-used wireless channels because the lower ones have become as crowded as Times Square on New Year's Eve.
But TP-Link removed the USB port for this model, so you don't get the file sharing and local media streaming features offered on the older Archer AX20. If you don't care about those things, or you generally use a NAS device for sharing, then the newer AX21 model is the better choice, hands down.
Overall, the Archer AX21 is a great budget pick. It provides decent speeds, even at long range. Plus it supports both EasyMesh and OneMesh, so you can easily add other routers, extenders, and powerline adapters to extend your Wi-Fi network throughout your house.
FAQ about the Archer AX21
What's the difference between HomeShield Basic, Security+, and Total Security?
TP-Link dropped the HomeShield Pro label and has now divided its security suite into three HomeShield tiers. Here are the differences:
| | | | |
| --- | --- | --- | --- |
|   | Basic | Security+ | Total Security |
| New Device Alert | ✓ | ✓ | ✓ |
| Router Security Scan | ✓ | ✓ | ✓ |
| Wireless Security Scan | ✓ | ✓ | ✓ |
| Web Protection | ✗ | ✗ | ✓ |
| Intrusion Prevention | ✗ | ✓ | ✓ |
| IoT Protection | ✗ | ✓ | ✓ |
| Comprehensive Reports | ✗ | ✓ | ✓ |
| Antivirus Protection | ✗ | ✗ | ✓ |
| Unlimited VPN | ✗ | ✗ | ✓ |
| Password Management | ✗ | ✗ | ✓ |
| PC Cleaner | ✗ | ✗ | ✓ |
| Monthly cost: | Free | $4.99 | N/A |
| Yearly cost: | Free | $35.99 | $69.99* |
* for the first year. $129.99 per year thereafter
What's the difference between Advanced Parental Controls Basic and Advanced?
TP-Link now offers two Advanced Parental Controls tiers made available through its Tether app. Here are the differences:
| | | |
| --- | --- | --- |
|   | Basic | Advanced |
| Pause the Internet | ✓ | ✓ |
| Block Specific Websites | ✓ | ✓ |
| Filter Websites (By Cat.) | ✓ | ✓ |
| Flexible Bedtime | ✗ | ✓ |
| Offtime Control | ✗ | ✓ |
| Time Limits | ✗ | ✓ |
| Comprehensive Insights | ✗ | ✓ |
| Detailed Reports | ✗ | ✓ |
| Monthly cost | Free | $2.99 |
| Yearly Cost | Free | $17.99 |
EasyMesh vs. OneMesh: What's the difference?
Wi-Fi EasyMesh is a standard launched by the Wi-Fi Alliance in 2018. It's a single platform designed to unify all mesh-based routers, extenders, and satellites manufactured by different vendors.
For you, EasyMesh support means you can pair this router with any other EasyMesh-certified device, no matter who makes it. In contrast, OneMesh is TP-Link's proprietary technology allowing you to pair a TP-Link router with a compatible TP-Link range extender or powerline adapter.
You can find a list of EasyMesh-certified TP-Link routers, range extenders, and powerline adapters on its website. You'll also find that 16 of those products are still marked as "planned," like the Archer AXE75 and the Archer AX11000 (both we already reviewed).
What's the difference between the Archer AX20 and the AX21?
Below you'll find a list of differences between the two Archer routers. There may be more, but the big callout is the missing USB port on the AX21 model.
 
AX20
AX21
5 GHz channels:
38–48

38–48

149–161

USB:
1x USB-A 2.0
None
USB services:
File sharing
Media streaming
Apple Time Machine
None
Subscription(s):
None
Secure+
Total Security
APC Advanced
We test router speed by setting up each router in an office and connecting it to a local test server. Then, we transmit test data between our wireless devices and the server, taking numerous measurements to account for fluctuations in Wi-Fi speeds.
The first tests occur close to the router, without obstructions—so the Wi-Fi is as strong and fast as it's gonna get. We repeat the process straight out at 10, 20, and 30 feet, with only a glass door obstructing our view of the router. The same glass door and an exterior door blocks our path when we test outside at 40 and 50 feet.
We also run tests in a hallway to the left of the TV room and office—where there's a glass door, three walls, and an air handler unit blocking our view of the router. The dining room, another testing point, sits to the right of the kitchen, TV room, and office—two walls and a glass door block the path in this test.
To test video streaming, we connect a fast storage device to the router and stream a 4K video to six wireless devices simultaneously—two phones, three tablets, and a laptop—connected to the same wireless band.
Client devices used in testing
| | iPhone 12 Pro Max | Google Pixel 3 |
| --- | --- | --- |
| Wi-Fi version | Wi-Fi 6 | Wi-Fi 5 |
| Stream configuration | 2 x 2 | 2 x 2 |
| Max channel width | 80 MHz | 80 MHz |
| Max 5 GHz speed (AX) | 1,200 Mbps | – |
| Max 5 GHz speed (AC) | 866 Mbps | 866 Mbps |
| Max 2.4 GHz speed (AX) | 195 Mbps | – |
| Max 2.4 GHz speed (AC) | 195 Mbps | 144 Mbps |
Archer AX21 benchmarks (5 GHz only)
| | iPhone 12 Pro Max* | Google Pixel 3* |
| --- | --- | --- |
| 2 feet | 824 | 666 |
| 10 feet | 798 | 608 |
| 20 feet | 745 | 514 |
| 30 feet | 685 | 495 |
| 40 feet (porch) | 428 | 356 |
| 120 feet (across street) | 223 | 101 |
| 160 feet (mailboxes) | Not tested | Not tested |
| 20 feet (hallway) | 410 | 294 |
*speed in megabits per second (Mbps)
Amazon
Amazon.com Prices as of 9/25/23 17:35 MST. Product prices and availability are accurate as of the date/time indicated and are subject to change. Any price and availability information displayed on Amazon.com at the time of purchase will apply to the purchase of this product. Highspeedinternet.com utilizes paid Amazon links.
CERTAIN CONTENT THAT APPEARS ON THIS SITE COMES FROM AMAZON. THIS CONTENT IS PROVIDED 'AS IS' AND IS SUBJECT TO CHANGE OR REMOVAL AT ANY TIME.
Best internet plans for the Archer AX21
* No contract required. 24 Month Internet Pricing. Equipment priced separately. Includes $5 discount for 12 months w/ ebill & autopay. Observed speeds may vary. Excludes surcharges and fees. New residential customers only.
† Price after $5/mo Autopay & Paperless bill discount (w/in 2 bills). Plus taxes & fees. Monthly State Cost Recovery Charge in TX, OH, NV applies. One time install chrg may apply. Ltd. avail/areas. Call or go to www.fiber.att.com to see if you qualify.
‡ Speed may not be available in your area. Maximum download/upload speed of up to 940 Mbps via a wired connection. Paperless billing required. Taxes and fees apply. Offer details. Offer includes professional installation at customer's eligible location
§ for 12 months with 1-yr. term agreement
|| w/ Auto Pay & Paperless Bill. Max wired speed 500/500 Mbps. Wi-Fi, actual & average speeds vary. One-time charges apply.
# For 1 year. Plus activation, installation, modem rental, taxes & fees. Price includes $10/mo discount for autopay and paperless billing.
** w/Auto Pay & Paperless Bill. Terms apply.
†† For 12 months when bundled. Limited time offer; subject to change; valid to qualified residential customers who have not subscribed to any services within the previous 30 days and who have no outstanding obligation to Charter.
for 12 mos.
‡‡ Price per month with Auto Pay & without select 5G mobile plans. Fios plan prices include taxes & fees
§§ For 24 months. No term contract. Taxes and equipment not included. Includes $10/mo automatic payments and paperless billing discount.
Author - Kevin Parrish
Kevin Parrish has more than a decade of experience working as a writer, editor, and product tester. He began writing about computer hardware and soon branched out to other devices and services such as networking equipment, phones and tablets, game consoles, and other internet-connected devices. His work has appeared in Tom's Hardware, Tom's Guide, Maximum PC, Digital Trends, Android Authority, How-To Geek, Lifewire, and others. At HighSpeedInternet.com, he focuses on network equipment testing and review.