TP-Link Archer AXE75 Review
The Archer AXE75 is a good upgrade from Wi-Fi 5, but don't expect to get blazing speeds.
Sep 5, 2023 | Share

Equipment Guides, Product Reviews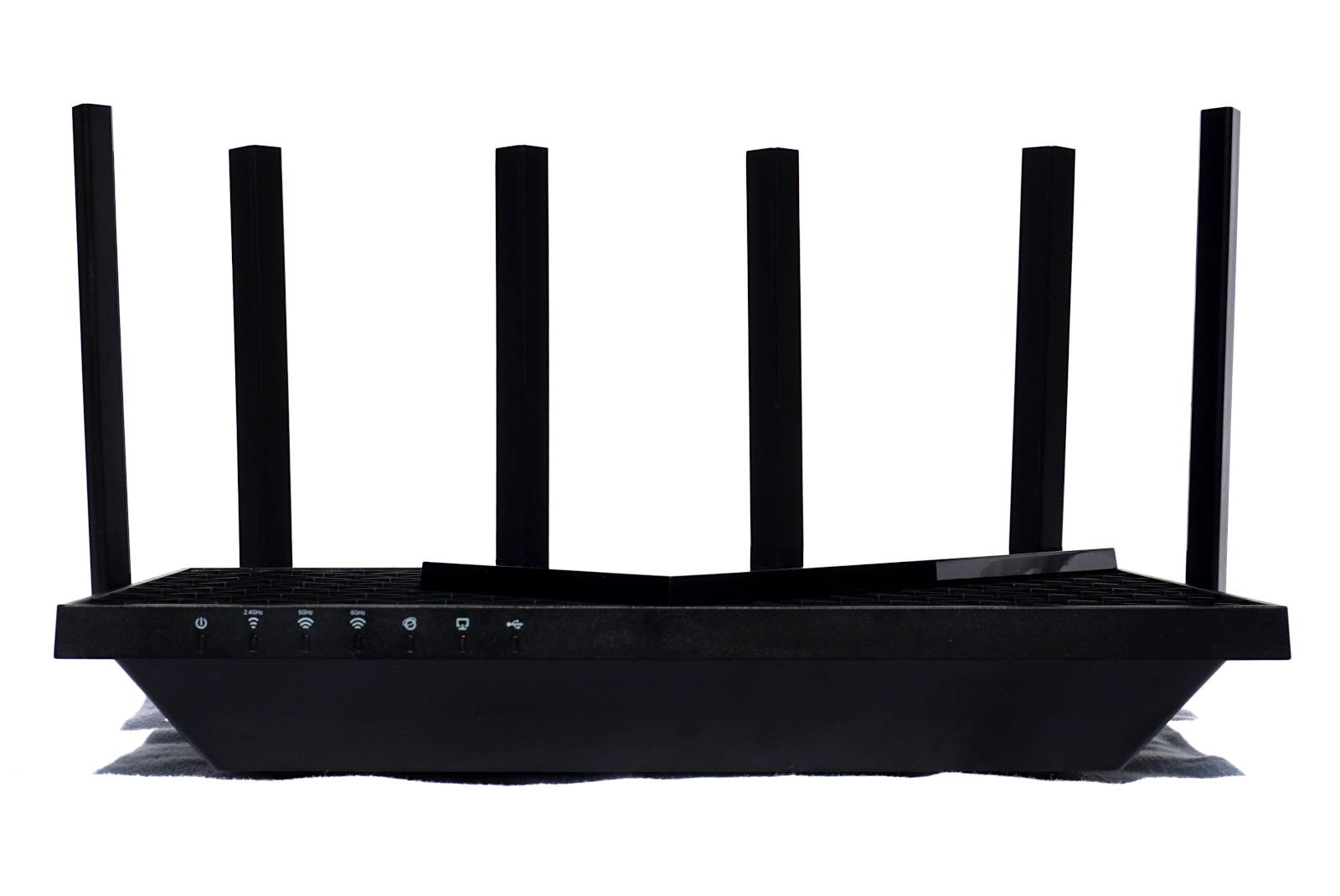 The Archer AXE75 is a good upgrade based on our tests, matching the speeds of similar Wi-Fi 6 routers. Kevin Parrish | HighSpeedInternet.com
Is the Archer AXE75 right for you?
The Archer AXE75 is a decent upgrade from a Wi-Fi 5 router. It has all the fix-ins you're normally served from a standalone router, like basic parental controls, a VPN tool or two, and file sharing. The big callout here is the router's 6 GHz connection, which is great if you have a compatible device. But don't expect superfast multi-gig Wi-Fi speeds from the new band, as the AXE75's internet port keeps you grounded under a gigabit. You can find similarly-priced Wi-Fi 6E routers on the market with faster speeds.
Pros:
Built-in VPN tools
Third 6 GHz band
Free basic parental controls
Cons:
No multi-gig internet
Subscription-locked features
Inconsistent user experience
Fastest internet plans for the Archer AXE75
The Archer AXE75 uses Gigabit Ethernet internet connections, so it's not compatible with plans of 1,000Mbps and faster. To see if you have the best internet speeds for the AXE75, run our speed test first:
You don't need the fastest plan to enjoy this router. But If you're shopping for an internet upgrade, here's a list of the best plans you can get.
Archer AXE75 standout features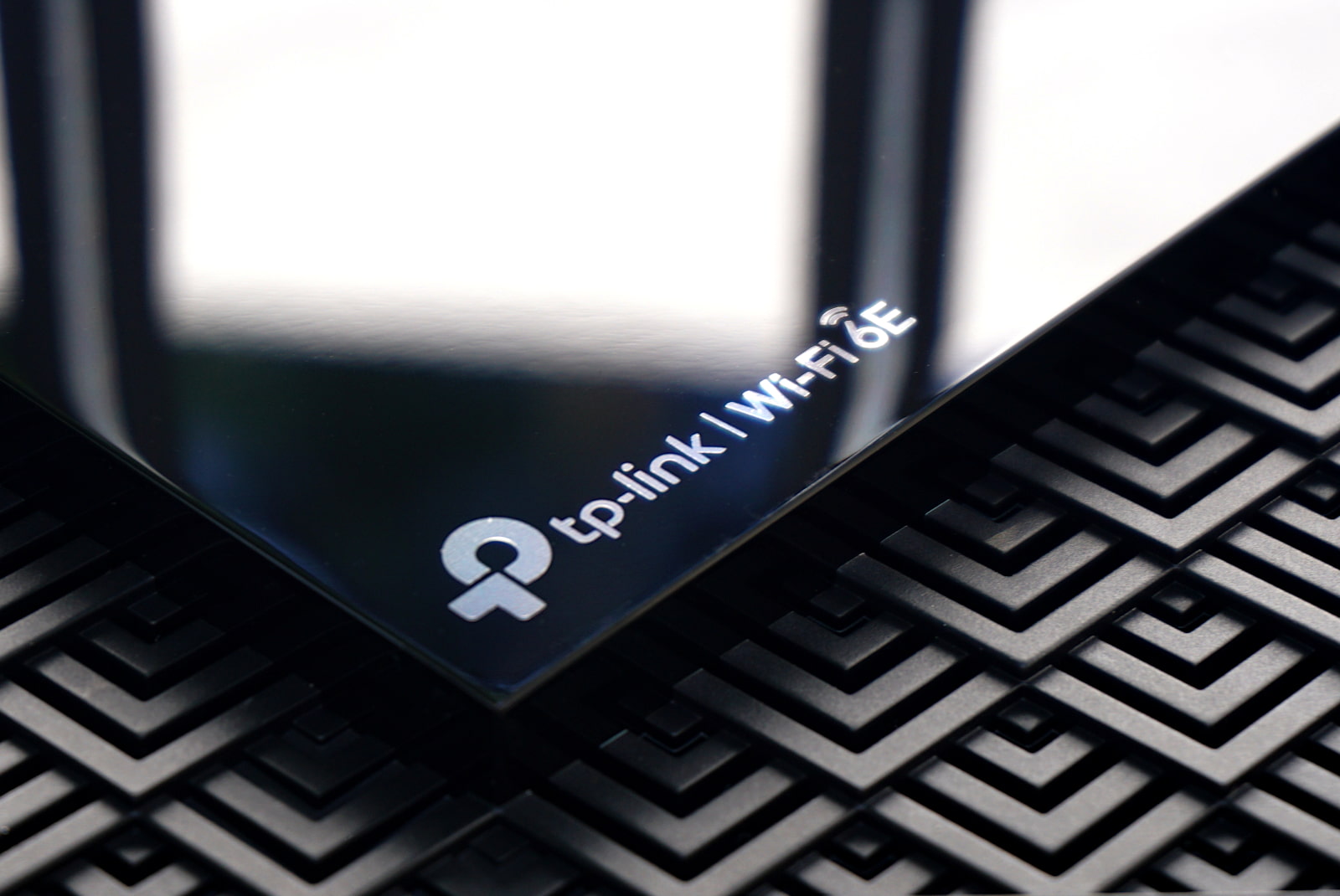 The Archer AXE75 uses superwide Wi-Fi channels but doesn't have the wired speeds to support them fully. Kevin Parrish | HighSpeedInternet.com
The feature list is pretty standard here: VPN tools, file and media sharing, and some free basic parental controls. Security and premium parental controls require a subscription.
Our Archer AXE75 scoring breakdown
| | | |
| --- | --- | --- |
| Category | Score* | Summary |
| Performance | 4 | Matches the speeds of other 5,400Mbps routers in our tests. |
| Features | 4 | Includes VPN tools, file sharing, and basic parental controls. |
| Design | 3 | Lacks a multi-gig internet port to back the 160 MHz channels. |
| Setup | 3 | Takes longer to set up due to a few unnecessary steps. |
| Ease of use | 4 | Provides a decent user experience in the web interface and Tether app. |
* out of 5 points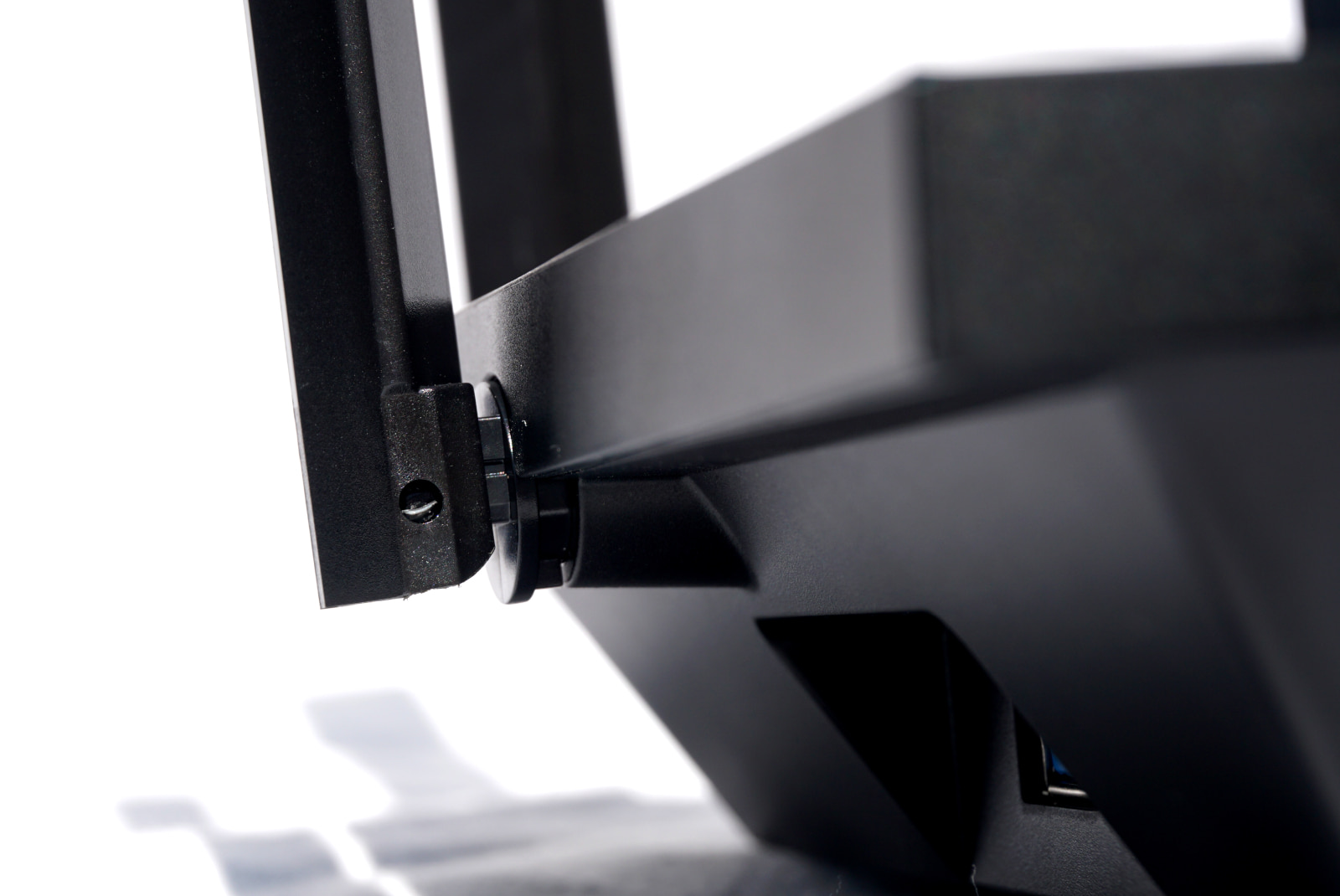 You can't remove the Archer AXE75 antennas, but you can rotate them sideways and back. Kevin Parrish | HighSpeedInternet.com
The whole point of the new 6 GHz band is to have more wireless terrain to fill. It's a low-power broadcast, too, so your cat videos shouldn't interfere with incumbent services or your neighbor's network like the 5 GHz band does.
Of course, the new connection's big selling point is the superfast speed the 5 GHz band struggles to achieve. You now have a better chance of getting real-world sub-2Gbps (Gig+) wireless speeds using 160 MHz channels, but you need a 2.5Gbps Ethernet port to utilize them fully.
For example, the AXE75 achieved a 926Mbps average at close range because Gigabit Ethernet bottlenecks it. When we tested with a narrower 80 MHz channel, we recorded an 854Mbps average. Using the wider channel doesn't produce a brain-melting boost in speed, but it does get you closer to Gigabit Ethernet's limit.
In contrast, the MSI RadiX GRAXE66 and NETGEAR Nighthawk RAXE500 have 2.5Gbps Ethernet ports. Both tested at a 1,550Mbps average in the same spot when we used a 160 MHz channel—624Mbps more throughput than the AXE75. That's quite a difference.
As for the 5 GHz testing, the AXE75 matched similar 5,400Mbps routers with similar prices, such as the TP-Link Archer AX5400 Pro and the NETGEAR Nighthawk RAX50. All three have an average of around 858Mbps at close range and around 247Mbps when we test at 120 feet across the street.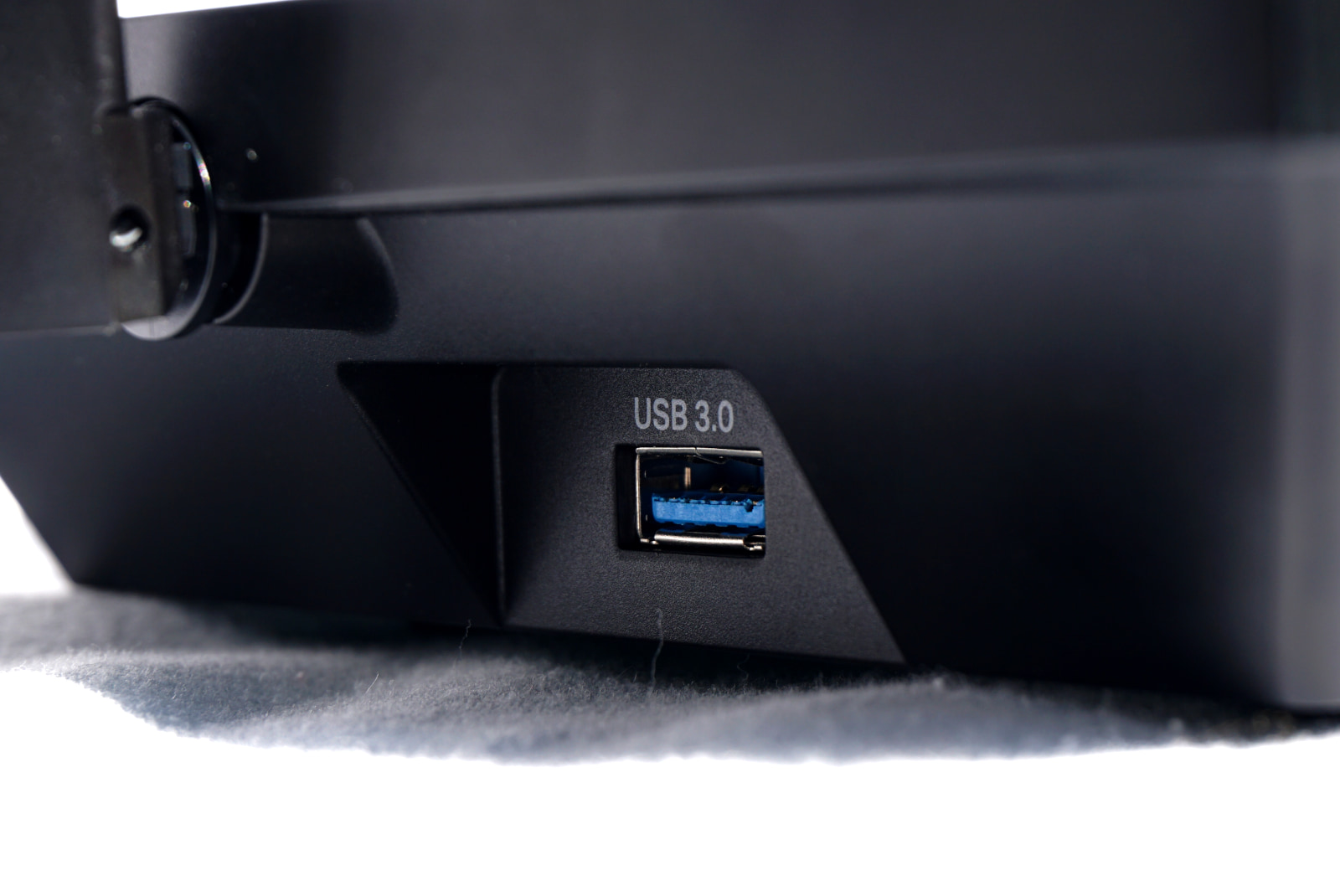 You can share files and media using the Archer AXE75's USB port. Kevin Parrish | HighSpeedInternet.com
The AXE75 has a decent feature set for the money. It includes a VPN server and client, media sharing via the USB port, native support for Amazon Alexa, and OneMesh support for creating a mesh network using compatible Wi-Fi extenders and powerline adapters.
The AXE75 also includes a password recovery tool you should probably enable just in case—NETGEAR routers force you to enable it during the setup (the two security questions). The old-school remote management feature is disabled by default, which is a good thing. If you need remote management, pair the router with your free TP-Link ID account instead.
What we wish the Archer AXE75 did better
Free security
More free parental controls
The AXE75 includes basic free security features, like the stateful firewall and website blocking, but competing products—and even TP-Link's routers with HomeCare—provide antivirus and parental controls for free.
And while the AXE75 has better free parental controls than other competing routers, we'd like fewer bedtime restrictions without a subscription. Honestly, we shouldn't have to pay extra to fully utilize a device we paid hundreds to acquire, but it is what it is.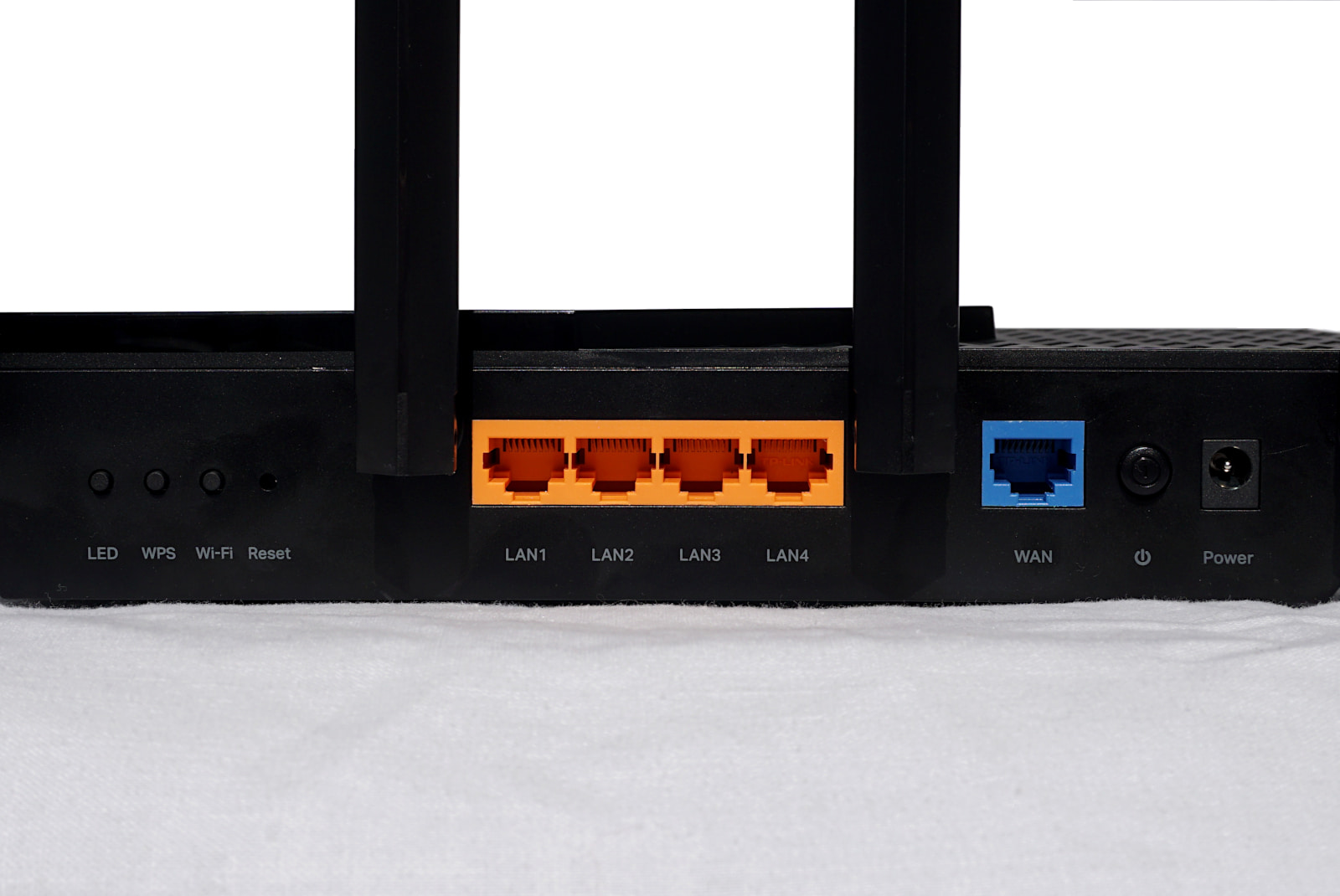 The Archer AXE75 doesn't support wired multi-gig connections. Kevin Parrish | HighSpeedInternet.com
We didn't want to give the AXE75 this score, but the design doesn't make sense in our book.
First, we have the 6 GHz band, which is awesome if you have a compatible device. Why else would you buy this router if you didn't have one, right? You get all these new channels that are, at least at this point, probably untapped by your neighbors. That new frontier should mean less interference and better speeds than the 5 GHz connection.
The real head-scratcher comprises two things. First, this router has no 2.5Gbps Ethernet port, so your wired internet speed is locked to real-world speeds of around 940Mbps. Second, the router supports 160 MHz channels, so technically, it offers up to 2,400Mbps on the 5 GHz and 6 GHz bands each. But you'll never reach those wireless speeds because your wired speeds max out at 940Mbps.
We presume the reason for having 160 MHz channels on the AXE75 is to enable two compatible devices to download up to 1,200Mbps each simultaneously, but again, that won't happen since there's no 2.5Gbps Ethernet at play. Gigabit Ethernet is your speed bottleneck.
The setup was slightly longer than we've seen on ASUS and NETGEAR routers. As with nearly all other TP-Link routers, you must manually adjust some settings before you can name your Wi-Fi networks and create their passwords. No amount of complaining will ever result in a more streamlined setup, so it seems.
Setting up the network names was a little weird too. First, you had to disable Smart Connect to separate the 2.4 GHz and 5 GHz networks. After that, you checked a box next to Set Each Band Separately so you could assign both networks a different name (and password if needed). Now, the strange checkbox seems to have disappeared—either we imagined it, or TP-Link removed it in a firmware update during this review.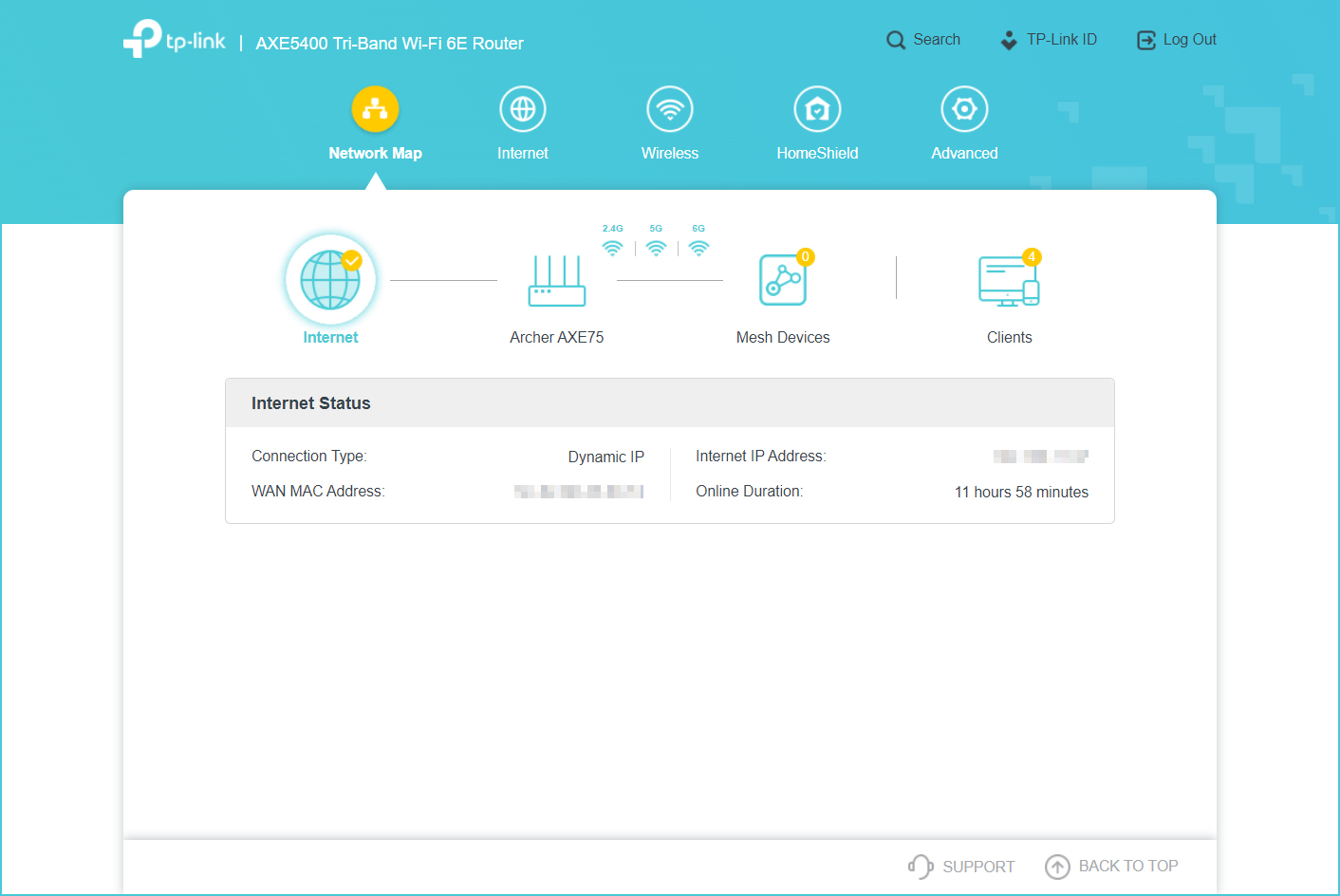 The Archer AXE75 web interface has a lot of maybe-too-bright white. Kevin Parrish | HighSpeedInternet.com
The AXE75 uses the same interface provided on the AX5400 Pro model we previously tested and reviewed. That's a good thing, as TP-Link tends to have multiple interfaces across its standalone router family. Hopefully, this choice is a sign that the company is now leaning towards a more unified experience for users who stay with TP-Link routers.
The bad news is the same complaints we had with the AX5400 Pro live on with the AXE75. You don't have one interface to change all the settings. Some are only accessible through the web interface, like the VPN, and some are only made available in the Tether app, like security, parental controls, and quality of service settings.
This dual-interface design doesn't make sense, given router manufacturers push their apps as your primary go-to control panel. Even if you can access the web interface using a mobile browser, having one all-encompassing interface would be best—and one with a dark mode too. You still can't get rid of the baby blue and white design in the web interface or Tether app.
Still, overall, both interfaces are easy to use. The web one is certainly better than other TP-Link interfaces we've used over the last few years. Finally.
Are there any additional costs?
This is a tricky question to answer, as we know TP-Link is shifting away from the HomeShield Pro model to offer customers more choices. But the Tether app still lists HomeShield Pro as your premium option, so for now, expect to pay $5.99 per month or $54.99 per year to get all the premium features.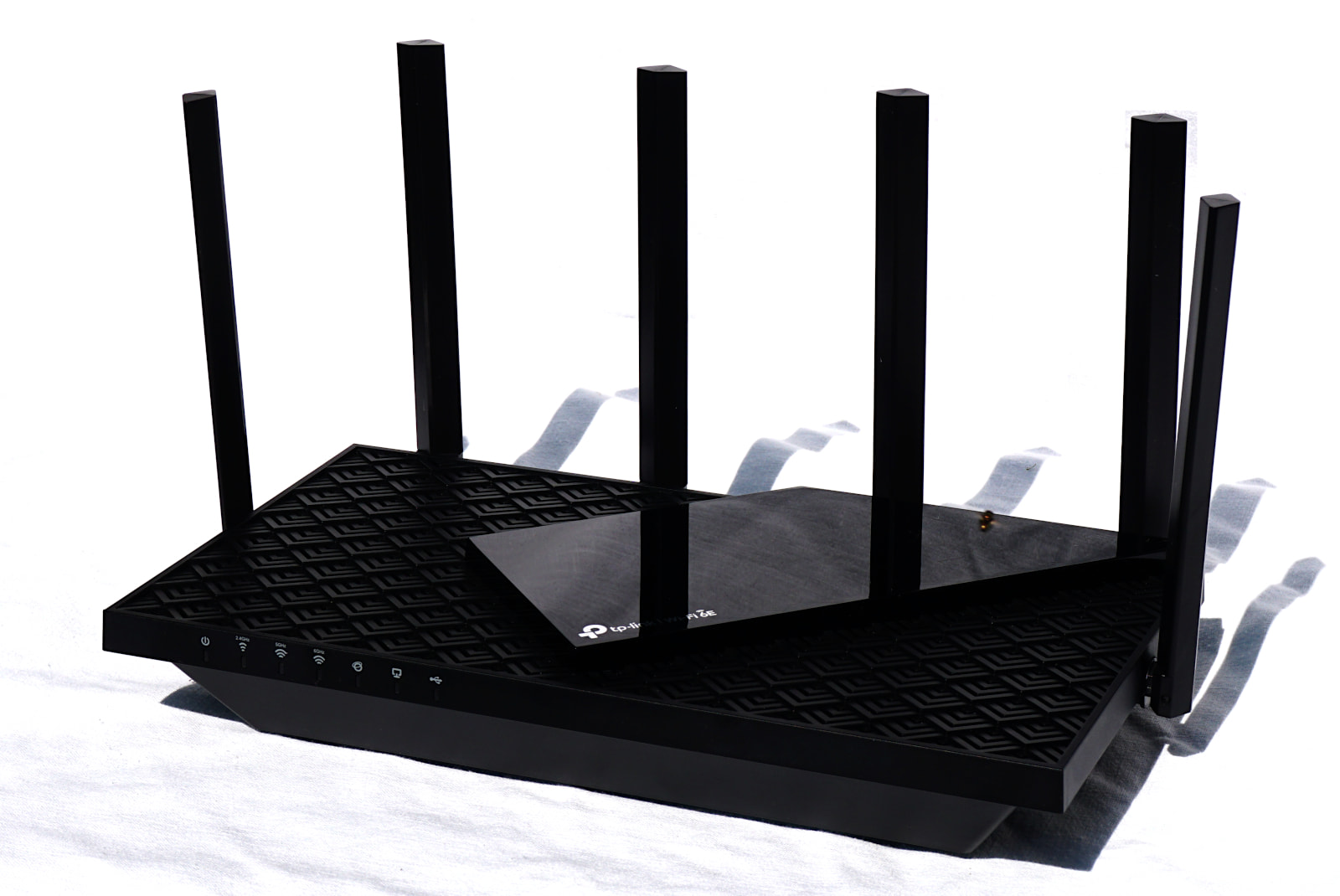 The Archer AXE75 has good Wi-Fi 6 speeds for the money, but don't expect superfast Wi-Fi 6E speeds. Kevin Parrish | HighSpeedInternet.com
Our Archer AXE75 review: The verdict
The Archer AXE75 is one of those routers that falls short of their full potential. Here we have to point fingers at its one design setback: the lack of a multi-gig internet port to support its superwide Wi-Fi channels. Yet when we step back and look at all the routers we've reviewed to date, a surprisingly large number of them support superwide Wi-Fi channels but don't have the multi-gig port to back them up. It bothers us that manufacturers advertise a 2,400Mbps throughput on a single band when there's no wired connection to make it possible.
That all said, you won't see any real speed gains using the new 6 GHz band and a 160 MHz channel on this router. Plus, the new band has a far shorter range than the 5 GHz one, so really, all you're buying into is a third 6 GHz connection packing more open channels to use versus a third 5 GHz band with congested channels. Better device management and a little less local network congestion is a good summary of what to expect from the AXE75.
If you're upgrading from a Wi-Fi 5 router and don't need a lot of Wi-Fi speed, then the AXE75 should be a nice fit. You get most of the standard features offered on other routers, like VPN tools, file sharing, and basic parental controls. Security and some premium parental controls require a subscription via HomeShield Pro, which is unfortunate given you can get similar features free on TP-Link routers with HomeCare.
FAQ about the Archer AXE75
What's the difference between HomeCare and HomeShield?
HomeCare is a suite of security features powered by Trend Micro and you get it on some TP-Link routers. The suite is free to use for the lifetime of the product.
HomeShield is another suite of features powered by Norton on other TP-Link routers and mesh systems like the Archer AXE75. The Basic version is free to use, whereas the Pro version adds premium features for $5.99 per month or $54.99 per year.
Refer to TP-Link's HomeShield comparison table to see the differences between the Basic and Pro versions.
What parental controls are available for free?
HomeShield Basic allows you to do the following:
Block websites
Filter content (adult, gambling, sex education, online communication, social networking, pay to surf, media, downloads, games, and search engine)
Set one bedtime
The HomeShield Pro subscription adds the following features:
Set bedtimes for Weekdays & Weekends
Set bedtimes for Custom Days
Set Time Limits for internet
Set offtime for internet
What's so special about the 6 GHz connection?
The 6 GHz spectrum is now available for home use on Wi-Fi 6E routers and newer. It provides a new third connection and a new set of Wi-Fi channels for you to use. The big callout is how it's better capable of delivering real-world multi-gig Wi-Fi speeds than the 5 GHz band. The range is far shorter than the 5 GHz connection, however, so it doesn't interfere with incumbent services, like Earth-to-space communication and TV broadcasts. In contrast, radar plagues the 5 GHz band and can prevent you from reaching multi-gig Wi-Fi speeds.
160 MHz vs. 80 MHz channels: What's the difference?
All three bands are divided into multiple frequencies called channels. Each one is 20 MHz wide, so channel 36 is at a frequency of 5,180 MHz, and channel 40 is at a frequency of 5,200 MHz. Now, to push more speed through a wireless connection, routers combine these 20 MHz channels into larger ones. For example, it creates an 80 MHz channel by bonding channels 36, 40, 44, and 48. Most Wi-Fi 5 and newer devices default to these larger 80 MHz channels, while some support even larger channels at 160 MHz. The wider the channel, the more speed you can push through the air.
We test router speed by setting up each router in an office and connecting it to a local test server. Then, we transmit test data between our wireless devices and the server, taking numerous measurements to account for fluctuations in Wi-Fi speeds.
The first tests occur close to the router, without obstructions—so the Wi-Fi is as strong and fast as it's gonna get. We repeat the process straight out at 10, 20, and 30 feet, with only a glass door obstructing our view of the router. The same glass door and an exterior door blocks our path when we test outside at 40 and 50 feet.
We also run tests in a hallway to the left of the TV room and office—where there's a glass door, three walls, and an air handler unit blocking our view of the router. The dining room, another testing point, sits to the right of the kitchen, TV room, and office—two walls and a glass door block the path in this test.
To test video streaming, we connect a fast storage device to the router and stream a 4K video to six wireless devices simultaneously—two phones, three tablets, and a laptop—connected to the same wireless band.
Client devices used in testing
| | Google Pixel 6 | iPhone 12 Pro Max | Google Pixel 3 |
| --- | --- | --- | --- |
| Wi-Fi version | Wi-Fi 6E | Wi-Fi 6 | Wi-Fi 5 |
| Stream configuration | 2 x 2 | 2 x 2 | 2 x 2 |
| Max channel width | 160 MHz | 80 MHz | 80 MHz |
| Max 6 GHz speed (AXE) | 2,400Mbps | – | – |
| Max 5 GHz speed (AX) | 2,400Mbps | 1,200 Mbps | – |
| Max 5 GHz speed (AC) | 866Mbps | 866 Mbps | 866 Mbps |
| Max 2.4 GHz speed (AX) | 195Mbps | 195 Mbps | – |
| Max 2.4 GHz speed (AC) | 195Mbps | 195 Mbps | 144 Mbps |
| | Google Pixel 6* |
| --- | --- |
| 2 feet | 926 |
| 10 feet | 875 |
| 20 feet | 779 |
| 30 feet | 545 |
| 40 feet (porch) | 160 |
| 120 feet (across street) | No connection |
| 20 feet (hallway) | 50 |
* Speeds in megabits per second (Mbps) using an 160 MHz channel.
| | iPhone 12 Pro Max* | Google Pixel 3* |
| --- | --- | --- |
| 2 feet | 854 | 667 |
| 10 feet | 834 | 656 |
| 20 feet | 781 | 531 |
| 30 feet | 768 | 469 |
| 40 feet (porch) | 667 | 366 |
| 120 feet (across street) | 254 | 129 |
| 20 feet (hallway) | 641 | 327 |
* Speeds in megabits per second (Mbps) using an 80 MHz channel.
Amazon
Amazon.com Prices as of 8/9/23 17:35 MST. Product prices and availability are accurate as of the date/time indicated and are subject to change. Any price and availability information displayed on Amazon.com at the time of purchase will apply to the purchase of this product. Highspeedinternet.com utilizes paid Amazon links.
CERTAIN CONTENT THAT APPEARS ON THIS SITE COMES FROM AMAZON. THIS CONTENT IS PROVIDED 'AS IS' AND IS SUBJECT TO CHANGE OR REMOVAL AT ANY TIME.
Best internet plans for the Archer AXE75
* No contract required. 24 Month Internet Pricing. Equipment priced separately. Includes $5 discount for 12 months w/ ebill & autopay. Observed speeds may vary. Excludes surcharges and fees. New residential customers only.
† Price after $5/mo Autopay & Paperless bill discount (w/in 2 bills). Plus taxes & fees. Monthly State Cost Recovery Charge in TX, OH, NV applies. One time install chrg may apply. Ltd. avail/areas. Call or go to www.fiber.att.com to see if you qualify.
‡ Speed may not be available in your area. Maximum download/upload speed of up to 940 Mbps via a wired connection. Paperless billing required. Taxes and fees apply. Offer details. Offer includes professional installation at customer's eligible location
§ for 12 months with 1-yr. term agreement
|| w/ Auto Pay & Paperless Bill. Max wired speed 500/500 Mbps. Wi-Fi, actual & average speeds vary. One-time charges apply.
# For 1 year. Plus activation, installation, modem rental, taxes & fees. Price includes $10/mo discount for autopay and paperless billing.
** w/Auto Pay & Paperless Bill. Terms apply.
†† For 12 months when bundled. Limited time offer; subject to change; valid to qualified residential customers who have not subscribed to any services within the previous 30 days and who have no outstanding obligation to Charter.
for 12 mos.
‡‡ Price per month with Auto Pay & without select 5G mobile plans. Fios plan prices include taxes & fees
§§ For 24 months. No term contract. Taxes and equipment not included. Includes $10/mo automatic payments and paperless billing discount.
Author - Kevin Parrish
Kevin Parrish has more than a decade of experience working as a writer, editor, and product tester. He began writing about computer hardware and soon branched out to other devices and services such as networking equipment, phones and tablets, game consoles, and other internet-connected devices. His work has appeared in Tom's Hardware, Tom's Guide, Maximum PC, Digital Trends, Android Authority, How-To Geek, Lifewire, and others. At HighSpeedInternet.com, he focuses on network equipment testing and review.