MSI RadiX GRAXE66 Review
A great router for Windows-based gamers with other MSI products
Apr 6, 2023 | Share

Product Reviews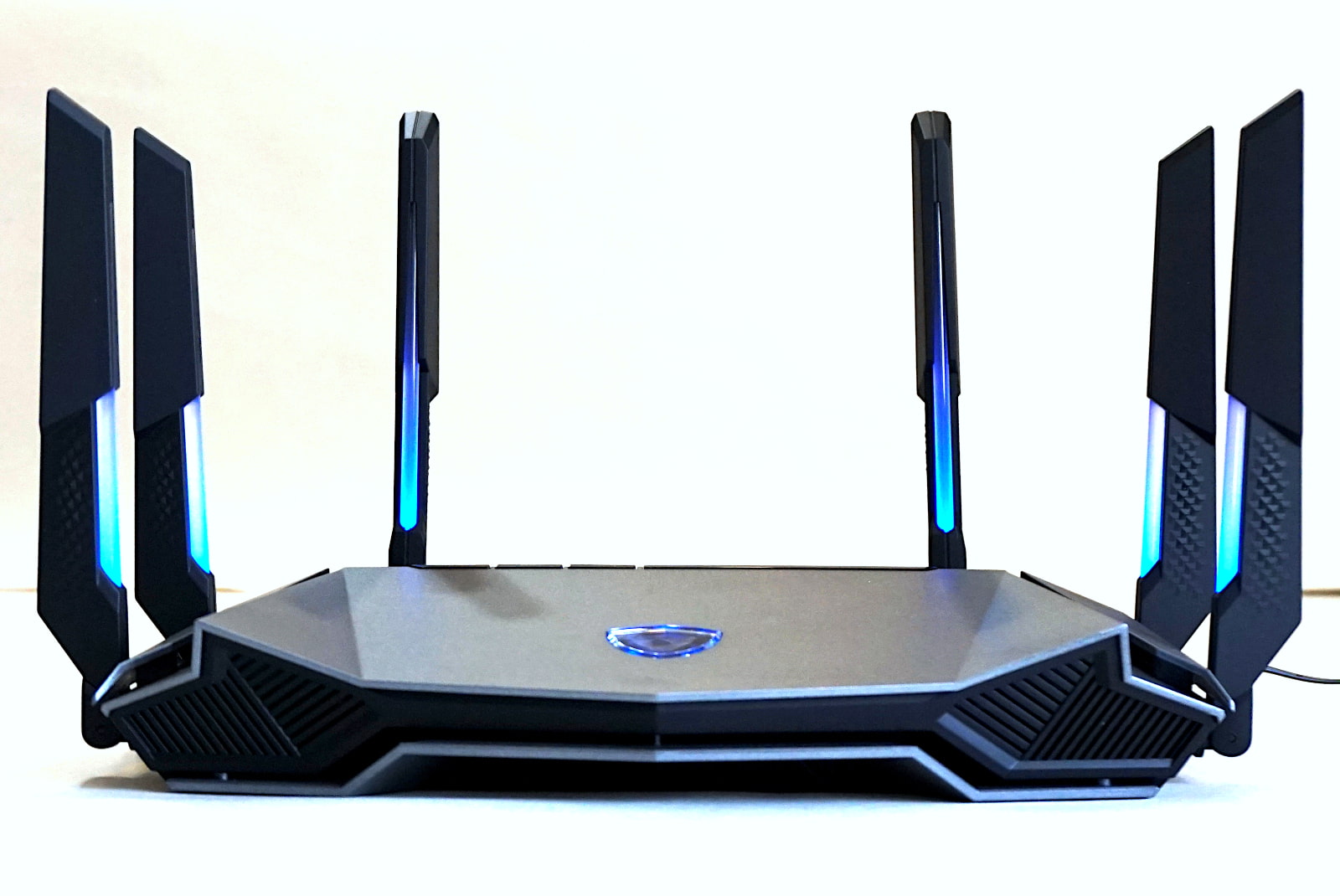 Is the RadiX GRAXE66 right for you?
The RadiX GRAXE66 is a great router, whether you're a gamer or not. It has the best close-range speed we've tested to date and goes neck-and-neck with some of the pricier competition at 120 feet. It's also full of visual bling, if you're into that sorta thing, but you can't customize the colors and effects unless you're on a Windows PC. It's definitely the ideal network centerpiece if you own MSI PCs and hardware.
Pros:
6 GHz band connectivity
Antenna illumination
Multi-gig internet support
Cons:
Limited lighting controls
No link aggregation
No real gaming tools
RadiX GRAXE66 standout features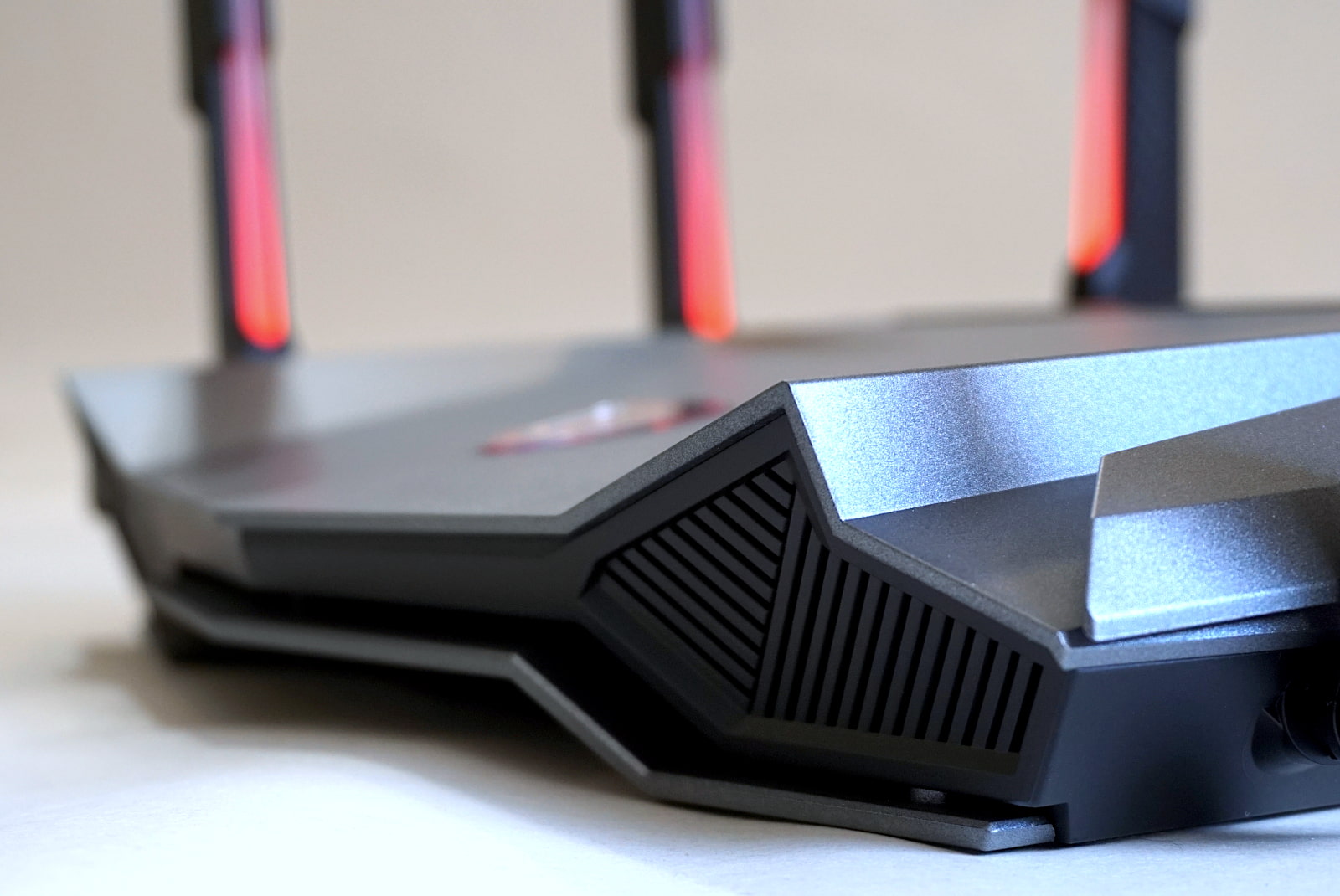 The RadiX GRAXE66 has a decent list of features, but there are two worth noting that we don't see in other routers: a built-in BitTorrent client and MSI device priority. The latter means MSI desktops, laptops, motherboards, and network adapters take precedence over any other device you own once you enable this feature.
Compare the RadiX GRAXE66 to the competition
The NETGEAR Nighthawk RAX500 isn't a gaming router, but it's usually our top pick for speed. Another fierce contender based on our tests, the MSI RadiX GRAXE66 nearly matches the Nighthawk's speed for a lower cost.
Our top choice in terms of features is the ASUS ROG Rapture GT-AX11000. It also has RGB lighting similar to the RadiX GRAXE66, but you don't need separate desktop software to change the colors and effects like with MSI's router.
See our full coverage of the best routers for gaming.
Our RadiX GRAXE66 scoring breakdown
| | | |
| --- | --- | --- |
| Category | Score* | Summary |
| Performance | 5 | Has the fastest close-range tested speed. |
| Features | 4 | Includes a built-in OpenVPN server and BitTorrent client. |
| Design | 5 | Supports multi-gig internet and sub-2Gbps wireless. |
| Setup | 4 | Gets you up and running in no time. |
| Ease of use | 3 | Lacks tools to change the LEDs outside the Windows app. |
* out of 5 points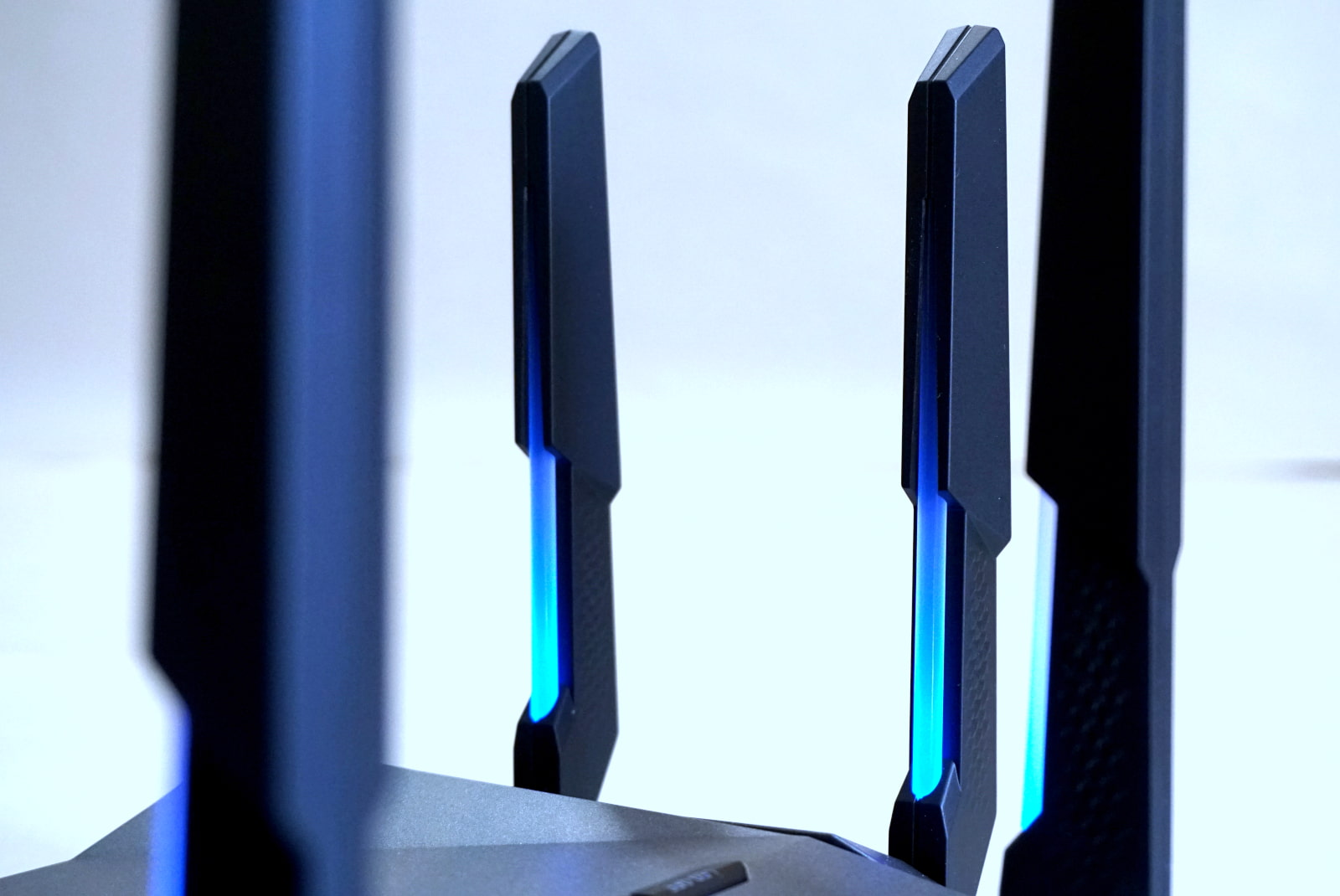 At the time of this review, we had only one tested Wi-Fi 6E router in stock: the NETGEAR Nighthawk RAXE500. It had nearly identical speeds when we tested using a 160 MHz channel on the 6 GHz band, starting with around 1,540Mbps at close range and around 1,000Mbps at 30 feet.
But the two routers tanked in speed when we stepped outside on the porch (40 feet), testing at around 390Mbps. The 6 GHz band has a shorter range than the 5 GHz one, so signals have an even harder time passing through solid objects. We couldn't even get a reading as we stood between the hall bathroom and the air handler closet, only 20 feet away from the router.
Meanwhile, the RadiX GRAXE66 did exceptionally well in our tests when we switched to an 80 MHz channel on the 5 GHz band. In fact, this router benchmarked the fastest speed average at close range, surpassing the Nighthawk RAXE500 by a nose hair. But when we stepped out across the street and reran our tests at 120 feet, it fell in line with what we recorded with the competition, such as the ASUS ROG Rapture GT-AX11000 and the TP-Link Archer AX11000.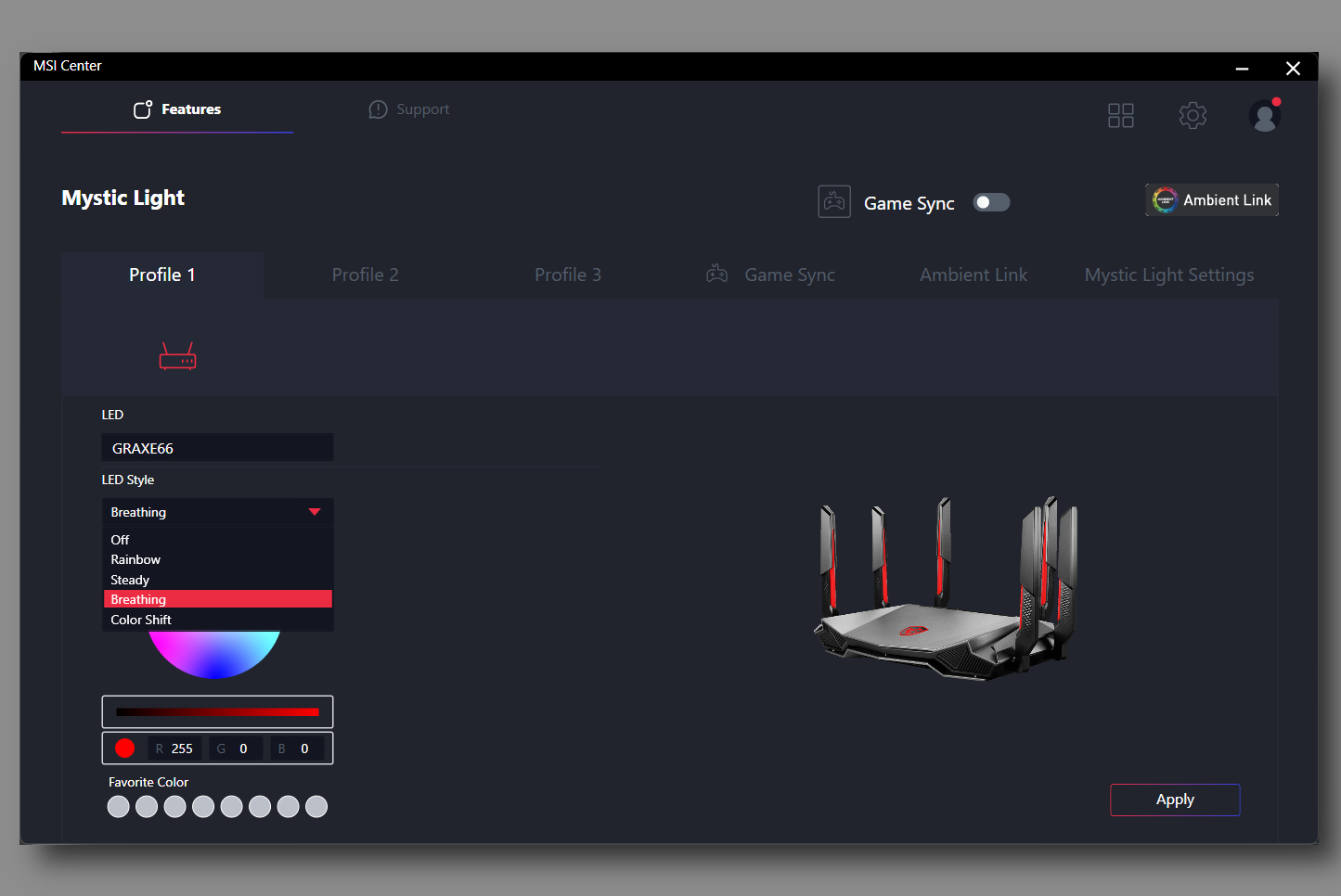 MSI packs quite a few features into the RadiX GRAXE66. It includes an OpenVPN server, file sharing, and a built-in BitTorrent client for downloading files straight to a USB storage device. The parental controls are basic at best, allowing you to apply up to six content filters and multiple schedules to a single device.
But for a gaming router, the only "gaming" features are customizable RGB lighting and AI-powered Quality of Service (QoS) traffic prioritization. There's also a feature specific to MSI laptops, desktops, motherboards, and network adapters prioritizing their traffic over everything else. Otherwise, that's it—there's no ping heatmap or game profiles to forward data to specific gaming devices automatically.
What we wish the RadiX GRAXE66 did better
Free antivirus
Profile-based parental controls
For the price, we expected MSI to throw in free malware protection, as seen with gaming routers from TP-Link and ASUS. The RadiX GRAXE66 includes Denial of Service (DoS) attack prevention, but there's no feature that scans your network for vulnerabilities or blocks infected devices from accessing the internet.
Our second gripe is with parental controls. The RadiX GRAXE66 is a gaming router, we get it, but many adult gamers have kids too, and they need simple controls to manage kids' devices. The current setup has you managing each device, but a simpler method would be to apply schedules and filters to a single profile.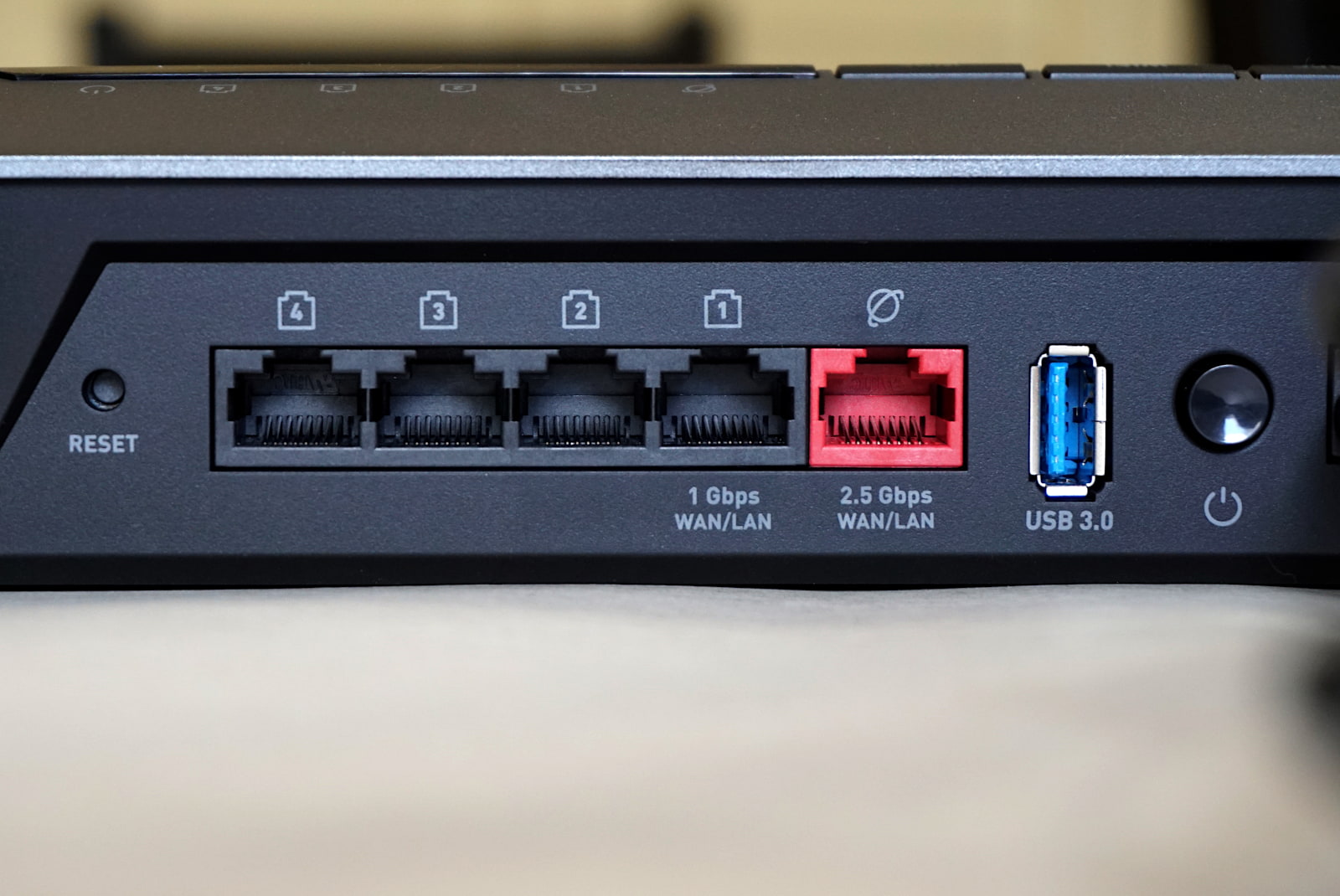 Yes, we gave this router a perfect score for design. Call us suckers for cool tech and bling.
First, the router includes a 2.5Gbps Ethernet port you can use for internet or a wired device—your choice. Backing this port is the 6 GHz band, which promises more attainable sub-2Gbps wireless speeds than the more congested and radar-laden 5 GHz band. This combo should do the trick if you're looking for fast wireless connections.
We also give MSI kudos for the way this router removes heat. We save the full explanation for our FAQ, but it doesn't use a noisy fan like the NETGEAR Nighthawk RAXE500. MSI knows all about cooling PC hardware, and its first router is no exception.
Finally, we just love the lighting on the antennas. How does MSI light them up without causing interference? We explain how it's  done in our FAQ.
The setup process was quick and painless, although novice users may pause and scratch their heads at the dynamic IP address step (leave it all blank). The only real issue we had was with the "create account" aspect in the beginning, which based on the wording, seemed like MSI forced us to create a cloud account just to use this router. But that's not the case—you only set the username and password to log in locally. There are no cloud account shenanigans going on here.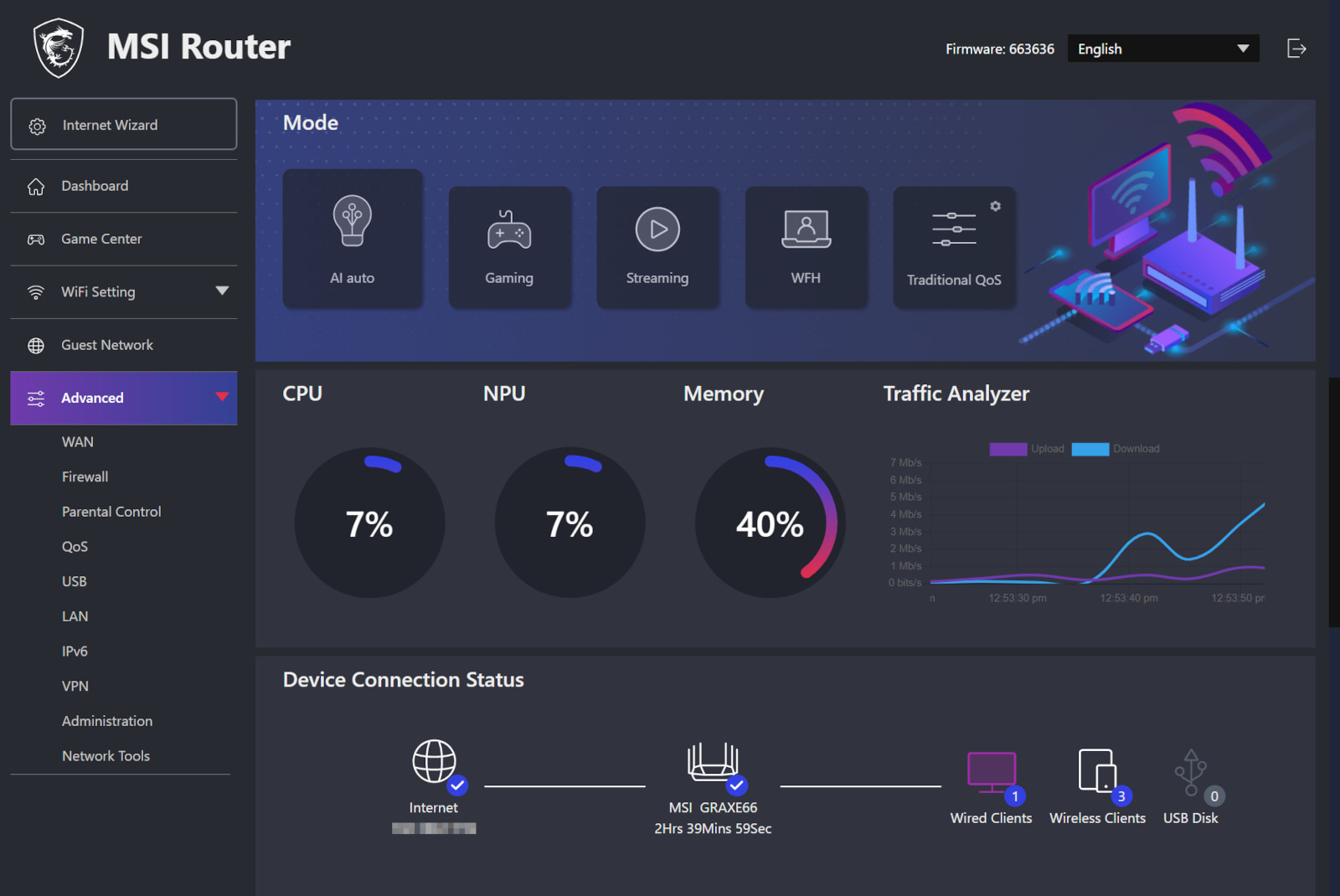 So, here's the thing. We like the web interface. It's clean, well organized, and doesn't blind you with a wall of white. The Dashboard could use a little rearranging to put the network traffic front and center, but otherwise, MSI does an excellent job categorizing everything, so the settings you need are generally easy to find. The same goes for the MSI Router app for Android and Apple devices—we have no complaints there.
Now here's the big caveat. Part of the router's selling point is its customizable bling. The Mystic Light feature lets you change the LED color and effect, but you can only do so through the MSI Center app for Windows (which you can't maximize to full screen for some reason). That leaves Mac and Linux users out of the game and stuck with the default solid red lighting.
We also need to note that you can install the MSI Router "feature" (plugin) in MSI Center, but it's even more limited than the mobile app. Plus, it doesn't include Mystic Light controls, so you must switch between MSI Center's two plugins to manage this router. And because the MSI Router plugin is barebones at best, you wind up going to the web interface anyway to fully manage your home network.
For the record, ASUS includes Aura lighting controls in its router web interface and mobile app, as seen with the ASUS ROG Rapture GT-AX11000.
Are there any additional costs?
No, there are no additional costs to you.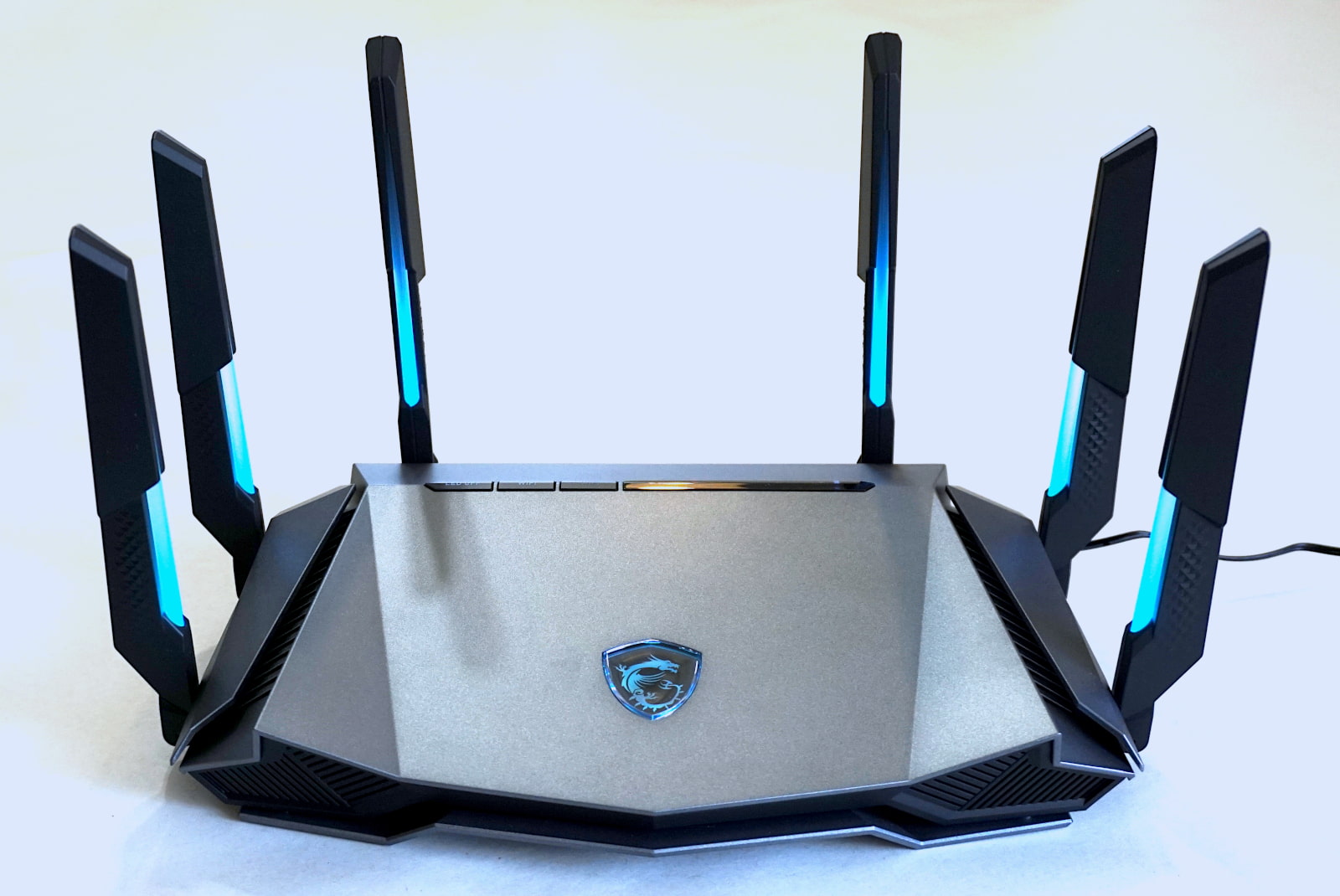 Our RadiX GRAXE66 review: The verdict
The RadiX GRAXE66 has our highest score to date because it does many things right that other routers don't. The high fives start with its tested speed, which goes neck-and-neck with the more expensive NETGEAR Nighthawk RAXE500 on the 5 GHz and 6 GHz bands. NETGEAR's router has a slightly longer range based on our tests (like, just barely), but not enough to spend the extra money.
Another high five lies with the design. The NETGEAR Nighthawk RAXE500 can get loud as the internal fan removes all the heat. That's not the case with MSI's router, as it takes notes from other passive cooling designs used in MSI's PCs and graphics cards. Plus, the RadiX GRAXE66 is the first router we've ever seen with lighting on the antennas, which MSI managed using fiber optics to avoid adding LED interference.
The bling and the design may only be important to some, we get it, but gaming routers generally try to offer some uniqueness that sets them apart from the standard ones. The RadiX GRAXE66 does just that to some degree, but it doesn't provide real gaming tools—like a ping heatmap, for instance—to separate it from non-gamer routers. MSI spotlights the router's AI-powered QoS, but most of the routers we've tested include QoS for gaming too.
The bottom line is we really do recommend this router, but Windows gamers with MSI devices and hardware will see the biggest benefits from it. There's plenty here for gamers and non-gamers alike, but MSI may want to consider consolidating all the interfaces (we count four) to just two for easier network management and customization.
FAQ about the RadiX GRAXE66
What's the difference between this model and the cheaper GRAX66 one?
The RadiX GRAXE66 and GRAX66 models have the same base design. However, two features set them apart outside their specification differences. The third band and lighting.
Don't the RGB LEDs cause interference in the antennas?
LEDs do cause radio interference, so you can't install them inside an antenna. MSI solved this problem by soldering the LEDs onto the router's motherboard. Fiber optic lines connect to these LEDs and deliver colored lighting up into the antennas.
Can you manage the lighting through the web interface or mobile app?
No, you must use the MSI Center desktop software for Windows to change the colors and effects. You can't manage the lighting on a Mac, a phone, or a tablet.
How many apps and interfaces does this router have?
We count four different interfaces across mobile and desktop. Here's the list:
| Platform | App or interface |
| --- | --- |
| Web | msirouter.login |
| Windows (Mystic Light plugin) | MSI Center (Windows) |
| Windows (MSI Router plugin) | MSI Center (Windows) |
| Mobile | MSI Router (App Store), (Google Play) |
How does the RadiX GRAXE66 keep cool?
Let's answer this by starting with the Nighthawk RAXE500. NETGEAR didn't design this router specifically for gaming, but it's still a top performer and requires a cooling fan to remove all that excess heat. The result is a noisy router, which is undesirable if you place it in the TV room.
MSI solves this issue with passive cooling, meaning the heat is absorbed and directed through the vents using two heat pipes. With this design, the router maintains the highest performance possible without sounding like a miniature airplane while you struggle to hear Grogu coo and grunt on the screen.
What games support Mystic Light?
We created a table showing the games that synchronize with MSI and non-MSI products via Mystic Light.
Game Sync
Ambient Link



Assassin's Creed Odyssey


Assassin's Creed Valhalla


Far Cry 6


Monster Hunter World: Iceborne


Tom Clancy's Ghost Recon Breakpoint


Tom Clancy's The Division 2


Watch Dogs: Legion



Assassin's Creed Valhalla


Far Cry 6


Watch Dogs: Legion
Game Sync displays lighting effects on compatible MSI devices based on in-game events and actions, like explosions and gunfire. Ambient Link does the same with compatible non-MSI products, like Kingston system memory and Alchemy RGB LED strips.
We test router speed by setting up each router in an office and connecting it to a local test server. Then, we transmit test data between our wireless devices and the server, taking numerous measurements to account for fluctuations in Wi-Fi speeds.
The first tests occur close to the router, without obstructions—so the Wi-Fi is as strong and fast as it's gonna get. We repeat the process straight out at 10, 20, and 30 feet, with only a glass door obstructing our view of the router. The same glass door and an exterior door blocks our path when we test outside at 40 and 50 feet.
We also run tests in a hallway to the left of the TV room and office—where there's a glass door, three walls, and an air handler unit blocking our view of the router. The dining room, another testing point, sits to the right of the kitchen, TV room, and office—two walls and a glass door block the path in this test.
To test video streaming, we connect a fast storage device to the router and stream a 4K video to six wireless devices simultaneously—two phones, three tablets, and a laptop—connected to the same wireless band.
Client devices used in testing
| | Google Pixel 6 | iPhone 12 Pro Max | Google Pixel 3 |
| --- | --- | --- | --- |
| Wi-Fi version | Wi-Fi version | Wi-Fi 6 | Wi-Fi 5 |
| Stream configuration | 2 x 2 | 2 x 2 | 2 x 2 |
| Max channel width | 160 MHz | 80 MHz | 80 MHz |
| Max 6 GHz speed (AXE) | 2,400Mbps | | |
| Max 5 GHz speed (AX) | 2,400Mbps | 1,200Mbps | |
| Max 5 GHz speed (AC) | 866Mbps | 866Mbps | 866Mbps |
| Max 2.4 GHz speed (AX) | 195Mbps | 195Mbps | |
| Max 2.4 GHz speed (AC) | 144Mbps | 195Mbps | 144Mbps |
RadiX GRAXE66 benchmarks (6 GHz only)
| | Google Pixel 6* |
| --- | --- |
| 2 feet | 1,530 |
| 10 feet | 1,380 |
| 20 feet | 1003 |
| 30 feet | 976 |
| 40 feet (porch) | 390 |
| 120 feet (across street) | Out of range |
| 20 feet (hallway) | No response |
*speed in megabits per second (Mbps)
RadiX GRAXE66 benchmarks (5 GHz only)
| | iPhone 12 Pro Max* | Google Pixel 3* |
| --- | --- | --- |
| 2 feet | 888 | 691 |
| 10 feet | 814 | 637 |
| 20 feet | 726 | 522 |
| 30 feet | 701 | 442 |
| 40 feet (porch) | 649 | 301 |
| 120 feet (across street) | 258 | 91 |
| 160 feet (mailboxes) | Out of range | Out of range |
| 20 feet (hallway) | 261 | 187 |
Disclaimer
Amazon.com Prices as of 3/23/23 17:35 MST. Product prices and availability are accurate as of the date/time indicated and are subject to change. Any price and availability information displayed on Amazon.com at the time of purchase will apply to the purchase of this product. Highspeedinternet.com utilizes paid Amazon links.
CERTAIN CONTENT THAT APPEARS ON THIS SITE COMES FROM AMAZON. THIS CONTENT IS PROVIDED 'AS IS' AND IS SUBJECT TO CHANGE OR REMOVAL AT ANY TIME.
*speed in megabits per second (Mbps)
Author - Kevin Parrish
Kevin Parrish has more than a decade of experience working as a writer, editor, and product tester. He began writing about computer hardware and soon branched out to other devices and services such as networking equipment, phones and tablets, game consoles, and other internet-connected devices. His work has appeared in Tom's Hardware, Tom's Guide, Maximum PC, Digital Trends, Android Authority, How-To Geek, Lifewire, and others. At HighSpeedInternet.com, he focuses on network equipment testing and review.