NETGEAR Nighthawk MK83 Review
The Nighthawk MK83 is a good value in speed compared to the competition.
Aug 1, 2023 | Share

Product Reviews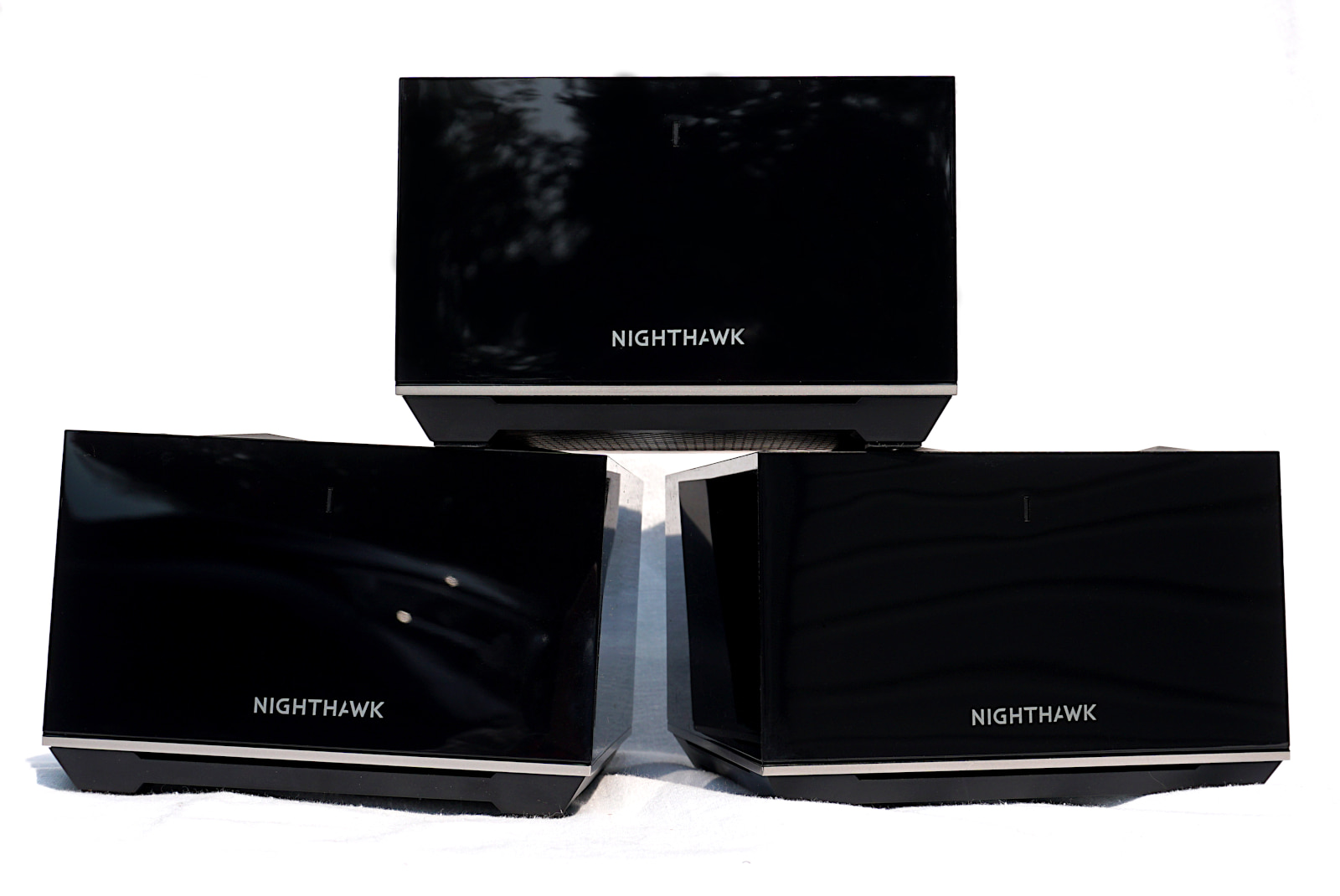 The Nighthawk MK3 has great whole-home Wi-Fi 6 speeds based on our tests. Kevin Parrish | HighSpeedInternet.com
Is the Nighthawk MK83 right for you?
The Nighthawk MK83 is a decent mesh Wi-Fi option if you have an internet connection with 940Mbps speeds or slower. In our tests, its speeds were nearly identical to similar systems. However, the third Wi-Fi band for router-to-satellite communication produced higher test scores in specific spots than systems without one. Overall, the MK83 is a better value than some of its higher-priced competition, but you need two subscriptions to get the most out of it.
Pros:
Built-in OpenVPN server
Dedicated Wi-Fi band for backhaul
Basic profile management
Cons:
No multi-gig internet
No 160 MHz channels
Subscription-locked features
Nighthawk MK83 standout features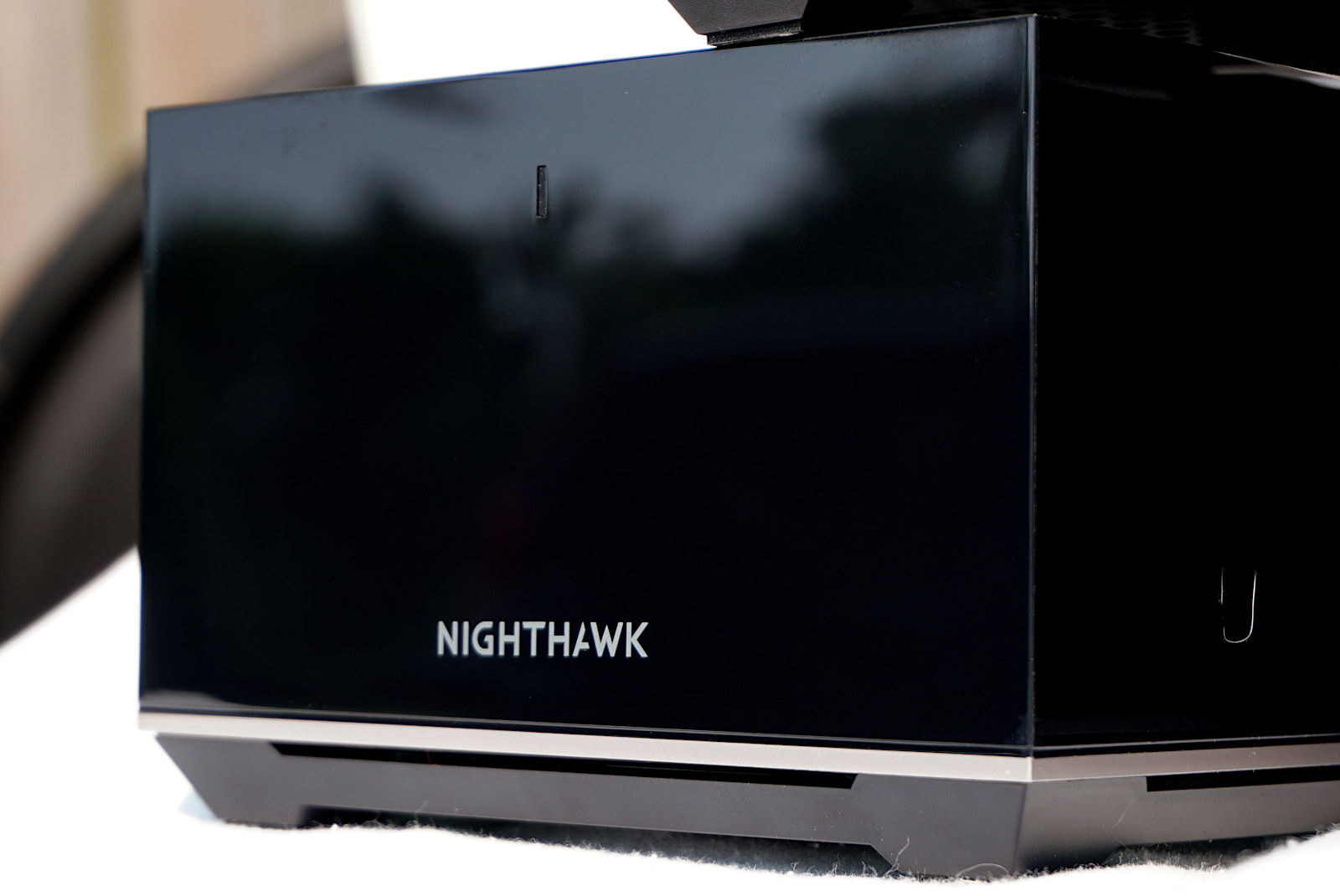 The Nighthawk MK83 packs a third Wi-Fi band used for router-to-satellite communication. Kevin Parrish | HighSpeedInternet.com
Mesh systems don't pack a lot of features, and the Nighthawk MK83 is no different. The only callout here is the OpenVPN server and basic profile controls.
Our Nighthawk MK83 scoring breakdown
| | | |
| --- | --- | --- |
| Category | Score* | Summary |
| Performance | 4 | Offers good whole-home speeds based on our tests. |
| Features | 3 | Lacks decent free parental controls and security. |
| Design | 4 | Dedicates a Wi-Fi band for better router-to-satellite speeds. |
| Setup | 4 | Leads you through a simple placement process. |
| Ease of use | 4 | Uses the same web interface and app seen with other NETGEAR products. |
* out of 5 points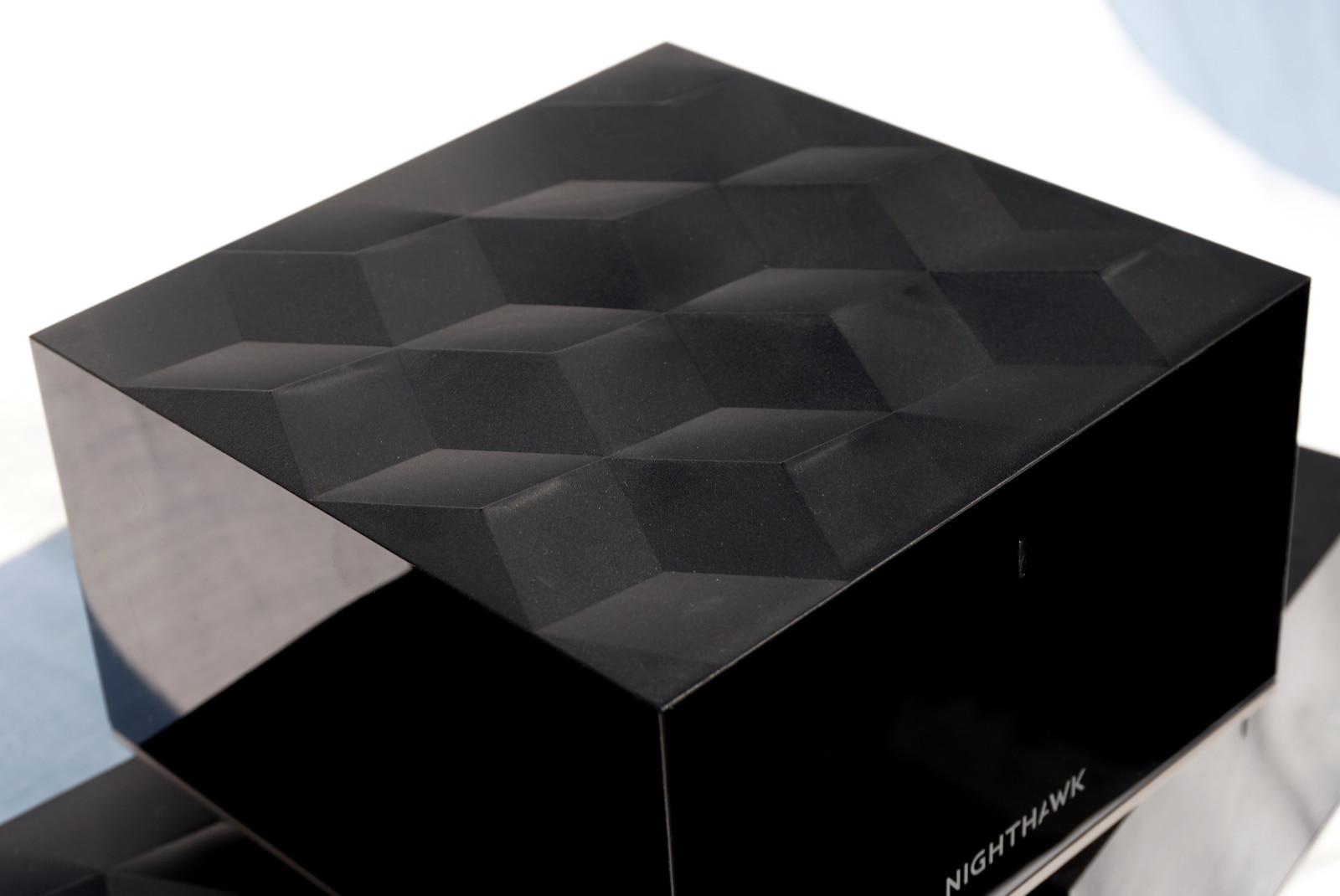 The Nighthawk MK83 isn't complete without Q*bert sitting on top. Kevin Parrish | HighSpeedInternet.com
As expected, the MK83 produced decent speeds in our tests, right in line with the other systems we've tested to date, including the Amazon Eero 6 Pro, TP-Link's Deco X55, and X50-PoE systems—and NETGEAR's own Orbi RBK853. They all started with around a 830Mbps average at close range and dropped to a 350Mbps average when we reached our 40-foot marker outside. You don't get a long range with these systems—they're built to dodge corners, not drill through walls or invade your neighbors' airspace.
The MK83's use of the third band for backhaul really shows in the numbers. We always test with a satellite placed in the dining area, which is two rooms away (20 feet) from the router. We benchmarked a good 543Mbps average, slightly below results from the Orbi RBK853 and Eero 6 Pro. But the number was significantly higher than the two tested Deco systems, as they don't have a dedicated Wi-Fi line for backhaul. Check out the results:
| | Nighthawk MK83 | Orbi RBK853 | Eero Pro 6 | Deco X50-PoE | Deco X55 |
| --- | --- | --- | --- | --- | --- |
| Dedicated backhaul Wi-Fi band? | Yes | Yes | Hybrid† | No | No |
| Dining room average speed* | 543 | 601 | 606 | 384 | 373 |
* Speeds in megabits per second (Mbps) using an 80 MHz channel.
† Eero chooses any of the three bands for the backhaul but leaves them all open for you to use freely.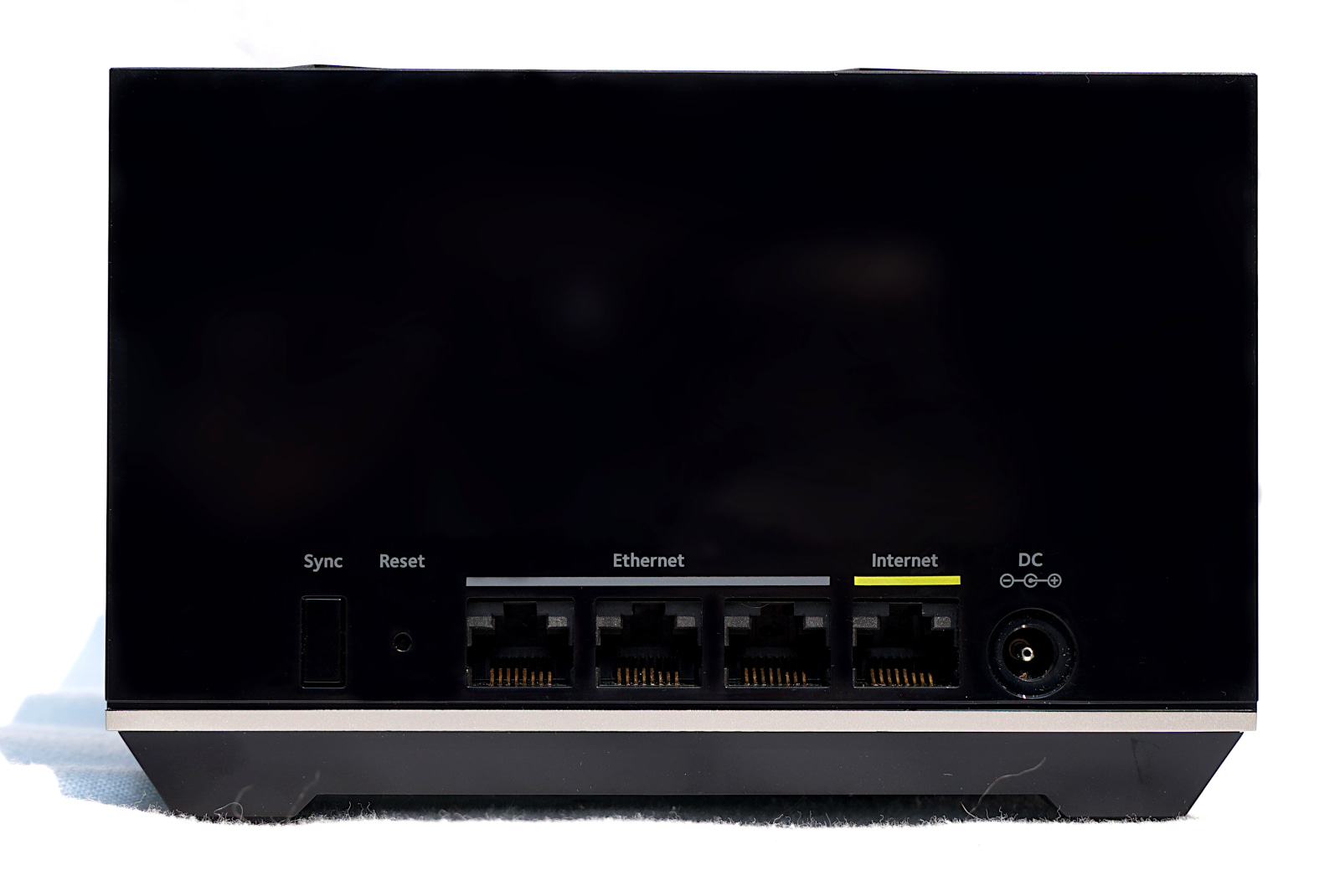 The Nighthawk MK83 router doesn't support multi-gig speeds. Kevin Parrish | HighSpeedInternet.com
Mesh systems are expensive, boring, featureless things as it is, so it's hard to judge them after reviewing standalone routers. Mesh systems never have free security features and very few free parental controls, so most feel like they're platforms for selling subscriptions—which is definitely the case here with the MK83.
The MK83's only real incentive is getting whole-home Wi-Fi 6 coverage. There's no USB connectivity, so it can't share files and stream media to your devices. The built-in OpenVPN server is the only real feature callout, which you can use to hide your location and activities while you're off the home network.
What we wish the Nighthawk MK83 did better
Free parental controls
Free security
With the MK83, you can create profiles, assign devices to those profiles, and pause their internet—that's it. Features like age-specific filters and bedtimes require a Smart Parental Controls subscription.
Also, NETGEAR locks all notable security features behind the Armor subscription. Sure, the system has basic controls like blocking websites and services, but you need a subscription for malware and antivirus protection.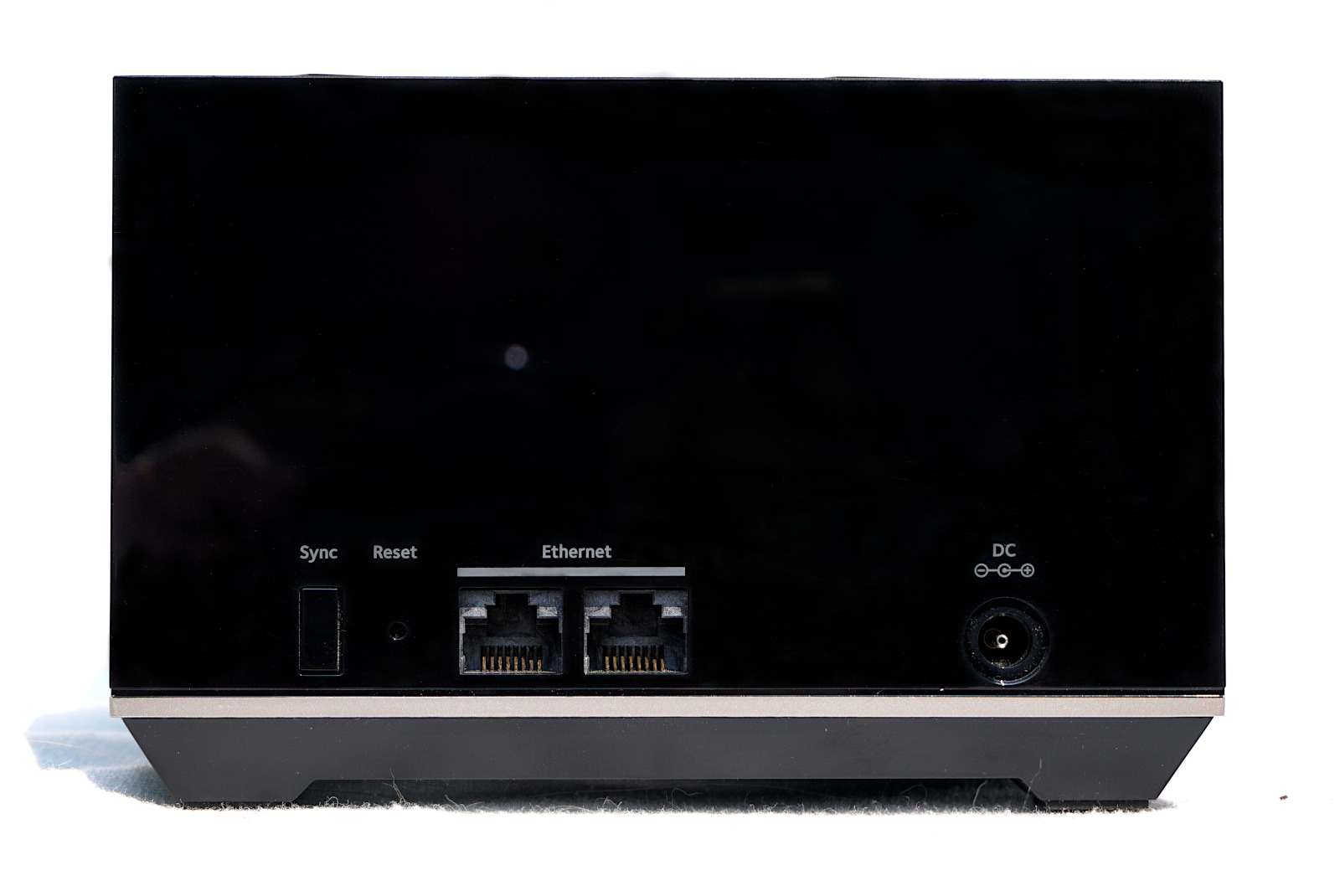 You can use a Gigabit Ethernet port for a line dedicated to router-to-satellite communication. Kevin Parrish | HighSpeedInternet.com
We try not to be too picky about mesh systems since most are designed to be compact—you never see USB connectivity, for example. Some do have more than one Ethernet port for wired devices, like the MK83 system, one of which you can use for the backhaul. The third, backhaul-dedicated 5 GHz Wi-Fi band enables good speeds for the MK83 based on our tests, but a wired connection is faster.
Still, the MK83 system is about as basic as you can get. There's no multi-gig internet support or 160 MHz wireless channels, so the MK83 is best used with internet plans of 940Mbps and slower—but it sure does look purdy.
There isn't much to report here. Nearly all mesh systems take a little longer to set up than standalone routers because the instructions include power cycling the modem first, placing and powering up the extra routers or satellites, and waiting for it all to synchronize. NETGEAR requires you to create two security Q&As, too, which other manufacturers don't enforce.
NETGEAR uses the same web interface across its Nighthawk and Orbi product families. Kevin Parrish | HighSpeedInternet.com
The MK83 was our first Nighthawk mesh system, so we were pleasantly surprised to see the same web interface NETGEAR uses on its larger Orbi systems. You can manage the MK83 with the Nighthawk app, but most of the advanced settings reside in the web interface—like changing the Wi-Fi channel, which we appreciate on the MK83 because you normally can't on mesh systems.
The good news here is Smart Connect isn't a forced feature like with other mesh systems, but you also can't disable it with the click or tap on a toggle. Instead, you must go into the web interface and select the Customize WiFi Network section to create separate network names and passwords. You can't split these connections in the Nighthawk app, either.
Are there any additional costs?
Here are the costs you can expect if you want to get everything out of the MK83 system:
Smart Parental Controls: $7.99 per month or $69.99 per year
NETGEAR Armor: $99.99 per year
NETGEAR ProSupport: Starting at $19.99
NETGEAR Nighthawk MS80 satellite: $129.99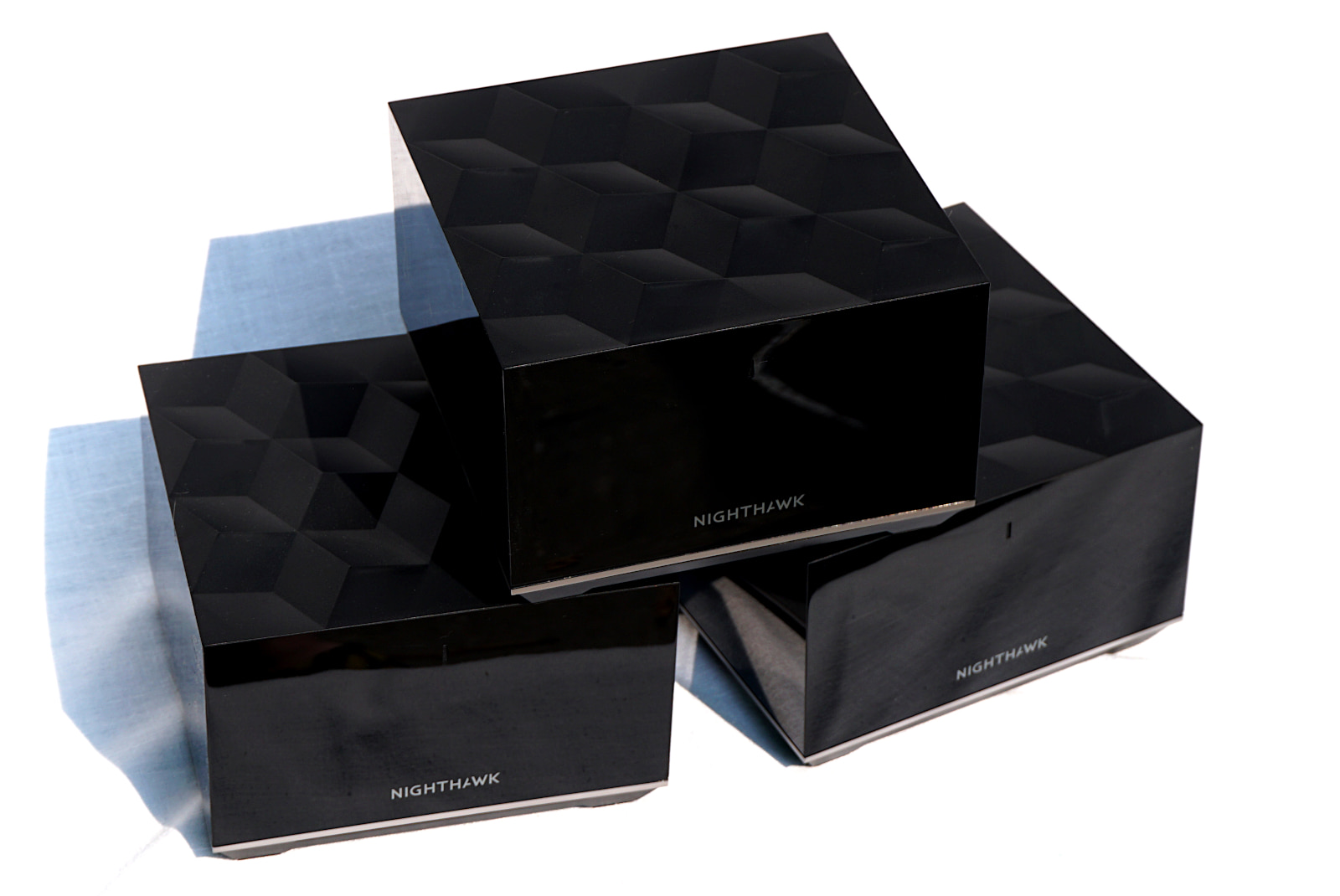 Expect to pay extra if you want to use the full benefits of the Nighthawk MK83 system. Kevin Parrish | HighSpeedInternet.com
Our Nighthawk MK83 review: The verdict
The Nighthawk MK83 is a decent mesh Wi-Fi system for the money. Its short-range speeds aren't different from similar systems we've tested to date. The dining room and hallway placement tests were our biggest concerns about testing, but the MK83 did exceptionally well there. If anything, the test results prove the benefits of having a private Wi-Fi connection between the router and satellites.
Unlike standalone routers, mesh systems rarely have any callout features. So, when something pops up like the MK83's built-in OpenVPN server, we get a few stars in our eyes. It doesn't sound like much, we know, but every differential counts in a market saturated with similar mesh systems.
And like nearly all mesh systems, the MK83 is a platform for selling services. In this case, it's NETGEAR Armor for security and Smart Parental Controls. Many standalone routers offer similar services for free, but that's never the case with mesh for some reason. Your annual cost is at least $169.98 if you go with both, which is a little more than a single MS80 add-on satellite.
FAQ about the Nighthawk MK83
What does backhaul mean?
Mesh systems have two avenues of communication. Backhaul is the data transferred between the router and satellites, while the fronthaul is the data transferred between your devices and the router or satellite they're connected to. A private Wi-Fi band or wired connection dedicated to the backhaul provides the most available bandwidth to your (fronthaul) devices
How many satellites can I use with the MK83 system?
The MR80 router unit supports up to four satellites. Only two of those satellites can be daisy-chained.
What's included in the NETGEAR Armor subscription?
For $99.99 per year, you get the following added features:
Antivirus protection (Windows, Mac, Android, and iOS)
Anti-malware protection (Windows, Mac, Android, and iOS)
Bitdefender VPN (client only)
Smart Home vulnerability scans
Anti-theft protection
Anomaly detection
Brute-force protection
Exploit prevention
DDoS detection & protection
Sensitive data protection
What's included in the NETGEAR ProSupport for Home subscription?
ProSupport for Home offers two tiers. Here are the features you get.
Plan:
Warranty
Warranty + Support
Features:

Repair and replacements
Accidental damage coverage
Free express replacement service

Repair and replacements
Accidental damage coverage
Free express replacement service
Exclusive phone support
24/7 access to expert tech support
Software support via chat, email, and phone

Duration:
2 years
2 years
Price:
$49.99 (one-time fee)
$49.99 (one-time fee)
What's included with Smart Parental Controls?
Plan:
Basic
Premium
Features:

Profile creation
Device assignment
Profile and network pause

All Basic features
Internet and app usage reports
Website history
Profile automatic time limits
Profile bedtime schedules
Profile rewards
My Time companion app
Profile content filter
Scheduled automatic internet breaks

Price:
Free
$7.99/mo. or $69.99/yr.
We test router speed by setting up each router in an office and connecting it to a local test server. Then, we transmit test data between our wireless devices and the server, taking numerous measurements to account for fluctuations in Wi-Fi speeds.
The first tests occur close to the router, without obstructions—so the Wi-Fi is as strong and fast as it's gonna get. We repeat the process straight out at 10, 20, and 30 feet, with only a glass door obstructing our view of the router. The same glass door and an exterior door blocks our path when we test outside at 40 and 50 feet.
We also run tests in a hallway to the left of the TV room and office—where there's a glass door, three walls, and an air handler unit blocking our view of the router. The dining room, another testing point, sits to the right of the kitchen, TV room, and office—two walls and a glass door block the path in this test.
To test video streaming, we connect a fast storage device to the router and stream a 4K video to six wireless devices simultaneously—two phones, three tablets, and a laptop—connected to the same wireless band.
Client devices used in testing
| | iPhone 12 Pro Max | Google Pixel 3 |
| --- | --- | --- |
| Wi-Fi version | Wi-Fi 6 | Wi-Fi 5 |
| Stream configuration | 2 x 2 | 2 x 2 |
| Max channel width | 80 MHz | 80 MHz |
| Max 5 GHz speed (AX) | 1,200 Mbps | – |
| Max 5 GHz speed (AC) | 866 Mbps | 866 Mbps |
| Max 2.4 GHz speed (AX) | 195 Mbps | – |
| Max 2.4 GHz speed (AC) | 195 Mbps | 144 Mbps |
Nighthawk MK83 benchmarks (5 GHz only)
| | iPhone 12 Pro Max* | Google Pixel 3* |
| --- | --- | --- |
| 2 feet | 833 | 603 |
| 10 feet | 731 | 568 |
| 20 feet | 689 | 501 |
| 30 feet | 604 | 436 |
| 40 feet (porch) | 393 | 223 |
| 120 feet (across street) | 107 | 54 |
| 20 feet (hallway) | 513 | 390 |
| 20 feet (dining room) | 543 | 414 |
*speed in megabits per second (Mbps)
Amazon
Amazon.com Prices as of 7/17/23 17:35 MST. Product prices and availability are accurate as of the date/time indicated and are subject to change. Any price and availability information displayed on Amazon.com at the time of purchase will apply to the purchase of this product. Highspeedinternet.com utilizes paid Amazon links.
CERTAIN CONTENT THAT APPEARS ON THIS SITE COMES FROM AMAZON. THIS CONTENT IS PROVIDED 'AS IS' AND IS SUBJECT TO CHANGE OR REMOVAL AT ANY TIME.
Best internet plans for the Nighthawk MK83
* No contract required. 24 Month Internet Pricing. Equipment priced separately. Includes $5 discount for 12 months w/ ebill & autopay. Observed speeds may vary. Excludes surcharges and fees. New residential customers only.
† Price after $5/mo Autopay & Paperless bill discount (w/in 2 bills). Plus taxes & fees. Monthly State Cost Recovery Charge in TX, OH, NV applies. One time install chrg may apply. Ltd. avail/areas. Call or go to www.fiber.att.com to see if you qualify.
‡ Speed may not be available in your area. Maximum download/upload speed of up to 940 Mbps via a wired connection. Paperless billing required. Taxes and fees apply. Offer details. Offer includes professional installation at customer's eligible location.
§ for 12 months with 1-yr. term agreement
|| w/ Auto Pay & Paperless Bill. Max wired speed 500/500 Mbps. Wi-Fi, actual & average speeds vary. One-time charges apply.
# For 1 year. Plus activation, installation, modem rental, taxes & fees. Price includes $10/mo discount for autopay and paperless billing.
** w/Auto Pay & Paperless Bill. Terms apply.
†† For 12 months when bundled. Limited time offer; subject to change; valid to qualified residential customers who have not subscribed to any services within the previous 30 days and who have no outstanding obligation to Charter.
for 12 mos.
‡‡ Price per month with Auto Pay & without select 5G mobile plans. Fios plan prices include taxes & fees
§§ For 24 months. No term contract. Taxes and equipment not included. Includes $10/mo automatic payments and paperless billing discount.
Author - Kevin Parrish
Kevin Parrish has more than a decade of experience working as a writer, editor, and product tester. He began writing about computer hardware and soon branched out to other devices and services such as networking equipment, phones and tablets, game consoles, and other internet-connected devices. His work has appeared in Tom's Hardware, Tom's Guide, Maximum PC, Digital Trends, Android Authority, How-To Geek, Lifewire, and others. At HighSpeedInternet.com, he focuses on network equipment testing and review.