How to Do Anything on Zoom: Your Complete Guide
Apr 21, 2020 | Share

Brand Guides, Working Remotely Guides
Learn to be a Zoom ninja with these tips and tricks.
Zoom is a video conferencing service launched in 2013, years before anybody even knew the devilish word "coronavirus" and the social distancing mandates that have come with it.
Now, in the wake of vast changes to everyday life, Zoom has become the social distancing survival tool, helping millions of users host virtual meetings for work, school, family, and friendship.
But it's not always simple because there's plenty of ins and outs to this popular app. We wrote a step-by-step guide to help you master the art of Zoom.
We start off with the really basic stuff—like how to sign up and start a Zoom meeting—but you can jump further down to learn more advanced techniques for adjusting privacy settings, playing with backgrounds, and more.
Like Skype built for office life, Zoom is a video chat application that allows you to host video conference calls with large groups of people. Dozens or even hundreds can join at a time.
You can host and attend meetings over Zoom's desktop app or smartphone app. It's free to use (with some limitations) but also includes more advanced paid options. Either way, it comes with an array of fun and functional features.
To sign up for Zoom, simply go to Zoom's website and click the button that says "Sign Up, It's Free" in the top right corner. To host and join meetings, you'll need to download the app onto your computer, tablet, or phone. The site will have you enter a work email address, but I was able to set up an account with my personal email address.
To use Zoom, you'll need the following:
A computer, laptop, tablet, or smartphone
An internet connection of at least 0.6 Mbps per user
A microphone and a speaker—or, alternately, a teleconferencing headset
A built-in camera or external webcam
How much internet speed you need for Zoom
You'll need a minimum of 600 Kbps (a mere 0.6 Mbps) download speeds to make one-on-one video calls on Zoom. The company's website recommends a minimum 1 Mbps download speed for group calls. Doing group video calls in 1080p resolution requires at least 2.5 Mbps upload and download speeds.
That's not a whole lot. You'll have no problem at all meeting those requirements if you're on a typical broadband home internet plan or using a 4G phone.
If you do experience clunky video quality, spotty voice connections or any other issues, then you can reduce your bandwidth by disabling your video chat and doing the meeting audio-only. You can also go to Video Settings to make sure HD video resolution isn't enabled—lower resolution requires less bandwidth and uses less of your data.
Here's a quick, step-by-step rundown on how to get Zoom up and running on your computer or mobile device.
1. Download the Zoom app (for free) from the Apple Store or Google Play. Once you're signed up, start a meeting by hitting the orange New Meeting button on the left hand side of the app homepage. This will get a meeting going instantly. You can also schedule one by clicking the blue button right beneath it that says Schedule.
2. To set up a meeting, hit Schedule and enter the necessary info. For security reasons, make sure you've selected "Generate Automatically" for the Meeting ID and that you've checked the box for Enable Waiting Room in Advanced Options. (This will keep you safe from the devious act of Zoombombing—more on that later.)
3. You can invite attendees by sending them email invites or sharing the unique Meeting ID associated with the meeting.
4. If you're a participant and want to join a meeting, click the blue Join button and enter the Meeting ID or meeting URL. The meeting may be password-protected, and if that's the case you'll be given a password along with the Meeting ID.
5. When you click to join, there may be a delay as the host clears you to pass through the Waiting Room and enter the meeting proper. Unless your host has changed the settings to allow anyone to enter, you'll need a Zoom account in order to join a meeting.
6. The calendar on the right side of the app window gives you a list of all upcoming meetings. It has features to let you start them, cancel them, or invite more attendees.
7. The top right corner of the app window features two helpful buttons—one is a small gear for Settings, and the other is a small icon with your Zoom profile picture. Click on these to edit your personal profile and adjust settings for audio, video, and recordings, among other things.
Save time with Google and Firefox extensions.
If you're using Zoom regularly and don't want to juggle the Zoom app with a bunch of other email and calendar applications, download an extension for Google Suite, Microsoft Outlook, or the Firefox browser. This will let you schedule Zoom meetings and send invites through these other apps.
The Zoom add-on comes in handy if you're already using an app like Google Calendar to schedule meetings on a regular basis. The add-on lets you set a Zoom teleconference meeting as a location for a calendar event. Essentially you can book a Zoom meeting just as you would book a conference room.
Once you've put in all the event info and sent out invites, the calendar listing will automatically list the Meeting ID and password for the Zoom meeting. Everyone can then click the link and join at the appointed time.
Do you need a Zoom account to join a meeting?
By default, anyone who wants to join a Zoom meeting has to be signed up for a Zoom account. But the host of a meeting can switch off this setting to let anyone in.
Initially there was no requirement to have an account to join a Zoom meeting—so long as you'd downloaded the Zoom app, you could simply enter the Meeting ID when prompted and join in a meeting.
However, in a recent update, Zoom changed its settings so that anyone who wants to get their Zoom on has to be a signed-in Zoom account holder.
As a host, you can switch things back to let in non–Zoomers by going to the Settings menu in the Zoom app and clicking to View More Settings. At that point, you'll be redirected to the Zoom website in your web browser. In the Personal menu on the left side of the page, go to Settings, scroll down, and turn off the tab titled "Only authenticated users can join meetings from Web client."
Zoom has four plan options you can sign up for, including a Basic plan that you can join for free. Here's a helpful table giving you all the deets.
| Plan | Price* | Maximum meeting duration | Maximum # of participants | Cloud recording storage |
| --- | --- | --- | --- | --- |
| Basic | Free | Unlimited for 1×1 and 40 minutes for groups | 100 | N/A |
| Pro | $14.99/mo. (for the host) | 24 hours | 100 | 1 GB |
| Business | $19.99/mo. (for the host) | Unlimited | 300 | 1 GB |
| Enterprise | $19.99/mo. (for the host) | Unlimited | 500 (1,000 for Enterprise Plus) | Unlimited |
| | |
| --- | --- |
| Plan | Basic |
| Price* | Free |
| Maximum meeting duration | Unlimited for 1×1 and 40 minutes for groups |
| Maximum # of participants | 100 |
| Cloud recording storage | N/A |
| | |
| --- | --- |
| Plan | Pro |
| Price* | $14.99/mo. (for the host) |
| Maximum meeting duration | 24 hours |
| Maximum # of participants | 100 |
| Cloud recording storage | 1 GB |
| | |
| --- | --- |
| Plan | Business |
| Price* | $19.99/mo. (for the host) |
| Maximum meeting duration | Unlimited |
| Maximum # of participants | 300 |
| Cloud recording storage | 1 GB |
| | |
| --- | --- |
| Plan | Enterprise |
| Price* | $19.99/mo. (for the host) |
| Maximum meeting duration | Unlimited |
| Maximum # of participants | 500 (1,000 for Enterprise Plus) |
| Cloud recording storage | Unlimited |
*Even if the host is paying for the plan, participants can join any Zoom meeting for free.
If you sign up for the Basic plan, you can set up 40-minute meetings that as many as 100 people can participate in. You can also arrange one-on-one meetings that can last as long as 24 hours, and you can record videos of your meetings and save them to your computer or to a cloud service.
The Basic plan also includes the following:
High-definition voice and video
Multiple display options
Many desktop screen-sharing capabilities
Custom backgrounds and other supercool functions
Meetings with three or more participants will end automatically after 40 minutes if you're on Zoom's Basic plan. If you don't want to pay for a more expensive plan, you can easily (if somewhat awkwardly) get around this by just starting a new meeting after the previous one gets shut down at the 40-minute mark.
If you're using Zoom on a more regular basis and don't want to do things the DIY way, consider signing up for the Pro plan, which costs $14.99 per month. The Pro plan lets you host meetings for as long as 24 hours each. We've never met anyone who's ever wanted to hold a 24-hour-long business meeting—but basically this means your meetings can stretch past the 40-minute mark with no interruptions.
Budget Wi-Fi options: 
If you don't have the cash to pay for an app like Zoom, see our affordable internet guide for ways to save on your broadband plan.
Zoom backgrounds (and other fun stuff)
You can increase the functionality—and fun—of Zoom by playing around with a wide array of features. For example, when you're in the middle of a Zoom meeting, you can set a custom background, switch to dual-screen mode, or even post emoji reactions while your voice is on mute.
Read on to reach the advanced stage of becoming a Zoom ninja.
How to control video and audio
The buttons to start video and unmute audio are in the bottom left corner of your screen—a white microphone icon and a white video camera icon.
When video is stopped or audio is muted, the icon will have a diagonal red line through it. To start the video again or unmute the audio, just click on the button and it will switch on.
You can also hold down the spacebar to temporarily unmute audio, and then mute it again by taking your finger off the spacebar.
How to set your Zoom background
To set up your own custom background (like all the cool kids are doing these days), click on the vertical arrow-shaped button next to the white camera icon on the bottom left side of your screen and select Choose Virtual Background.
You'll be given a bunch of preset options, but you can also load your own background images by clicking the plus sign on the upper right-hand side of the image menu.
Zoom backgrounds come in handy if you don't want supervisors, coworkers, or friends seeing your messy home office or unmade bed while you're in the middle of a serious discussion. It's also perfect for goofing off in the middle of a more casual hang with colleagues or friends.
Your computer will have to meet a number of technical requirements to allow for the background settings.
How to adjust Zoom background settings
You can adjust the settings for your Virtual Background by going to the Virtual Background menu and manually choosing the color you'd like the background image to appear over.
Depending on how your home office or room is laid out, the image you choose as your background may not appear as a proper background. Instead it'll get superimposed all over the video screen, covering your face and clothes in addition to whatever's behind you.
This happens because Zoom automatically selects a color in your video screen to serve as the "green screen" for a background—i.e., a solid neutral color that can stand in as a backdrop for a superimposed image. You can adjust this by changing the background color yourself.
In the small screen showing the background you've selected, there's a note running across the bottom that says, "Manually pick the color of the background if the detected color is not accurate."
Click the rectangle icon next to it and then click a color on the screen. It could be the black of your T-shirt, the blue of the sky showing through your office window, or the white walls of the office. Anything, really.
The background image will then appear strictly on the color you've chosen. This is how I was able to make it look like I was appearing in a Zoom meeting from the top of a mountain, when I was actually sitting in front of a big white wall in my living room.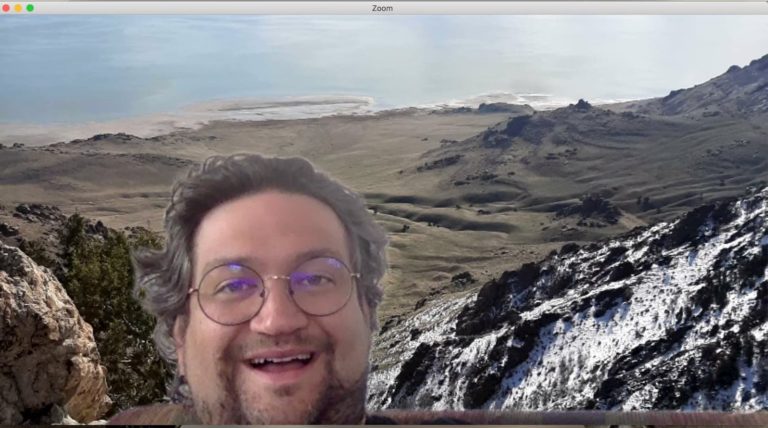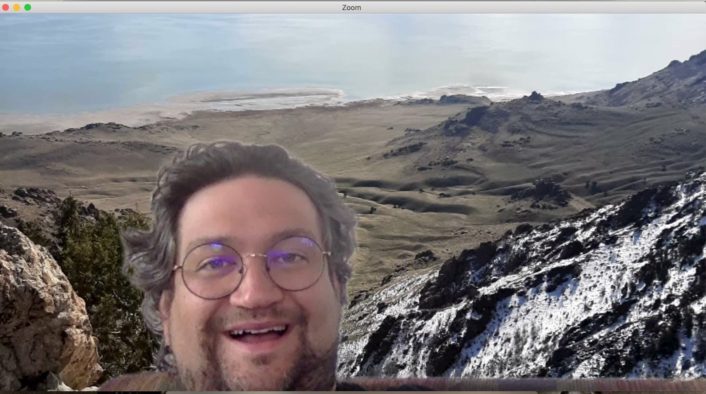 Here I am in a Zoom meeting, with a picture I took from a snowy mountaintop uploaded and reimagined as a custom virtual background.
How to make breakout rooms
If you're hosting a Zoom meeting with a large group, you can set up breakout rooms to split the participants into separate groups. The host can divide up the participants manually or automatically and set up as many as 50 individual sessions to all happen within one meeting. 
To enable the breakout rooms feature, go the Settings menu on the left-hand side of your profile on Zoom's homepage. In the Meetings tab, scroll down to the Breakout room section and make sure the tab is switched on. You can also click the box allowing you to assign participants to specific rooms. 
How to use dual-screen
If you have a dual-monitor setup at your desk, then you can set up a dual-screen display to see all the speakers in one window and screen-share content in a separate window. This is great if you're in the middle of a presentation and want to see what's being displayed on someone's desktop but also want to keep track of who's talking.
To set up dual monitors, go to the Video Settings tab once you're logged into a meeting, go to the General section, and click the checkbox for "Use dual monitors."
How to look like a supermodel (if you aren't one already)
If it's early in the morning and you don't look 100% yet, go to the Video > Settings section in your desktop app and click the checkmark for "Touch up my appearance."
Suddenly all your wrinkles or pimples or blemishes will be gone, and you'll have smooth skin. (If only we had an app to do this in real life.)
How to mute sound and disable video when you enter a meeting
Maybe you still need to adjust your hair once a meeting is started. Or your baby is crying and you don't want everyone to hear. To avoid any embarrassing moments, change the settings so that you're automatically muted and your video is switched off when you enter a meeting.
In the Audio > Settings section of your Zoom portal, click the checkmark for "Mute microphone when joining a meeting." In the Video > Settings section, check the box for "Turn off my video when joining a meeting."
You can then switch it on when you're ready for your close-up.
How to send emoji reactions
Let's say you're muted but you still want to give your colleague props for the great job she did on a recent project. Go to the Reactions button at the bottom right of the Zoom meeting screen and click the yellow clapping hands emoji so it pops up in the top corner of your screen.
If you're still muted and you'd like to confirm something with the rest of the gang, click the thumbs-up emoji. I tried this during a few recent meetings, and the emojis stayed on the screen for about 10 seconds.
How to send "nonverbal feedback"
In meetings with large groups—say, 200 people or more—the host may have your audio and video disabled just to keep things moving along smoothly. But they can also allow you to send "nonverbal feedback."
Click the Participants button and go to your name. You can respond to things people are saying by clicking icons such as a green check mark for "Yes," a red X for "No," or a coffee cup icon for "Need a break."
Is Zoom free?
Yes, you can use Zoom for free if you sign up for a Basic plan. This lets you host video calls with up to 100 people, but there's a 40-minute limit on group meetings. If you are a participant to a meeting and not a host or admin, you can use Zoom for free.
How does Zoom work?
Zoom is a video-chat service that allows for teleconferencing with individuals and groups of people. Hosts can sign up for an account and then send out invites to participants, who can join meetings after getting an invite URL or Meeting ID.
How do you download Zoom?
To download Zoom, go to the company's homepage and click the Join a Meeting button at the top right-hand corner of the screen. This will give you a prompt to enter a Meeting ID or URL, and you can download the app from there.
You can also create your own account for free by clicking the Sign Up for Free button. You will be asked to give your birthdate and enter your work email. We used our personal email to make an account, so don't worry if you don't have a company email—it seems that any email is fine.
Author - Peter Holslin
Peter Holslin has spent more than a decade writing for Rolling Stone, VICE, BuzzFeed, and countless other publications. He graduated with a BA in liberal arts and journalism from New York City's The New School University in 2008. Since then, he has roved from city to city and lived overseas, mastering his craft as an editor, staff writer, and freelancer while also acquiring ninja-like skills to address feeble Wi-Fi speeds and other internet challenges.
Editor - Cara Haynes
Cara Haynes has edited for HighSpeedInternet.com for three years, working with smart writers to revise everything from internet reviews to reports on your state's favorite Netflix show. She believes no one should feel lost in internet land and that a good internet connection significantly extends your life span (buffering kills). With a degree in English and editing and five years working with online content, it's safe to say she likes words on the internet. She is most likely to be seen wearing Birkenstocks and hanging out with a bouncy goldendoodle named Dobby, who is a literal fur angel sent to Earth.