DSL Internet Providers
Enter your ZIP to see all the providers in your area.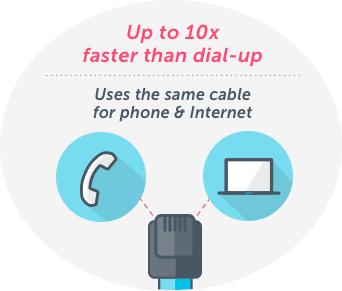 What is DSL internet?
DSL is short for digital subscriber line, an internet technology that uses telephone lines to deliver internet service. It isn't dial-up—DSL uses an entirely different frequency than voice calls and doesn't tie up your phone line. DSL is also much faster than dial-up internet (thank goodness).
Hundreds of Internet Service Providers (ISPs) offer DSL internet with networks that reach nearly 88% of Americans. Chances are you'll have at least one DSL internet provider in your area.
DSL speeds can range from less than 1 Mbps to around 100 Mbps. Some ISPs reach the higher end of that range using hybrid fiber-optic and DSL networks. These networks use fiber cables to get data to your local hub and then let DSL take over for the home stretch.
List of DSL Internet Providers
Data effective 12/03/19. Offers and availability may vary by location and are subject to change.
* For 12 mos, plus taxes & equip fee. 12 mo agmt req'd. $10/mo equip fee applies. Incl 1TB data/mo. $10 chrg for each add'l 50GB (up to $100/mo).
† Rate requires paperless billing and excludes taxes. Additional fees apply. Speeds may not be available in your area.
‡ Actual speeds may vary. Installation, equipment fees, taxes & other fees apply. Services subject to availability and all applicable terms and conditions.
§ For 2 years plus taxes, equip. charges & other fees. Speeds .5-1Mbps, 1.1-3.1-7 or 7.1-15 Mbps. Verizon home phone service required.
˚ For the first 12 months.
Pros
Affordability
DSL internet service is generally less expensive than cable or fiber internet.
Availability
DSL is available in all 50 states and covers 88% of the population.
Cons
Speed limitations
DSL's top speeds are much slower than top speeds for cable or fiber.
Distance limitations
DSL speed and reliability decrease as you get farther away from a network hub.
Final Analysis
DSL's greatest strength is its wide availability, but it's slower and less reliable than cable or fiber internet.
Is DSL available in my area?
Because of the wide-reaching accessibility of DSL, it's likely you have a DSL provider in your area. Search with your zip code to see which internet providers offer service near you.
Find DSL providers in your area.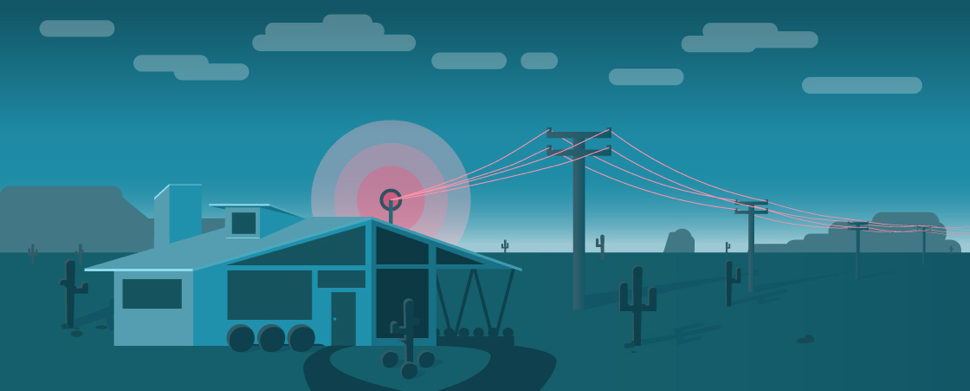 What does DSL stand for?
DSL is shorthand for digital subscriber line. This refers to the kind of technology that sends digital data like high-speed internet over telephone lines.
How fast is DSL?
Depending on your DSL internet provider, you may have speeds starting at less than 1 Mbps. But some DSL providers offer speeds up to 100 Mbps. That's much faster than dial-up internet but not nearly as fast as cable or fiber internet.
If you're not sure how much bandwidth you use, we'll give you a personalized internet speed recommendation.
Is DSL better than cable internet?
The best internet is the kind that fits your needs. If it's important to stay within a small budget and you have only a few internet users in your home, DSL is a great option.
Cable internet can be much faster than DSL. So if you have a larger household and frequently stream videos or participate in other activities that require a lot of bandwidth, cable is probably a better option.
Some DSL packages can support multiple users and streaming, but once DSL speeds reach 50 Mbps or higher, it's usually as expensive (or more) as comparable cable packages. Pay close attention to both speeds and pricing when deciding on your internet package.
Still feeling unsure if DSL or cable is the right choice for you? Check out our in-depth comparison of DSL versus cable.
Is DSL the same as dial-up internet?
DSL is not the same as dial-up internet. Though both technically use telephone lines to connect to the internet, DSL is a newer technology that can carry much more bandwidth and doesn't prevent you from using your landline phone while you're online.
Can I get wireless internet with DSL?
You can get wireless internet with DSL as long as you're using a router with your modem. DSL users connect to the internet using a modem, which converts signals sent over the copper-telephone cables into the digital signals your computer uses. A wireless router transmits data from the modem to Wi-Fi enabled devices. You can even purchase modems that have built-in Wi-Fi routers, which will eliminate extra cables and save on space.
How do I install DSL internet?
Most companies offer to have a technician come to your home to install your DSL internet, but that can be costly and time restrictive. If you'd rather not wait on your Internet Service Provider's technician to install your internet, consult our DSL self-installation guides below:
How do I get DSL internet?
To get DSL internet, you need to first figure out which providers offer DSL internet service in your area. Check your ZIP to see all the providers in your neighborhood, and you can narrow it down from there.