Frontier Internet Self-Installation Guide
Jan 5, 2017 | Share

Brand Guides, FAQ
How to self-install Frontier internet
Installing Frontier Internet should take you about thirty minutes. To start the process, you'll first need to place a self-installation order with the provider.
1. Get your installation kit
After you submit your internet order, contact Frontier's customer service to request a self-installation kit. Wait for your kit to arrive. It usually appears three to four days before your Service Order Due Date.
2. Get everything in order
While you wait for your due date to arrive, make sure the kit contains everything it's supposed to. You should see a welcome letter, a modem or modem-router, three DSL filters, a power supply, and cords and cables. Once your Service Order Due Date arrives, it means your account is now active, your bills have begun, and you can proceed with the installation.
3. Install any filters
On the Service Order Due Date, install any needed filters. You should skip this step if you don't have a landline, fax, or other telephone-based system. If you do own a landline, add the filters. They will prevent static and signal interference with your internet connection.
4. Choose a location
Find a good location for the modem. You'll want to find a central location with few obstructions. Most people choose a home office or living room.
5. Connect the cords
Connect the modem directly to the phone jack using the DSL or phone cord. Next, connect the power supply from the modem to an outlet. Depending on your modem, it may automatically power up once connected to a power source. If not, flip the power switch found on the back. Once the modem is on, the DSL light should start blinking. Wait for it to turn a solid green before proceeding to the next step.
6. Check your connectivity
If connecting to the internet via Ethernet cable, connect the cable from the modem to the computer's Ethernet port. If you elect to connect wirelessly, skip this step. Once you've done this and the DSL light is a solid green, you're ready to continue the installation process by following the directions in the next section.
How to activate your Frontier internet account
If your Service Order Due Date has arrived and the DSL light turns a solid green, you can now activate Frontier Internet service. You will find directions for hardwired and wireless setups below.
Hardwired setup
Open your website browser.
The Frontier site will automatically open in the window and ask for the phone number associated with your account. Enter the information and click "submit."
The next window will ask you to confirm the name of the person holding the account. If correct, click "yes."
Frontier will ask if you wish to enable wireless connectivity. Select "yes" if you plan to connect other devices to the internet in addition to the hardwired computer.
Now, enter custom names for the Wi-Fi network name (SSID) and Wi-Fi password (Wireless Network Key). Each should follow best security practices to protect your home network.
The next window will ask for a confirmation of the new SSID and password fields. If they look right to you, click "next."
Review Frontier's "Acceptable Use Policy." Click "agree" to finish setting up your account.
Wireless setup
Open the "Settings" panel on your device of choice (Windows, Android, or Apple).
Slide the toggle on for the Wi-Fi. This switch may vary depending on your device's settings.
Now input the default SSID. You can change the name later.
Enter the default password. You will find it either on the bottom or the back of the router. Again, you can update the password to a more secure one at a later date.
Click "connect" or "next" to continue. Apple devices differ; a checkmark appears by the Wi-Fi when it connects successfully.
Now open your preferred browser and follow the aforementioned instructions for a hardwired setup.
When you get to step four, be sure to select "no."
Frontier automatically directs you to its Acceptable Use Policy. Accept it to complete the wireless installation process.
How to update your modem's settings
Every modem and router differs, but you generally access the settings in a similar fashion. You should refer to your modem's manual for specific instructions.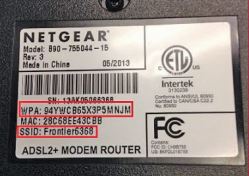 Note: The SSID is the name of your wireless network and the WPA is your wireless security key.
Open a web browser.
Access the modem's interface by typing in the applicable IP address, which you can find in your modem's instructions.
If prompted by the interface, enter your username and password. Most modems include this information on their labels.
Navigate to the wireless settings page. The process varies by modem, but most make it fairly intuitive. If you can't find the page, refer to the instruction manual.
Once in the settings panel, change the default SSID and password fields. Click "accept" or "save" to apply the new settings.
While logged in to the modem interface, you should also change the default username and password to strengthen your privacy and security.
Finally, close out the browser and update devices to the new SSID and password as needed.
When to hire a pro or self-install Frontier internet
If you can build LEGO sets, you can self-install Frontier Internet. That being said, the choice isn't for everyone. You should keep the following factors in mind when deciding whether to self-install or to work with a Frontier professional.
Professional Installation

Pros:
Perfection: Frontier's installation service sets up the modem and internet perfectly the first time. Using the service prevents potential aggravation that could come from a self-installation.
Assistance: With onsite support, you can ask questions and get answers about prime locations for the modem and the router.

Cons:
Costly: Frontier charges a fee for its professional installation service. You may want to save on the cost by self-installing the internet.
Inconvenient: Frontier technicians appear during a designated window of time, which could impact your work schedule or other plans.
Self-Installation

Pros:
Savings: Self-installation saves you money and possibly time. According to Frontier, self-installation should only take you around thirty minutes.
Convenience: While you do have to wait for your Service Order Due Date to arrive before self-installing the internet, once it arrives you can complete the process on your own timetable.

Cons:
Solo: If you encounter trouble with the installation, you hold the responsibility for identifying the problem. Your thirty-minute installation could turn into a lengthy phone call or require setting up a support appointment.
Frustration: Setting up the internet on your own can prove vexing for the less technically inclined. If you wish to avoid the potential angst, professional installation is the way to go.
How to resolve common self-installation issues
Self-installing any internet services holds potential pitfalls and snafus. Some of the ones common to Frontier—and their solutions—are included here.
Problem: The modem lights won't turn on.
The problem could be loose cables or a faulty electrical outlet. Check the cords and cables.
If that doesn't resolve the issue, trying moving the power supply to another outlet.
Problem: The line seems "crackly."
This issue likely stems from the DSL filters.
If you installed the filters, but don't use a landline or other phone service, remove the filters.
If you do have a landline, but didn't use the included filters, unplug the modem, install the filters, and reconnect the modem.
Problem: I can't connect to the internet.
The issue could be something as simple as your Service Order Due Date. Confirm the date before performing other troubleshooting.
Another simple fix rests with cords and cables. Make sure they're securely connected. If loose, devices won't connect to the internet.
Check the SSID and password. If you changed them during setup but didn't update wireless devices with the new information, they won't connect to the internet.
Finally, check for power outages. Storms can sometimes knock out the internet service.
Problem: The internet connection is really slow.
The issue could be network traffic. Run a speed test at different times of day to see if more people use the network at one time or another.
Your browser could be to blame. If bloated with plugins or running an older version, it will run slow. Check for updates and delete unnecessary plugins to return to optimal speed.
Your computer could have a virus. Run a virus scan to root out potential bugs.
The modem could be falling prey to old age. If your modem is more than two or three years old, it could be time for it to retire.
Problem: I can't figure out what's wrong.
Don't worry—Frontier offers plenty of resources to identify the issue.
Go to the "Support Wizard" It will run a diagnostic and either pinpoint the problem or direct you to schedule an appointment with tech support.
Visit the online chat. You can input as much information as you prefer to be connected with relevant, real-time support.
When all else fails, call Frontier customer service at 1-800-921-8101. They can troubleshoot many issues over the phone. If worse comes to worst, they'll send out a technician to look over connections and run diagnostic checks.
How to purchase a quality Frontier internet modem
If you're still having trouble, it may be time to upgrade your modem. Frontier works with a number of modem and router brands, including Netgear, Motorola, and Siemens. You can also purchase your own to save money on rental fees. Two of the top DSL contenders are listed below—purchase one of them to capture the best internet connections.
Motorola MB7420
(4.6/5)
The Motorola modem stands as an Amazon favorite. It features speeds up to 686 Mbps. However, it lacks a router, so you will need to make an additional purchase if you want to create a wireless network in your home. We suggest the TP-Link Archer C7 Wireless Dual Band Gigabit Router (AC1750), an Amazon Best Seller.
Notable Features: The Motorola modem boasts a fast, easy setup with its "Quick Start" guide. You also can call Motorola support specialists for aid.
Netgear AC1600
(3.9/5)
Netgear's modem-plus-router fits your internet needs. If this doesn't fit your budget, you can always downgrade to the AC1200 or upgrade to the AC1900 Nighthawk.
Notable Features: The Netgear AC1600 facilitates fast Wi-Fi (up to 1,600 Mbps) and high-speed DSL. It also benefits from an app that you can use to monitor and manage your home network from anywhere in the world.
Congratulations! You have successfully self-installed Frontier Internet. Your Death Star LEGO set, though, is an entirely separate matter.
How to set up an appointment with a Frontier technician
Frontier makes it simple to get in touch with customer service to set up an appointment. To set up a technician visit, you can call 1-800-921-8101, use their online chat, or request that Frontier call you back.
Author - Erin Feldman
Erin is a freelance writer based in Austin, Texas. She has over ten years of experience, with a background in marketing and creative writing