Your Guide to CenturyLink Installation
May 23, 2019 | Share

Brand Guides, Equipment Guides, FAQ
If you're shopping for a new Internet Service Provider (ISP), you're probably wondering about the installation process. How long does it take? Will you need to drop a bunch of cash for a professional installation? Or can you just do it yourself?
We'll answer all those questions and more in this guide to CenturyLink installation.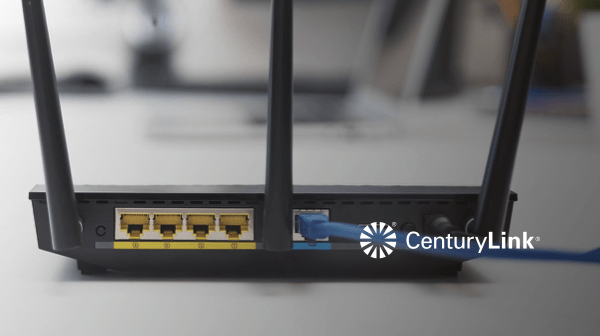 Install CenturyLink internet
The CenturyLink installation process is pretty simple, so anyone with some basic tech knowledge should breeze through it. CenturyLink's clear instructions make it even easier. Let's take a closer look at the step-by-step process.
What's in your CenturyLink installation kit?
Your kit includes everything you need to get started:
CenturyLink modem
Black power cord
Green cord
Yellow Ethernet cable
It's a good idea to check the kit as soon as it arrives before you start the installation. That way if something is missing, you can get it before you're in the middle of things.
If you've got your kit and everything is present and accounted for, you're ready to start the installation process.
Still need a modem or router?
We've got your back. If you're not planning on using the equipment from your provider, check out our recommendations—just make sure the one you choose is compatible with CenturyLink.
How do I install my CenturyLink modem?
Getting your CenturyLink internet installed is easy. There are just a few steps, and CenturyLink provides detailed and easy-to-follow instructions with your kit. Here's a rundown of the process:
1. Connect the power cord
Connect the black power cord into your CenturyLink modem, and plug it into an outlet near your computer.
2. Watch for the blinking power light
The power light will start blinking and eventually stay lit. This should only take a minute. Once it's lit, you're ready for the next step.
3. Connect the DSL cable
Connect the green cable to the port labeled "DSL" on your modem. Plug the other end into a phone jack near your computer.
4. Watch for the blinking DSL light
The DSL light on the modem should start blinking. When it stops, you're ready to move to the next step.
If the light doesn't turn solid green after one minute, verify that your service is activated. You should have received a letter with the installation kit letting you know your activation date. If nothing is wrong with that, try a different phone jack.
5. Connect the Ethernet cable
Connect the yellow Ethernet cable to the modem. Plug the other end to the Ethernet port on your computer. The Ethernet indicator on the modem should light up.
6. Open your web browser
Open a web browser on your computer. You should be automatically taken to the CenturyLink internet setup page to complete the online installation.
If your browser doesn't automatically redirect to the page, check that you completed the other steps properly and make sure all cables are firmly attached. Next, visit connect.centurylink.com.
7. Set up your Wi-Fi connection
To set up your CenturyLink Wi-Fi connection, locate the network name and password on the back of your modem.
Use this info to connect to the wireless network.
Once connected, open your web browser and visit go.centurylink.com/addcomputer to complete the setup.
Repeat for each computer that will use a Wi-Fi connection.
That's it! You should now be online and ready to use your CenturyLink High-Speed Internet. If you need additional help or run into any issues, call CenturyLink customer service at 1-855-331-1346.
Heads up!
If you have a landline phone, you'll need to order phone filters from CenturyLink for them to function properly after installation. Call CenturyLink at 1-855-331-1346 to get yours.
Activating your CenturyLink internet service
When you order your CenturyLink High-Speed Internet, you'll be given a service activation date. After this date, your service will be activated automatically, so you shouldn't need to do anything special to get online once you've installed your equipment and set up your computers.
If you run into problems or your service doesn't seem to be activated, call CenturyLink support at 1-855-331-1346 for additional help.
Pro installation vs. standard installation
No technical experience necessary
Service tech that can handle any issues that arise on the spot
$99 fee
Required appointment window
$15 fee (waived if you have fiber gigabit)
No need to wait for an appointment—install whenever you like
No tech to make sure things work—you'll need to troubleshoot problems yourself
Some (not much) technical knowledge required
Standard installation is an enticing option, but it's not for everybody. To decide if it's right for you, ask yourself whether the convenience and lack of fees outweighs the idea of troubleshooting problems on your own. If that's no problem for you, the DIY route is an affordable way to go.
Pro install CenturyLink internet
Pro installation breakdown
| Cost | Appointment window |
| --- | --- |
| $99 | Varies |
Why it's good
Choosing the professional installation option takes all the pressure off you. All you have to do is be there for the appointment, and the tech will handle the rest.
This is ideal for folks that lack the technical know-how to do a self-installation and would rather let the pros handle it if something goes wrong.
What to expect
When you order your service and choose pro installation, you'll be given an appointment date and time. Make sure someone over 18 is present for the appointment.
Installation can take up to six hours, depending on the amount of work needed, so you might need to take off work. If you need new outlets or wiring installed, for example, it will definitely take longer than usual.
How to prepare
You can track your installation tech's ETA using a handy tool provided by CenturyLink. This will give you a rough idea of when to expect your tech to arrive. Oh, and by the way, any rescheduling needs to be done 24 hours in advance.
Other than that, just make sure the tech has easy access to computers and wall outlets by moving furniture and other decor. It's also a good idea to make sure your pets are out of the way. The tech should take care of the rest.
Heads up:
CenturyLink often runs promotions that offer discounts on installation and equipment. See our best internet deals page to find something sweet.
Equipment: renting vs. buying
Guaranteed to work
Comes with easy technical support
May charge monthly fees
Often lacks advanced features, such as long-range wireless
Flexibility to choose equipment that'll suit your unique needs
No monthly fees
Can cost quite a bit upfront
Doesn't come with support for third-party modems and routers
Renting
CenturyLink provides a modem and router to each new customer to help you get online easily. For most people, this equipment will be plenty powerful. The CenturyLink rental fee is $10 per month, or you can opt to purchase it outright for $150.
Although the equipment is relatively basic, it's guaranteed to work with your service, so that makes it an attractive option. You can just hook up your equipment and be done thinking about it.
Buying
You can also choose to use your own equipment, whether you already have a modem lying around or want to purchase something new. CenturyLink provides a list of compatible modems.
In some cases, buying your own equipment can be cheaper than leasing from your provider, but generally the cost savings are minimal. There's also a chance you'll have to buy different equipment if you move to a new provider in the future, so keep that in mind.
Our verdict
For most people, we recommend sticking with the equipment provided by your ISP. Unless you need a really souped up router, going with what's provided just tends to be easier.
Enjoy your CenturyLink service
Whether you choose to self-install or let the pros handle it, the setup process for CenturyLink internet is about as simple as it gets. So relax, grab your favorite person, and fire up Netflix—those shows aren't going to watch themselves!
Author - Dave Schafer
Dave has written professionally for tech companies and consumer technology sites for nearly five years, with a special focus on TV and internet. He uses his industry expertise to help readers at HighSpeedInternet.com get the most out of their services. No matter the project, he prefers his coffee black (the stronger, the better).
Editor - Cara Haynes
Cara Haynes has been editing and writing in the digital space for seven years, and she's edited all things internet for HighSpeedInternet.com for five years. She graduated with a BA in English and a minor in editing from Brigham Young University. When she's not editing, she makes tech accessible through her freelance writing for brands like Pluralsight. She believes no one should feel lost in internet land and that a good internet connection significantly extends your life span.