Best Mobile Hotspots 2021
Feb 25, 2021 | Share

Brand Guides
| Best Verizon hotspot | Best AT&T hotspot | Best hotspot for international travel |
| --- | --- | --- |
| | | |
| Verizon Inseego Jetpack MiFi 8800L | Nighthawk M1 Mobile Hotspot Router | Huawei E8372h-153 USB Wingle |
| $193.12 | $275.92 | $90.85 |
| View on Amazon | View on Amazon | View on Amazon |
A mobile hotspot provides Wi-Fi when you're on the go. It taps into your cellular carrier's network, providing an internet signal for smartphones, laptops, and other devices—giving you Wi-Fi access while traveling abroad or working outside the office.
Most of us nowadays would be fine using the hotspot function on our cell phones to get a little Wi-Fi in a jiffy. But cell phone hotspots also drain your battery and can only handle a few devices, so a portable Wi-Fi hotspot is better if you need a dependable, portable connection on a more regular basis.
We spent a couple weeks researching and testing out a handful of excellent mobile hotspots for your "life on the go" needs. The hotspots we highlight in this guide support many more devices than a cell phone hotspot can. They give you lots of options for security features and staying connected overseas. And they're available through data plans from your cellular provider.
Which mobile hotspot is best?
We think Verizon's Inseego Jetpack MiFi 8800L is the best hotspot device out there right now. It's well designed, easy to use, and it comes with extra functions that let you charge your other devices and set up a guest network for friends and other users. Also, Verizon has a huge nationwide network, so it will serve you well from the shores of California to the lobster huts of Maine.
Still, the best hotspot depends first and foremost on your cellular provider. Most hotspots are provided through the major cell companies, so if you don't have Verizon, then you can keep reading for other excellent hotspots that work with your provider. You can simply order the hotspot and then add it as an extra line to your current cell phone plan.
| Best for | Product | Price | Connectivity | Max devices | Get it |
| --- | --- | --- | --- | --- | --- |
| Best Verizon hotspot | Verizon Inseego Jetpack MiFi 8800L Hotspot | $193.12 | 4G LTE, dual-band 2.4GHz & 5GHz, 802.11 a/b/g/n/ac | 15 | View on Amazon |
| Best AT&T hotspot | Nighthawk M1 Mobile Hotspot Router | $275.92 | 4G LTE, dual-band 2.4GHz & 5GHz, 802.11 a/b/g/n/ac | 20 | View on Amazon |
| Best T-Mobile hotspot | Alcatel LINKZONE 2 | $90.00 | 4G LTE, dual-band 2.4GHz & 5GHz, 802.11a/b/g/n/ac | 16 | View on T-Mobile |
| Best for 5G hotspot | Inseego MiFi M2100 5G UW | $399.99 | 5G, 4G LTE, dual-band 2.4GHz & 5GHz, 802.11 a/b/g/n/ac | 30 | View Verizon Plans |
| Best hotspot for international travel | Huawei E8372h-153 USB Wingle | $90.85 | 4G LTE, 2.4GHz, 802.11 b/g/n | 10 | View on Amazon |
Data as of 2/25/21. Offers and availability may vary by location and are subject to change. Amazon.com Price as of 1/13/21 10:30 MST. See full disclaimer.
For the most part, we chose hotspots that you can buy directly through your cell carrier. It's easiest to buy the hotspot and then add it as an extra line on your current phone plan. But you can also set up a plan on a different carrier just for the hotspot.
Some of these hotspots are available unlocked, so you can use them with multiple providers. Before ordering, make sure to check with your cell carrier first to ensure your hotspot will work on the plan you have.
Inseego Jetpack MiFi 8800L
Best Verizon hotspot
4G LTE, simultaneous dual-band connection

Connects up to 15 devices

Ports: USB-C and TS9 (for antennas)
Weighing in at under half a pound, Verizon's Inseego Jetpack MiFi 8800L is compact but sturdily built, with a touchscreen that makes it easy to switch on and adjust configurations. It taps into Verizon's 4G LTE network, so you should get fast speeds and reliable coverage while you're on the road.
The Jetpack MiFi 8800L connects up to 15 devices, has a powerful battery, and comes with a USB-C port that you can use to charge other phones and devices. It also has ports for antennas to help get a stronger Wi-Fi signal. And there are some great security settings, including the ability to set up a guest network for friends and other users.
Intuitive touchscreen
Long-lasting battery
Expensive
Exclusive to Verizon customers
Nighthawk M1 Mobile Hotspot Router
Best AT&T hotspot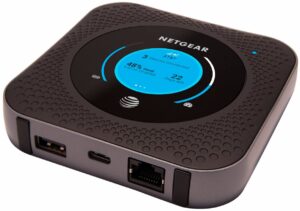 4G LTE, simultaneous dual-band connection

Connects up to 20 devices

Ports: USB-C, Ethernet, and TS9 (for antennas)
At 8.5 ounces, NETGEAR's Nighthawk LTE Mobile Hotspot Router is chunkier in size compared to the Jetpack MiFi 8800L. And it's not as user-friendly since it doesn't have a touchscreen. But it can get Wi-Fi to more devices and also has more ports, including a USB-C port for charging your phone and an Ethernet port that gives your laptop a direct internet connection.
Like the Jetpack MiFi 8800L, the Nighthawk lets you connect to 2.4GHz and 5GHz bands simultaneously, giving you more options and flexibility if multiple users are using the single hotspot.
Lots of features
Dependable performance
Awkward controls compared to other hotspots
Bulky weight
Pro tip:
You can buy the Nighthawk M1 unlocked on Amazon, which means you can use it even without an AT&T cellular plan.
Still, make sure to double-check that your provider will actually let you use the Nighthawk M1. Some T-Mobile customers have reported experiencing issues with the carrier blocking the device.
Best T-Mobile hotspot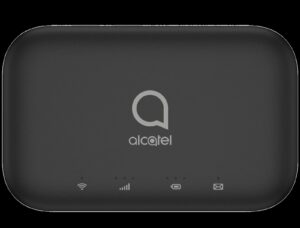 4G LTE, simultaneous dual-band connection

Connects up to 16 devices

Ports: USB-A, USB-C
Price: $90.00
Data as of 2/25/21. Offers and availability may vary by location and are subject to change.
The first thing you'll notice about the Alcatel LINKZONE 2 is the price. It's over $100 cheaper than both Verizon's and AT&T's better-known hotspot devices, making it a solid choice if you prize affordability over features.
The LINKZONE 2 has no touchscreen, so you'll have to rely on the device's LED lights to tell whether it's working properly. Its microchip components aren't top of the line, so it may not hit the same speeds you could normally get on a phone on T-Mobile's network: one reviewer reported it hitting only 30 Mbps download speeds, even though the manufacturer claims it can reach 150 Mbps.
But, quite frankly, 30 Mbps is still plenty fast for a wireless data connection. And the LINKZONE 2 comes with an excellent, removable battery that will last up to 16 hours.
Affordable price
Powerful battery
Clunky controls
Limited speeds
Best 5G hotspot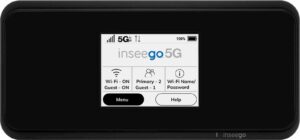 5G, simultaneous dual-band connection

Connects up to 30 devices

Ports: USB-C and TS9 (for antennas)
Price: $399.99
Data as of 2/25/21. Offers and availability may vary by location and are subject to change.
The main draw of the MiFi M2100 5G UW is that it gets you access to Verizon's ultrafast, millimeter-wave–based 5G network. But there's some other good stuff too: it has dual-band connectivity and supports up to 30 devices (!), amazing for a mobile hotspot. Its 2.4″ color touchscreen also makes it easy to switch it on and customize your user and security settings.
We've seen reviews that report limited battery time on this device, so bear that in mind. Also, more 5G hotspots may be coming out on the market throughout 2021, so no rush if you'd rather shop around.
Fast 5G connectivity
Lots of support for devices
Extremely high cost
Low battery life
Pro tip:
If you have a limited budget for hot new 5G devices, consider investing in a new 5G phone. You can still get the hotspot functions, but you'll get a lot more too. See our guide to the best 5G phones for recommendations.
Huawei E8372h-153 USB Wingle
Best hotspot for international travel
4G LTE, 2.4GHz connection

Connects up to 10 devices

Plugs into USB-A ports and chargers
Compared to American cell providers, phone networks in other parts of the world tend to be more flexible about prepaid data and phone plans. Having an unlocked phone or device really comes in handy as you travel the seven seas, and this USB modem works like a charm.
I had this Wi-Fi dongle (or "Wingle," as Huawei humorously calls it) while living overseas for a couple years. It's not quite as mobile as a portable Wi-Fi hotspot, since you have to plug it in to your computer or in to a wall or car socket with a USB charger. But it's much cheaper compared to most hotspots and is simple to set up.
All you have to do is buy a SIM card with data from a phone provider in the country you're in. Plug the SIM in to the device, plug the device in to the wall, and you're good to go.
Simple design
Easy to use
Requires SIM card
Unable to provide service in USA and Canada
Pro tip:
If your travel itinerary makes getting a SIM card too impractical, you can spring for the Skyroam Solis Lite, a compact hotspot that works in over 130 countries. Instead of using a SIM to deliver data from a local or regional cell provider, you sign up for a data plan directly through Skyroam.
You'll pay for data by the day, month, region, or amount of gigabytes you need. But the price adds up quickly, so you may not want to go for this unless you really need it.
What is a mobile hotspot?
A mobile hotspot is a portable wireless device that lets you access an internet signal through a cell phone network. Major cell carriers Verizon, AT&T, T-Mobile, and Sprint all sell wireless hotspots and you usually get one by adding the hotspot as a line to your phone plan. You can also sign up for a prepaid data plan if you just want the hotspot and don't want to include it as part of your phone plan.
Most cellular phones nowadays can also be used as hotspots, so a portable Wi-Fi hotspot device isn't quite as crucial as it used to be. But they often deliver faster speeds than a cell phone hotspot, connect more devices, and experience longer battery life.
Can I use a hotspot for home internet?
Unless you're using a hotspot as a replacement for satellite internet, hotspots are not very practical or affordable to use as a home internet option. You'll probably get a lot less data to use on your plan compared to a broadband internet connection, and your speeds will likely be much slower as well.
The one exception to this is if you live in a rural area and your only other internet option is satellite. A hotspot can be a more financially viable option than satellite internet, which usually comes at a fairly high cost and has limited data allowances.
Should I get a 5G hotspot?
Although 5G has a lot of potential for cellular networks, you shouldn't get a 5G hotspot unless you're an early adopter to tech and can't resist trying one out. There are a limited number of 5G hotspot models available right now and they cost a ton more than 4G LTE hotspots. And since 5G networks are still relatively small, you won't get much benefit out of them.
Pro tip:
Read our deep dive on 4G vs. 5G to learn the differences between 5G and its 4G predecessor and decide when the time is right for you to embrace the 5G life.
What to look for in a mobile hotspot
A winning mobile hotspot hits a few important targets. You want it to be compact, able to provide fast speeds to several devices at once, and on a network that gives you ample Wi-Fi coverage wherever you're going.
You can usually get a hotspot through your phone company as part of your current cellular plan, but you can also sign up for a separate, data-only plan if there's a particular hotspot that strikes your fancy.
Pricing and data plans
When you're shopping for a hotspot, check with your current cell phone carrier to see if it can provide a hotspot that will work for you. You can usually save money by adding a hotspot to your current cell phone plan instead of getting a separate plan.
Though it will probably cost you more, paying for a separate data plan gives you more flexibility, letting you choose from a wider variety of hotspots. Depending on the provider, a separate data plan also may give you access the internet in places that your cell carrier doesn't have provide coverage.
Network accessibility
If you're using a hotspot for traveling, take a look and see if your hotspot gives you network coverage in the areas you plan to visit. For traveling internationally, see if the carrier allows for international roaming.
You can get a hotspot that's approved for use in the countries you may be traveling in. Or you can save some money by using an unlocked phone or a USB dongle that has a port for a SIM card. We personally recommend the latter option, since it's often pretty easy and cheap to get a SIM card and a prepaid data or phone plan while abroad.
Size and ease of use
If you're going to be traveling and carrying the hotspot around, you don't want one that's super clunky. The smaller, the better. Also, it helps to have one with a touchscreen so you can turn it on and change the configurations with ease.
FAQ about mobile hotspots
What is the best mobile hotspot?
The best hotspot out there is Verizon's Inseego Jetpack MiFi 8800L. It's fast, compact, easy to use, and comes with all the features you need to get a Wi-Fi connection on the road. However, you'll have to be a Verizon customer to use it, and there are some other great options as well that could be better geared for specific tasks and providers.
Here's a list of some other nifty hotspots. Click the link for any of these and it will take you to our reviews above:
How much does a mobile hotspot cost?
Hotspots cost anywhere from $59 to $400 for the device, plus the cost of a monthly data plan. Good quality 4G LTE hotspots usually run for $200 and up and will give you just what you need. 5G hotspots cost much more, but there are fewer of them to choose from. And they might not be worth the investment since nationwide 5G networks are still in the early stages of coming together.
How do you get a mobile hotspot?
The best way to get a mobile hotspot is to order one online through your cell phone provider. You can also buy them on Amazon, including unlocked models that will work with multiple phone companies. (If you go that route, just make sure you confirm with your phone company that whatever you get has been approved to work with the plan you have.)
Amazon.com Prices as of 1/13/21 10:15 MST. Product prices and availability are accurate as of the date/time indicated and are subject to change. Any price and availability information displayed on Amazon.com at the time of purchase will apply to the purchase of this product. Highspeedinternet.com utilizes paid Amazon links.
CERTAIN CONTENT THAT APPEARS ON THIS SITE COMES FROM AMAZON. THIS CONTENT IS PROVIDED 'AS IS' AND IS SUBJECT TO CHANGE OR REMOVAL AT ANY TIME.
Author - Peter Holslin
Peter Holslin has spent more than a decade writing for Rolling Stone, VICE, BuzzFeed, and countless other publications. He graduated with a BA in liberal arts and journalism from New York City's The New School University in 2008. Since then, he has roved from city to city and lived overseas, mastering his craft as an editor, staff writer, and freelancer while also acquiring ninja-like skills to address feeble Wi-Fi speeds and other internet challenges.
Editor - Cara Haynes
Cara Haynes has edited for HighSpeedInternet.com for three years, working with smart writers to revise everything from internet reviews to reports on your state's favorite Netflix show. She believes no one should feel lost in internet land and that a good internet connection significantly extends your life span (buffering kills). With a degree in English and editing and five years working with online content, it's safe to say she likes words on the internet. She is most likely to be seen wearing Birkenstocks and hanging out with a bouncy goldendoodle named Dobby, who is a literal fur angel sent to Earth.