T-Mobile 5G
Enter your zip to see mobile providers in your area.
T-Mobile's 5G network is the fastest and most widely available 5G you can get. The "Un-carrier" delivers faster speeds than other 5G providers, with users hitting an average of 150 Mbps on 5G phones.1 T-Mobile's long-range version of 5G is available to 305 million people in all 50 states.2
In addition to cellular access, T-Mobile also has a new home internet service based on 5G. It costs a flat fee of $60 per month and gives you an average of 100 Mbps speeds and unlimited data.
T-Mobile is truly taking the lead on 5G. So, how can you get it? And how much does it cost? We've got the details about T-Mobile's 5G network right here.
Pro tip:
Still not sure what 5G is all about? Take a look at our 5G providers page for a full explanation.
Want 5G home internet? T-Mobile has you covered
T-Mobile Home Internet is a home internet service that's available to millions of Americans in 49 states. It costs $50 a month and works on a fixed-wireless connection, delivering an average of around 100 Mbps speeds on 5G networks (and 4G where 5G isn't available).
T-Mobile Home Internet emphasizes straightforwardness, challenging cable and fiber providers with a simple pricing model and relatively fast speeds. The monthly fee includes equipment and installation costs, so there's no hidden fees or seasonal price hikes. You also get unlimited data and you don't have to sign an annual contract.
This is still a relatively untested internet service—cable and fiber options are far more well-known and many customers will consider them a better bet. But it's definitely worth trying out. And if you don't like it, you can just cancel without having to pay any fees.
Pro tip:
One major advantage of 5G residential internet is that you can get much faster speeds and lower lag. Use our How Much Internet Speed Do I Need? Tool to gauge how much firepower you'll need over wireless Wi-Fi.
T-Mobile's 5G network reaches 305 million people across 1.7 million square miles.2 It's available in thousands of cities in all 50 states. By most accounts, T-Mobile has the most widely available 5G network currently operating in the United States.2
To see whether T-Mobile 5G is available in your area, type your location into T-Mobile's online 5G coverage map. You can also look at T-Mobile's coverage map below.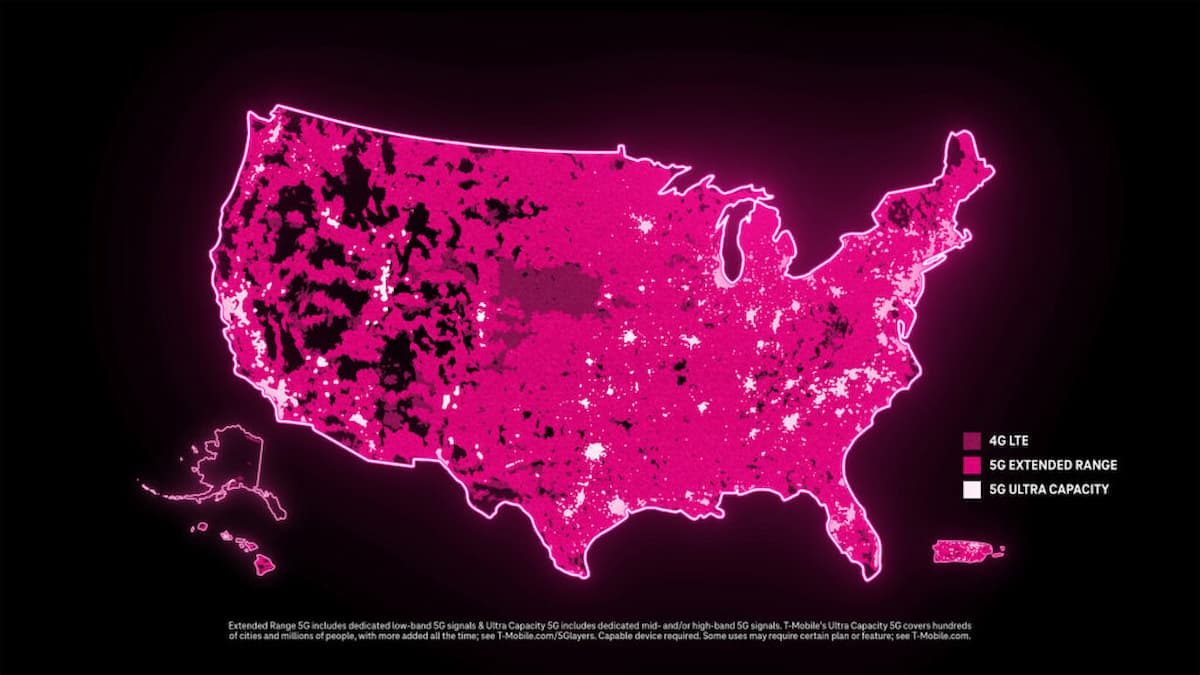 How do you get T-Mobile 5G?
To get on T-Mobile's 5G network, you need a 5G phone or 5G mobile hotspot along with a T-Mobile cellular plan.
All of T-Mobile's unlimited-data phone plans allow you to access the 5G network. On any T-Mobile unlimited plan, you get access to the company's 4G LTE network by default. You can also get on 5G service when you're in range of the new service.
| Plan | 5G access? | Price* | Premium data** | Mobile hotspot data | View plans |
| --- | --- | --- | --- | --- | --- |
| Magenta MAX | Yes | $85/mo. per line | Unlimited (no throttling at all) | 40 GB of 5G and 4G LTE (+ unlimited 3G) | View Plans |
| Magenta | Yes | $70/mo. per line | 100 GB (speeds reduced afterward during network congestion) | 5 GB of 4G LTE (+ unlimited 3G) | View Plans |
| Essentials | Yes | $60/mo. per line | 50 GB (speeds reduced afterward during network congestion) | Unlimited 3G | View Plans |
Data as of 2/21/2022. Offers and availability may vary by location and are subject to change.
*AutoPay Discount included: -$5/mo. per line. Plus taxes & fees
**with 4G and 5G speeds
Keep in mind that you may not be connected to 5G all the time, since T-Mobile is still expanding its service availability. According to a January 2022 report from mobile analytics firm Opensignal, T-Mobile's wireless customers spent about 35% of their phone time connected to the 5G network.1 The rest of the time they were on 4G LTE.
*Percentage of time users connect to 5G during phone use
T-Mobile's 5G network delivers average download speeds of 150 Mbps.1 That's a whole lot faster than the speeds of its rivals—and way better than what you can get on any 4G connection too.
How fast is your phone data? 
Not sure what kind of speeds you're getting with your cellular plan? Take our speed test to see if you'd benefit from a 5G boost.
How fast will T-Mobile 5G be in the future?
T-Mobile's 5G network has the potential to hit 1,000 Mbps or faster, so long as it achieves benchmarks in building out its mid-band and millimeter-wave 5G infrastructure.
The company launched its first standalone 5G network in August 2020. Rather than rely on previously built 4G infrastructure, a standalone network incorporates brand-new systems architecture, allowing for greater network efficiency and precise signal targeting for your mobile device.
T-Mobile has also been rolling out more mid-band availability. Mid-band frequencies like 2.5 GHz have a greater capacity for carrying data, making them way faster than low-band 5G. Mid-band spectrum also doesn't have the extremely limited range of millimeter wave technology. Mid-band spectrum can't reach millimeter-wave speed, but it can still deliver really fast speeds at a distance of several miles.
Data as of 2/21/2022. Offers and availability may vary by location and are subject to change.
Amazon.com Prices (as of 2/22/2022 10:15 MST). See full disclaimer.
5G phones are coming out hot on the market these days, and T-Mobile offers some of the most popular ones along with its phone plans.
You also may notice that the price of 5G devices has been trending downward. The first 5G phones cost upwards of $900, but naturally as the network technology develops and gains in popularity, more affordable models come out—including the relatively affordable new iPhone 12 mini.
Pro tip:
If you haven't quite figured out the finer differences between 5G and its older predecessor, 4G, read our 4G vs. 5G guide to get the details.
Enter your zip to see if there's a wireless provider with 5G data in your area:
Is 5G in my area?
5G is likely in your area if you live in a large metropolitan area served by one of the three major cellular carriers (T-Mobile, AT&T, and Verizon) in the United States. However, as we point out on our 5G providers page, 5G is still growing and there's limited access at the moment. Even if you can get on 5G, it will be only in certain areas in your city or town. If it's not available where your phone is at, you'll revert back to 4G LTE networks.
To know for sure whether 5G is in your area, type your location into T-Mobile's 5G availability map, AT&T's coverage map, and Verizon's coverage map.
Where is 5G available?
5G is available mostly in select parts of large cities and towns across the country. But 5G networks are expanding every day, including into some rural areas and smaller markets. Within the next few years, it will likely be readily available nationwide. It may even be an option for home internet on par with cable and fiber internet.
What did the T-Mobile and Sprint merger mean for Sprint customers?
Sprint customers' accounts have been rolled into T-Mobile accounts. You access your account online through T-Mobile's website, and all of Sprint's brick-and-mortar stores are now T-Mobile stores. You may also notice a decline in data speed if you have an older Sprint phone, since T-Mobile is requisitioning part of Sprint's spectrum for 5G.3
You may reach a point when you'll need to upgrade to a new phone or plan—especially if you want to upgrade to T-Mobile's 5G network. For more information, head to T-Mobile's page about the Sprint merger.
How do I get 5G from T-Mobile?
To get 5G from T-Mobile, you'll need a T-Mobile wireless plan and a 5G phone or hotspot that's compatible with T-Mobile's 5G network. You don't have to pay extra or sign up for a special plan to access 5G over T-Mobile—when you have a 5G device, it will connect automatically to T-Mobile's 5G network when it's available. Otherwise you'll be riding on T-Mobile's 4G LTE.
Disclaimer
Product prices and availability are accurate as of the date/time indicated and are subject to change. Any price and availability information displayed on Amazon.com at the time of purchase will apply to the purchase of this product. HighSpeedInternet.com utilizes paid Amazon links.
CERTAIN CONTENT THAT APPEARS ON THIS SITE COMES FROM AMAZON. THIS CONTENT IS PROVIDED 'AS IS' AND IS SUBJECT TO CHANGE OR REMOVAL AT ANY TIME.