4G vs. 5G: What's the Difference?
Jul 1, 2021 | Share

Brand Guides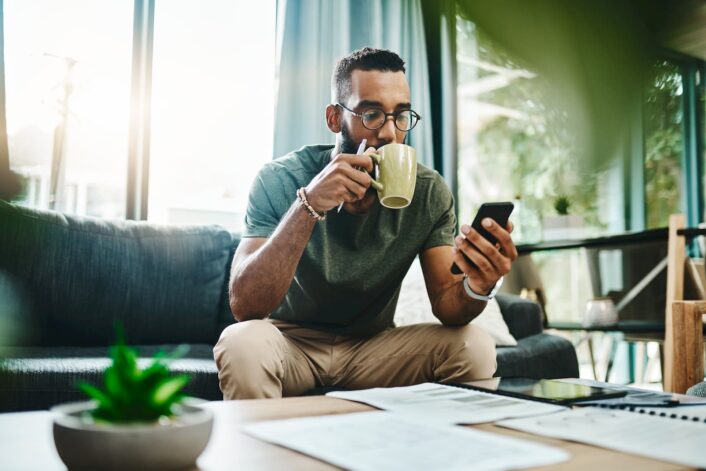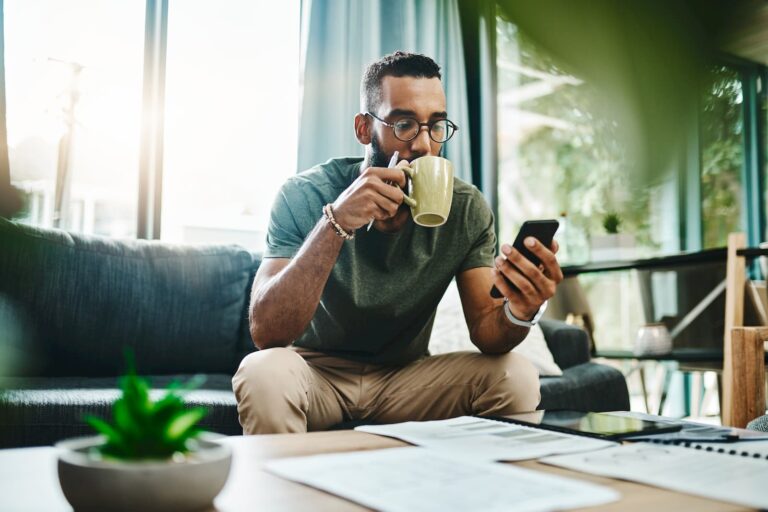 4G is fast, but 5G is a lot faster. While 4G wireless networks typically give you 30 Mbps speeds on mobile devices, 5G speeds can hit anywhere from 60 Mbps to 1,000 Mbps depending on where you are.
When 4G launched in 2009, it opened the door for a lot of new possibilities on mobile phones. 5G—the "fifth generation" of wireless technology—promises even better performance for cellular customers. On top of faster speeds, it reduces latency for more responsive gaming and streaming. But it's not just about cell phones. It can also be harnessed for residential Wi-Fi, robots, VR, self-driving cars, and more.
We've been keeping close tabs on 5G's development over the past year, so we put together an explainer about the differences between 4G and 5G networks. Read on for details on how much faster 5G is than 4G, when you can expect to see 5G fully implemented, and the ways this newfangled technology could change the internet as we know it.
4G vs. 5G—How are they different?
| Wireless generation | Year introduced | Avg. data speed | Wireless features |
| --- | --- | --- | --- |
| 1G | 1979 | N/A | Voice calls over mobile phones |
| 2G | 1991 | N/A | Improved sound quality, encrypted communications, SMS messaging |
| 3G | 2001 | 2 Mbps | Global roaming, email, video streaming |
| 4G | 2009 | 30 Mbps | HD streaming, social media, complex gaming, interactive apps like Uber |
| 5G | 2019 | 60 Mbps–1 Gbps | Gigabit speeds, home internet, AI–based networking, automated sensors |
5G is different from 4G because it's the newest form of wireless technology. Mainly it improves speeds and performance for cell phone users. But it also makes cellular carriers more versatile, allowing them to use their networks for the home, the car, hospitals, and factories.
5G is the latest in a long line of innovations in wireless technology. To be sure, a 5G network is worlds apart from what was available when the Japanese company Nippon Telegraph and Telephone first introduced cell phone networks to Tokyo in 1979.1
Back then, you couldn't do much on a cell phone—other than, you know, call people. That started to change with the introduction of 3G in 2001, which introduced features like SMS messaging and global roaming. And then smartphones really took off when 4G came about in 2009, followed shortly by the slightly slower 4G LTE.
Pro tip:
Want to know where you can get 5G and who has it? Read our 5G providers page.
While 3G phones topped out at 2 Mbps, 4G—which wireless experts now use interchangeable with 4G LTE—delivered download speeds of around 30 Mbps. It let you stream HD video on a phone, and it opened the door for sophisticated apps like Uber, FaceTime, and Instagram. And of course it also gave us cool new games like Angry Birds and Pokémon GO.
But 5G will take things even further. Though 5G doesn't have nearly the same reach right now as 4G—since it's still an emerging technology—experts believe that ultra high-speed 5G networks will eventually become the new normal.
| Provider | Avg. 4G speeds2 | Avg. 5G speeds3 |
| --- | --- | --- |
| Verizon | 27.4 Mbps | 494.7 Mbps |
| AT&T | 32.6 Mbps | 60.8 Mbps |
| T-Mobile | 28.2 Mbps | 49.2 Mbps |
5G speeds are generally a lot faster than 4G LTE speeds, but what you'll get on your phone depends on where you are and what type of 5G you're able to access. 5G also has lower latency, which is the response time that it takes to send a signal to and from a network server.
In smaller towns and more dispersed areas, 5G is only slightly faster than 4G and 4G LTE, reaching average speeds of about 49–60 Mbps. In more densely populated locations where millimeter-wave is available, 5G is over ten times faster than 4G, topping out at average speeds of nearly 500 Mbps. That's a huge difference over 4G's 30 Mbps.
You'll experience a much faster 5G speed because 5G uses higher-frequency radio bands to deliver a Wi-Fi signal. Some of these bands previously had very little commercial uses, so 5G creates a lot more room over the airwaves to carry our data.
What's the difference between 4G and 5G technology?
4G was the "fourth generation" of wireless technology. It uses radio towers to deliver both phone service and wireless internet to mobile devices, offering faster speeds and more capacity than 3G with the use of updated communications protocols.
5G builds on these 4G wireless networks but also brings in new technology and a wider array of radio frequencies. 5G networks use more base stations and higher-frequency radio bands, opening up the airwaves to deliver faster speeds at a quicker response time. 5G providers also hope to revamp their networking infrastructure to make it more flexible and responsive for things like self-driving cars.
Although 5G networks mostly rely on 4G and 4G LTE towers right now, cellular companies are working to develop "standalone" 5G networks based on a few core concepts.
Millimeter waves—extremely high-frequency radio waves that give your mobile device gigabit-plus speeds over short distances.
Beamforming—high-precision antenna arrays capable of directing wireless signals to individual devices.
Massive MIMO—bulked-up 5G transmitters designed to deliver wireless data to devices at a much higher capacity.
Not surprisingly, all of this stuff will take time to build up—and it will cost a lot of money for providers too.
5G home internet is beginning to hit the market
| Provider | Price | Speed | View plans |
| --- | --- | --- | --- |
| Verizon 5G Home Internet | $50.00/mo. (with Verizon phone subscription) or $70.00/mo. (w/out subscription) | 300 Mbps–1 Gbps | View Plans |
| Verizon LTE Home Internet | $40.00/mo. (w/ Verizon phone subscription) or $60/mo. (w/out subscription) | 25 Mbps–50 Mbps | View Plans |
| T-Mobile Home Internet (4G) | $50.00/mo. | Approx. 25 Mbps | View Plans |
| Starry Internet (5G) | $50.00/mo. | Up to 200 Mbps | View Plans |
Data as of 2/11/21. Offers and availability may vary by location and are subject to change.
5G will vastly improve internet speeds on your phone, but it can also be used for home internet, providing a high-speed alternative to prominent fixed connections like fiber and cable internet.
Some providers are now using 5G and 4G networks to set up fixed-wireless internet connections. Most of the plans are relatively affordable, coming with flat monthly fees, no-cost installation, and unlimited data.
Verizon's 5G Home Internet has been getting the most attention because it's the most prominent version of a 5G home internet option to come out so far. Delivering speeds up to 1,000 Mbps, it uses a router designed to pick up signals from 5G transmitters on the street.
Since 5G millimeter waves have such a short range, 5G internet will work best for customers living in big cities and densely populated areas.
But Verizon also has an LTE Home Internet service, which runs over Verizon's 4G network. Just as 5G is coming out, 4G is also gaining popularity as a home internet option, especially for rural areas. You can learn more about it on our 4G internet providers page.
Pro tip:
Take a look at our Verizon 5G Home Internet review to see how the service stacks up against more conventional fiber and cable internet. (Hint: It's definitely worth a try.)
What are the different types of 5G?
5G networks come in three different types, which tie to the range each type has and the speeds it can deliver to your phone. Here's a quick breakdown:
Low-band 5G
Low-band 5G operates on some of the same frequencies as 4G, delivering slightly faster speeds—think 50–60 Mbps—over long distances. It will work best in rural areas where people are more spread out and you can provide service with a handful of cellular towers.
Mid-band 5G
Mid-band 5G incorporates higher-frequency radio bands than 4G, including "C-band" frequencies that have recently been licensed for commercial use by the Federal Communications Commission.4
Mid-band 5G has a shorter range, with transmitters able to reach phones within several miles. But it can deliver significantly faster speeds than 4G. T-Mobile estimated in October 2020 that its mid-band 5G network reaches speeds of about 300 Mbps.5
Millimeter-wave 5G
This is the most advanced version of 5G. It uses what are called "millimeter-wave" radio bands, so named because they're tiny and operate at an extremely high frequency (25–39 GHz).
Millimeter waves can deliver gigabit-plus speeds over a very short range, usually limited to what's within the line of sight of a 5G "small cell" transmitter affixed to a nearby utility box or light post. So it works best for densely populated cities and inside buildings.
| Wireless standard | Latency (in milliseconds)7 |
| --- | --- |
| 4G | 30–70 ms |
| 5G | 5–20 ms |
5G has lower latency compared to 4G. That means 5G phones are much more responsive when it comes to things like video calls and gaming, minimizing lag and grainy video quality.
Latency (also known as ping rate) is the brief delay that happens when you send a signal from a device to a network server and vice versa. Some small amount of latency is inevitable in all internet connections because of the physical distance between your device and the server that's giving it an internet connection.
But the lower latency you can get, the better—especially if you need internet to do things that require near-instantaneous connectivity. The lower latency rates of 4G, activities like chatting with someone over a video feed or playing a fast-paced online game become a lot smoother and easier to do.
Wireless tech experts hope that 5G could one day achieve latency rates as low as 1 ms. That would be an incredible milestone, making 5G all the more capable of supporting complex applications like systems for factories and automated cars. But that 1 ms dream is still a long ways away.
Pro tip:
Figure out your phone's latency rate by running a speed test. Remember—the lower the number, the better!
| Provider | 5G availability (% of cell phone time user connects to 5G)2 |
| --- | --- |
| Verizon | 0.4% |
| AT&T | 10.3% |
| T-Mobile | 22.5% |
Most cell providers have spent years building up 4G infrastructure, but they've only just begun building 5G networks. So 4G is pretty much available anywhere—except for remote areas and rural communities with limited cellular access—while 5G's reach is limited for now to major cities and towns.
Even in places where you can get 5G, you'll need a 5G phone to access the network—and your phone will revert to 4G when 5G isn't available. A report in June 2020 from Opensignal pointed out that customers with 5G phones were on a 5G network for only a fraction of the time they were using their phones throughout the day.3
What is 5G?
5G is the fifth generation of wireless cellular technology. It's in the process of replacing 4G as the predominant network for cellular companies and phone manufacturers. It's capable of hitting speeds upwards of 1 Gbps (1,000 Mpbs) and uses technology like beamforming and massive MIMO to deliver wireless signals with less interference and more efficiency.
What phones support 5G?
There are only a handful of 5G phones on the market nowadays, but phone manufacturers have been steadily releasing more types. Here's a handful of options to pick from right now. We provide a more detailed review of each model in our guide to the best 5G phones.
Data as of 2/8/2021. Offers and availability may vary by location and are subject to change.
Amazon.com Price as of 2/18/2021. Product prices and availability are accurate as of the date/time indicated and are subject to change. Any price and availability information displayed on Amazon.com at the time of purchase will apply to the purchase of this product. HighSpeedInternet.com utilizes paid Amazon links.
What frequency is 5G?
Low- and mid-band versions of 5G use some of the same frequency bands as 4G, ranging between 600 MHz–4.2 GHz. Then there's high-band 5G, which uses millimeter-wave bands in the range of 25–39 GHz.
Why is 5G bad?
5G is not inherently bad, but the emergence of 5G has awakened widespread health fears and rumors about the effects it could have on the public.
Medical professionals and scientists attest that 5G does not pose any kind of public health risk.6 It does not cause COVID-19, as some online trolls have claimed. It also won't give you cancer or burn your skin. Millimeter-wave 5G signals do not penetrate the skin and are not transmitted at a high enough wattage to have any impact on your body.
What is 5G NR?
5G NR is a type of radio interface that lets you connect to a 5G network. The NR means New Radio and it basically refers to the new spectrum of frequencies that 5G uses to provide an internet connection over a phone or other cellular device.
Although some have compared 5G NR to terms like Bluetooth and Wi-Fi, in reality the term is somewhat outdated. The term 5G NR was circulating a lot as 5G was in the development stage in the late 2010s, but most experts nowadays simply use 5G as the go-to term to describe this latest generation of wireless technology.
Author - Peter Holslin
Peter Holslin has more than a decade of experience working as a writer and freelance journalist. He graduated with a BA in liberal arts and journalism from New York City's The New School University in 2008 and went on to contribute to publications like Rolling Stone, VICE, BuzzFeed, and countless others. At HighSpeedInternet.com, he focuses on covering 5G, nerding out about frequency bands and virtual RAN, and producing reviews on emerging services like 5G home internet. He also writes about internet providers and packages, hotspots, VPNs, and Wi-Fi troubleshooting.