Mobile Wireless Providers
Find your cell phone plan options.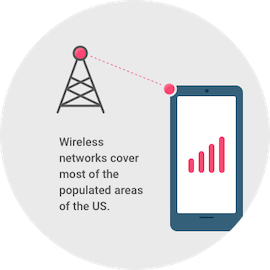 What is mobile wireless?
Mobile wireless, sometimes called mobile broadband, is a type of internet connection that uses a network of cell towers to connect with your smartphone. The signals are transferred wirelessly via radio waves that carry all your calls, texts, and data.
Almost all Americans use mobile wireless in their daily lives. More than half of Americans use cell phones as their only means of communication, and one in five Americans depend on their wireless plans for internet service.
Pros
Availability
Wireless networks cover most of the populated areas of the US.
Roaming
You can stay connected if you go outside your carrier's service area as long as another network is present. Some carriers do charge a roaming fee if you spend too much time outside your primary provider's network, though.
Cons
Network congestion
Each cell tower can handle a limited number of connections at a time, so wireless networks slow down when too many people use their smartphones in the same area at the same time.
User restrictions
Wireless service providers often enforce monthly data caps and speed limitations for activities like video streaming.
Wireless service providers
There are three types of cell phone companies in the US:
Wireless carriers that own their own networks
Wireless carriers that are owned by #1
Mobile Virtual Network Operators (MVNOs)
Wireless carriers with national networks
Only five (soon to be four) cell phone companies fall into category one: AT&T, Sprint, T-Mobile, US Cellular, and Verizon Wireless. All but US Cellular have nationwide networks that cover most of the US. Every other carrier uses one (or more) of these networks for service, even though the carriers themselves are distinct from AT&T, Sprint, T-Mobile, and Verizon.
Wireless carriers owned by national networks
All four national wireless networks own at least one smaller, prepaid carrier:
Sprint owns Boost Mobile
AT&T owns Cricket Wireless
T-Mobile owns Metro by T-Mobile (formerly MetroPCS)
Verizon owns Visible
These prepaid wireless carriers often charge much less for service than their parent companies. And they often have service that's as good as a larger carrier's.
MVNOs
Pretty much every wireless provider in the US that hasn't been mentioned yet is an MVNO. These companies purchase wholesale bandwidth on a wireless network and resell it to budget-savvy consumers.
The cheapest cell phone plans usually come from MVNOs. Think companies like StraightTalk, Consumer Cellular, or Tracfone. There are hundreds of MVNOs in the US.
Prepaid phone plans
Prepaid wireless phone service tends to cost less than traditional (postpaid) service. The plans themselves are usually less expensive, and paying before you use the service prevents surprise fees and charges on your bill.
Purchasing a prepaid phone plan is also very different from signing a contract with a big wireless carrier.
First of all, prepaid plans don't require a credit check, while most postpaid plans do. You can also buy prepaid phone cards at big-box stores, order in minutes online, or sign up for service in person if the company has brick-and-mortar stores (like Boost Mobile or Metro by T-Mobile). Most prepaid carriers offer service month to month so you don't get locked into a contract.
The main downside to prepaid wireless service is data prioritization. When a network is congested by too many users, the network's direct customers' data gets higher priority, so prepaid customers' data speeds can get throttled.
For example, if you use Page Plus Cellular (which uses the Verizon Wireless network), your data would be a lower priority than Verizon customers when the network is busy.
This is usually a problem only in very crowded areas. But it's something to consider if you live in a very densely populated place like Manhattan or San Francisco.
Mobile wireless vs. fixed wireless vs. Wi-Fi vs. 5G
Here's a quick rundown of several types of wireless tech that are easy to get confused:
Mobile wireless is your cellular connection. It is also commonly called cell phone service, mobile, mobile broadband, or just wireless.
Fixed wireless is a type of broadband internet service that delivers signals between two stationary locations using radio waves instead of cables.
Wi-Fi is a set of standards that allow your devices to connect wirelessly to a local area network, but it's not a type of internet service.
5G is set of standards outlining the fifth generation of mobile wireless. It'll be 10 times faster than 4G LTE with potential for latency rates of 1 millisecond or less.
To see cell phone plans where you live, search by zip code
Wireless provider FAQ
Is unlimited data really unlimited?
Most cell phone data is not really unlimited, even though it's advertised that way. The reality is that most of these wireless providers throttle your data speeds into the ground after you use a certain amount of high-speed data.
So while they technically let you have unlimited data, there's usually a cap on how much actually useful data you'll get per month.
What cell phone providers offer a Lifeline discount?
The Universal Service Administrative Company hosts a database of all Lifeline providers on its website. You can search for cell phone providers in your area that offer a Lifeline discount by using your ZIP code or your city and state.
Is unlimited data worth it?
An unlimited data plan might be worth it if you watch a lot of videos on YouTube, Netflix, or TikTok when you're not connected to Wi-Fi. Standard-definition video streaming uses up to 500 MB of data per hour, and streaming in HD triples that number.
The best way to figure out if you need unlimited data is to go over some of your past phone bills. If you're on a plan with a data cap and regularly go over it, you should upgrade. If you're already on an unlimited plan but use less than 5 GB of data per month, you're probably paying too much for data.
Survey Finds Millennials Hate Making Phone Calls More Than Any Other Age Group (Including Gen Z) 
With many of us shifting to working from home recently, telecommuting and phone usage is on the rise. In fact, T-Mobile reported the amount of time spent on phone calls increased in March by 17%, and texting increased by 26%. At HighSpeedInternet.com, we conducted our own research to see how different generations feel about phone calls, texting, and other cell phone usage.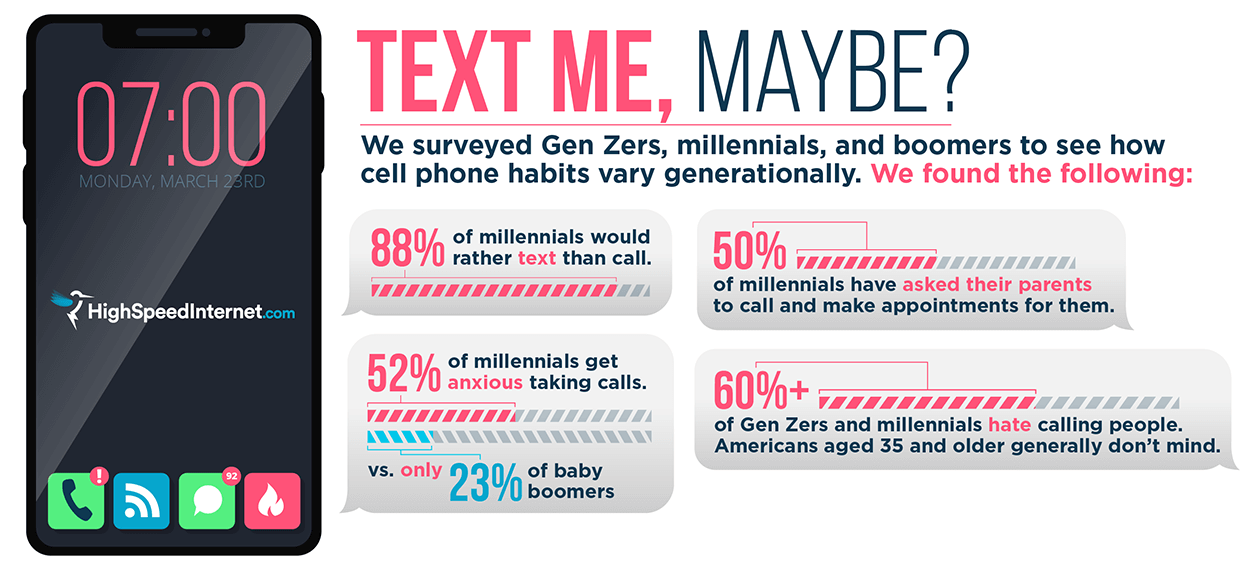 Here's what we found:
88% of millennials prefer texting over calling.
52% of millennials say they feel anxious taking a phone call, versus only 23% of boomers.
50% of millennials have asked their parents to call and make an appointment for them.
60% of Gen Zers and millennials say they hate calling people. Americans over 35 say they don't mind.
Unfortunately for millennials, it looks like they'll need to get more comfortable with talking on the phone for the time being. But since those over 35 don't seem to mind calling, let's hope millennials will grow out of it soon.
Methodology
The team at HighSpeedInternet.com surveyed 500 people to get their opinions on cell phone usage in 2020. We then analyzed the results and compiled this report.